Healthy Banana Blueberry Muffins Recipe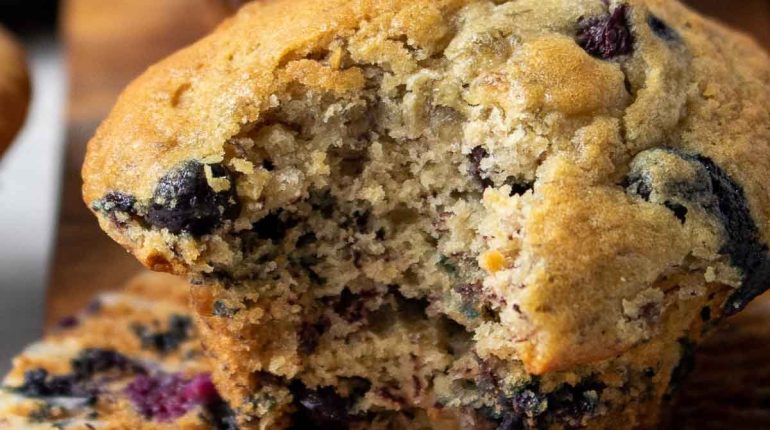 Posted October 6, 2023 by: Admin #Kitchen
These delightful banana blueberry muffins bring together the best of both worlds: the comforting goodness of banana bread and the fruity burst of blueberry muffins. Ripe bananas are the secret ingredient, infusing the batter with moisture and natural sweetness, resulting in muffins that are light, fluffy, and remarkably low in sugar and calories.
Advertisement: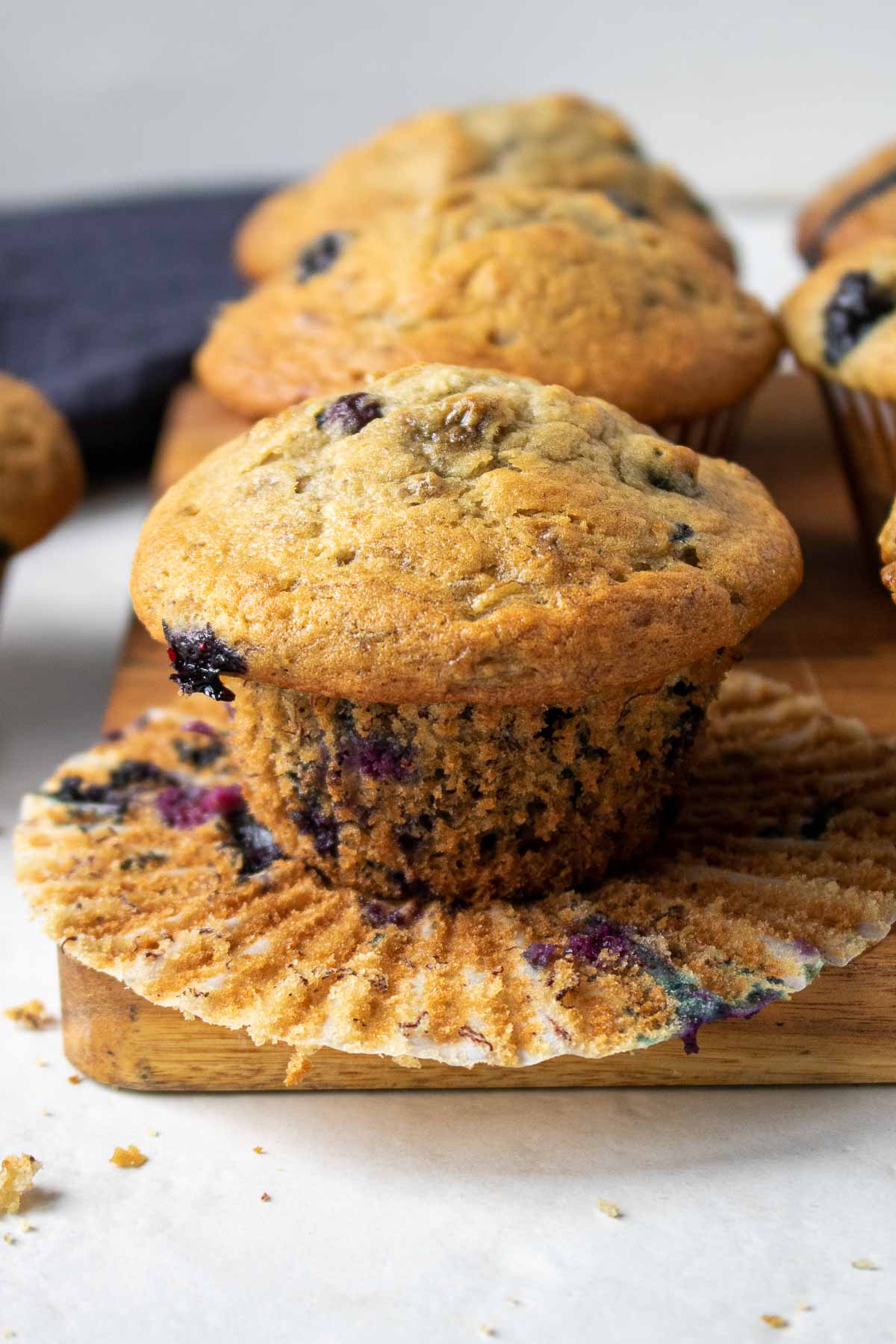 If you're a fan of blueberry muffins, prepare to fall in love with these banana blueberry counterparts. These muffins are truly some of the finest healthy muffins I've ever crafted. They are wonderfully moist, incredibly fluffy, packed with flavor, and strike just the right balance of sweetness. These muffins are a kid-approved snack or a delightful breakfast option that the entire family will adore.
Ingredients
These banana blueberry muffins are exceptionally moist, fluffy, and flavorful. Here's a list of the ingredients you'll need to whip up a batch:
Advertisement:
Flour: All-purpose flour is called for in this recipe, but you can opt for whole wheat flour if you prefer. While it will make the muffins slightly denser, it will also boost the protein and fiber content.
Bananas: Ripe bananas are a must for their flavor, sweetness, and moisture-adding properties.
Blueberries: These are the second key ingredient for that burst of fruity goodness. You can use fresh or frozen blueberries.
Vanilla Extract: Enhances the overall flavor of the muffins.
Sugar: Adds a touch of sweetness to complement the bananas.
Butter: Ensures the muffins remain moist. While unsalted butter is recommended, both salted and unsalted work well.
Egg: Provides structure and height to the muffins.
Additionally, you'll need leavening agents (baking soda, baking powder, and salt) to ensure the muffins rise and turn out light and fluffy.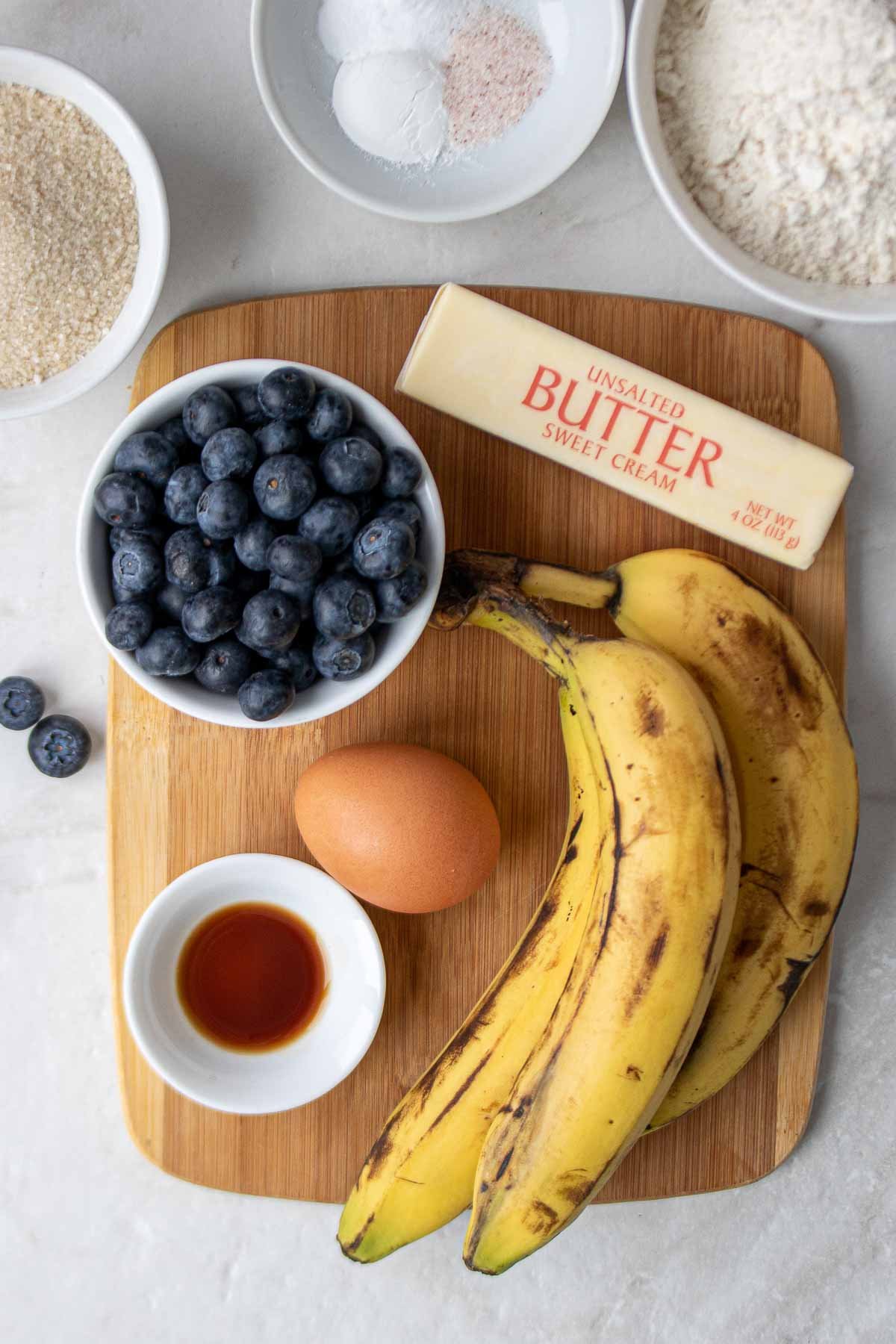 Dietary Adaptions
For dietary adaptations:
Advertisement:
– To Make them Gluten-Free: Substitute all-purpose flour with a 1-to-1 gluten-free flour, such as Bob's Red Mill.
– To Make them Dairy-Free: Replace butter with coconut oil.
– To Make them Vegan: Swap out the butter for coconut oil and use a "flax egg" in place of the egg.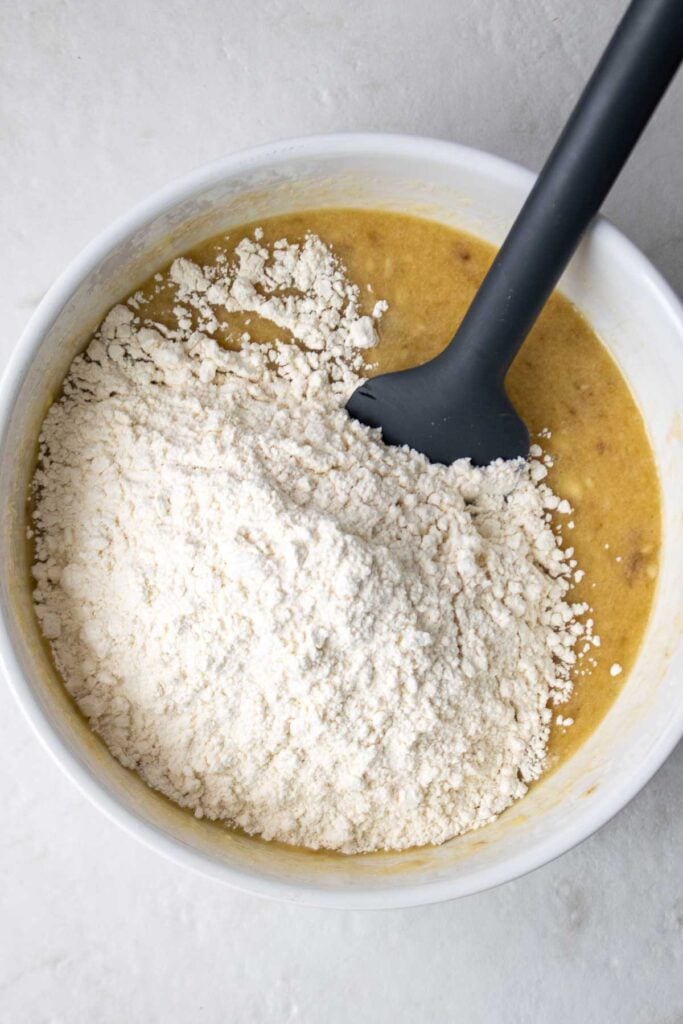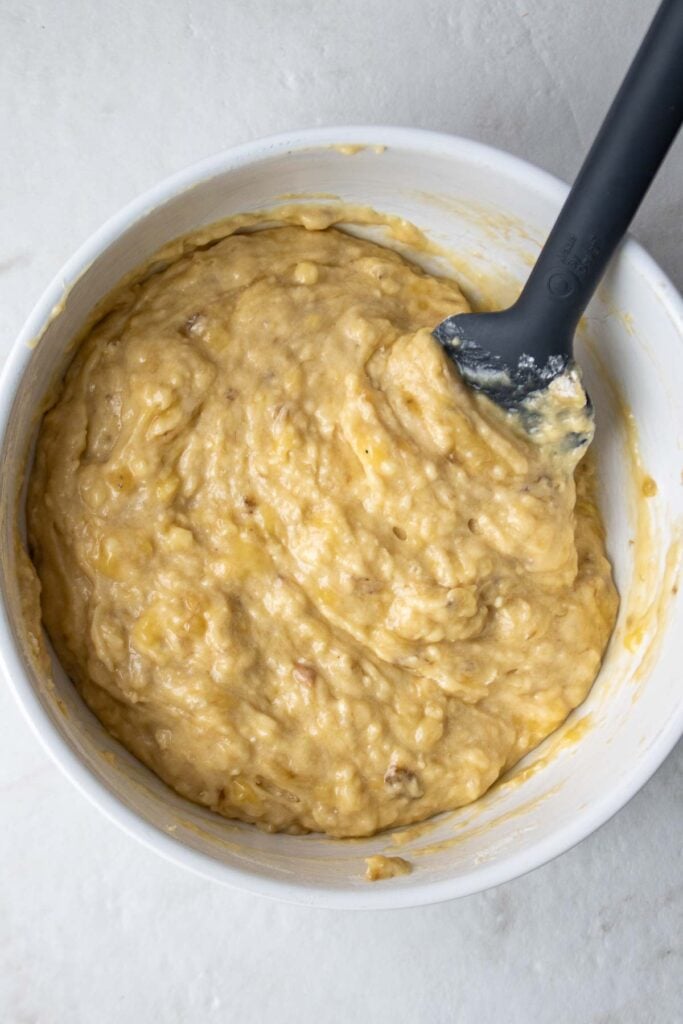 Advertisement:
How to Make Healthy Banana Blueberry Muffins
Making these healthy blueberry banana muffins is a breeze. Here are the steps:
Mix the dry ingredients.
Mix the wet ingredients.
Combine the wet ingredients with the dry ones.
Gently fold in the blueberries.
Spoon the batter into a muffin tin, dividing it equally.
Bake until the muffins are golden brown.
Allow to cool and enjoy!
While these instructions detail making the muffins by hand using mixing bowls, you can also opt to use an electric mixer. In that case, start by adding the wet ingredients to the mixer, mix until well combined, then add the dry ingredients. Finally, gently fold in the blueberries by hand.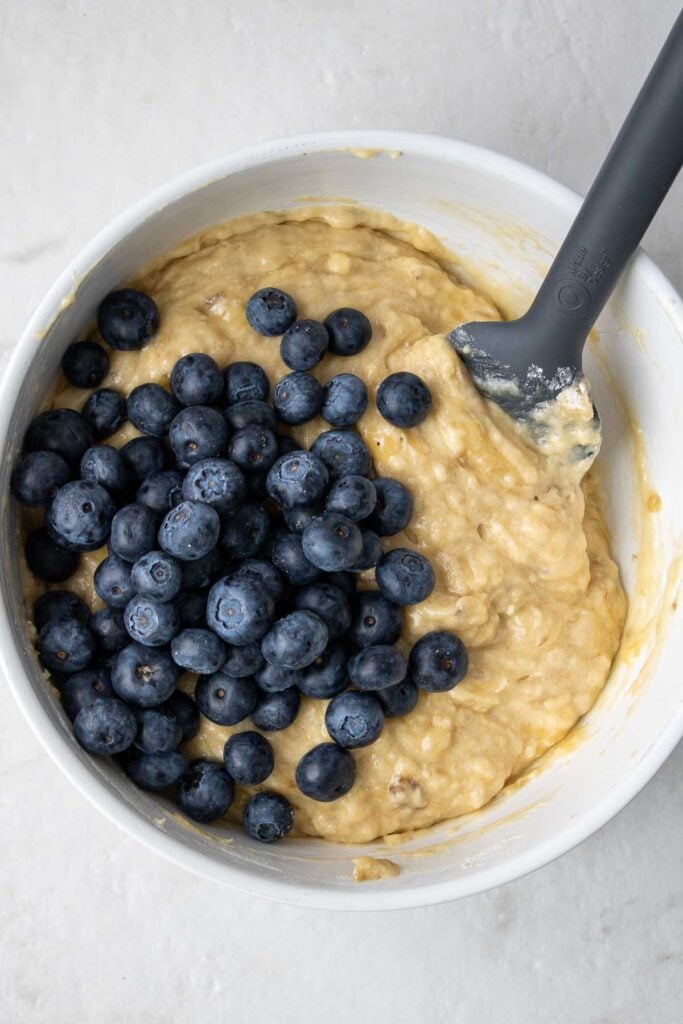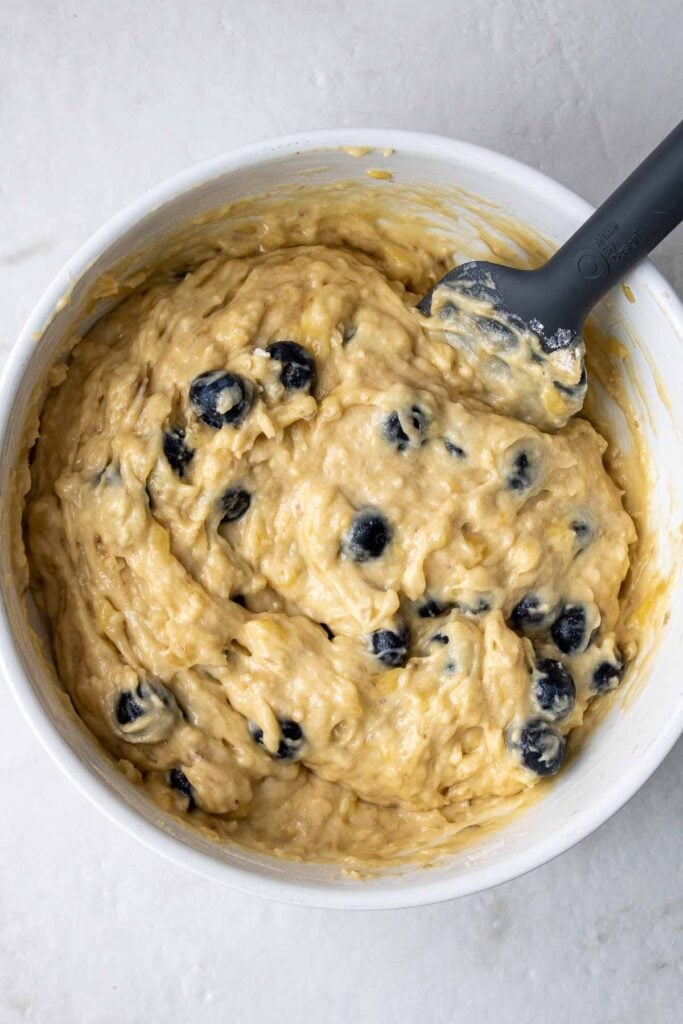 Advertisement:
Tips for the BEST Banana Blueberry Muffins
To ensure your homemade muffins turn out delicious and healthy, here are some essential tips:
– Avoid overmixing the batter, as it can lead to dense, chewy muffins.
– Fill the muffin cups to about 2/3 to 3/4 full to allow room for rising without overflowing. For larger muffins, use freestanding paper baking cups.
– Don't overbake the muffins, as this can result in a dry, hard top. Bake until a toothpick inserted into the center comes out clean or with a few moist crumbs.
– Allow the muffins to cool in the tin for a few minutes before transferring them to a cooling rack. This prevents them from falling apart, as removing extra-warm muffins directly from the pan can cause breakage.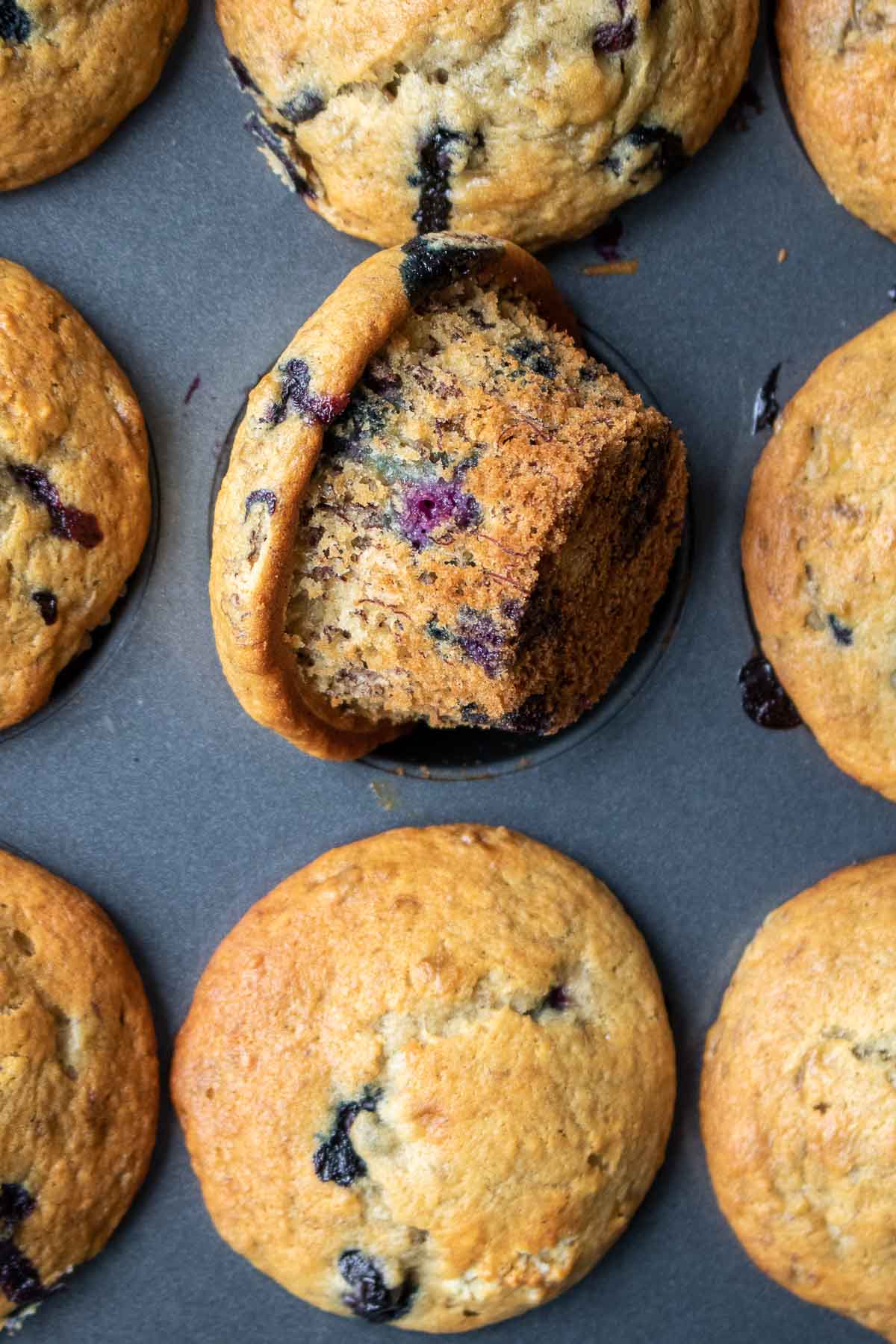 Advertisement:
Nutrition Tip
While these muffins contain 15 grams of sugar per muffin, which is relatively low for a muffin recipe, it's important to note that the majority of this sugar comes from the natural sugars in the bananas and blueberries. Only a small amount is added in the form of white sugar. Furthermore, these muffins are rich in fiber compared to other muffin recipes, with 6 grams per serving. This fiber helps regulate the body's sugar utilization, aiding in hunger control and blood sugar management.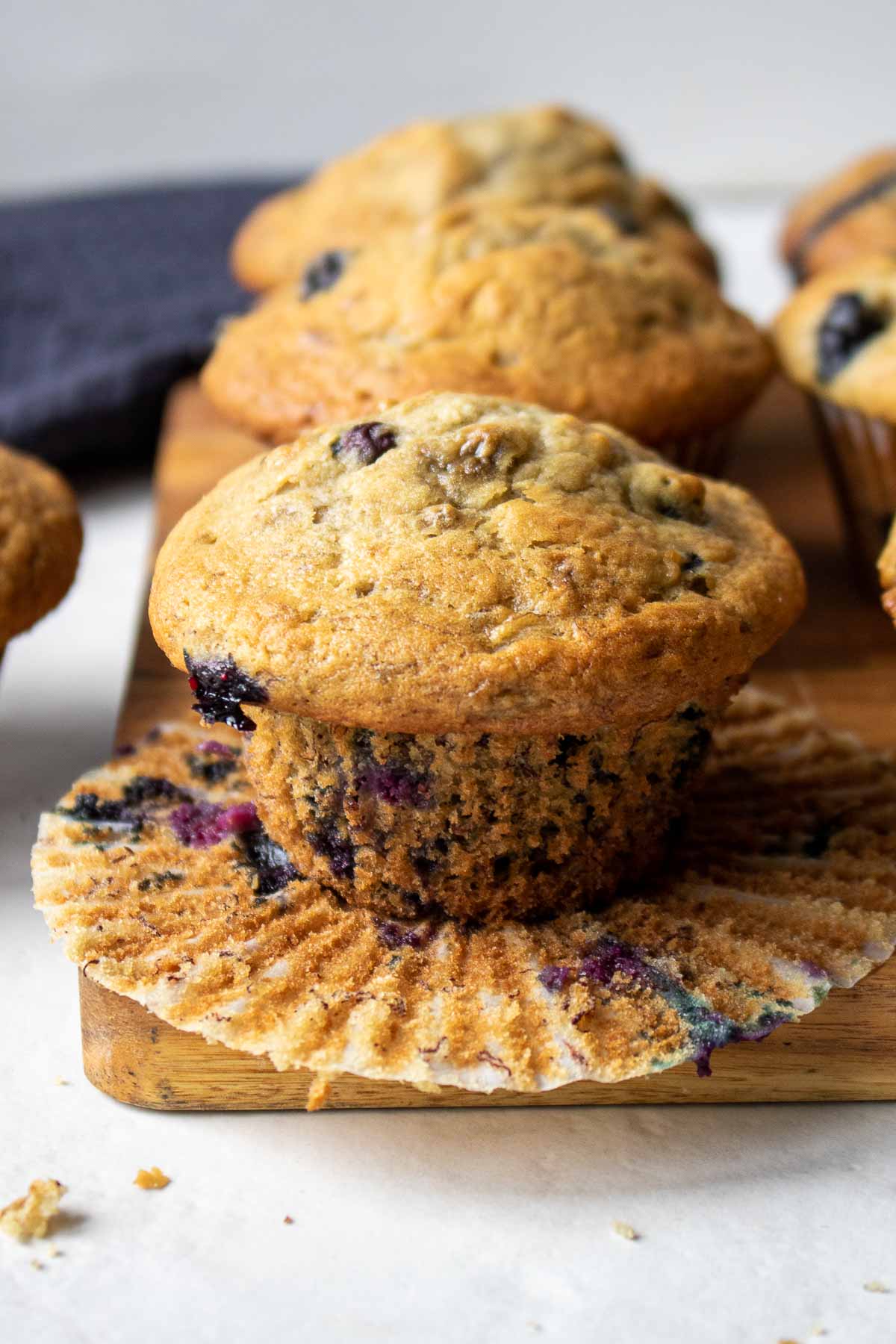 Banana Blueberry Muffins FAQs
Is it better to use fresh or frozen blueberries for blueberry muffins?
Both fresh and frozen blueberries can be used in muffins, each yielding slightly different results. Frozen blueberries tend to "melt" into the muffins as they cook because their skins become more fragile after freezing. However, if they thaw before being added to the batter, their juices may bleed into the muffins, giving the batter a bluish tint. Fresh blueberries are sturdier and maintain their integrity after baking. They may "burst" when bitten into. The choice between fresh and frozen depends on personal preference.
Should frozen blueberries be thawed before baking muffins?
It's generally best to use frozen blueberries directly from the freezer in muffin batter. Thawing frozen blueberries can cause them to release juices, which may bleed into the batter and turn it blue. If you opt to use thawed frozen blueberries, you can strain them and pat them dry with a paper towel to remove excess moisture, preventing them from bleeding into the batter.
Advertisement:
How can I prevent blueberries from sinking in muffins?
To prevent blueberries from sinking to the bottom of muffins, toss them in a bit of flour before adding them to the batter. The light coating of flour will absorb some of the berry's moisture, making them less likely to sink during baking.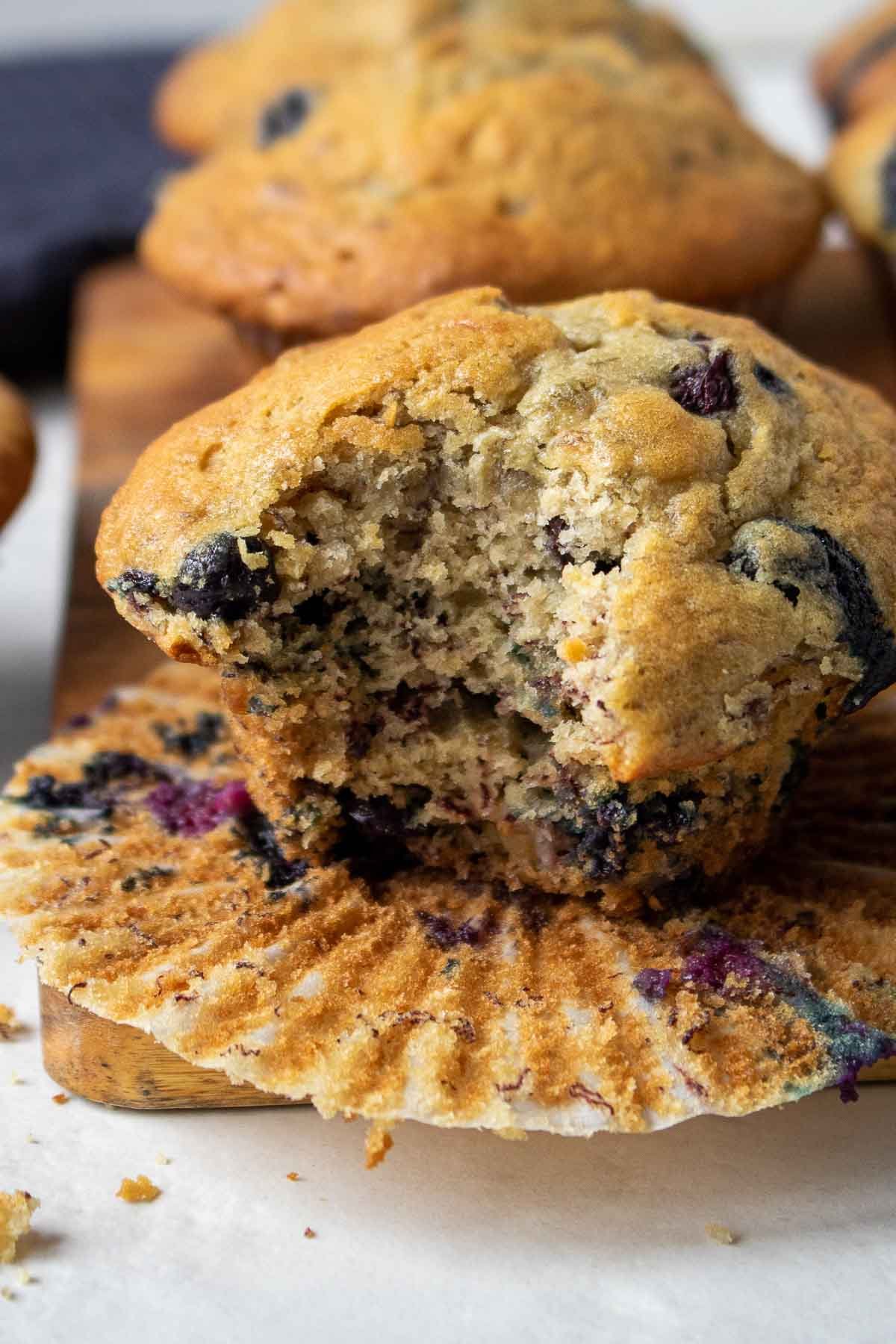 Storage + Reheating
For storage and reheating:
– To Store: Let the muffins cool, then place them in an airtight container. Store at room temperature for up to 4 days or in the refrigerator for up to 6 days.
– To Freeze: Allow the muffins to cool completely, then place them in a single layer in a freezer bag. They can be stored in the freezer for up to 3 months.
– To Reheat: To thaw frozen muffins, let them sit at room temperature or use your microwave's thaw setting. Once thawed, you can warm them in the microwave for 30 seconds or in a 350°F oven, wrapped in aluminum foil, for 5-10 minutes.
Advertisement:
Banana Blueberry Muffins
These healthy banana blueberry muffins are moist, fluffy, easy to make, and ready in less than 30 minutes.
Ingredients
1 1/2 cups all-purpose flour
1 teaspoon baking soda
1 teaspoon baking powder
1/2 teaspoon salt
1 1/2 cups ripe, mashed banana (about 3 large)
6 tablespoons melted butter
2/3 cup sugar
1 egg
1 teaspoon vanilla extract
1 cup blueberries, fresh or frozen
Milk, as needed
Instructions
Preheat the oven to 375°F and line a muffin tin with paper liners or lightly grease it with butter or cooking spray.
Peel ripe bananas and mash them in a medium bowl using a fork until they form a smooth puree.
In a medium bowl, combine the flour, baking soda, baking powder, and salt. Mix well.
In a large bowl, beat together the mashed banana, melted butter, sugar, egg, and vanilla extract until well combined and the sugar dissolves.
Add the flour mixture to the banana mixture and mix or whisk until thoroughly combined. Depending on the ripeness of your bananas, the batter may be a bit thick. If needed, add a couple of tablespoons of milk to achieve the desired consistency; you want the batter to be thick but not overly thick.
Gently fold the blueberries into the batter. (Note: If using frozen berries, toss them with a tablespoon of flour in a small bowl, ensuring they're coated with flour. This helps prevent the blueberries from bleeding into the batter. Add the flour-coated blueberries to the batter, leaving behind any excess flour, and fold until well combined.)
Spoon the batter into the muffin pan, evenly dividing it to make 12 muffins.
Place the muffin tin in the oven and bake for 18-20 minutes, or until a toothpick inserted into a muffin comes out clean.
Once baked, let the muffins cool slightly before transferring them to a wire rack to cool to room temperature.
These muffins can be served right away or stored at room temperature for up to 4 days, in the fridge for up to 6 days, or frozen for up to 3 months.
Nutrition
Serving Size: 1 muffin
Calories: 139 calories
Sugar: 15 grams
Fat: 6 grams
Carbohydrates: 31 grams
Fiber: 1 gram
Protein: 2 grams
NEXT: Viral TikTok cinnamon rolls with double cream
Thanks for your SHARES!
Advertisement:
You May Also Like
Add a comment