Irish Soda Bread Recipe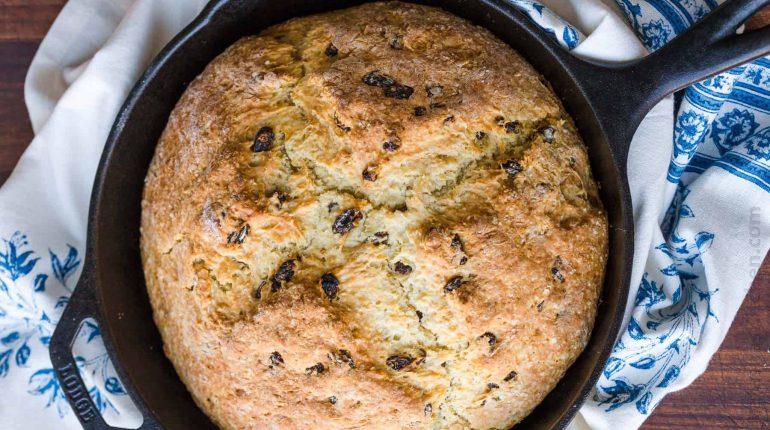 Posted November 10, 2023 by: Admin #Kitchen
Irish Soda Bread is a delightfully simple bread, requiring no proofing or kneading, and the dough effortlessly comes together in just 5 minutes. The resulting bread boasts a soft, tender crumb with a biscuit-like texture.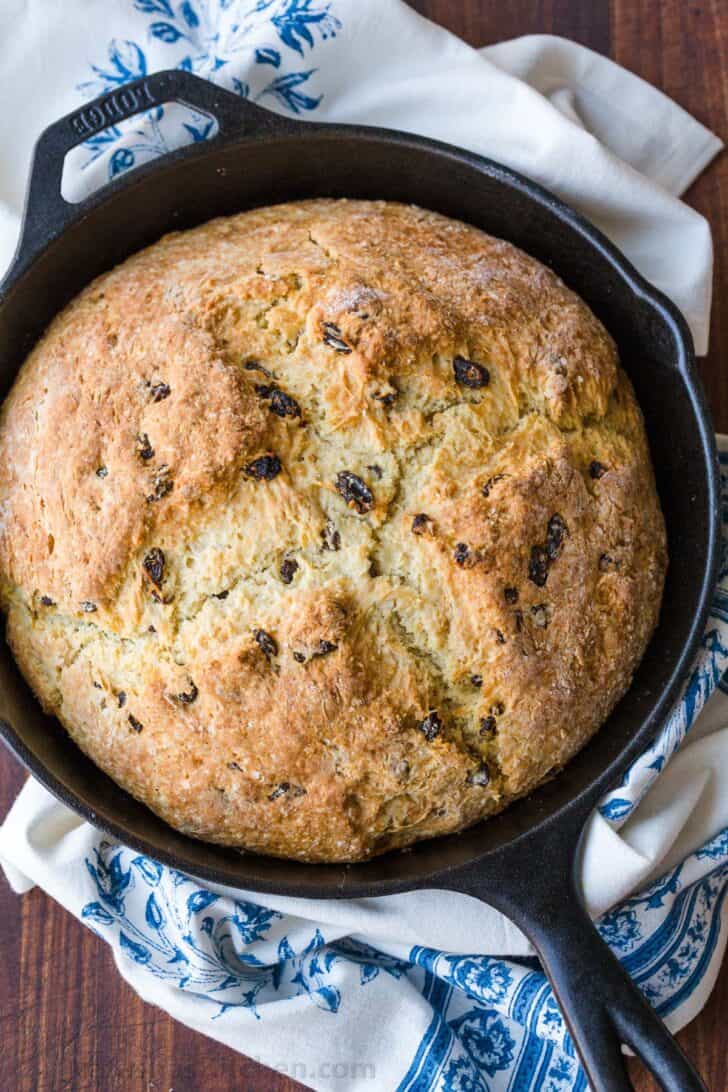 Advertisement:
For enthusiasts of easy bread recipes, this Irish Soda Bread is a must-try!
You'll Love this Soda Bread!
My affection for Soda Bread blossomed upon my first taste. Its lightly sweet crumb brought to mind our Paska Easter Bread and Hot Cross Buns. What amazed me was how effortlessly one could create a traditional Soda Bread.
What is Irish Soda Bread?
Irish-American Soda Bread, a St. Patrick's Day tradition, is a quick bread that employs Baking Soda (Sodium Bicarbonate) as the leavening agent, eliminating the need for proofing or rising time. Once the dough is ready, you score the top and bake promptly.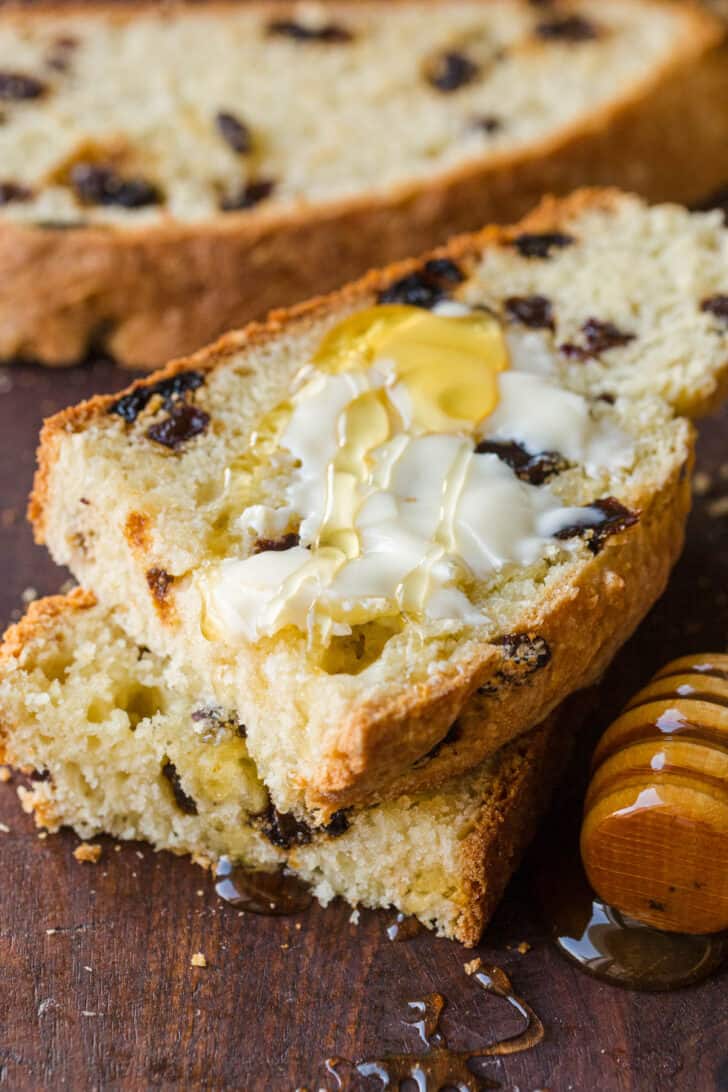 Advertisement:
Ingredients
Raisins, though optional, add a festive touch. Buttermilk can be substituted with kefir for those without it. The ingredients include:
Flour – all-purpose flour works best
Sugar – 1/4 cup makes it a lightly sweet bread
Salt – every good bread needs a fair amount
Baking soda – leavening which makes the bread rise
Butter – gives the bread a scone-like texture (use cold, unsalted)
Buttermilk – activates the soda (use cold, low-fat)
Egg – for a finer, richer crumb
Raisins – optional and can be substituted for dried cranberries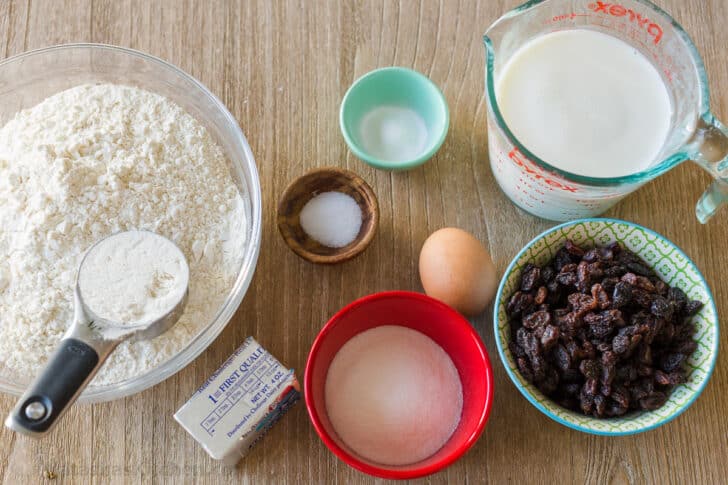 Tips for the Best Soda Bread
To achieve the best results, keep these tips in mind:
Advertisement:
Do not over-mix – as with scones, the dough really just has to come together before baking.
Sticky dough – the dough will feel sticky. Dust your work surface and hands with just enough flour to handle the dough.
Cold ingredients – there's no reason to bring ingredients to room temperature. Keep buttermilk, egg, and butter chilled.
Generously grease the pan – buttering your cast-iron skillet before baking allows the bread to rise without sticking to the pan.
Cool on a rack – Once out of the oven, transfer the soda bread to a rack to cool so it doesn't steam and soften on the bottom.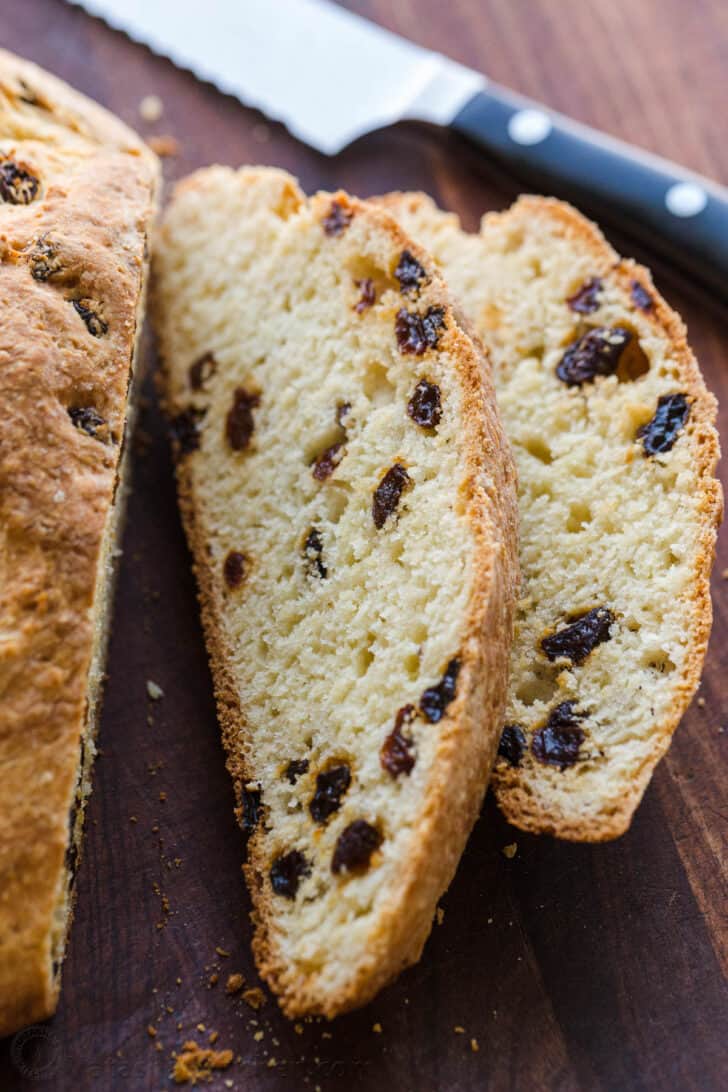 How to Make Soda Bread
Prepare to be amazed at how swiftly and easily you can craft a loaf of this Irish-American Soda Bread:
Prep – Preheat oven to 375. Grease a 10″ cast-iron pan with butter.
Whisk dry ingredients – in a large mixing bowl, whisk together flour, sugar, salt, and baking soda.
Add butter and raisins – cut butter into dice then work it into the flour mixture with clean dry fingertips until crumbs form. Stir in raisins.
Buttermilk – In a large measuring cup, beat together buttermilk and 1 egg and pour into dry ingredients. Stir with a wooden spoon until moistened and the dough starts to come together.
Form the loaf – transfer the dough to a lightly floured surface, dust hands with flour, and form dough into a round loaf. If too sticky to handle, dust with flour.
Bake – transfer dough to the buttered pan and score the top with a deep "X". Bake at 375˚F for 50-55 minutes.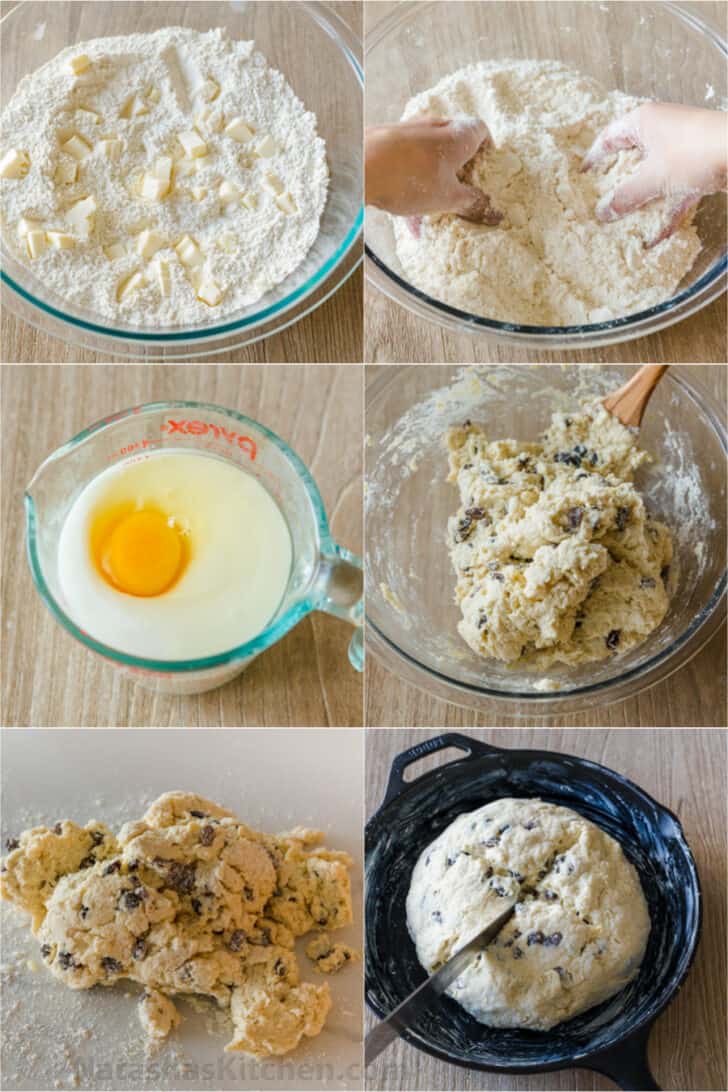 Advertisement:
How to know when Soda Bread is done baking? We bake for 50-55 minutes. When you tap the loaf it should sound hollow inside.
Common Questions:
Can I leave out the raisins?
You can omit the raisins, or even substitute them for dried cranberries or other bits of dried fruit like chopped apricots.
Can I make soda bread without buttermilk?
The buttermilk activates the baking soda, making the bread rise. You can substitute the buttermilk with a low fat plain Kefir.
What does Irish Soda Bread taste like?
It tastes similar to scones or biscuits but is very lightly sweet.
Advertisement:
How to serve Soda Bread?
We love to serve soda bread is delicious served as a side with Irish butter and honey, or jam. It's a lightly sweet bread so it pairs well with coffee or tea.
Why do you score the top with an "X"?
Scoring the top gives it extra surface area to brown and crisp.
Why is my soda bread tough?
Over-mixing or over-kneading the dough can make it tough. The less you handle it, the softer the bread will be.
Advertisement:
Can I freeze soda bread?
Soda bread freezes really well. If you freeze it the day it's baked (be sure it's cooled to room temperature first), it will taste great thawed and toasted.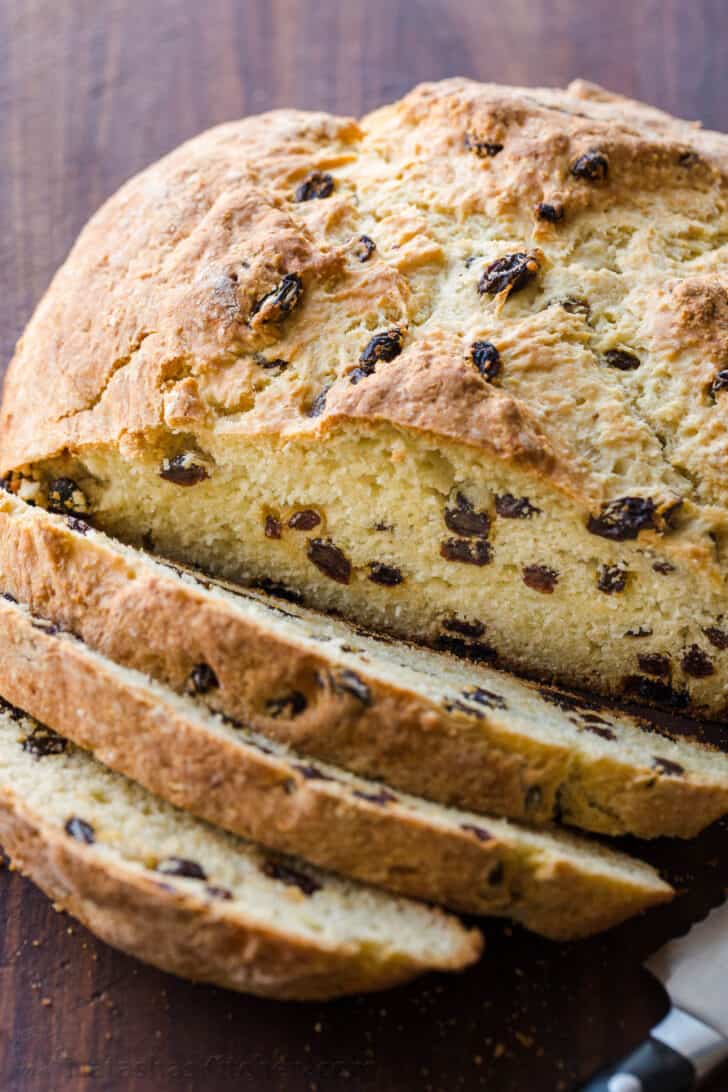 This Irish Soda Bread recipe is destined to be a holiday favorite for you. Its simplicity will impress everyone.
Preheat oven at 375˚F. Generously grease a 10" cast-iron skillet with 1/2 Tbsp butter.
In a large mixing bowl, whisk together flour, sugar, salt, and baking soda. Cut butter into small pieces and use your fingers to work the butter into the flour until crumbs form stir in the raisins, breaking up any clumps of raisins. Make a well in the center.
In a large measuring cup, whisk together the buttermilk and egg then add this mixture into the flour mixture. Use a wooden spoon and mix just until lightly moistened and dough barely starts to come together.
Transfer to a floured surface and use floured hands to shape the dough just until it forms into a round loaf. It should be shaggy. If it's too sticky to handle, dust lightly with flour. Do not over-mix or bread will be tough.
Transfer to the buttered pan, use a knife to score the top with a large and deep "X". Bake in the center of your preheated oven at 375 for 50-55min. When you tap on the bread, it should sound hollow inside. Transfer bread to a wire rack to cool. Enjoy within 2 days of making it and refrigerate leftovers up to a week.
Advertisement:
NEXT: The Perfect Recipe for Baking Potatoes
Thanks for your SHARES!
Advertisement:
You May Also Like
Add a comment