Spinach Scrambled Eggs with Feta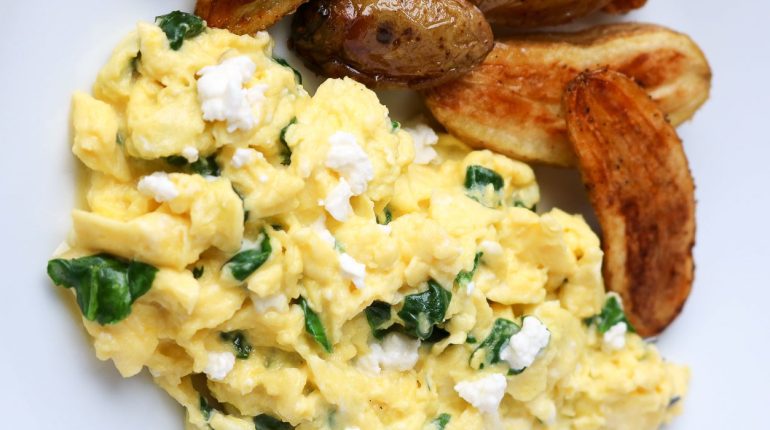 Posted October 13, 2023 by: Admin #Kitchen
If you're in search of a fast and nutritious breakfast option, your quest ends with these delectable spinach scrambled eggs. Packed with vibrant leafy greens and the richness of feta cheese, these scrambled eggs are not only a fantastic source of protein but are also exceptionally quick to prepare. They are an ideal choice for a healthy weekday breakfast or a delightful addition to a hearty weekend brunch.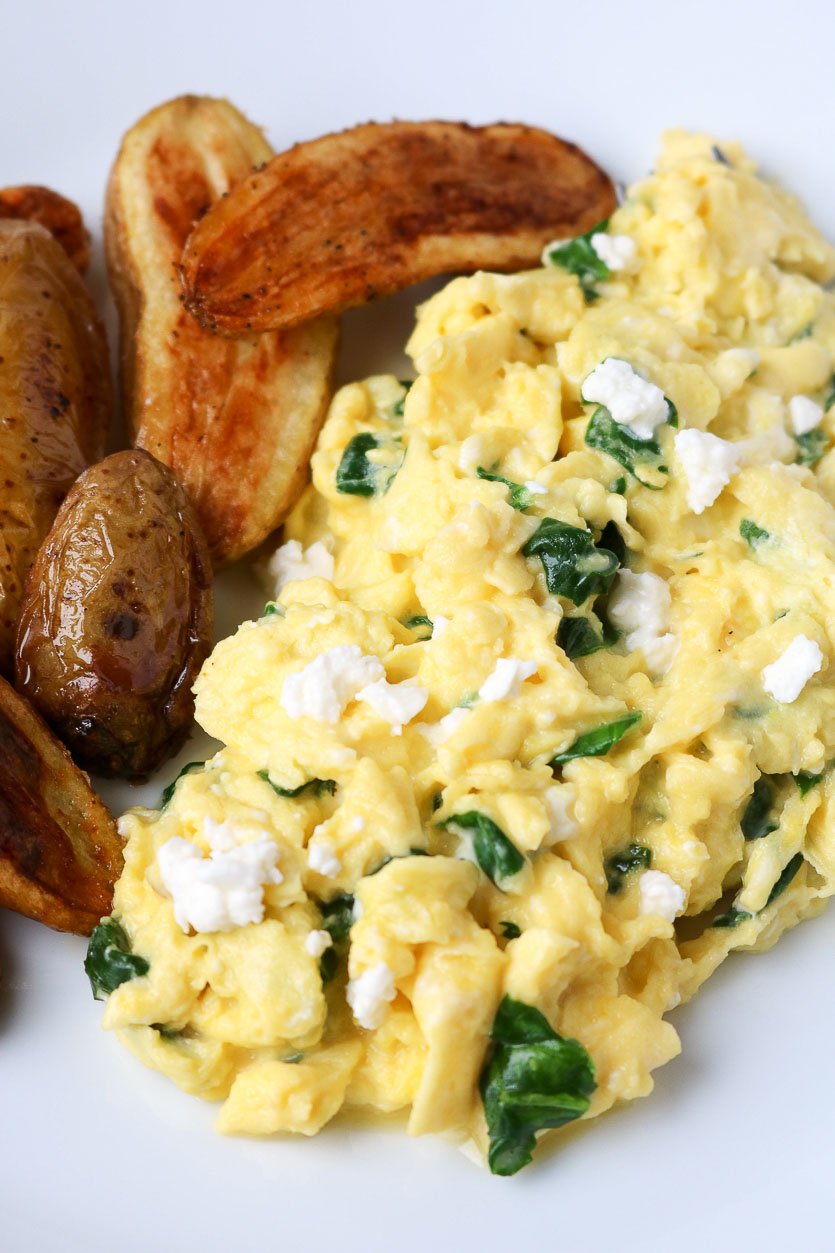 Advertisement:
These scrambled eggs feature the wonderful addition of feta cheese. However, if feta isn't to your liking, you have the flexibility to omit it entirely or experiment with other cheese options such as cheddar, Havarti, or manchego, all of which will complement the dish superbly.
Spinach Scrambled Eggs
These spinach scrambled eggs with feta cheese make for a swift, uncomplicated, and protein-rich morning repast.
Ingredients
2–3 eggs
1 cup spinach, roughly chopped
2 tablespoons feta cheese, crumbled
1 teaspoon butter
Salt
Pepper
Instructions
1. Crack the eggs into a bowl, whisk to blend, and set aside.
Advertisement:
2. Heat butter in a cast-iron skillet or a heavy-bottomed pan over medium-high heat.
3. Once the butter has melted, add the chopped spinach and a pinch of salt. Cook, stirring frequently, until the spinach is wilted, tender, and vibrant green, which should take about 1 to 2 minutes.
4. After cooking the spinach, reduce the heat to medium. Add the whisked eggs to the pan and, using a spatula, gently stir and fold the eggs. When the eggs are about halfway cooked, introduce the crumbled feta cheese and continue folding and stirring until the eggs reach your desired level of doneness.
Advertisement:
5. Once fully cooked, remove the mixture from the pan, season with additional salt and pepper to your taste, and serve promptly.
Nutrition
Serving Size: 2 eggs
Calories: 221 calories
Sugar: 1 gram
Fat: 16 grams
Carbohydrates: 2 grams
Fiber: 1 gram
Protein: 16 grams
Advertisement:
NEXT: Delicious Tex-Mex Chilaquiles – A Flavorful Twist on a Traditional Dish
Thanks for your SHARES!
Advertisement:
You May Also Like
Add a comment