Roasted Butternut Squash Recipe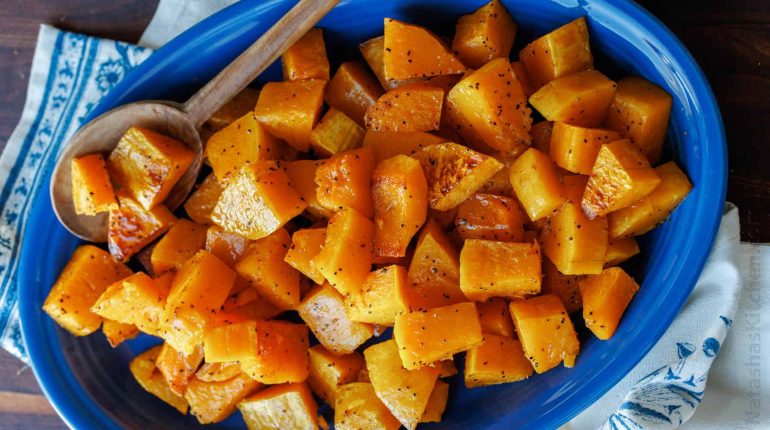 Posted November 10, 2023 by: Admin #Kitchen
Indulge in the delightful taste of perfectly roasted butternut squash, a versatile addition to fall meals and a star in recipes like Butternut Squash Soup. Using a simple, no-frills method, roasting this squash in the oven becomes a breeze.
Advertisement: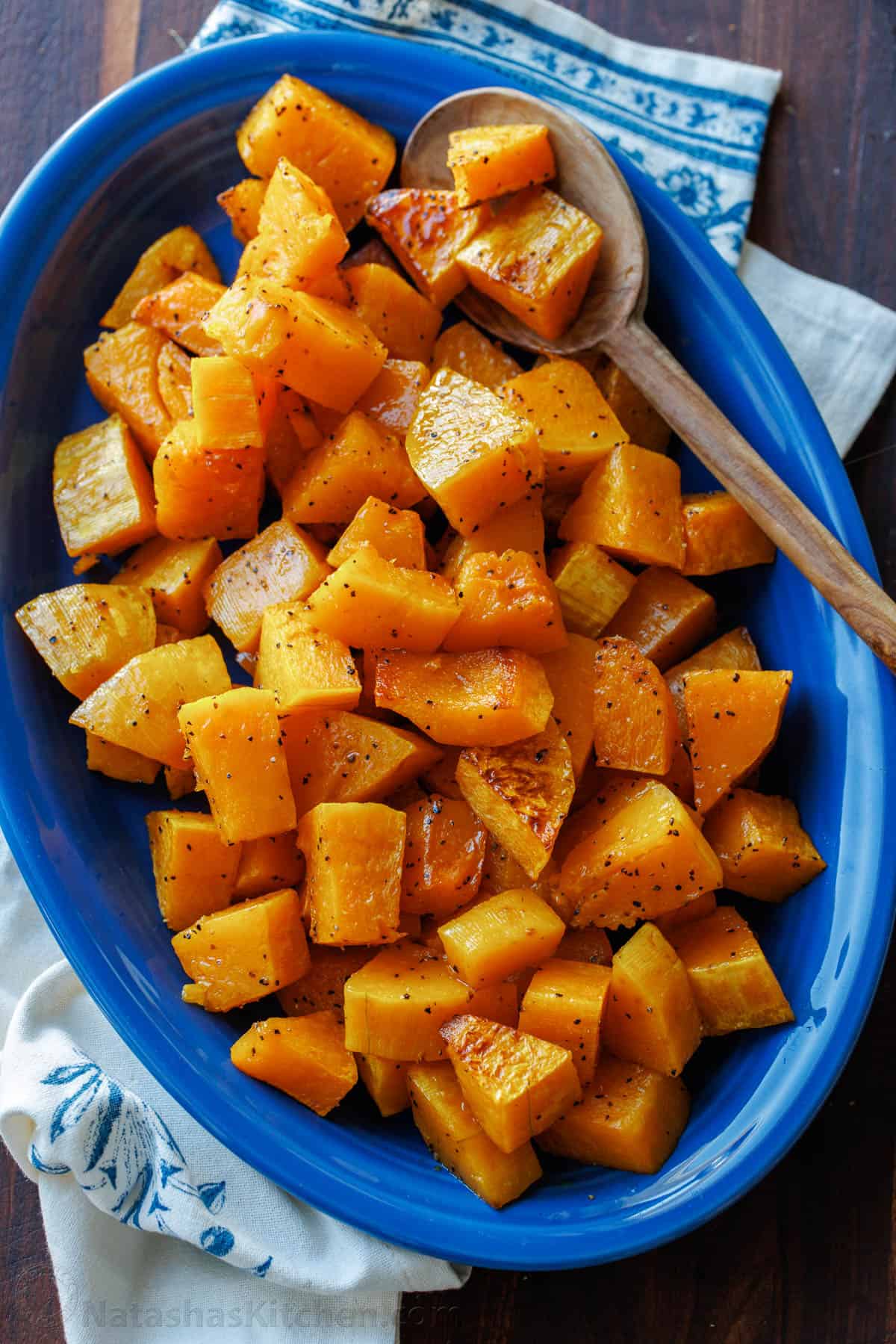 As the cooler months arrive, winter squash takes a prominent place in our kitchen. From Maple Roasted Acorn Squash to the simplicity of Spaghetti Squash, we adore incorporating roasted vegetables into our meals.
Simple Roasted Butternut Squash Recipe
Butternut squash, with its delightful mix of pumpkin and sweet potato flavors, becomes the perfect ingredient for fall recipes. Its mild and pleasant sweetness makes it ideal for roasting, enhancing dishes like salads or the velvety smoothness of Butternut Squash Soup.
This oven-roasted butternut squash tutorial offers a straightforward approach to letting the flavors shine in your fall dishes.
Advertisement: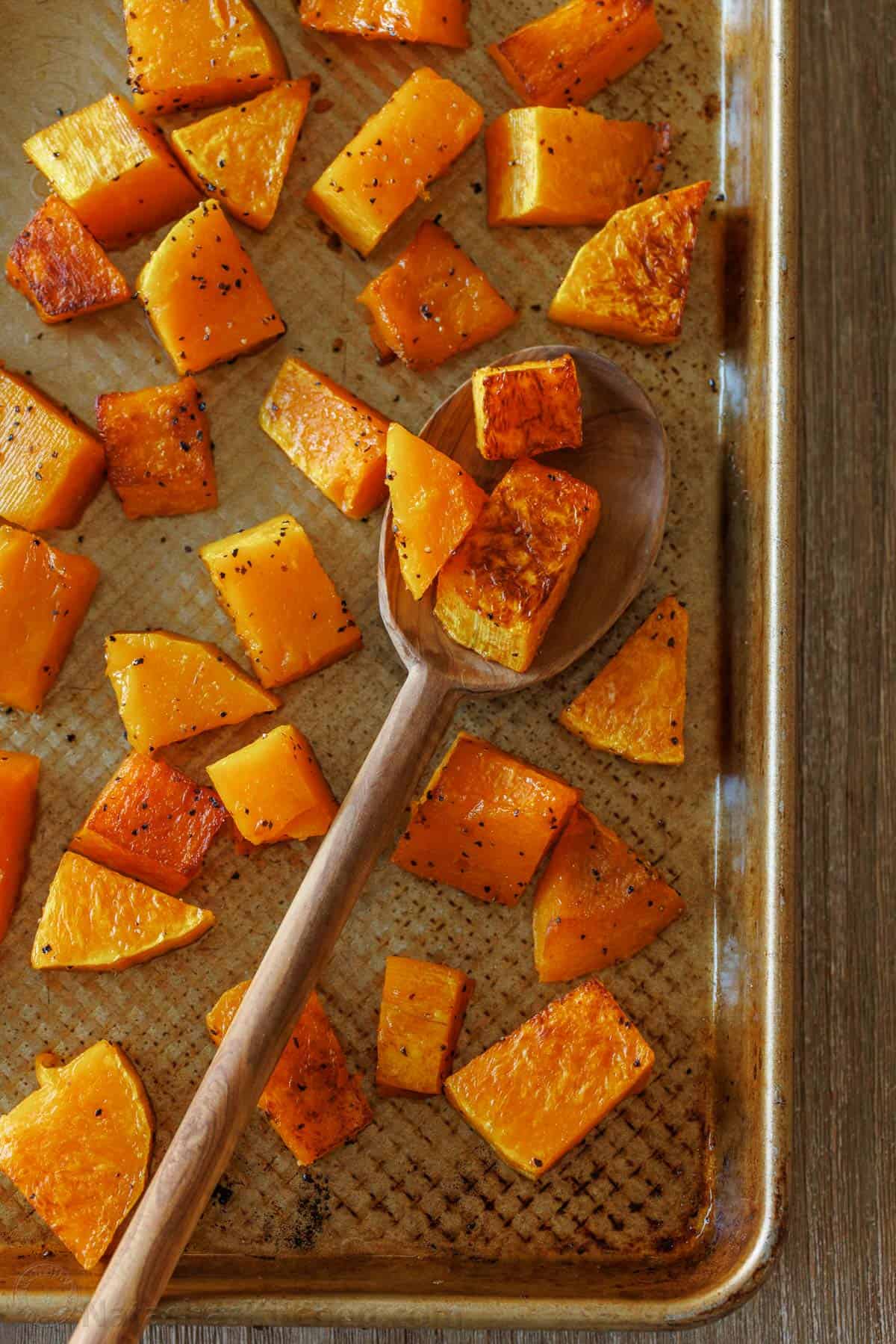 Ingredients
The key to perfect roasted squash lies in quality ingredients. Refer to the recipe card for precise amounts:
Butternut Squash – Approximately 3 pounds, equivalent to one large squash.
Olive Oil – Opt for a decent quality, extra virgin olive oil for optimal roasting.
Salt and Pepper – Enhance the flavor with fine sea salt and freshly cracked black pepper.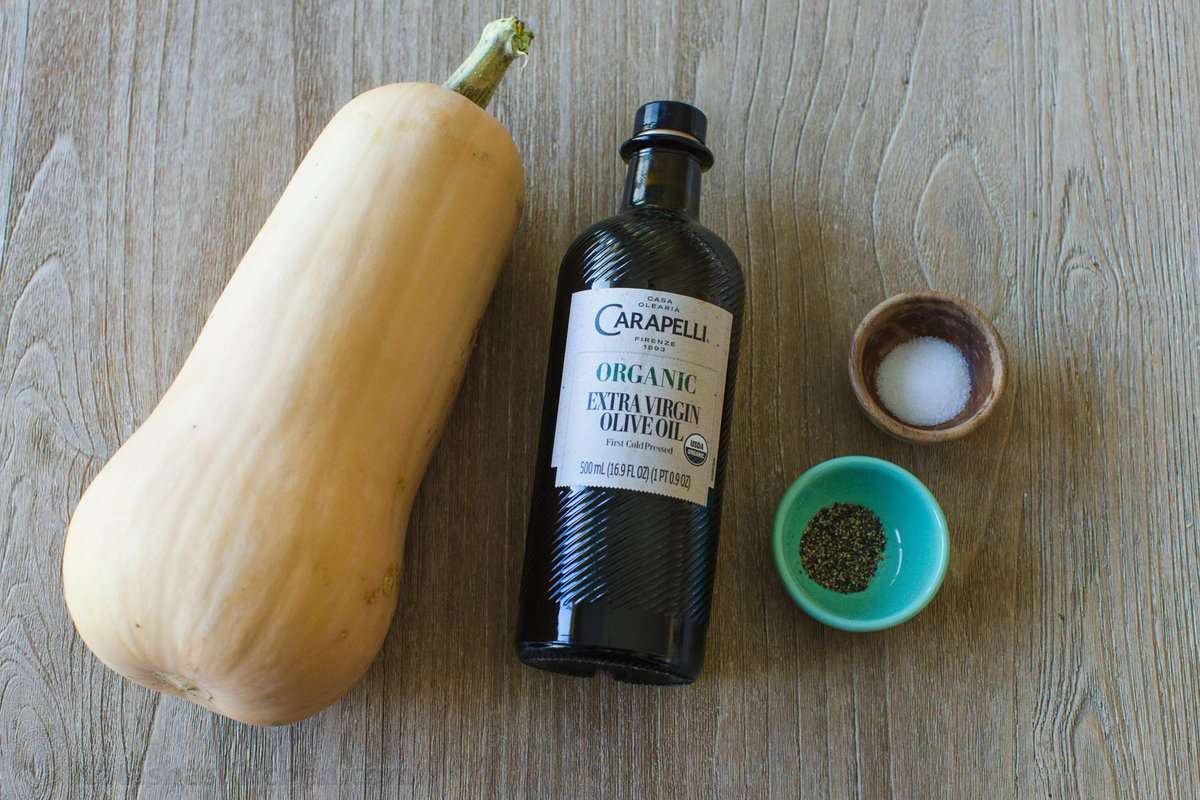 How to Select and Store Butternut Squash
Choosing the perfect butternut squash involves attention to detail:
Weight – Opt for a squash that feels heavy for its size.
Color – Deeper colors often indicate sweeter and more flavorful squash.
Skin – Ensure the skin is smooth and free from marks or punctures.
Stem – A dry and firmly attached stem is a good sign of freshness.
After selection, store the squash in a cool, dry place away from direct sunlight, where it can stay fresh for several weeks.
Advertisement:
How to Cut Butternut Squash
Preparing butternut squash for roasting is a breeze with these steps:
Peeling – Use a potato or vegetable peeler to peel from stem to base, similar to peeling a potato but with tougher skin.
Remove the Seeds – Cut the squash in half, scrape out the seeds with a spoon, and discard.
Cut into Cubes – Aim for approximately one-inch chunks for even roasting.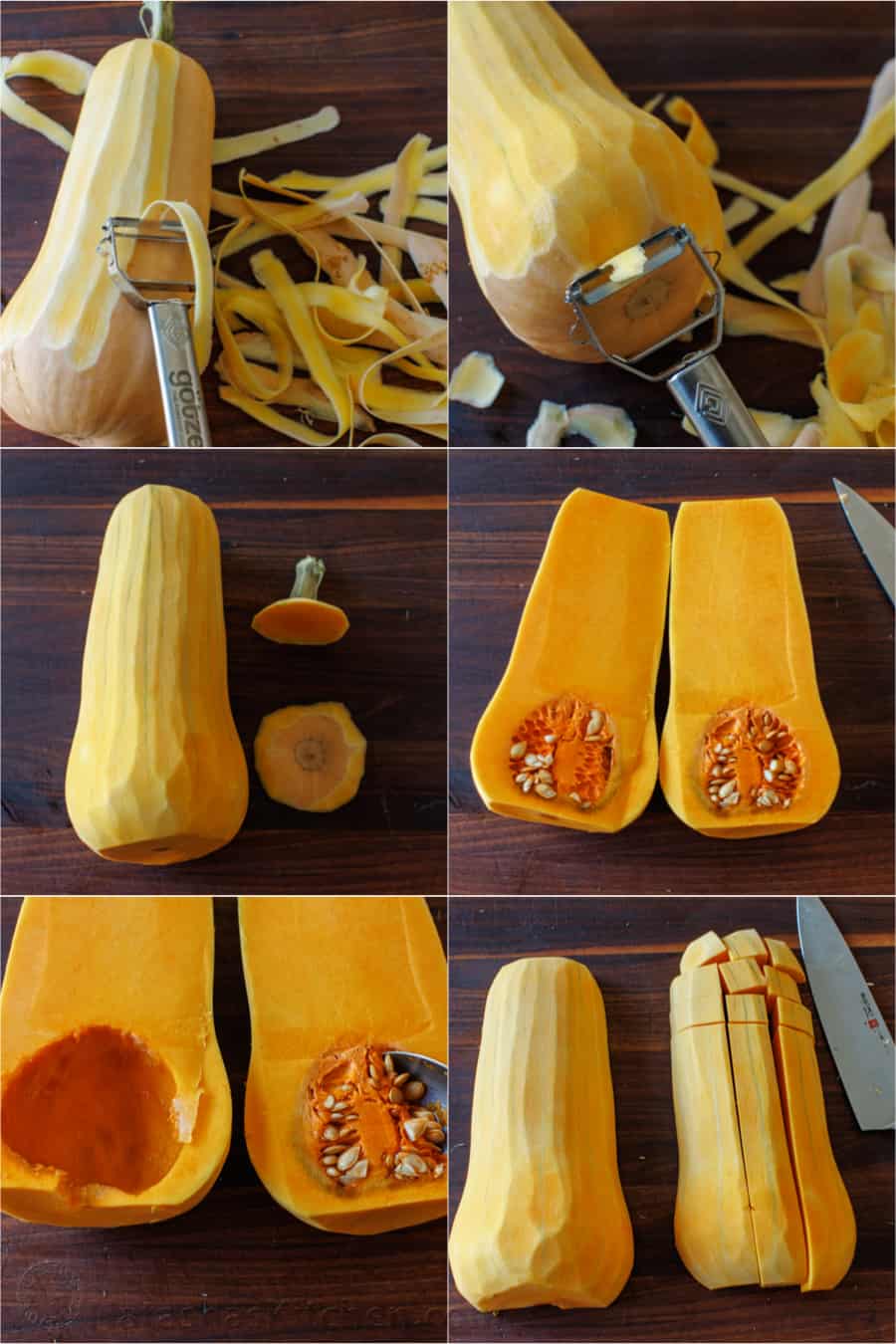 Pro Tip: Save the seeds for a delicious, crispy garnish in soups and salads by toasting them lightly in a skillet with butter (or oil) and a pinch of salt.
How to Roast Butternut Squash
With the squash prepped, roasting becomes a simple three-step process:
Advertisement:
Season – Toss the squash with olive oil, salt, and pepper.
Assemble – Lay the chunks on a greased or lined baking sheet in a single, even layer.
Bake – Roast at 400ºF for 40 minutes, turning halfway, until golden brown and tender.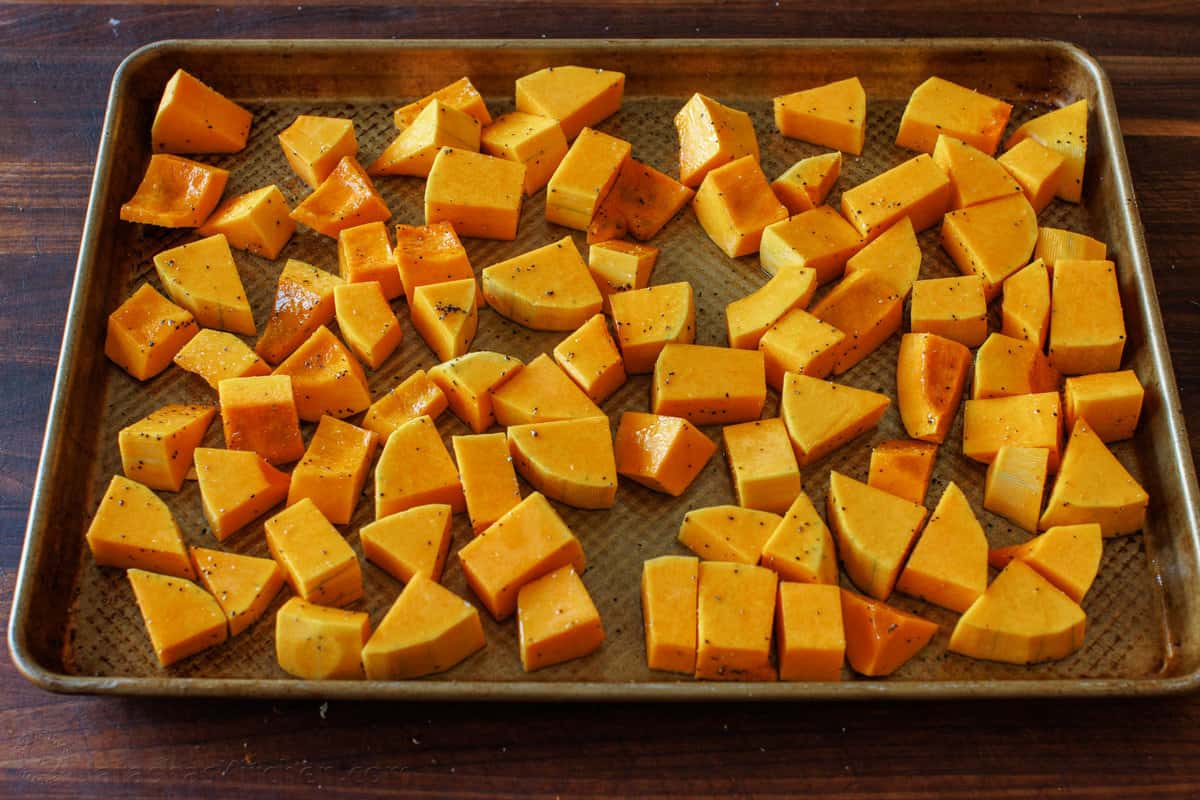 Pro Tip: Simplify cleanup by seasoning and tossing the squash directly on the baking sheet.
Easy Variations
This recipe keeps it simple, but here are more ways to elevate your roasted butternut squash:
Cinnamon Roasted Butternut Squash – Toss with cinnamon and brown sugar.
Spicy – Season with crushed red pepper flakes or Cajun spice.
Pecans – Drizzle with maple syrup and sprinkle with crushed pecans.
Herbs – Garnish with thyme, rosemary, parsley, chives, or oregano.
Bacon – Toss with cooked and diced bacon or pancetta.
Parmesan Cheese – Sprinkle with freshly grated parmesan or pecorino.
Common Questions
Do I have to peel the squash?
No. Alternatively, cut the squash in half, place it cut-side down, and roast until easily pierced with a fork, similar to Acorn Squash or Spaghetti Squash.
Can I double the recipe?
Certainly. Double or triple the recipe as needed for larger gatherings or holiday feasts.
Advertisement:
What Is Butternut Squash?
Butternut squash is a tan-colored winter squash, resembling an upside-down light bulb. It shares a vine-growing nature with pumpkins and boasts a sweet, slightly nutty taste.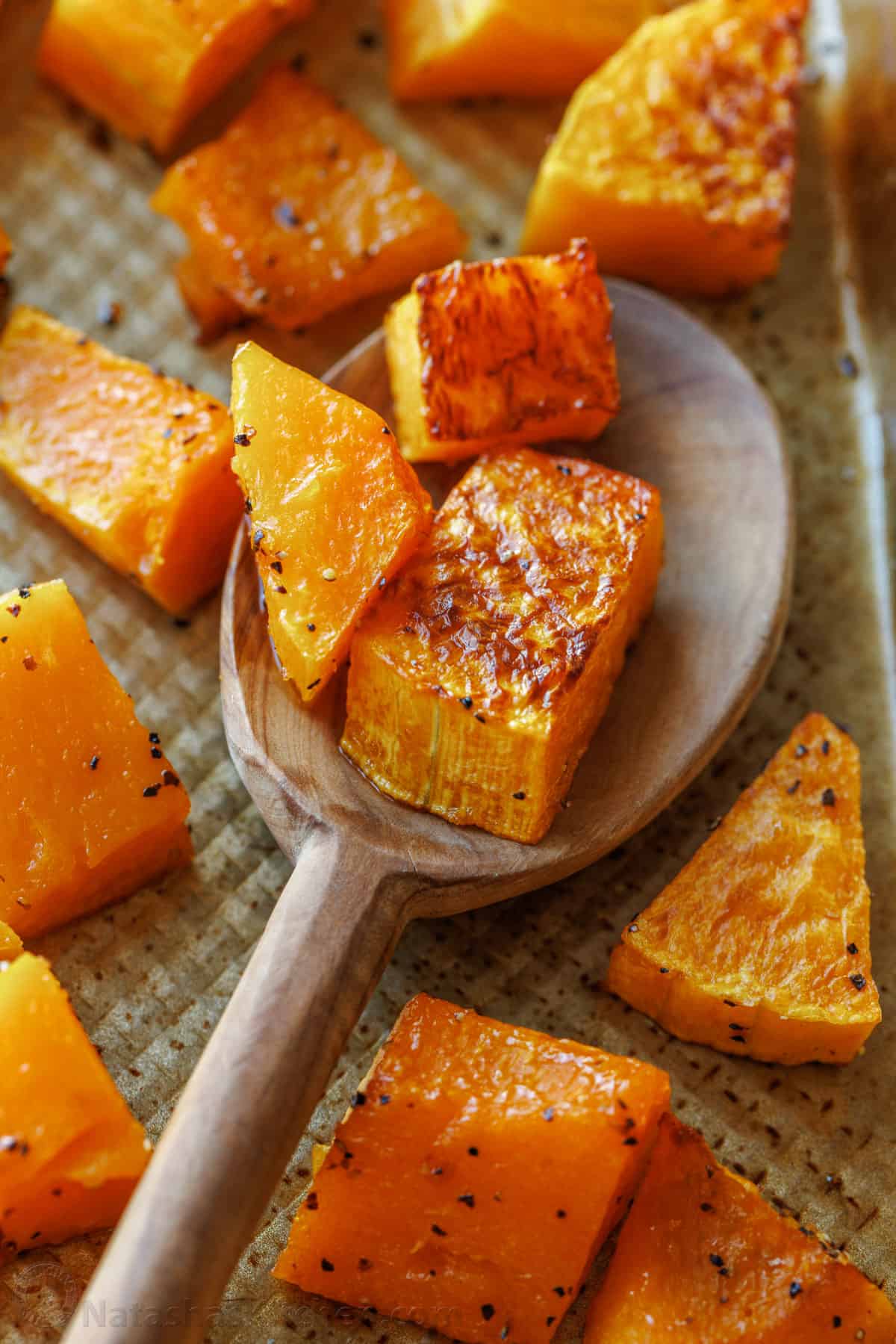 Ways to Serve
Roasted butternut squash becomes a versatile addition to various meals, be it a standalone vegetable side or incorporated into other recipes.
Make-Ahead
If roasting ahead or preserving leftovers, follow these steps:
Advertisement:
To Refrigerate: Store in an airtight container in the fridge for up to 3-4 days. Alternatively, refrigerate raw butternut squash cubes a day or two before roasting.
Freezing: Freeze cubes on the baking sheet, transfer to a bag or container once solid, and store for up to 12 months.
To Reheat: Warm in the oven at 350ºF, on the stovetop, or in the microwave until heated through.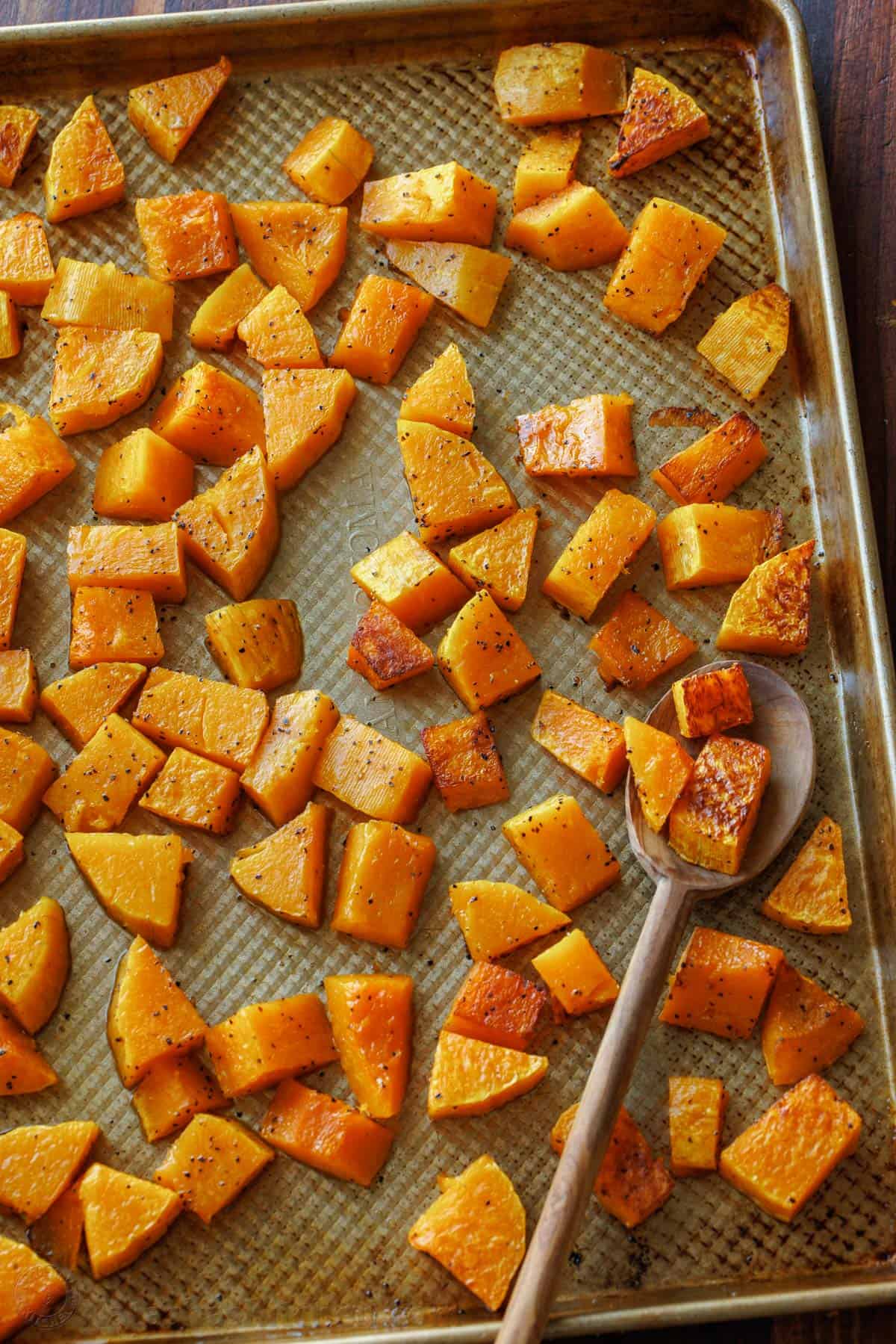 Discover the simplicity of baking butternut squash and let it become your new favorite fall vegetable.
Preheat the oven to 400˚F with the rack in the center. Line a baking sheet with parchment paper or use a non-stick sheet.
Peel the squash with a potato peeler, cut in half, scoop out the seeds, and chop into 1-inch chunks.
Transfer to the baking sheet, drizzle with oil, salt, and pepper, and toss to combine.
Spread evenly and bake until fork-tender and golden brown, about 35-40 minutes, turning after 20 minutes.
NEXT: New York Cheesecake Recipe – Rich & Creamy
Thanks for your SHARES!
Advertisement:
You May Also Like
Add a comment