Tomato Burrata Salad Recipe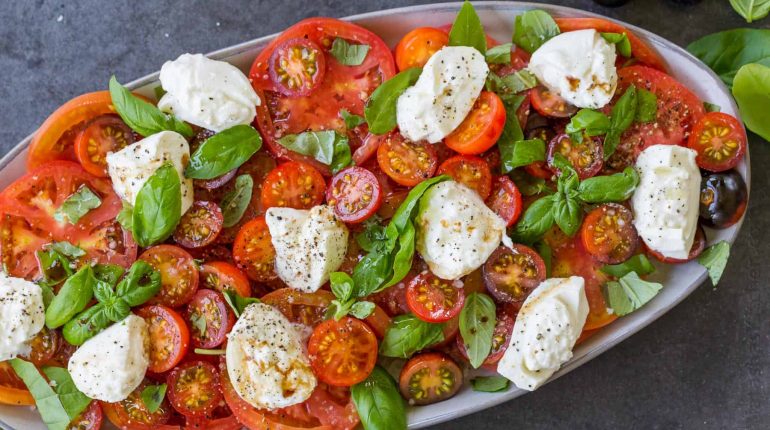 Posted November 10, 2023 by: Admin #Kitchen
If you've never had burrata cheese before, you're in for a treat. Burrata is a circular-shaped Italian cheese made from cow's milk. At first glance, it looks like fresh mozzarella cheese balls, but what's inside makes it truly special. It has a soft outer layer of fresh mozzarella cheese with a creamy center. If you slice into it with a knife, the gooey center pours out. The blend of contrasting textures is dreamy.
Advertisement: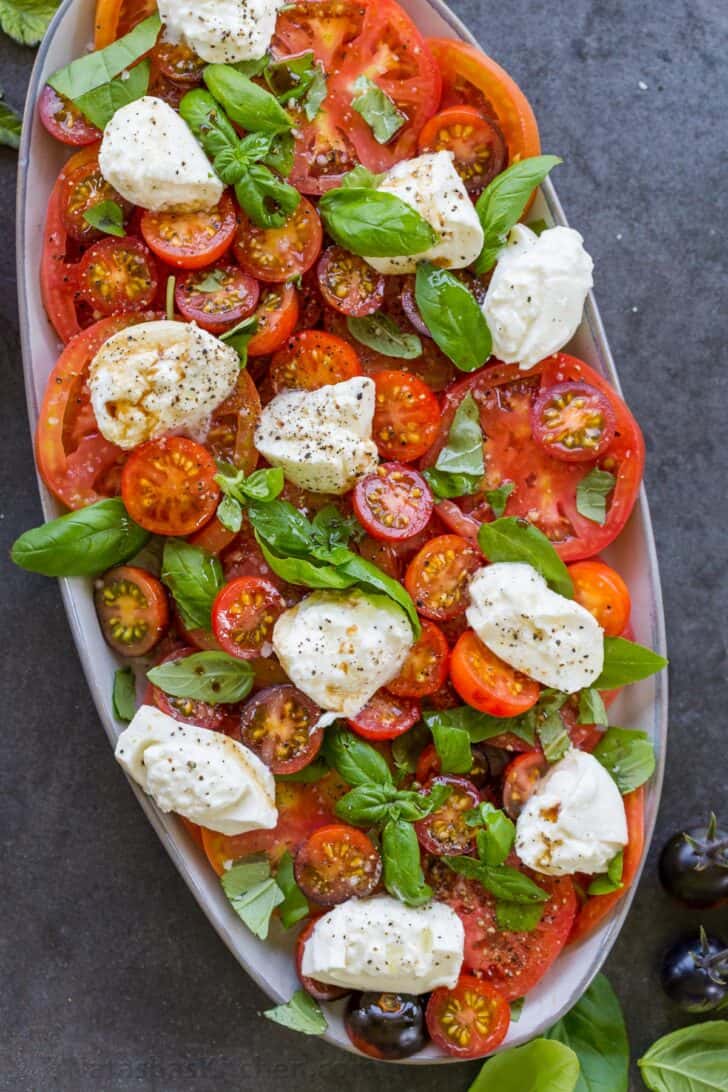 Tomato Burrata Salad Ingredients
Tomatoes – If using heirloom tomatoes, slice into rings like you would for Caprese Salad. Cut cherry tomatoes in half.
Basil – give them a rough chop once but don't go over them again with your knife or they will get bruised and crushed.
Burrata cheese – You should be able to find burrata in large grocery stores or specialty food stores. It's gotten very popular in recent years.
Extra virgin olive oil – You'll want to use a full-flavor oil.
Salt & pepper – You don't need to go overboard with the salt or pepper, as the burrata adds a nice flavor naturally.
Balsamic vinegar – A drizzle of tangy balsamic brings the whole salad together.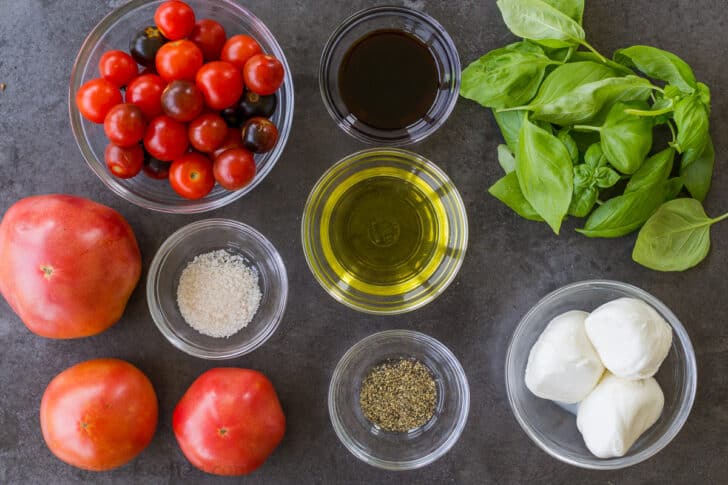 How To Make Burrata Salad
Slice Tomatoes: Using a sharp knife, cut the heirloom tomatoes into thick, round slices. Assemble them on a pretty serving dish. Next, cut the cherry tomatoes in half and sprinkle them over the heirlooms.
Chop Basil: Roughly chop the basil into imperfect pieces and sprinkle it over the tomatoes. You can also chiffonade basil as we did for Tomato Soup.
Chop the Burrata Cheese: Chop or tear the burrata into bite-sized chunks. Sprinkle it on the tomatoes and basil.
Season and Serve: Put a few cracks of salt and pepper on top, followed by a drizzling of olive oil and balsamic vinegar.
Tips for the Best Burrata Salad
Use colorful, in-season tomatoes – For the best taste, use in-season, fresh tomatoes from the garden, or a farmer's market.
Serve right away – Once the salad is dressed, don't let it sit at room temperature for too long or the salt will cause the tomatoes to get juicy.
Add salt to taste – we use fine sea salt. Salt really brings out the flavor of the tomatoes. If using flaky salt, you will need to add more.
Switch up the ingredients – This salad is super forgiving and versatile. Add in some arugula, prosciutto, croutons (like a Panzanella Salad), or sliced peaches to make it your own.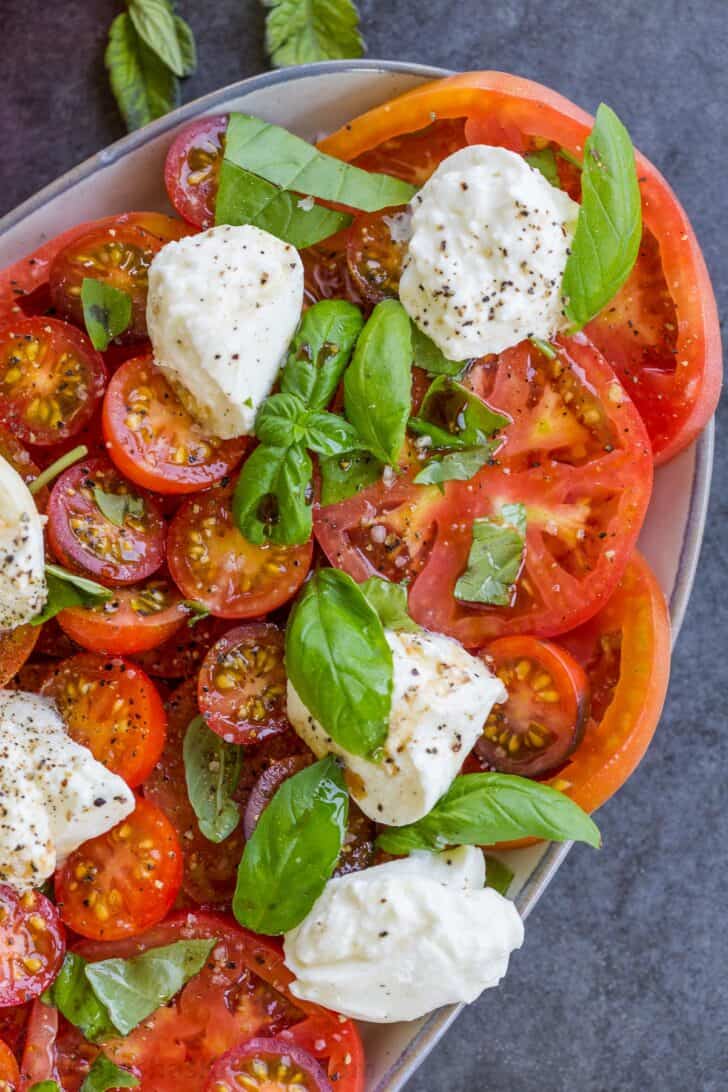 Advertisement:
Slice heirloom tomatoes into ⅓-inch thick slices. Place them on a serving dish.
Cut cherry tomatoes into halves. Place them on tomato slices.
Chop basil into small pieces and sprinkle over the tomatoes.
Cut or tear burrata cheese into bite-sized pieces. Place it on top of the ingredients.
Season everything with salt and pepper and drizzle with oil and balsamic vinegar. Serve right away.
NEXT: Beef and Broccoli Ramen Stir Fry
Thanks for your SHARES!
Advertisement:
You May Also Like
Add a comment