The Softest Cloverleaf Dinner Rolls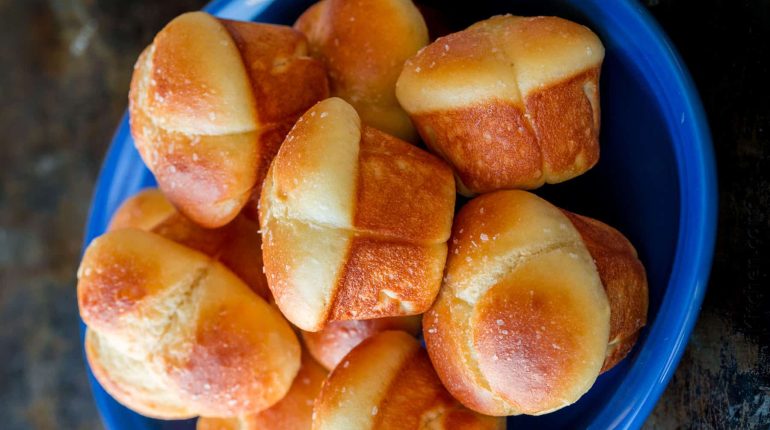 Posted November 10, 2023 by: Admin #Kitchen
Indulge in the irresistible charm of these pillow-soft and buttery Cloverleaf Rolls. Crafted from a delicate milk dough, these rolls boast an unbelievably soft and cloud-like texture. Pull apart the three clover leaves, and you'll discover delightful layers that make these rolls a culinary masterpiece.
Advertisement:
Homemade Cloverleaf Dinner Rolls are the perfect addition to your holiday table. They effortlessly earn compliments, even when sharing the spotlight with Christmas Prime Rib or Thanksgiving Roast Turkey. After all, what's a holiday feast without a roll to soak up the rich flavors of Turkey Gravy?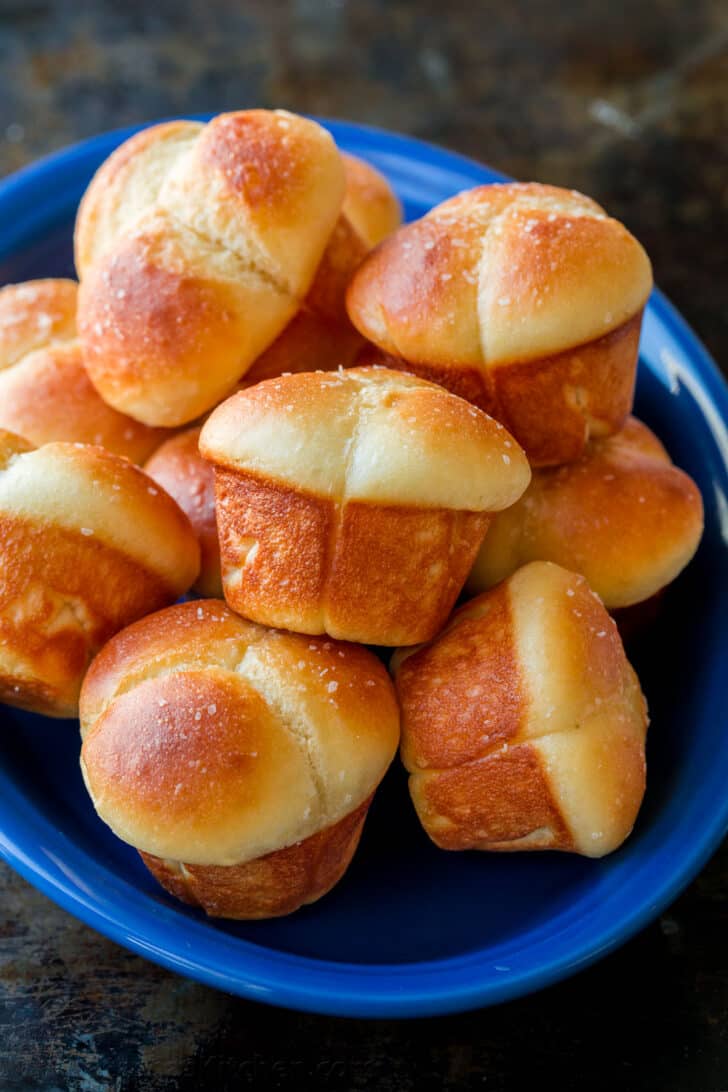 There's an inherent comfort in home-baked bread, from Focaccia Bread to Banana Bread and Pita Bread. If you savor a warm and ultra-soft dinner roll, this recipe is a must-try!
Advertisement:
Understanding Milk Bread
Milk bread, a white bread enriched with milk, egg, and butter, creates a tender crumb with a rich buttery flavor. Its satisfying texture and ease of preparation make it the preferred dough for crafting these delightful cloverleaf rolls.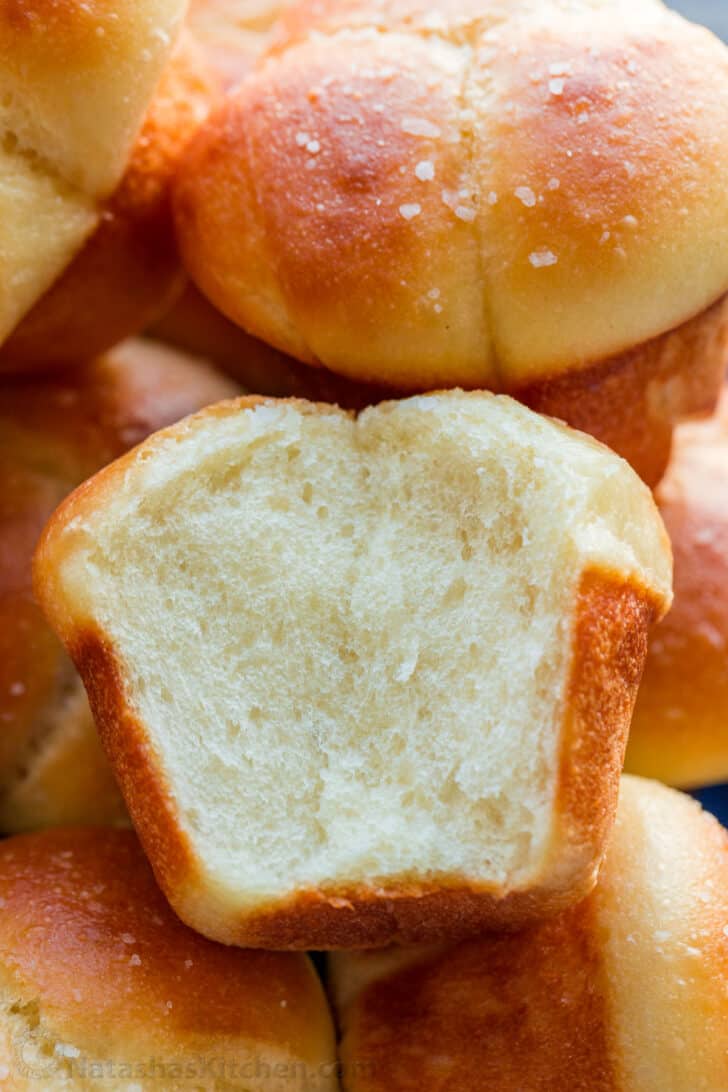 Ingredients for Cloverleaf Rolls
Water – start with warm filtered water (110-115˚F) to activate your yeast
Active dry yeast – you'll need 1 packet or 2 1/4 tsp of yeast
Milk – use warm low fat milk (whole milk will also work)
Butter – either melted and cooled or very soft butter
Granulated sugar – feeds the yeast to make the rolls rise beautifully
Egg – use a large, room temperature egg
Salt – we use fine sea salt
Bread Flour – has a higher protein content to produce a softer bread. Also, make sure to measure flour correctly.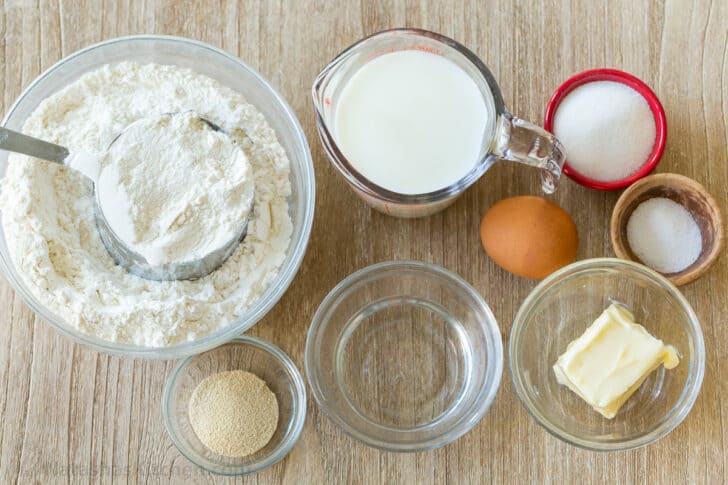 Advertisement:
Common Questions
Can I substitute for instant yeast?
This recipe works best with active dry yeast and that is the yeast we recommend. Instant yeast will work, but it will speed up the rising process and the texture won't be quite the same.
Can I freeze dinner rolls?
Yes, dinner rolls are freezer friendly and if you freeze them the day they are baked, they will taste fresher when they are thawed. See instructions for freezing in the "make-ahead" section below.
Can I use all-purpose flour?
It's best to use bread flour because of its higher protein content which helps to develop the gluten in the dough, resulting in a softer dinner roll.
Advertisement: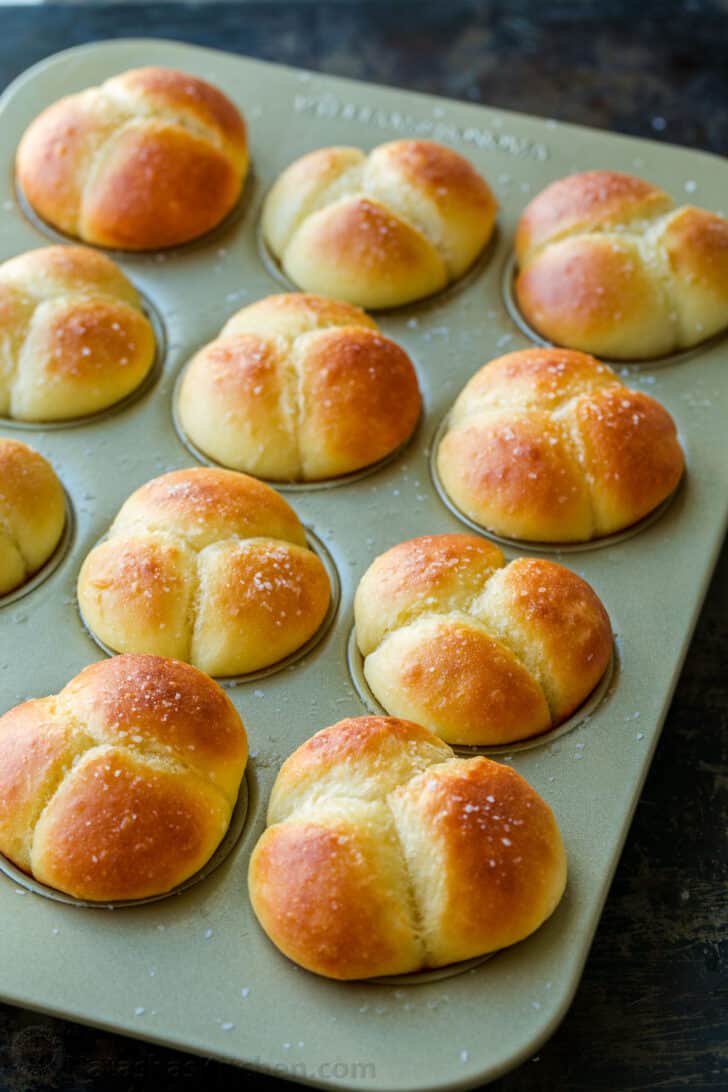 Make-Ahead
Overnight rolls – Once you have placed the oiled plastic wrap over the pan of dinner rolls, set the pan in the refrigerator overnight. A couple of hours before baking, remove the rolls from the refrigerator, let them come to room temperature and rise until visibly puffed, then butter and bake as directed.
Freezing – Baked dinner rolls freeze really well. Let them cool to room temperature then transfer to a freezer safe zip bag, remove any excess air, and freeze for up to 2 months. If you freeze them the same day they are baked, they will taste fresh when thawed.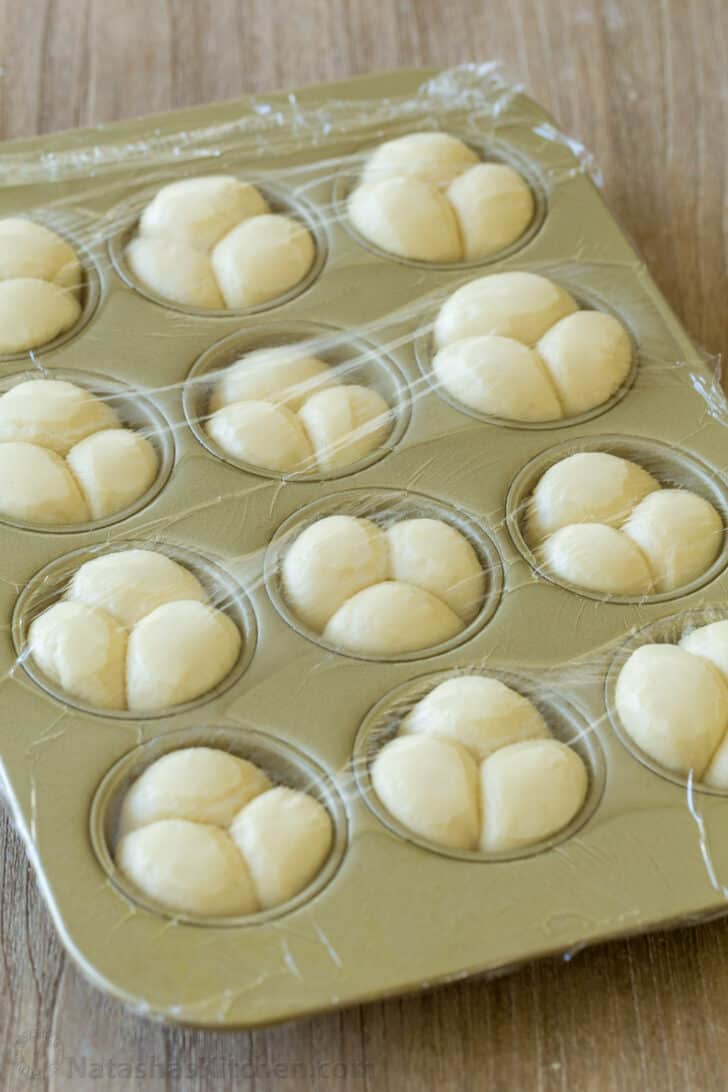 Tips for Making the Best Dinner Rolls
Check the yeast – the reason for initially mixing the yeast with 3 Tbsp of warm water is to activate the yeast as well as to make sure it is still working. If you don't see a foamy layer on your mixture after 7 minutes or so, you should buy new yeast and start over.
Ingredient temperatures – make sure your liquid ingredients are warm when added (between 110-115˚F) for the dough to rise properly. Colder ingredients will take longer to get the yeast working.
Proofing – proof dough in a warm place that is at least 75˚F but not more than 110˚F (high heat will kill your yeast). Putting it in the oven with the light on workswell. Also, you can microwave a damp kitchen towel for a minute then turn it off and place the bowl of dough inside the warm microwave. The warm steamy environment is ideal for dough proofing.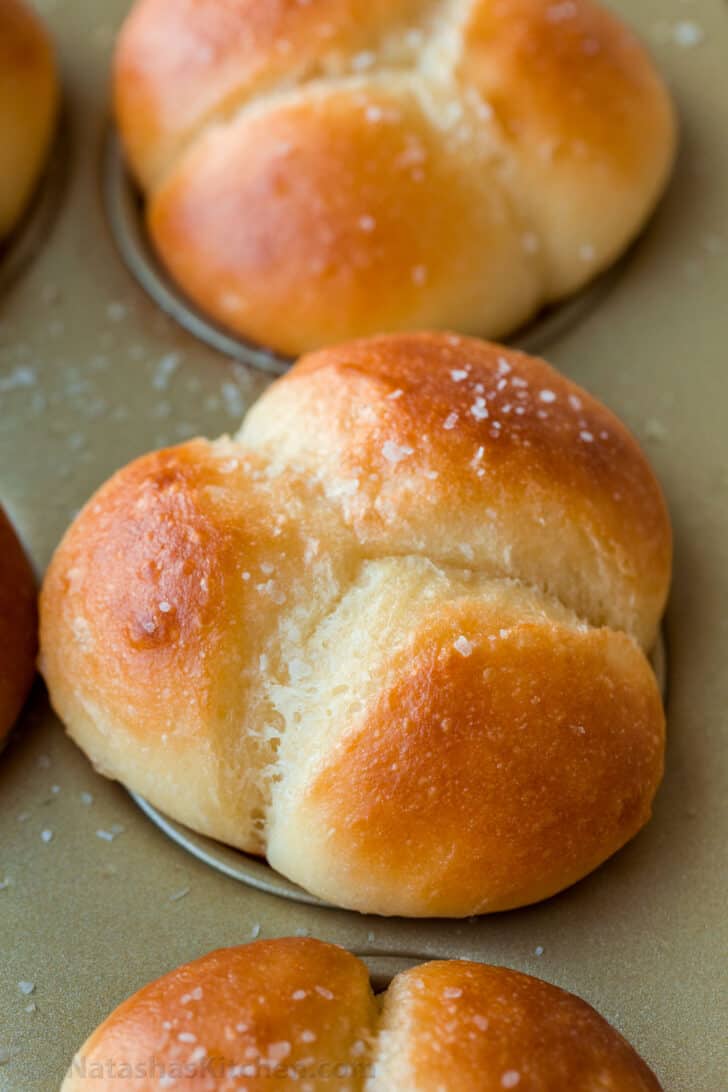 In the bowl of a stand mixer, add 3 Tbsp very warm water (115˚F). Sprinkle the top with 1 packet of yeast, whisk to combine, and let rest uncovered for 7 minutes until foamy on top.
Add warm milk, melted butter, sugar, egg, and salt. Whisk until blended, then gradually whisk in 2 cups of flour then switch to the dough hook attachment and add the remaining 1 1/2 cups of flour in thirds, letting it incorporate with each addition. Add more flour a little bit at a time until the dough feels moist to the touch, but it shouldn't stick to clean/dry fingertips.
Knead 10 minutes on speed 2 of a stand mixer, or knead by hand. The dough should pull away from the sides of the bowl as it kneads and will be smooth and elastic.
Transfer dough to a large oiled bowl, turning the dough to coat in oil. Cover the bowl with plastic wrap and let rise in a warm place (90-100˚F) for 1 to 1 1/2 hours or until doubled in volume.
Transfer dough to a smooth, clean work surface. You should not need any additional flour at this point. Divide the dough into 12 even pieces then divide each piece of dough into 3 small pieces. Cup your hand over each of the small pieces and roll over work surface to form a ball. Butter a 12-count muffin pan and place 3 little balls of dough into each muffin cup.
Oil a sheet of plastic wrap and place the oiled side loosely over the rolls. Let rest in a warm place for 30-45 minutes until visibly puffed. Meanwhile, preheat the oven to 425˚F with a rack in the center.
Once rolls have risen, brush the tops with 2 Tbsp melted butter and bake in a preheated oven at 425˚F for 13-15 minutes or until golden brown. As soon as they are out of the oven, brush with more melted butter and sprinkle with kosher salt. Transfer to a wire rack to cool for 15 minutes and serve warm.
Advertisement:
NEXT: Healthy No-Bake Granola Bars
Thanks for your SHARES!
Advertisement:
You May Also Like
Add a comment