Sweet Potato Breakfast Casserole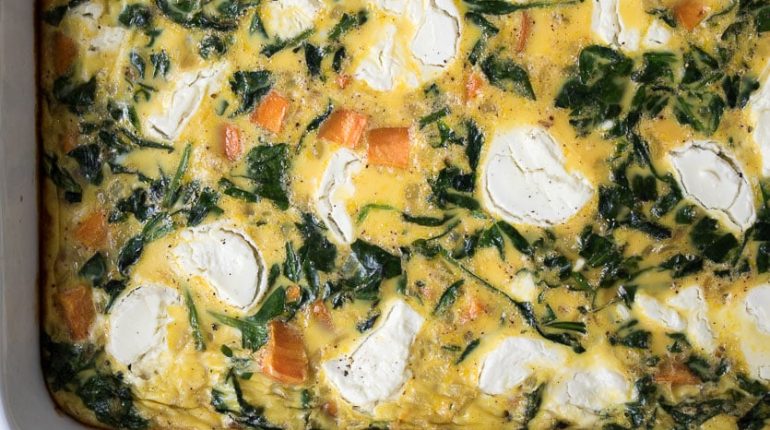 Posted October 10, 2023 by: Admin #Kitchen
Indulge in the convenience of meal prep with this wholesome breakfast casserole! Comprising whole eggs, oven-roasted sweet potatoes, spinach, and goat cheese, this sweet potato breakfast casserole delivers a well-rounded dose of protein, fiber, and healthy fats. It's an ideal choice for a nutritious breakfast or brunch, and it boasts natural gluten-free, vegetarian, and paleo credentials, ensuring a wide audience can savor it. Plus, it's a breeze to transform into a dairy-free delight if that suits your dietary preferences.
Advertisement:

If you're anything like me, you appreciate a breakfast that's both speedy and satisfying. While a steaming bowl of oatmeal is delightful, having a pre-prepared option in the refrigerator streamlines your mornings. That's precisely why I'm enamored with breakfast casseroles. Just assemble your ingredients in a casserole dish, pop it in the oven, and voila, you have a healthy and hearty breakfast for the entire week ahead.
Ingredients for Sweet Potato Breakfast Casserole:
Eggs: This recipe calls for a dozen whole eggs, but you can opt for egg whites if you prefer.
Sweet Potatoes: While sweet potatoes or yams are recommended, white potatoes will suffice if that's what you have on hand.
Spinach: Several cups of spinach not only infuse fiber but also add a vibrant splash of color. Feel free to substitute kale or Swiss chard if you prefer. To incorporate more veggies, diced bell peppers or zucchini are excellent choices.
Cheese: While cheddar, mozzarella, or any cheese of your choice works, soft goat cheese complements sweet potatoes and spinach beautifully.
Milk: Adding milk ensures the eggs in the casserole remain tender. If you opt for non-dairy milk like almond, oat, or soy milk, make sure it's unsweetened.
Bacon or Sausage (optional): While not included in this recipe, you can certainly add cooked bacon, breakfast sausage, or turkey sausage for an extra protein boost. In the absence of sausage, a bit of ground beef, pork, or turkey will also suffice.
Interested in making it dairy-free? To achieve a dairy-free version of this egg casserole, simply swap regular milk for unsweetened almond, rice, or soy milk. While goat cheese is technically dairy-free, you can omit it entirely if you prefer a cheese-free option.
How to Prepare Sweet Potato Egg Casserole
Creating an egg casserole is straightforward, but there are tips to ensure you achieve the tastiest and fluffiest result:
Advertisement:
1. Grease your baking dish to prevent eggs from sticking. Use a bit of butter, oil, or cooking spray before starting.
2. Prep your vegetables all at once to save time.
3. Pre-bake root vegetables like potatoes or sweet potatoes to ensure tenderness.
4. Saute onions and garlic briefly for enhanced flavor and texture.
5. Avoid over-baking; the casserole is done when the top sets but the center still jiggles slightly.
6. If meal prepping, let it cool to room temperature before refrigerating, covering with aluminum foil or a lid for storage, which keeps well for up to 5 days.
Serving Ideas for Breakfast Casserole with Sweet Potatoes
Although designed with breakfast in mind, this sweet potato breakfast casserole adapts seamlessly to lunch or dinner. Enjoy it on its own or alongside a side salad for a light and satisfying meal. Once baked, the casserole remains fresh in the fridge for up to a week and can be reheated or enjoyed cold as a straightforward main course or hearty snack.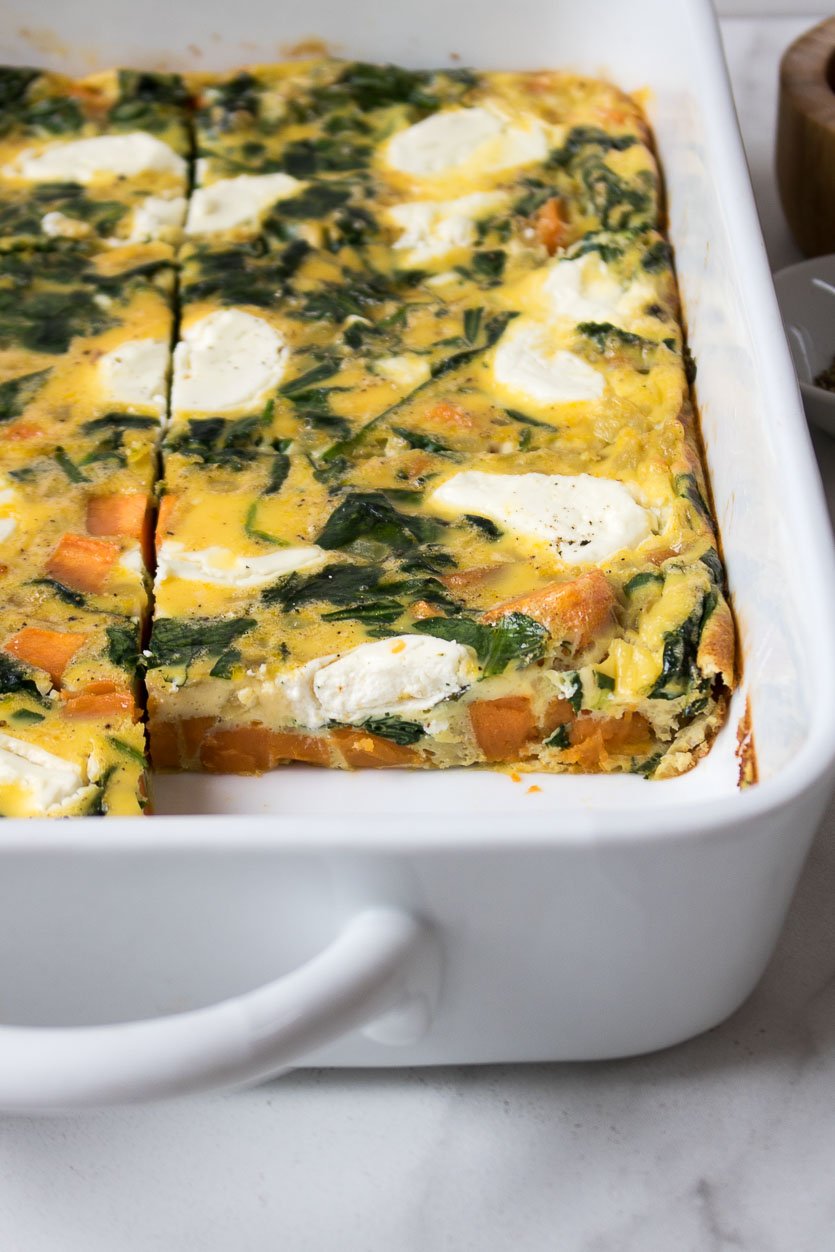 Advertisement:
Can You Enjoy Egg Casserole Cold?
Absolutely! Similar to quiche or crustless quiche, egg casserole is delicious both hot and cold. Whether enjoyed alone or with a side salad, a slice of chilled egg casserole makes for a satisfying meal anytime during the day.
Can You Freeze Egg Casserole?
Certainly! Whether planning ahead for a weekend brunch, preparing weekday breakfasts, or storing leftovers, egg casserole freezes well. Store it in an airtight container in the freezer for up to 3 months. If you lack an airtight container, cover the casserole dish with plastic wrap and aluminum foil, then place it in a plastic bag before freezing.
How to Reheat Frozen Egg Casserole?
To reheat, it's best to thaw the casserole and then bake it in the oven at 350°F for 10-15 minutes. If reheating from frozen, you can bake the entire casserole covered at 350°F for 40-60 minutes or 20 minutes for a single slice. Microwave reheating is an option but may affect the texture, potentially resulting in rubbery eggs. If using a microwave, reheat in 30-second increments to prevent overcooking.
Advertisement:
Sweet Potato Breakfast Casserole
This sweet potato breakfast casserole is an excellent make-ahead option that stays fresh in the fridge and is suitable for breakfast, lunch, or dinner. It's high in protein, rich in fiber, vegetarian, paleo, and gluten-free.
Ingredients
2 sweet potatoes, peeled and diced into 1-inch cubes
2 tablespoons olive oil
1 onion, minced
3 cups spinach, packed and roughly chopped
12 eggs
1/2 cup milk
6 ounces soft goat cheese
Salt and black pepper, to taste
Instructions
Preheat the oven to 400°F and grease a 9×12 inch baking dish with a teaspoon of olive oil or cooking spray.
Add the peeled and cubed sweet potatoes to the baking dish, drizzle with 1 1/2 tablespoons of olive oil, season with salt and pepper, and toss to coat. Bake for 15 minutes until the sweet potatoes are just tender.
In a large skillet over medium-high heat, warm the remaining 1/2 tablespoon of olive oil, add minced onion, and cook for 2-3 minutes until tender.
Add chopped spinach to the skillet and cook, stirring frequently, until wilted, about one minute. Remove from heat and set aside.
Once the sweet potatoes are done, reduce the oven temperature to 350°F.
Spread the wilted spinach over the sweet potatoes in the baking dish.
In a large bowl, crack and whisk eggs, add milk, salt, and pepper, and mix well.
Pour the egg mixture over the sweet potatoes and spinach, gently stirring to combine.
Break the goat cheese into pieces and distribute them over the top of the egg mixture.
Return the baking dish to the oven and bake for 25-30 minutes until the eggs are set in the center and the edges turn golden brown.
After baking, serve immediately or cool completely and store in an airtight container in the fridge for up to 4 days.
Nutrition
Serving Size: 1 slice
Calories: 347 calories
Sugar: 6 grams
Fat: 20 grams
Carbohydrates: 21 grams
Fiber: 3 grams
Protein: 20 grams
Advertisement:
NEXT: Healthy Baja Bowl Recipe: Panera Copycat with Chicken
Thanks for your SHARES!
Advertisement:
You May Also Like
Add a comment