Beef and Mushroom Stew Recipe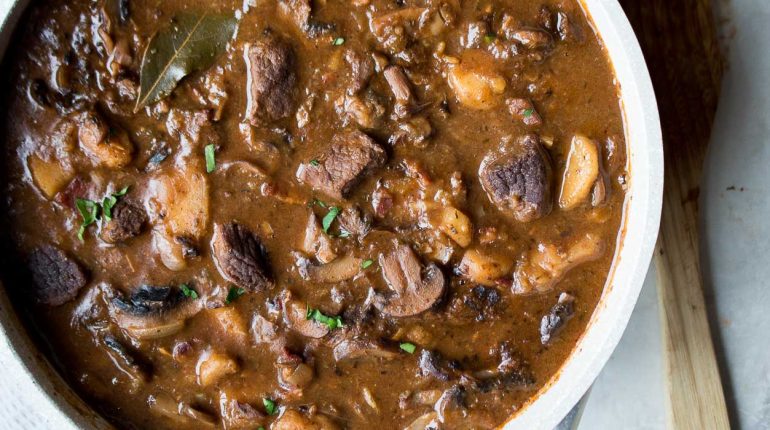 Posted October 4, 2023 by: Admin #Kitchen
Crafted using a medley of mushrooms, beef, parsnips, bacon, and a touch of red wine, this beef and mushroom stew presents a robust one-pot feast with an upscale twist. Whether it's a familial get-together, a weekend revelry, or a brisk weeknight, this stew emerges as an aromatic, flavorsome delight that suits any occasion.
Advertisement:
Stewing happens to be the ideal method for cooking tougher meat cuts that wouldn't fare well in alternative culinary preparations. Beyond delivering tender, melt-in-the-mouth beef, this slow-cooking technique is remarkably budget-friendly, magically transforming a modest amount of meat into a crowd-pleasing banquet.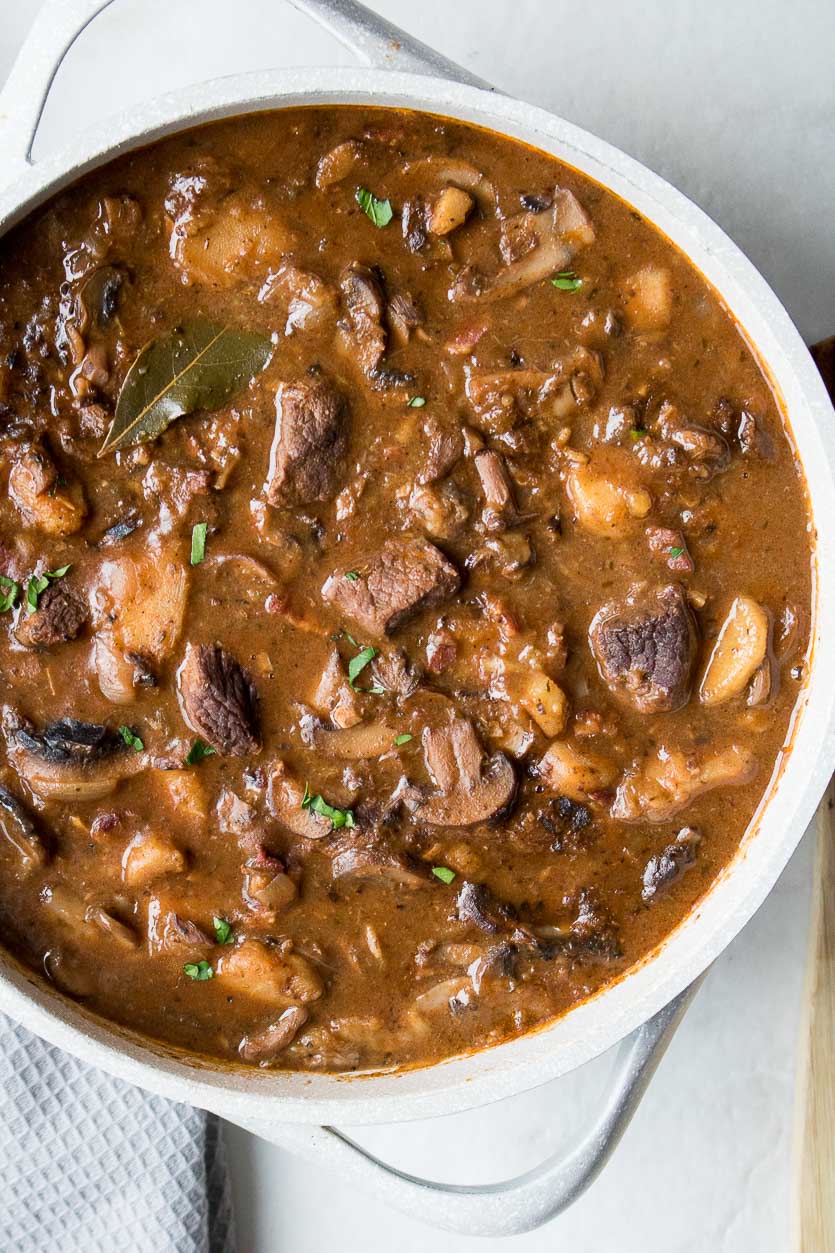 In this specific recipe, I've chosen to employ a blend of mushrooms, beef, parsnips, and a hint of red wine to elevate this dish from good to exceptional. The addition of wine to stews is not a novel concept; a classic boeuf bourguignon recipe serves as an exemplar of this technique, as spirits, beer, and wine prove to be a straightforward yet effective method for infusing a burst of flavor into any dish. While the initial inclusion of wine introduces alcohol to the mix, most of it evaporates as the stew simmers, leaving behind an intensified flavor and aroma.
Advertisement:
While some recipes may advocate for "cooking wine," I recommend opting for a reasonably priced, drinkable dry red variety such as pinot noir, merlot, or cabernet sauvignon. Moreover, if you aren't fond of wine or find yourself lacking it in your pantry, you can easily omit the wine entirely and substitute an extra cup of beef broth.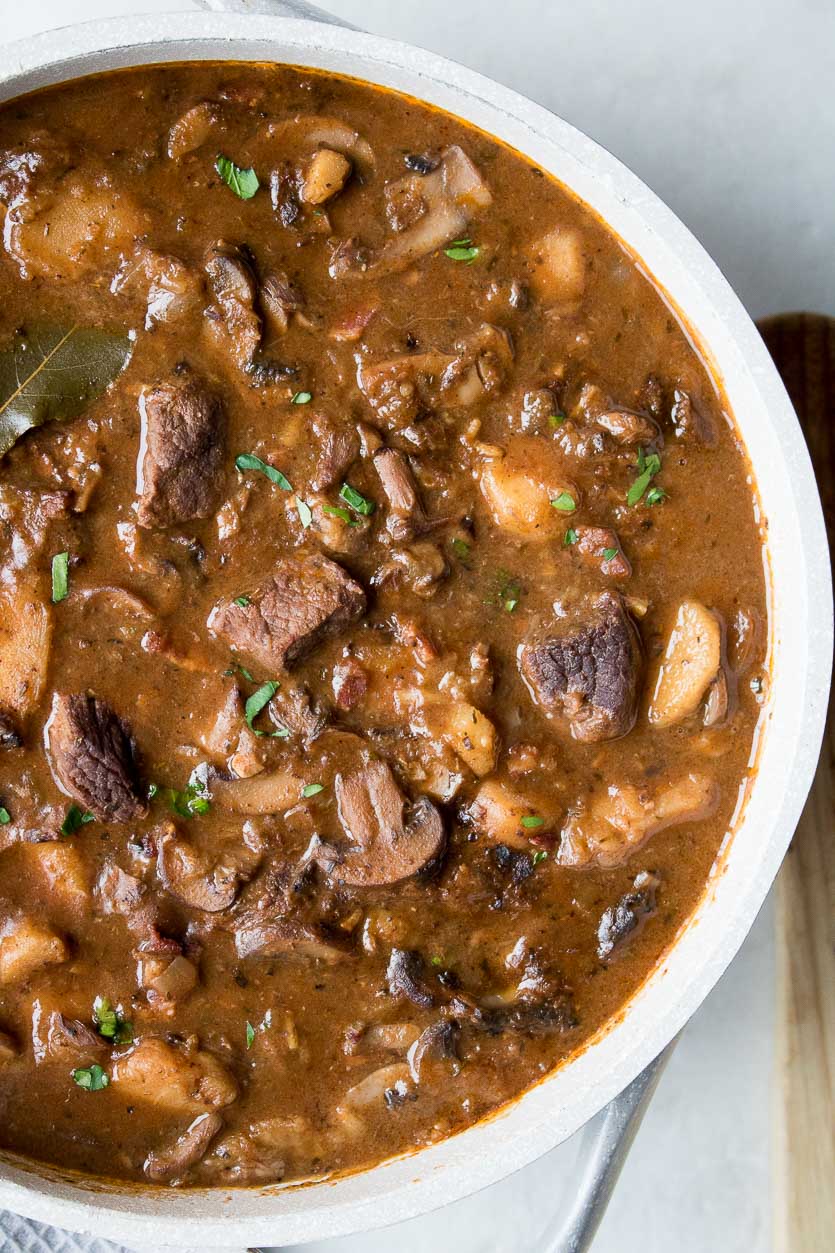 Furthermore, while this recipe specifies mixed mushrooms, you can certainly employ any mushroom variety available to you, whether it be button, cremini, chanterelles, oyster mushrooms, or a combination thereof—all work harmoniously in this dish. Additionally, if parsnips don't align with your taste buds, feel free to swap them out for carrots or potatoes. Regardless of the ingredient combination you choose, after a few hours in the oven, you'll relish a sumptuous and tender beef and mushroom stew, guaranteed to warm you up on a chilly winter's day.
Advertisement:
Beef and Mushroom Stew
This hearty one-pot beef and mushroom stew is the perfect dish for a cold day and yields ample leftovers for future meals.
Ingredients
1 pound of stewing beef
1 tablespoon of olive oil
2 slices of bacon, finely sliced
1 diced yellow onion
4 cloves of minced garlic
1 pound of assorted mushrooms, sliced
2 teaspoons of dried thyme
2 tablespoons of flour
2 tablespoons of tomato paste
1 cup of red wine*
3 cups of beef broth
1 bay leaf
3 parsnips, peeled and sliced
1/2 cup of pearl onions, peeled (optional)
Salt
Pepper
Instructions
Preheat your oven to 325°F.
In a large Dutch oven or oven-proof pot over medium-high heat, heat the olive oil.
Add the sliced bacon and cook until it turns crisp and golden, approximately 3 minutes. Once cooked, remove it from the pot, transfer to a plate, and set aside.
Season the beef generously with salt and pepper on all sides. In batches, transfer the beef to the pot and sear the meat on all sides, about 5 minutes. After browning, remove it from the pot, transfer to the plate with the bacon, and set aside.
In the same pot, add the diced onion and cook until it becomes tender, roughly 3-4 minutes.
Introduce mushrooms, garlic, and thyme, and continue to cook while stirring frequently until the mushrooms roughly halve in size.
Pour in the red wine to deglaze the bottom of the pot and simmer for approximately 5 minutes. Use the back of a spoon or spatula to help release anything stuck to the bottom.
Reintroduce the beef and bacon to the pot and mix thoroughly with the vegetable blend. Add flour and tomato paste, stirring well to coat the beef.
Cover the mixture with beef broth, add parsnips, pearl onions (if using), and bay leaf, stirring well to combine.
Bring it to a gentle boil, then turn off the heat, cover the pot, and transfer it to the oven for 1.5 to 2 hours or until the beef becomes tender.
Once done, remove the pot from the oven, take out the bay leaf, and allow it to rest for 10-15 minutes before serving. This will aid in thickening the sauce and melding the flavors.
Season with additional salt and pepper to taste.
Notes
Wine: If red wine isn't your preference, isn't available, or you'd rather not use it, simply skip the wine and include an extra cup of beef broth.
Slow-Cooker Option: Place all the ingredients into a slow-cooker and cook on low for 8 hours or on high
Advertisement:
for 4 hours until the beef turns tender, and most of the liquid gets absorbed. If it appears too watery after cooking, remove the lid, switch to high heat, and gently boil to reduce and thicken the broth.
NEXT: 30 best cookie recipes to try today
Thanks for your SHARES!
Advertisement:
You May Also Like
Add a comment