Asparagus, bacon and mozzarella puff pastry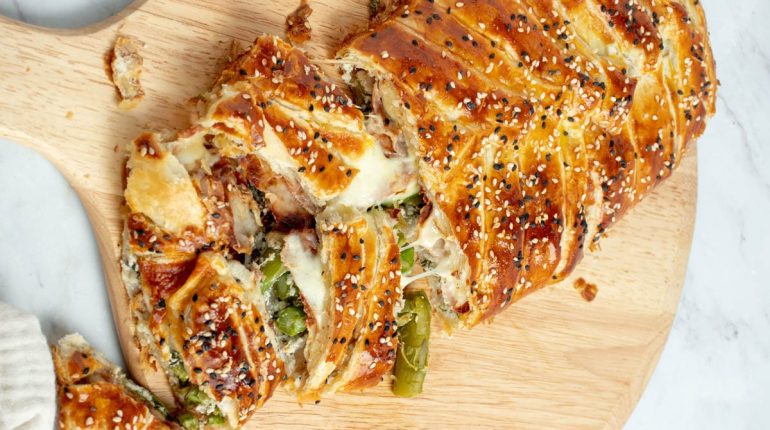 Posted July 26, 2023 by: Admin #Kitchen
Asparagus puff pastry is a delicious creation of crispy puff pastry interwoven with a succulent lemon-grass ricotta cream. Topped with tender asparagus, crisp bacon and oozing mozzarella, this dish guarantees a quick and easy recipe that's sure to captivate your taste buds from the very first bite. So don't miss your chance to savor this irresistible delight!
Advertisement:
Reasons to love this dish: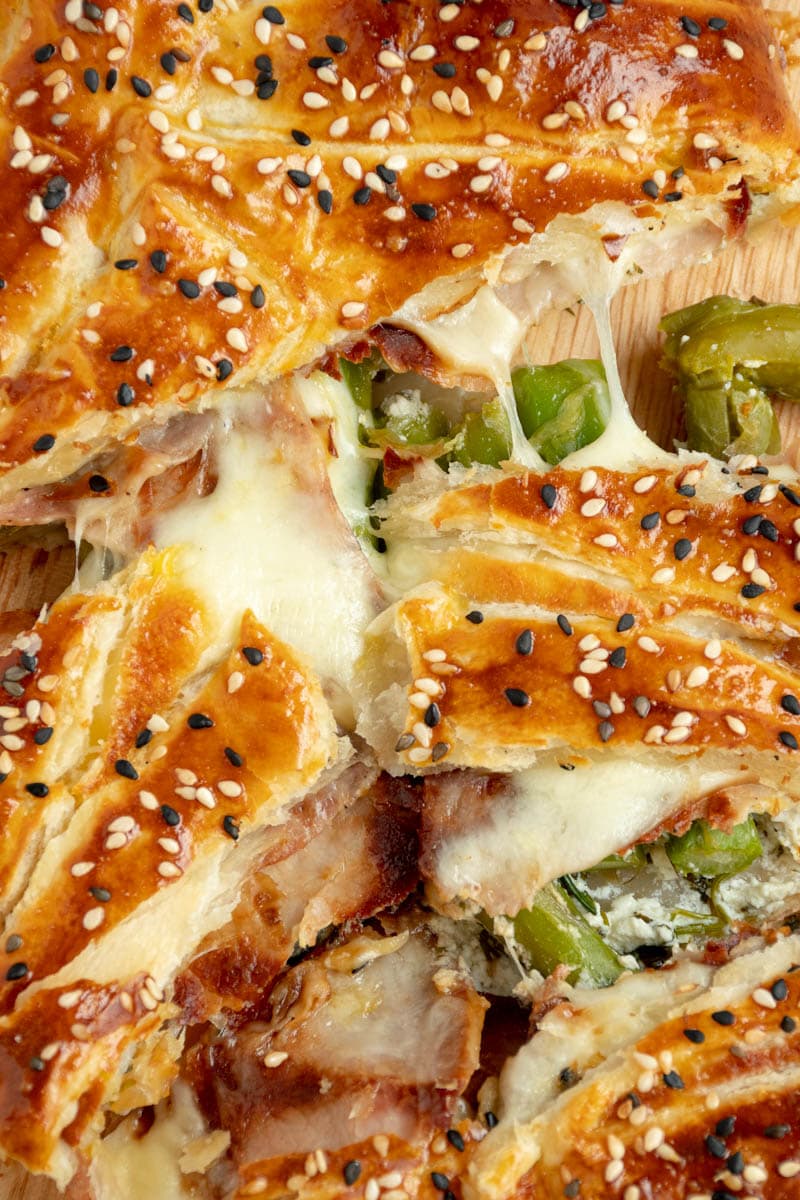 Quick and easy: This delicious treat can be prepared in no time, combining ease and convenience for your greatest pleasure.
Seasonal delights: Indulge in the exquisite flavours of the season and savour every bite of this absolute culinary delight.
Advertisement:
Guest-pleasing assurance: With every serving, you can be sure that your guests will be amazed, making it a sure-fire hit on any occasion.
Kitchen tools :
Kitchen scales
Baking trays
Saucepan
Frying pan
Blender
Silicone brush (optional but recommended)
Oven
Ingredients :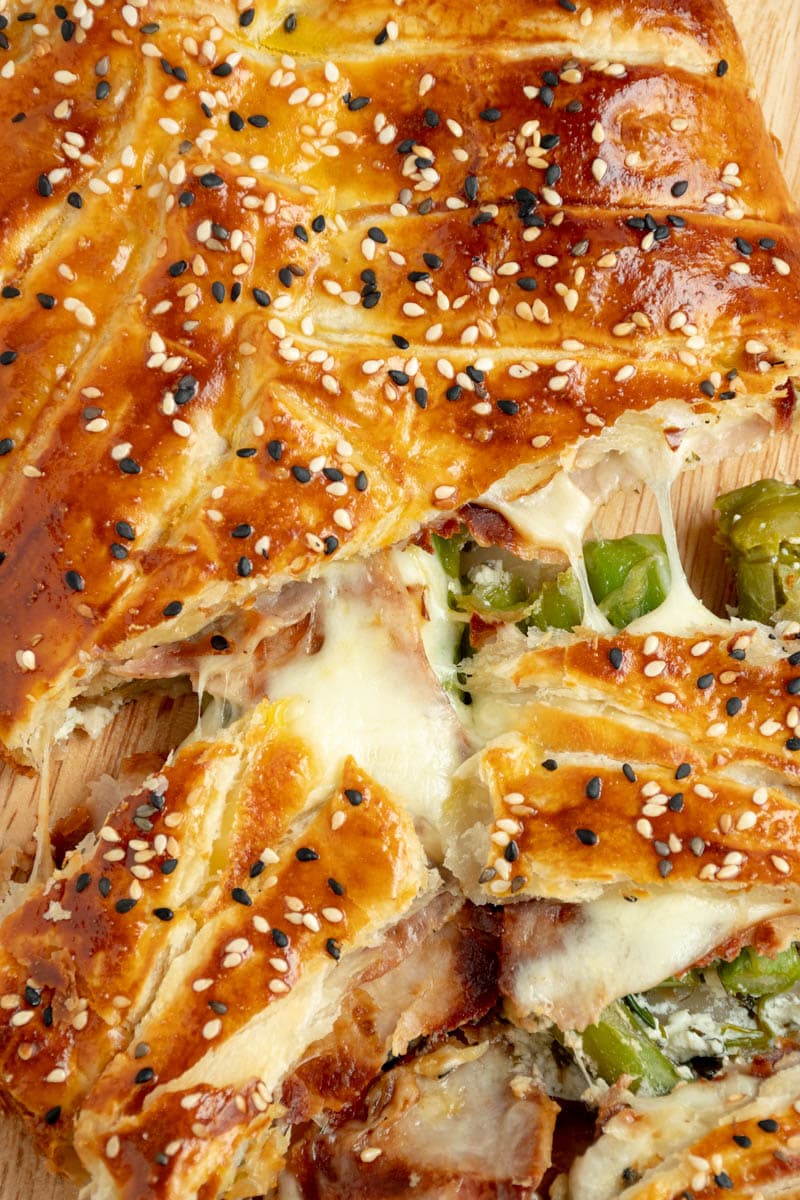 500 g green asparagus
1 puff pastry
150 g grated mozzarella cheese
100 g bacon
125 g ricotta cheese
1 clove garlic
¼ lemon
1 tablespoon olive oil
Herbs: 2 g dill, 2 g mint, 4 g basil, 2 g parsley
1 egg yolk
1 handful sesame seeds
Pinch of fine salt
Pinch of pepper
Instructions :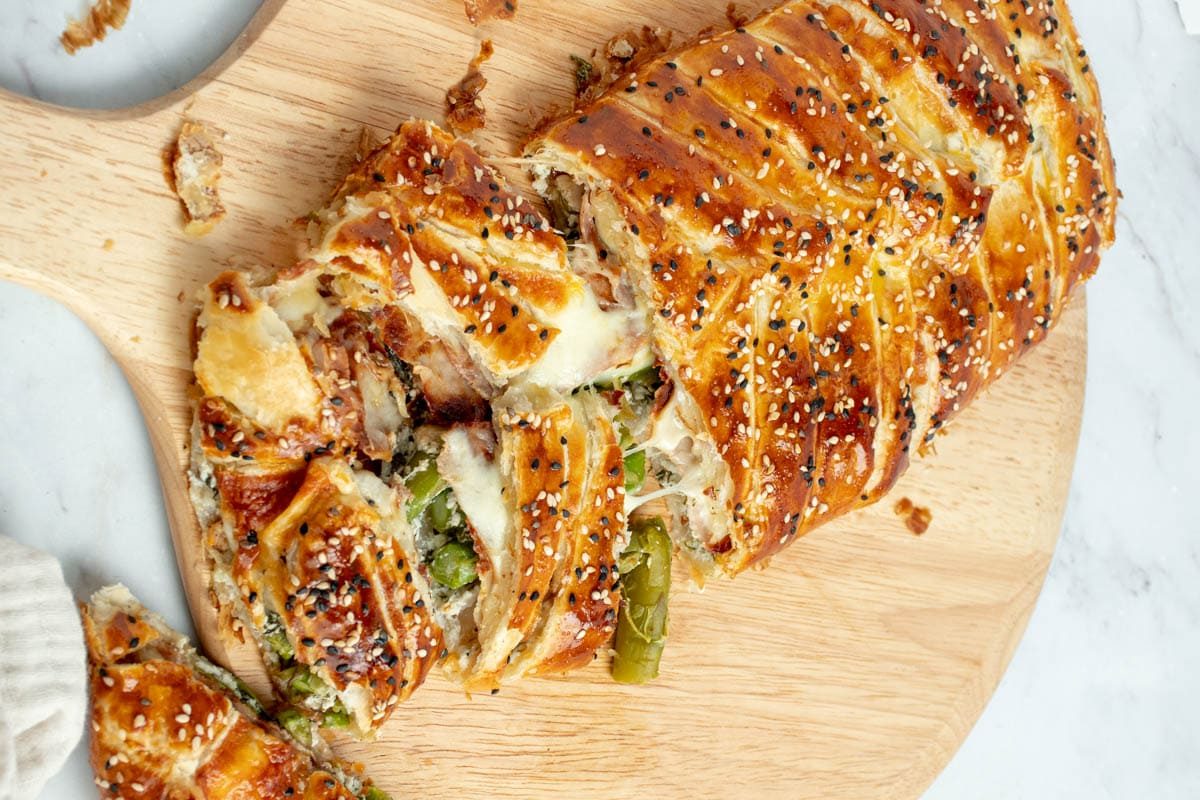 Advertisement:
Start by cutting off the tough ends of the asparagus and boiling in a pan of water for 10 minutes. Once tender, transfer to a bowl of cold water to stop the cooking process. Meanwhile, brown the bacon slices.
Now prepare the delicious ricotta cream: In a blender, combine the coarsely chopped herbs, a pinch of salt, a dash of pepper, lemon juice, ricotta, garlic and a drizzle of olive oil. Blend until smooth and creamy.
Take the puff pastry and generously spread the succulent ricotta cream in the center. Then add the cooked asparagus, crispy bacon and grated mozzarella.
Preheat your oven to 200°C in natural convection/static heat mode, with both top and bottom elements working. Create slits along the sides of the puff pastry and carefully fold one over the other to form a pretty braid.
For a golden finish, brush the puff pastry with egg yolk and sprinkle the top with sesame seeds.
Place the prepared puff pastry in the oven and bake for 25 minutes, until golden and crisp.
Finally, serve and enjoy this succulent creation while it's still piping hot! The delicious blend of flavors is sure to satisfy your taste buds.
Storage instructions:
Although it's technically possible to store this delicious treat in the refrigerator, the crispness of the dough may be slightly compromised. For the best experience, I highly recommend enjoying it immediately after it comes out of the oven. However, I must add that its exceptional taste is so irresistible that you'll probably finish it in no time!
Advertisement:
NEXT: Butternut Squash Soup Recipe
Thanks for your SHARES!
Advertisement:
You May Also Like
Add a comment