Vegetarian Chickpea Peanut Curry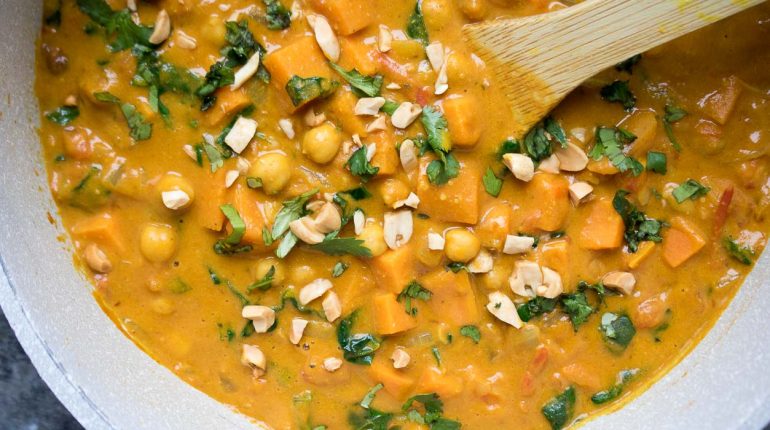 Posted October 16, 2023 by: Admin #Kitchen
Crafted with a delightful medley of ingredients, including chickpeas, sweet potatoes, peanut butter, and curry powder, this quick and easy Chickpea Peanut Curry is the perfect choice for a vegetarian meal on those bustling weeknights. Moreover, its remarkable ability to maintain its deliciousness in the refrigerator and freezer means you can savor the leftovers for days, even weeks.
Advertisement: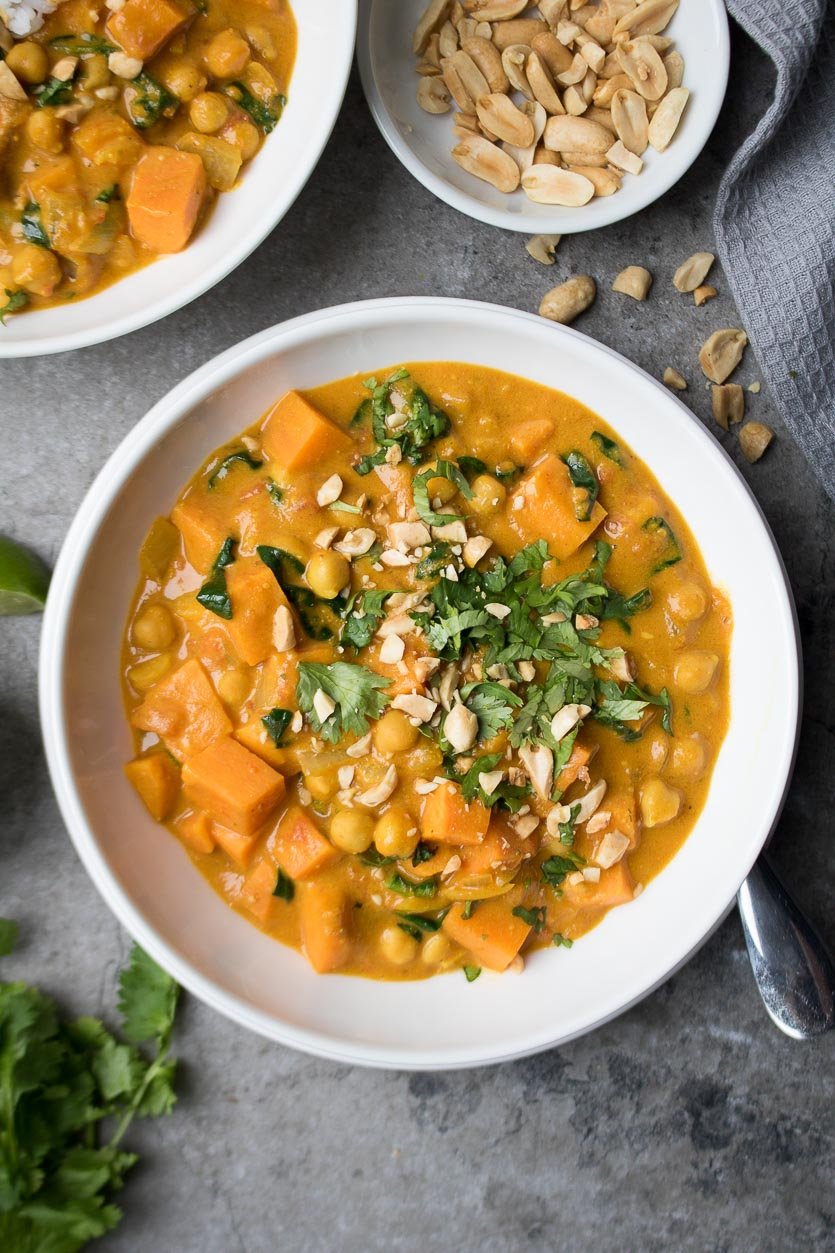 Vegetarian Peanut Curry
For those who may not have noticed, I have a profound affection for a well-made curry. Whether it's Thai-inspired or Indian-inspired, curries are my go-to choice for busy weeknights. I've shared countless curry recipes on the blog, and I must admit that I've lost count! The beauty of curry lies in its simplicity, effortlessly delivering intense flavors with minimal ingredients, time, and effort. This Chickpea Peanut Curry exemplifies that simplicity.
I conceived this particular recipe out of necessity. At the end of the week, with a nearly empty fridge, I decided to get creative and scoured my pantry. With a jar of peanut butter, a can of chickpeas, and a can of diced tomatoes, I let my culinary imagination take the reins, and voilà – Chickpea Peanut Curry! Using peanuts or peanut butter in a curry is not a novel idea, as it's a well-known practice in both Thai and Indian cuisines. However, this version is my personal take on this concept. I find that the sweet notes from the sweet potatoes and tomatoes harmonize perfectly with the savory richness of peanut butter, while the chickpeas provide a boost of vegetarian protein to this plant-based dish.
Advertisement:
Whether you choose to savor it on its own or pair it with a side of rice, this Chickpea Peanut Curry is an ideal choice for hectic weeknights. What's more, this recipe is highly freezer-friendly, allowing you to prepare a double batch or store leftovers for weeks and months to come.
Chickpea Peanut Curry
This Chickpea Peanut Curry, prepared in a single pot and ready in under 30 minutes, is the perfect option for a vegetarian weeknight dinner!
Ingredients
1 tablespoon of olive oil
1 diced onion
4 cloves of minced garlic
1 tablespoon of curry powder
1 teaspoon of cumin
1/4 teaspoon of chili flakes
1 teaspoon of salt
2 medium sweet potatoes, peeled and cubed (approximately 4 cups)
14 oz can of diced tomatoes
2 cups of chicken or vegetable broth
1/2 cup of peanut butter, smooth or chunky
14 oz can of chickpeas, strained and rinsed
2 cups of spinach, roughly chopped
To Serve (optional):
Cooked white rice
Lime wedges
Roughly chopped cilantro
Roughly chopped peanuts
Instructions
In a large pot over medium-high heat, warm the olive oil.
Add the diced onion and cook for 3-4 minutes until it becomes tender and translucent. Add the garlic and cook for an additional 1-2 minutes until tender.
Incorporate the curry powder, cumin, chili flakes, and salt, cooking for 30 seconds or until the fragrance emerges. Add the cubed sweet potatoes and stir to coat them in the onion and spice mixture.
Add the diced tomatoes, broth, peanut butter, and chickpeas, stirring to combine. Bring it to a boil, then reduce the heat to a simmer, cover, and cook for 15-20 minutes until the sweet potatoes become tender and easily pierced with a fork.
Once cooked, add the chopped spinach, stir to combine, and cook for an additional 1 to 2 minutes until it wilts.
Serve immediately, either on its own or with a side of rice. You can also enhance it with a squeeze of lime, a sprinkle of cilantro, and chopped peanuts.
Nutrition
Serving Size: 1 serving
Calories: 285 calories
Sugar: 9 grams
Fat: 15 grams
Carbohydrates: 33 grams
Fiber: 7 grams
Protein: 10 grams
Advertisement:
NEXT: Creamy Broccoli Potato Soup Recipe: Healthy and Delicious
Thanks for your SHARES!
Advertisement:
You May Also Like
Add a comment