Summer Bean Salad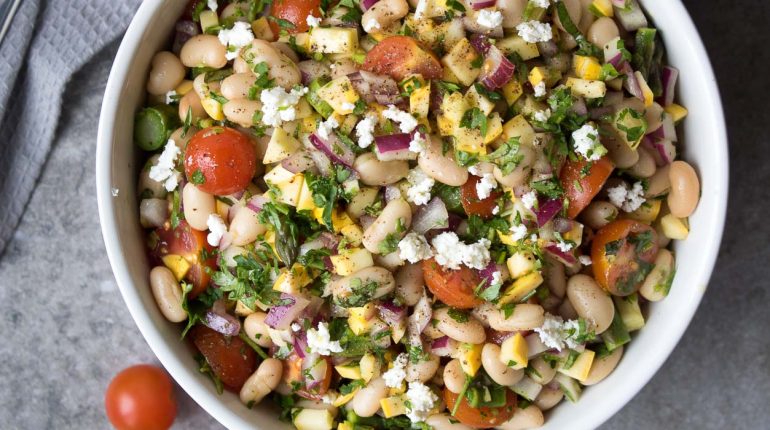 Posted October 13, 2023 by: Admin #Kitchen
Crafted with creamy white beans, an array of vibrant vegetables, and a zesty lemon dressing, this colorful summer bean salad is the ultimate prepped summer feast. Whether you're seeking a satisfying vegetarian entrée or a fantastic accompaniment for grilled meats, burgers, or your favorite BBQ fare, this salad has got you covered.
Advertisement: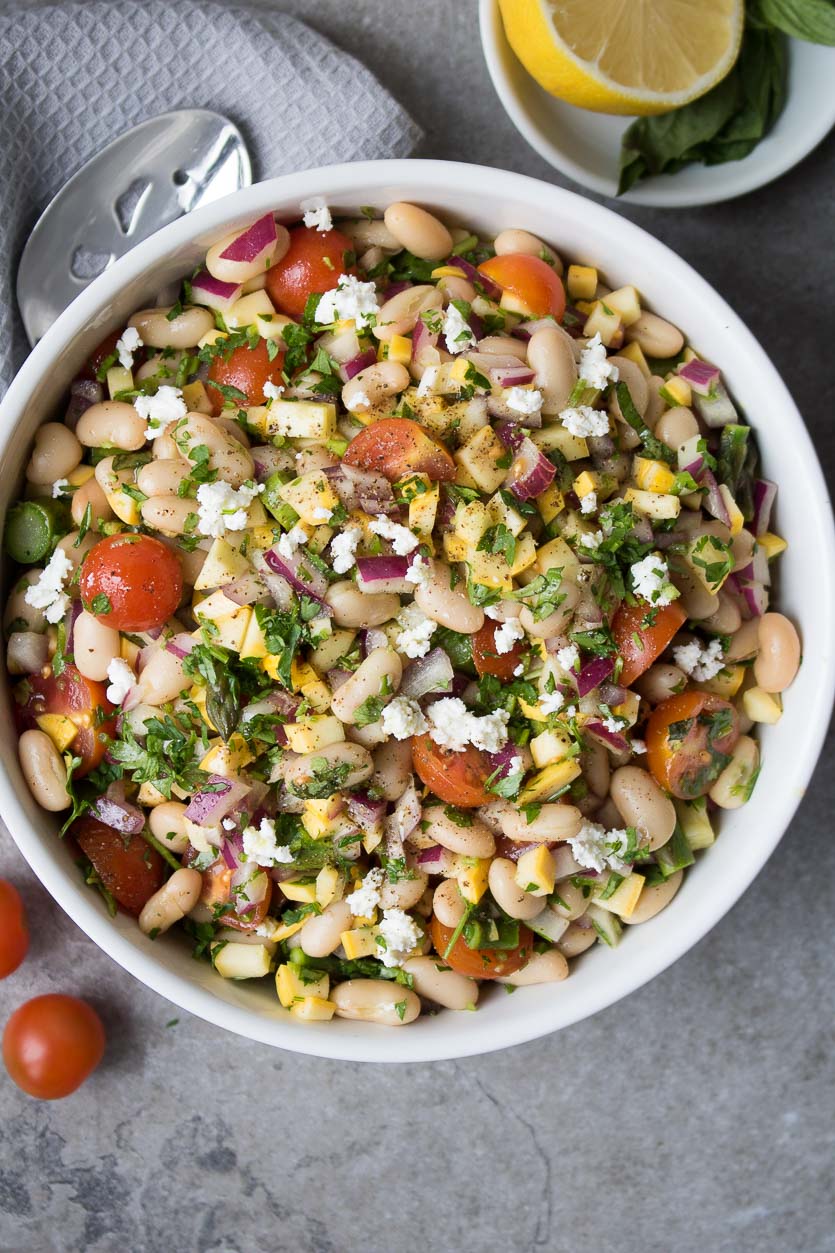 When the mercury rises, nothing beats a well-prepared salad that can be made in advance and stored in the fridge until mealtime. While the classic three-bean salad holds a special place in my heart, the beauty of bean salads lies in their adaptability. Whether you prefer dried or canned beans, the variety of beans you can use is virtually limitless, and the combinations of vegetables and dressings are boundless. Moreover, beans offer a convenient and budget-friendly source of fiber and vegetarian protein.
The key to a stellar bean salad recipe lies in selecting robust vegetables that won't become mushy and incorporating a vibrant, fresh dressing. In this summer-inspired bean salad, I've chosen seasonal vegetables like asparagus, yellow zucchini, and cherry tomatoes to infuse color, paired with a simple yet refreshing lemon dressing. If you're not a fan of these specific veggies, bell peppers, cucumbers, green beans, and corn would work just as well, along with your choice of oil-based dressing.
Advertisement:
In my opinion, this vegetarian bean salad is the epitome of a summer salad, serving as an excellent light lunch or a healthy side dish for any summer BBQ. Prepare it today, and you'll have a nutritious, pre-made meal at your fingertips whenever you need it.
Summer Bean Salad
This vegetarian bean salad recipe embodies the essence of a perfect summer meal. Packed with white beans, vegetables, and a zingy lemon dressing, it's a nutritious, high-protein, and high-fiber salad.
Ingredients
Bean Salad
1 can (19 oz) of cannellini beans (white kidney beans), drained and rinsed
1 yellow zucchini, finely diced
1/2 bunch of asparagus, trimmed and chopped
2 cups of cherry tomatoes, halved
1/2 red onion, diced
1/4 cup of parsley, roughly chopped
2 tablespoons of basil, roughly chopped
4 oz of crumbled goat cheese (optional)
Dressing
3 tablespoons of olive oil
Juice of 1 lemon
1 clove of garlic, grated
1 teaspoon of Dijon mustard
A pinch of salt
A pinch of black pepper
Instructions
In a small bowl or jar, combine the dressing ingredients, whisk together until emulsified, and set aside.
Bring a small pot of water to a boil and season with a pinch of salt.
Add the chopped asparagus to the pot and cook for 1-2 minutes until it turns bright green. Once cooked, transfer the asparagus to a bowl of ice-cold water and allow it to cool completely before draining and patting it dry. (This step is optional, but blanching the asparagus makes it more palatable and tender.)
In a large bowl, combine the beans, yellow zucchini, asparagus, tomatoes, red onion, parsley, and basil, and toss to mix.
Drizzle the salad with the dressing and toss again to ensure even coating.
Taste the salad, season with additional sea salt and pepper to your liking, or add a squeeze of lemon, and top with crumbled goat cheese.
You can serve the salad immediately or store it in an airtight container in the fridge for up to 5 days.
Nutrition
Serving Size: 1 cup
Calories: 313 calories
Sugar: 6 grams
Fat: 18 grams
Carbohydrates: 28 grams
Fiber: 8 grams
Protein: 14 grams
Advertisement:
NEXT: Dutch Baby (German Pancakes)
Thanks for your SHARES!
Advertisement:
You May Also Like
Add a comment