Easy Stuffed Cabbage Rolls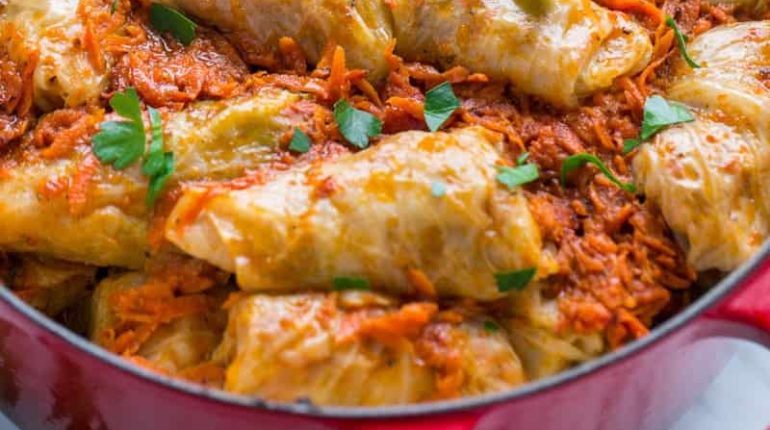 Posted November 7, 2023 by: Admin #Kitchen
If you're craving a classic, hearty meal made from simple and affordable ingredients, look no further. Stuffed cabbage rolls are packed with flavor and can be easily stored in your freezer for future enjoyment.
Advertisement: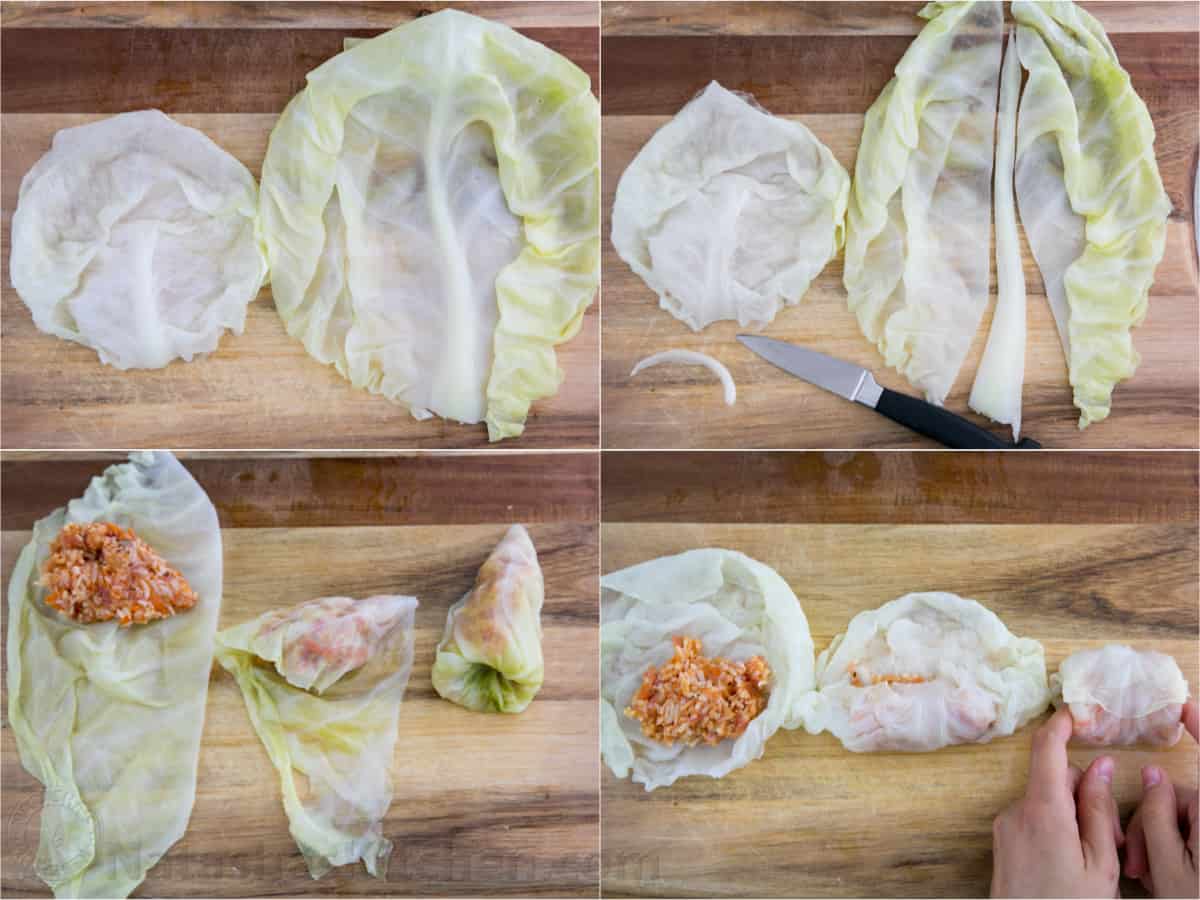 Making the Sauce
For a delicious sauce, follow these steps:
Saute the carrots (again) – Begin by sautéing the remaining grated carrots in a skillet with olive oil and a dash of seasoning.
Add sour cream and marinara – Once the carrots have softened, stir in some sour cream and additional marinara sauce.
Pour over the cabbage rolls – Pour this flavorful sauce over the cabbage rolls, and don't forget to top them with the cabbage water you reserved earlier. Your cabbage rolls are now ready to cook!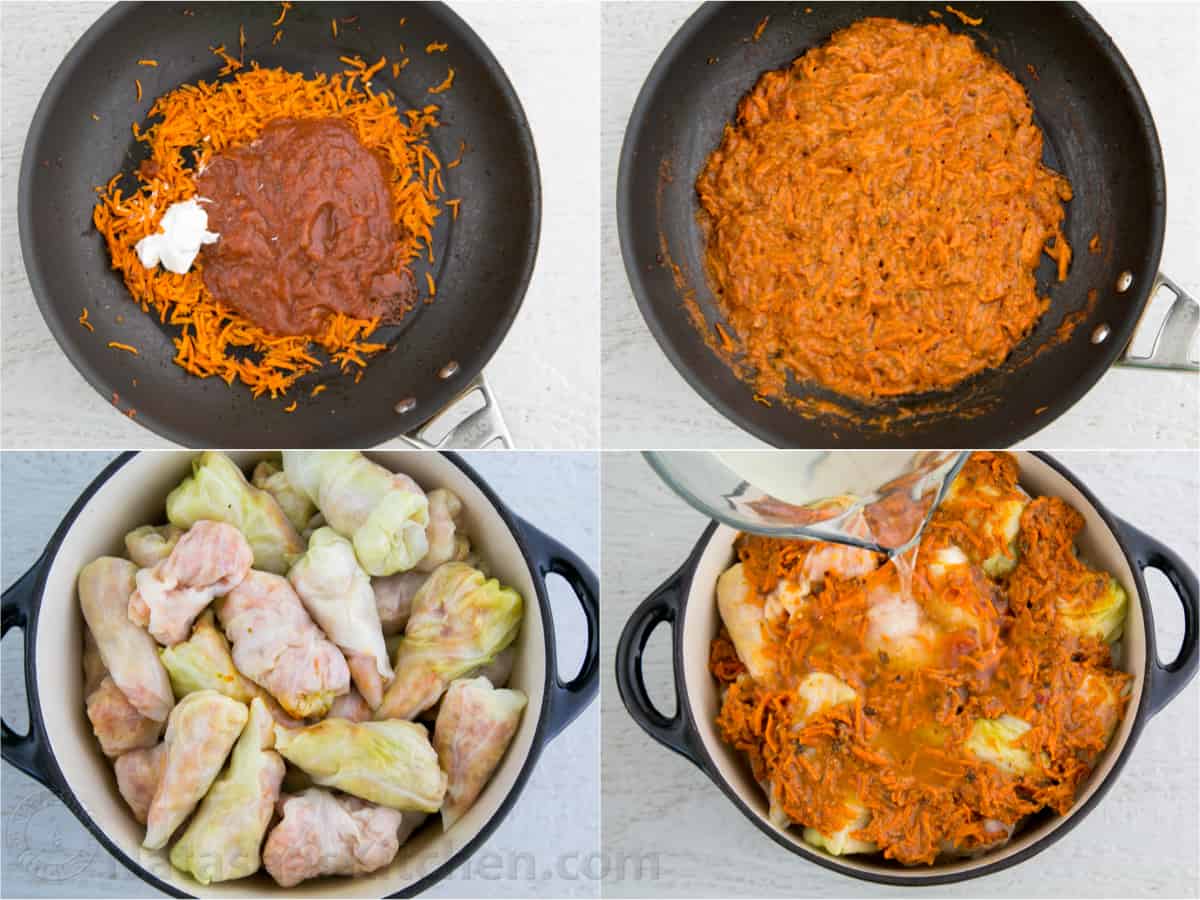 Advertisement:
How to Cook Stuffed Cabbage Rolls
You have two cooking options for your stuffed cabbage rolls:
Oven Method – My preferred method is to use a Dutch oven with the lid on. Bake at 450ºF for the first 20 minutes, then lower the temperature to 350ºF and bake for 1 hour.
Stovetop Method – Bring the stuffed cabbage and sauce to a boil in a large pot with a lid. Reduce the heat, cover, and let the rolls simmer for about 40 minutes.
Pro Tip: You don't need to pre-cook the ground turkey and pork as they will cook inside the rolls, ensuring they stay juicy.
Common Questions
What are cabbage rolls?
Cabbage rolls are prepared by wrapping cooked, softened cabbage leaves around a mixture of ground meat, rice, and other fillings.
Advertisement:
What is the best type of cabbage for cabbage rolls?
Inexpensive regular green cabbage works perfectly for cabbage rolls. Savoy cabbage is also a good alternative.
How do you get cabbage leaves off without breaking them?
Boiling the cabbage leaves makes them soft and pliable. Cutting out the cores before boiling makes it easier to remove the leaves as the cabbage softens.
Can I cut the recipe in half?
Yes, you can easily halve the recipe. It will come to a boil faster, but the final cook time in the oven or on the stovetop will remain the same.
Advertisement: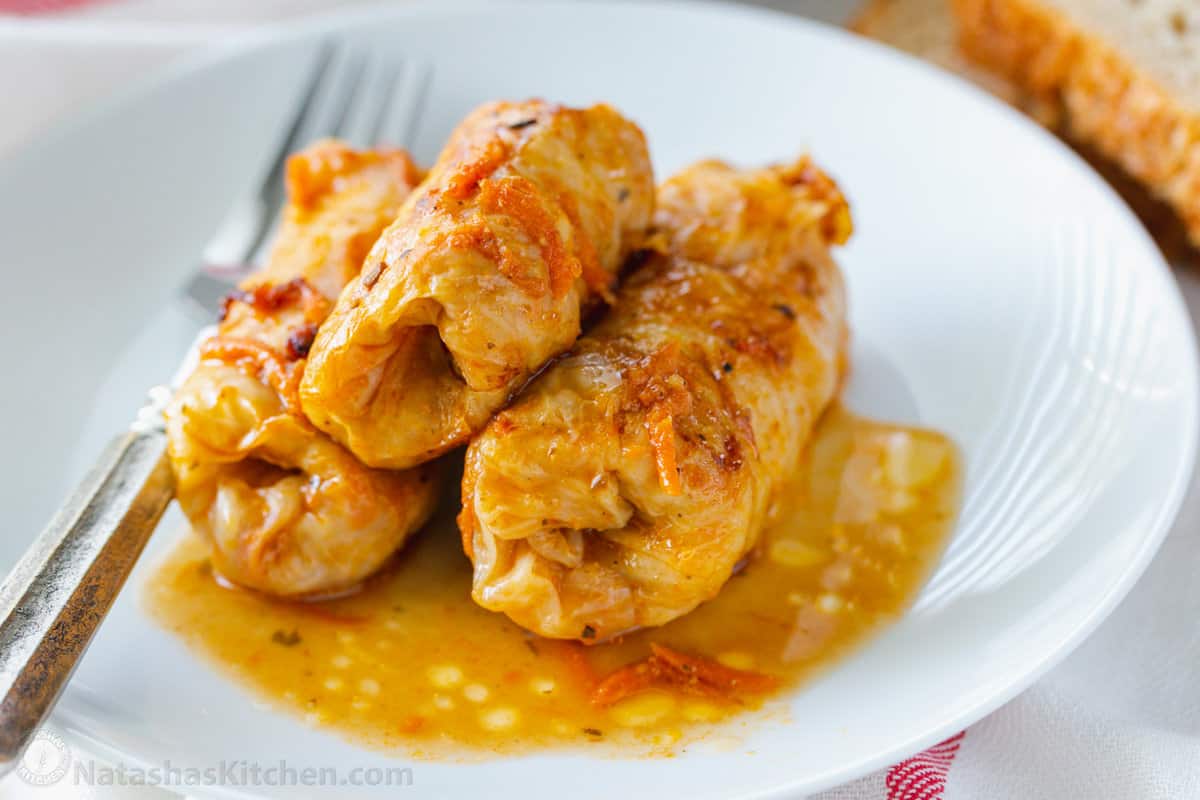 To Serve
Enjoy your cabbage rolls with a dollop of sour cream and a slice of soft French bread. They pair wonderfully with a variety of easy sides:
Make-Ahead
This recipe yields a generous amount of cabbage rolls, but the good news is they are easy to store and freeze:
To Refrigerate – Cabbage rolls can be stored in an airtight container in the fridge for up to 3-4 days.
Freezing – Transfer cooled cabbage rolls to freezer-safe Ziploc bags in a single layer. Add some sauce to each bag, remove excess air, seal, and freeze for up to 3 months or longer in a deep freezer.
To Reheat – Thaw frozen cabbage rolls in the refrigerator overnight. Reheat in an oiled skillet over medium heat until fully heated through, turning them a few times while cooking.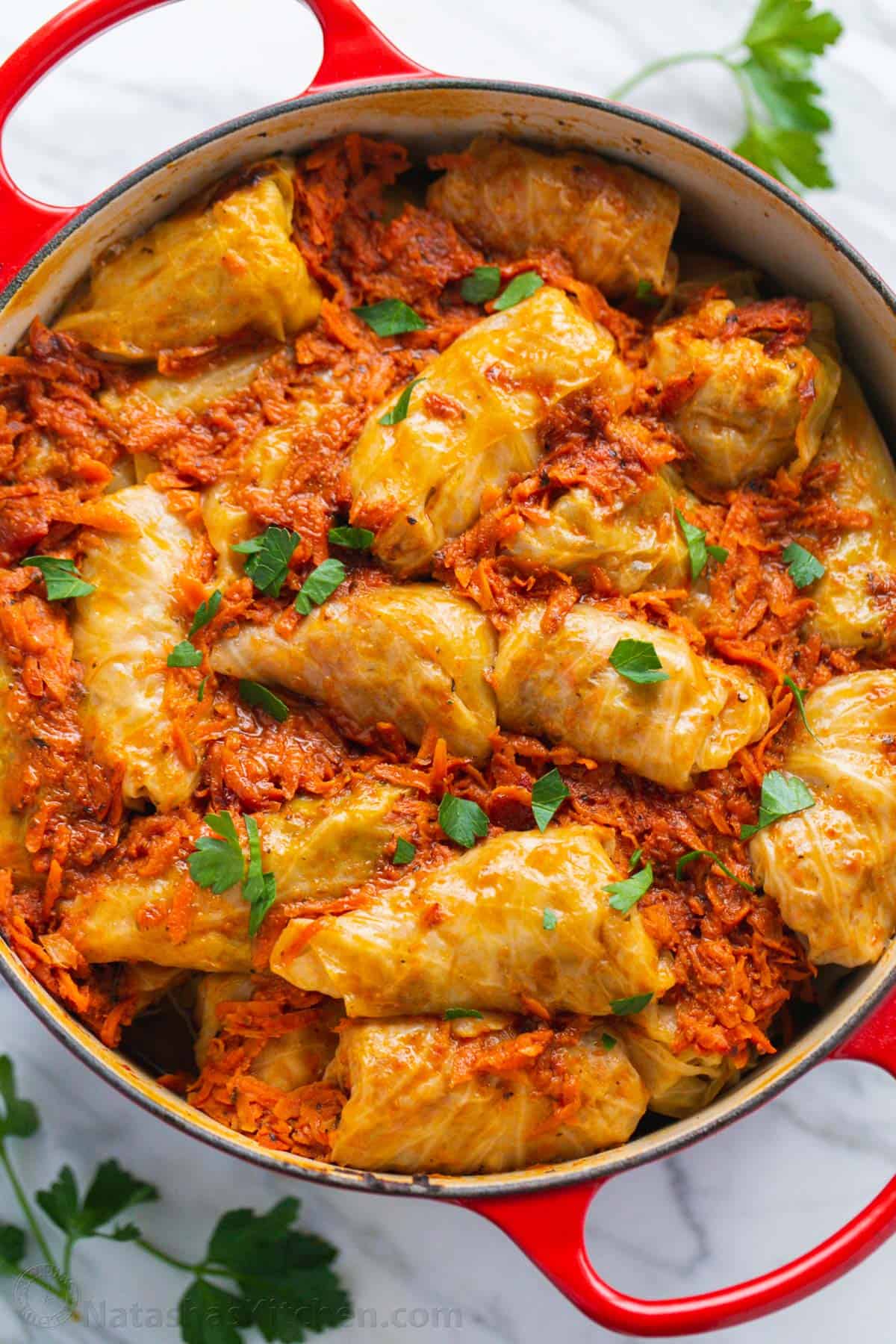 Advertisement:
Enjoy these homemade cabbage rolls, and please share how you like to serve them in the comments below.
Stuffed cabbage rolls are a classic feel-good meal made with simple and inexpensive ingredients. This easy recipe is full of flavor and perfect for freezing!
Preparing Rice and Cabbage:
Rinse 2 cups of rice and transfer it to a large saucepan. Add 3 1/2 cups of water, 1 Tbsp olive oil, and 1 tsp salt. Bring it to a boil, then reduce heat, cover, and simmer for 20 minutes or until all the water is absorbed.
Fill 2/3 of a large soup pot with water and bring it to a boil. Add 1/2 Tbsp salt and 4 Tbsp vinegar.
Peel and discard the two outer leaves from each cabbage. Use a knife to cut out the cabbage cores. Place the first cabbage in the water, cork side down, for 5 minutes, flip the cabbage over, and continue cooking for 5-6 minutes. Pull off leaves as they begin to soften. Place the leaves on a platter to cool when they are done. Leaves are done when soft and yellowish, and larger leaves will turn a dull green. Repeat the process with the second cabbage, adding more water if needed. Reserve 4 cups of water from the pot.
Prepare the Stuffing:
In a large bowl, or a stand mixer fitted with a paddle attachment, combine meats and rice.
Grate 4 carrots and sauté them in a large pan with 3 Tbsp of oil and 1 Tbsp of butter over medium-high heat until they soften. Then add 1 cup of marinara sauce and sauté for another minute. Add this mixture to the rice and meats, and then add 2 eggs and 1 Tbsp of salt. Mix well.
Cutting Leaves and Making Stuffed Cabbage:
For large leaves: cut the leaves in half down the center along the stem and remove the tough stem portion. Place 2 Tbsp of meat mixture at the top of each leaf (or what you can fit since leaf sizes vary). Roll the leaf into a cone shape with the thicker part of the leaf at the base and stuff the wide, thinner leaves into the top. Arrange the stuffed cabbage in layers in a Dutch oven or heavy-bottomed soup pot.
For small leaves: slice off the raised surface of the tough center stem to flatten the leaves for easier rolling. Fill each cabbage leaf with about 2 Tbsp of meat mixture. Place the filling over the stem/bottom portion. Roll like a burrito and stuff both ends in at the end.
Make the Sauce:
Heat 2 Tbsp of olive oil in a skillet. Saute the remaining 2 grated carrots with 1 tsp of Mrs. Dash, cooking until soft. Add 1 Tbsp of sour cream and 1 cup of marinara sauce. Saute for another minute and remove from heat.
Pour the Podliva sauce over the stuffed cabbage and add enough reserved water to almost cover the rolls (2 1/2 to 3 cups).
2 Ways to Cook Stuffed Cabbage:
Oven Method: If using a Dutch oven (recommended method), cover and bake at 450° F for 20-25 minutes in the bottom third of the oven, then reduce the heat to 350°F and bake for 1 hour.
Stovetop Method: If using a heavy-bottomed pot, bring the mixture to a light boil over medium heat, then reduce the heat, cover, and simmer for 40 minutes.
To Freeze: Once the cabbage rolls have cooled, transfer them to freezer-safe Ziploc bags in single layers, adding a little sauce to each bag. Push out any excess air, then seal and freeze.
Advertisement:
To Reheat: Thaw in the refrigerator overnight. Add 1 Tbsp of oil to a non-stick skillet, then add the thawed cabbage rolls, cover, and cook over medium heat, turning them a few times until heated through.
NEXT: Candied Yams with Bacon
Thanks for your SHARES!
Advertisement:
You May Also Like
Add a comment