Roasted Butternut Squash Soup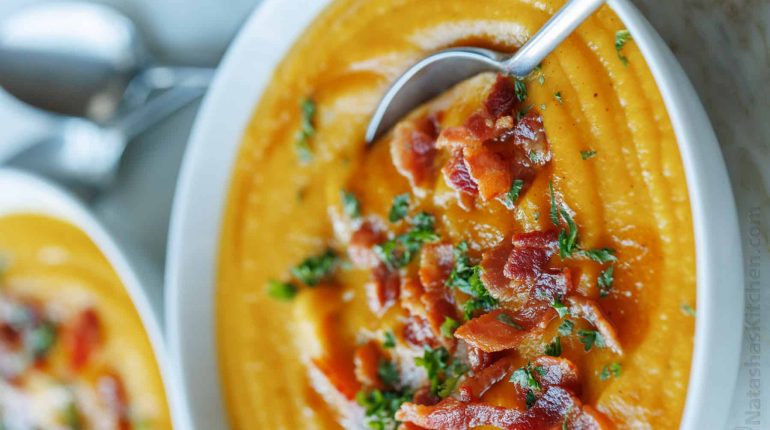 Posted November 10, 2023 by: Admin #Kitchen
Indulge in the comforting flavors of fall with this delectable Creamy Butternut Squash Soup. Roasted butternut squash takes center stage in this easy-to-follow recipe, creating a silky puree that's elevated with the richness of butter, the sweetness of maple syrup, and a blend of warm spices.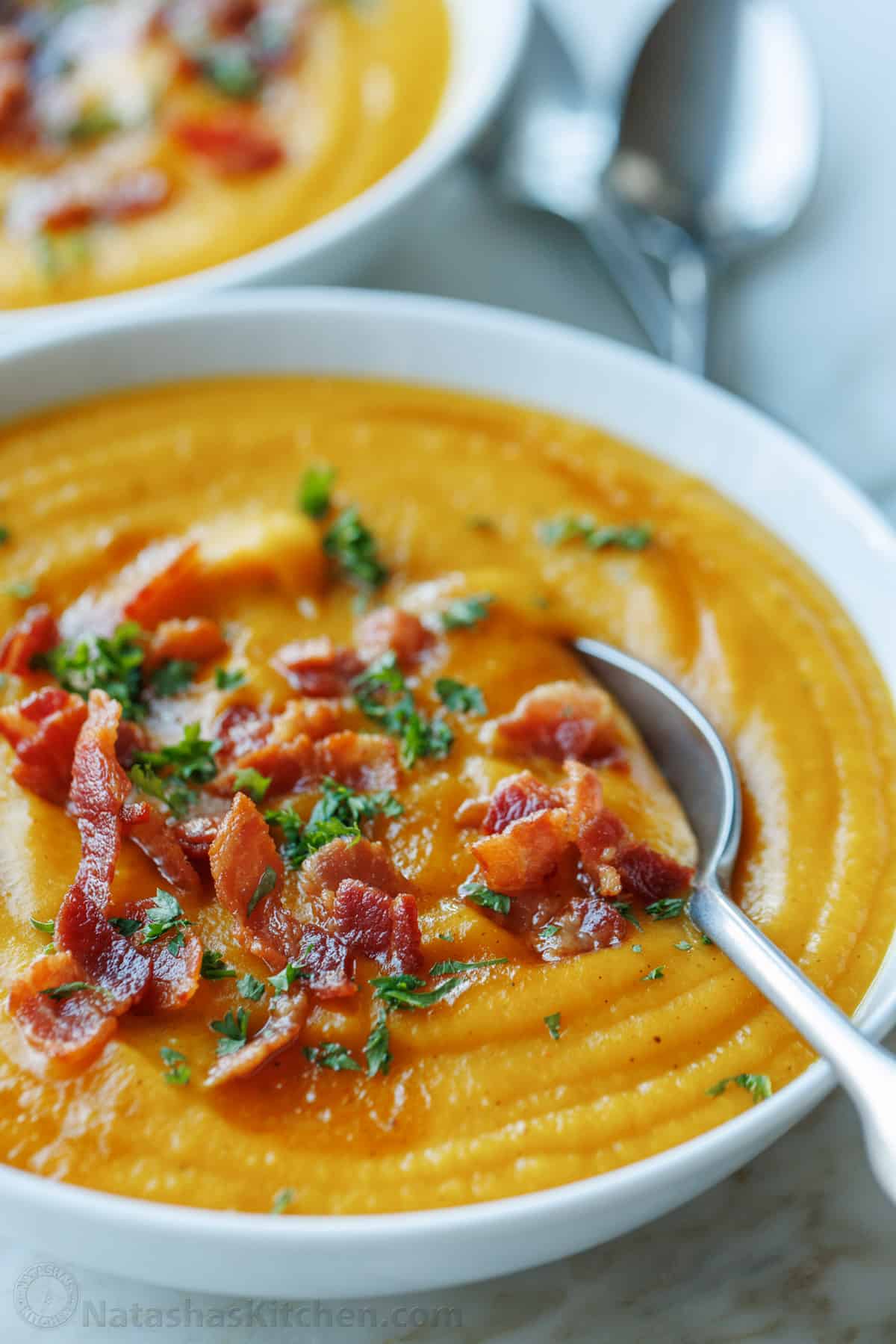 Advertisement:
Embrace the fall season with a collection of cozy soups, including Creamy Sweet Potato Soup and Loaded Potato Soup. The addition of cinnamon and nutmeg in this Roasted Butternut Squash soup enhances its warmth, making it a perfect choice for cooler weather.
Easy Roasted Butternut Squash Soup Recipe
Savor the simplicity of this gourmet butternut squash soup. Roasting the vegetables before blending intensifies their flavors, while a delightful touch of fall spice adds a new dimension of coziness. The irresistible combination of sweet maple syrup and crispy bacon toppings completes this culinary masterpiece.
Butter – Swirling in unsalted butter gives the soup a luxurious taste and texture, eliminating the need for additional milk or cream.
Maple Syrup – Enhances the natural sweetness of the squash.
Bacon – Adds a delightful sweet and savory crunch.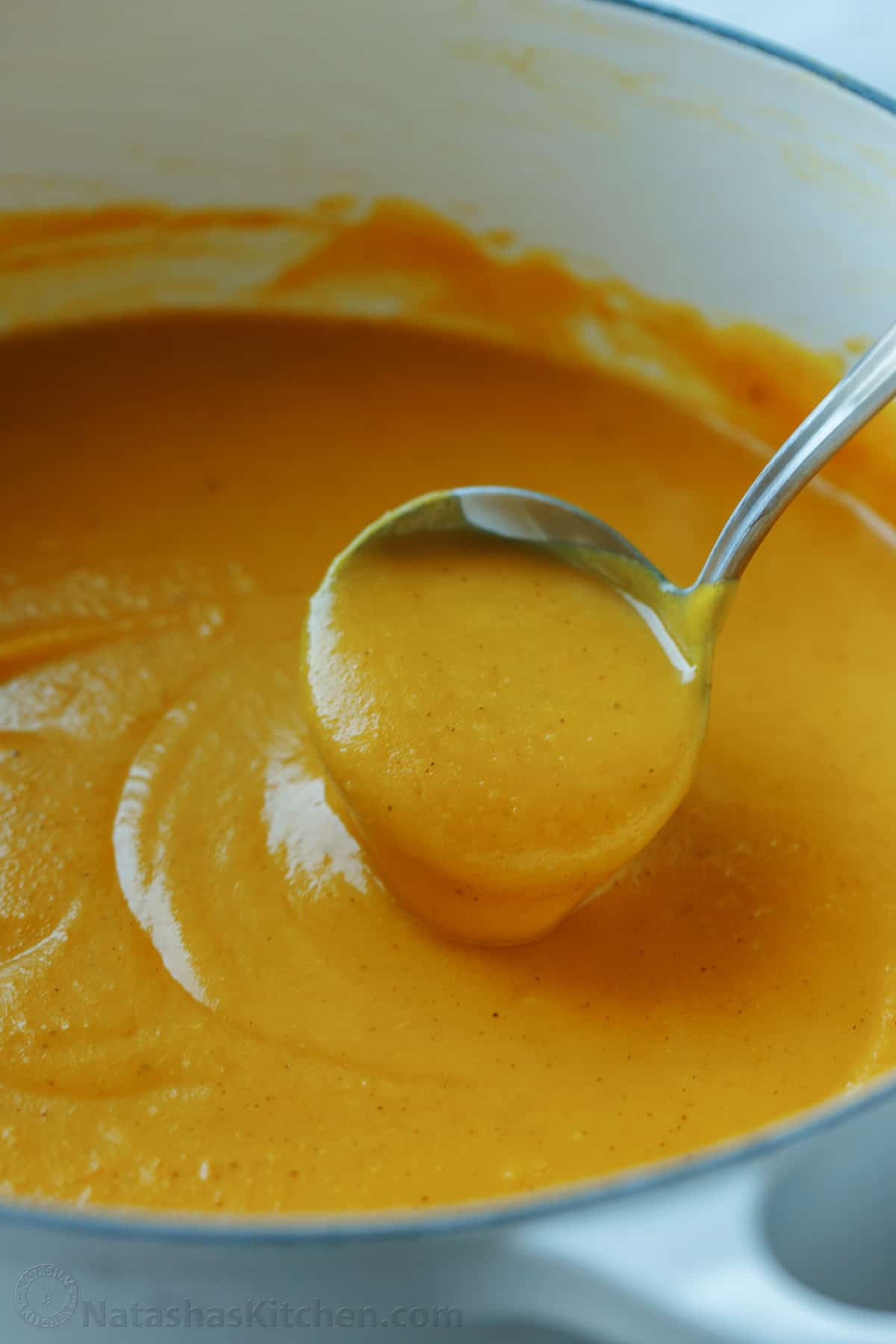 Advertisement:
Ingredients
Prepare this creamy butternut soup from scratch with the following ingredients:
Butternut Squash
Carrots and Onion
Extra Virgin Olive Oil
Broth
Butter
Maple Syrup
Spices – Ground cinnamon and nutmeg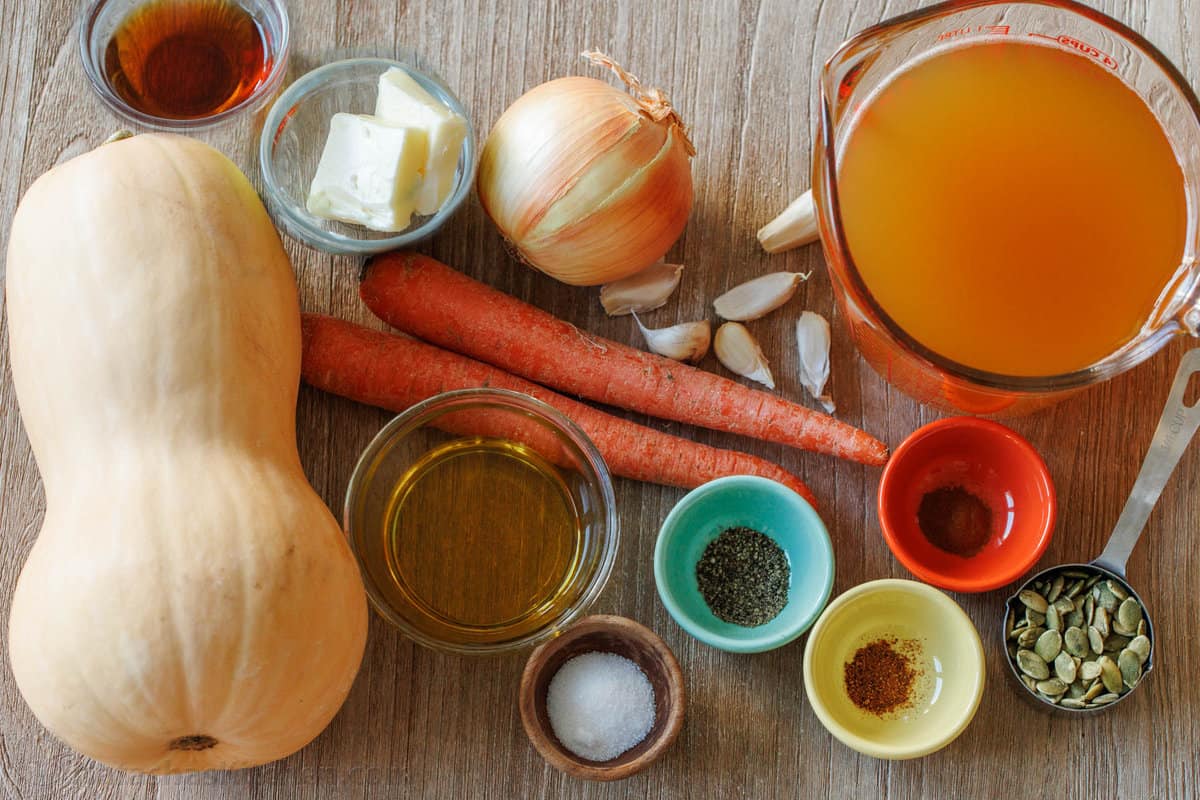 For a vegetarian or vegan option, use vegetable stock and olive oil, and substitute bacon with toasted pepitas.
Advertisement:
Pro Tip: For a vegetarian soup, use vegetable stock in place of chicken stock. For a vegan butternut squash soup, use vegetable stock and olive oil instead of butter, and serve with the toasted pepitas instead of bacon (see below).
Toppings and Garnishes
Enhance your butternut squash soup with a variety of toppings:
Extra virgin olive oil
Chili – Crushed red pepper flakes, Cajun spice, or cayenne pepper
Herbs – Basil ribbons or thyme leaves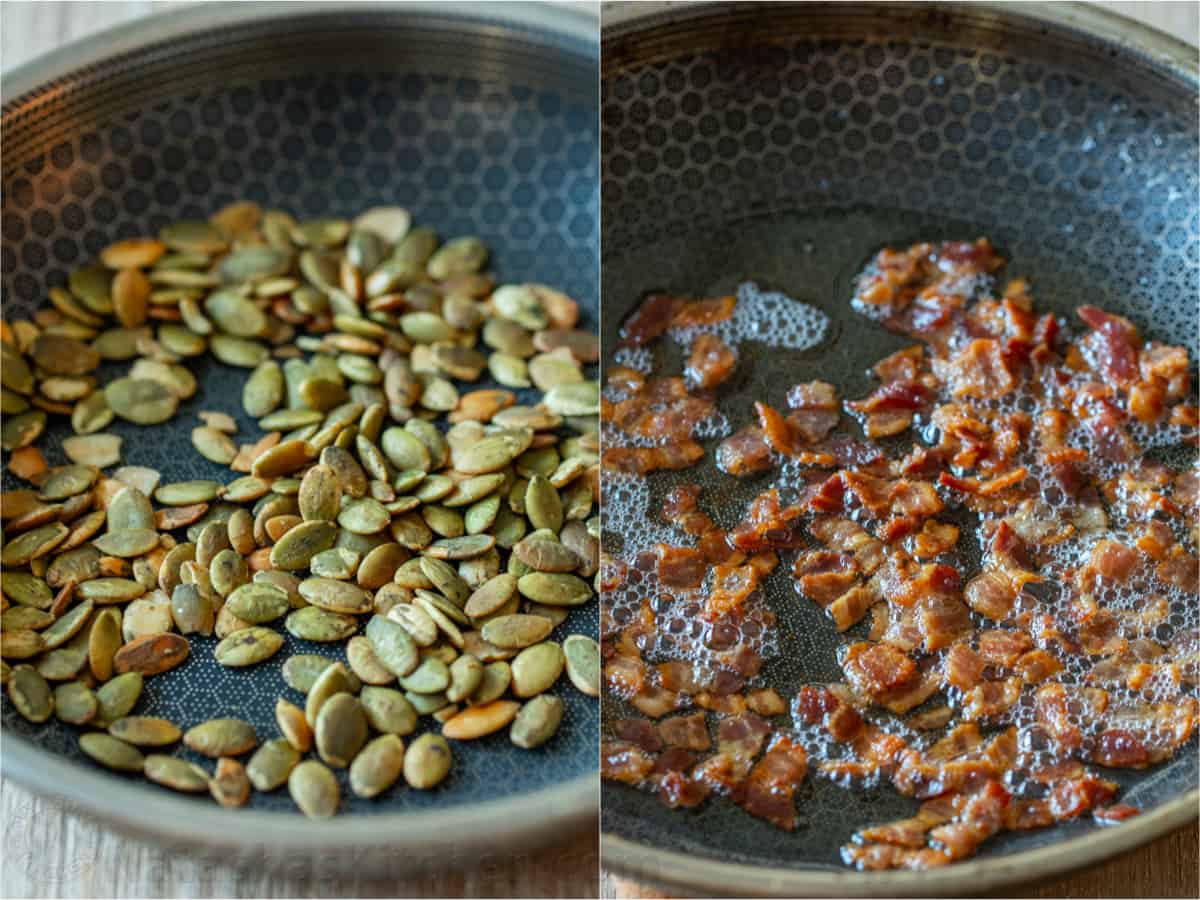 Advertisement:
How to Make Butternut Squash Soup
Follow these steps for a homemade butternut squash soup experience:
Roast the Veggies – Toss the cubed squash, carrots, onion, and garlic with olive oil, salt, and pepper. Roast at 400ºF for 35-40 minutes.
Blend – Add roasted veggies with stock to a blender and blend until smooth.
Combine – Transfer puree to a pot, add water, cinnamon, and nutmeg. Bring to a boil, then stir in butter and maple syrup. Season to taste.
Serve – Ladle into bowls and garnish as desired.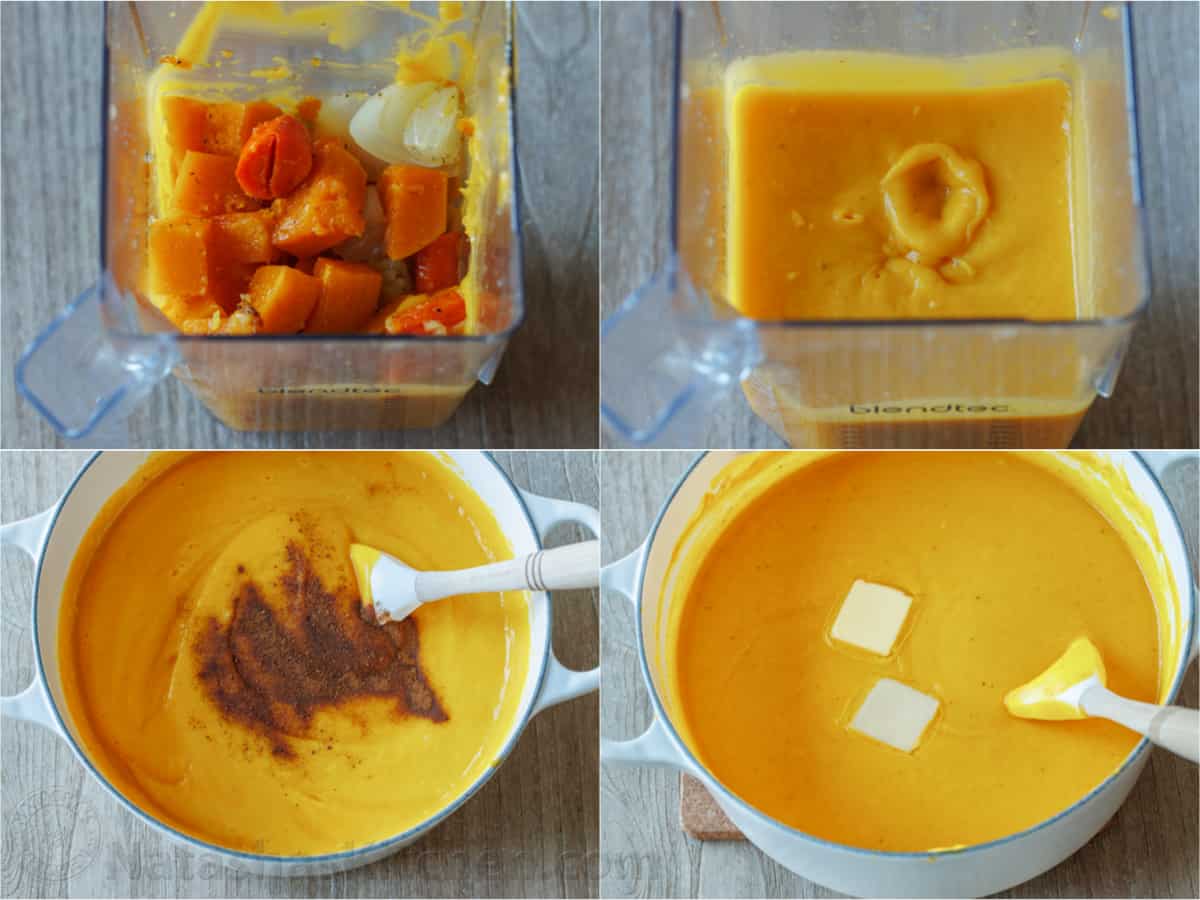 Pro Tip: Use a high-powered blender or immersion blender for optimal results.
Common Questions
Can I add an apple to butternut squash soup?
Adding an apple created an unpleasant sour tinge; it's not recommended.
Advertisement:
Can I add cream?
Adding cream is unnecessary; the soup is naturally creamy with butter.
Can I double the recipe?
Certainly! Freeze leftovers for later use.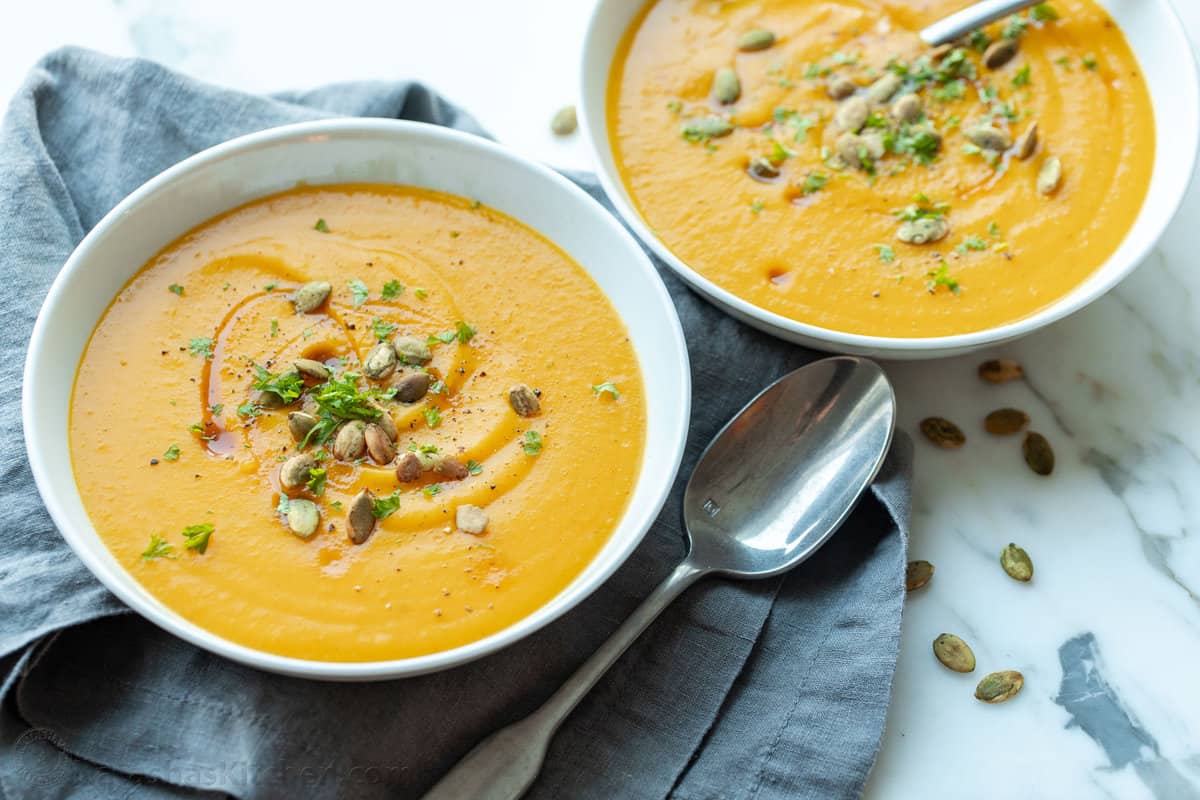 Make-Ahead
Maximize convenience with make-ahead tips:
Advertisement:
To Refrigerate: Store airtight in the fridge for up to 4 days.
Freezing: Freeze in a container for up to 3 months; thaw before reheating.
To Reheat: Reheat on the stovetop or in the microwave.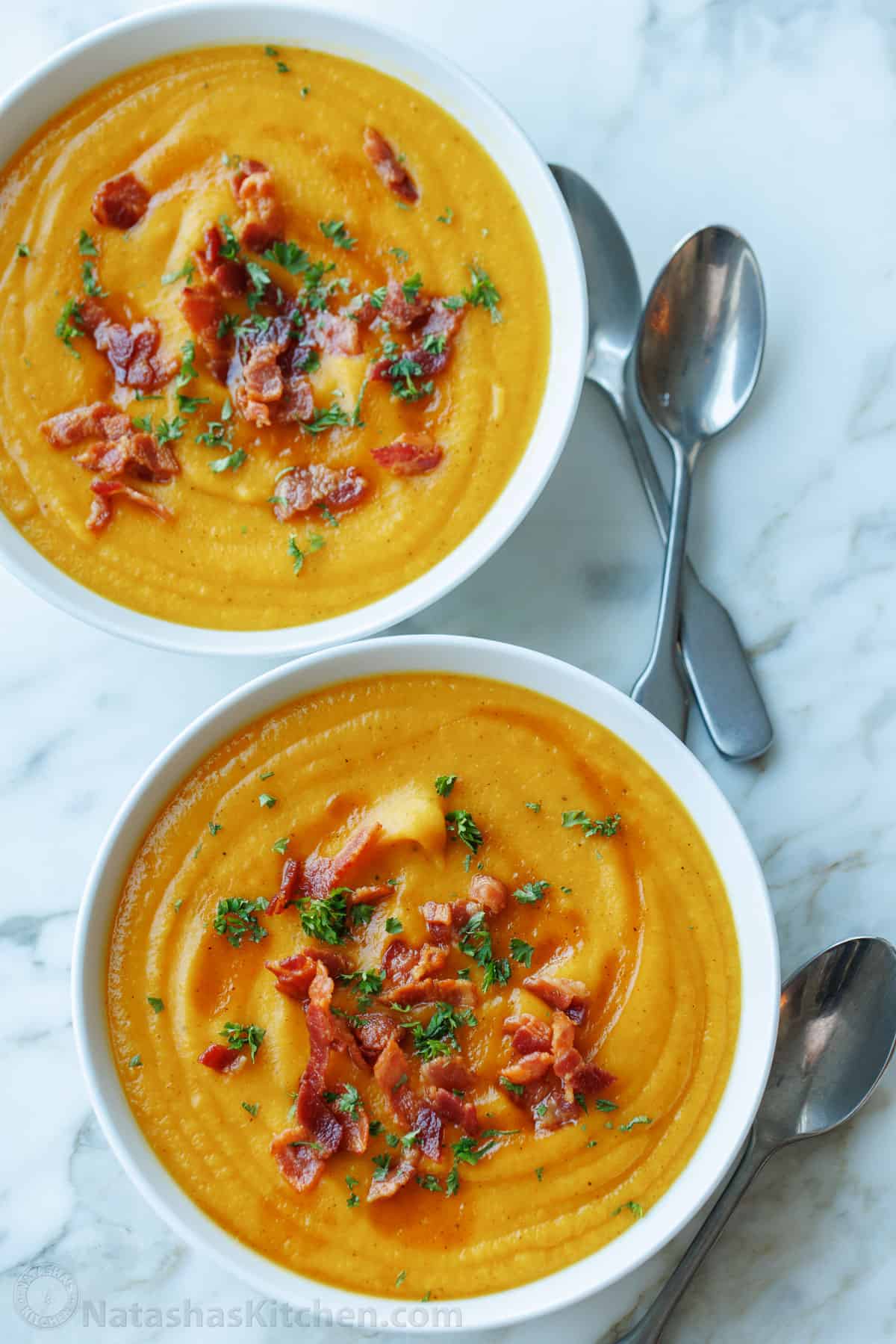 We love the subtle roasted flavor and velvety texture of this homemade butternut squash soup. It's the perfect bowlful to warm up with this fall.
1 large butternut squash, (3 lbs), peeled, seeded, and cut into 1" cubes
2 medium carrots, peeled and cut into 1-inch chunks
1 medium yellow onion, quartered and separated into smaller chunks
4 garlic cloves, peeled and ends trimmed
4 Tbsp extra virgin olive oil
1 1/2 tsp fine sea salt, plus more to taste
1/2 tsp freshly ground black pepper, plus more to taste
4 cups chicken stock, or vegetable stock
3 Tbsp unsalted butter
3 Tbsp real maple syrup, plus more to serve
1/2 tsp ground cinnamon
1/8 tsp ground nutmeg
1/2 cup filtered water, or added to desired consistency
Preheat the oven to 400˚F with the rack in the center of the oven. Line a large, rimmed baking sheet with parchment paper or use a non-stick baking sheet.
Chop all of your vegetables. See our tutorial for how to peel, seed, and chop butternut squash.
Transfer squash to the baking sheet along with carrots, onion, and garlic, drizzle with oil, salt, and pepper, and toss to combine.
Spread the squash evenly in a single layer and bake until squash and carrots are fork tender and golden at the edges, about 35-40 minutes, turning the veggies halfway.
Transfer the roasted veggies to a blender in 2-3 batches (don't go beyond the max fill line), adding some of the stock each time and water if it gets too thick, and blend until completely smooth.
Pour the puree into a dutch oven or soup pot and set over medium heat. Add 1/2 cup water, cinnamon, and nutmeg and stir to combine. Bring to a uniform light boil, keeping it partially covered and stirring frequently as cream soups tend to spurt and squirt. Swirl in butter and maple syrup, season with salt and pepper to taste if needed then remove from heat.
To serve, ladle into bowls, and garnish with a drizzle of maple syrup and bacon (or toasted pepitas), sprinkle of finely chopped parsley, and freshly cracked black pepper.
Advertisement:
NEXT: Mini Egg Salad Sandwich Lunchbox Idea
Thanks for your SHARES!
Advertisement:
You May Also Like
Add a comment