Italian Bow Tie Pasta Salad Recipe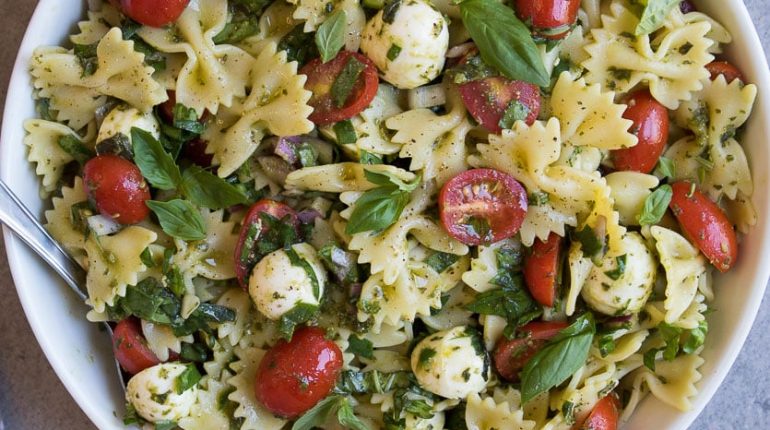 Posted October 10, 2023 by: Admin #Kitchen
Summer vibes are all about indulging in delightful pasta salads, and this Italian-inspired bow tie pasta salad is the ideal addition to any sunny BBQ gathering. Brimming with vibrant spinach, cherry tomatoes, and bocconcini cheese, all embraced by the aromatic embrace of basil pesto, this farfalle pasta salad recipe not only satisfies your taste buds but also provides a boost of fiber, healthy fats, and flavor.
Advertisement: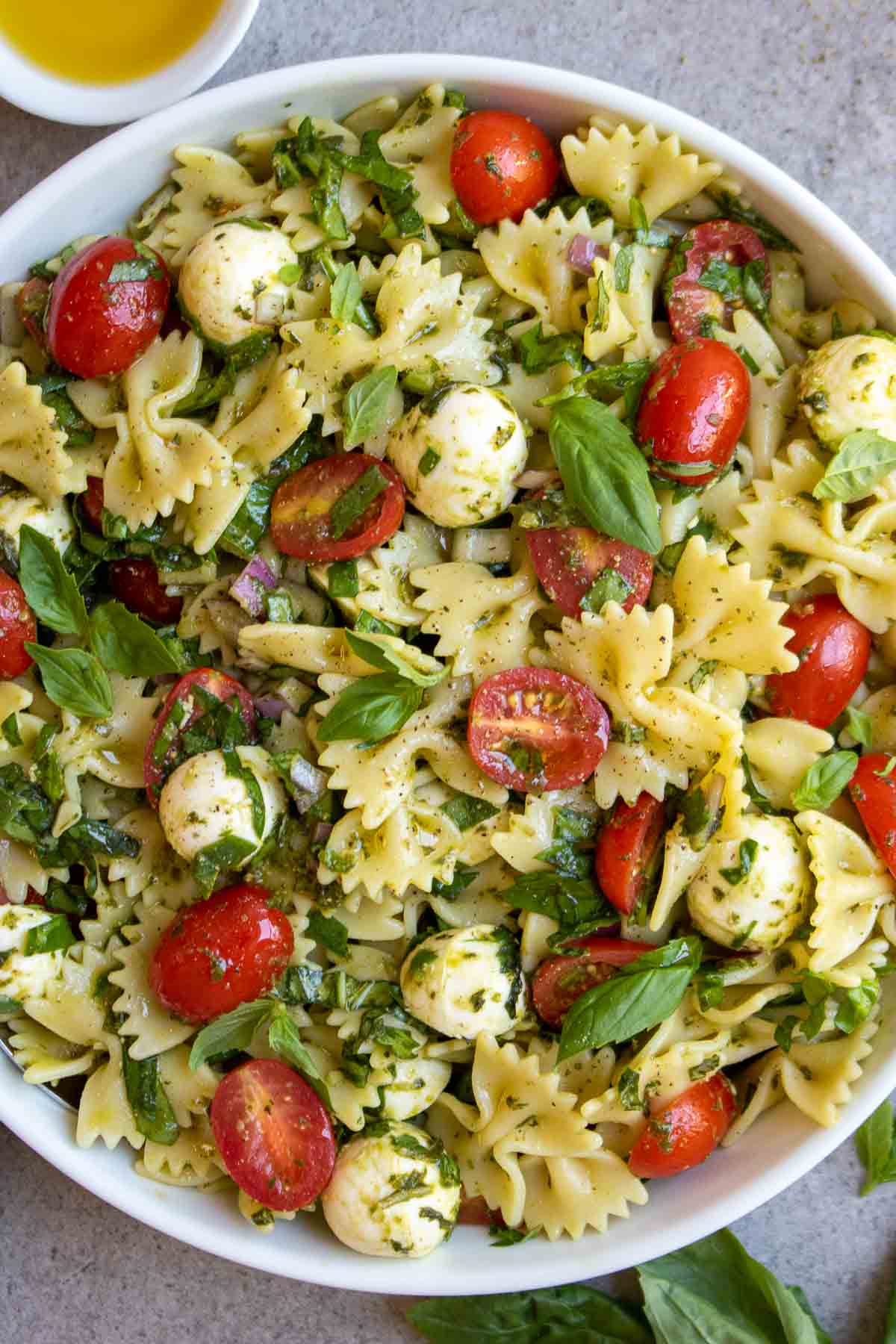 Whether you're savoring a leisurely weekend, celebrating with friends, or joining a family potluck, this bow tie pasta salad is the quintessential summer dish. Unlike its mayo-laden counterparts, this pasta salad shines with its light and invigorating pesto dressing, making it a breeze to prepare. And don't forget, it tastes even better as leftovers, so you can prep it in advance and relish it as a meal prep staple all week long.
Ingredients for Bow Tie Pasta Salad
Here are the essential components for crafting this delectable dish:
Advertisement:
Bow Tie Pasta: The star of the show, these charming bow tie pasta noodles, also known as farfalle, are the perfect canvas for showcasing your chopped veggies.
Spinach: Fresh baby spinach lends a vibrant green hue and a hefty dose of fiber to this pasta salad. Arugula can also be a splendid alternative if you're out of spinach.
Tomato: While the recipe suggests using cherry tomatoes, grape tomatoes or diced whole tomatoes work equally well.
Basil: A touch of basil or other fresh herbs infuses a burst of freshness and vitality into the dish.
Cheese: Bocconcini cheese, tiny mozzarella balls, make for a delightful choice, but you can also opt for cubed mozzarella, parmesan, or feta cheese to suit your taste.
Red Onion: For a dash of color and crispness; feel free to omit if it's not your preference.
Dressing: To keep things simple yet flavorful, the dressing combines basil pesto, olive oil, and lemon juice. However, you have the flexibility to use your preferred Italian vinaigrette concoction, featuring olive oil, red wine vinegar, garlic, oregano, and Dijon mustard.
While tomatoes and spinach shine in this pasta salad, you can experiment with various raw veggies and leafy greens. Cucumber, red bell pepper, zucchini, carrots, red onion, green onion, and black olives are all splendid choices to customize your bowtie pasta salad.
Dietary Adaptations
To make it Gluten-Free: Substitute regular bow tie pasta with gluten-free bow tie pasta.
To make it Dairy-Free: Skip the cheese and opt for dairy-free pesto.
Advertisement: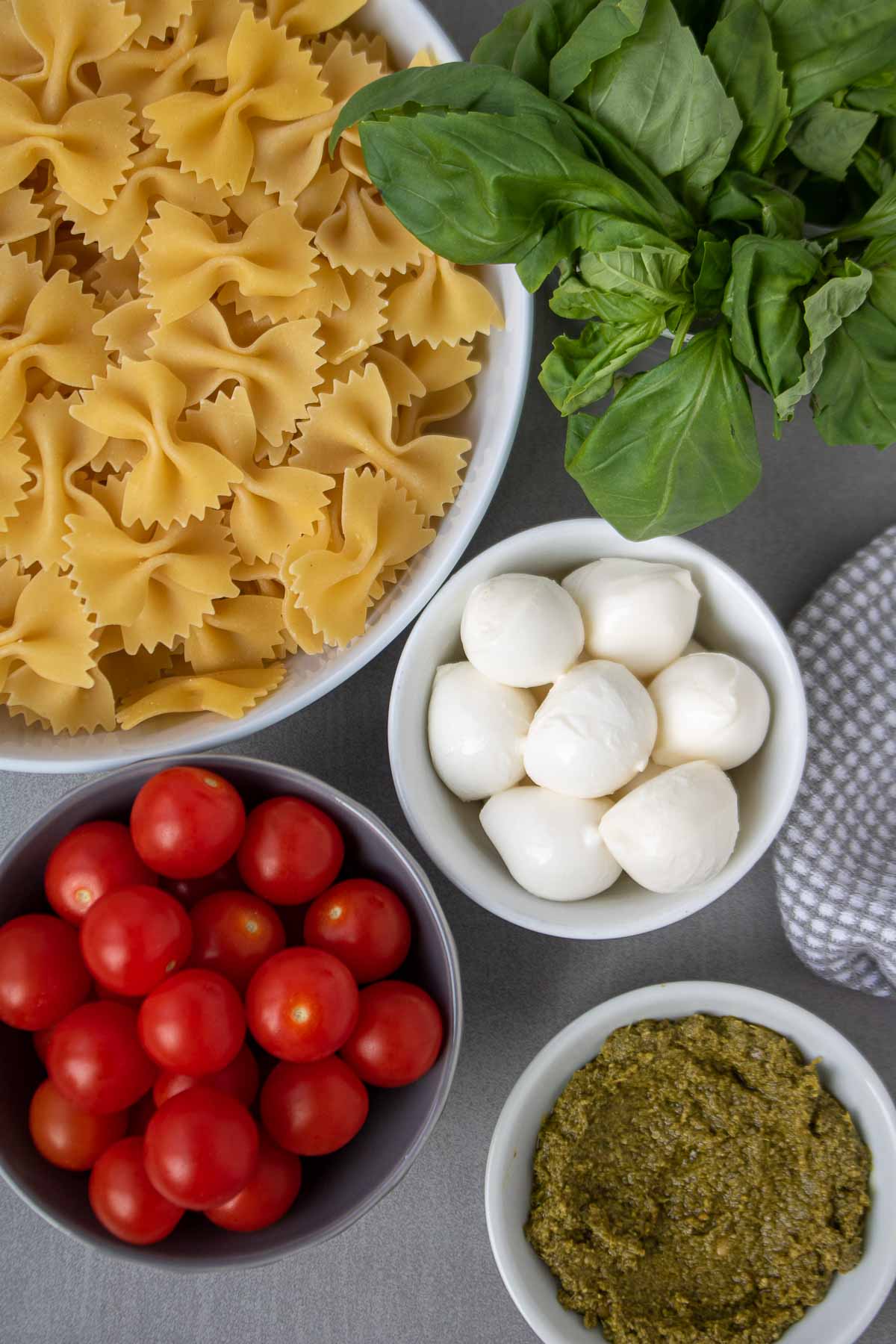 How to Make Bow Tie Pasta Salad
Creating this bow tie pasta salad is a breeze; here's a step-by-step guide:
Cook the Pasta: Boil the bow tie pasta in well-salted water until it's perfectly al dente. Once cooked, rinse the pasta under cold water and set it aside.
Chop the Veggies: While the pasta is cooking, chop the red onion, spinach, and basil, and slice the tomatoes.
Slice the Cheese: Halve the bocconcini cheese balls.
Prepare the Dressing: Mix the pesto, olive oil, and lemon juice in a small bowl.
Combine Everything: Toss the pasta, veggies, cheese, and dressing in a large bowl until thoroughly combined. Season with salt and black pepper to taste.
Serve and Enjoy!
Note: If you plan to make this pasta salad ahead of time, store it in the refrigerator and refresh it with an extra drizzle of olive oil, a squeeze of lemon, and a pinch of salt and pepper just before serving.
Advertisement:
Nutrition Tip
Pasta often gets a bad rap, but it can indeed be a healthy choice. Made from flour, water, and salt, pasta is a time-honored staple of Italian cuisine dating back to the 4th century B.C. Nutritionally speaking, pasta provides complex carbohydrates and fiber. When paired with fresh veggies like in this bow tie pasta salad recipe, pasta of all shapes and sizes can be a nourishing addition to a balanced diet.
What to Serve with Pasta Salad
Since pasta salad boasts complex carbohydrates, fiber, and healthy fats, complementing it with a protein source creates a well-rounded meal. Consider these options:
Burgers
Sausages
Chicken
Steak
Shrimp
Salmon
Tuna
Tofu
Hard-Boiled Eggs
For culinary inspiration, this Italian bow tie pasta salad pairs wonderfully with the mentioned protein options. Although often served as a side dish, this pasta salad also shines as a vegetarian main course, especially on hot summer days when you crave pasta without heating up the kitchen. Furthermore, it stores excellently in the fridge, making it a superb make-ahead meal for easy lunches or dinners.
FAQs
What are bow tie pastas called?
Bow tie pastas are referred to as farfalle. Although "farfalle" means butterfly in Italian, these pasta shapes are commonly known as bow tie pasta due to their distinctive appearance.
Advertisement:
How long do you cook bow tie pasta?
To achieve authentic al dente pasta, cook bow tie pasta for 11-13 minutes. For this recipe, 11 minutes is recommended.
What is bow tie pasta made of?
Bow tie pasta is crafted from durum wheat semolina flour.
Should you rinse the pasta when making pasta salad?
Yes, when preparing pasta salad, it's advisable to rinse the cooked pasta. Rinsing stops the cooking process and cools the pasta, making it suitable for immediate addition to the salad.
Advertisement:
How many calories are in bow tie pasta salad?
The caloric content of pasta salad varies based on the specific recipe and serving size. This bow tie pasta salad, yielding 8 side dish servings, contains approximately 236 calories, 3 grams of fat, 7 grams of protein, 35 grams of carbohydrates, and 2 grams of fiber per serving.
Storage + Reheating
Transfer the pasta salad to an airtight container and refrigerate it for up to 5 days.
Bow Tie Pasta Salad
This vibrant bow tie pasta salad recipe is perfect as a delightful side dish for summer BBQs, potlucks, or as a satisfying main course for light lunches or dinners. It also holds up well in the fridge, making it a fantastic option for meal prep.
Ingredients
12 ounces (4 cups) dry bow tie pasta
2 cups cherry tomatoes, halved
1/4 cup diced red onion
1 cup bocconcini cheese, halved
1 cup packed, finely chopped spinach
1/2 cup finely chopped basil
3 tablespoons pesto
2 tablespoons olive oil
1/2 lemon, juiced
Salt
Black pepper
Instructions
Fill a large pot with water, bring it to a boil, and cook the bow tie pasta in generously salted water as per package instructions or until slightly past al dente. After cooking, drain the pasta, toss it with a bit of olive oil to prevent sticking, and allow it to cool to room temperature. If you're in a hurry, you can briefly rinse it under cold water before adding the oil to expedite cooling.
While the pasta is cooking, prepare the dressing. In a small bowl or jar, combine the pesto, olive oil, and lemon juice, and whisk them together.
Once the pasta has cooled, place it in a large bowl and add the cherry tomatoes, red onion, bocconcini cheese, spinach, and basil. Stir to combine.
Pour the dressing over the salad, season generously with salt and pepper, and gently toss until everything is well coated. Taste and adjust the seasoning if necessary. Depending on the thickness of your pesto, you may need to add a bit more; simply adjust according to your taste.
Once prepared, you can serve the pasta salad immediately or store it in an airtight container in the refrigerator for up to 5 days.
Nutrition
Serving Size: 1 serving
Calories: 236 calories
Sugar: 3 grams
Fat: 8 grams
Carbohydrates: 35 grams
Fiber: 2 grams
Protein: 7 grams
Advertisement:
NEXT: Oven Fried Chicken Recipe
Thanks for your SHARES!
Advertisement:
You May Also Like
Add a comment