Southern cornbread salad recipe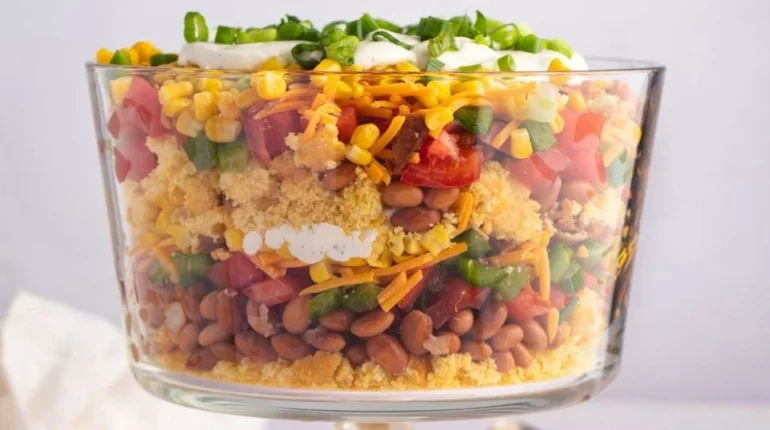 Posted October 31, 2023 by: Admin #Kitchen
Prepare to be amazed by an astonishing Southern cornbread salad that will awaken your taste buds.
Advertisement:
It's a harmonious blend of sweet and savory, making it the perfect dish to serve at a backyard party!
Imagine the tantalizing taste of creamy and succulent dressing, crispy bacon, juicy tomatoes, and crumbly cornbread, all combined to create a symphony of flavors in one dish. A true culinary masterpiece!
This cornbread salad recipe is the ultimate barbecue side dish you never knew you needed, unless you were born and raised in the South, of course!
Advertisement:
Even if you don't need a fancy trifle dish to serve it, the presentation of this salad is absolutely stunning!
Are you ready to roll up your sleeves and prepare this mouthwatering cornbread salad? I know I am!
Let's get started before my keyboard gets covered in drool!
Advertisement: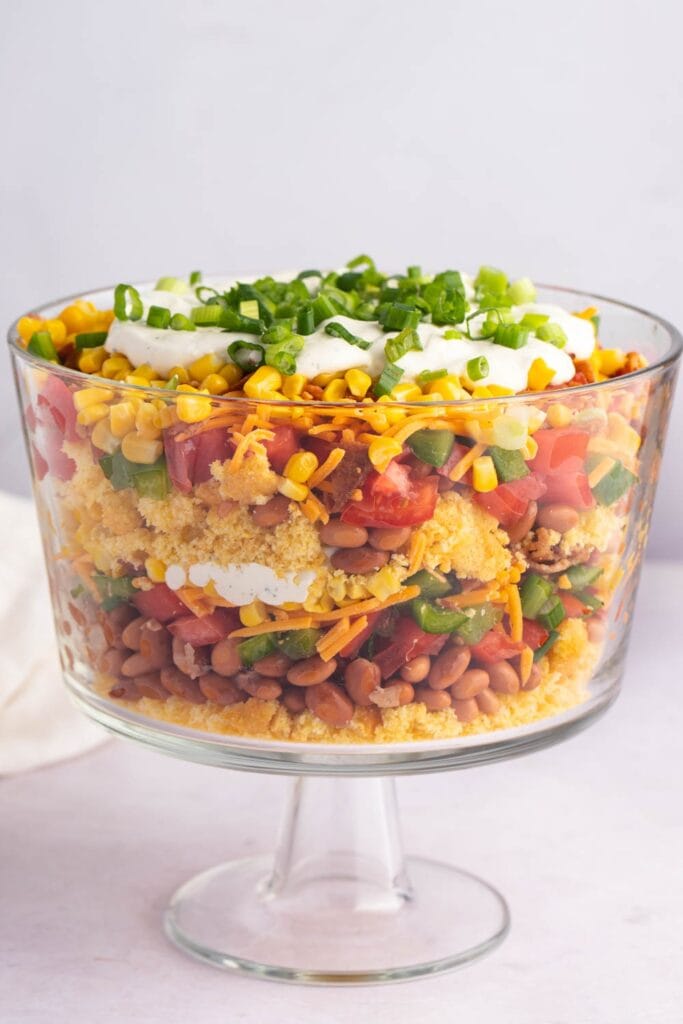 What Is Cornbread Salad?
Cornbread salad is a layered salad composed of crumbled cornbread, chopped tomatoes, peppers, beans, and a creamy mixture of ranch, mayonnaise, and sour cream for the dressing. It is often topped with crispy bacon, green onions, and cheese.
Cornbread and salad might seem like an unlikely combination, but it has developed a cult following over the years.
Advertisement:
And as you can see in the photo, it's a unique side dish that is sure to turn heads at your next summer gathering.
The combination of crispy vegetables and fluffy cornbread provides an unbeatable contrast of texture and flavor.
Try it once, and you'll be hooked!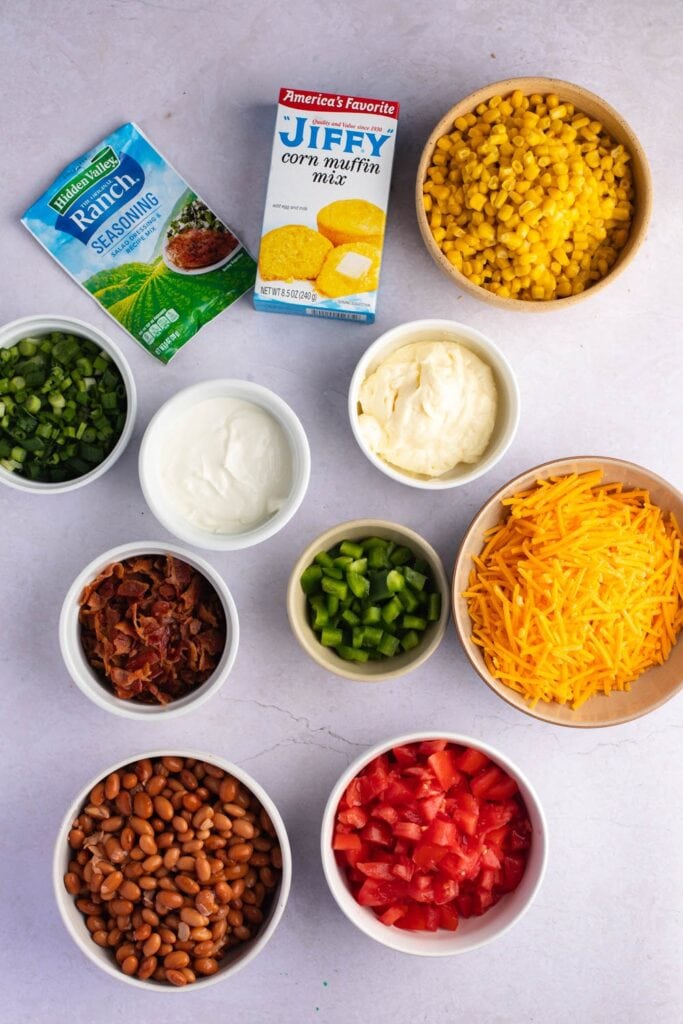 Advertisement:
Ingredients
Ranch, Mayo, and Sour Cream for the dressing – This combo is the secret to elevating the average cornbread salad to greatness! They are creamy and tangy and provide just a hint of sweetness.
Homemade or boxed cornbread – Cornbread is the star ingredient of cornbread salad because it absorbs all the incredible food juices and adds a beautiful layer of texture to the dish. Plus, it has a subtle sweetness that complements the savory vegetables.
Cheddar cheese – Cheese is a must in this recipe, and you can't beat cheddar. Its slightly sharp flavor and bold taste enhance the complexity of this delicious side dish.
Bacon strips – Crumbled bacon strips add just the right amount of salt and crunch to the salad.
Tomatoes, Peppers, Corn, and Pinto Beans – This trio is most commonly used. Tomatoes and red pepper make it juicy and vibrant, and pinto beans bring tenderness and nutrients. Of course, that's not all you'll need, and you can add more if you like!
How to Store Southern Cornbread Salad
Due to the vegetable juices and dressing, the fluffy cornbread will become soggy if left for more than a day. So, I suggest making this salad no more than an hour in advance.
Cover it in the refrigerator until you're ready to serve. As for longer storage, it's not really possible with this recipe. After a day in the fridge, the cornbread will become mushy.
And because the dressing is so creamy, it won't freeze well.
Advertisement: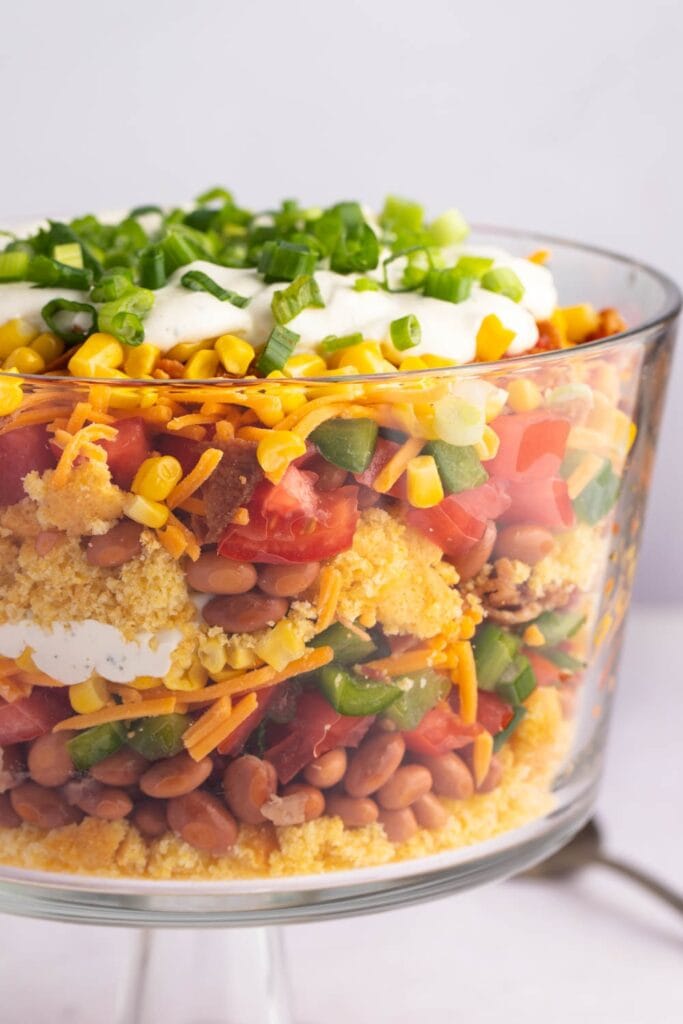 Recipe Tips and Tricks
Want to make the best cornbread salad ever? I've got you covered:
Use freshly made cornbread. It's more flavorful and has a better texture than day-old cornbread.
Chop the vegetables uniformly. You want small, regular pieces so that you get a bit of everything in each bite.
Use Greek yogurt instead of mayonnaise. It adds a nice creamy texture with less fat and calories.
Add herbs and spices to the cornbread. This will give your salad an extra layer of flavor.
Completely cool the cornbread before layering the salad. If it's warm, the steam will make it soggy.
Let the assembled salad sit in the refrigerator for an hour before serving. This allows all the flavors to meld.
Make a homemade ranch dressing. Trust me, it makes all the difference, and the flavor profile is much more complex.
Advertisement:
NEXT: Easy roasted marrow bone recipe
Thanks for your SHARES!
Advertisement:
You May Also Like
Add a comment