Scallop Pasta with Garlic and Tomatoes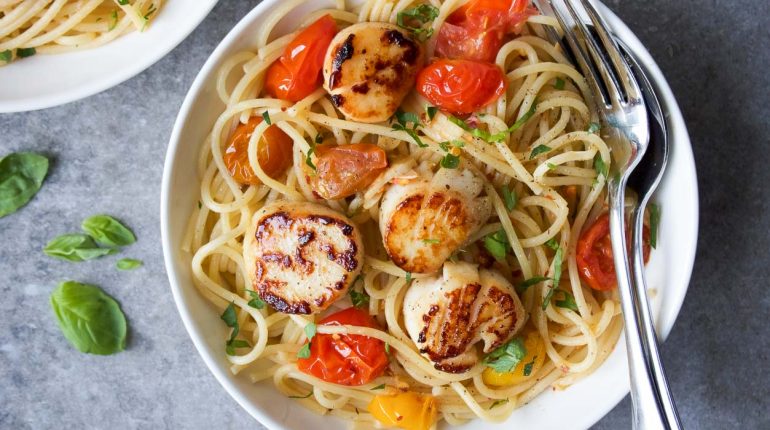 Posted October 6, 2023 by: Admin #Kitchen
Crafted with ripe tomatoes, aromatic garlic, and fresh herbs, this scallop-infused pasta embodies both sophistication and simplicity. While scallops are often reserved for special occasions, their quick cooking time and protein-rich nature make them an ideal choice for a weeknight dinner, contributing to a healthy, well-rounded meal.
Advertisement: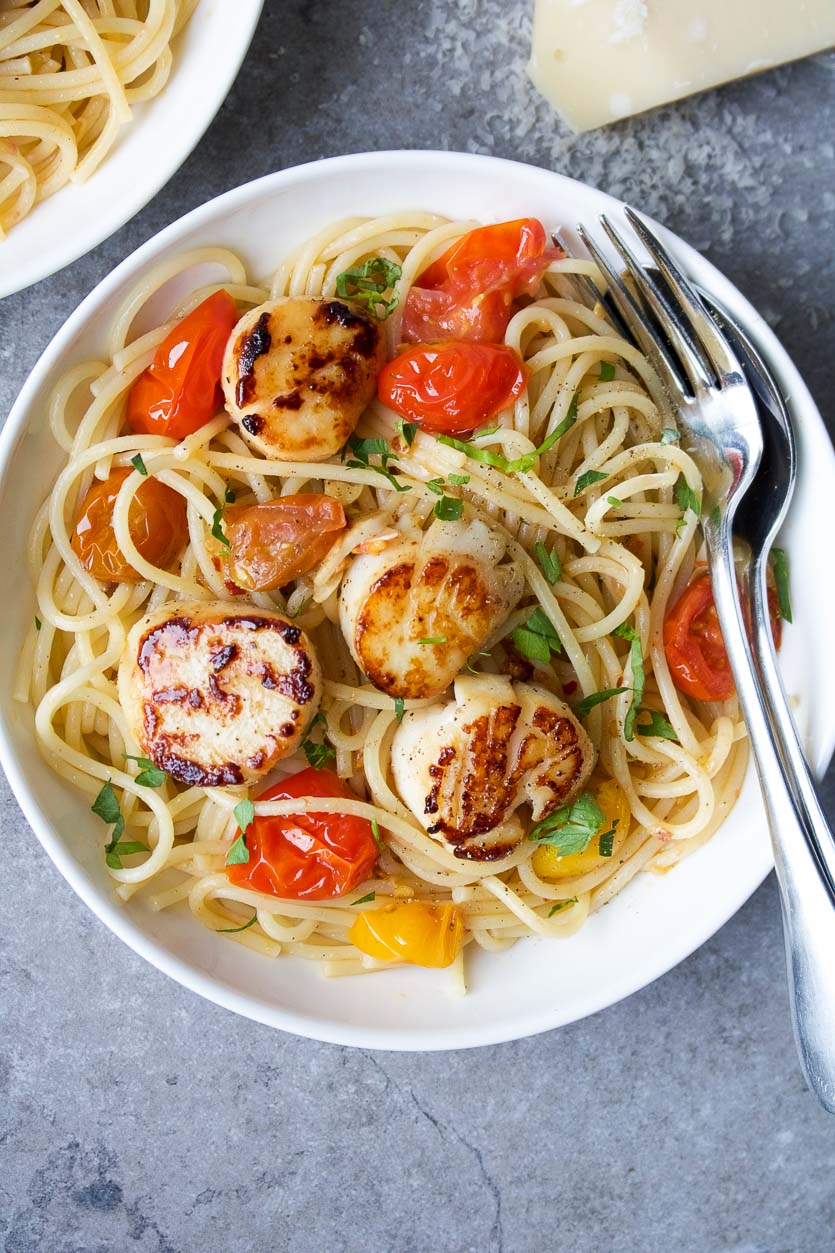 Although this recipe specifically calls for spaghetti, feel free to use your preferred pasta variety, such as spaghettini, fettuccine, or linguine. This scallop pasta can shine as the star of the meal or pair wonderfully with a crisp green salad featuring a straightforward lemon dressing or an oil-based vinaigrette.
Scallop Pasta
Bringing together juicy tomatoes, fragrant garlic, and fresh herbs, this seared scallop pasta is the epitome of a light, high-protein dinner bursting with flavor.
Advertisement:
Ingredients
8 scallops
170 grams dry spaghetti
1 tablespoon olive oil
2 tablespoons butter
1 minced shallot
2 thinly sliced cloves of garlic
1 cup halved cherry tomatoes
1/4 teaspoon optional chili flakes
1/4 cup finely chopped fresh herbs (such as basil, tarragon, and/or parsley)
Salt
Black pepper
Parmesan cheese, for serving
Instructions
Begin by bringing a large pot of well-salted water to a boil. Add the spaghetti and cook according to the package instructions. Once cooked, reserve ¼ cup of the pasta water, drain the pasta, and set it aside.
While the pasta is cooking, pat the scallops dry with a paper towel and generously season both sides with salt and pepper.
Preheat a pan or cast-iron skillet over medium-high heat, adding olive oil and 1 tablespoon of butter. Once the butter has melted and the pan is hot, add the scallops and cook for 2-3 minutes per side until they turn golden brown. After cooking, transfer the scallops to a plate and set them aside.
In the same pan, reduce the heat to medium, then add the minced shallot and sliced garlic, cooking for 1-2 minutes until they become tender.
Incorporate the halved cherry tomatoes, chili flakes (if using), and season with salt and pepper. Cook for an additional 3-4 minutes until the tomatoes start to break down.
Add the reserved ¼ cup of pasta water, stir to combine, and cook for an extra 1-2 minutes to reduce the liquid and thicken the tomato mixture.
Once the mixture has reduced slightly, add the fresh herbs and the remaining tablespoon of butter, stirring until the herbs have slightly wilted.
Introduce the cooked spaghetti to the pan and toss until it is thoroughly coated in the tomato mixture.
To serve, transfer the pasta and tomato mixture into bowls, top them with the cooked scallops, and sprinkle with freshly grated Parmesan cheese.
Nutrition
Serving Size: 1 serving
Calories: 579 calories
Sugar: 5 grams
Fat: 21 grams
Carbohydrates: 72 grams
Fiber: 4 grams
Protein: 26 grams
NEXT: Salted Dark Chocolate Cookies
Thanks for your SHARES!
Advertisement:
You May Also Like
Add a comment