Patriotic Dessert – Berry Puff Pastry Tart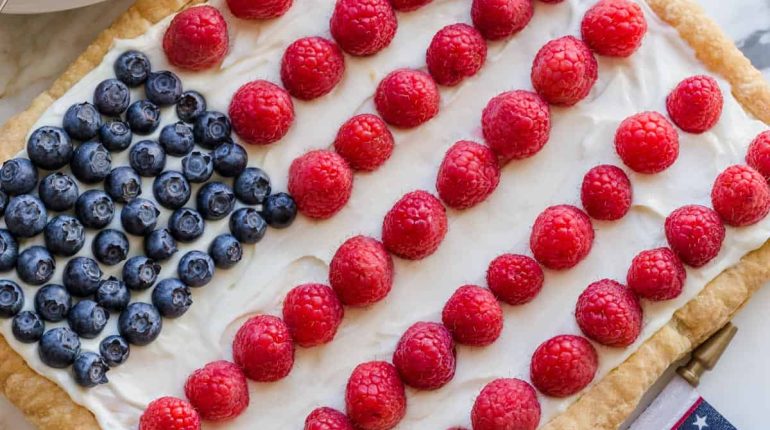 Posted September 18, 2023 by: Admin #Kitchen
This Berry Puff Pastry Tart is the perfect 4th of July or Memorial Day dessert! It is so easy to make, especially when using frozen puff pastry dough. You'll love the cheesecake filling, which is similar to our Cream Cheese Danish, but even easier. Top this with fresh strawberries and blueberries for an easy patriotic flag cake.
Advertisement:
Happy Fourth of July! Independence Day is America's birthday and this special day is also my husband's birthday. Patriotic, 4th of July themed desserts are super fun to make. If you haven't already, make sure you check out our No-Bake Patriotic Trifle with star-shaped berries on top, and don't forget the Strawberry Lemonade!
Puff Pastry is the Easiest Tart Crust: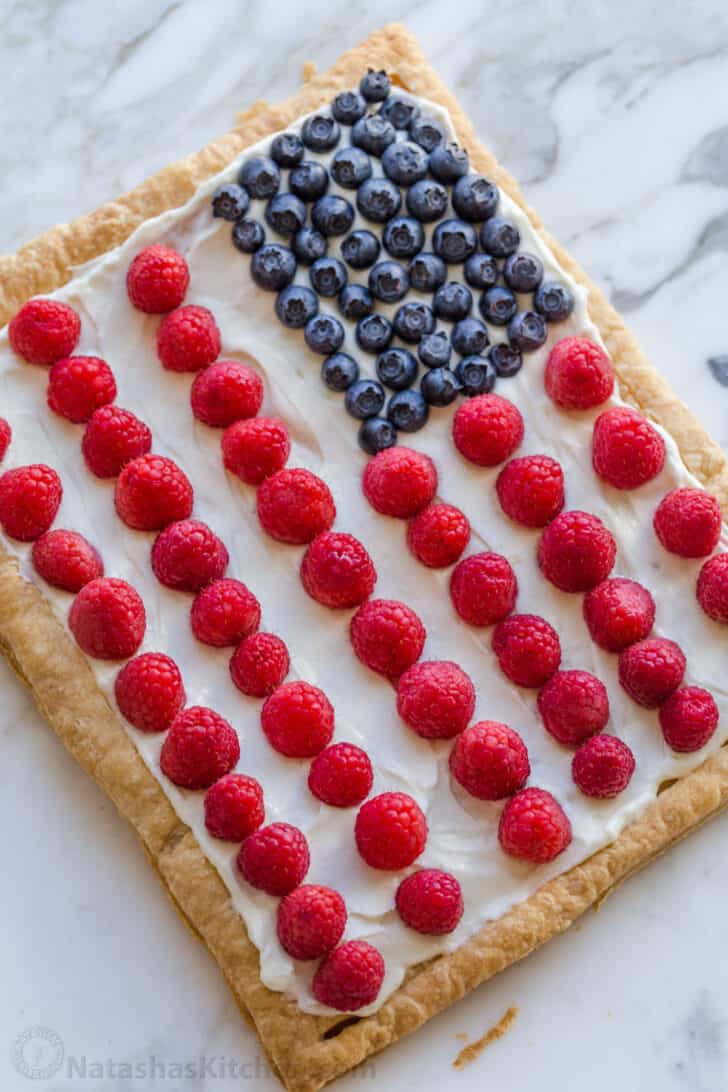 We love fruit tarts and this puff pastry tart couldn't be easier! We used a frozen sheet of puff pastry, thawed to room temperature, and scored the edges to create a border. The crispy flaky layers of pastry with the cream cheese center and tangy fruit remind me of our Peach Cream Cheese Danish.
Advertisement:
What's the Best Fruit for Tarts?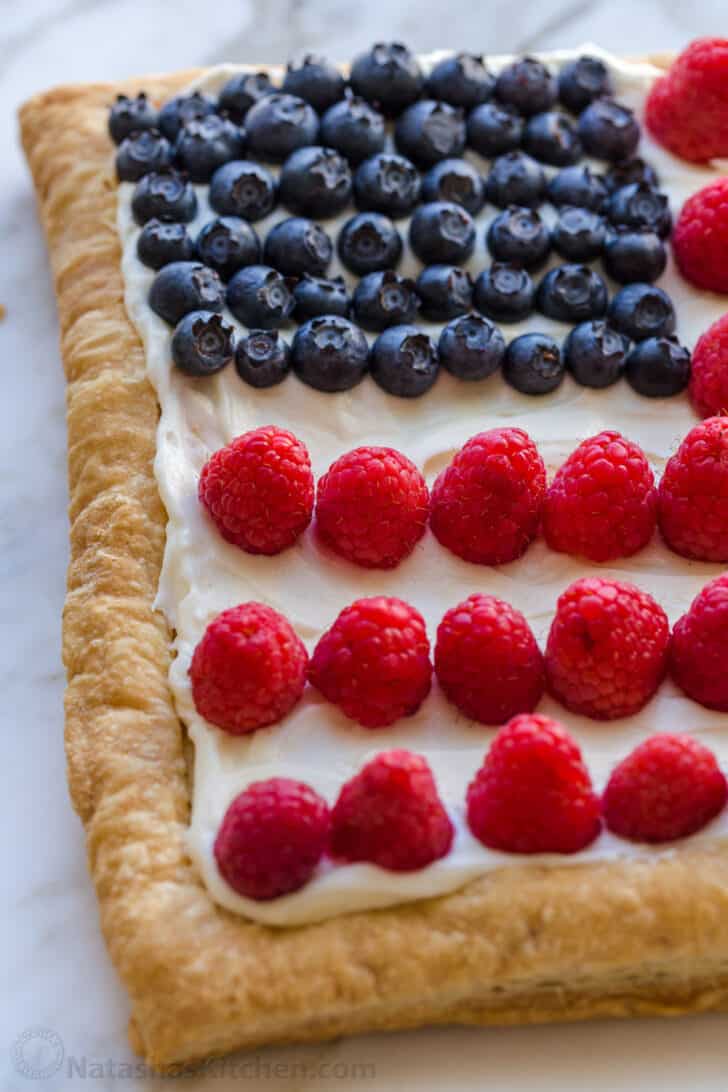 You can use a variety of fruits to make a fruit tart so you can customize this for just about any holiday – from Valentine's Day to Thanksgiving. Our favorite fruits for tarts are:
Berries – any kind (strawberries, blueberries, blackberries, raspberries)
Stone fruit – peaches, plums, nectarines, apricots, cherries
Kiwi – for a fun pop of green color
Mango – try topping it like we did Mango Cake
Citrus – clementine sections
How to Make this Patriotic Dessert: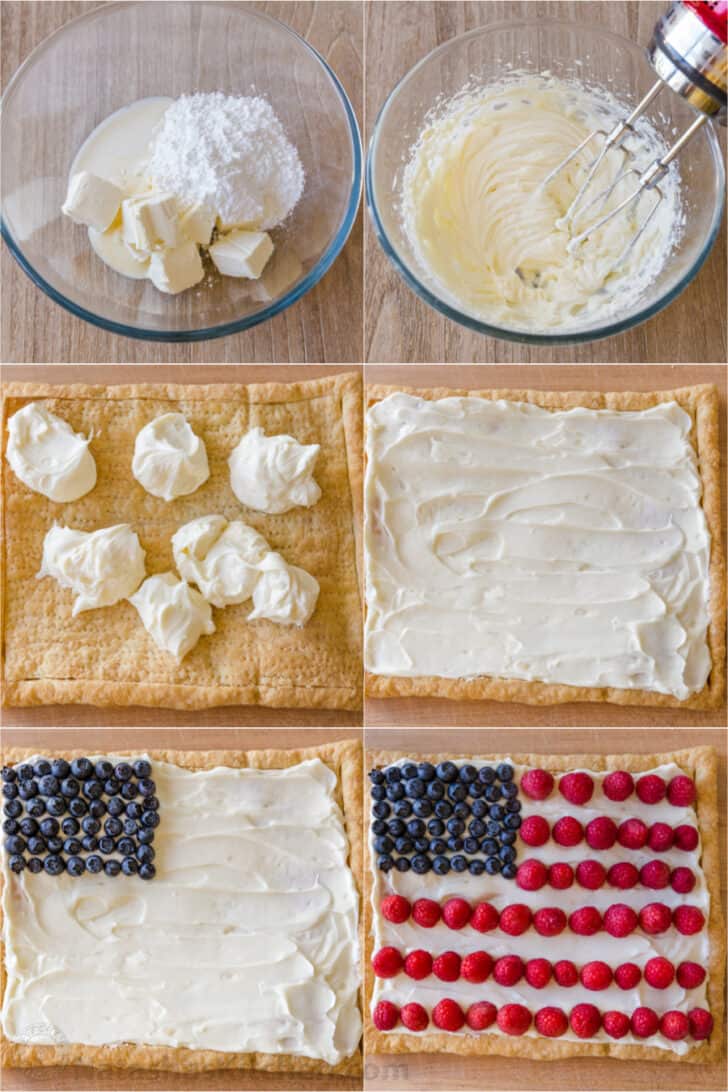 Advertisement:
Make the Crust: Thaw puff pastry and roll into a 10×12" rectangle and score a 1/2″ border with a pizza cutter. Poke holes all over the center with a fork. Bake at 400˚F for 20 minutes then remove and cool.
Cheesecake Filling: With an electric mixer, beat cream cheese, powdered sugar, cream and vanilla for 2 minutes or until smooth and whipped.
Flag Cake Design: Arrange blueberries for the stars and raspberries for the stripes. We are missing a stripe only because we ran out of space.
Can I Make this Tart Ahead?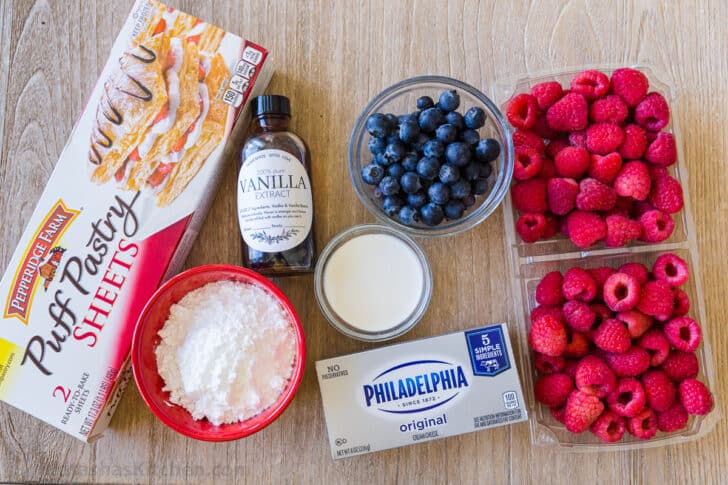 We love how crisp and flaky the crust on the day it is made. This danish keeps well if using fresh (un-cut fruit) so you can make it a day ahead. After about a day, the berries will start to soften. You can also make the crust and fill with cream cheese and refrigerate for 2 to 3 days then top with berries before serving.
Berry Puff Pastry Tart (Patriotic Dessert)
This Berry Puff Pastry Tart is the perfect patriotic flag dessert! It is so easy to make, especially when using frozen puff pastry dough. You'll love the cheesecake filling making it a cheesecake tart.
Advertisement:
Prep Time: 20 minutes mins
Cook Time: 20 minutes mins
Total Time: 40 minutes mins
Ingredients:
While puff pastry thaws, preheat oven to 400˚F.
Place thawed puff pastry sheet over a lightly floured sheet of parchment or silpat and roll dough into a 10×12" rectangle.
Transfer the dough and parchment paper to a baking sheet.
Score the dough 1/2″ from the borders with a pizza cutter or a knife, making sure not to cut all the way through.
The 1/2″ strips should still be attached and when baked, it will create a border.
Using a fork, poke all around the bottom of the pastry (do not poke the 1/2″ border).
Bake in the center of a preheated oven at 400˚F for about 20 minutes or until browned then remove and cool to room temperature.
Beat cream cheese with 2/3 cup sugar and 2 Tbsp heavy whipping cream and 1/2 tsp vanilla until smooth and whipped (2 minutes on high speed).
Spoon over the center of the cooled pastry and spread evenly (keep the border clean for a pretty presentation).
Arrange berries over the top in a flag pattern and dust with powdered sugar if desired.
Cover with plastic wrap and refrigerate until ready to serve.
Berries will keep well up to a day in the refrigerator.
NEXT: Birria Tacos Recipe
Thanks for your SHARES!
Advertisement:
You May Also Like
Add a comment