How to Make Healthy Infused Water!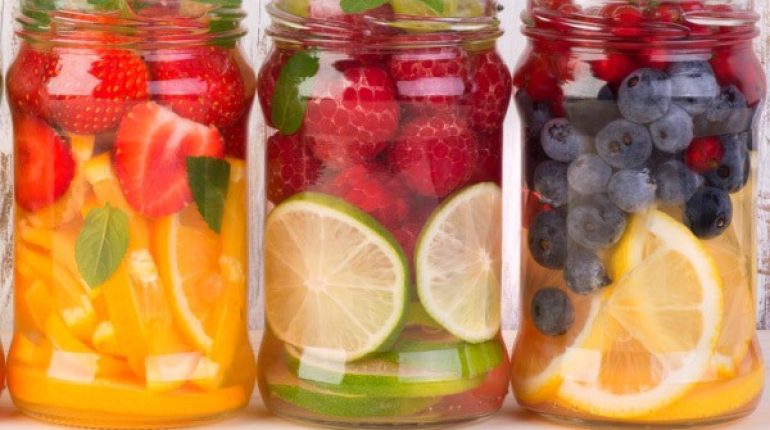 Posted June 26, 2023 by: Admin #Kitchen
If you think about it, water is the basis of everything. That's why it's high time we pay it a proper attention. However, we rarely enjoy drinking water for water's sake. We've experimented with various methods, from using sophisticated water filters to placing a tall glass on the counter as a reminder. Fortunately, the concept of infused water has truly revolutionized our experience.
Advertisement:
Water plays a crucial role in many bodily functions. It helps regulate temperature, lubricate joints, transport nutrients, aid digestion and eliminate waste. Dehydration can lead to fatigue, headaches, dizziness, reduced concentration and even more serious health problems. Maintaining good hydration is an essential aspect of good health!
My personal journey to better hydration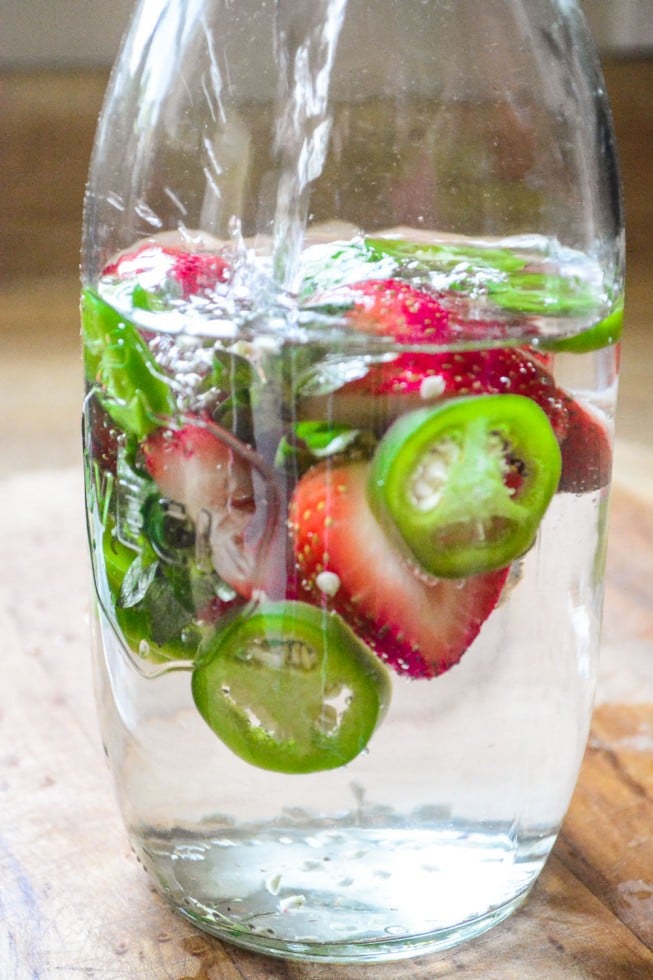 First I bought a new water bottle.
I was drawn in by the pretty colors and the feel of the silicone case hugging the curved glass. I brought it home, washed it, filled it up, and fell head over heels in love. I drank more water in the days that followed than ever before in my life! I don't know if it's the glass, the flip-top straw, the way it nestles in the grip of my hand, or what, but this bottle makes drinking plain water a joy. It has no plastic "taste" or worry about chemical leaching, and it goes right in the dishwasher. This is the one I bought, the 16 oz size with the straw lid, in lavender color, and I think it's just perfect. I take it with me everywhere, we are inseparable 🙂
Advertisement: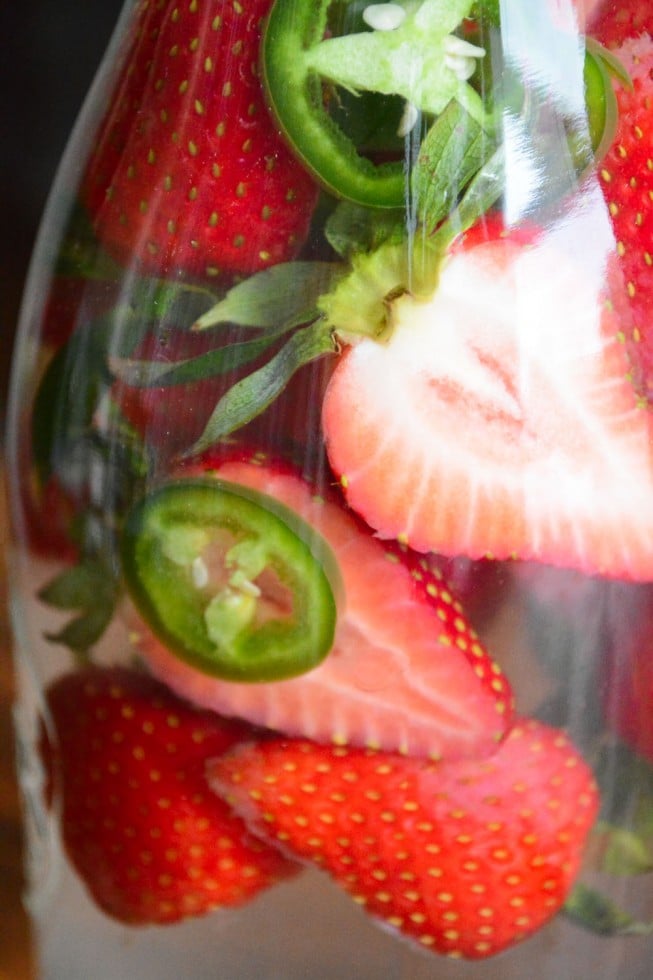 Then I found out that water doesn't have to taste like… water!
Water can still be water, but much better, and I'm not talking about adding sugar, juice or additives… I'm talking about pure flavor. Flavor that comes from infusing the water with various combinations of fruits, herbs, and other natural ingredients. Keep in mind that these aren't sweet as we've come to expect from flavored drinks, but they do have a nice, subtle flavor that helps make plain water that much more interesting.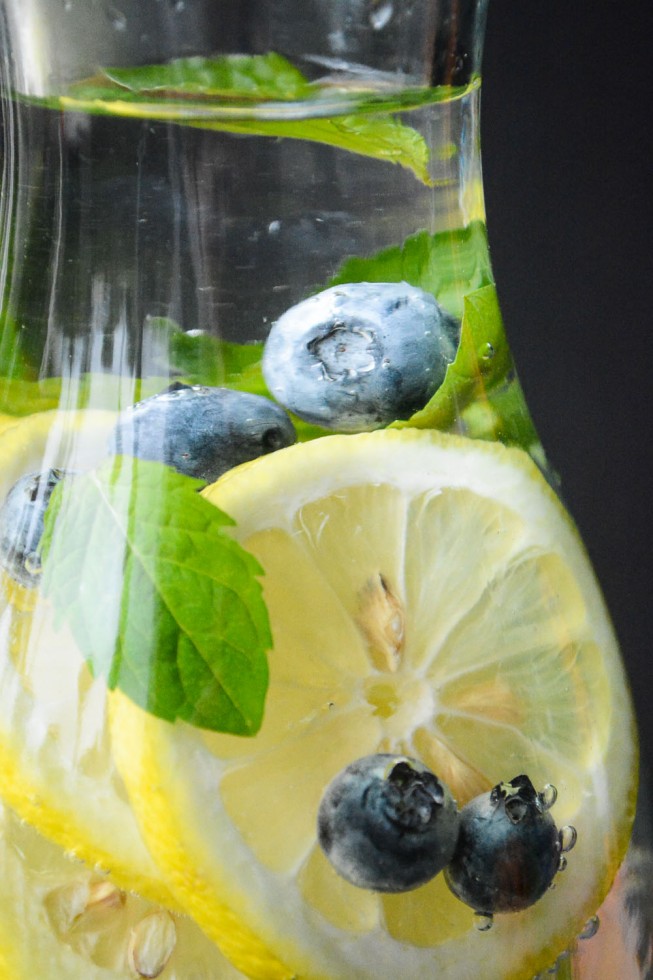 How to make infused water
Fill a glass jar or pitcher with fresh water.
Add your flavor enhancers. Fruits, vegetables, fresh herbs and spices are all possibilities. It is important to lightly chop or crush the ingredients to allow the flavors to blend with the water.
Infuse at room temperature or in the refrigerator. Allow at least an hour, preferably more, to allow the flavors to develop.
Strain* and enjoy.
*You can add fresh fruit back to your infused water for additional flavor and a gorgeous presentation.
Glass is better for infusing water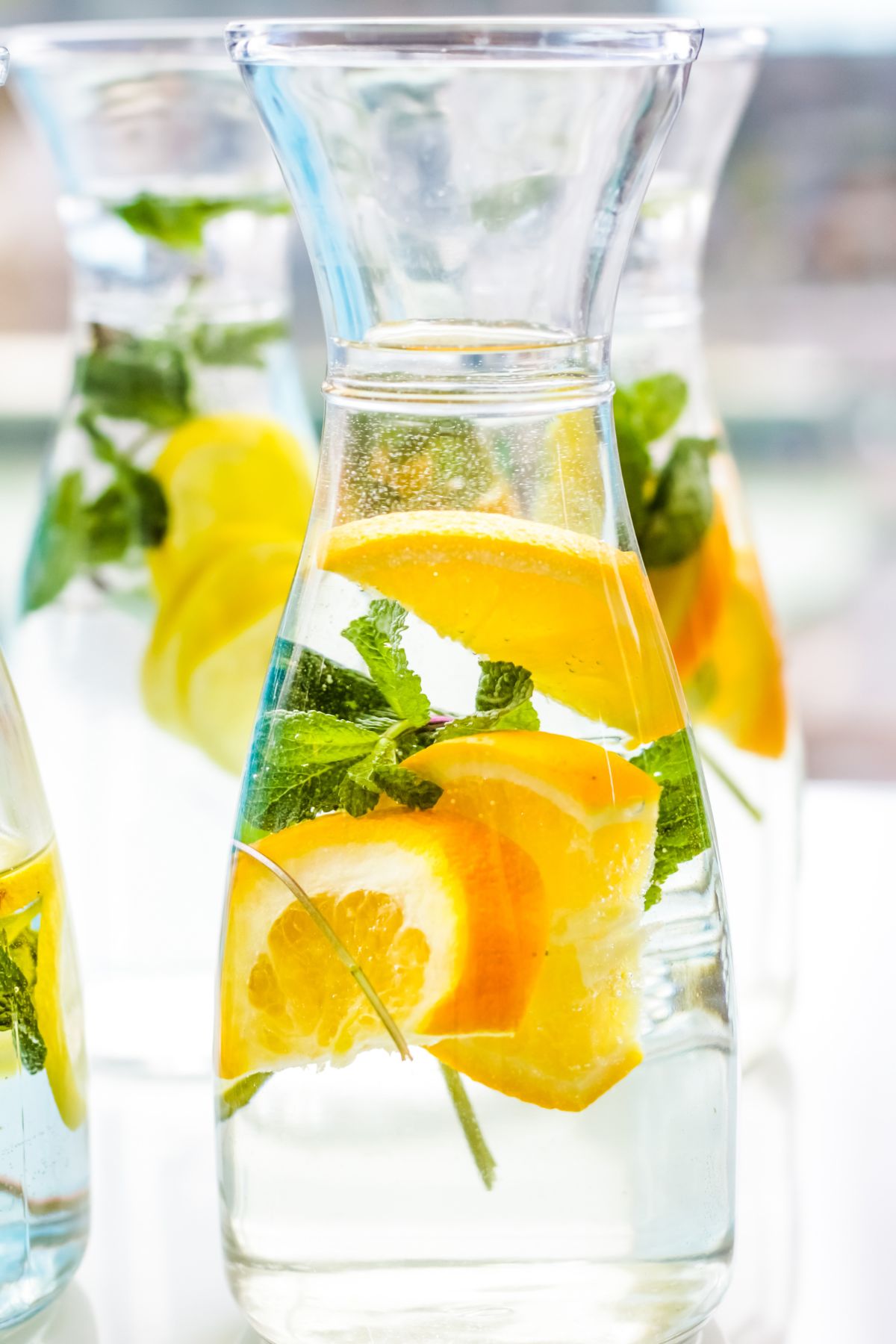 Advertisement:
Glass is preferred over plastic for making fruit-infused waters because:
Taste and Smell: Plastic can sometimes affect the taste and smell of the water, while glass is non-reactive and maintains the original taste of the water.
Health: Glass is free of chemicals like BPA and phthalates that can leach into the water from plastic containers.
Durability: Glass is more resistant to scratches, stains, and flavor retention compared to plastic.
Visual Appeal – The glass allows the vibrant colors of the infused water to show through, enhancing the drinking experience.
Environmental impact: Glass is reusable and recyclable, making it a greener option than single-use plastic bottles.
used to Weck 1 Liter Glass Juice Bottles. They're elegant enough to serve, and there's nothing prettier than a row of jars filled with different flavored waters. Every time I pour myself a drink, I refill the bottle and I can keep the infusion for a few days in the fridge.
There are endless flavor combinations for infused water, so get creative!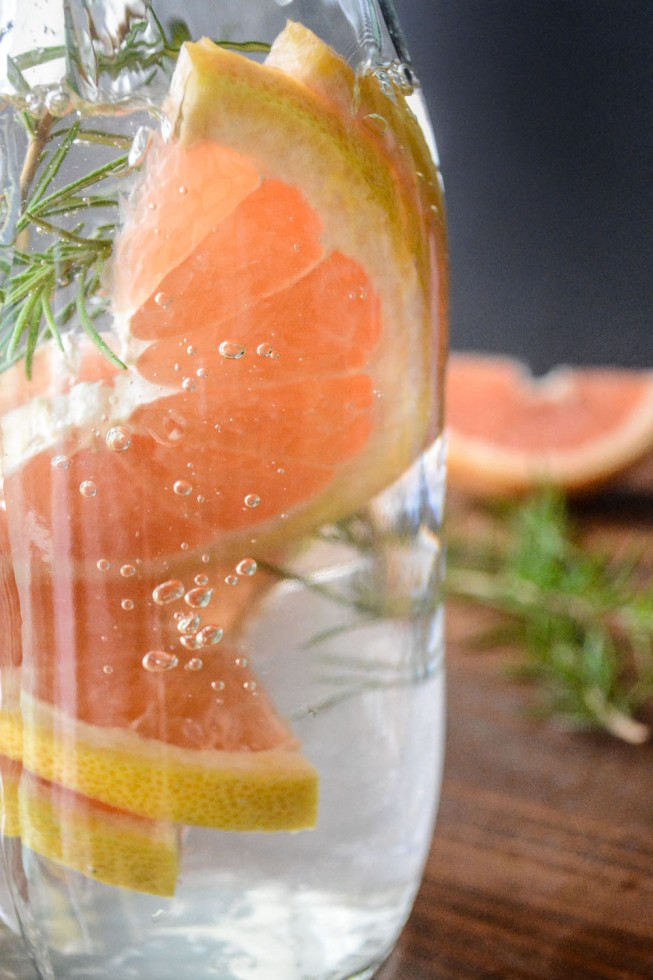 Advertisement:
You've probably had lemon or cucumber water before, but I like to take it a bit further. One of my favorite discoveries is Strawberry Jalapeño Water. You can customize the amount of heat based on how much pepper you add, but oh my word, it's a delicious experience! To make it, cut up a few ripe strawberries, you can leave the stem intact, and slice up a jalapeno pepper. Skip the seeds if you are shy. Add it to your water and let it infuse for a couple of hours, either in the fridge or at room temperature. Serve over ice for a mesmerizing sensation of cooling heat.
cardamom rose is another creative combination and a classic Middle Eastern duo ~ use the unsprinkled rose petals (they can be straight from your garden) and whole cardamom pods. Roll the pods with a rolling pin to split them open and release the seeds.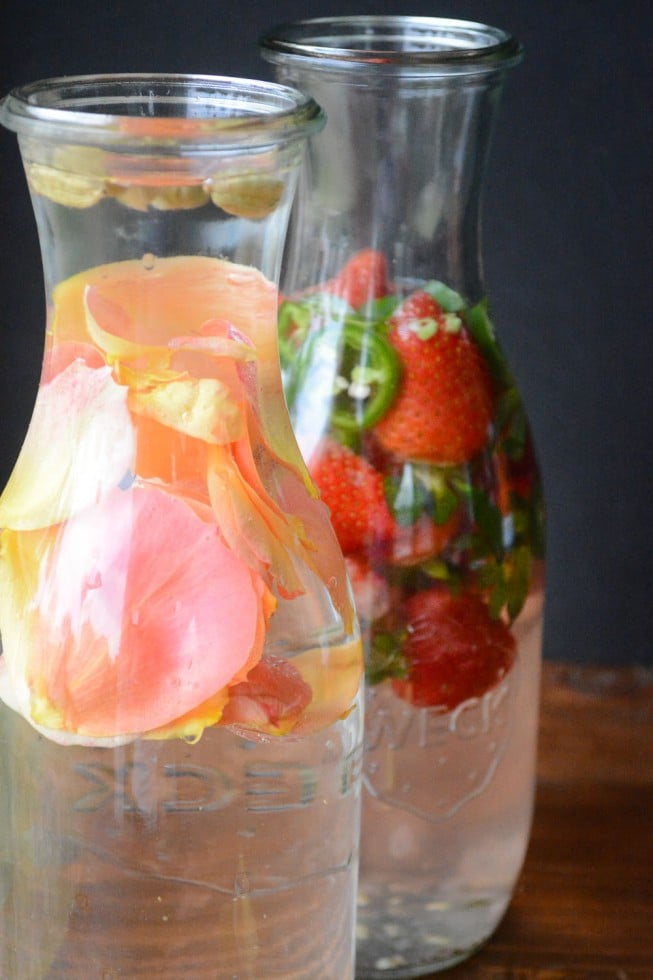 Don't give up your infused water in the colder months
I did one cinnamon pear and a persimmon clove water to show that you don't have to give up brewing once fall rolls around. You'll find plenty of ways to keep it going all year long—think apples, cranberries, and warm spices.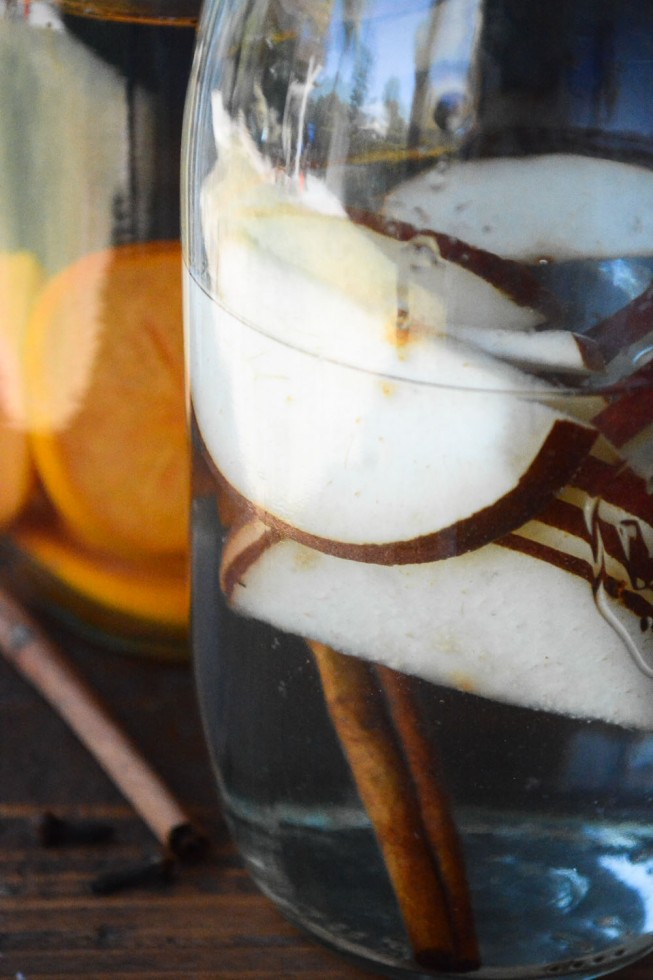 Fruit infused ice!
You can get double duty out of your water by freezing the flavor right into your ice cubes! I like to use flexible silicone ice cube trays for this, the cubes come out perfect every time. my jumbo King Cube Tray it is big enough for whole strawberries.
Advertisement: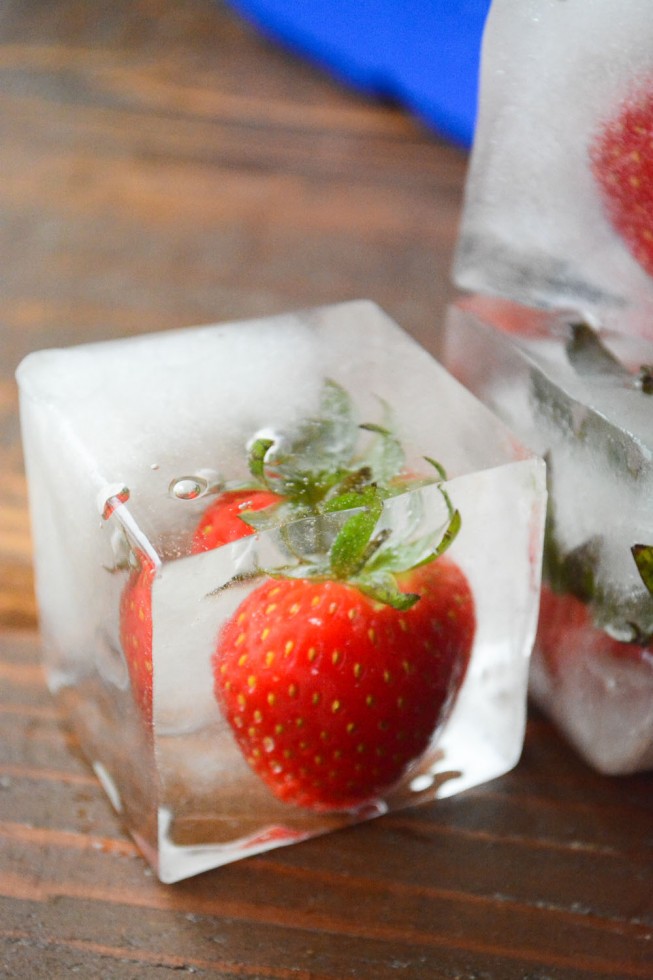 There are no set recipes for infused water.
Add as many or as many flavoring ingredients as you like. Use just one flavor, or mix and match, the choice is up to you.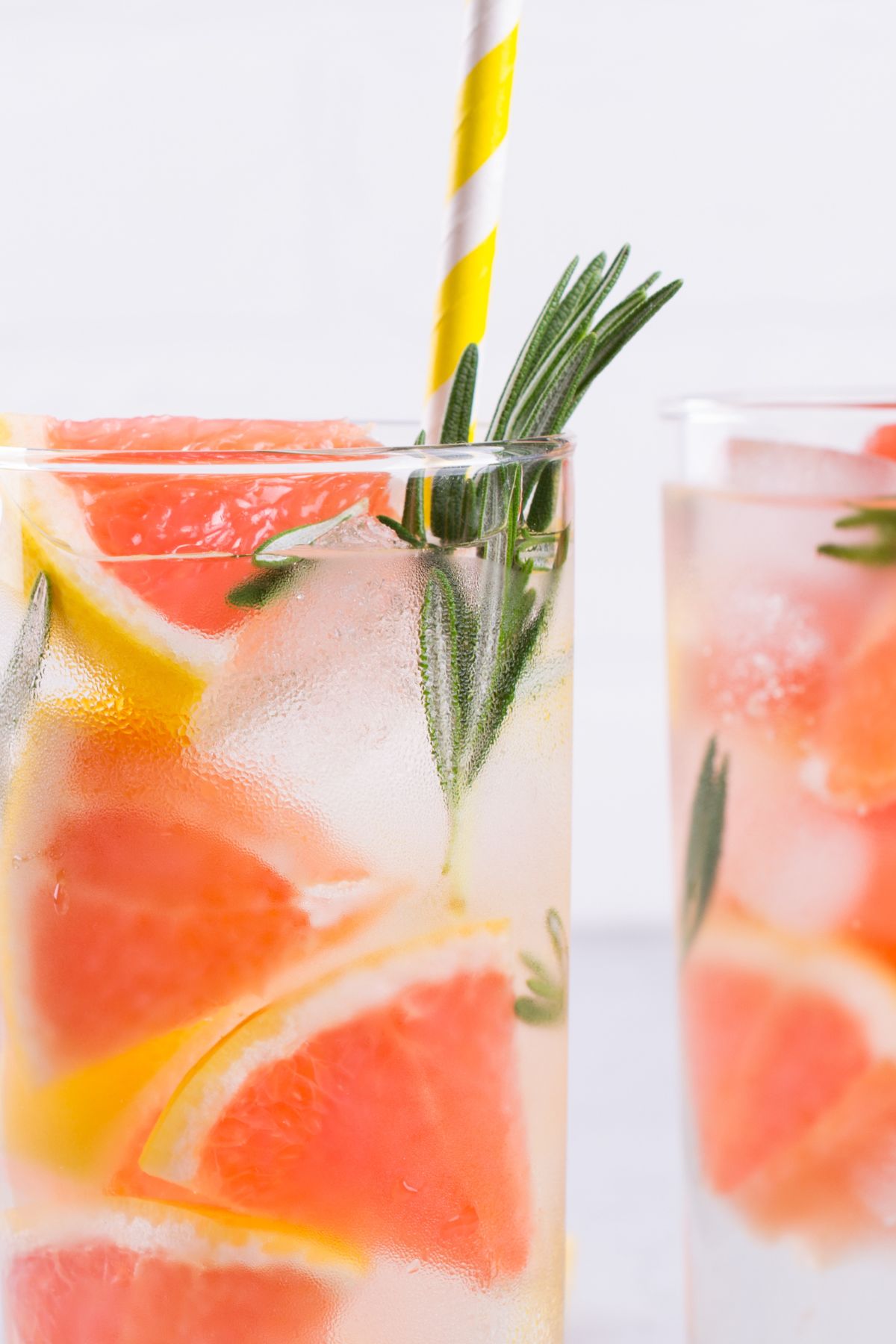 flavor pairing suggestions
rosemary grapefruit
melon lime
tangerine kiwi
lemongrass mint
cherry lime
blueberry nectarine
raspberry peach
lemon ginger
cucumber mint
mulberry sage
guava lime
pineapple mango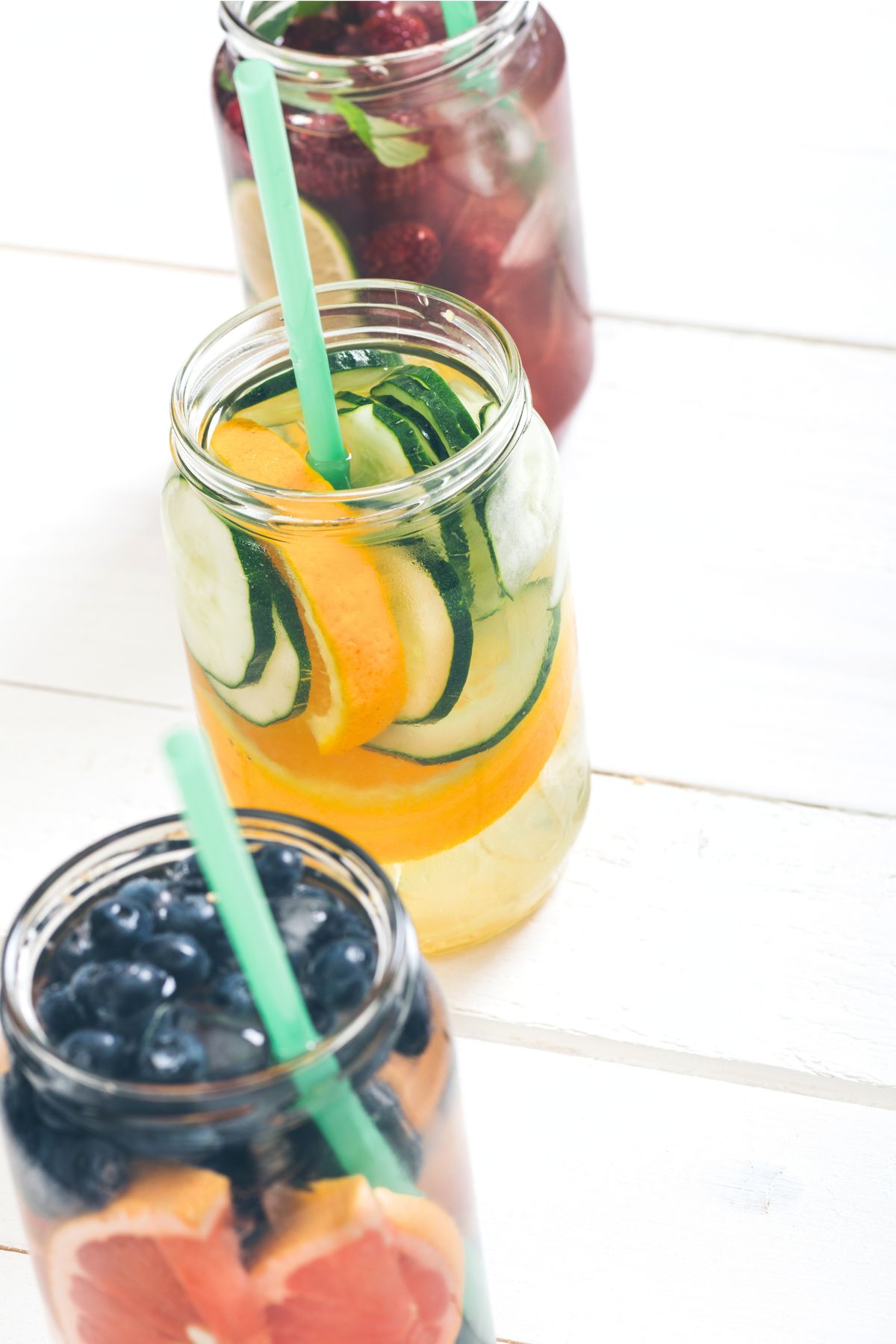 Tips for making fruit-infused water.
Choose fresh, ripe fruits that are in season for the best flavor and aroma. This will ensure that your infused water tastes vibrant and refreshing.
Wash the fruit well before adding fruit to your infused water to remove any dirt, pesticides or residue.
Cut the fruits into small, thin slices or cubes. This will allow the flavors to infuse more easily into the water.
Consider crushing or mashing the fruit like berries for a more pronounced flavor.
You can add a touch of sweetness or acidity to your infused water. For sweetness, consider adding a small amount of honey, agave nectar, or stevia. For acidity, a squeeze of fresh lemon or lime juice may do the trick.
Enjoy in one or two days: Fruit-infused water is best consumed within a day or two for optimal freshness and flavor.
Healthy Fruit Infused Water
Ingredients
Fruit of your choice, washed
strawberries, halved

watermelon, or any other melon, cut into chunks

fresh pineapple, cut into chunks

jalapenos (yes, they are a fruit!) sliced

any citrus fruit, sliced, no need to peel

stone fruits such as peaches or plums, cut into wedges

cucumbers, sliced
Whole herbs and spices of your choice
mint leaves

basil

cinnamon stick

whole cloves

cardamom pods

star anise

fresh ginger
Instructions:
Fill a glass container with water and add the fruit and/or herbs and spices of your choice. Check out the post for suggested combinations.

Let the water sit for at least one hour, or up to 24 hours, in the refrigerator. Strain and serve.
Advertisement:
NEXT: Instant Pot White Chicken Chili Recipe
Thanks for your SHARES!
Advertisement:
You May Also Like
Add a comment