Authentic jambalaya recipe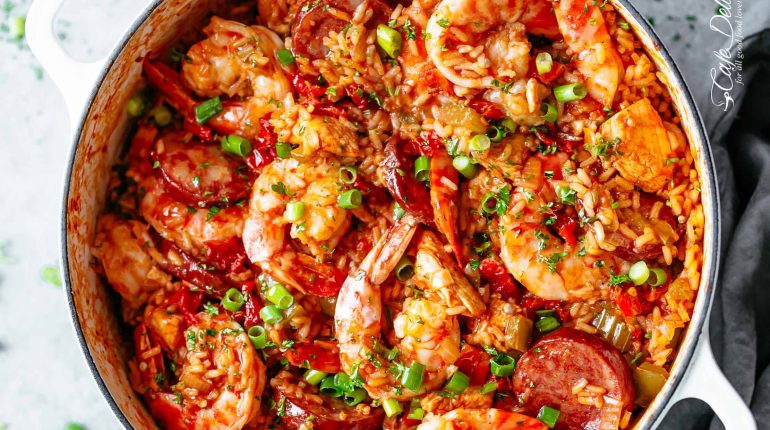 Posted August 18, 2023 by: Admin #Kitchen
An authentic Jambalaya recipe is the ultimate comfort food, filled with flavor. It combines chicken, sausage, shrimp, and rice in one pot. This dish is easy to make and will bring the taste of New Orleans to your home!
Advertisement: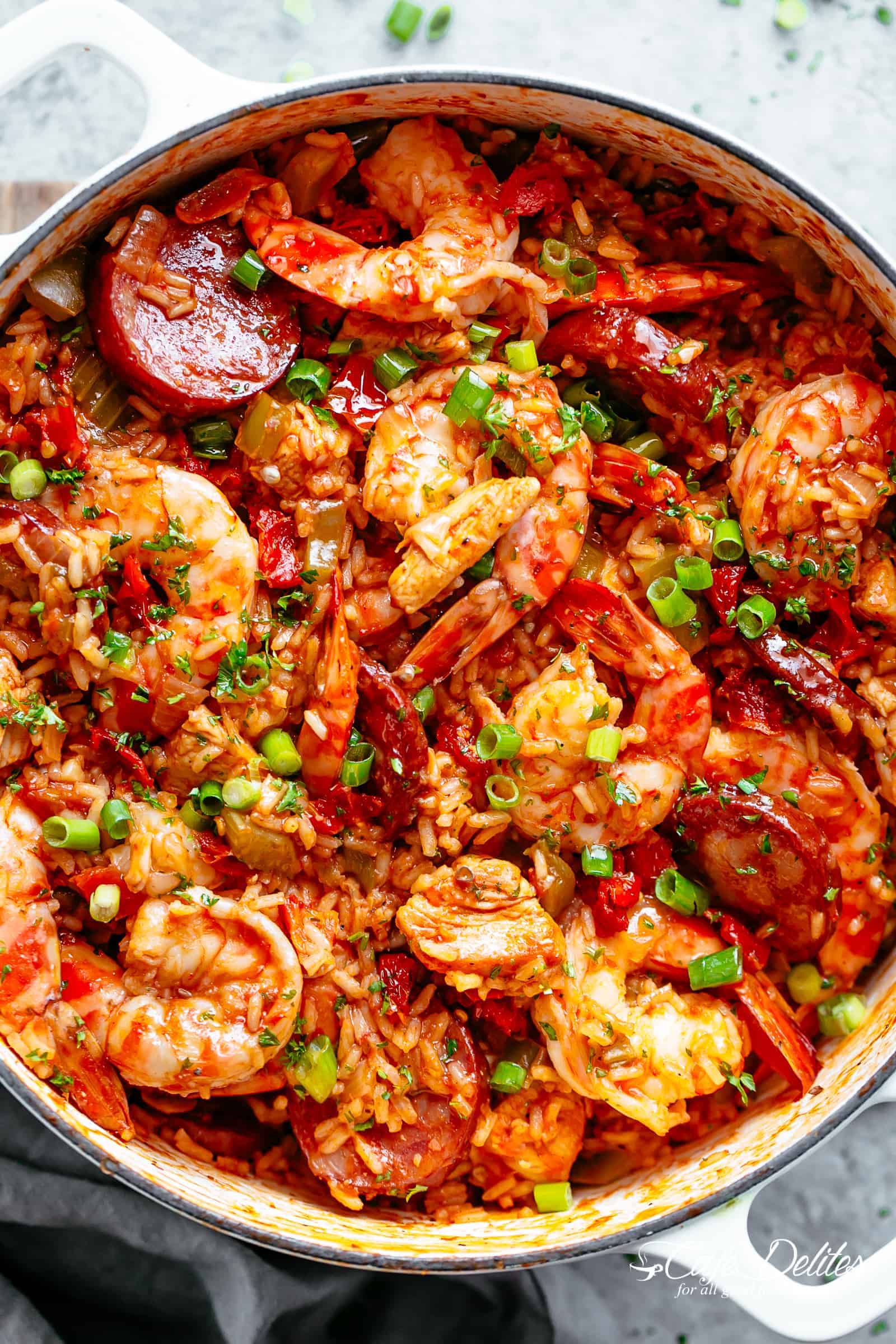 Authentic Jambalaya Recipe
What's in a Jambalaya?
A traditional Jambalaya recipe from Louisiana can include various meats such as chicken or pork, sausage (like andouille, chorizo, or smoked sausage), and seafood options like lobster or shrimp. It also includes the aromatic trinity of onion, bell peppers, and celery sautéed with garlic, herbs, and Cajun spices. All of this is cooked together with tomato rice to create a flavorful and satisfying meal.
There are two types of Jambalaya: Creole and Cajun. This recipe is for the Creole version, which includes tomatoes in its preparation.
Advertisement:
What is a good substitute for andouille sausage?
If you can't find andouille sausage, you can use Mexican chorizo, kielbasa, or any Polish smoked sausage as a substitute.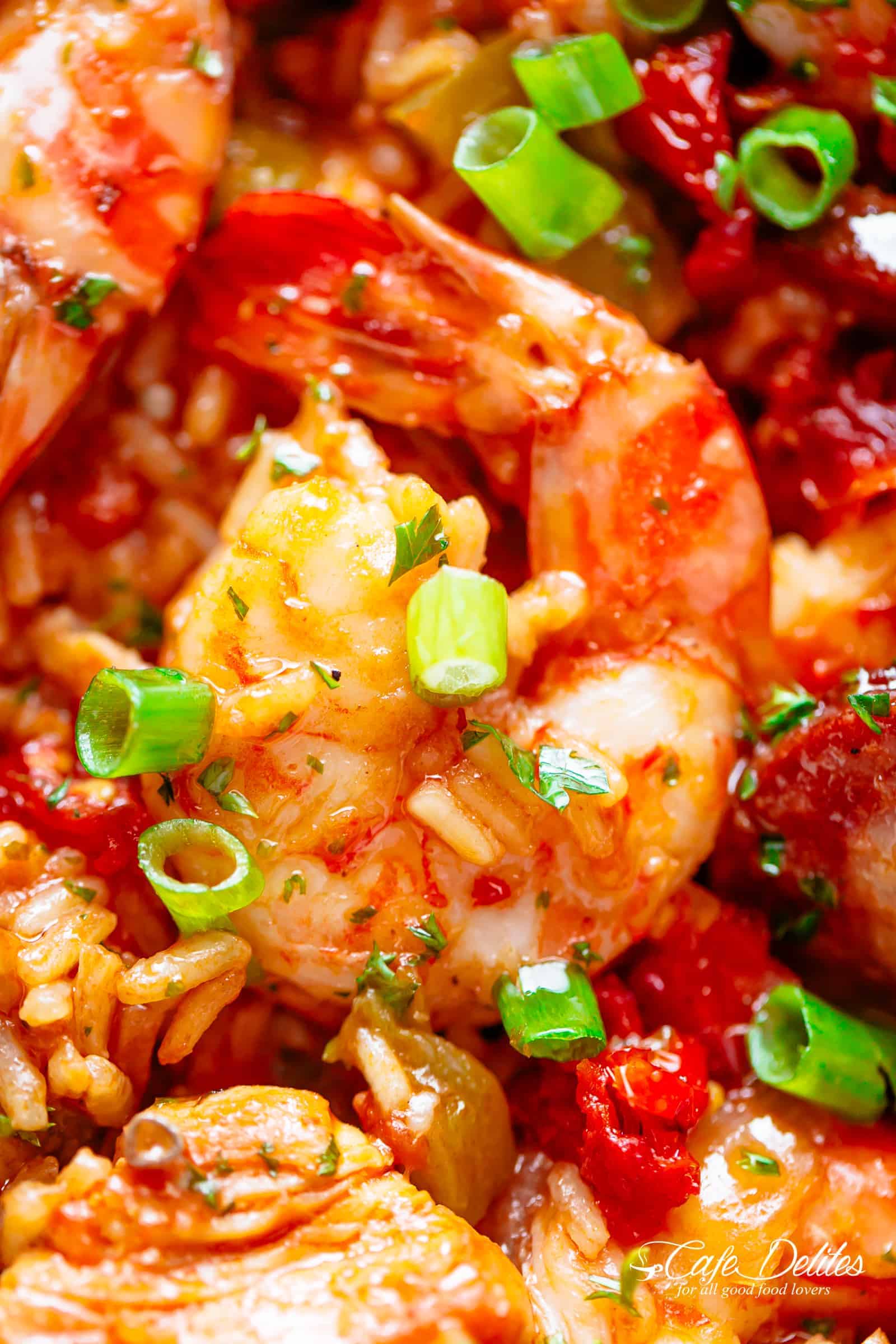 Cajun vs Creole Jambalaya
Creole Jambalaya includes tomatoes in its recipe, while Cajun Jambalaya does not. Additionally, the order in which the ingredients are prepared can differ between the two styles. This recipe combines elements from both, sautéing the sausage first to release its fat for flavor. This approach creates a delicious final dish.
Advertisement:
What is the difference between paella and jambalaya?
While Jambalaya and paella share similar main ingredients, the spices and seasonings used in each dish differ. Saffron is a key spice in paella, while Jambalaya has a stronger heat component. Paella is also milder in flavor compared to Jambalaya.
What is the difference between gumbo and jambalaya?
Gumbo is a stew or soup that is thickened with a roux, while jambalaya is a rice-based dish. Okra is typically used in gumbo to add thickness and flavor. This Jambalaya recipe includes okra for the same purpose. If you don't like okra, you can use File Powder as a substitute.
The best rice for Jambalaya
This recipe calls for long grain or short grain
Advertisement:
white rice. You can also use brown rice, but you'll need to adjust the amount of liquid and cooking time accordingly.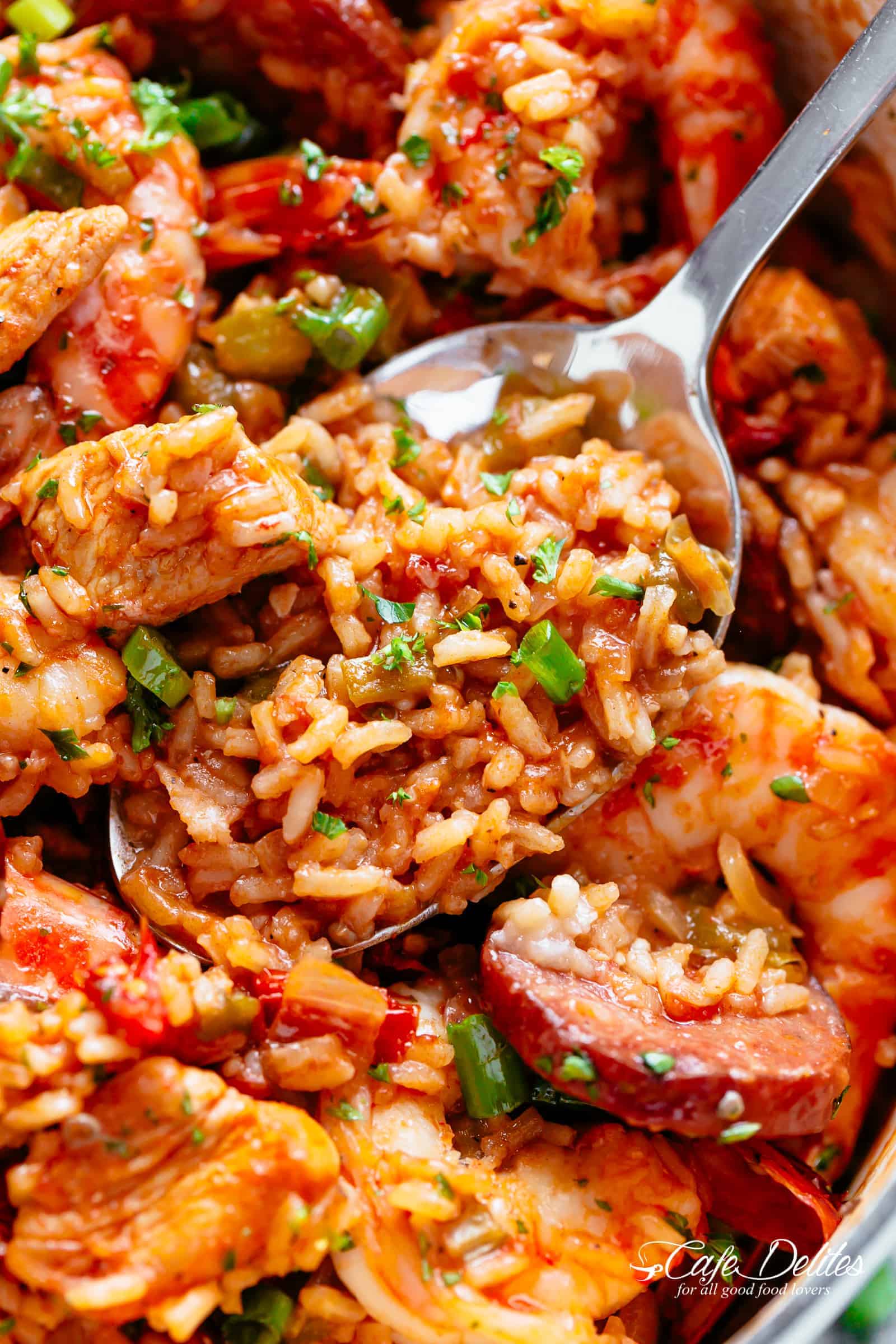 The best wines to pair with Jambalaya
Sauvignon Blanc
Vouvray
Riesling
Pinot Gris
Pinot Noir
Sides that go well with Jambalaya
Jambalaya is a complete one-pot meal packed with ingredients, so you don't need much else to serve with it. Cornbread or fresh baguettes and a simple salad with a light dressing are perfect accompaniments that won't overpower the spices in the Jambalaya.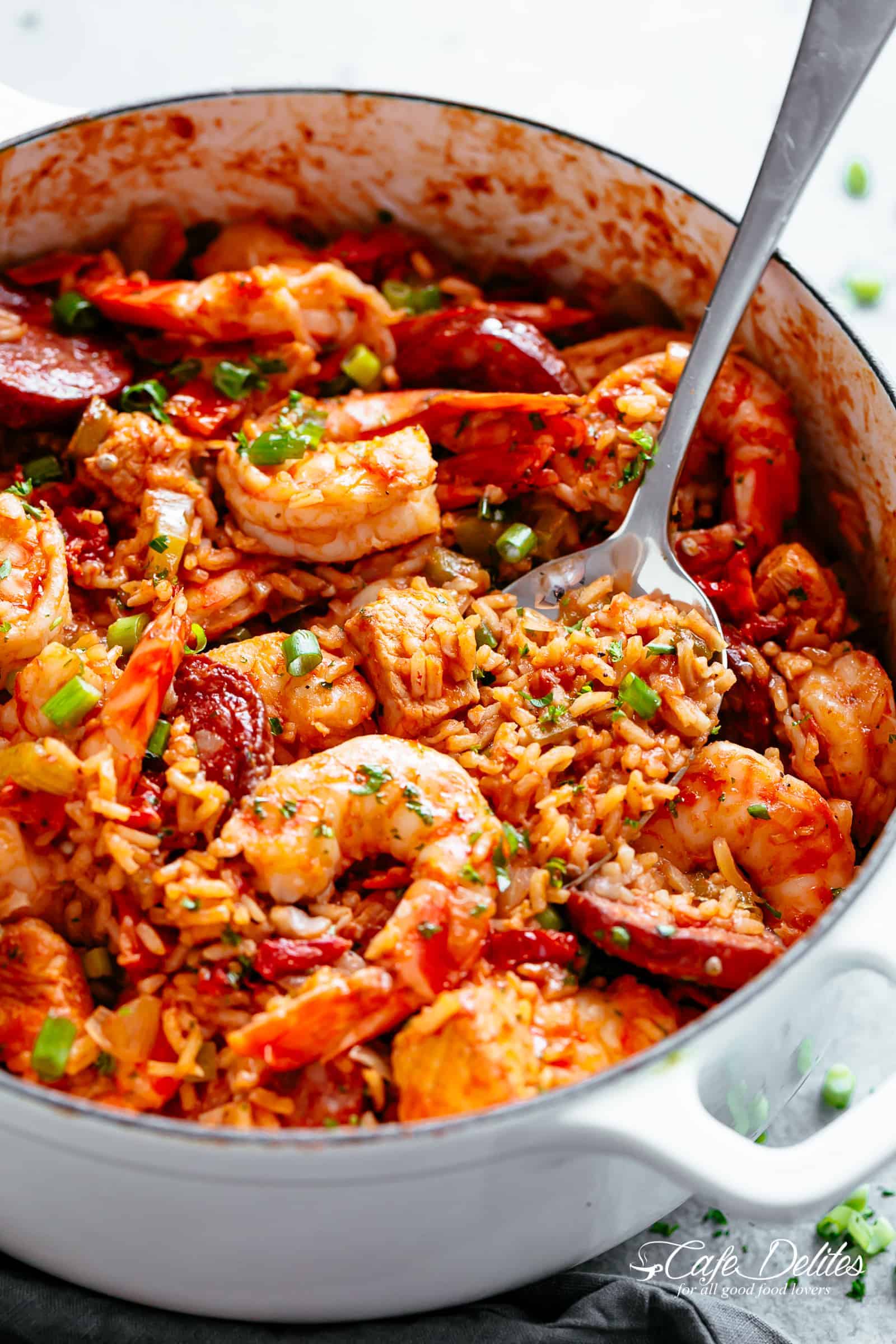 Advertisement:
An authentic Creole Jambalaya recipe! A delicious one-pot meal brought to you from New Orleans is pure comfort food packed with chicken, shrimp, andouille sausage, rice, seasonings, spices, and incredible flavors! Ready and on the table in 45 minutes!
Preparation: 15 minutes minutes
Cook: 45 minutes minutes
Advertisement:
Total: 1 hour
Serves: 6 – 8 people
Ingredients
3 tablespoons cooking oil, divided
2 tablespoons Slap Ya Mama/Cajun Seasoning, (adjust to your taste/heat preference)
10 ounces (300 g) andouille sausage, sliced
1 pound (500 g) boneless, skinless chicken breasts or thighs, cut into 1-inch pieces
1 chopped onion
1 small green bell pepper (capsicum), seeded and diced
1 small red bell pepper (capsicum), seeded and diced
2 celery stalks/ribs, chopped
4 garlic cloves, minced
14 ounces (400 g) canned crushed tomatoes
1 teaspoon salt
1/2 teaspoon ground black pepper
1 teaspoon each dried thyme and dried oregano
1/2 teaspoon red pepper flakes (or 1/4 teaspoon cayenne powder)
1/2 teaspoon hot sauce
2 teaspoons Worcestershire sauce
1 cup thinly sliced ​​okra (or 1 teaspoon lime powder)
1 1/2 cups uncooked white rice (short-grain or long-grain)
3 cups low-sodium chicken broth
1 pound (500 g) raw shrimp tails with or without tails, peeled and deveined
Slices of green onion and chopped parsley, to garnish
Instructions
Heat 1 tablespoon of oil in a large pot or Dutch oven over medium heat. Season sausages and chicken pieces with half of the Cajun seasoning.
Brown the sausage in the hot oil, then remove using a slotted spoon and set aside. Add the remaining oil to the pot and sauté the chicken until lightly browned. Remove and set aside.
Sauté the onion, bell peppers, and celery until the onion is soft and translucent. Add the garlic and cook until fragrant (about 30 seconds).
Add the canned crushed tomatoes and season with salt, pepper, thyme, oregano, red pepper flakes (or cayenne powder), hot sauce, Worcestershire sauce, and the remaining Cajun seasoning. Add the sliced okra (or lime powder), chicken, and sausage. Cook for 5 minutes, stirring occasionally.
Add the rice and chicken broth. Bring to a boil, then reduce heat to low-medium. Cover and simmer for about 20 to 25 minutes, or until the liquid is absorbed and the rice is cooked, stirring occasionally.
Place the shrimp on top of the Jambalaya mixture, stir gently, and cover with lid. Simmer for 5-6 minutes, or until the shrimp are cooked through and pink. Stir occasionally.
Taste and adjust the seasoning with more salt, pepper, hot sauce, cayenne pepper, or Cajun seasoning if needed. Remove from heat and serve immediately. Garnish with sliced green onions and chopped parsley.
Notes
Leftovers can be refrigerated for up to 3 days.
Nutrition
Calories: 576kcal | Carbs: 46g | Protein: 43g | Fat: 22g | Saturated fat: 5g | Cholesterol: 183mg | Sodium: 496mg | Potassium: 756mg | Fiber: 4g | Sugar: 5g | Vitamin A: 1910IU | Vitamin C: 46.1mg | Calcium: 123mg | Iron: 3.3mg
Advertisement:
NEXT: Best Chili-Lime Melon Salad Recipe
Thanks for your SHARES!
Advertisement:
You May Also Like
Add a comment