Mini Burritos Recipe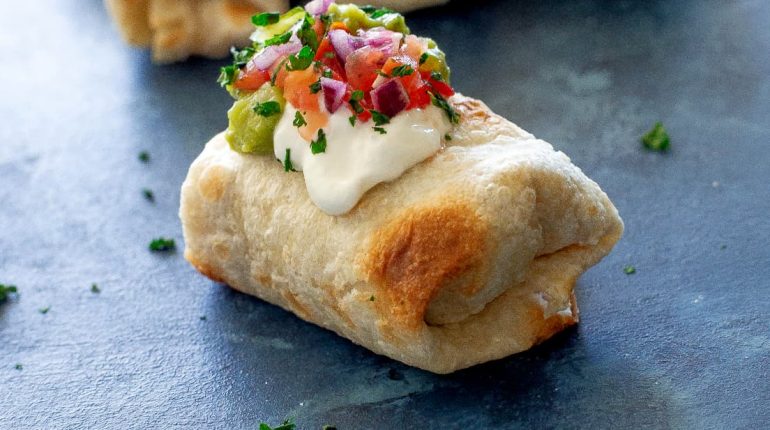 Posted October 19, 2023 by: Admin #Kitchen
How can something so simple be so good? There was a little protesting from my kids when I announced we were having Mini Burritos instead of tacos for Taco Tuesday this week.
Advertisement:
But after one bite they were hooked and ate a whopping 22 mini burritos.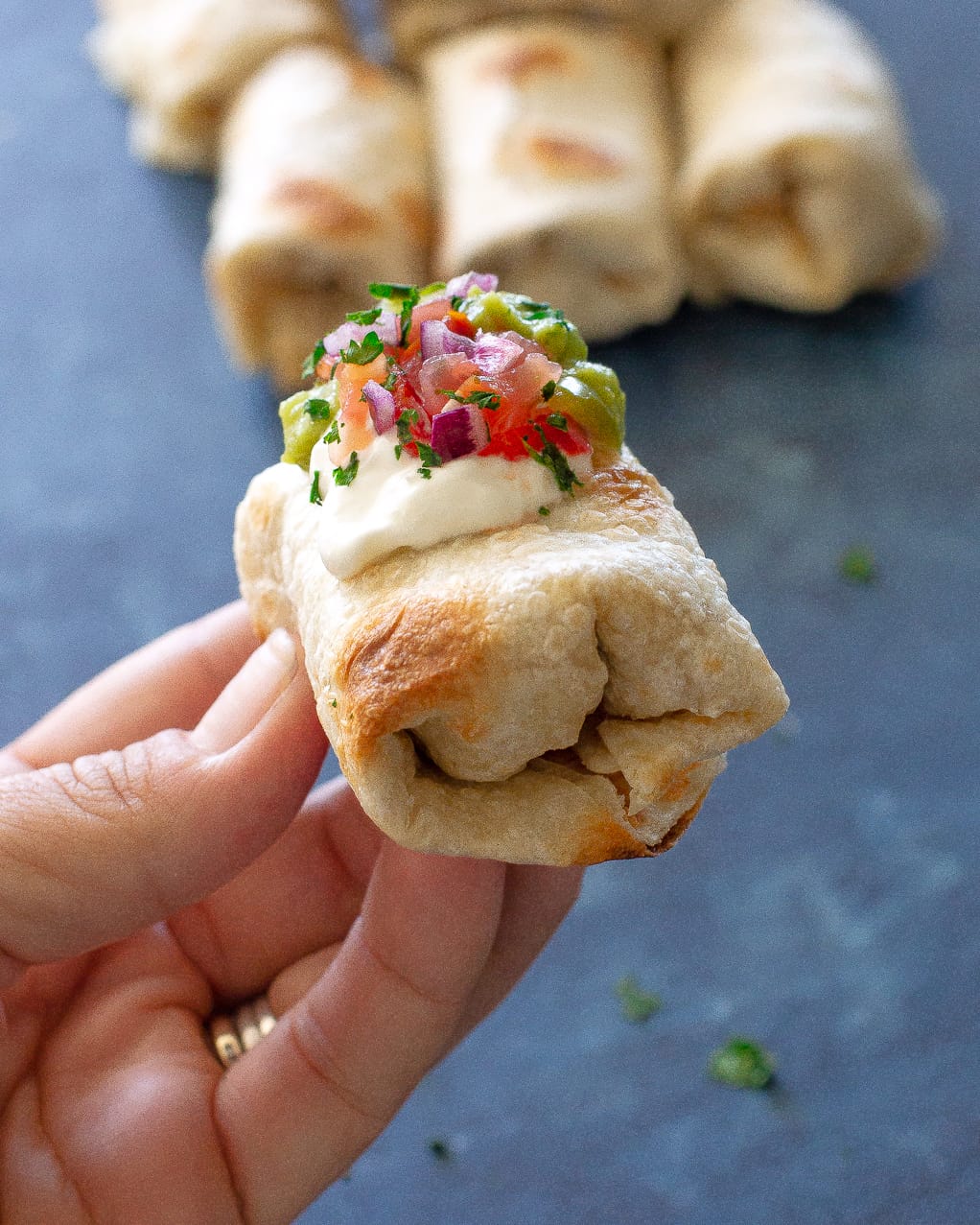 There are so many things I love about these:
Advertisement:
1) They're mini. The cuteness factor is there.
2) They freeze well.
3) They can be made ahead of time so you aren't prepping in the kitchen instead of hanging out with your peeps.
Advertisement: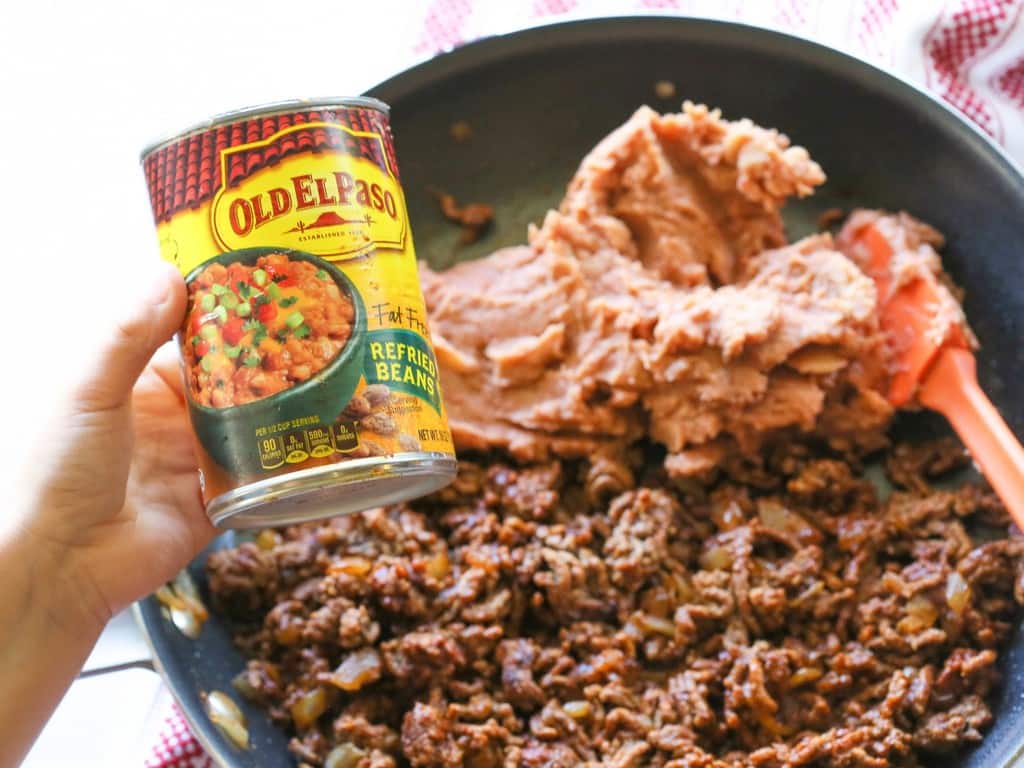 Start off with some seasoned taco meat and stir in some refried beans, salsa, and shredded cheese.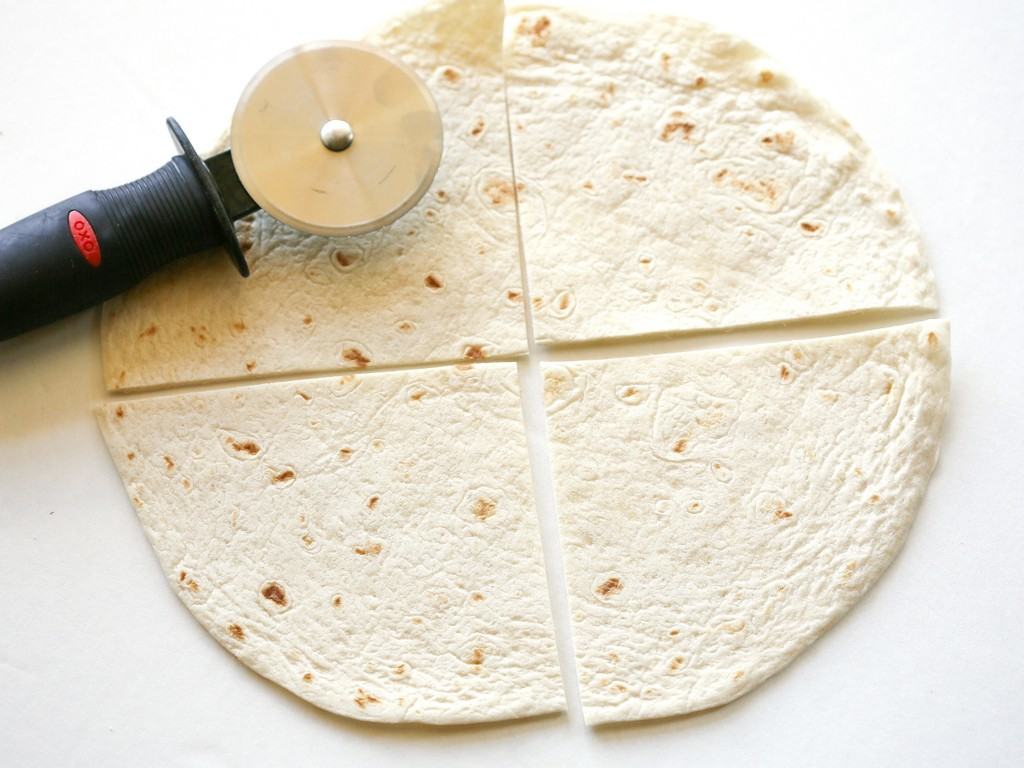 I tried several versions of mini burritos and I know some people use an eggroll wrapper for the tortilla part of it but I wanted to stay true to the burrito by using a regular tortilla.
Advertisement:
A pizza slicer quickly cuts each tortilla into 4 wedges.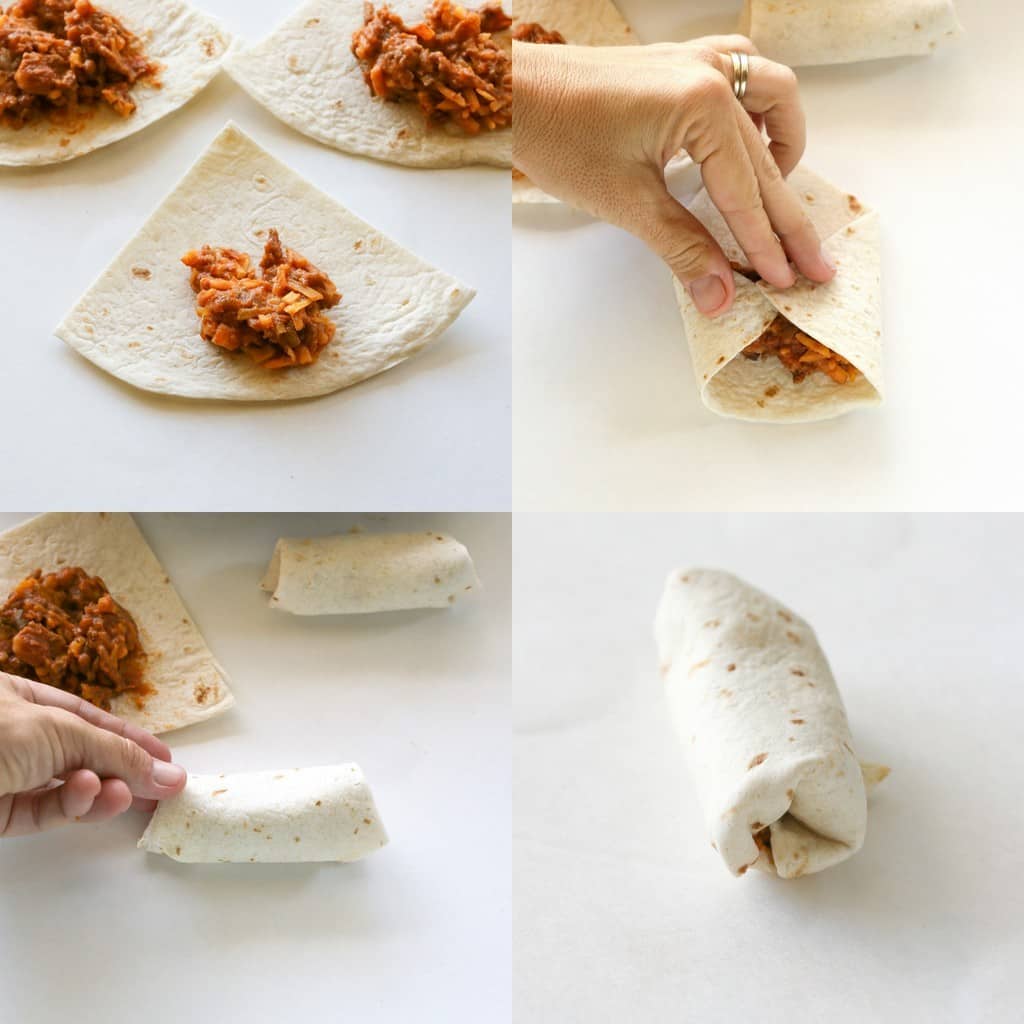 I've found that placing your meat mixture at the wide end of the tortilla and rolling towards the small end works best.
If you do it right you have a cute little burrito butt when you're finished. Place them in a baking dish and bake them until warm.
Advertisement: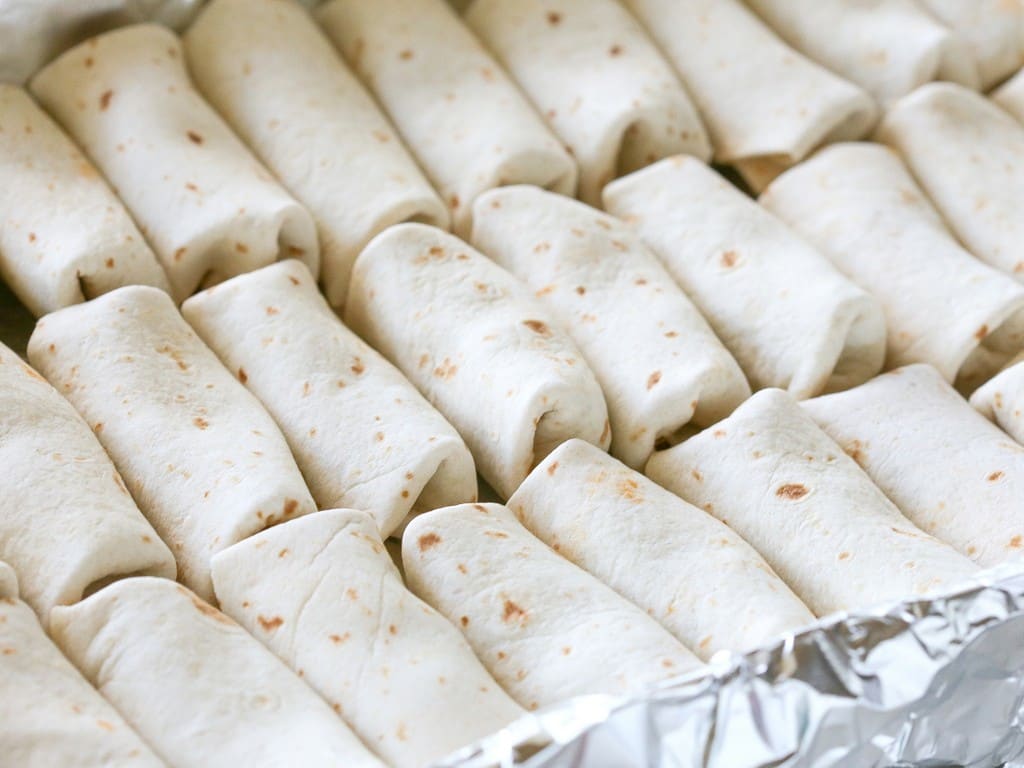 You could pour some salsa and cheese on top and bake if you want but I wanted them dry so people could grab them easily.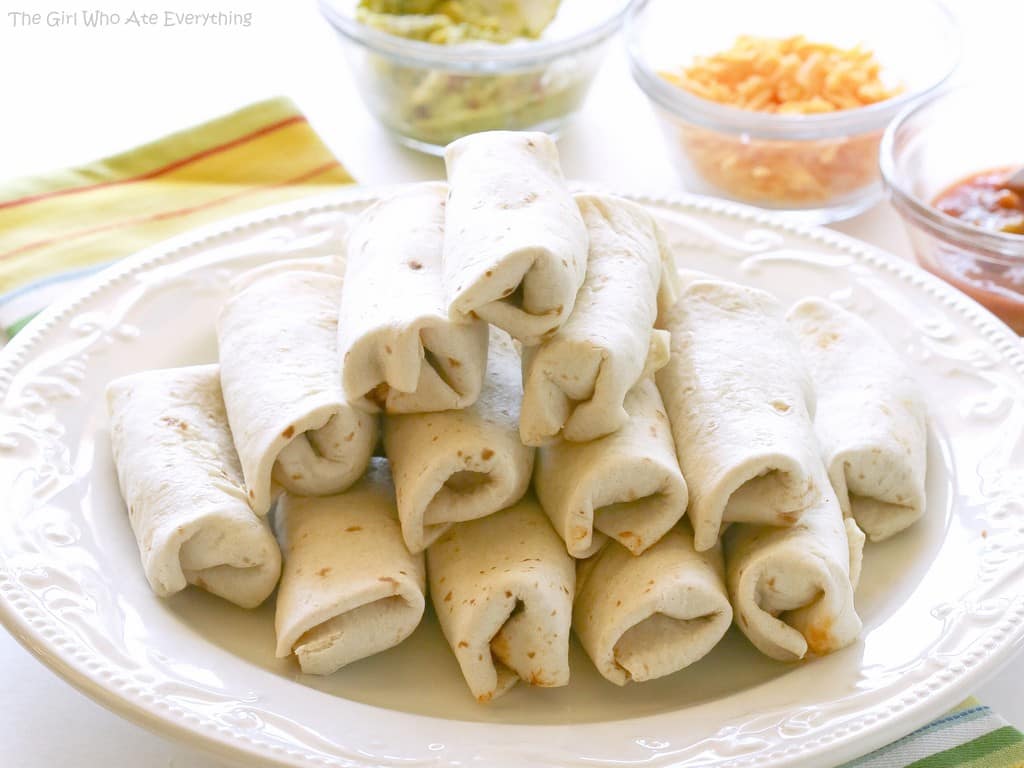 Advertisement:
And here's a bunch of cute burrito butts.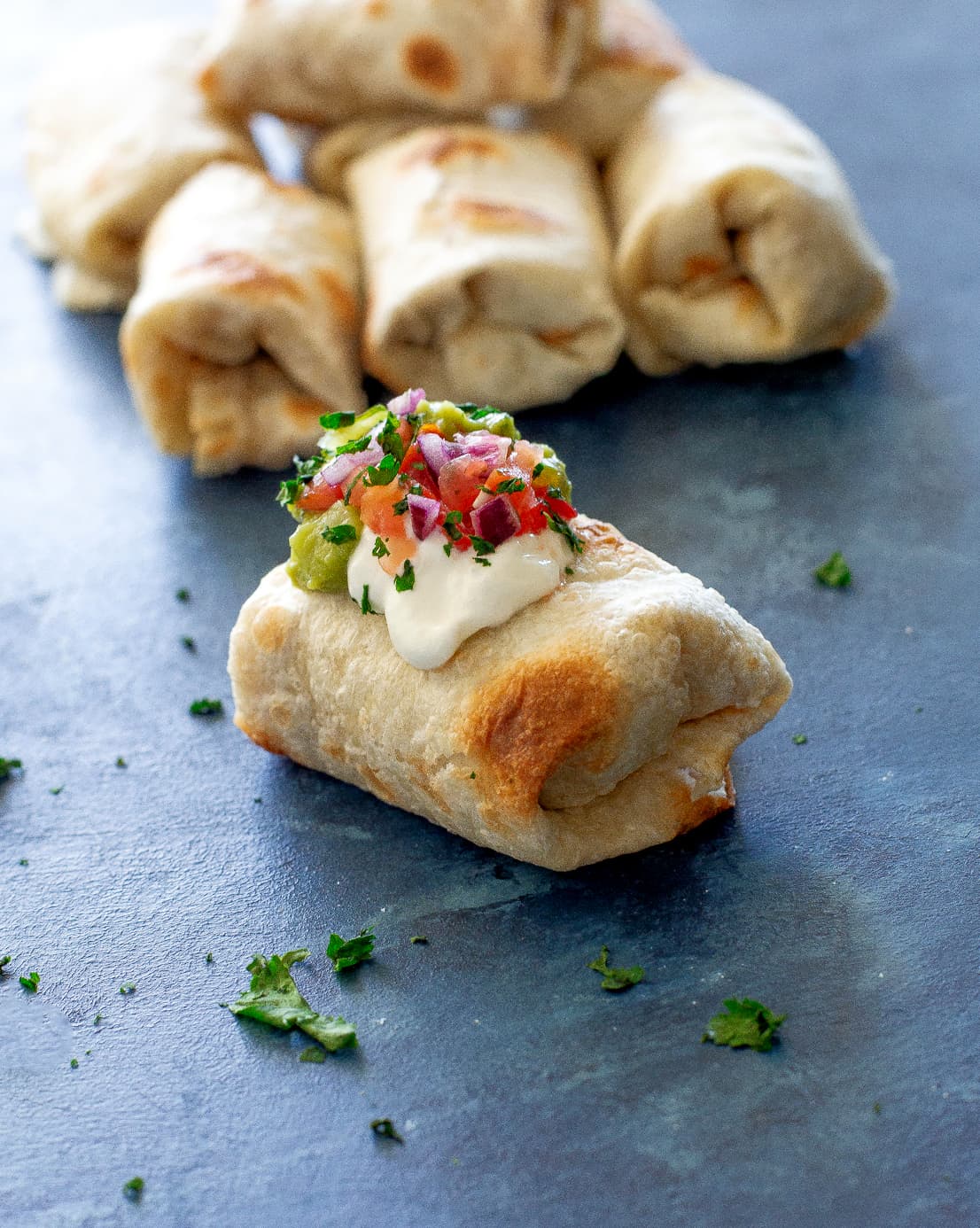 I like my Mini Burritos topped with a little more salsa, cheese, guacamole, and sour cream – which is an absolute must when it comes to any burrito in my opinion.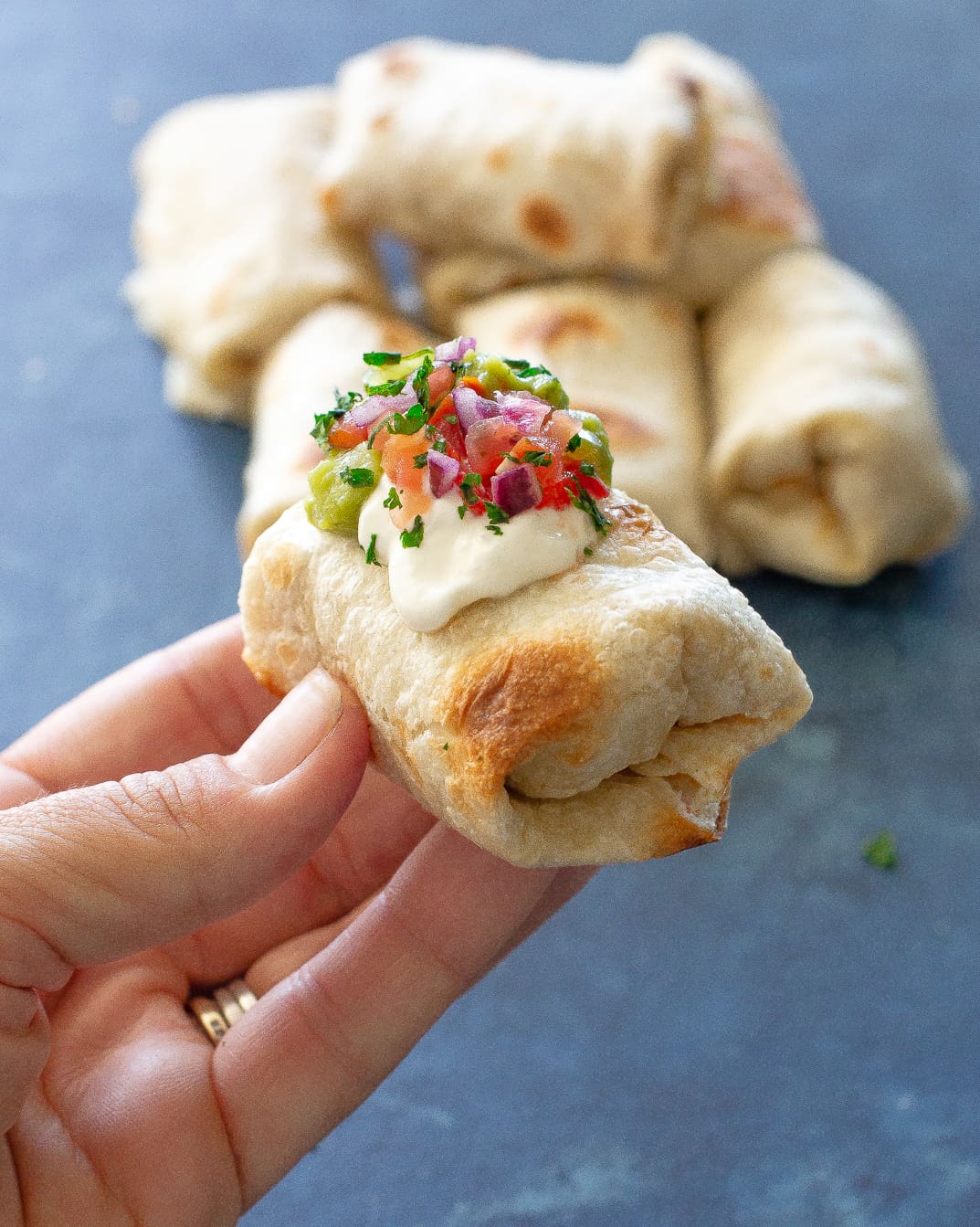 Advertisement:
Ingredients:
1 lb ground beef
1 (1 oz) packet taco seasoning mix
3 tablespoons water
1 (15 oz) can refried beans
1/2 cup salsa
1 1/2 cups shredded cheddar cheese
8 large burritos sized tortillas (8 inch)
butter for basting
Toppings: sour cream, guacamole, salsa
Instructions:
Preheat oven to 350 degrees.
In a large skillet, brown the beef until beef is no longer pink. Drain.
Add the taco seasoning and 3 tablespoons of water. Stir and cook for a couple of minutes. Remove from heat and stir in the refried beans, salsa, and cheese. Feel free to add more salsa if you like it spicier.
Quarter each flour tortilla using a knife or pizza slicer making 4 wedges from each tortilla. Spoon about 2 tablespoons of meat mixture onto the wide part of each tortilla. Fold the sides in and roll up towards the small end creating a mini burrito. Place burritos on a cookie sheet. If preparing ahead of time, cover and refrigerate until serving.
Brush burritos with melted butter if desired. Bake for 10-15 minutes or until burritos are warm. You can also just warm them in the microwave.
Add your favorite toppings such as sour cream, guacamole, and salsa.
NEXT: Easy Stuffed Cabbage Rolls
Thanks for your SHARES!
Advertisement:
You May Also Like
Add a comment