Healthy Carrot Cake Breakfast Cookies Recipe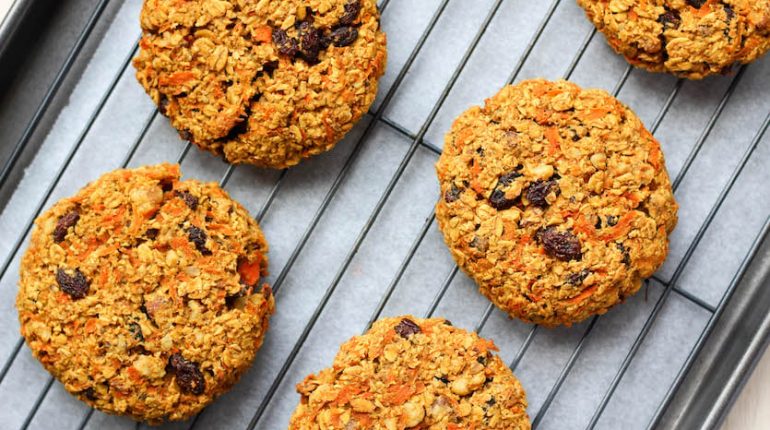 Posted October 4, 2023 by: Admin #Kitchen
These breakfast cookies are like a portable version of a cozy bowl of oatmeal with the delightful flavor of carrot cake. They offer a wholesome and enjoyable way to kickstart your day.
Advertisement:
As a nutritionist, you might not expect me to recommend cookies for breakfast, but here I am, and I couldn't be more pleased about it! In the world of nutrition, people often rely on overly simplistic, black-and-white guidelines to dictate what one should eat. "This is good, that is bad, avoid this, consume more of that." While this approach might seem helpful in theory, it lacks flexibility and nuance. Fortunately, when crafted thoughtfully, breakfast cookies can be a nutritious choice.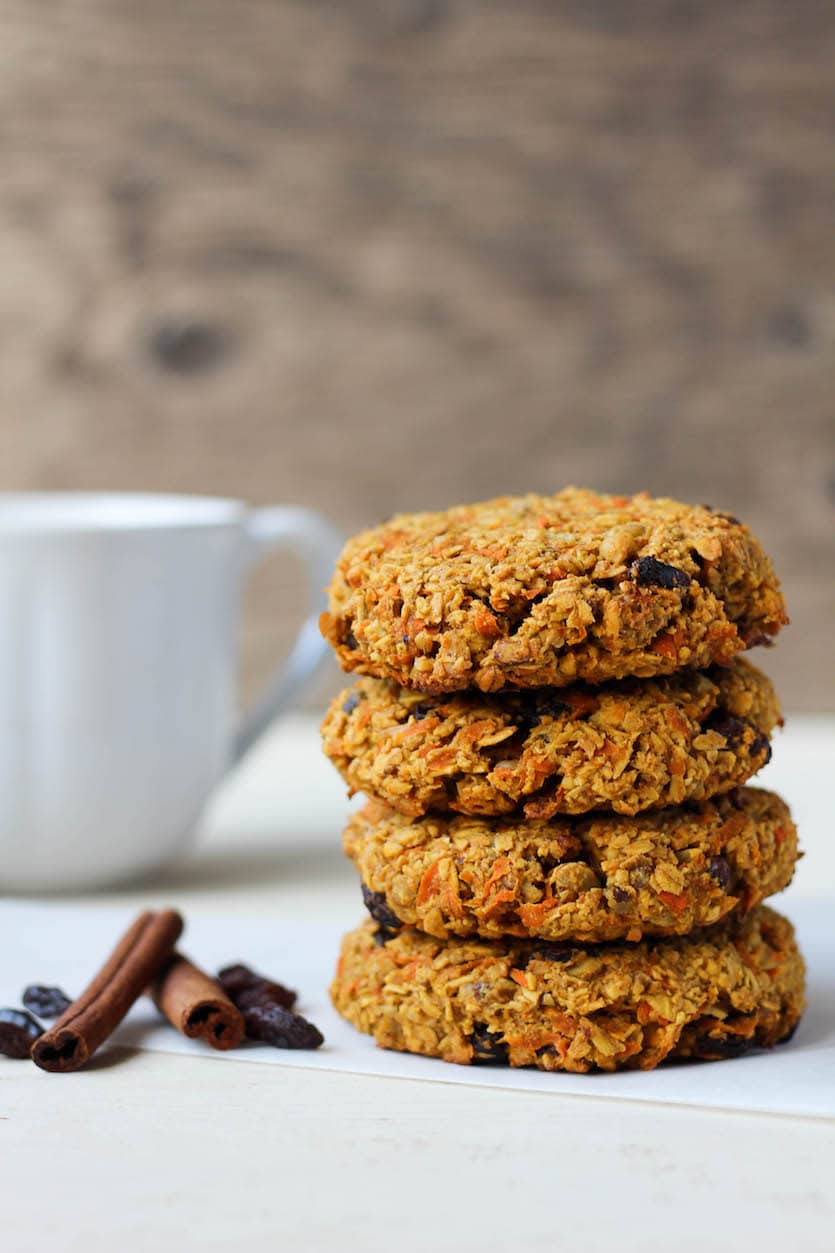 When determining whether a food or recipe is a good choice, it ultimately boils down to the components it consists of. For instance, if a recipe calls for 1 cup of butter, it may initially seem like a substantial amount, but when that recipe yields 24 servings, each serving only contains 2 teaspoons of butter, which is quite reasonable.
Advertisement:
With these carrot cake breakfast cookies, my goal was to create a (healthy) cookie that could serve as a quick and convenient breakfast option capable of keeping you satisfied until lunch. So, even though these cookies may appear large, they are designed to replace a whole bowl of oatmeal. When you break it down, these cookies offer a well-balanced breakfast.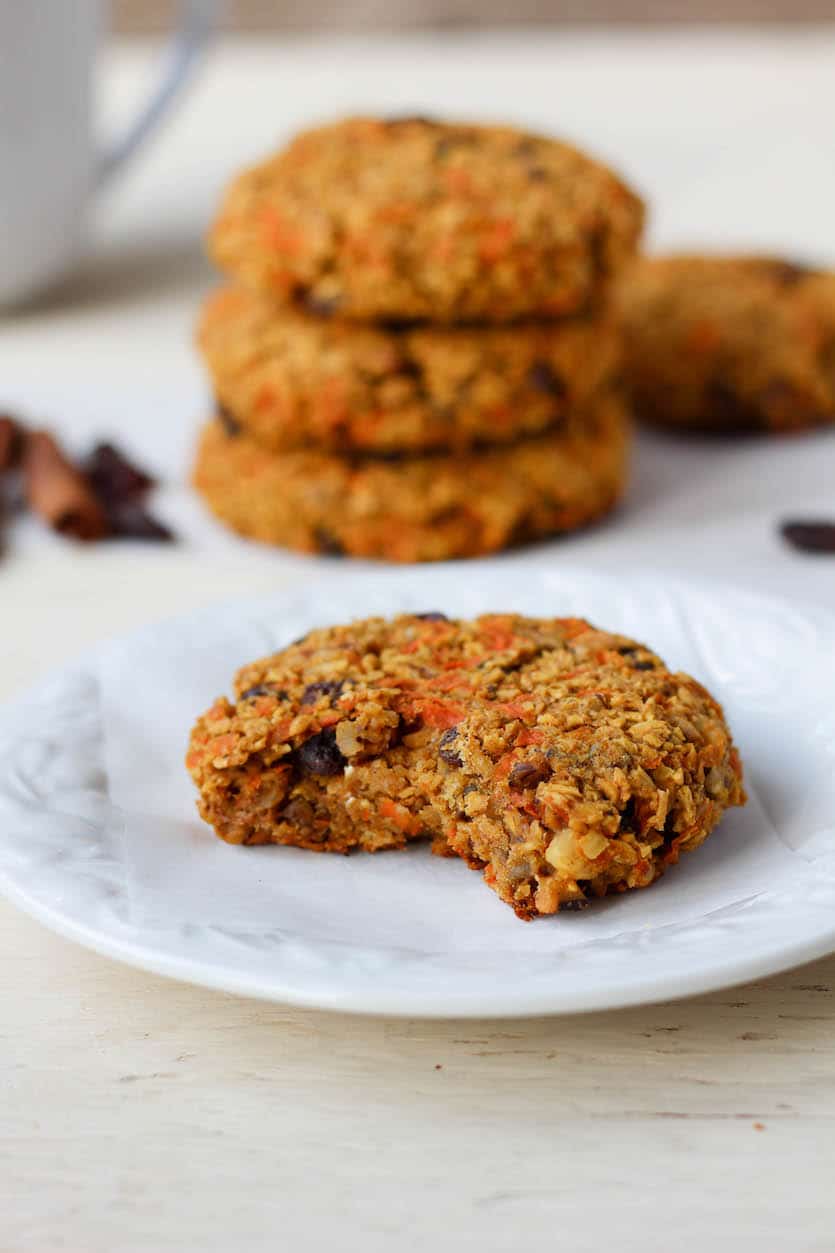 Carrot Cake Breakfast Cookies
Made with rolled oats, walnuts, cinnamon, carrots, and raisins, these oatmeal breakfast cookies taste just like a slice of carrot cake!
Advertisement:
Ingredients
3/4 cup rolled oats
1 1/4 cup oat flour*
1 cup chopped walnuts
1 teaspoon ground cinnamon
1/2 teaspoon ground ginger
1/2 teaspoon ground nutmeg
1 teaspoon baking powder
1/2 teaspoon sea salt
1 cup shredded carrots (about 2 large carrots)
1/4 cup coconut oil or butter, melted
1/2 cup unsweetened apple sauce
1 teaspoon vanilla extract
1/4 cup maple syrup
1/2 cup raisins
Instructions
Preheat the oven to 375°F.
In a large bowl, combine all the dry ingredients: oats, oat flour, walnuts, baking powder, salt, cinnamon, ginger, and nutmeg.
Peel and shred enough carrots to make 1 cup of tightly packed shredded carrots, typically 2 large carrots or 3-4 small carrots. Set aside.
In a separate small bowl, mix together the wet ingredients (excluding maple syrup): melted coconut oil or butter, vanilla extract, and apple sauce. Whisk thoroughly.
Add the shredded carrots to the dry ingredients and stir to combine. Then, incorporate the mixture of wet ingredients and stir until everything is well blended.
Once thoroughly mixed, drizzle in the maple syrup to bind the dough and create a slightly sticky consistency.
Add the raisins and stir to ensure even distribution.
Use a 1/2-cup measuring cup to shape the cookies into substantial patty-like shapes. These breakfast cookies should be sizable, with enough batter to make 6 large cookies.
Place the cookies on a baking sheet lined with parchment paper and bake in the preheated oven for 25 minutes.
Once baked, remove from the oven and allow them to cool. These breakfast cookies can be enjoyed immediately, stored in an airtight container for up to 4-5 days, or frozen for future use.
Enjoy!
Notes
*You can make oat flour by simply blending rolled oats in a food processor or blender until a flour-like consistency is achieved.
Nutrition
Serving Size: 1 cookie
Calories: 357 calories
Sugar: 4 grams
Fat: 24 grams
Carbohydrates: 29 grams
Fiber: 5 grams
Protein: 8 grams
Advertisement:
NEXT: Delicious pecan pie recipe
Thanks for your SHARES!
Advertisement:
You May Also Like
Add a comment