Lemon Cream Cheese Swirl Cake – Moist Lemon Loaf with a Cheesecake Filling.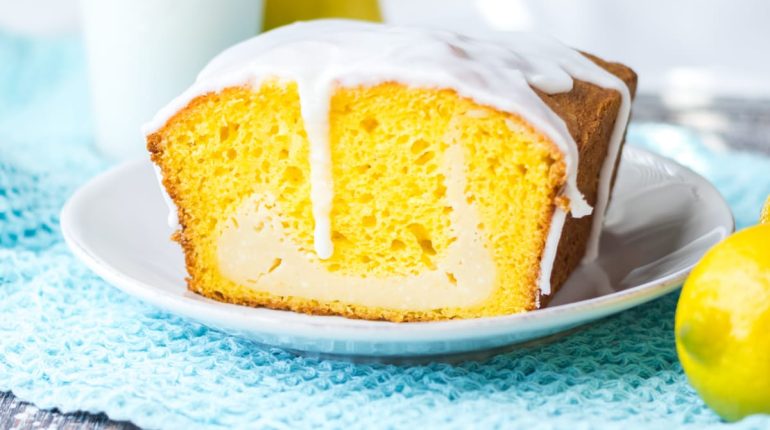 Posted May 8, 2023 by: Admin #Kitchen
Imagine biting into a slice of moist lemon cake, only to discover a heavenly cream cheese filling that complements the citrusy flavor. That's exactly what you'll get with this Lemon Cream Cheese Swirl Cake, a dessert that's simple to make but tastes incredibly delicious. It's one of my personal favorites and a go-to option for various occasions, from brunches and picnics to birthday parties and more.
Advertisement:
The cake's sweet, tangy, and creamy taste is sure to please everyone, and the lemon glaze on top adds the perfect finishing touch. If you love lemon desserts, be sure to check out our other recipes for Starbucks Copycat Lemon Loaf and Lemon Cream Cheese Coffee Cake.
Key Ingredients You'll Need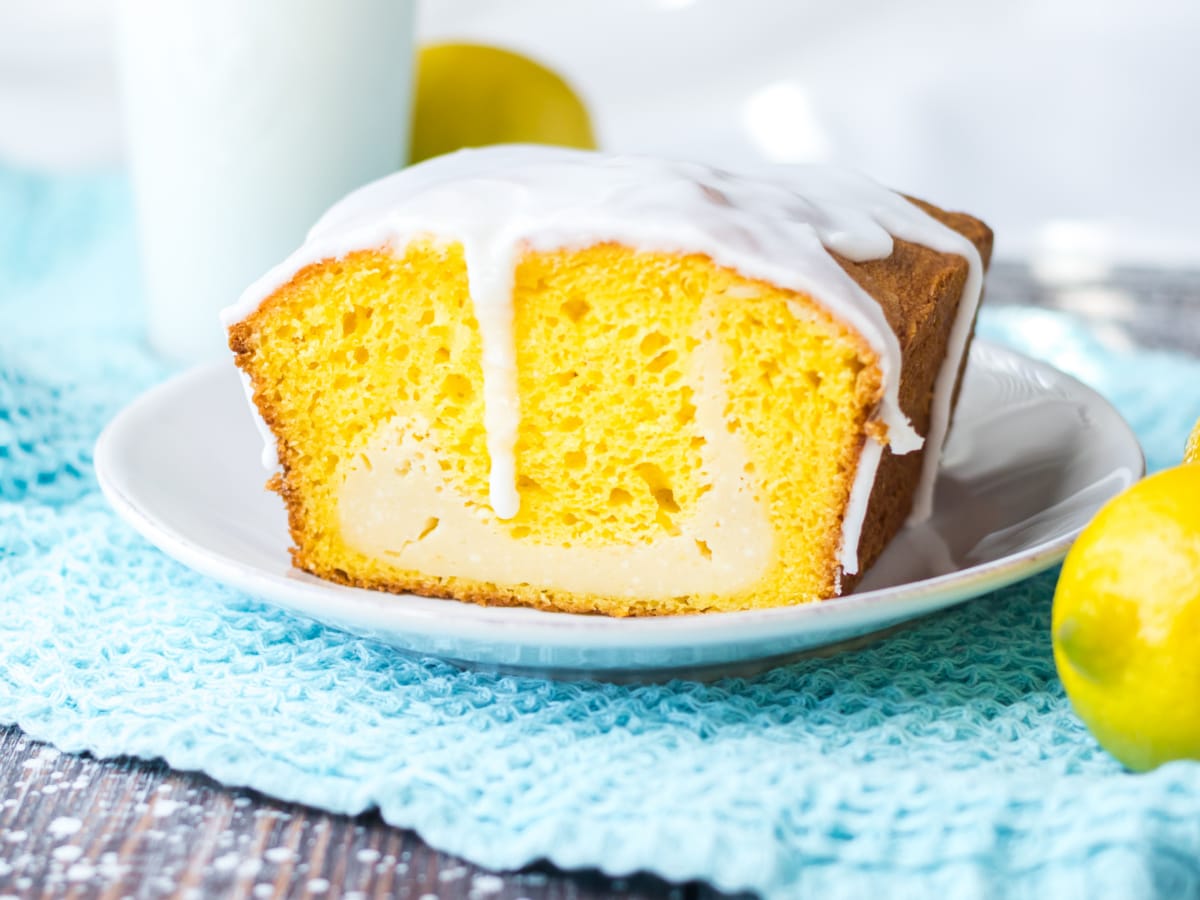 Lemon: Will need lemon cake mix, lemon instant pudding mix, and freshly squeezed lemon juice.
Advertisement:
Cream cheese: This will be added to make the cheesecake filling that is swirled into the dessert. You can use low fat if you prefer, but do not use fat free.
Sugar: Will need granulated sugar for the dough and powdered sugar for the lemon glaze.
Flour: I like to use all purpose flour for best results. This will be used in the cream cheese filling.
Advertisement:
How to make lemon bread with cream cheese
Step 1. Set the oven to 350 degrees. Use nonstick baking spray to lightly grease a 9-inch loaf pan. Add cake mix, dry pudding mix, water, oil, and 3 eggs to a large bowl and mix well with a whisk. Add cream cheese, 1 egg, sugar, vanilla, and flour to a medium bowl and mix with a whisk until smooth.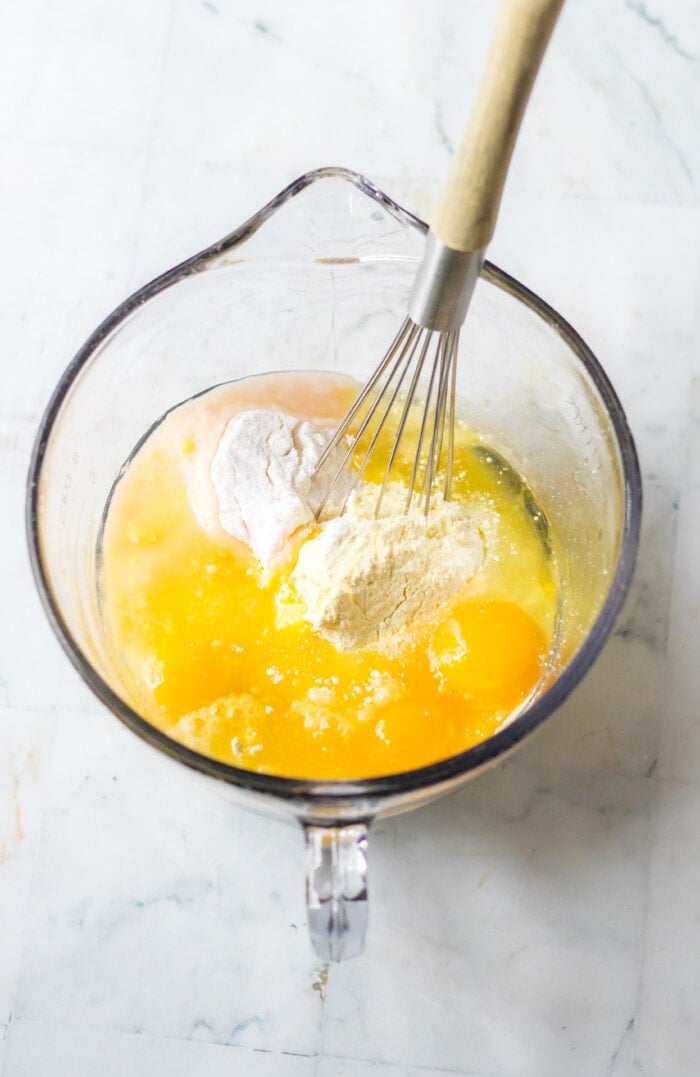 Step 2. Place half of the dough in the prepared pan. Add all of the cheesecake mixes on top before adding the rest of the cake batter on top. We put in the oven for 45-50 minutes until when poked with a toothpick in the center, it comes out clean. Let the bread cool for 10 minutes before using a knife to loosen the pan. Take it out carefully and place it on a wire rack to cool completely.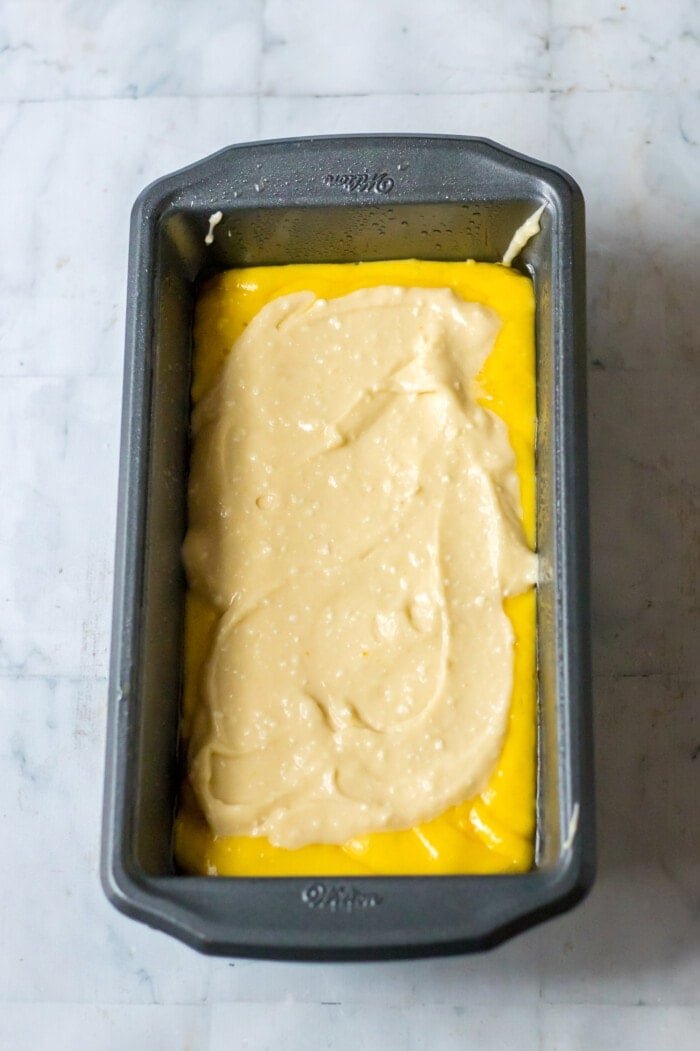 Step 3. Place the powdered sugar and lemon juice in a small bowl and combine until thick and smooth. Add on top of the cooled cake, slice, serve and enjoy!
Advertisement: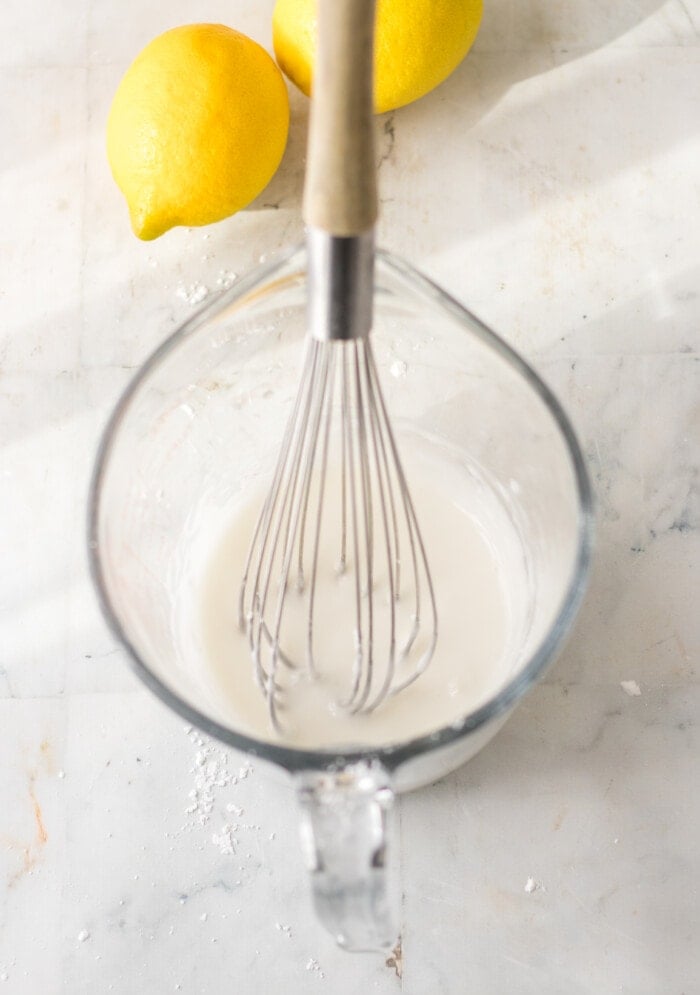 Variations for Lemon Cream Cheesecake
You can use some of the suggestions below to make this amazing recipe even better.
Try using vanilla pudding instead of lemon.
Flavor the frosting on top by adding a little vanilla bean paste.
Add poppy seeds to the dough to make this Lemon Poppy Seed Bread.
tips and tricks
I prefer to use a large loaf pan for this recipe. Instead, you can use two smaller pans for two small loaves.
Don't worry if the cheesecake swirl doesn't come out better each time, each one will vary, but it will be just as delicious.
Place leftovers in an airtight container and store in the refrigerator.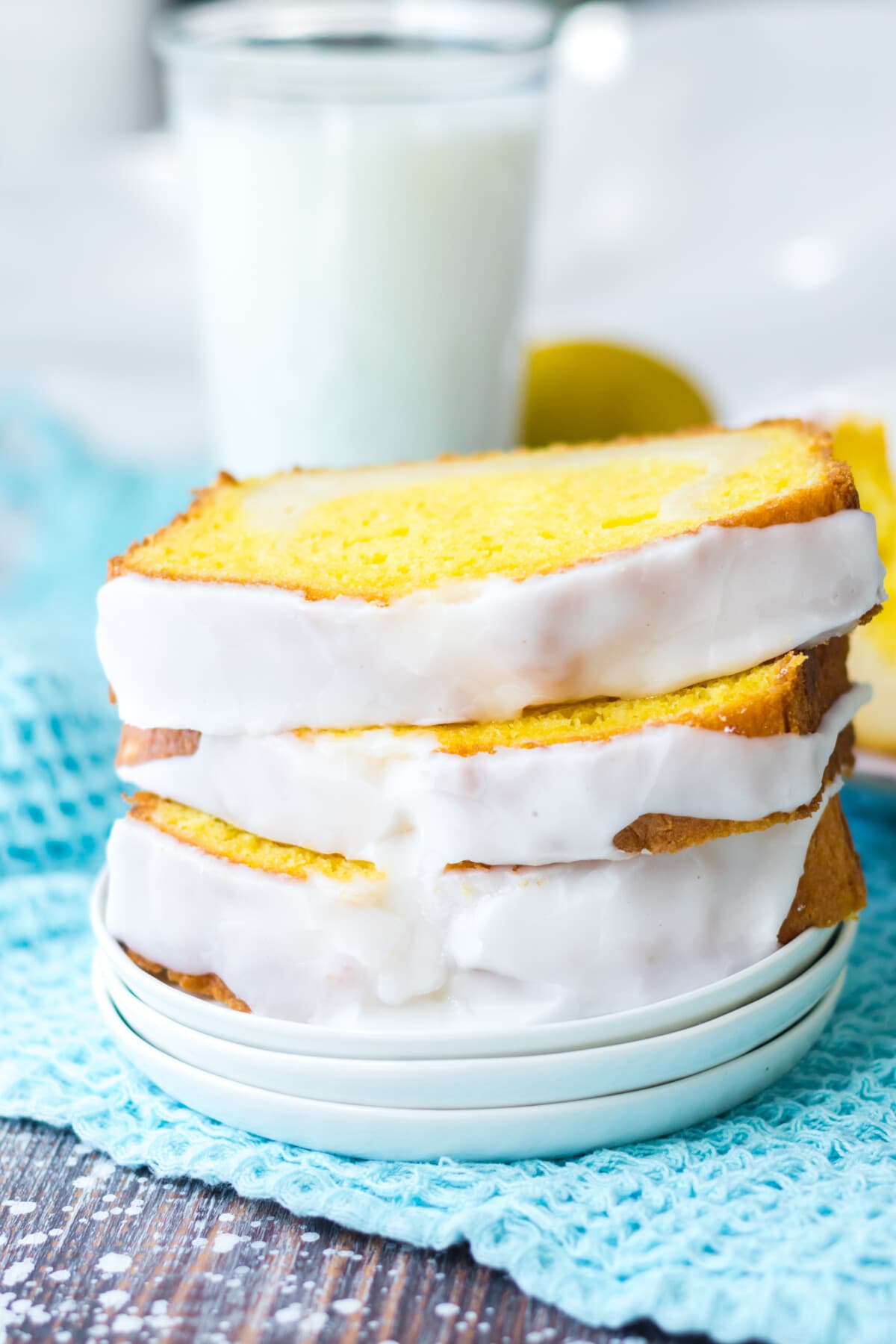 Can I Freeze Lemon Cream Cheesecake?
Yeah! If you want to make a double batch and save another loaf, store it in the freezer. To freeze the bread, first, let it cool completely. Next, wrap the baked cake in a plastic wrap and place it in the freezer for a couple of hours. Once partially frozen, wrap it in another layer of aluminum foil. Label and date the exterior; can be frozen for up to 2-3 months.
More lemon recipes: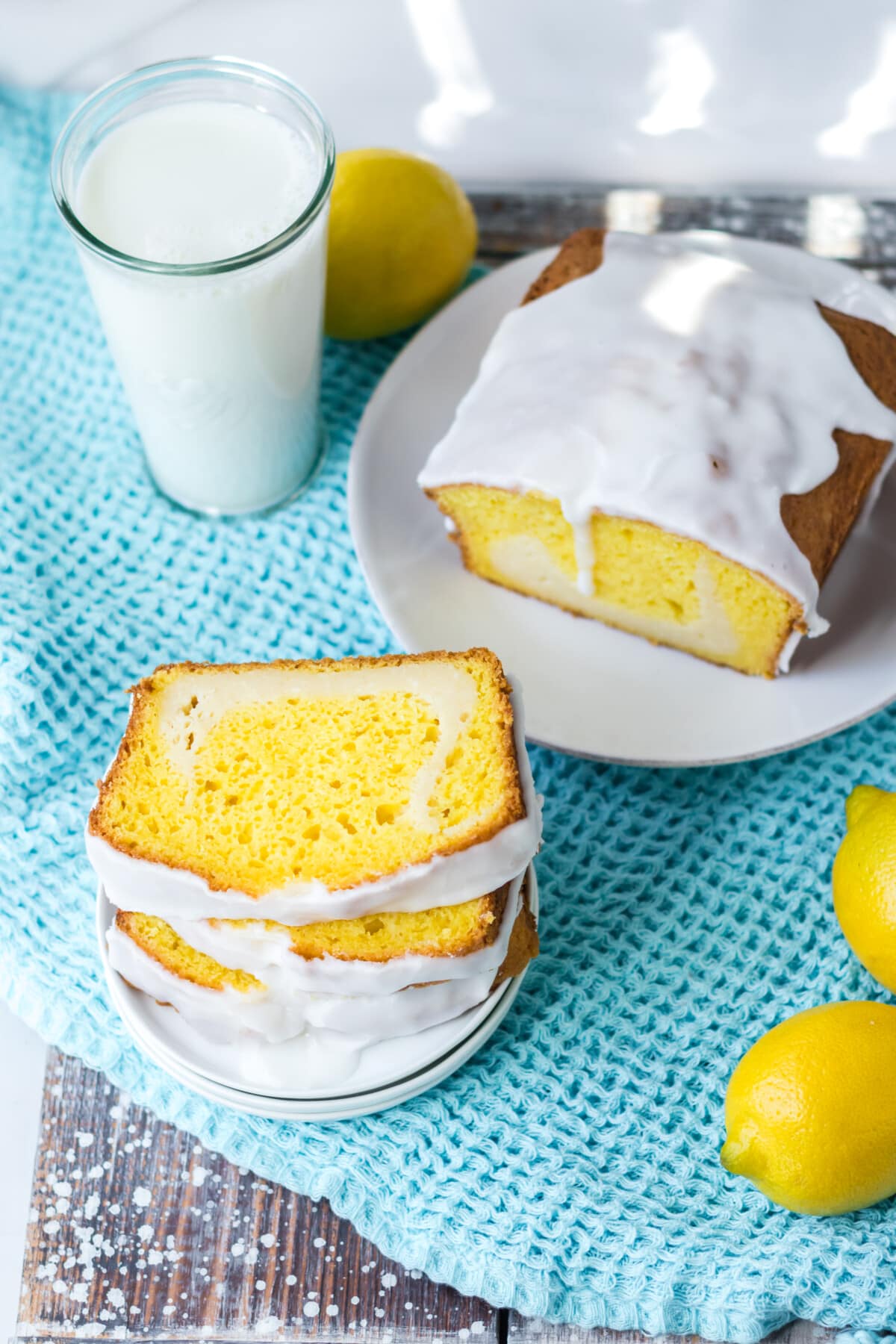 Preheat oven to 350 degrees. Lightly spray a loaf pan with nonstick spray. In a large bowl, mix the cake mix, dry pudding mix, water, oil, and 3 eggs until well combined.

In a medium bowl combine cream cheese, 1 egg, sugar, vanilla, and flour. Beat together until smooth.

Pour half of the lemon batter into the loaf pan. Pour all of the cream cheese mixtures over the lemon pie crust. Pour the remaining pie crust over the cream cheese mixture.

Bake for 45 to 50 minutes or until a toothpick inserted in the center comes out clean. Cool for 10 minutes; run a butter knife around the edge of the pan to loosen it. Carefully remove the cake from the pan and place it on a wire rack to cool completely.
Last step:
Please leave a rating and comment to let us know how you liked this recipe! This helps our business thrive and continue to bring you high-quality free recipes.
Advertisement:
NEXT: Minestrone soup recipe
Thanks for your SHARES!
Advertisement:
You May Also Like
Add a comment