French Onion Soup Recipe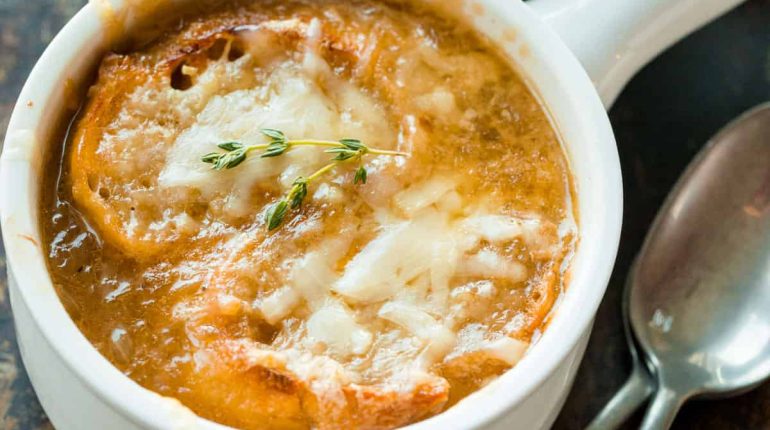 Posted September 18, 2023 by: Admin #Kitchen
Pulling up a spoonful of caramelized French Onion Soup in a rich broth with crisp cheesy toast is an experience that we can't get enough of. Whether you're a beginner or a pro, you will be impressed with the results.
Advertisement:
We love warm, comforting soup recipes from Tomato Soup to hearty Beef Stew and our famous Zuppa Toscana. If you are a soup lover, this French Onion Soup is a must-try!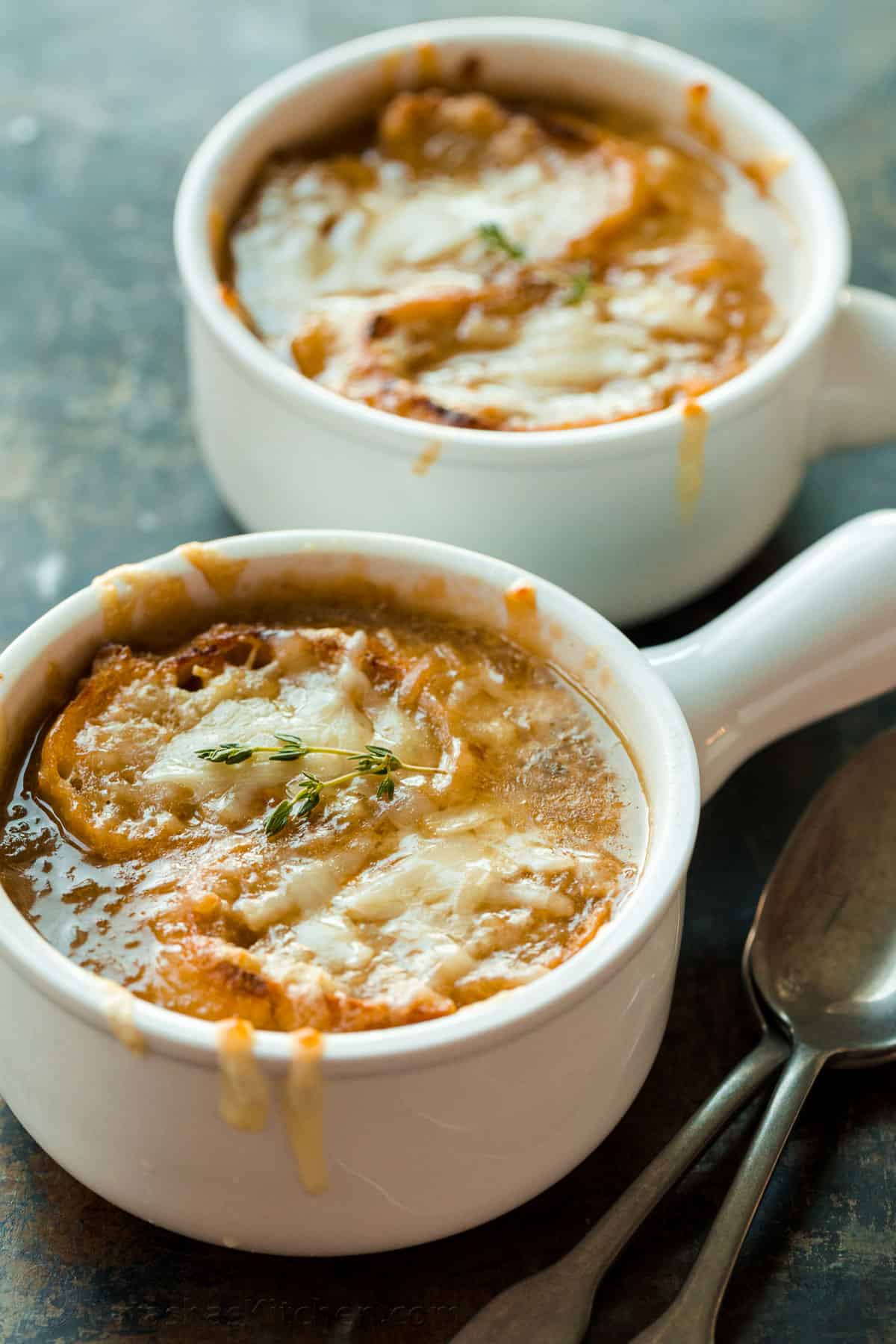 The Best French Onion Soup Recipe
I'm convinced this truly is the best recipe for homemade French Onion Soup. We have been perfecting this recipe for years (I am a major fan). After trying so many different versions at some of the best restaurants, this one is truly excellent. Here's why you'll love this recipe:
Advertisement:
Quicker cooking time – our tip for adding sugar cuts down the onion caramelization time significantly. When you caramelize onions on the stove, the heat draws out their natural sugars so adding just a little extra sugar will make the process go faster and develops a sweeter and more caramelized onion.
Make-ahead – you can make this ahead and impress your guests with gooey, cheesy topped soup without 'sweating' over the onions (some pun intended). It tastes even better as the flavors meld.
We got the flavors right – this recipe has the perfect balance of sweet and savory. You'd be surprised how many recipes don't specify the correct onions and Sherry, which can make or break your French Onion Soup.
What is French Onion Soup?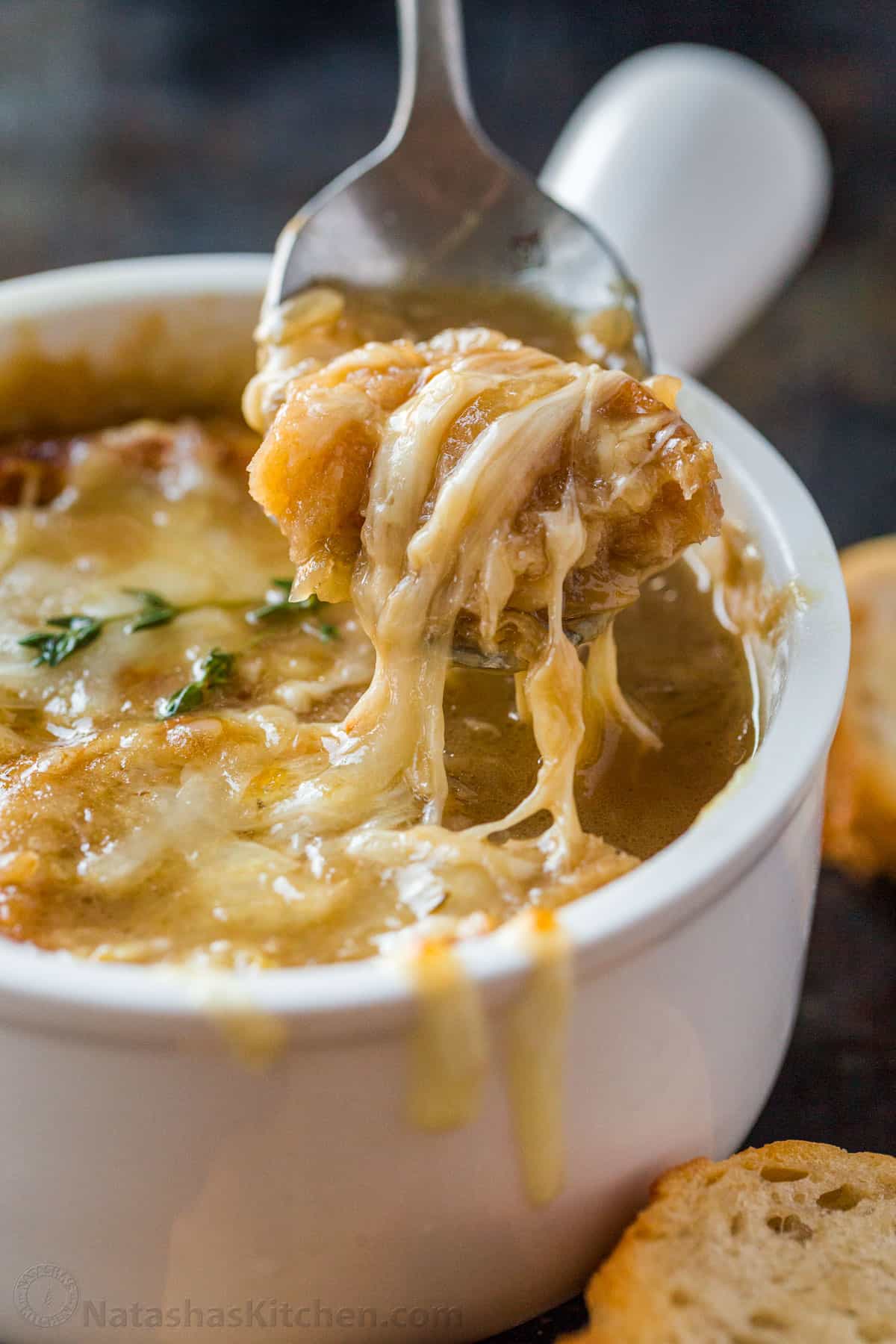 French Onion Soup is made of caramelized onions in a rich beef-Sherry broth and is served with a signature cheesy toast topping. It originated in France which is why it's called French Onion Soup and it has become one of the most iconic French soups. Just like our Ukrainian Borscht, it is timeless and well-loved. This soup is often on the menu in high-end restaurants, but it's simple to recreate at home. Just imagine you're in Paris as you enjoy every bite.
Ingredients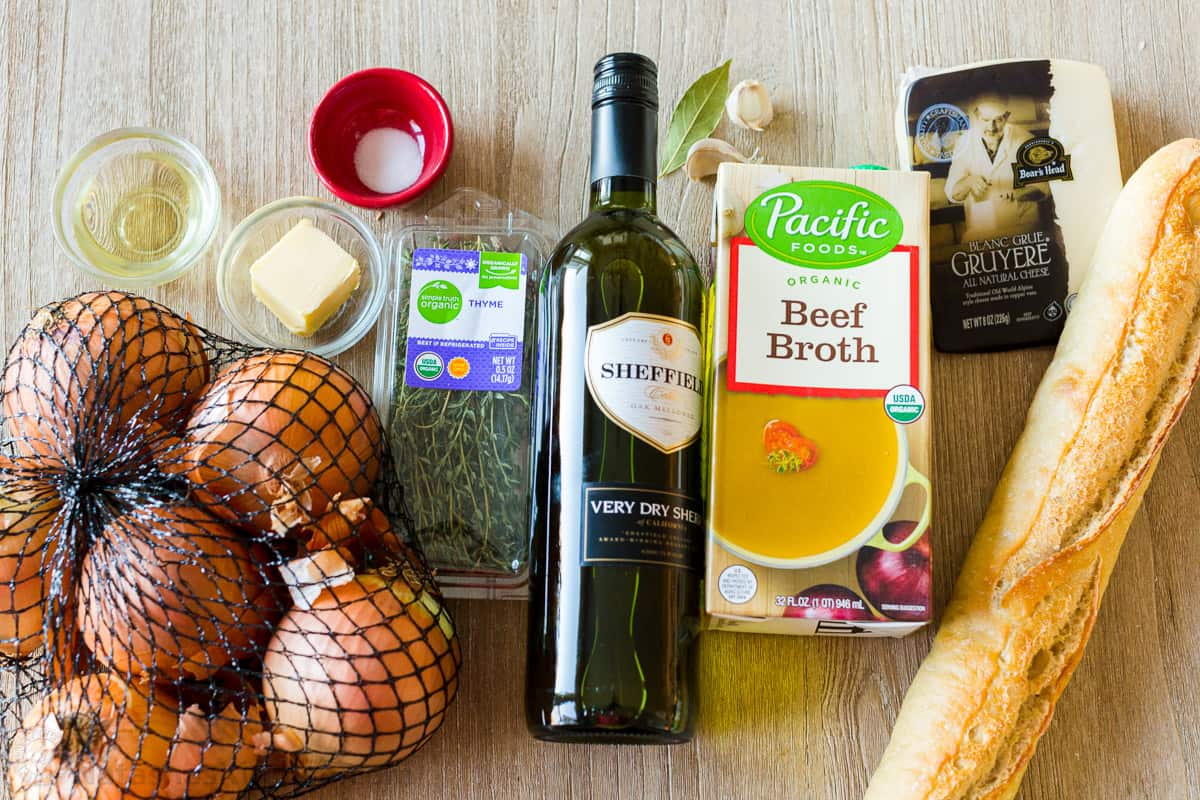 Advertisement:
The ingredients for French Onion Soup are simple, so quality ingredients are essential. A high-quality beef broth, gruyere cheese and fresh thyme will elevate your soup.
Onions – use yellow onions for the perfect balance of sweet and savory.
Sugar – just 1/2 teaspoon helps to speed up the caramelization process.
Garlic, bay leaf, and thyme – these aromatics, plus salt and pepper are all you need for flavor.
Beef Stock – using beef stock or broth will give you better taste and color versus chicken or vegetable stock.
Dry Sherry – be sure to pick a dry sherry wine so your soup doesn't end up too sweet.
Baguette and Gruyere cheese – these two are combined to make the cheesy toast topping. Gruyere is the classic choice for this soup, but I did include some substitution options in the "common questions" section below.
The Best Onions for French Onion Soup: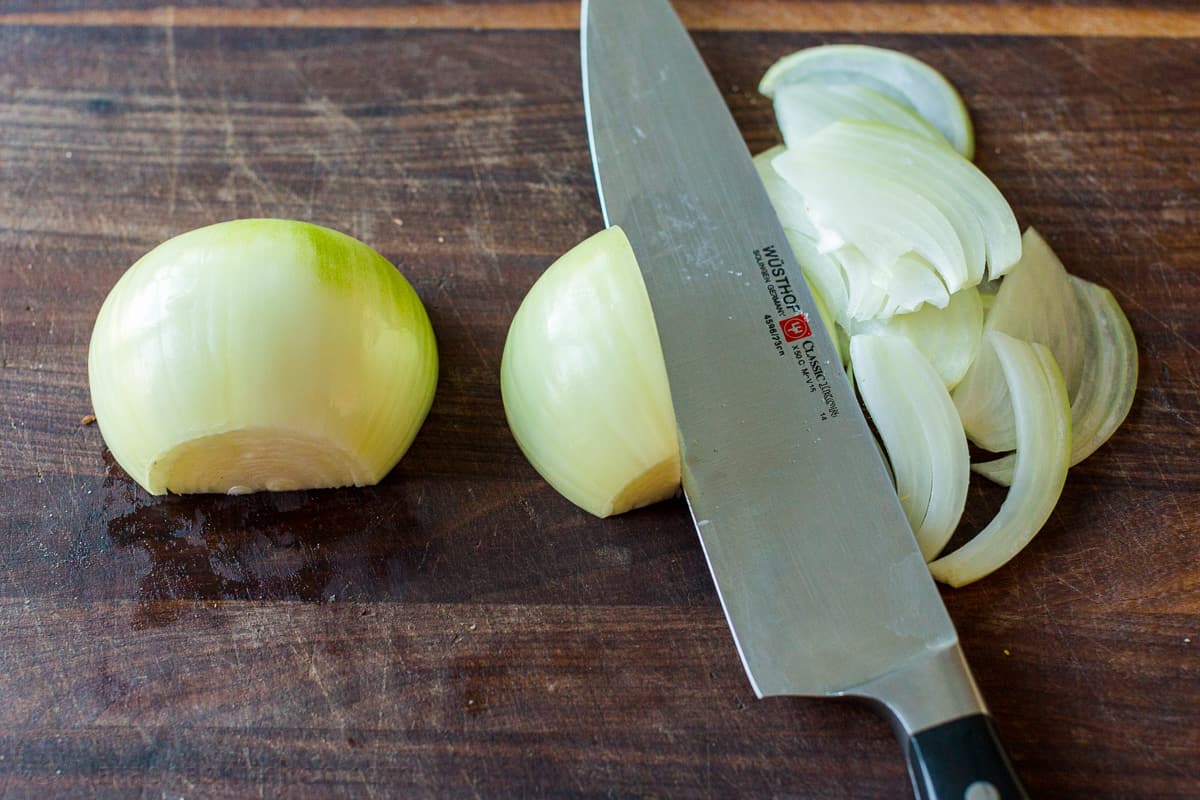 Yellow onions are considered cooking onions and will work best for caramelizing with the perfect balance of sweet and savory flavor. We highly recommend yellow onions for French Onion Soup. Sweet onions have 25% more sugar than yellow onions and will result in a sweeter soup. If using, be sure to use extra-dry sherry. White onions should be avoided since they taste flat when caramelized. Save them for guacamole. Red onions can turn blueish with lengthy cooking.
Advertisement:
Pro Tip for Slicing Onions: Thinly slice your onions parallel with the lines on the onion (from root to stem). It will look nicer in the soup and you'll break less of the onion cells which release the onion vapors that make you cry. This means fewer tears while cutting onions.
How to Make French Onion Soup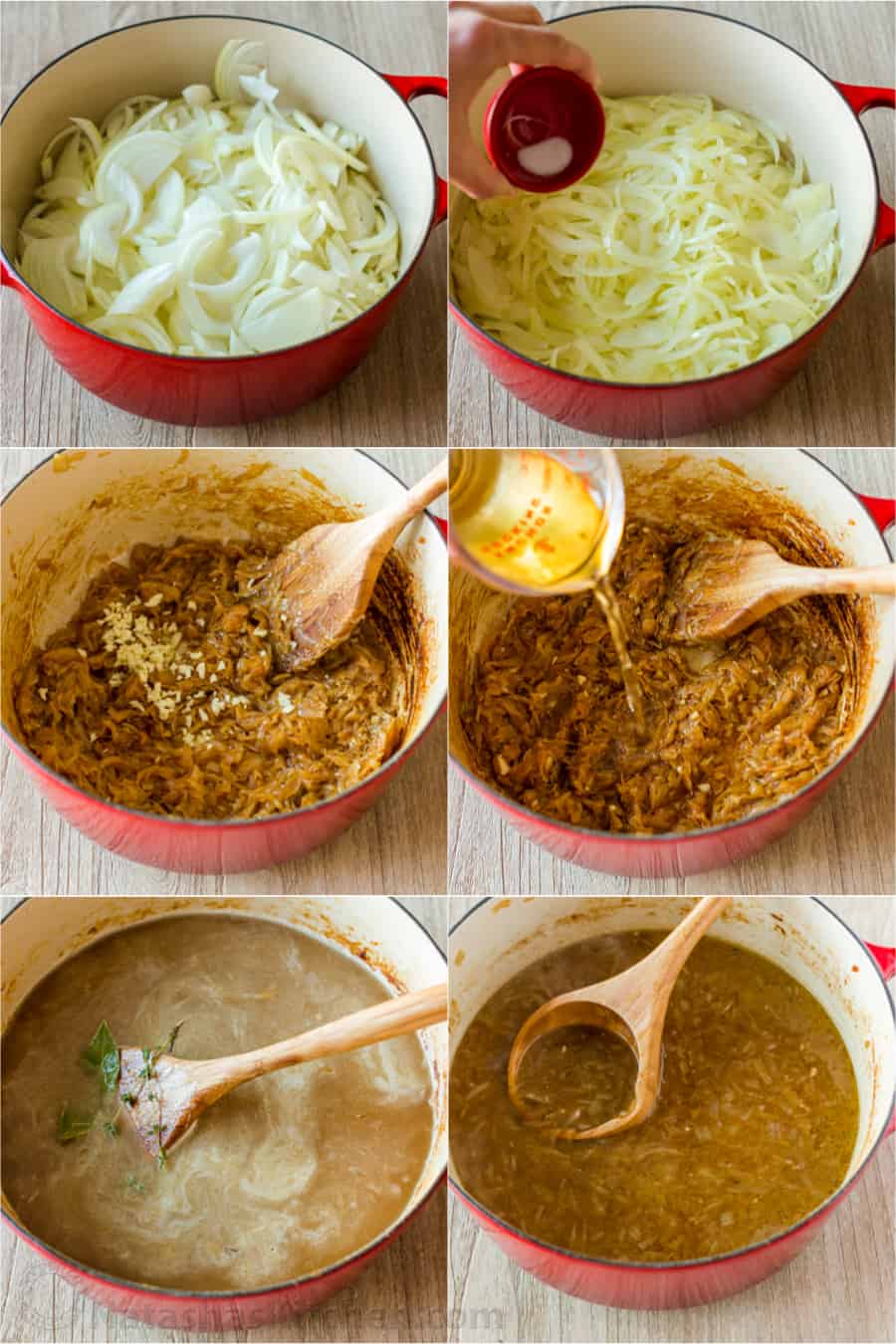 The key to making great French Onion soup is in giving the onions time to caramelize properly. Don't rush this process but we do have a secret (just a bit of sugar) to cut down the time significantly.
Slice Onions – peel onions and thinly slice onions.
Soften Onions – let the onions 'sweat' and soften for 10 minutes.
Caramelize Onions – Add 1/2 tsp sugar to speed up the caramelization process. Sautee over medium heat until onions have browned (40 min).
Add Garlic and saute for 1 minute until fragrant.
Add Dry Sherry and cook down until all the wine has evaporated, scraping the bottom to deglaze the pan.
Add beef stock along with aromatics (bay leaf and thyme), salt, and pepper. Simmer partially covered 30 minutes.
Common Questions: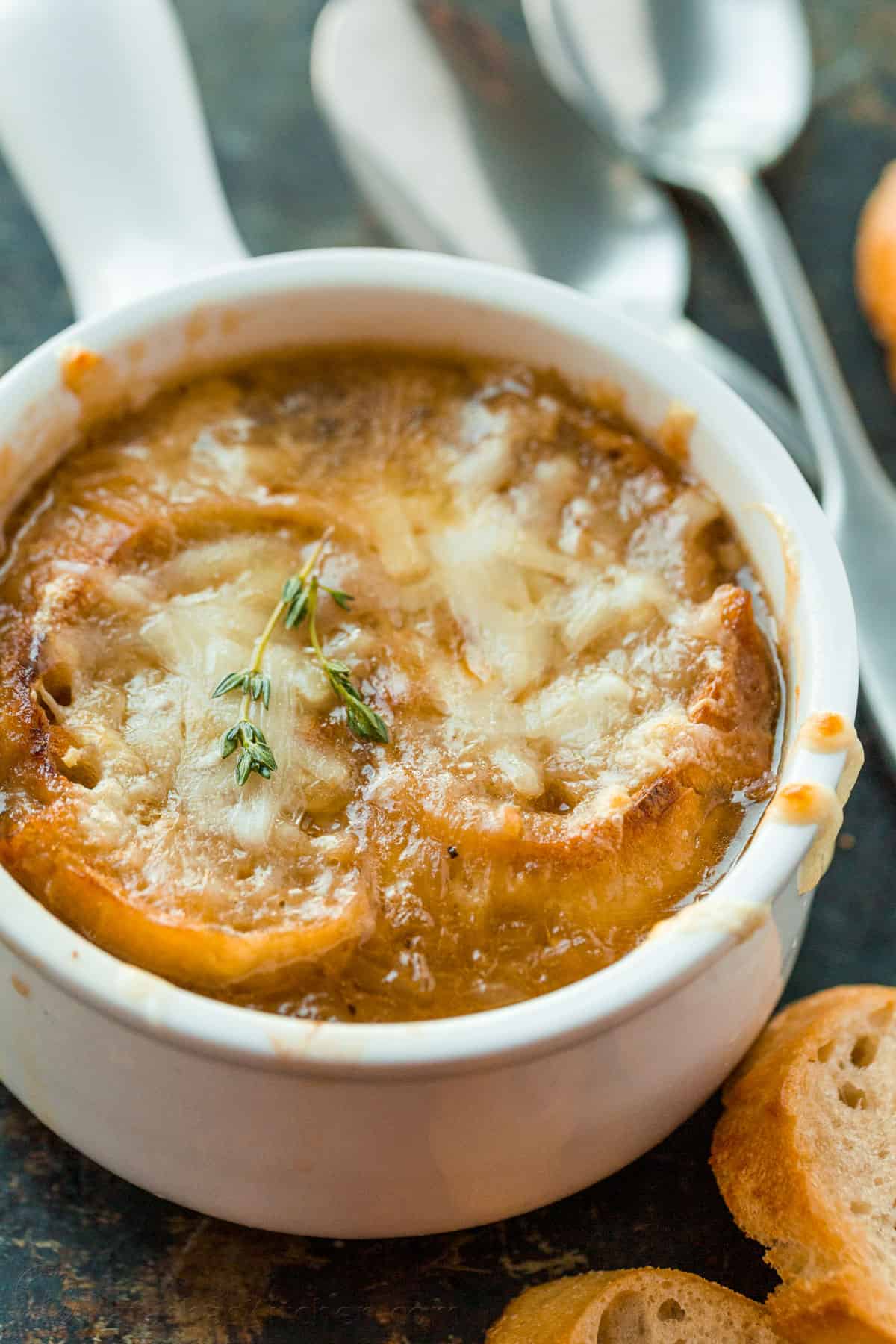 Advertisement:
Can I substitute the gruyere cheese? Gruyere is the classic choice because it's mild in flavor and melts beautifully. You could substitute with swiss cheese, provolone, fontina, or a blend of mozzarella (low-moisture part-skim) and parmesan.
Can I make French Onion Soup in a slow cooker? You can finish the soup in a slow cooker, but we recommend first caramelizing the onions and reducing the sherry wine on the stovetop through step 5. In step 6, transfer to a slow cooker, add broth and seasonings and cook covered on low heat for 6 hours then season to taste.
Can I substitute the sherry wine? Dry sherry is traditional for making French Onion Soup, but you can substitute it with a dry white wine such as vermouth. Also, keep in mind since the sherry is reduced, you essentially cook out most of the alcohol in the recipe.
Advertisement:
How to Serve French Onion Soup (2 Ways)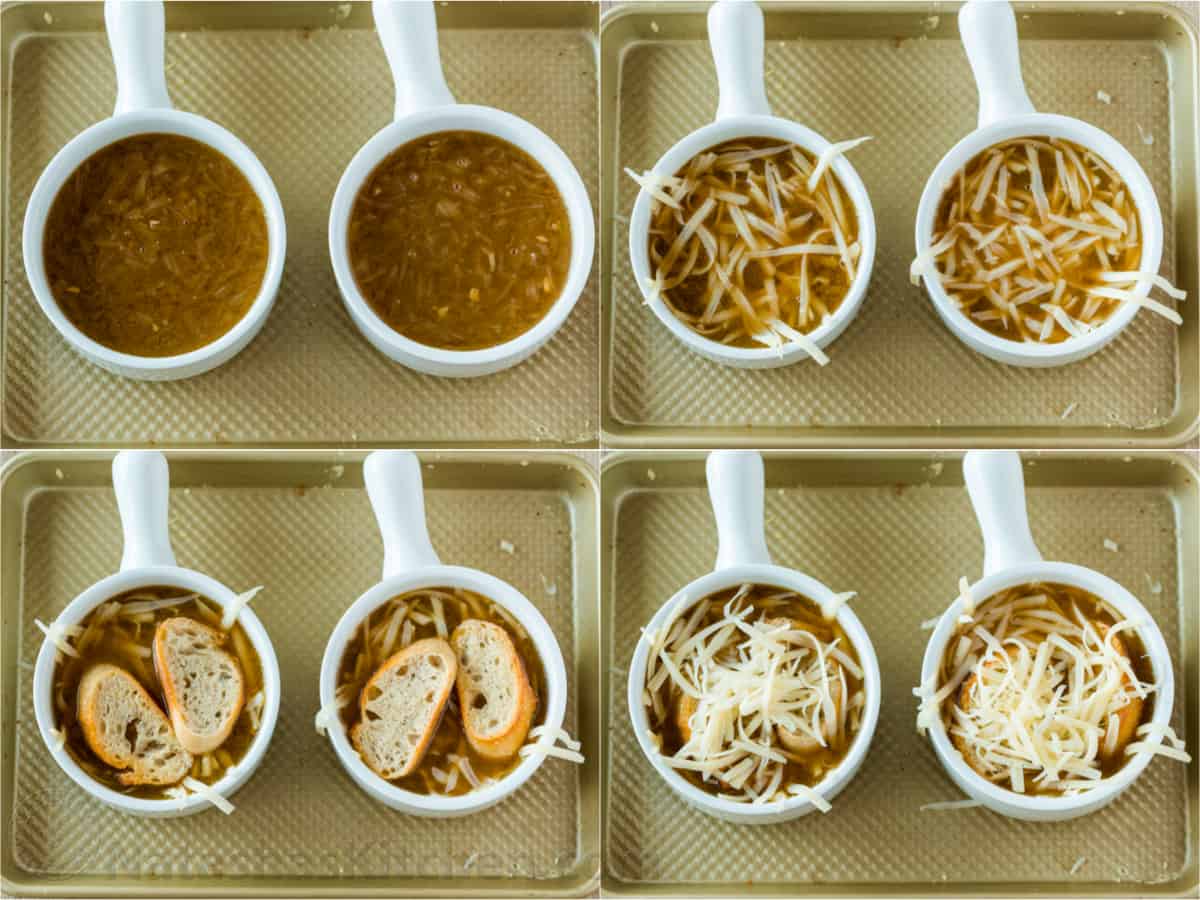 The way you serve your soup will depend on whether or not you have broiler-safe bowls. If they aren't broiler safe, the dishes can crack and create a mess in your oven. Whether you have high-heat safe bowls or not, both of these methods will produce delicious results.
With broiler-safe serving bowls:
Toast bread slices on a baking sheet.
Ladle soup into bowls and sprinkle the tops with cheese.
Top with toasted bread then cover with more cheese. Broil for 2-3 minutes until the cheese is melted.
Without broiler-safe bowls:
Advertisement:
To prepare the topping toasts separately, brush toast with olive oil and bake.
Top toasted bread with mounds of cheese and broil for 2-3 minutes.
Ladle soup into warm bowls and sprinkle on cheese to melt. Place cheesy toasts over the hot soup bowls.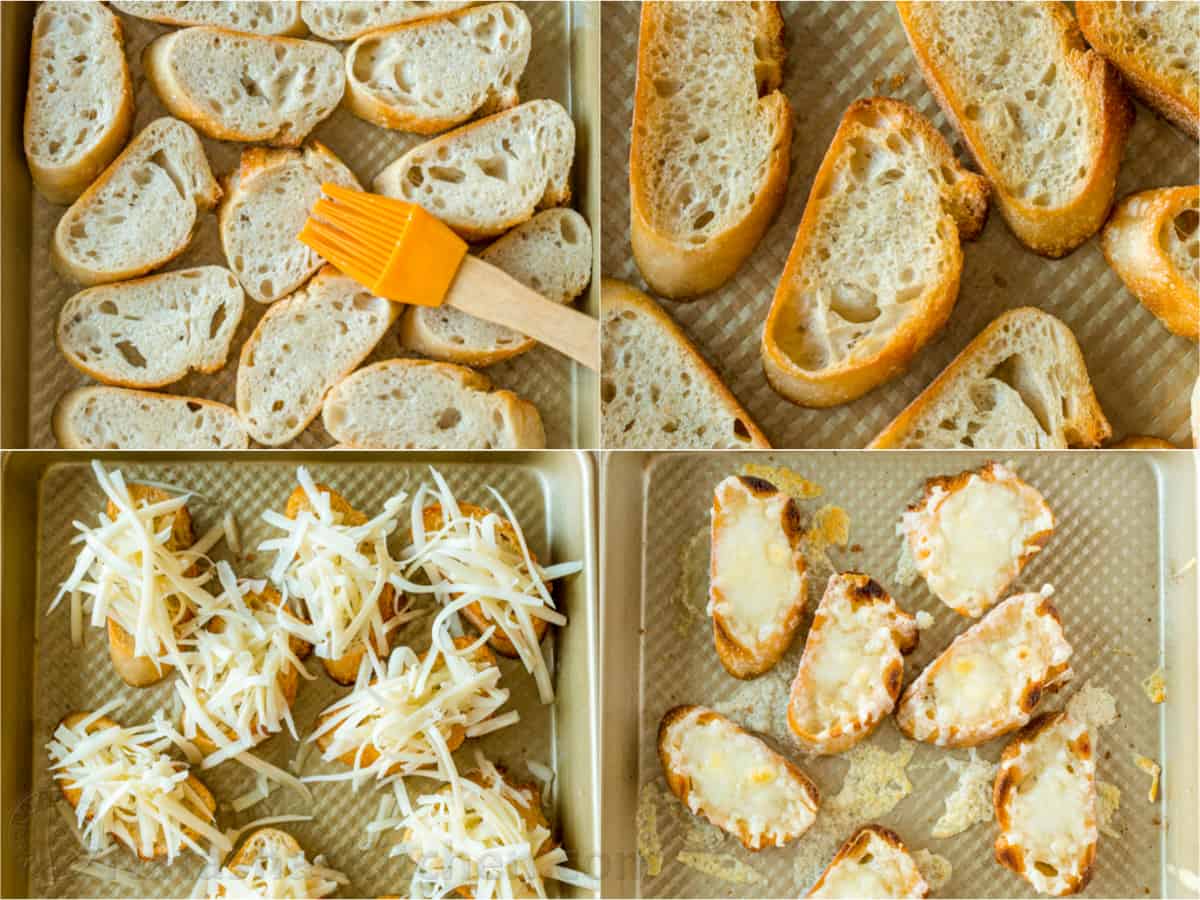 Make-Ahead: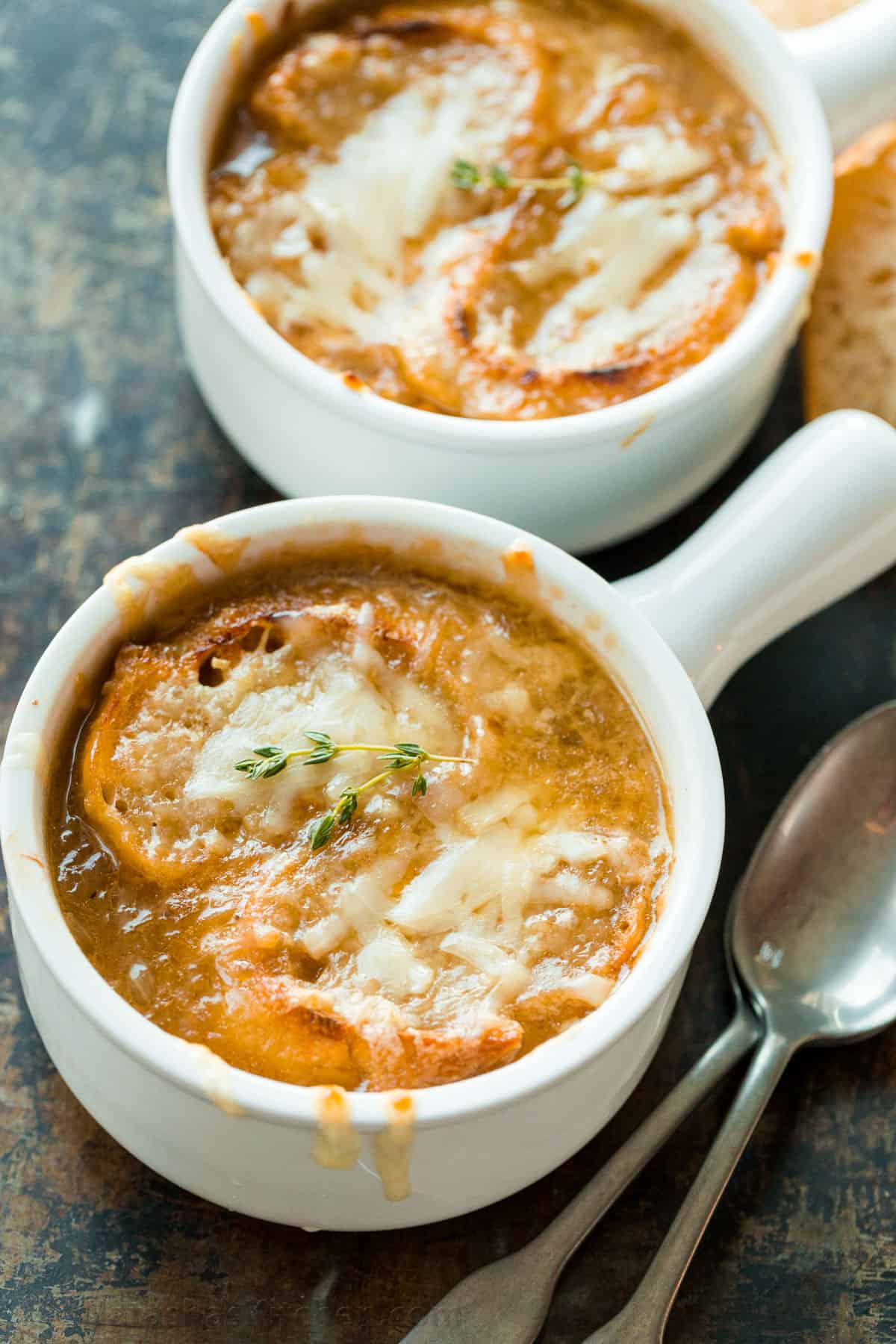 Refrigerate – You can refrigerate French Onion Soup for up to 3 days. Once the soup is done, let it cool then cover and refrigerate until ready to reheat and serve.
Freezing – cool the soup then freeze in freezer-safe storage containers or zip bags for up to 3 months. Thaw in the refrigerator overnight before using, or you can speed-thaw your container in cold water. Toasts – the bread toasts can be baked ahead and stored covered at room temperature for a few days since you are essentially making croutons. Add cheese and broil just before serving.
Advertisement:
To Reheat – transfer the soup to a saucepan and set over medium heat until steaming hot.
Everyone needs a great French Onion Soup Recipe. The rich flavor and aroma of caramelized onions in a sherry-beef broth under a cheesy toast are irresistible.
NEXT: Roasted eggplant tart recipe
Thanks for your SHARES!
Advertisement:
You May Also Like
Add a comment