Greek Yogurt Ranch Dip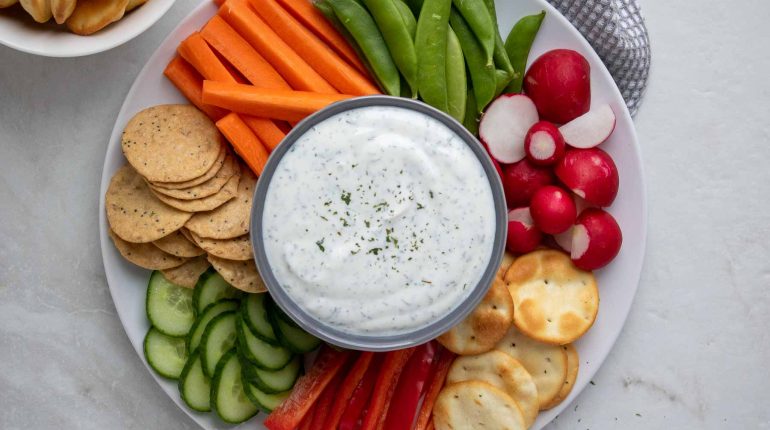 Posted October 11, 2023 by: Admin #Kitchen
If you believe that making your own dip is a complex task, think again. While ranch dip is readily available in stores, crafting it at home is equally effortless. By using Greek yogurt instead of sour cream, you can reduce the calories and enhance the protein content of this tasty dip.
Advertisement: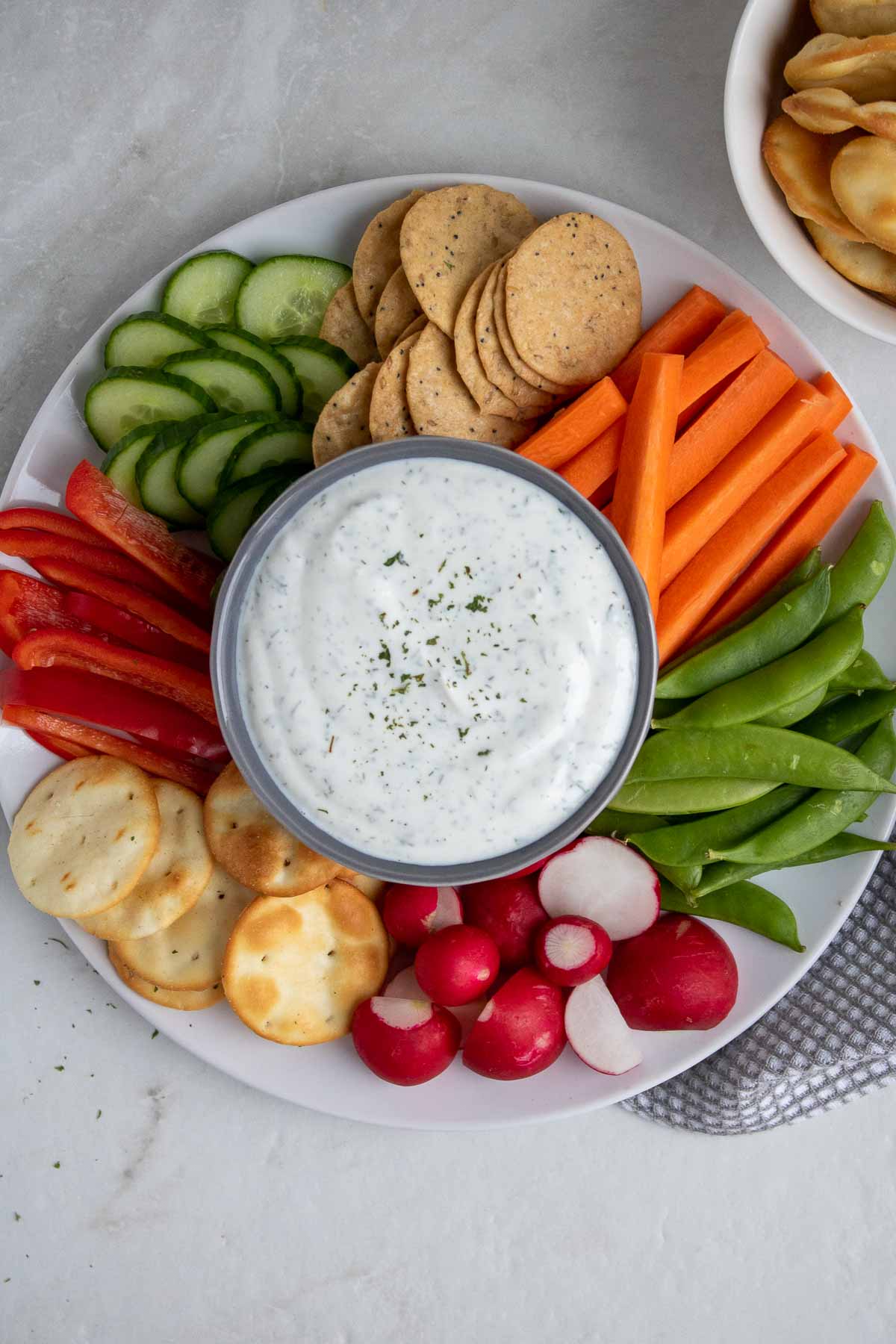 Ingredients for a Healthy Greek Yogurt Ranch Dip
If you're planning to make this healthy Greek yogurt ranch dip, gather the following ingredients:
Greek Yogurt: Opt for whole milk, 2%, or non-fat plain Greek yogurt.
Herbs: Combine dill, chives, and parsley for a distinct flavor. You can use fresh herbs if you prefer, just double the quantity.
Spices: Add a touch of onion powder and garlic powder to enhance the ranch taste.
Lemon Juice: For a tangy finish.
Salt and Pepper: Essential for seasoning.
While plain Greek yogurt is known for its high protein content, some people may find it too sour. Transforming it into a ranch dip with seasoning mix is a delightful way to make it more palatable and introduce some novelty to your kitchen.
Advertisement:
Dietary Adaptions
If you have specific dietary preferences, consider these adaptations:
To Make it Gluten-Free: No adaptations are needed; this dip is naturally gluten-free.
To Make it Dairy-Free: Substitute Greek yogurt with a plant-based Greek-style yogurt made from almond milk, oat milk, or coconut milk.
Advertisement:
How to Make Greek Yogurt Ranch Dip
This recipe is so straightforward that it hardly requires detailed instructions. Here's what you need to do:
Add all the dip ingredients to a bowl.
Give it a good stir.
Serve!
Believe it or not, that's all there is to it! Not only is this dip healthy and quick to prepare, but it also stores well in the fridge. You can save leftovers or prepare it in advance for healthy snacks throughout the week.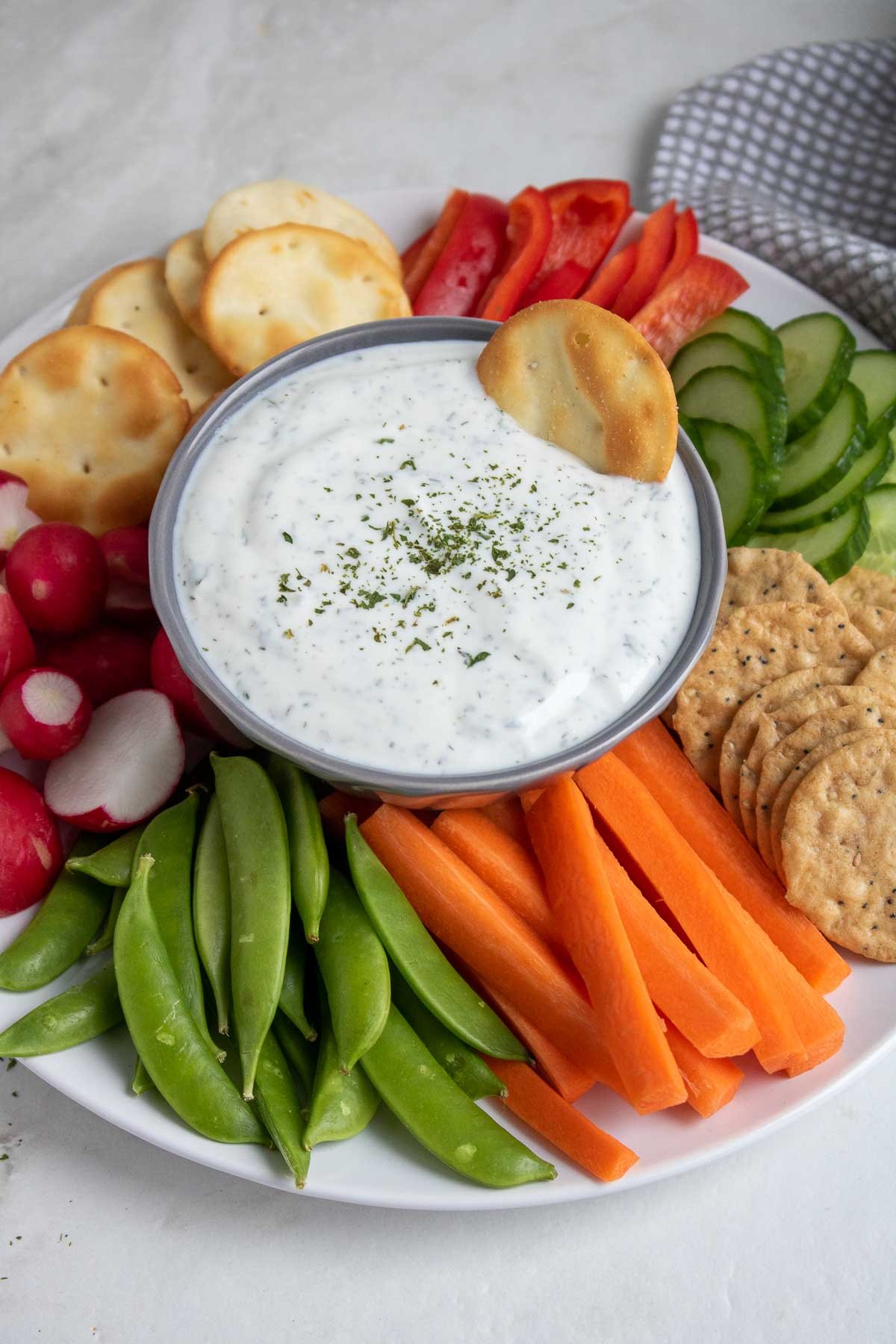 Advertisement:
Nutrition Tip
It's important to note that while Greek yogurt is used in this ranch dip, traditional ingredients such as sour cream, mayonnaise, and buttermilk are not inherently unhealthy. In fact, they are nutrient-rich foods that can and should be part of a healthy diet. The use of Greek yogurt is simply a creative alternative that boosts protein content while reducing calories and fat when using 0% Greek yogurt.
What to Serve with Greek Yogurt Dip
If you're wondering what to pair with this Greek yogurt ranch dip, here are some excellent options for enjoying this high-protein dip as a snack, appetizer, or main course:
Veggies: This dip complements a variety of vegetables, including carrot sticks, celery sticks, cucumber slices, broccoli or cauliflower florets, cherry tomatoes, snap peas, or sliced bell peppers.
Crackers: The dip also pairs wonderfully with crackers. You can use your favorite store-bought version or try making homemade crackers.
Pita: Serve the dip with fresh pita slices or pita crackers.
Chips: Chips and dip is a classic combination, and this yogurt ranch dip pairs perfectly with your favorite potato chips or tortilla chips.
Chicken Wings: In addition to chips, you can elevate game night by serving this dip with sweet and sticky chicken wings.
Potatoes: This dip also goes well with roasted potatoes or oven-baked French fries.
Moreover, this Greek yogurt ranch dip can double as a dressing. To achieve a more dressing-like consistency, add a bit more lemon juice and a splash of milk or buttermilk until you reach the desired texture, and adjust the seasoning to taste.
Storage and Reheating
To store the dip, transfer it to an airtight container and refrigerate it for up to 5 days.
Advertisement:
Greek Yogurt Ranch Dip
This healthy Greek yogurt ranch dip is a lighter and high-protein alternative to the classic ranch dip. It's perfect for serving with vegetables as a healthy snack.
Ingredients
1 cup plain Greek yogurt
1/2 teaspoon dried dill
1/2 teaspoon dried parsley
1/2 teaspoon dried chives
1/2 teaspoon garlic powder
1/4 teaspoon onion powder
1/4 teaspoon salt
1 pinch of black pepper
2–3 teaspoons lemon juice
Instructions
In a medium bowl, combine Greek yogurt, dill, parsley, chives, onion powder, garlic powder, salt, and pepper. Mix well.
Add lemon juice, one teaspoon at a time, stirring until you reach your desired texture. Taste and adjust the seasoning as needed.
The dip can be served immediately or stored in an airtight container in the fridge for up to 5 days.
Nutrition
Serving Size: 2 tablespoons
Calories: 37 calories
Sugar: 2 grams
Fat: 2 grams
Carbohydrates: 2 grams
Fiber: 0 grams
Protein: 3 grams
Advertisement:
NEXT: Cottage cheese lasagne
Thanks for your SHARES!
Advertisement:
You May Also Like
Add a comment