Egg White Bites (Starbucks Copycat)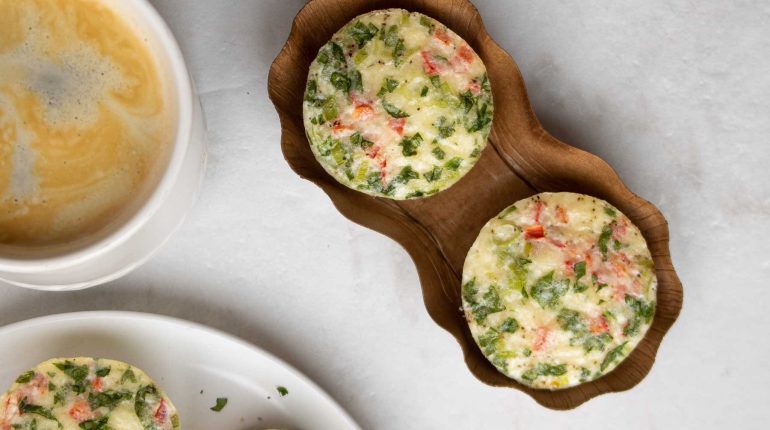 Posted October 9, 2023 by: Admin #Kitchen
Skip the Starbucks line by making these homemade baked egg white bites! This copycat recipe is a quick and simple way to prepare a high-protein breakfast that's perfect for meal prep and ideal for those busy mornings.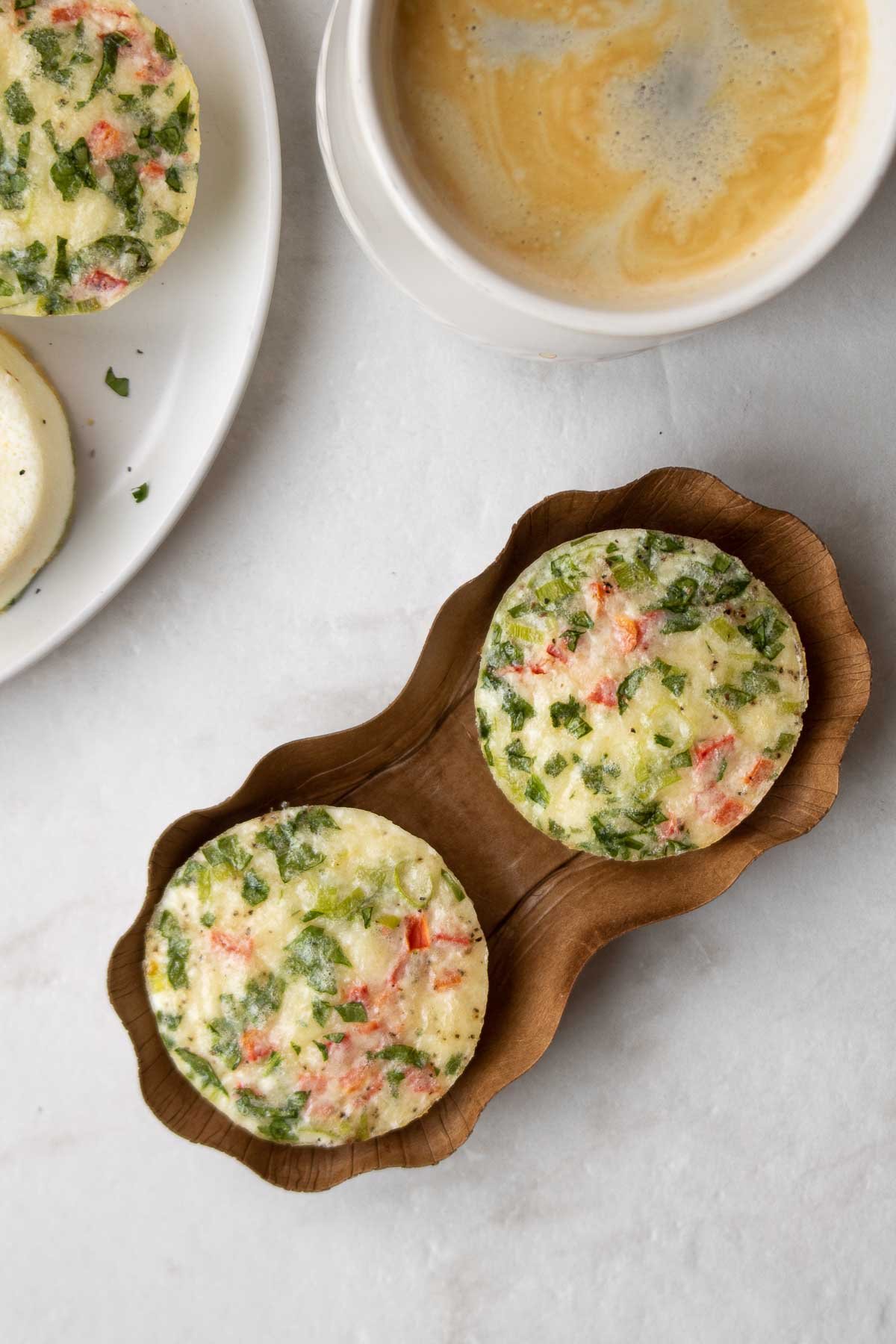 Advertisement:
If you're a fan of Starbucks' Egg White & Roasted Red Pepper Egg Bites, you'll adore this copycat recipe. After extensive research and testing, we've cracked the code to replicate those smooth, creamy, and slightly jiggly egg bites in the comfort of your own home.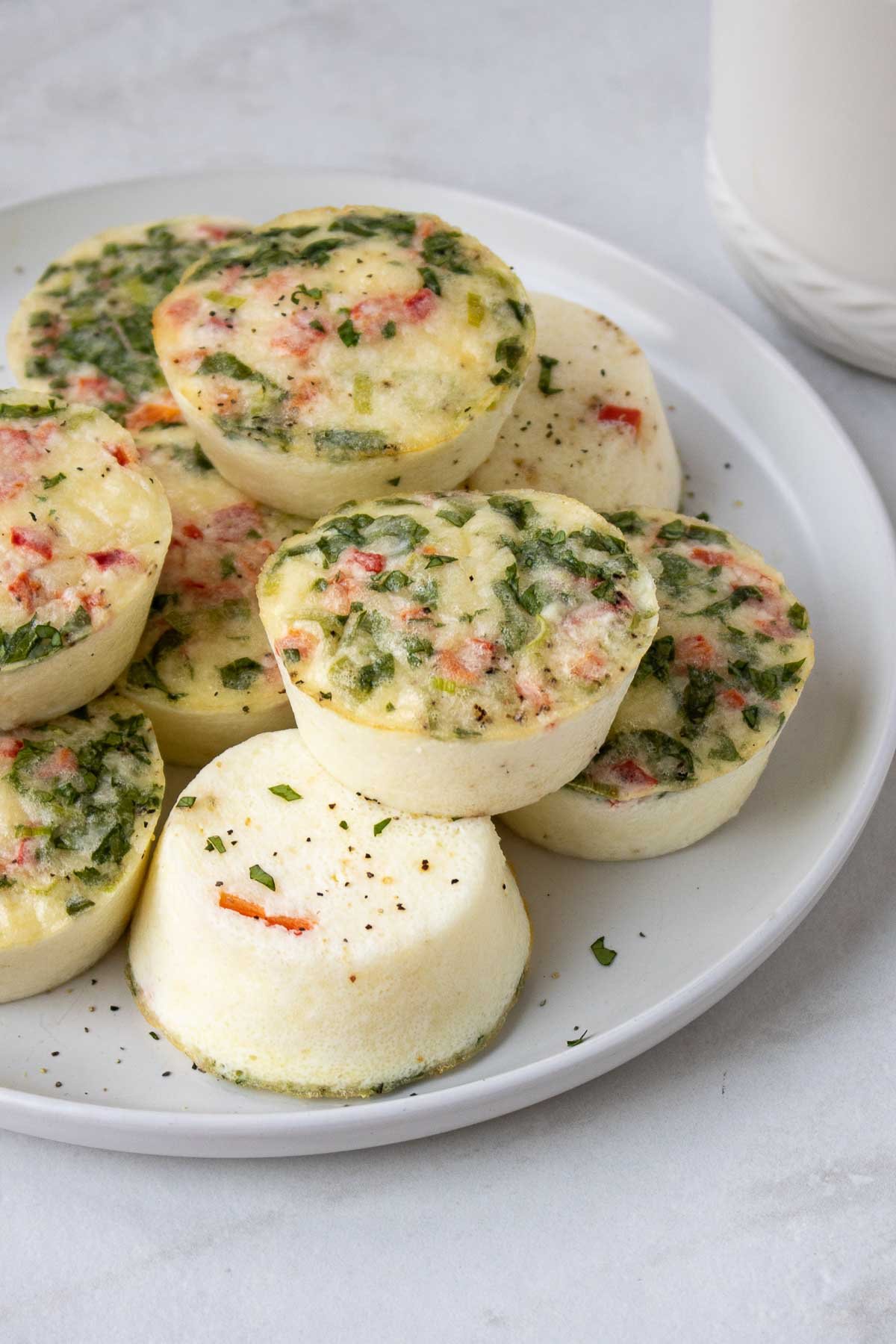 The secret to replicating the addictive texture of the Starbucks version lies in the combination of egg whites and cottage cheese. By making these at home, you not only save time and money but also have the option to increase the protein content.

Ingredients for Egg White Bites
To ensure these homemade egg white bites closely match the Starbucks version, we've used ingredients similar to theirs. Here's what you'll need:
Advertisement:
Liquid Egg Whites – The key ingredient for egg white bites.
Cottage Cheese – Boosts protein content and creates a creamy texture.
Monterey Jack Cheese – Adds healthy fats and more protein. Other shredded cheeses like cheddar or mozzarella work too.
Feta Cheese – Provides a salty kick.
Roasted Red Peppers – Jarred roasted red bell peppers are best, but raw red bell peppers work too.
Fresh Spinach – Adds leafy greens.
Green Onions – Adds flavor.
Hot Sauce – For a touch of spice (optional).
Butter – Adds healthy fats and creates a smooth texture.
Cornstarch – Binds proteins and absorbs excess liquid, recreating the Starbucks egg white bite's jiggly texture.
Salt and Pepper – For seasoning.
Dietary Adaptations
To Make them Gluten-Free: No adaptations needed; this recipe is gluten-free.
To Make them Dairy-Free: Unfortunately, this recipe cannot be made dairy-free.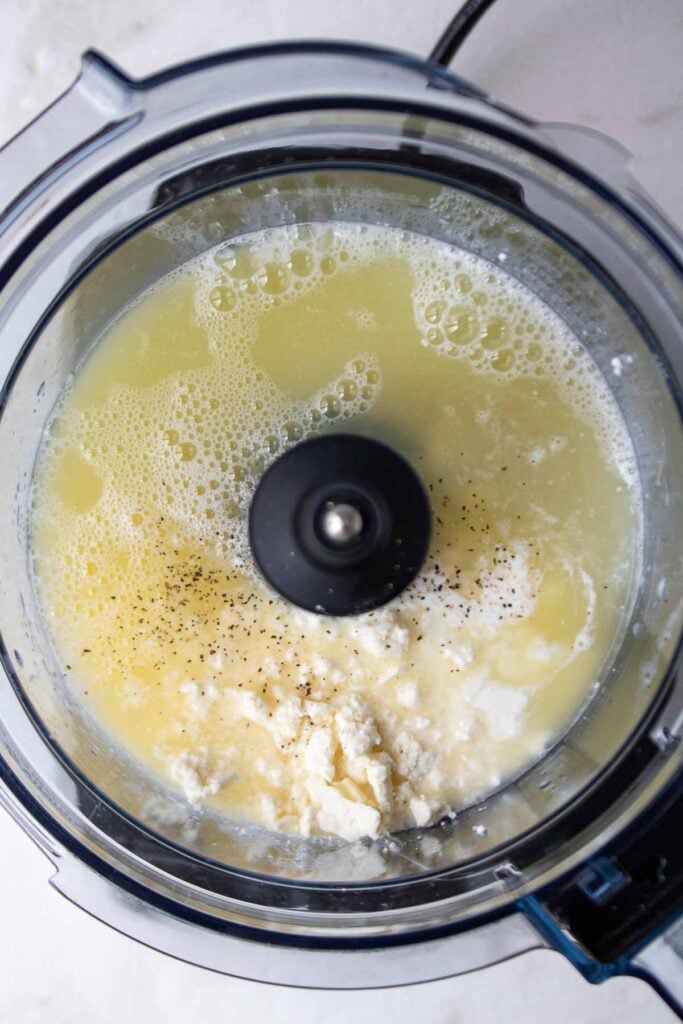 Advertisement: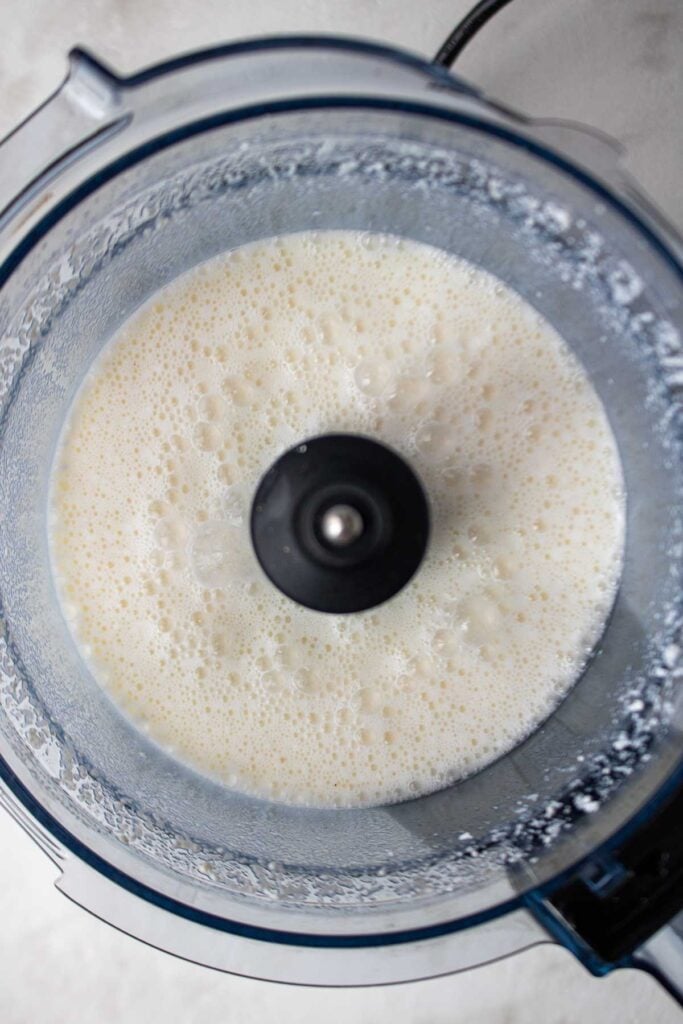 How to Make Egg White Bites
While Starbucks egg white bites are made using the sous vide method, you can recreate them at home using a blender, muffin pan, and baking sheet. Here's the process:
Blend the egg whites and cheese: In a blender, combine egg whites, cottage cheese, shredded Monterey jack cheese, feta, butter, cornstarch, and hot sauce. Blend until smooth.
Add the veggies: Place chopped roasted red bell pepper, spinach, green onions, and a pinch of salt and pepper in each cup of a muffin pan.
Pour into a muffin pan: Divide the egg mixture evenly among the muffin cups, filling them two-thirds full.
Place the muffin pan on a baking sheet: Position the muffin pan on top of a baking sheet and fill the sheet with boiling water.
Bake: Bake at 350°F for 20-22 minutes.
Cool and enjoy: Once baked, let the egg white bites cool slightly before serving.
The complete recipe can be found in the recipe card below.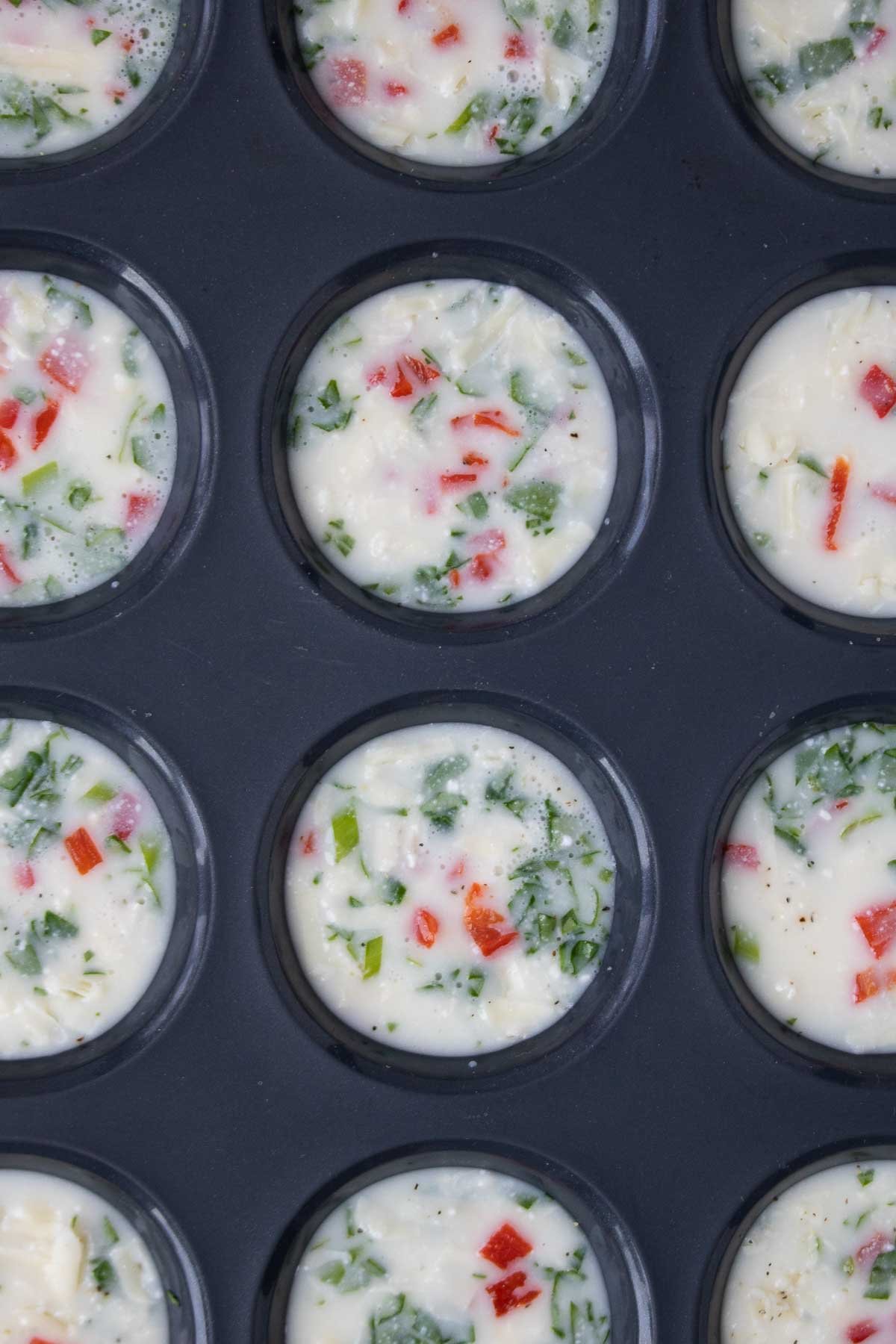 Advertisement:
Nutrition Tip
This egg white bites recipe provides a generous 19 grams of protein per serving. Pair them with complex carbohydrates like toast or a bagel and add some fiber with fruit to create a well-balanced meal.
Recipe Variations
Want to experiment with other mix-ins? Once you've prepared the base egg white mixture, you can incorporate your preferred additions. Options include cooked bacon, sausage, ham, sautéed mushrooms, broccoli, or seasonings like garlic powder and dried herbs.
Prefer to include egg yolks? Substitute the egg whites with 8 whole eggs.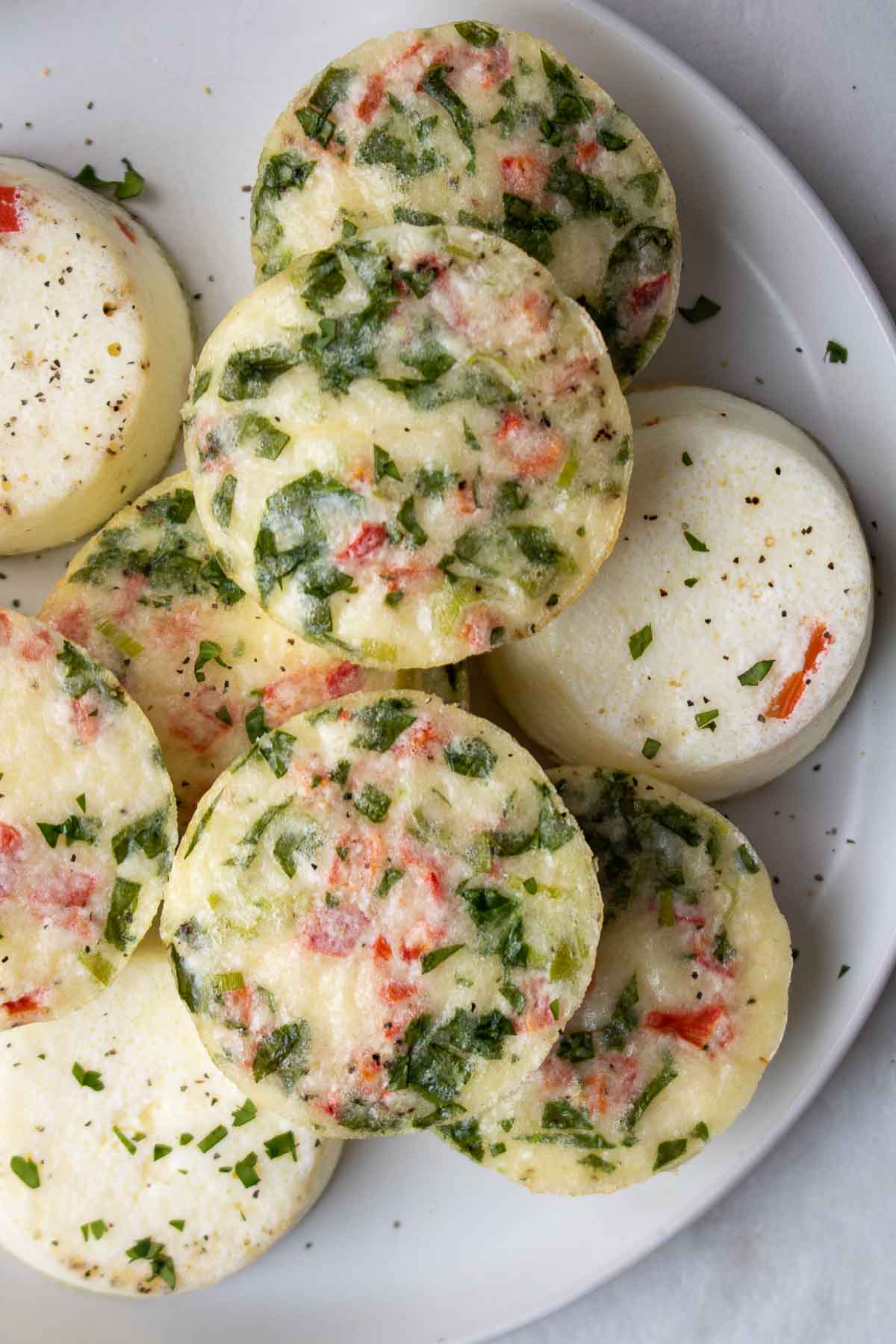 FAQs
Are egg white bites healthy?
Yes, egg white bites are a nutritious option. They provide protein, healthy fats, and essential nutrients, making them a valuable addition to a balanced and healthy breakfast.
Advertisement:
Can you eat egg bites every day?
Certainly. Homemade egg white bites are made from real ingredients and can be consumed daily.
Are egg bites a good source of protein?
Yes, egg bites are a substantial protein source, along with fats, vitamins, and minerals. Each egg bite contains approximately 9 grams of protein.
Are egg bites good for weight loss?
Egg bites are high in protein and low in calories, making them suitable for weight loss when consumed as part of a balanced diet and calorie deficit.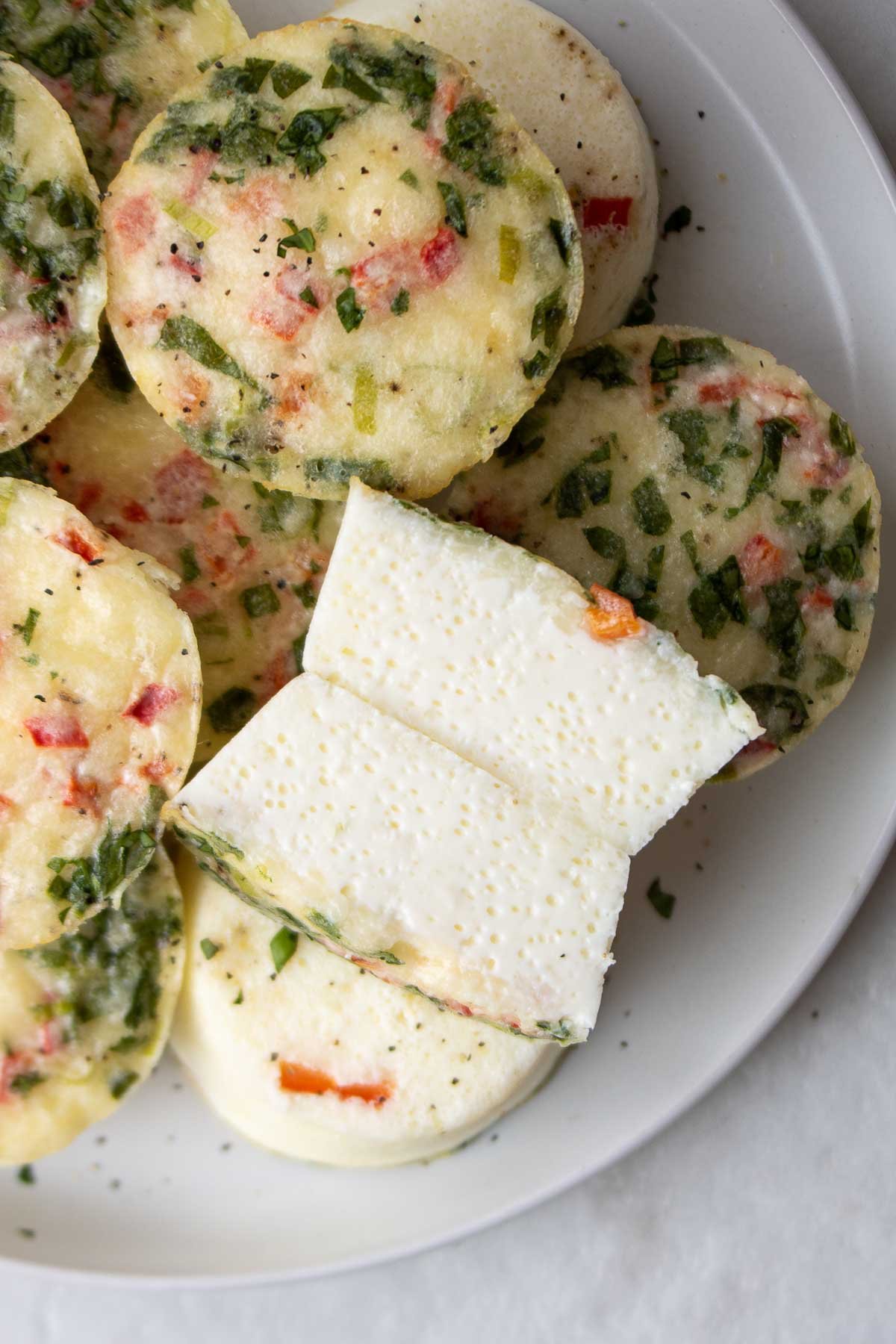 Advertisement:
Storage + Reheating
To Refrigerate: Allow the egg white bites to cool completely and store them in an airtight container in the fridge for 3 to 4 days.
To Freeze: After cooling, wrap each egg white bite in plastic wrap, place them in an airtight container, and store them in the freezer for 2 to 3 months.
To Reheat: Microwave the egg white bites for 30 seconds to 1 minute. Thaw frozen bites before reheating.
Egg White Bites
These copycat Starbucks egg white bites are easy to make and are a protein-packed, low-calorie, and low-carb breakfast or snack. Prepare them as part of your meal prep, and you'll have a delicious option for the entire week!
Advertisement:
Ingredients
2 cups liquid egg whites
1 cup cottage cheese
1 cup shredded Monterey jack cheese
1/4 cup crumbled feta cheese
1 tablespoon melted butter
1 tablespoon cornstarch (or arrowroot powder or tapioca starch)
1 dash of hot sauce
1/4 cup finely chopped spinach
1/4 cup finely diced roasted red pepper
2 tablespoons finely chopped green onion
Salt and black pepper
Instructions
Preheat the oven to 350°F and bring a kettle to a boil. If using a metal muffin pan, coat it with cooking spray or lightly grease the muffin cups with oil. If using a silicone muffin pan (recommended) or silicone molds, do not grease the muffin cups.
In a food processor or blender, add the egg whites, cottage cheese, shredded Monterey jack, feta, melted butter, cornstarch, and hot sauce. Blend for 30 seconds or until smooth. Set aside.
Add the chopped spinach, roasted red pepper, onion, and a pinch of salt and pepper into the bottom of each cup of the muffin pan, dividing it evenly among all 12 cups.
Pour the egg whites mixture into the muffin pan, dividing it evenly among all 12 cups. Give each cup a quick whisk with a fork.
Place the muffin pan on top of a baking sheet and transfer the sheet to the preheated oven with the muffin pan on top.
Once in the oven, pour boiling water onto the baking sheet (find an exposed corner with enough room to add water) until it reaches 1/2 to 3/4 of the way up the edges of the baking sheet. (While you can bake the muffin pan directly in the oven without the baking sheet and water, using them helps poach and steam the egg white bites, giving them a sous-vide texture.)
Bake for 20-22 minutes or until set.
After cooking, remove the baking sheet and muffin pan from the oven. Transfer the muffin pan to a wire cooling rack for about 10 minutes or until the egg white bites are cool enough to handle.
Once cooled, remove the egg white bites from the muffin cups and serve immediately or store them in an airtight container in the fridge for up to 4 days.
Notes
Liquid Egg Whites: You can typically find carton egg whites in the egg section of most major grocery stores.
Nutrition
Serving Size: 2 egg white bites
Calories: 178
Sugar: 3 grams
Fat: 9 grams
Carbohydrates: 6 grams
Fiber: 1 gram
Protein: 19 grams
NEXT: Vegetarian Chickpea Peanut Curry
Thanks for your SHARES!
Advertisement:
You May Also Like
Add a comment