Authentic Jamaican Jerk Chicken Recipe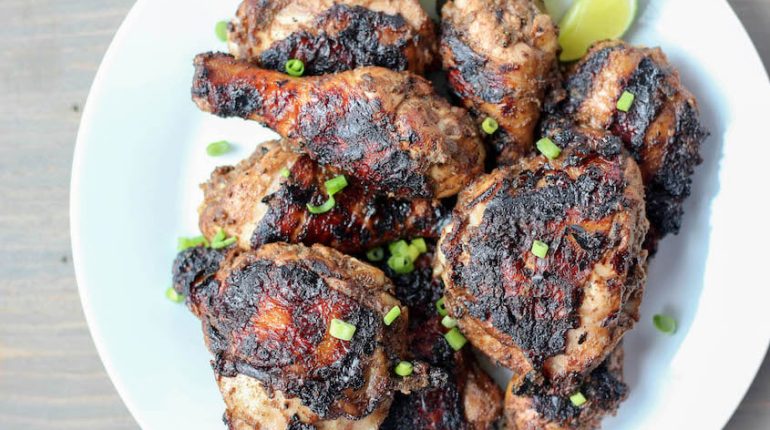 Posted October 5, 2023 by: Admin #Kitchen
This grilled Jamaican jerk chicken recipe offers a fiery, smoky, and intensely fragrant twist on a classic Jamaican dish. While it may not claim to be Grandma's authentic jerk chicken, it's undeniably delicious. My culinary journey began when I left my small hometown of 5,000 people in eastern Quebec for university. There, I explored a wide range of cuisines, including Greek, Thai, Indian, and Caribbean. To this day, my first experience at a Caribbean restaurant, savoring jerk chicken, remains vivid in my memory. It was love at first bite—the harmonious blend of fragrant, fiery, and smoky flavors instantly made me a jerk chicken enthusiast.
Advertisement: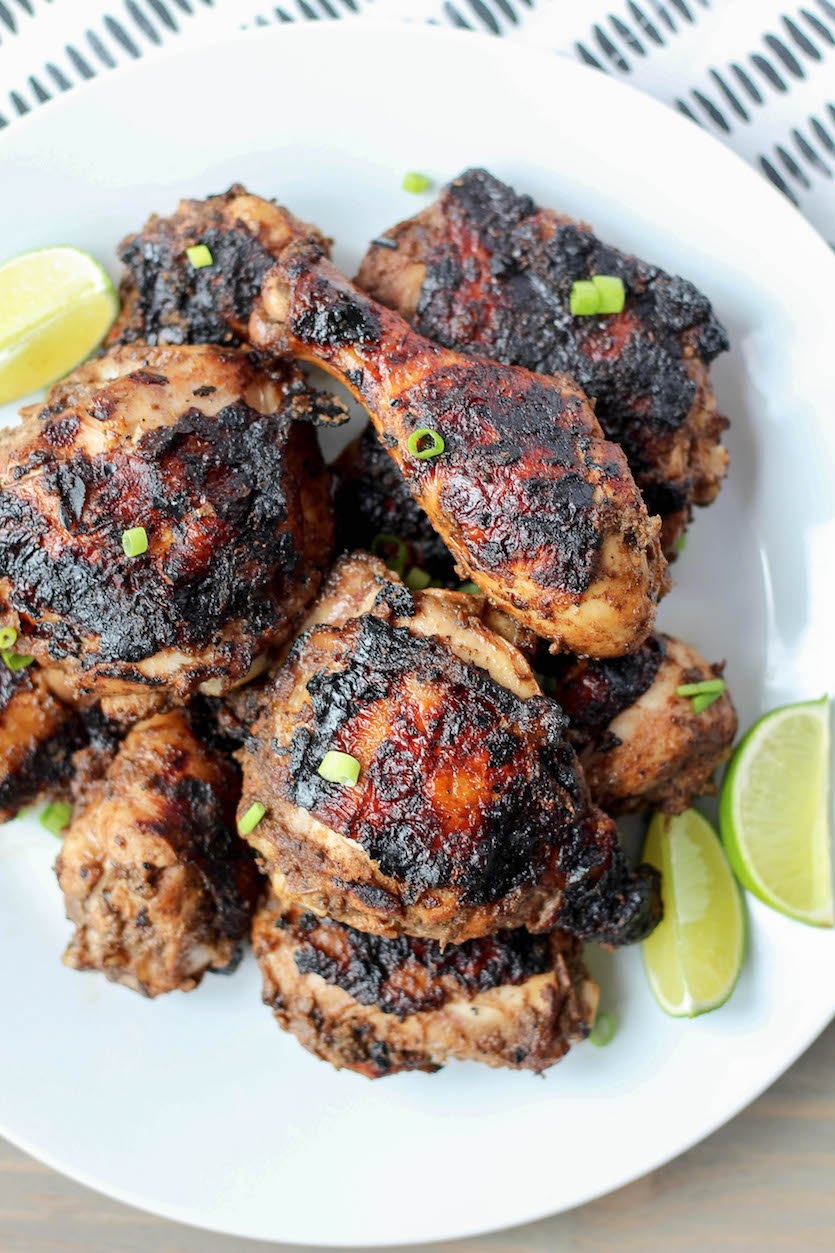 The term "jerk" refers to a spice rub consisting primarily of allspice berries and scotch bonnet peppers. Jerk is a dish with roots in Jamaican cuisine, although it is also found in various Caribbean regions. Authentic jerk chicken is grilled using pimento wood, which comes from the same tree that yields allspice berries. It traditionally features bone-in, skin-on chicken cuts, as they impart the richest and deepest flavors.
Contrary to popular belief, these fattier cuts of meat, such as legs, thighs, and wings, are not only delicious but also highly nutritious. They are rich in fat-soluble vitamins, more nutrient-dense than lean chicken breast, and arguably more flavorful.
Advertisement: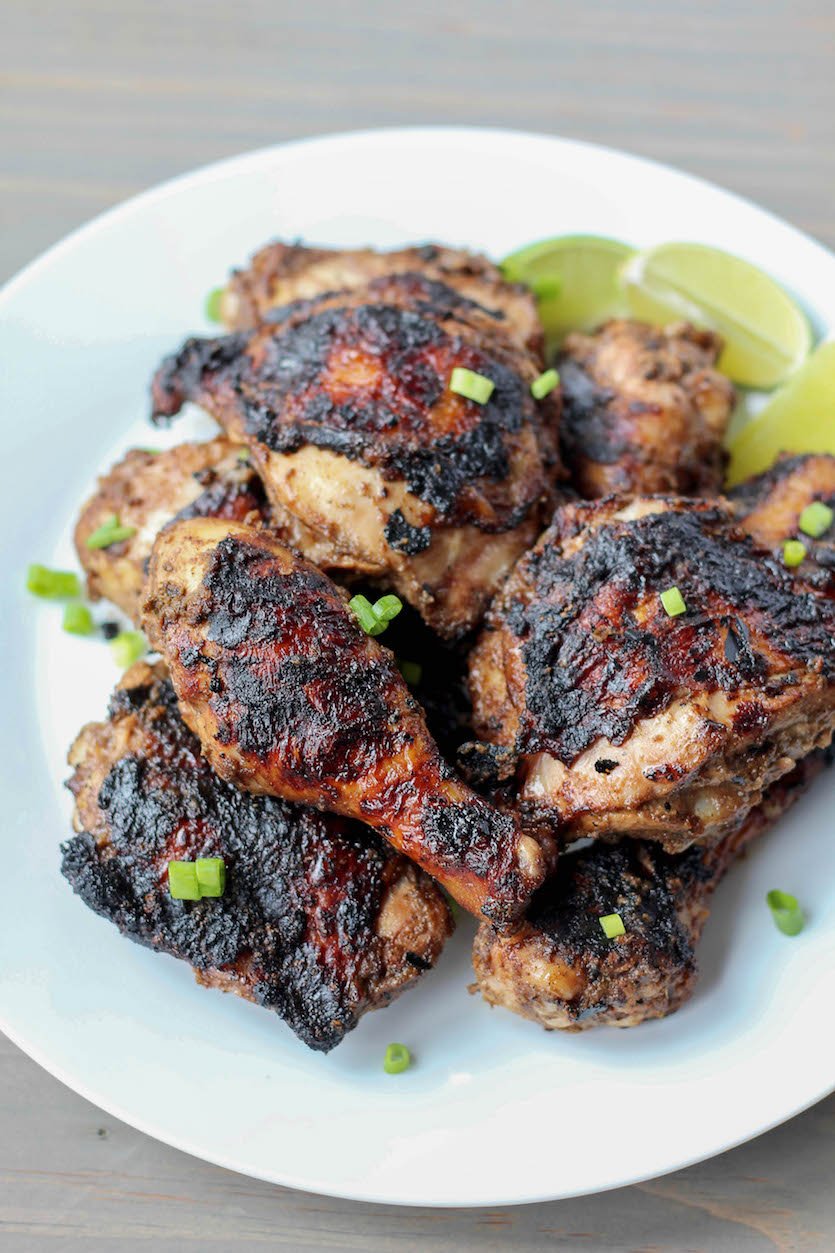 Grilled Jamaican Jerk Chicken
This grilled Jamaican jerk chicken recipe calls for bone-in, skin-on chicken thighs and drumsticks, although full legs can also be used.
Ingredients
8 pieces of skin-on, bone-in chicken thighs and drumsticks (about 2.5lbs)
1 small onion, roughly chopped
2 scallions, ends removed and roughly chopped
2 cloves of garlic
1–2 scotch bonnets or habanero peppers*, stems and seeds removed
1 1/2 teaspoons ground allspice
1/2 tablespoon dried thyme
1 teaspoon ground cinnamon
1/2 teaspoon ground nutmeg
1/4 teaspoon ground cloves
1 teaspoon black pepper
1/2 teaspoon sea salt
3 tablespoons soy sauce
1 lime, juiced
Olive oil, for greasing the grill
Scallions and limes for serving
Instructions
In a blender or food processor, combine all ingredients (excluding the chicken) and blend until a thick marinade forms.
Place the chicken pieces in a large bowl or plastic bag, cover them with the marinade, and refrigerate for at least 1-2 hours, preferably overnight. (The longer the marination, the more intense the flavors.)
When ready to cook, remove the chicken from the fridge at least 30 minutes before grilling to allow it to come to room temperature, ensuring even cooking.
Preheat the grill to medium-high heat, and lightly grease it with oil to prevent sticking.
Place the chicken, skin-side down, on the grill over medium heat and cook for 25 to 35 minutes, turning frequently, until fully cooked (internal temperature of 165°F).
Transfer the chicken to a plate and let it rest for 10 minutes before serving.
Serve the chicken with scallions and extra lime wedges.
Enjoy!
Notes
*Scotch bonnet peppers are extremely hot, so handle them with care and remember to wash your hands after handling them.
Advertisement:
Nutrition
Serving Size: 1 serving
Calories: 304 calories
Sugar: 2 grams
Fat: 21 grams
Carbohydrates: 6 grams
Fiber: 1 gram
Protein: 25 grams
Advertisement:
NEXT: Easy Roasted Cauliflower Recipe
Thanks for your SHARES!
Advertisement:
You May Also Like
Add a comment