Easy Tostada Recipe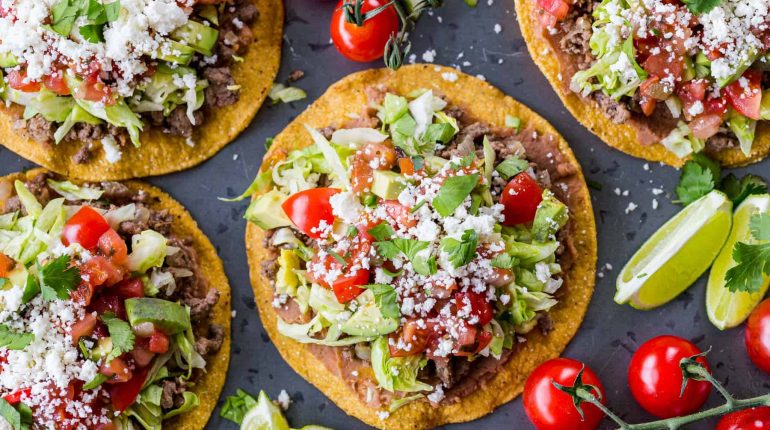 Posted November 9, 2023 by: Admin #Kitchen
Homemade tostadas are incredibly satisfying and easy to make. These tostadas are generously loaded with refried beans, savory beef, and a medley of the finest tostada toppings.  Serve your tostadas with some Mexican Street Corn and Taco Soup for an unforgettable Mexican-inspired meal.
Advertisement:
What Exactly Is a Tostada?
A tostada (pronounced tuh-staa-duh) is a flat, crunchy tortilla piled high with tantalizing taco toppings. The word "tostada" translates to "toasted" and refers to the crispy tortilla that's either toasted or deep-fried before being adorned with your favorite toppings.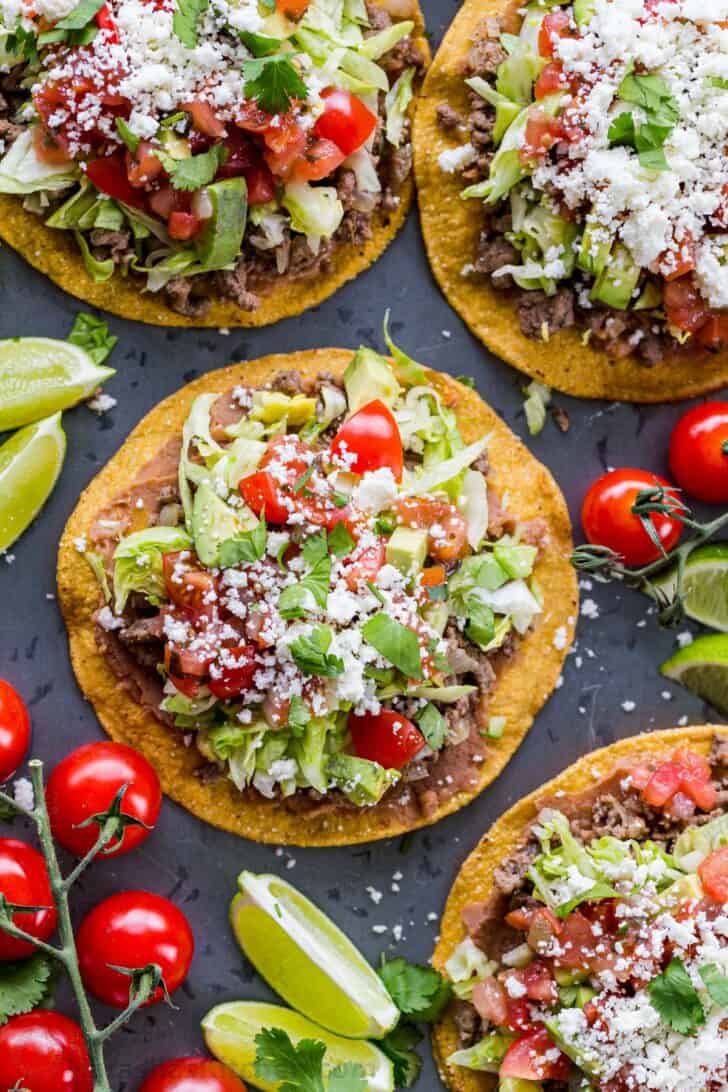 Tostadas are beloved in Mexico and other Latin American regions, where they're used as a base for various dishes. In Mexico, tostadas are often served with fresh proteins or enjoyed as snacks or sides to complement dishes like pozole or soup, especially Chicken Tortilla Soup.
Advertisement: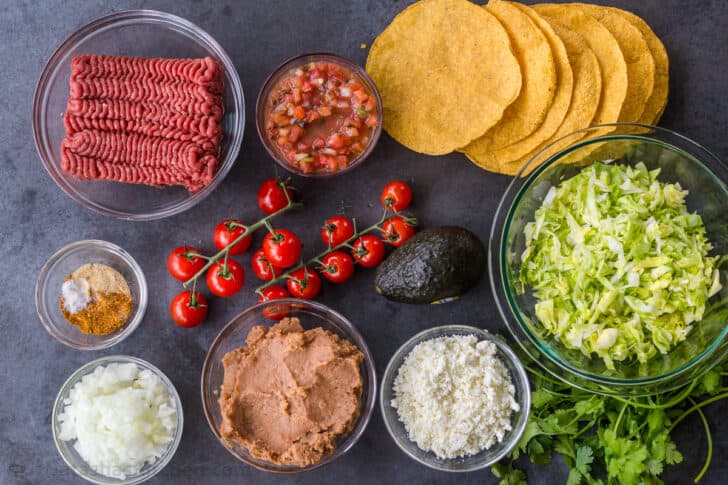 Crafting Tostada Shells
You have the option to purchase pre-made crunchy "tostadas" or make your own. To create tostada shells, you can either bake or fry them. We recommend baking for a healthier yet equally crispy alternative. It's a straightforward process:
Coat the Tortillas: Spray the tortillas with cooking spray or lightly brush them with oil.
Bake the Tortillas: Lay the tortillas flat on a baking sheet and bake at 415°F, flipping them halfway through. Continue baking until they become crispy and golden.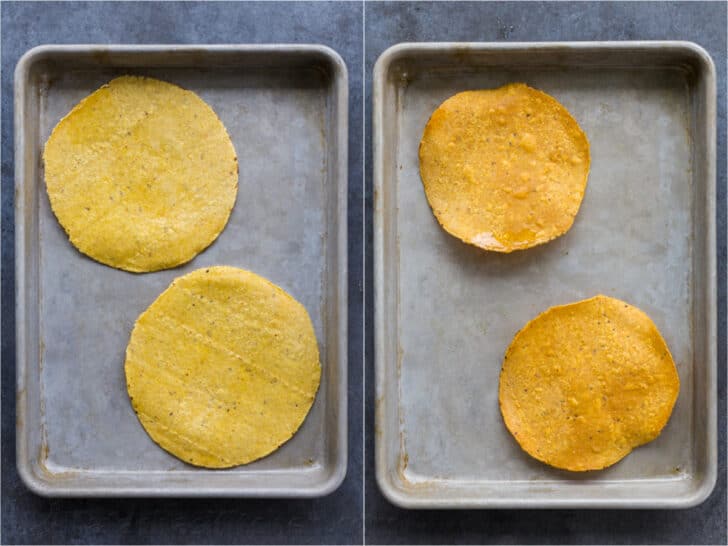 Advertisement:
Assembling Delicious Tostadas
Making tostadas is a quick and easy process. Preparing your toppings in advance streamlines the experience. Follow these simple steps to create your perfect tostadas:
Bake Tostada Shells: Refer to the easy instructions above to make the shells.
Prepare the Taco Meat: Cook the lean ground beef in a skillet, breaking it apart with a spatula. Season with garlic powder, taco seasoning, and salt to taste. Add the diced onion and cook until the onion is soft, translucent, and the beef is thoroughly cooked.
Prep the Toppings: Heat the refried beans either on the stove or in the microwave. Chop and prepare the remaining tostada toppings.
Serve: Start by spreading a layer of warm refried beans on the tostada shell, add the seasoned ground beef, and then finish with the remaining toppings before serving.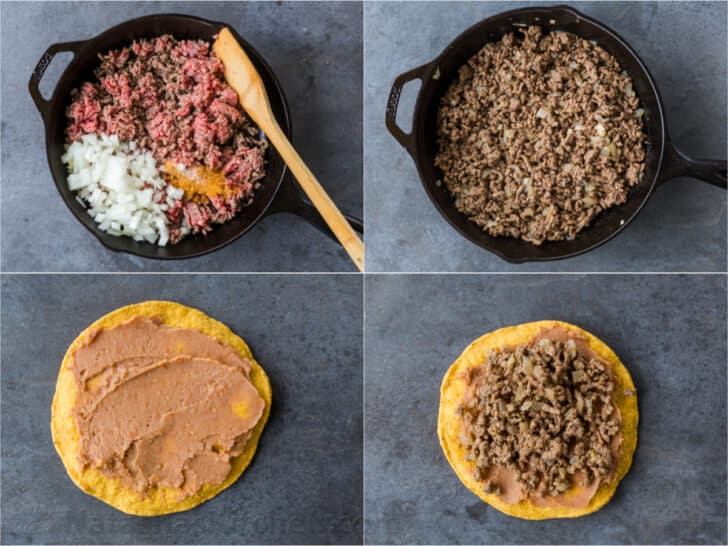 Pro Tip: Start with a layer of refried beans to help the other toppings adhere to the tostada.
Advertisement: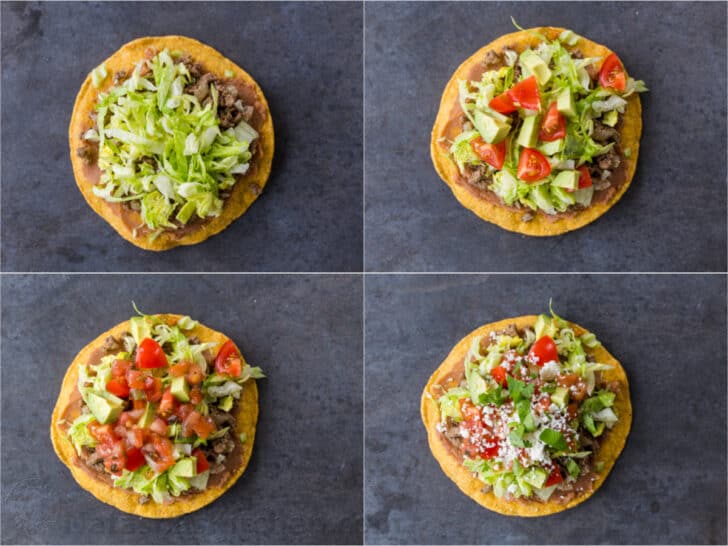 Tantalizing Tostada Toppings
When it comes to tostada toppings, the possibilities are endless. You can use both hot and cold ingredients. Our recipe includes some of our favorites, but feel free to use whatever you have on hand or prefer. Here are some top choices:
Iceberg Lettuce
Avocados
Tomatoes
Cilantro
Cheese (cotija or queso fresco)
Guacamole
Pico de Gallo
Lime wedges for that zesty touch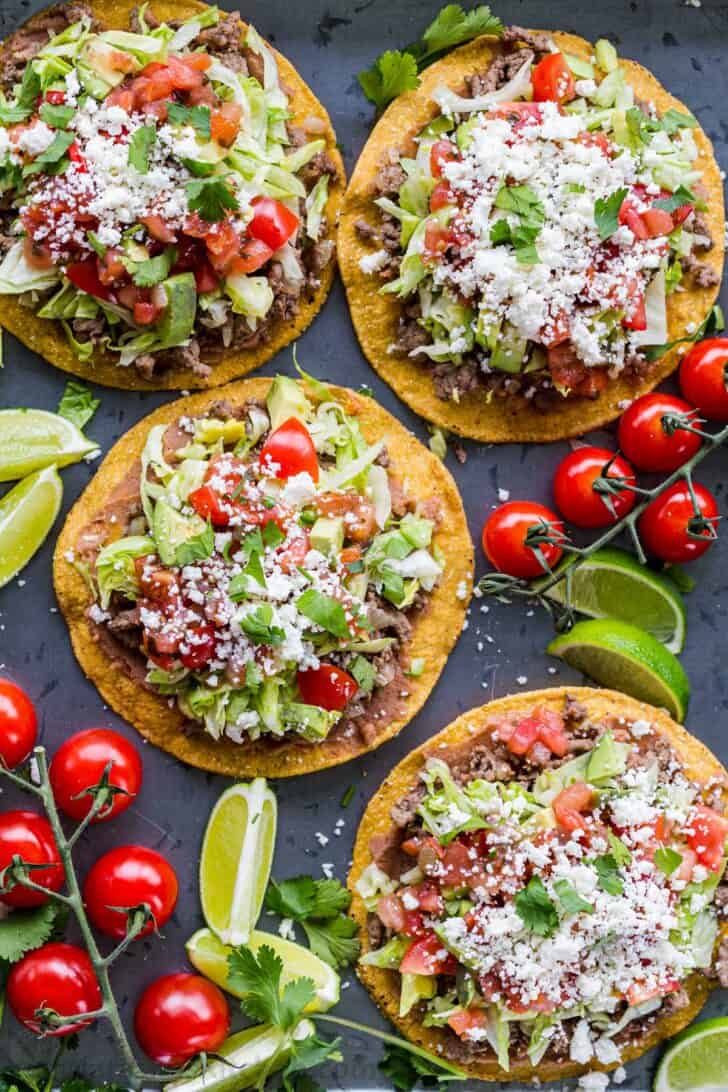 Common Questions
What Sets a Tostada Apart from a Tortilla?
A tostada is made from a tortilla that's been baked or fried to achieve a golden, crispy, and crunchy texture. It's similar to a tortilla chip, but a tostada uses the whole tortilla instead of triangular chips.
Advertisement:
How Does a Tostada Differ from a Taco?
A tostada is flat and served on a crispy tortilla shell, while tacos are typically made with soft corn or flour tortillas. The toppings used are similar for both tacos and tostadas. Essentially, a tostada is an open-faced, crispy taco.
What's the Best Way to Eat a Tostada?
Eating a tostada is as simple as biting into it, much like you would with a pizza. Tostadas can get a bit messy, so it's advisable to serve them over plates and keep a fork nearby to catch any fallen toppings.
Can I Substitute the Beef?
For a vegetarian twist, you can skip the ground beef. Alternatively, consider using Carne Asada, juicy shrimp from Shrimp Fajitas, or tilapia from Fish Tacos if you prefer seafood.
Advertisement: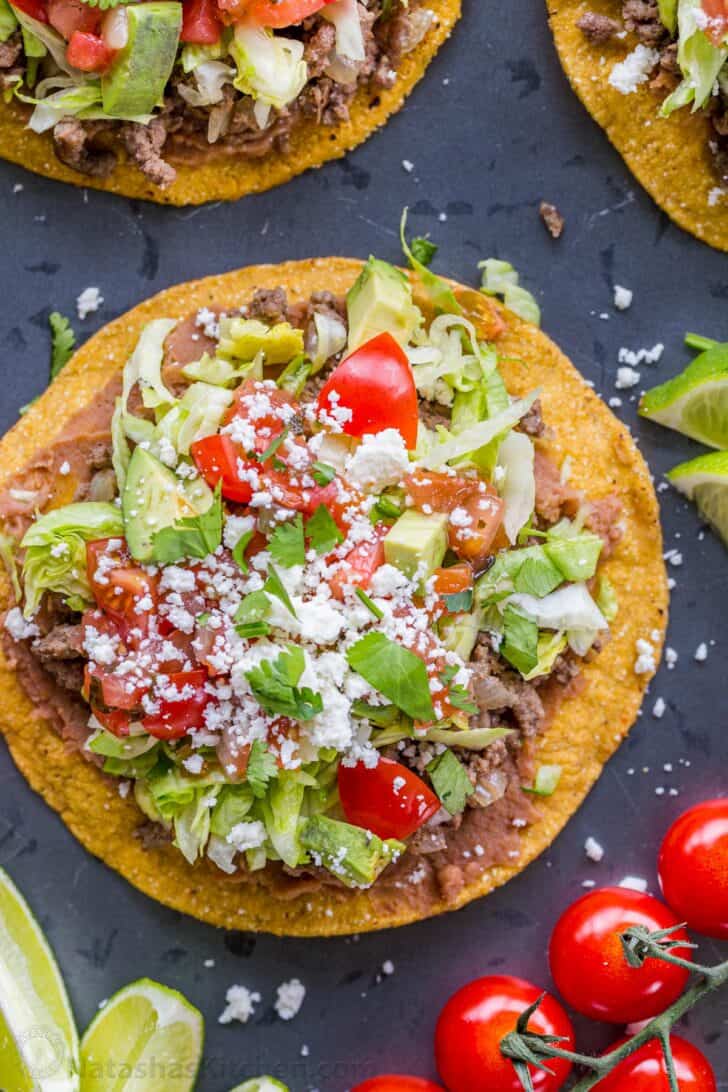 Creating homemade tostadas is a breeze, and you can even prepare the ingredients in advance if you're serving them at a party, allowing your guests to build their own tostadas.
Ingredients:
10 corn tortillas, or prepared tostadas
16 oz lean ground beef
1/2 yellow onion, diced
1 Tbsp taco seasoning
1/2 tsp garlic powder
1 tsp salt, or to taste
10 oz refried beans
2 cups iceberg lettuce, chopped
1/2 cup cotija cheese, or queso fresco, crumbled
1 cup tomatoes, chopped
1 avocado, diced
1 cup pico de gallo, or salsa
1/3 cup cilantro, chopped
Instructions:
Preheat the oven to 415°F. Spray both sides of the corn tortillas with oil. Lay them flat on a baking sheet. Bake in the preheated oven for 4 minutes, flip them over, and bake for another 5 minutes, or until the tortillas are crispy and golden.
In a skillet over medium-high heat, cook the lean ground beef, breaking it apart with a spatula. Season with garlic powder, salt, and taco seasoning. Add the diced onion and cook until the onion is translucent and the beef is fully cooked.
Reheat the refried beans in a skillet over medium-low heat or in a microwave until they are steaming hot.
To assemble, top each tostada with refried beans, ground beef, lettuce, tomatoes, avocado, and pico de gallo or salsa. Sprinkle some cheese and cilantro on top. Serve immediately.
Advertisement:
NEXT: Mirabelle plum tart Puff pastry recipe
Thanks for your SHARES!
Advertisement:
You May Also Like
Add a comment