Make-Ahead Asian Quinoa Salad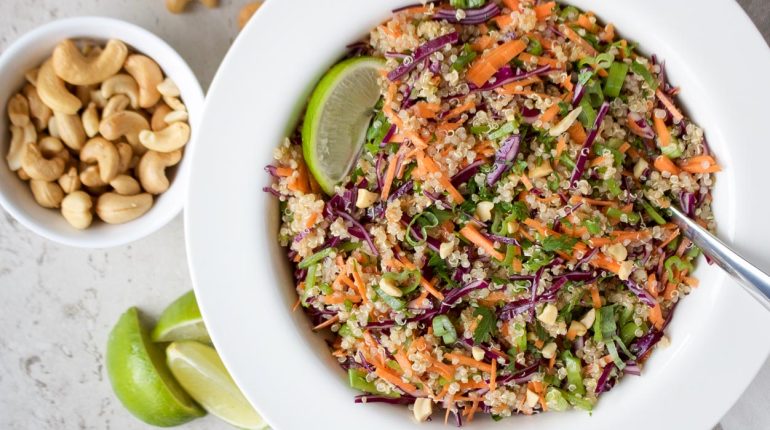 Posted October 16, 2023 by: Admin #Kitchen
Prepare in advance and relish this delightful Asian quinoa salad, boasting high fiber content, rich protein sources, and quick, hassle-free preparation. It's the ultimate solution for those seeking to elevate their weekday lunch meal prep. If you're a fan of make-ahead salads, don't miss the chance to try out this quinoa-based gem!
Advertisement: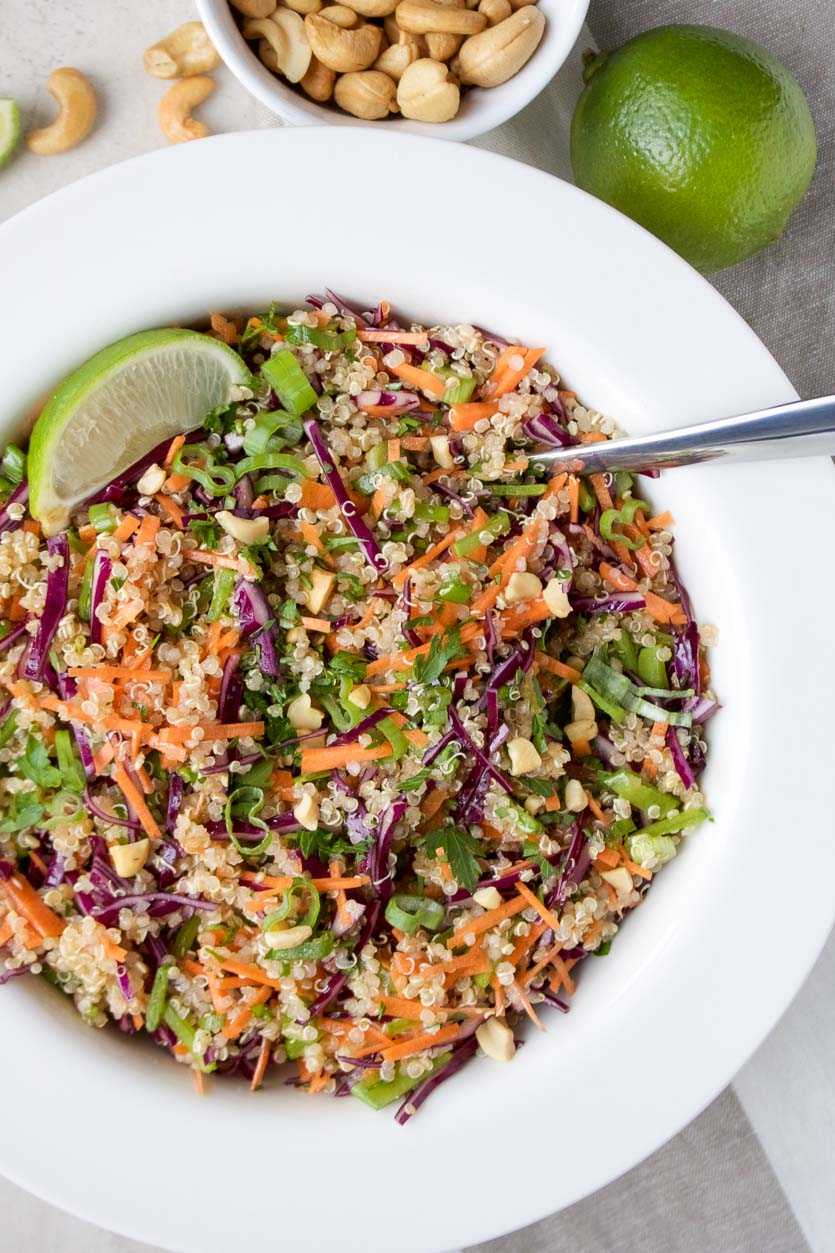 Delighting in a well-prepared salad is a culinary joy, but the real magic lies in the ability to craft a salad in advance. The beauty of batch-cooking a salad is having readily available, delectable meals at your fingertips for days to come. Sadly, the traditional leafy green salads don't quite fit the bill for this purpose.
Their textures deteriorate, and they tend to get soggy when left in the refrigerator. In contrast, grain and legume-based salads shine in this department. These salads, thanks to their robust and substantial nature, can withstand the test of time in the fridge, even when dressed. You can create them without worrying about spoilage, ensuring that you'll have fresh, satisfying meals whenever you crave them.
Advertisement:
While beans are a popular choice for make-ahead salads, grains like farro, millet, rice, and quinoa also excel in this role. The inclusion of quinoa adds a plant-based protein punch to any meal. Make-ahead salads aren't just limited to being the main course; they can also serve as a side dish or be upgraded with grilled chicken or steak to transform into a heartier meal.
Wholesome Asian Quinoa Salad for the Future
This Asian quinoa salad, designed for advance preparation, is a simple and speedy meal prep solution that you can conveniently store in the refrigerator for up to five days. Prepare it over the weekend, and you'll have nutritious lunches ready for days to come.
Ingredients
Salad:
3/4 cup dry quinoa
2 cups shredded cabbage
2 shredded carrots
1 cup thinly sliced snow peas
1 thinly sliced green onion
1/4 cup chopped cilantro
1/4 cup roughly chopped cashews (for garnish)
Dressing:
3 tablespoons olive oil
1 tablespoon sesame oil
1 tablespoon soy sauce, tamari, or coconut aminos
1 tablespoon rice vinegar
1/2-inch grated ginger root
Instructions
In a small pot, combine quinoa with 3 cups of water. Bring it to a boil, then reduce the heat to a simmer and cook for 12-15 minutes or until the quinoa is done. Once cooked, strain the quinoa using a fine mesh strainer to remove excess water. Rinse it under cold water to cool rapidly. Set it aside. (This method of cooking quinoa is recommended, but feel free to use your preferred method.)
While the quinoa is cooking, prepare the vegetables and dressing. Grate and chop all the vegetables, and in a small jar or container, combine all the dressing ingredients. Whisk the mixture until well combined. Set it aside.
Once the quinoa has cooled completely, combine it in a large bowl with all the vegetables. Pour the dressing over the salad, ensuring even coverage. Toss the salad thoroughly to combine all the elements.
Season the salad to your liking and garnish with cashews before serving.
You can enjoy the salad immediately, or store it in an airtight container in the refrigerator for up to five days.
Nutrition
Serving Size: 1 serving
Calories: 495 calories
Sugar: 9 grams
Fat: 20 grams
Carbohydrates: 64 grams
Fiber: 18 grams
Protein: 19 grams
Advertisement:
NEXT: Easy Taco Soup Recipe
Thanks for your SHARES!
Advertisement:
You May Also Like
Add a comment