Delicious Chicken Burrito Casserole Recipe for Easy Weeknight Dinners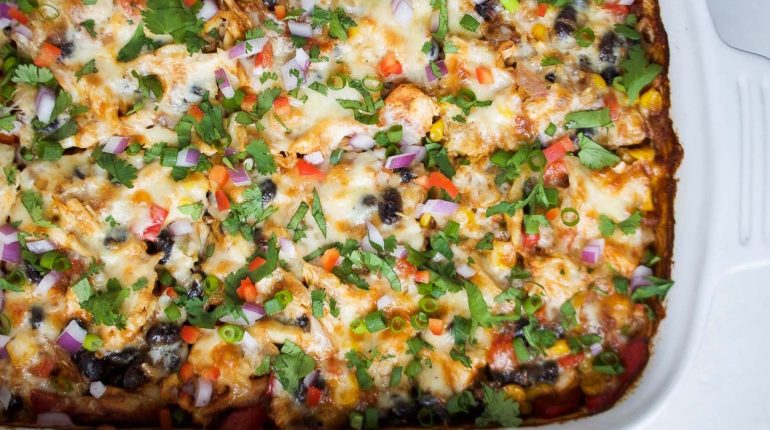 Posted October 3, 2023 by: Admin #Kitchen
Indulge in the essence of a burrito, all encapsulated within a single, convenient dish – the Chicken Burrito Casserole. This delectable creation makes for the perfect weeknight meal. It's brimming with rice, shredded chicken, beans, and an array of veggies, all generously crowned with a layer of cheese. Whether you desire a wholesome lunch, dinner, or an efficient meal prep option, this recipe has you covered.
Advertisement: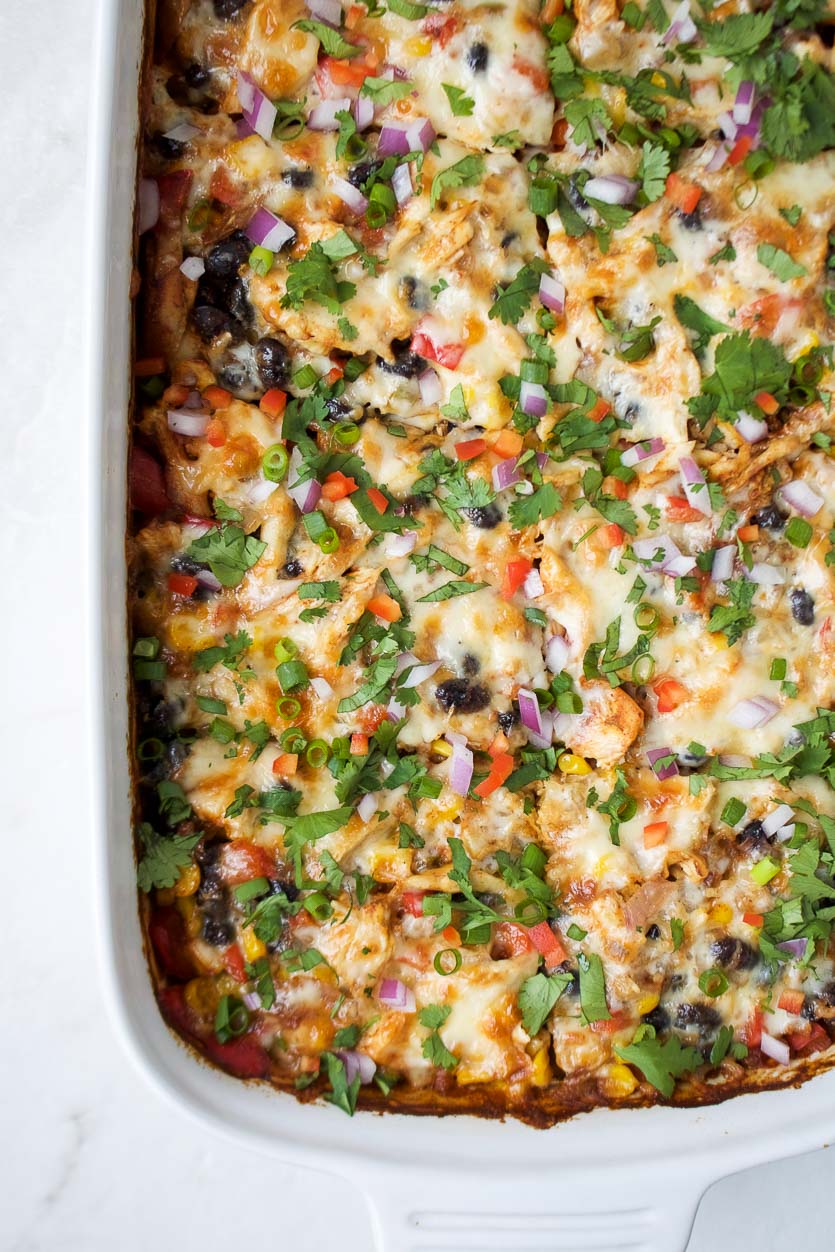 Nothing quite compares to a one-pot meal that requires minimal effort, allowing you to step away and let the oven work its magic. The Chicken Burrito Casserole fits that bill perfectly! Not only is it incredibly easy to prepare (and I do mean incredibly!), but it's a well-balanced meal, offering a combination of carbohydrates, protein, and healthy fats that suits both lunch and dinner occasions. Loaded with rice, beans, and a generous serving of vegetables, it's an excellent choice for meal prepping or a straightforward weeknight dinner plan that leaves you with satisfying leftovers for days to come.
This Chicken Burrito Casserole calls for pre-cooked chicken, making it an ideal dish to utilize leftover chicken or simply pick up a rotisserie chicken from the store to save on prep time!
Advertisement:
Chicken Burrito Casserole
Packed with protein, fiber, and a medley of vegetables, this wholesome Chicken Burrito Casserole serves as a fantastic meal prep idea or a straightforward weeknight dinner.
Ingredients
1/2 red onion, diced
1 red bell pepper, diced
1 jalapeño, minced
1 cup dry long-grain white rice, basmati, or jasmine
2 tablespoons chili powder
1 teaspoon garlic powder
1 teaspoon cumin
1/2 teaspoon oregano
1/2 teaspoon sea salt
1 cup corn kernels, frozen
14oz can black beans, strained and rinsed
450g cooked chicken, shredded (6 cups or 3 chicken breasts)
3 1/2 cups chicken broth
1 tablespoon olive oil
2 tablespoons tomato paste
150 grams Monterey Jack or Havarti cheese, grated
Cilantro, to serve
Green onion, to serve
Instructions
Start by preheating your oven to 400°F. If you don't have pre-cooked chicken, bake the chicken breasts in the oven for 25 minutes. Once cooked, place the chicken on a cutting board and use two forks to shred it into bite-size pieces.
In a large baking dish (I used a 9 x 13 inch dish), combine the diced onion, bell pepper, jalapeño, rice, chili powder, garlic powder, cumin, oregano, and salt. Mix them thoroughly.
In a separate bowl or measuring cup, whisk together the chicken broth, tomato paste, and olive oil until well combined.
Transfer the broth mixture to the baking dish and stir to combine it with the rice mixture.
Add the shredded chicken, black beans, and corn to the baking dish and give it one final stir until everything is well incorporated.
Cover the baking dish with aluminum foil and then place it in the oven to bake for 50-60 minutes or until all the liquid is absorbed.
Once done, remove the baking dish from the oven, discard the aluminum foil, and sprinkle the grated cheese over the top.
Return the baking dish to the oven for a final 5-10 minutes or until the cheese has melted and turned slightly golden.
Take it out of the oven, allow it to cool slightly, and serve with a garnish of fresh cilantro and green onion, as desired.
Nutrition
Serving Size: 1 slice
Calories: 361 calories
Sugar: 4 grams
Fat: 11 grams
Carbohydrates: 37 grams
Fiber: 6 grams
Protein: 28 grams
Advertisement:
NEXT: Turkey Taco Skillet Recipe
Thanks for your SHARES!
Advertisement:
You May Also Like
Add a comment