Instant Pot White Chicken Chili Recipe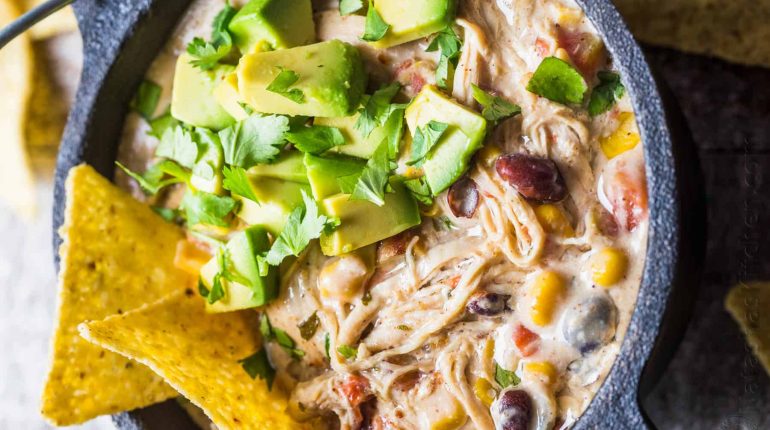 Posted November 10, 2023 by: Admin #Kitchen
Experience the magic of White Chicken Chili in less than an hour with melt-in-your-mouth tender chicken, courtesy of the Instant Pot. This quick and easy recipe has become a favorite in our Instant Pot collection. Simply stir everything together, top with cream cheese, and set for 20 minutes. So EASY!
Advertisement: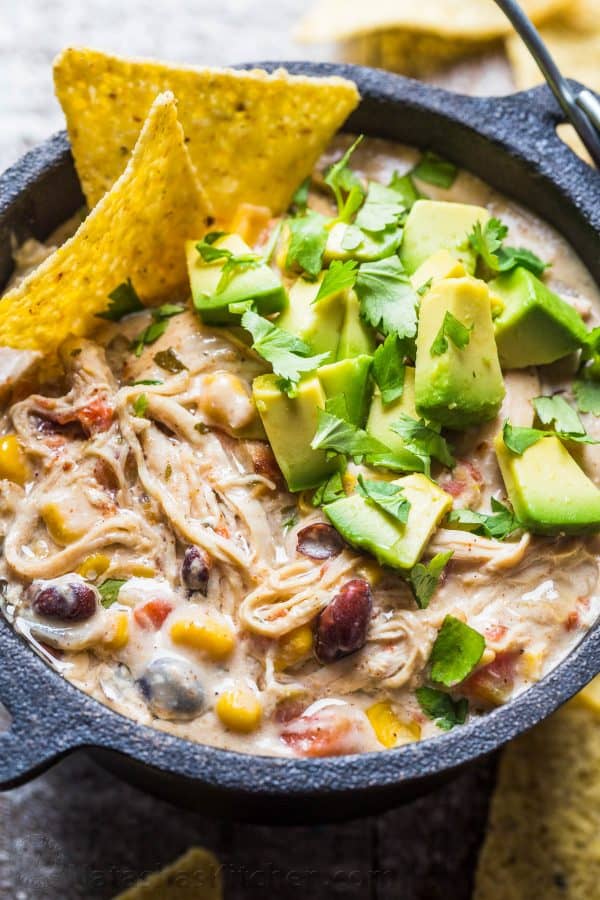 Instant Pot White Chicken Chili!
We have a love for chili, and this Instant Pot version with white beans and chicken is a delightful addition to our repertoire. The Instant Pot ensures you can savor a piping hot bowl of this hearty dish in no time!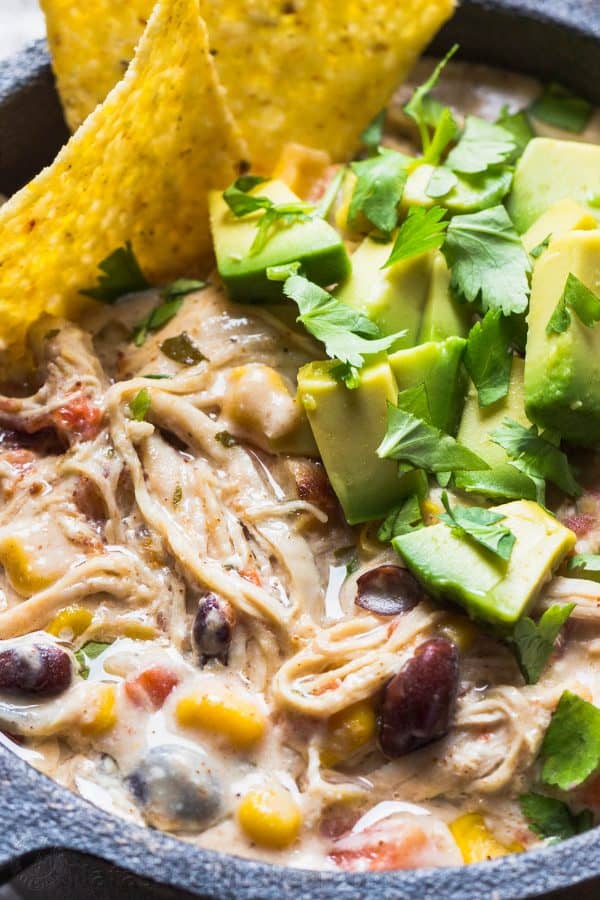 Advertisement:
Ingredients for White Chicken Chili:
Over the years, we've made this recipe healthier by opting for organic produce and non-BPA-lined cans. Feel free to use home-cooked beans, your own bone broth, and freshly cooked corn on the cob (if using fresh corn, use 1 cup of chicken broth instead of 1/2 to compensate for the lost liquid).
Choosing the Right Ranch Dressing Mix:
Various ranch mix brands come in different sizes, so ensure it's enough to make 16 oz of dressing or dip per the package instructions. For instance:
Hidden Valley brand ranch packets come in a more concentrated 0.4 oz packet yielding 2 cups of ranch.
Simply Organic ranch dip used here comes in a 1.5 oz packet, also yielding 2 cups of ranch dip.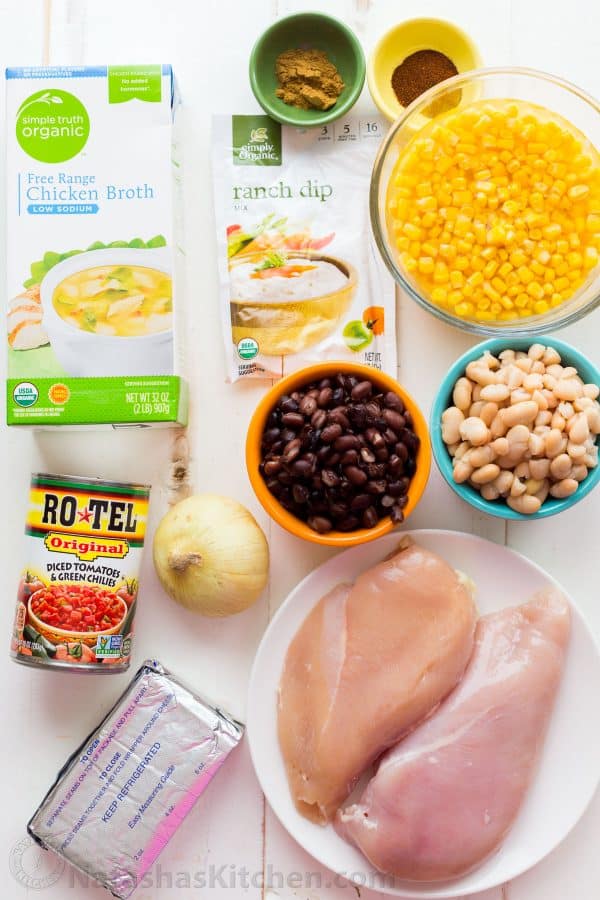 Advertisement:
Using an Instant Pot:
**CAUTION: If you are new to using the pressure cooker, always read the instruction manual and safety warnings for your machine, as different brands or models might have a different process and settings for use.
Pour yourself a cup of coffee and channel your inner nerd to read through the instructions. Instant Pots are fabulous tools for speedy cooking, but they must be used properly.
How to Make White Chicken Chili:
Step 1: Combine everything in your Instant Pot and stir together.
Advertisement:
Step 2: Top with cream cheese and set on manual high pressure for 20 minutes. It will warm up, cook for 20 minutes, then let it naturally depressurize for 10 minutes.
Step 3: Remove chicken, shred, then put it back and stir everything together.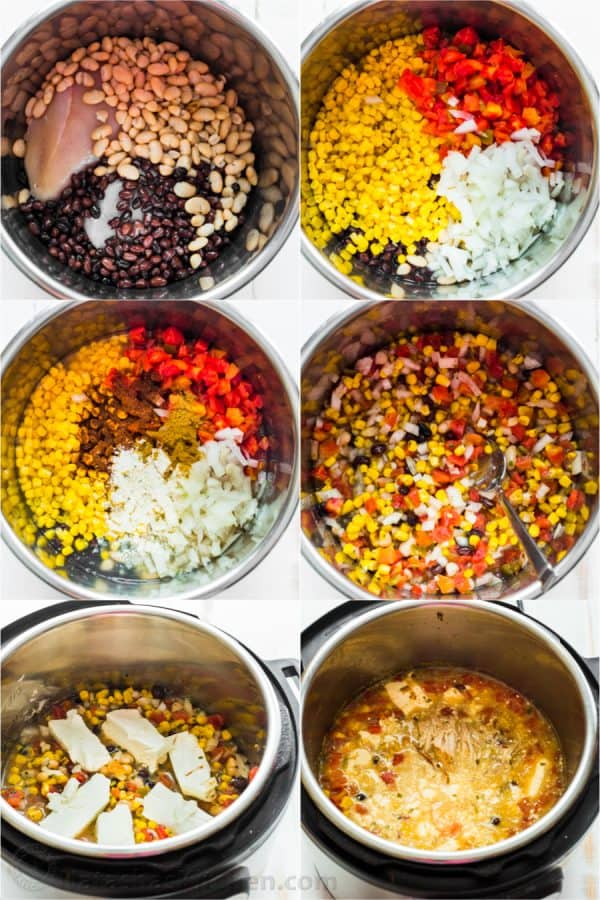 The shredded chicken absorbs the liquid, becoming super juicy and melt-in-your-mouth tender. Instant Pot chicken is the only way to get super tender chicken this fast!
Advertisement: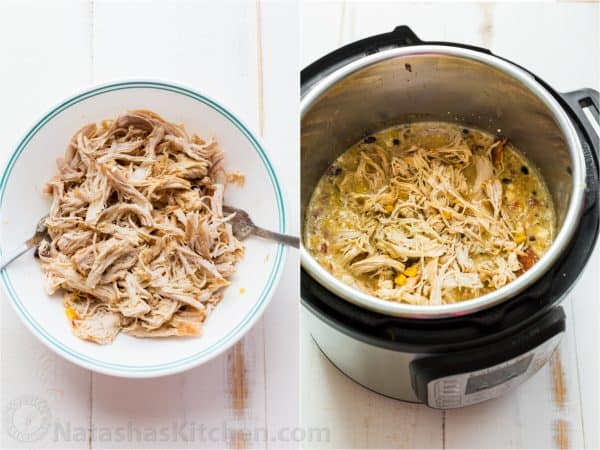 How to Serve White Chicken Chili:
White chicken chili can be served over baked potatoes or as an appetizer with tortilla chips. Garnish with:
Avocado
Cilantro
Shredded Cheese
Sour Cream
Jalapeños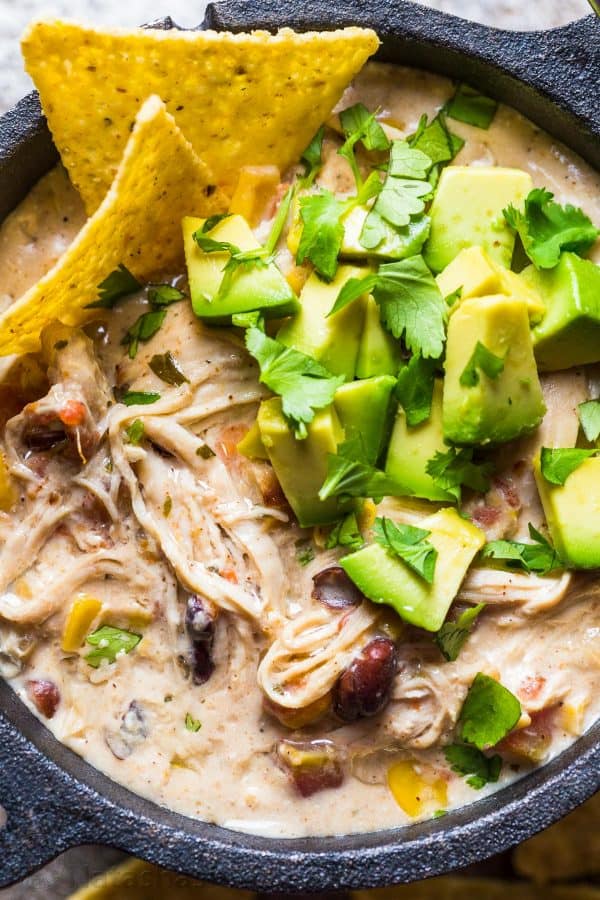 Advertisement:
Optional Toppings and Serving Suggestions:
Place all your ingredients into your Instant Pot bowl in the following order: 2 chicken breasts, drained black and white beans, chopped onion, corn with juice, tomatoes with juice, and 1/2 cup chicken broth.
Add 1/2 to 1 tsp chili powder (use 1/2 tsp to make it kid-friendly), 1 tsp cumin, ranch packet. Stir everything to combine, getting some of the juice under the chicken to keep it from scorching.
Cut cream cheese into 6 pieces and place over the top of chili. Cover and seal with the lid, switch the valve to the "sealing" position, and cook for 20 min on manual high pressure. Once it is done cooking, let it naturally depressurize for 10 min, then switch the valve to the "venting" position to completely release steam before opening the lid.**
Remove the chicken breasts to a plate and shred apart with 2 forks. Stir everything together in the pot to melt the cream cheese into the chili, then return the shredded chicken and stir to combine. Serve garnished with avocado and cilantro if desired.
*Ranch Dressing mixes come in differing sizes (0.4 to 1.5 oz). It should be enough to make 16 oz of dressing or dip per package instructions.
NEXT: Easy Creme Brulee Recipe
Thanks for your SHARES!
Advertisement:
You May Also Like
Add a comment