Chicken Tortilla Casserole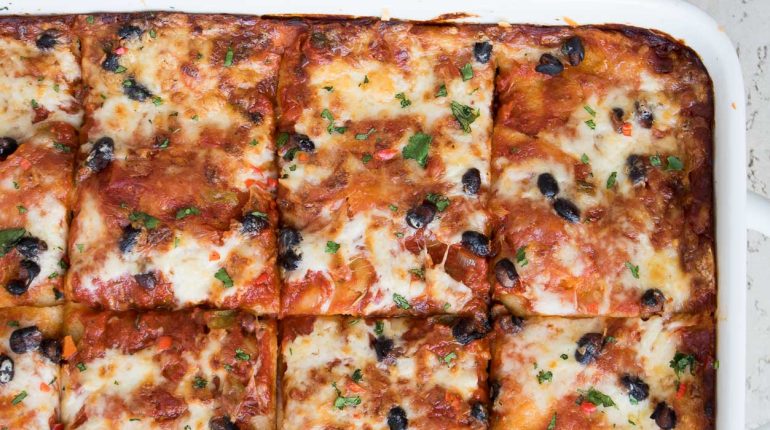 Posted October 3, 2023 by: Admin #Kitchen
This chicken tortilla casserole is a delicious and balanced meal featuring chicken, black beans, sweet potatoes, and layers of corn tortillas, all topped with cheese. You can easily whip up this enchilada-inspired casserole on a hectic weeknight, ensuring you'll have leftovers for future healthy meals.
Advertisement: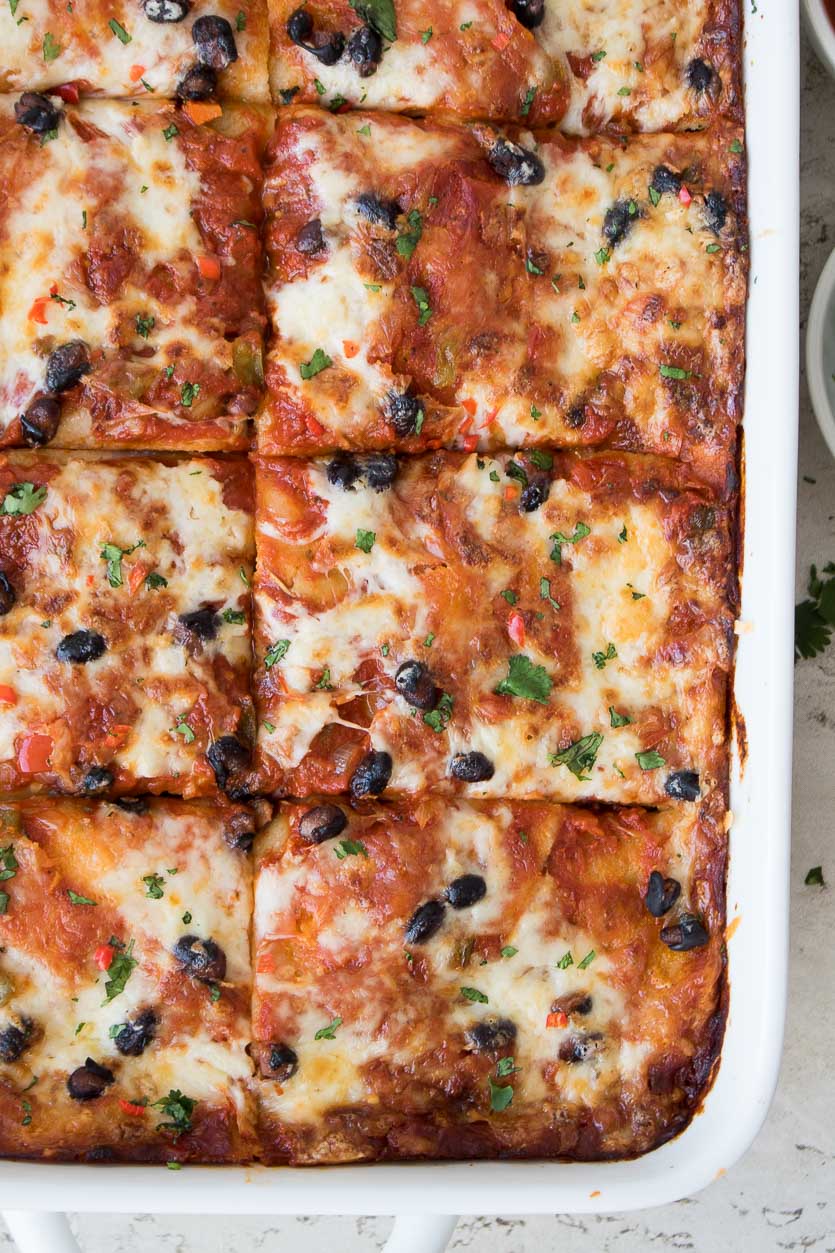 How to Prepare Chicken Tortilla Casserole
This chicken tortilla casserole recipe combines elements of chicken enchilada casserole and lasagna into a single dish. Here's a step-by-step guide:
**Prepare the Chicken:** The main protein in this casserole is chicken. While shredded chicken breasts are recommended for their quick cooking time, you can use rotisserie chicken, leftover roast chicken, chicken thighs, or chicken legs for added flavor.
Advertisement:
**Prep the Vegetables:** Peel and dice the sweet potatoes, partially cook them on a baking sheet, chop the remaining vegetables, and rinse the black beans.
**Make the Sauce:** A vegetable-filled tomato sauce binds this casserole, enhancing its fiber and micronutrient content.
**Layer the Casserole:** Once the chicken is shredded, sweet potatoes are partially cooked, black beans are strained, and the sauce is prepared, start building the casserole. Fill a prepared baking dish with alternating layers of tortillas, sweet potatoes, black beans, and sauce, followed by tortillas, chicken, and sauce until all ingredients are used, filling the casserole dish.
Advertisement:
**Bake the Casserole:** Transfer the prepared casserole to the oven for baking.
**Sprinkle with Cheese:** Just before the casserole is ready, remove it from the oven and cover the top with shredded Monterey Jack or Havarti cheese. Alternatively, sharp cheddar cheese can be used if preferred.
**Bake Again:** Return the casserole to the oven and bake until the cheese melts and the top turns golden brown.
Advertisement:
**Slice and Serve:** Once the casserole is done, slice and serve as-is or with your choice of toppings.
Substitutes for Corn Tortillas
For optimal results, white corn tortillas are recommended, as they offer a softer texture compared to yellow corn tortillas, providing better structure for the casserole. If you don't have access to corn tortillas, flour tortillas can be used as an alternative.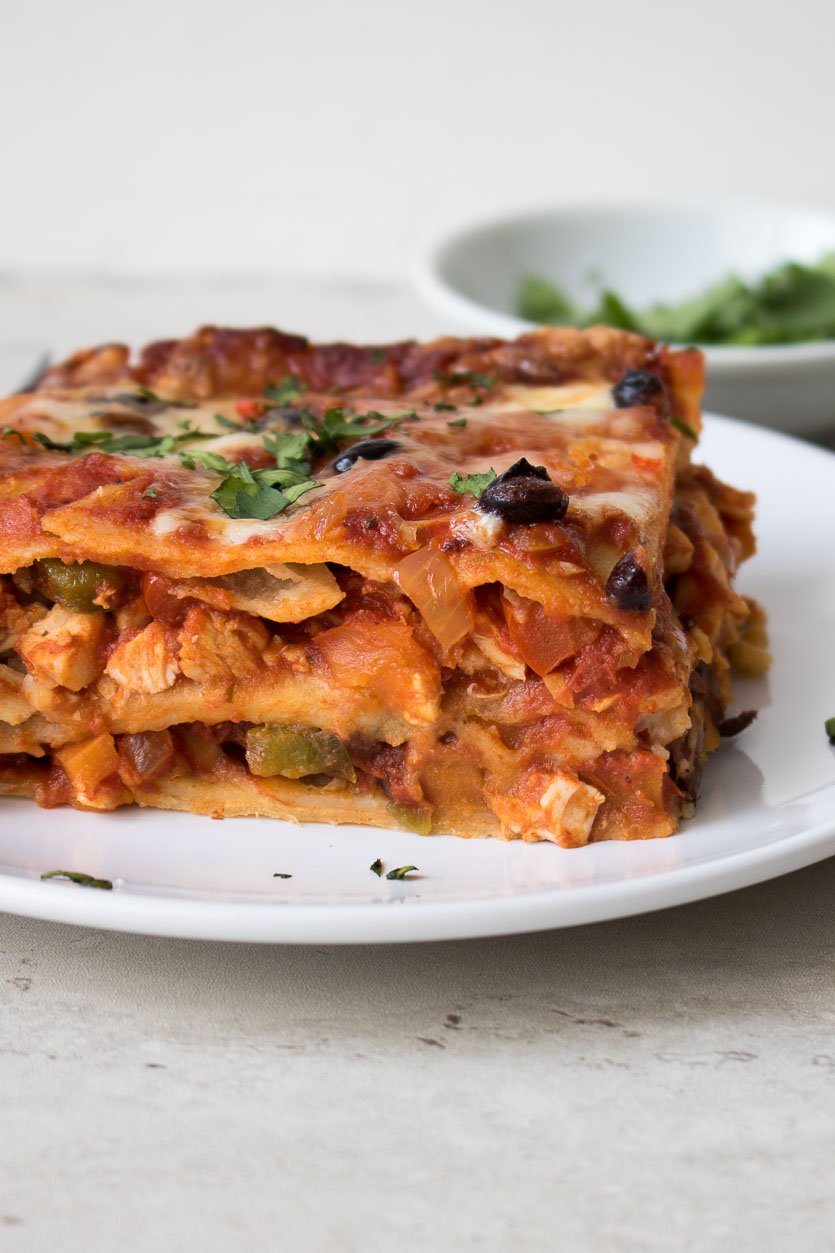 Serving Ideas for Chicken Tortilla Casserole
This easy and cheesy chicken tortilla casserole combines the comfort of classic comfort food with a healthy, well-rounded meal rich in protein, fiber, and healthy fats. You can enjoy the casserole on its own, hot or cold, with various toppings and side dishes. Consider the following options:
– Sour cream
– Salsa
– Avocado
– Guacamole
– Fresh cilantro
– Tortilla chips
– Mexican rice
– Green salad
Advertisement:
Storage and Reheating
**Refrigeration:** Once cooled, store the casserole in the original baking dish, covered with plastic wrap or aluminum foil, or in a separate airtight container in the refrigerator for up to 5 days.
**Freezing:** The casserole can be stored in an airtight container, either as a whole or in individual portions, in the freezer for up to 3 months. If you choose to freeze it in the baking dish, ensure it is tightly covered with aluminum foil and plastic wrap before placing it in a freezer-safe bag.
**Reheating:** For best results, thaw and/or bring the casserole to room temperature before transferring it to an oven preheated to 350°F for 15-20 minutes or until thoroughly heated. Alternatively, you can reheat individual portions in the microwave for 1-2 minutes or in 30-second intervals until warmed through.
Advertisement:
Chicken Tortilla Casserole
This Mexican-inspired chicken tortilla casserole is both easy to prepare and bursting with flavor. Additionally, it stores well in the refrigerator or freezer, ensuring you have nutritious meals ready for days to come.
Ingredients
2 chicken breasts, cooked and shredded (3–4 cups)
1 sweet potato, diced
1 1/2 tablespoons olive oil
1 red onion, diced
1 red bell pepper, diced
1 green bell pepper, diced
4 cloves garlic, minced
1 can (28 oz.) crushed tomatoes
1 tablespoon chili powder
1 teaspoon cumin
1 teaspoon paprika
1 teaspoon oregano
1/4 teaspoon cayenne pepper (optional)
1 teaspoon salt
1 can (14 oz.) black beans, strained and rinsed
15 corn tortillas
1 cup chicken broth, or water
1 1/2 cups  (5 oz.) grated Monterey Jack cheese or Havarti cheese
Instructions
Preheat the oven to 375°F and greasea 9×13-inch baking dish with a drizzle of olive oil or cooking spray.
If the chicken isn't already cooked, place the chicken breasts on a baking sheet and bake in the oven for 25 minutes or until cooked through. Once cooked, shred the chicken into bite-size pieces using two forks.
On a large baking sheet or tray, add diced sweet potatoes, drizzle with 1/2 tablespoon of olive oil, and bake for 20 minutes or until tender. They can have a slight bite to them as they will cook further in the casserole.
In a large pot over medium heat, warm the remaining tablespoon of olive oil. Add diced red onion and cook for 3-4 minutes until tender. Then, add diced bell peppers and garlic and cook for an additional 2-3 minutes until all the vegetables are tender.
After the vegetables have cooked, add chili powder, cumin, paprika, oregano, cayenne pepper (if using), and salt to the pot. Stir to coat the vegetables and cook for about 30 seconds until fragrant.
Add the can of crushed tomatoes and chicken broth to the pot. Stir to combine with the vegetables, reduce the heat to a simmer, and continue cooking, stirring occasionally, for 10 minutes or until it's time to assemble the casserole.
Once the sweet potatoes are cooked, set them aside, and proceed to build the casserole.
Begin by layering the bottom of the greased 9×13-inch baking dish with tortillas (approximately 5), overlapping them as needed to ensure even coverage. You can cut some in half for better coverage.
On top of the tortilla layer, add cooked sweet potatoes and black beans, spreading them evenly across the dish. Then, cover with approximately 1/3 of the tomato and vegetable mixture (about 4 ladlefuls) until well covered. Follow with another layer of tortillas, overlapping as needed for complete coverage.
For the second tortilla layer, add shredded chicken and half of the tomato and vegetable mixture (reserving some for the top layer). Spread it evenly across the dish to ensure the chicken is well coated with sauce.
Create a final layer of tortillas, top with the remaining sauce, ensuring even coverage over the tortillas, and finish with shredded cheese.
Cover the baking dish with aluminum foil and return it to the oven to bake for 35 minutes. Once done, remove the foil and bake uncovered for an additional 10-15 minutes, or until the cheese is melted, bubbling, and the top has a slight golden color.
After baking, allow the casserole to rest for 5 minutes before serving. Serve warm with your desired toppings.
Leftovers can be stored in an airtight container in the refrigerator for up to 5 days or in the freezer for up to 3 months.
Nutrition
Serving Size: 1 serving
Calories: 381 calories
Sugar: 8 grams
Fat: 13 grams
Carbohydrates: 44 grams
Fiber: 10 grams
Protein: 24 grams
Advertisement:
NEXT: Futomaki Sushi Recipe
Thanks for your SHARES!
Advertisement:
You May Also Like
Add a comment