Savory Breakfast Muffins Recipe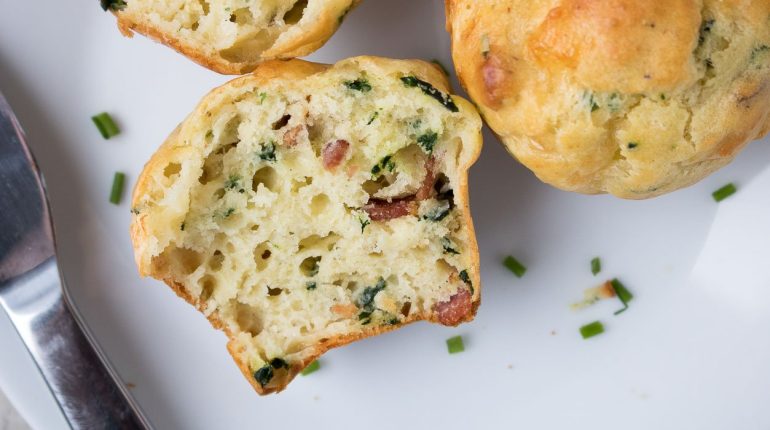 Posted October 6, 2023 by: Admin #Kitchen
If you're in search of a convenient and nutritious breakfast option to grab on the go, these delectable savory muffins are an excellent choice. Packed with spinach, bacon, and cheddar cheese, these savory breakfast muffins are not only light and fluffy but also bursting with flavor. Whether you savor them solo or pair them with a boiled egg and some fruit, you'll have a quick, filling, and well-balanced breakfast for your busy mornings!
Advertisement: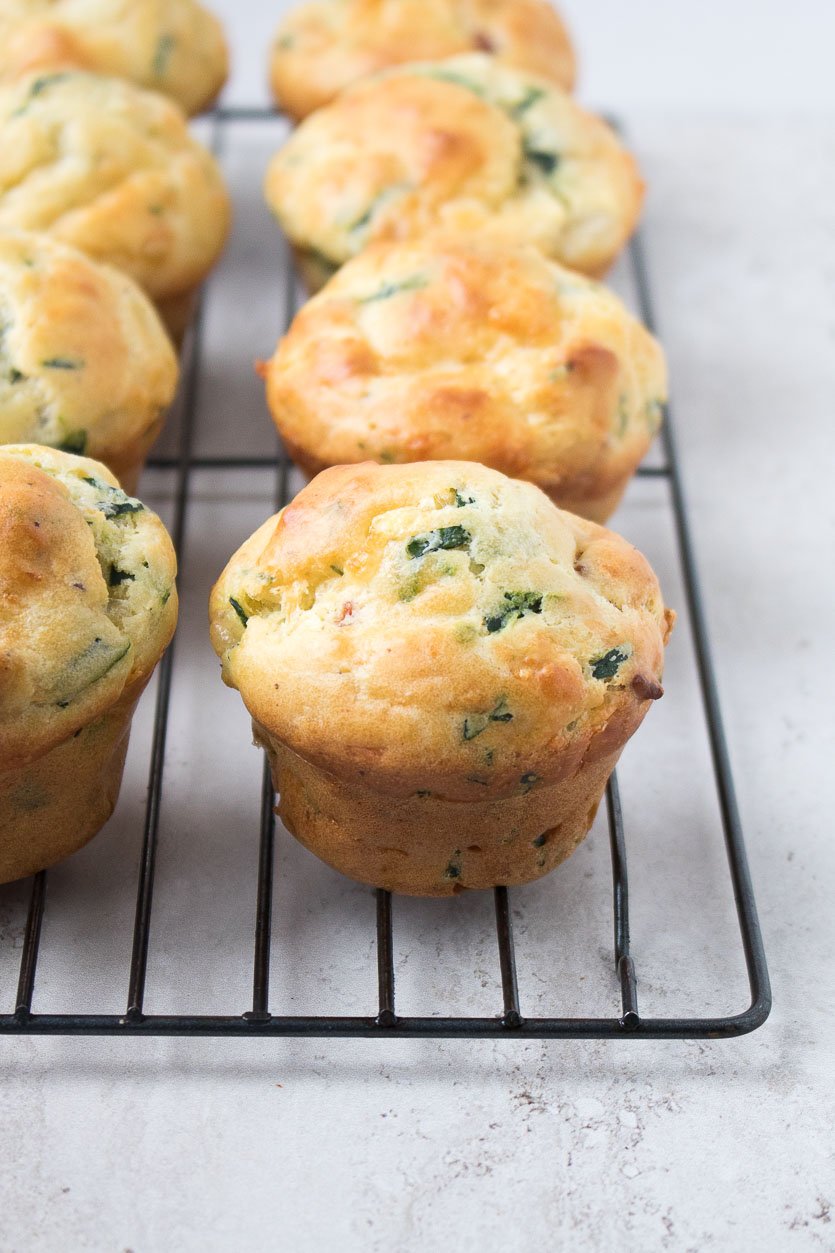 Are Savory Muffins a Healthy Choice?
Absolutely! While muffins often get a bad rap for being high in calories, fat, and sugar (in the case of sweet muffins), it's important to note that muffin recipes can be adapted to align with your dietary preferences and nutritional goals. These savory breakfast muffins, for instance, are free of refined sugar and rich in protein, healthy fats, and carbohydrates, making them a wholesome choice to kickstart your day.
Ingredients You'll Require
These savory muffins encapsulate the essence of a savory breakfast in a convenient handheld form. Here's a list of the essential ingredients you'll need:
Advertisement:
Bacon: Nothing says "savory" quite like bacon! I recommend traditional pork bacon, but turkey bacon is a viable alternative if you prefer it. Each muffin contains half a slice of bacon, which is perfectly reasonable.
Cheese: I opted for cheddar cheese in this recipe because it complements bacon wonderfully, but feel free to use any grated cheese of your liking. Swiss or gouda cheese also make excellent choices.
Spinach: To introduce a burst of leafy greens and fiber. If you're using frozen spinach, ensure you drain excess liquid before adding it to the muffin batter.
Chives: For a subtle oniony kick. Feel free to incorporate additional fresh herbs like basil, parsley, or fresh thyme for added depth of flavor.
Milk and Yogurt: These ingredients boost protein content and lend extra fluffiness to the muffins. This recipe calls for plain yogurt (whole milk, 2%, or 0%). Alternatively, Greek yogurt can be used with a possible addition of a bit more milk if the batter appears too thick.
Egg: For binding the batter and enhancing its protein content.
All-Purpose Flour: I've used plain white flour to maintain a neutral taste, allowing the bacon, cheddar, and chives to shine. However, whole wheat flour is an alternative. For a gluten-free version, utilize a 1-to-1 gluten-free flour.
Olive Oil: This ensures the muffins are ultra-moist while infusing them with flavor and healthy fats.
In addition to the above ingredients, you'll require baking essentials such as baking powder, baking soda, salt, and black pepper to ensure your muffins are perfectly seasoned, light, and airy.
Exploring Other Savory Muffin Variations
While this recipe features bacon, spinach, and cheddar cheese, there are numerous other savory ingredients you can experiment with in your muffins. Here are some ideas to inspire your culinary creativity:
Ham (cooked)
Sausage (cooked)
Grated Garlic
Sautéed Kale
Diced Tomatoes
Grated Zucchini
Grated Carrots
Diced Olives
No matter which flavor combination you choose, these savory muffins make for an ideal handheld breakfast option and can also serve as a simple lunch or snack.
Advertisement:
How to Prepare Savory Muffins
Creating savory muffins is as straightforward as making sweet ones; the key is using savory ingredients. Here's a step-by-step guide:
Prep the add-ins: Ensure bacon or any other meat you're using is cooked, and chop or sauté all the veggies.
Mix wet and dry ingredients: Combine dry ingredients in a medium mixing bowl and wet ingredients in a separate large mixing bowl.
Blend the batter: Add dry ingredients to the wet ones and mix gently, taking care not to overwork the batter.
Incorporate the add-ins: Once the batter is ready, fold in cooked bacon, spinach, cheese, and chives until evenly distributed and well blended.
Bake the muffins: Distribute the batter evenly into a muffin tin and bake until the muffins are fluffy and golden brown on top.
Serve and enjoy: After baking, let the muffins cool slightly in the tin before transferring them to a wire rack for complete cooling. These muffins can be served immediately or stored in the pantry, fridge, or freezer.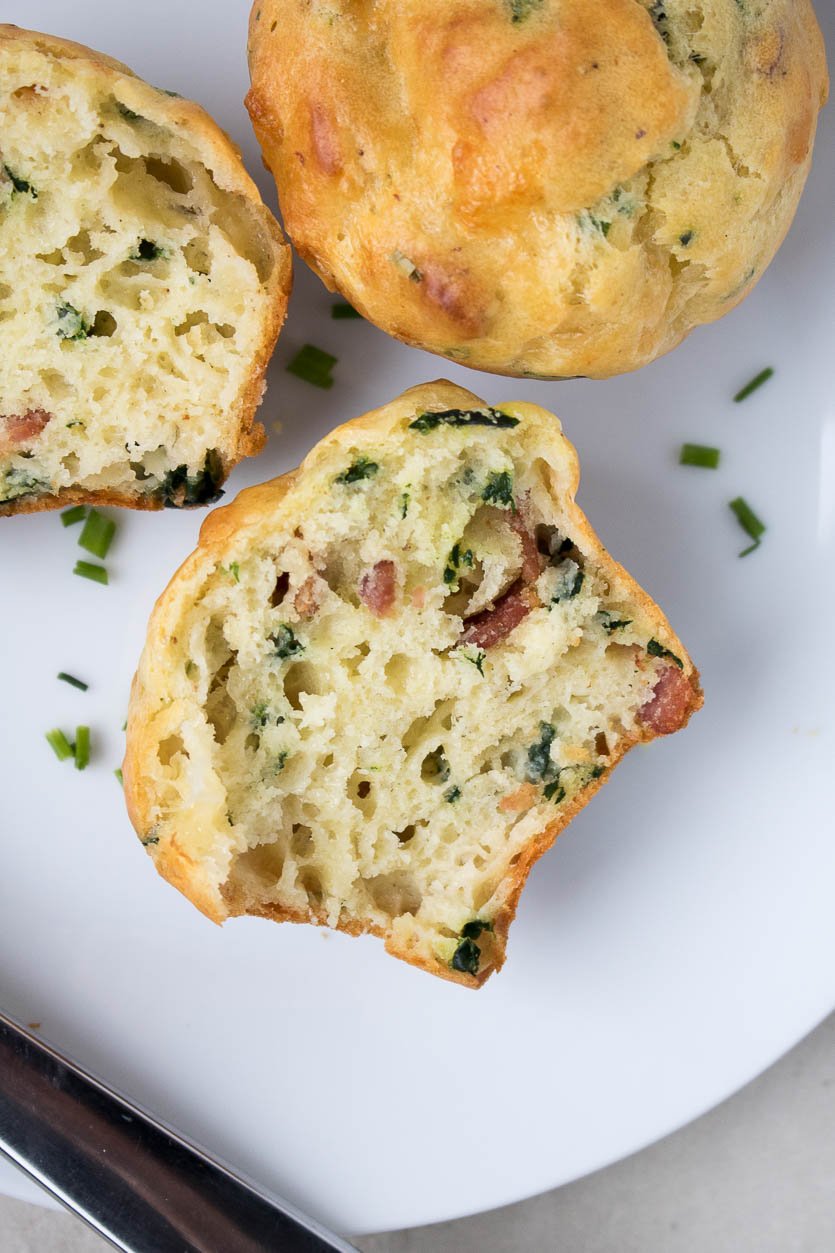 Storage and Reheating
To Store: Keep the muffins in an airtight container or plastic bag in the refrigerator for up to 7 days. You can enjoy them cold or reheat them.
Advertisement:
To Freeze: Store the muffins in an airtight container or plastic bag in the freezer for up to 3 months. Allow them to thaw before reheating or consuming.
To Reheat: To enjoy warm muffins, thawed ones can be reheated in an oven at 300°F for 7 to 10 minutes or in the microwave for 30 seconds to 1 minute.
Accompaniments for Savory Muffins
While you can savor a savory muffin on its own, incorporating one into a larger meal is a great idea. Pair it with a source of fiber and additional protein for a satisfying combination. Here are some serving suggestions:
Boiled Eggs + Apple
Cottage Cheese + Grapes</li >
Yogurt + Berries
If you haven't yet tried a savory muffin, I highly recommend doing so! It's a delightful departure from the usual sweet muffin baking, and savory muffins offer remarkable versatility. They can serve as a balanced breakfast, lunch, or snack, appealing to both adults and kids alike.
Advertisement:
Savory Muffins
These savory breakfast muffins, loaded with bacon, spinach, and cheese, make for a healthy handheld breakfast perfect for busy mornings.
Ingredients
2 cups all-purpose flour
2 teaspoons baking powder
1/2 teaspoon baking soda
1/2 teaspoon salt
1/4 teaspoon black pepper
1 egg
1 1/2 cups milk
1/4 cup plain yogurt*
1/3 cup olive oil
1 cup cheddar cheese, grated
6 slices bacon, sliced or diced
4 cups spinach, roughly chopped
2 tablespoons chives, minced
Instructions
Preheat the oven to 375°F and grease a muffin tin with butter or oil.
In a cast-iron skillet or frying pan over medium-high heat, cook the bacon for 8-10 minutes or until crispy. Once cooked, transfer it to a plate lined with a paper towel to remove excess grease.
Remove any surplus bacon grease from the pan, leaving a slight amount. Add the chopped spinach and cook for 2-3 minutes until wilted. Transfer the spinach to the plate with the cooked bacon and set aside.
In a medium bowl, combine all the dry ingredients: flour, baking powder, baking soda, salt, and black pepper, and stir until well blended.
In a separate large bowl, combine all the wet ingredients: egg, milk, yogurt, and olive oil, and whisk until thoroughly mixed.
Transfer the dry ingredients into the wet ingredients and whisk well until the batter is smooth without any lumps.
Add the cooked bacon, spinach, cheddar cheese, and chives to the batter, gently folding them in until evenly incorporated.
Evenly distribute the batter into the muffin tin wells.
Place the muffin tin in the oven and bake for 20-25 minutes until a toothpick inserted into a muffin comes out clean, and the muffins are slightly golden on top.
Once baked, allow the muffins to cool slightly, then run a knife around each muffin to loosen them. Transfer them to a rack and let them cool further.
The muffins can be served immediately, stored in the fridge for up to 7 days, or frozen for up to 3 months.
Notes
YOGURT: This recipe calls for plain yogurt (whole milk, 2%, or 0% yogurt), but you can certainly use Greek yogurt if preferred. You may need to add a bit more milk if the batter seems too thick.
Nutrition
Serving Size: 1 muffin
Calories: 249 calories
Sugar: 2 grams
Fat: 16 grams
Carbohydrates: 19 grams
Fiber: 1 gram
Protein: 8 grams
Advertisement:
NEXT: Southern cornbread salad recipe
Thanks for your SHARES!
Advertisement:
You May Also Like
Add a comment