Delicious and Nutrient-Packed Creamy Spinach Baked Eggs Recipe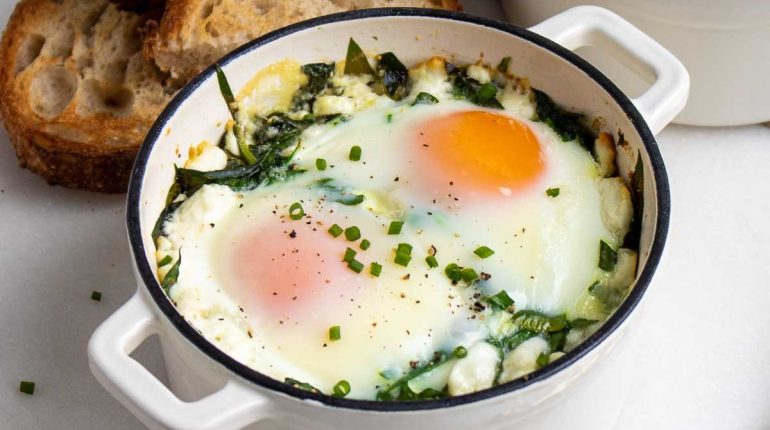 Posted October 2, 2023 by: Admin #Kitchen
MadMade with simple ingredients and ready in 15 minutes, these single-serving creamy spinach baked eggs are perfect for a quick and easy breakfast or as part of a weekend brunch.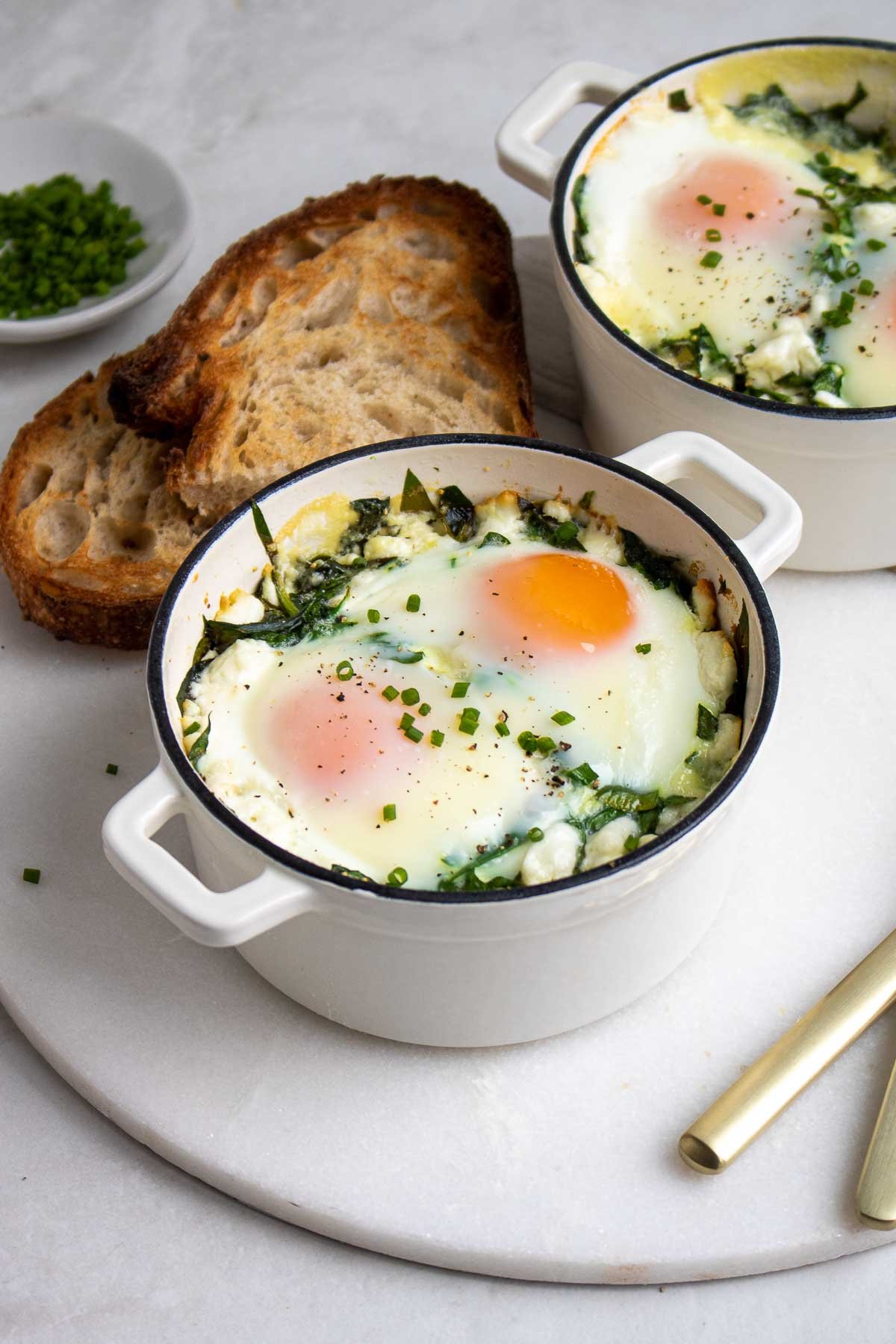 This greens-filled baked egg recipe is a twist on oeufs cocotte. Also known as shirred eggs, oeufs cocotte is a classic French dish made with eggs, crème fraîche, and additional ingredients such as mushrooms, cheese, ham, or herbs, that is baked in a ramekin in a water bath in the oven. And, while I love shirred eggs, I wanted to create a simpler version that was quick and easy enough to make on weekday mornings, which is how I came up with these creamy spinach baked eggs!
Advertisement:
The simple combination of spinach, cheese, eggs, and cream creates a rich and creamy texture that makes the perfect bite with a slice of crusty bread – that just happens to be full of protein, fiber, and healthy fats too!
But, the best part is, this no-fuss recipe is so easy to make that you can pop it in the oven, go about your morning, and come back to a delightful restaurant-worthy meal. So, if you're looking for a new breakfast idea – voilà – these spinach baked eggs are for you!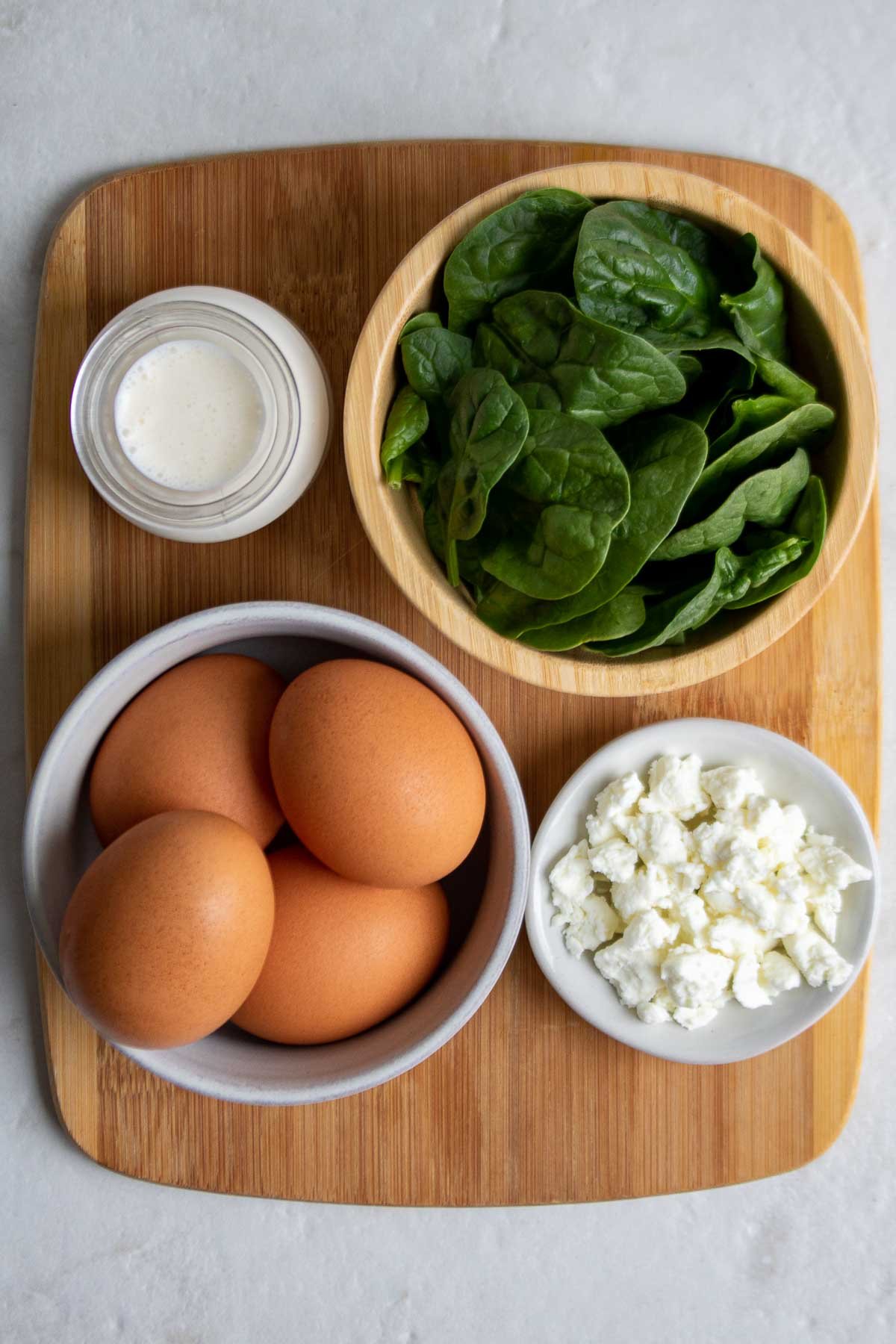 Advertisement:
Ingredients for Spinach Baked Eggs
You'll need the following ingredients to make my baked eggs in spinach:
Eggs: Because you can't make baked eggs without 'em!
Spinach: The recipe calls for fresh spinach, if you'd like to use frozen spinach, ensure that it's completely thawed and as much water is pressed out as possible. You can also use kale or chard.
Heavy Cream: To create the creamed spinach and add some healthy fats.
Goat Cheese: To enhance the creaminess and add a bit more fat and protein. If you're not a fan of goat cheese, you can use feta cheese, gruyere cheese, parmesan cheese, or cream cheese instead.
In addition to the above you'll also need some salt and pepper to season, and a big slice of crusty bread, I recommend sourdough, to serve with the baked eggs.
Dietary Adaptions
To Make it Gluten-Free: No adaptations are needed, the recipe is gluten-free. Simply serve the eggs with gluten-free bread.
To Make it Higher Protein: Use a larger ramekin or oven-safe dish and add an additional egg or two.
Advertisement:
To Make it Higher in Fiber: Use a larger ramekin or oven-safe dish and fill it with additional spinach.
To Make it Lower in Fat: Use fat-free cheese and swap the heavy cream for half-and-half.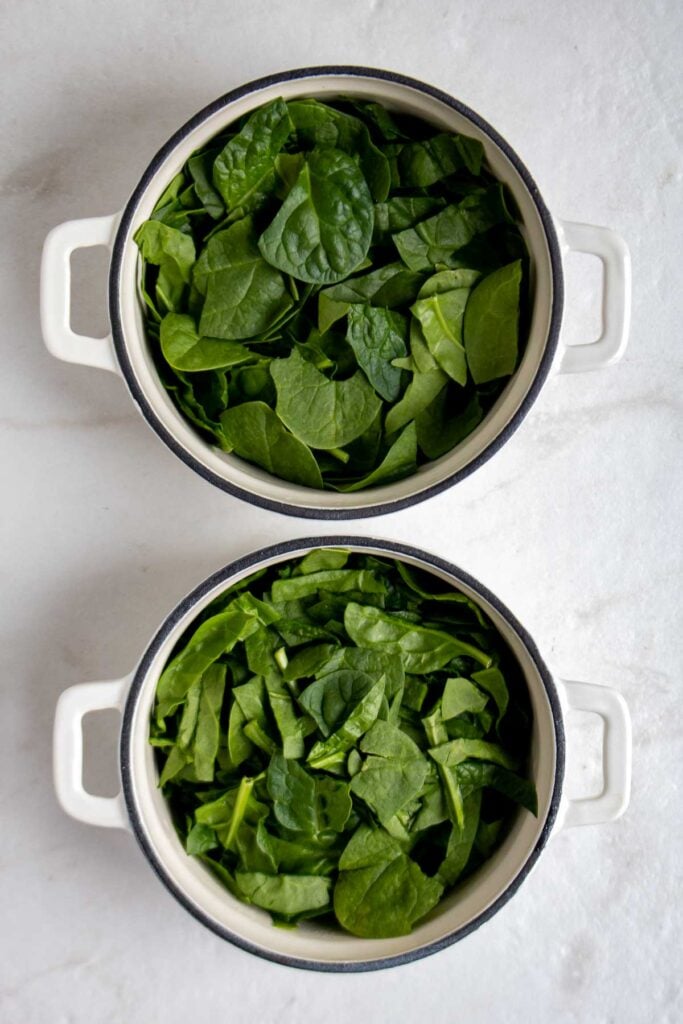 Advertisement: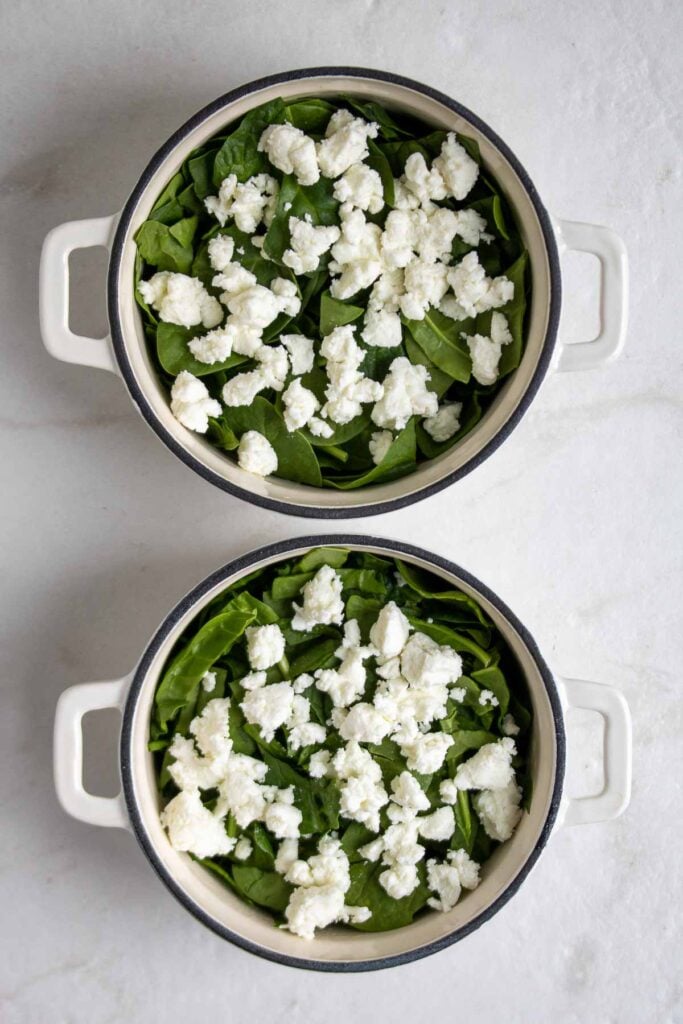 How to Make Spinach Baked Eggs
These creamy spinach baked eggs are super easy to make and can be cooked in less than 15 minutes, here's what you'll do:
Add the spinach. Fill a small ramekin with roughly chopped or torn spinach.
Sprinkle with cheese. Top the spinach with crumbled goat cheese.
Add the eggs. Crack the eggs on top of the spinach mixture.
Cover with heavy cream. Pour heavy cream over the top of the eggs and spinach.
Season. Sprinkle with a pinch of salt and pepper.
Bake and serve. Bake the eggs in the oven to cook to your liking and serve with fresh bread or toast.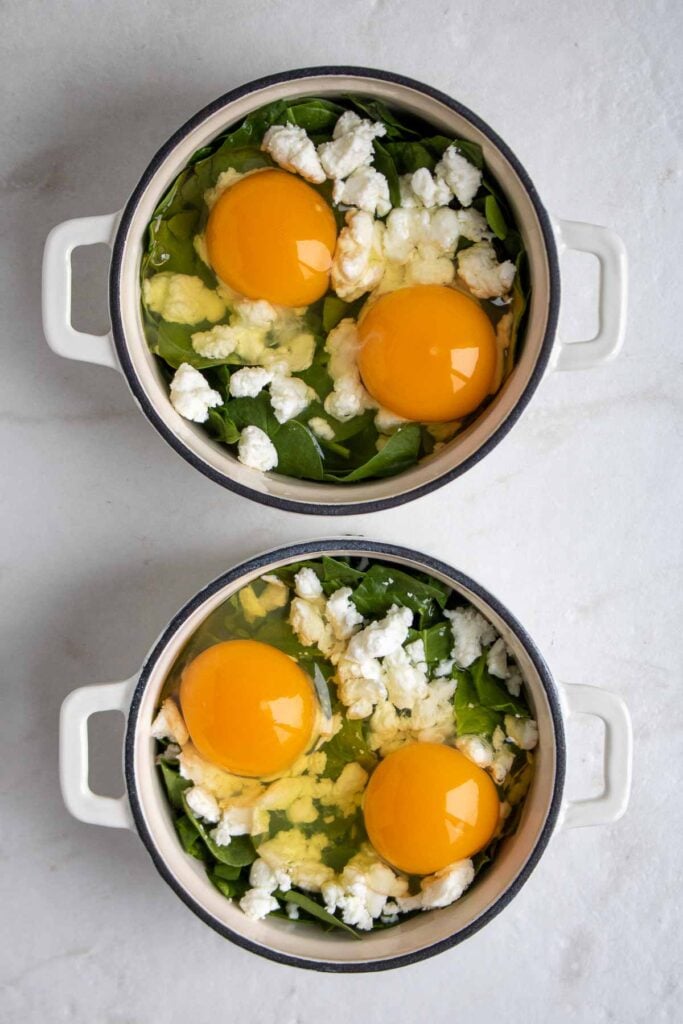 Advertisement:
Red's Nutrition Tip
Worried about the cream? Think it's too much fat? There is no need to worry. Heavy cream is nutrient-dense food filled with healthy fats, as well as important fat-soluble vitamins, including vitamins A, D, E, and K. Not to mention, it's only a couple of tablespoons, there is room for everything in a healthy diet, even if you have a goal of weight loss.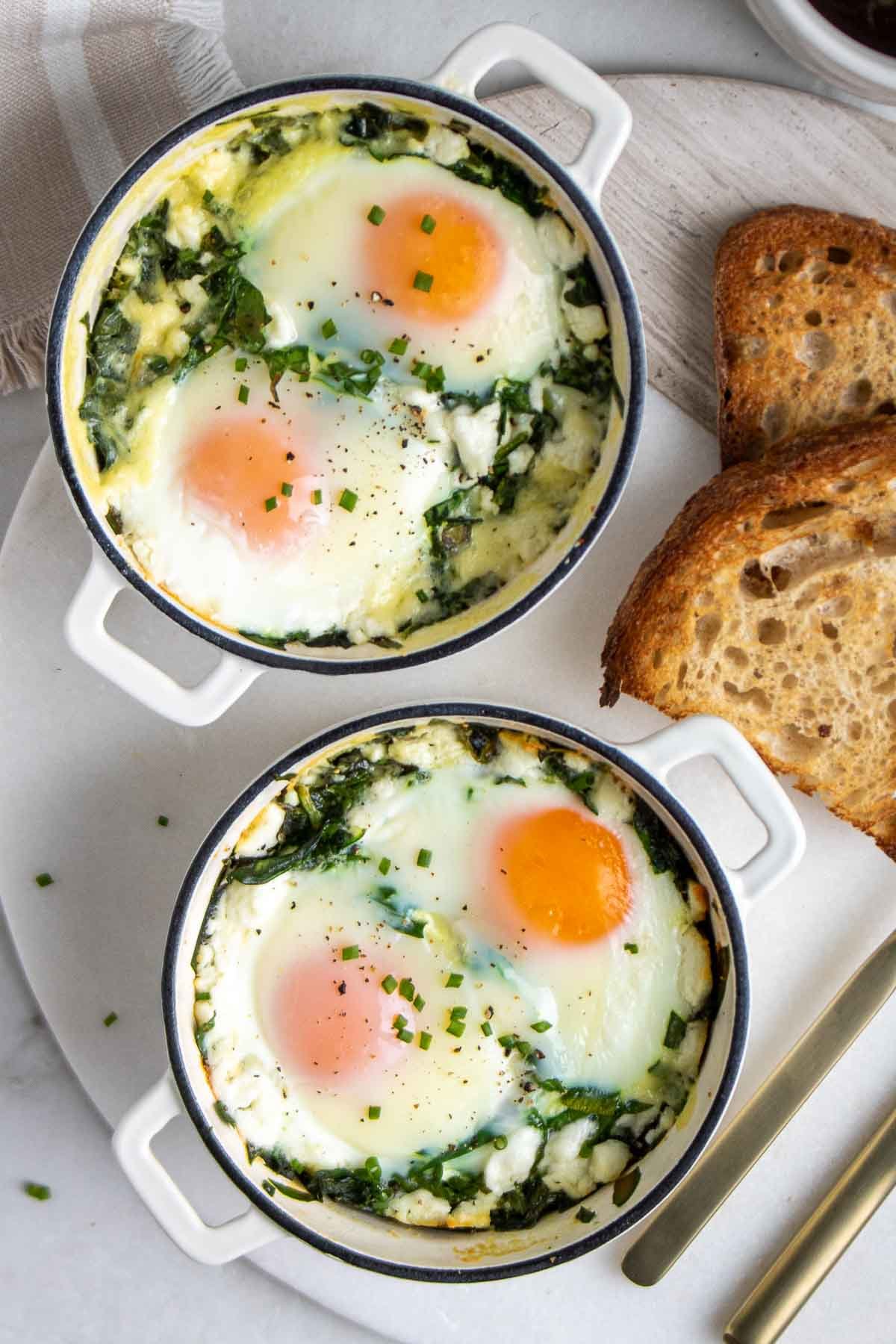 FAQs
Is adding spinach to eggs healthy?
Absolutely! Spinach is a great source of fiber and micronutrients, and eggs are a great source of protein, fats, vitamins, and minerals. Combined, eggs and spinach are an incredibly healthy choice.
Advertisement:
How much protein is in an egg with spinach?
One egg contains 6 grams of protein, and one cup of spinach contains roughly 1 gram of protein, so an egg with spinach provides a total of 7 grams of protein.
How do you not overcook baked eggs?
Eggs take approximately 10 to 12 minutes to bake and for the white to fully set with a runny yolk. To ensure they do not overcook, set a timer, and check on them in 1-minute increments after the 10 mark to ensure they are cooked to your liking.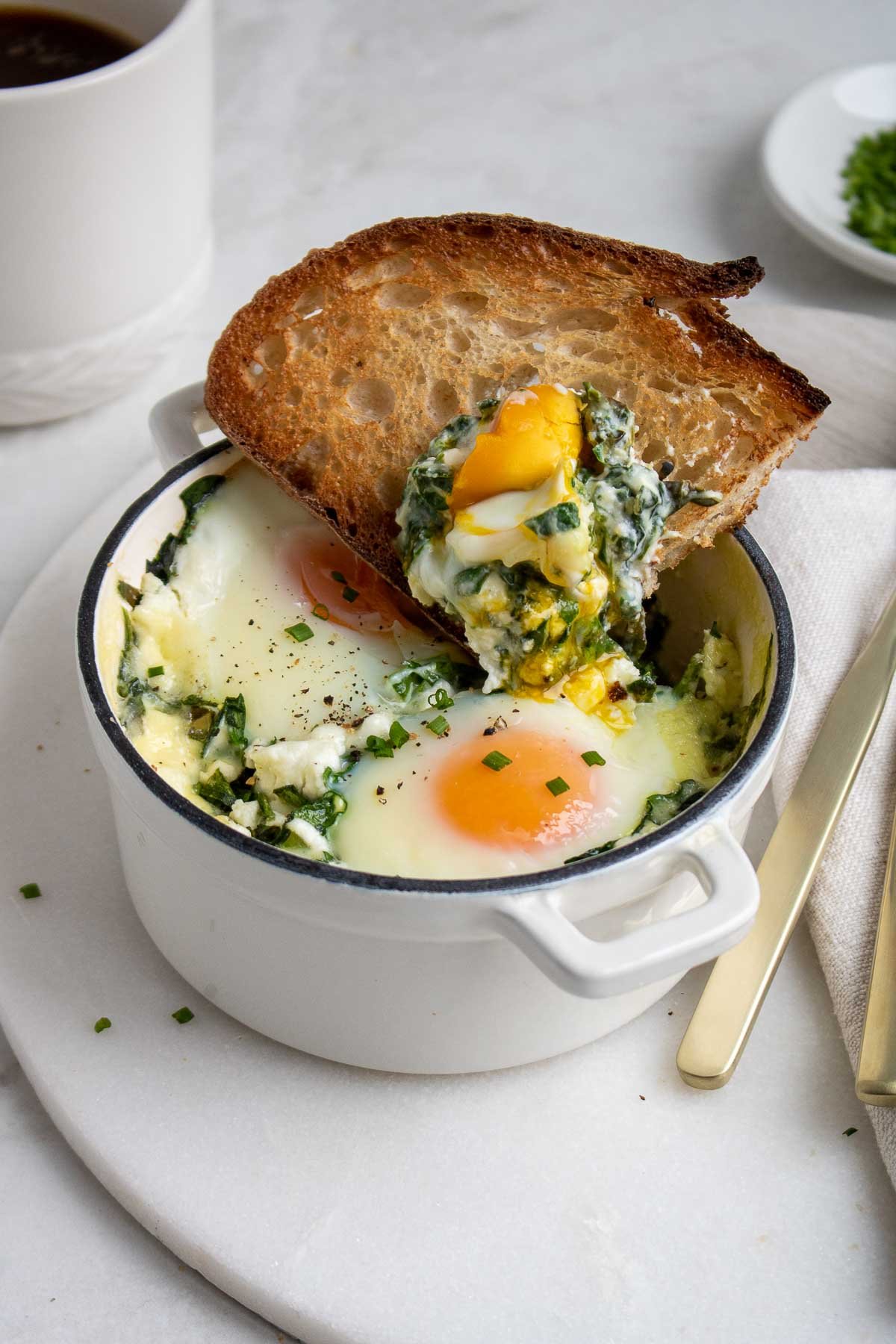 Storage + Reheating
To Refrigerate: Allow the ramekins to cool completely, then cover them with plastic wrap or aluminum foil, and store them in the fridge for up to 4 days.
To Freeze: I do not recommend freezing baked eggs.
Advertisement:
To Reheat: To heat the baked eggs in the oven, place the uncovered ramekin in the oven at 350°F for 5 minutes. To reheat the baked eggs in the microwave, place the uncovered ramekin and cook for 1 to 2 minutes, ideally in 30-second increments, until warmed through, being careful not to overcook the eggs.
Creamy Spinach Baked Eggs
Ready in 15 minutes, these creamy spinach baked eggs are quick and easy to make and work well as a high-protein, healthy breakfast, brunch, lunch, or dinner.
Ingredients
1 cup spinach, packed, roughly chopped or torn
1-ounce soft goat cheese, crumbled
2 eggs
2 tablespoons heavy cream
Salt
Black pepper
Instructions
Preheat the oven to 400°F and grease a 6 to 8-ounce ramekin with butter or cooking spray.
Add chopped spinach to the ramekin, then top with crumbled goat cheese, spreading it out evenly over the top.
Crack eggs on top of the spinach, then pour the heavy cream on top, and season the top with a sprinkle of salt and pepper.
Transfer the ramekin to the oven to bake for 10-14 minutes until the whites are set and the yolks are still runny, or until the eggs are cooked to your liking.
Once cooked, remove the eggs from the oven and serve with a slice of crusty bread.
Nutrition
Serving Size: 1 ramekin
Calories: 276 calories
Fat: 21 grams
Carbohydrates: 2 grams
Fiber: 1 gram
Protein: 19 grams
Advertisement:
NEXT: Easy Raspberry Mousse Recipe
Thanks for your SHARES!
Advertisement:
You May Also Like
Add a comment