No-Bake Pineapple Coconut Cream Pie
Posted August 24, 2023 by: Admin #Kitchen
Enjoy the refreshing taste of summer with this No-Bake Pineapple Coconut Cream Pie. Featuring the flavors of sweet and tangy crushed pineapple, fluffy whipped coconut cream, and crunchy toasted coconut, this pie is a tropical delight!
Advertisement:
(If you love tropical treats, you should also try buko pandan, a popular Filipino dessert made with coconut, tapioca pearls, and pandan-infused jelly. And if you're looking for another no-bake summer dessert, check out the whole wheat mango cake or mango float.)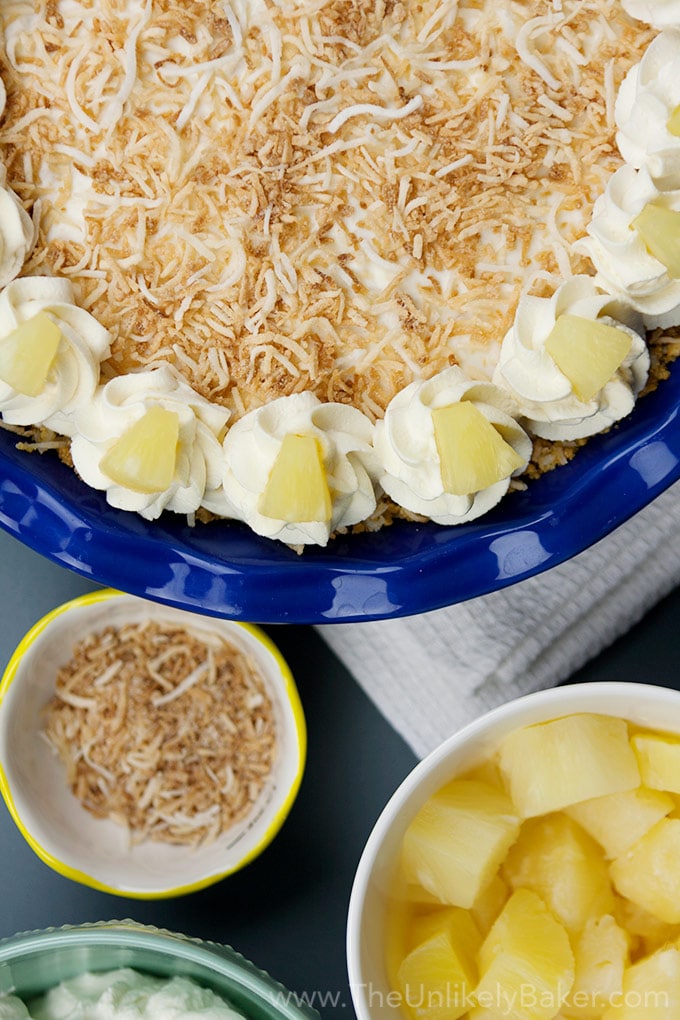 Although summer is coming to an end, you can still enjoy the sunshine with this delicious No-Bake Pineapple Coconut Cream Pie. As the days get shorter and the air gets cooler, savor the flavors of summer with every bite of this tropical dessert.
Advertisement:
This recipe marks the end of our no-bake summer series. Time flies, doesn't it? (Remember the strawberry-mango-banana smoothie from June?) But don't worry, we'll be back with more amazing recipes next year. In the meantime, indulge in this No-Bake Pineapple Coconut Cream Pie and bid farewell to summer!
Labor Day Weekend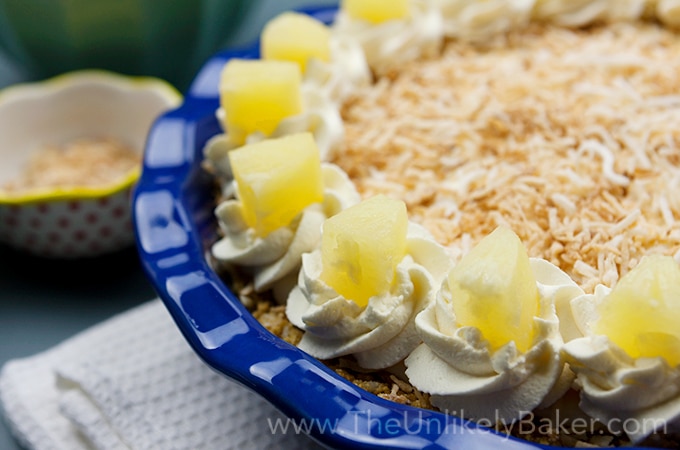 While many of you have already started with back-to-school activities, we still have a couple more weeks before school starts here. So Labor Day weekend is our last opportunity to enjoy the best of summer.
Advertisement:
And what better way to celebrate than with this No-Bake Pineapple Coconut Cream Pie? Whether you're hosting barbecues, picnics, or parties, this pie is the perfect addition to your menu. Its combination of pineapples, coconut, and more coconut will transport you to a tropical paradise!
Use cold coconut cream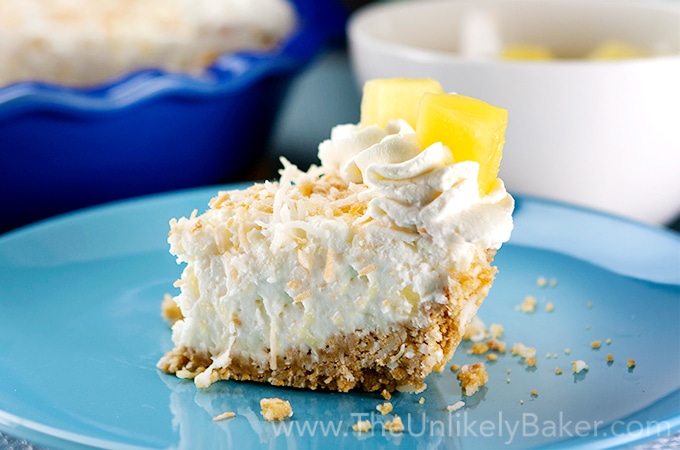 Preparing this pie is incredibly easy, but there's one important step to remember: use coconut cream and not coconut milk. The cans can look similar, so be sure to double check that you're using the correct one.
Advertisement:
Also, chill the can of coconut cream overnight. This will allow the cream to solidify, separating it from the watery portion. Don't discard the watery part though! It can still be used in other recipes like smoothies.
No Bake Pineapple Coconut Cream Pie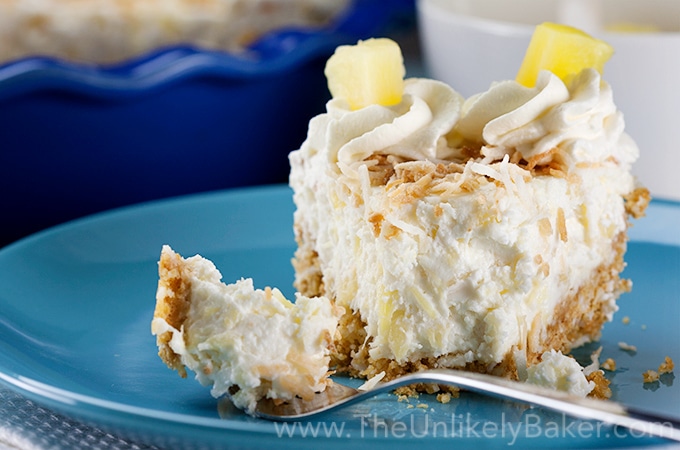 Now it's time to get started! Prepare your crust and freeze it. Then prepare your filling and let it cool. Finally, top the pie with toasted coconuts and more whipped coconut cream before serving. It's that easy!
So make the most of this long weekend, the last long weekend of summer, and treat yourself to a slice of this No-Bake Pineapple Coconut Cream Pie. Enjoy every moment!
Advertisement:
Ingredients
Coconut Crust Ingredients:
2 cups graham cracker crumbs
1 cup sweetened shredded coconut
½ cup unsalted butter, melted and slightly cooled
Pinch of salt
Pineapple Coconut Cream Filling Ingredients:
1 packet unflavored gelatin (equivalent to 1 tablespoon)
1 14-oz can chilled coconut cream
1 8-oz block cream cheese, softened
2 tablespoons granulated sugar
1 14-oz can crushed pineapple, drained (reserve the juice)
Optional Toppings:
Toasted sweetened shredded coconut
Whipped coconut cream
Instructions:
Coconut Crust Preparation:
In a medium bowl, combine 2 cups graham cracker crumbs, 1 cup sweetened shredded coconut, ½ cup melted butter, and a pinch of salt. Mix until the mixture is evenly moistened.
Press the mixture onto the bottom and up the sides of a 9-inch pie dish. Place the crust in the freezer while you work on the filling.
Pineapple Coconut Cream Filling Preparation:
In a small bowl, place 1 packet of unflavored gelatin and add 3 tablespoons of pineapple juice (from the drained can of crushed pineapple). Allow the gelatin to sit without stirring for 10 minutes to bloom.
While the gelatin is blooming, use a handheld electric mixer or a stand mixer with the paddle attachment to beat the cream cheese and 2 tablespoons of sugar on medium-high speed until smooth and creamy. Gently fold in the crushed pineapple. Set this mixture aside.
Use the whisk attachment on a handheld electric mixer or stand mixer to whip the solidified portions of a can of coconut cream (following the notes above) on medium-high speed until soft peaks form.
Warm the gelatin in the microwave for no more than 10 seconds (the bowl shouldn't feel warm to the touch). Whisk it until it becomes smooth.
With the mixer on medium-low speed, gradually pour the gelatin into the whipped coconut cream in a steady stream. Continue whipping until the gelatin is fully incorporated.
Gently fold the coconut cream mixture into the cream cheese and pineapple mixture.
Transfer the combined filling into the prepared coconut crust. Allow the pie to chill for 4-6 hours, preferably overnight, until set.
Serving:
To serve, you can top the pie with whipped coconut cream and sprinkle toasted sweetened shredded coconut on top.
Enjoy this delicious Pineapple Coconut Cream Pie with its delightful coconut crust and creamy filling!
Advertisement:
NEXT: Potato Croquettes with Minced Meat Recipe
Thanks for your SHARES!
Advertisement:
You May Also Like
Add a comment