My grandma's secret juicy roast chicken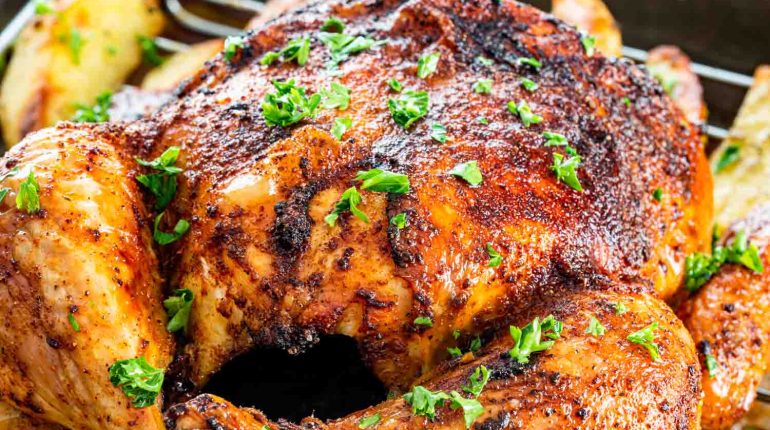 Posted August 30, 2023 by: Admin #Kitchen
Learn how to make the best Roast Chicken recipe! Fear not with this simple rotisserie-style spice blend and step-by-step instructions that will give you juicy and flavorful chicken with perfectly crisp skin every time.
Advertisement:
This recipe uses very simple ingredients that you probably already have in your pantry. If not, you'll be able to find them easily and cheap at your local grocery store. With only 5 ingredients paired with a tried and true method, you'll be a chicken roasting master with your very first stab at this recipe.
I've spent years and years testing different methods for roasting a whole chicken. There are lots of methods out there with a big list of steps and a giant mess, and this is not one of them. I found that with the right simple blend of flavors and this easy-peasy method, I always get chicken that tastes restaurant quality with minimal cleanup at the end.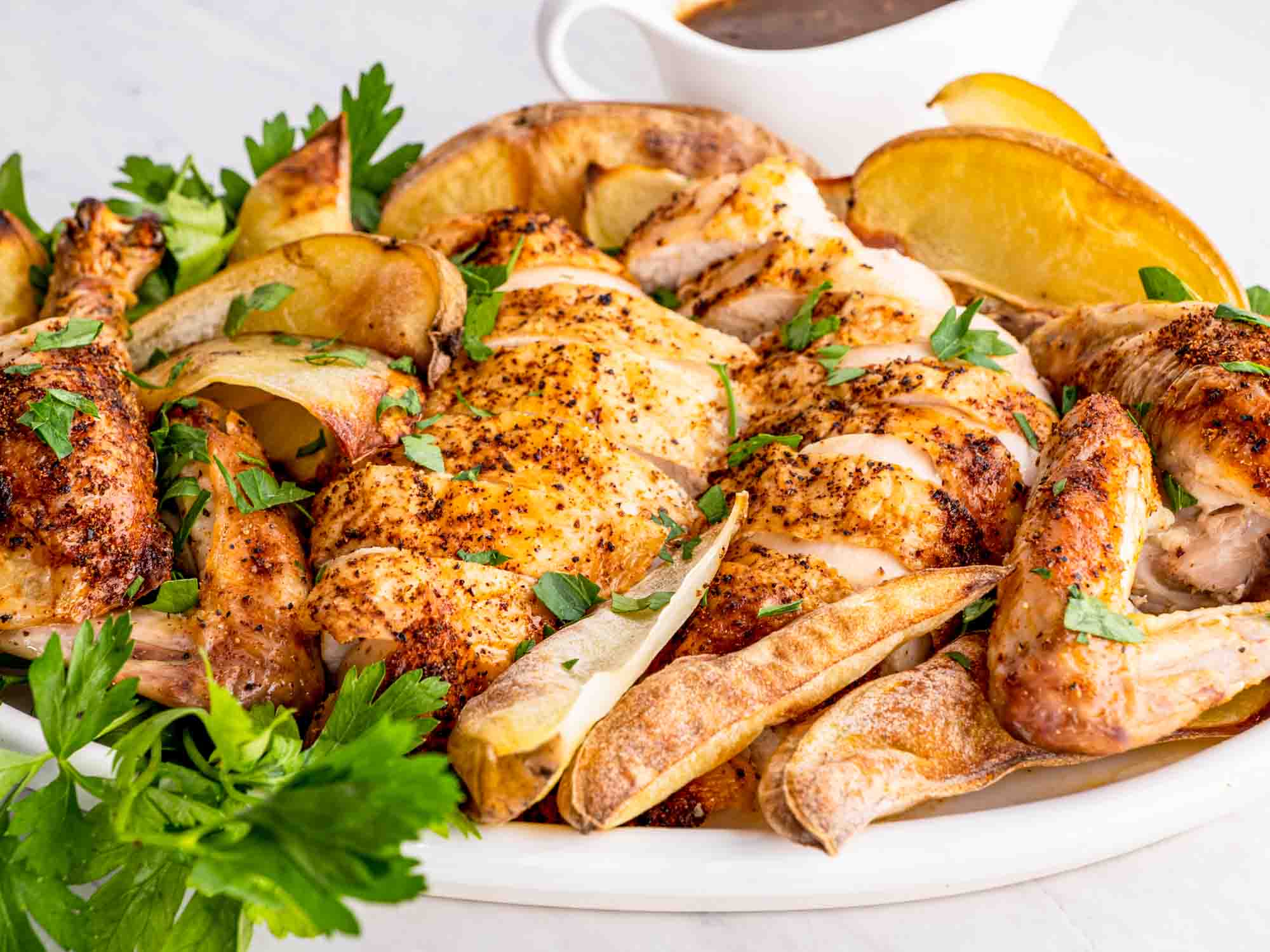 Advertisement:
Why You'll Love This Roast Chicken Recipe
Easy Recipe! This simple 6-ingredient recipe only requires a whole chicken, a handful of easy to find spices, and a roasting pan to make a super flavorful roasted chicken.
Tasty Tender Chicken! My roasting method and rotisserie-style spice blend have been perfected through years of practice and the results are unbelievably delicious.
Healthy Meal Prep! Roast a chicken for dinner or plan ahead for meal prep. It's a fantastic healthy protein option that stores well in both the fridge and freezer.
Before Starting You'll Need
Roasting Pan With A Rack – Before you begin you'll need a 11×15-inch roasting pan, preferably with a rack. If you don't have one with a rack, you can also use a rimmed sheet pan or a large oven-proof skillet such as a cast iron.
Instant-Read Thermometer – This is the only way and the safest way to tell when your chicken is properly cooked.
Ingredients You'll Need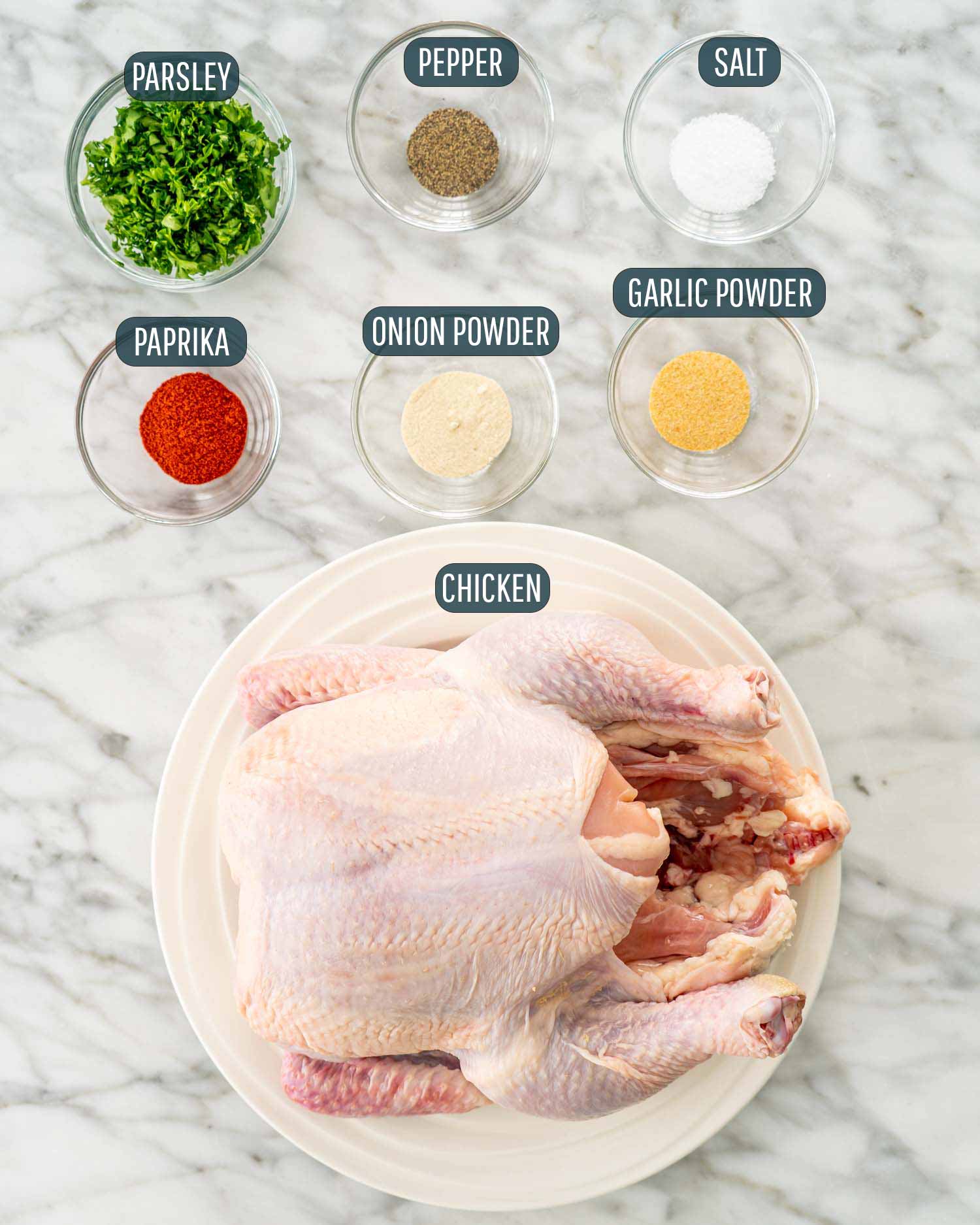 Advertisement:
I kept this recipe nice and basic. There are so many different ways you can spice up a chicken, but I know you'll be pleasantly surprised with how flavorful this simple spice blend is! Keep scrolling for the full recipe and ingredient amounts.
Whole Chicken – I used a 4 pound chicken, but whatever size you have will work. If your chicken is bigger, you can up the amounts called for the seasoning. Make sure to pat it dry with paper towels before seasoning.
Salt And Pepper – It's important to have enough salt to ensure your chicken doesn't taste bland. You can use as much or as little as you like. If using kosher salt, substitute half as much table salt for kosher salt.
Onion And Garlic Powder – When we're looking for a nice crisp skin, powders work better than fresh. This way you won't end up with charred bitter garlic.
Smoked Paprika – This is the secret weapon! Once you try this smoky flavor, you'll never want to go back to regular paprika.
Fresh Parlsey – I like to add some nice chopped herbs at the end not only as garnish, but it adds such a wonderful fresh flavor to finish off the chicken. Other herbs that go well with chicken are fresh thyme, sage, oregano, marjoram or tarragon.
Let me show you how easy it is to roast chicken at home! In just a few simple steps you can have perfectly cooked moist and juicy chicken with minimal effort.
Preheat The Oven And Prep The Pan
Advertisement:
To begin, you need to preheat your oven temperature to 350°F (177°C) so that it is already hot once your chicken is ready to cook. Then grab an 11×15-inch roasting pan with a roasting rack and set it aside for a later step. However, if you don't have a roasting pan you can also use a sheet pan.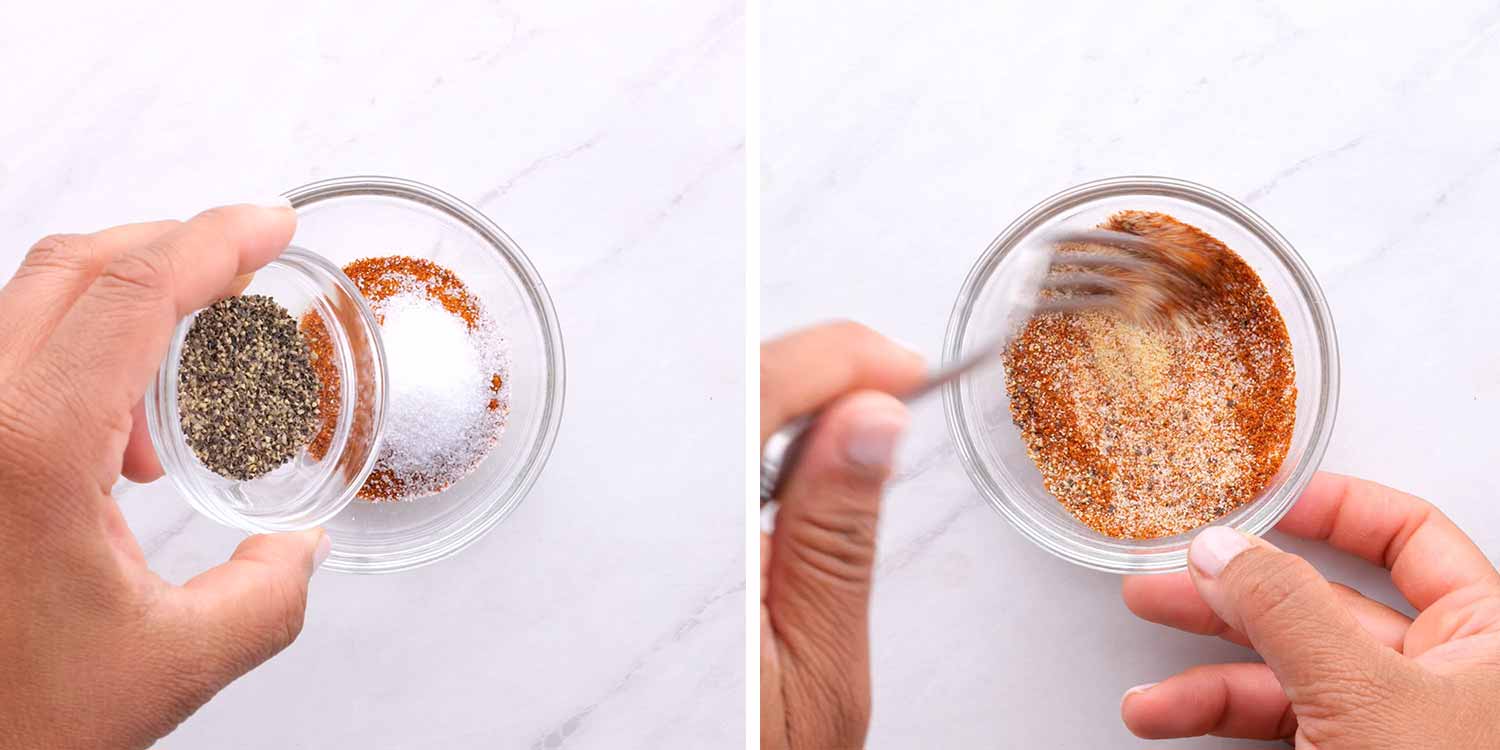 Next, you need to make the flavor packed spice rub! Just mix the onion powder, garlic powder, smoked paprika, salt, and black pepper together in a small bowl. It's important to premix the spices for the best flavor. If you just sprinkle them on the chicken one by one it's not the same.

Advertisement:
Before you even think about seasoning the chicken, you need to pat it dry with paper towels. This simple step will ensure that the spice rub sticks to the chicken. At this point, you can also remove the wing tips if you prefer.
Now it's time to spice up the chicken with the tasty rub! To do this, use your hands to fully coat the chicken with the spice mixture. And don't forget to season inside the cavity as well for the most flavorful meat.
Also, once the chicken is coated in spice, you can rub a bit of olive oil over the chicken to help crisp up the skin if you like. However, I find that it's not necessary to add the oil because the chicken is roasted at a higher temperature for the last few minutes which does a great job of crisping up the skin.
Advertisement:
NEXT: The Seasoned Virginia's Flavorful Crab Imperial
Thanks for your SHARES!
Advertisement:
You May Also Like
Add a comment