Greek Chicken Burgers with Tzatziki Sauce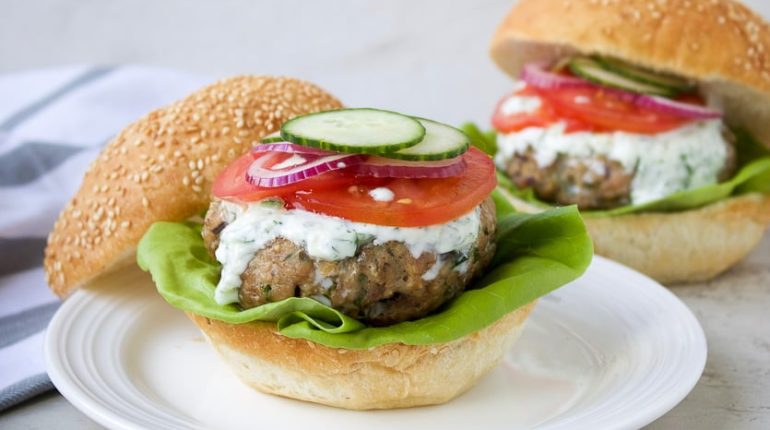 Posted October 16, 2023 by: Admin #Kitchen
Delight in the flavors of red onion, oregano, parsley, feta cheese, and ground chicken melded into these Greek chicken burgers. Crowned with a zesty yogurt sauce, these burgers offer a scrumptious twist on the classic burger. Serve them nestled in a bun, wrapped in lettuce, or artfully placed atop a bed of greens for a protein-packed meal that sings with Greek essence.
Advertisement: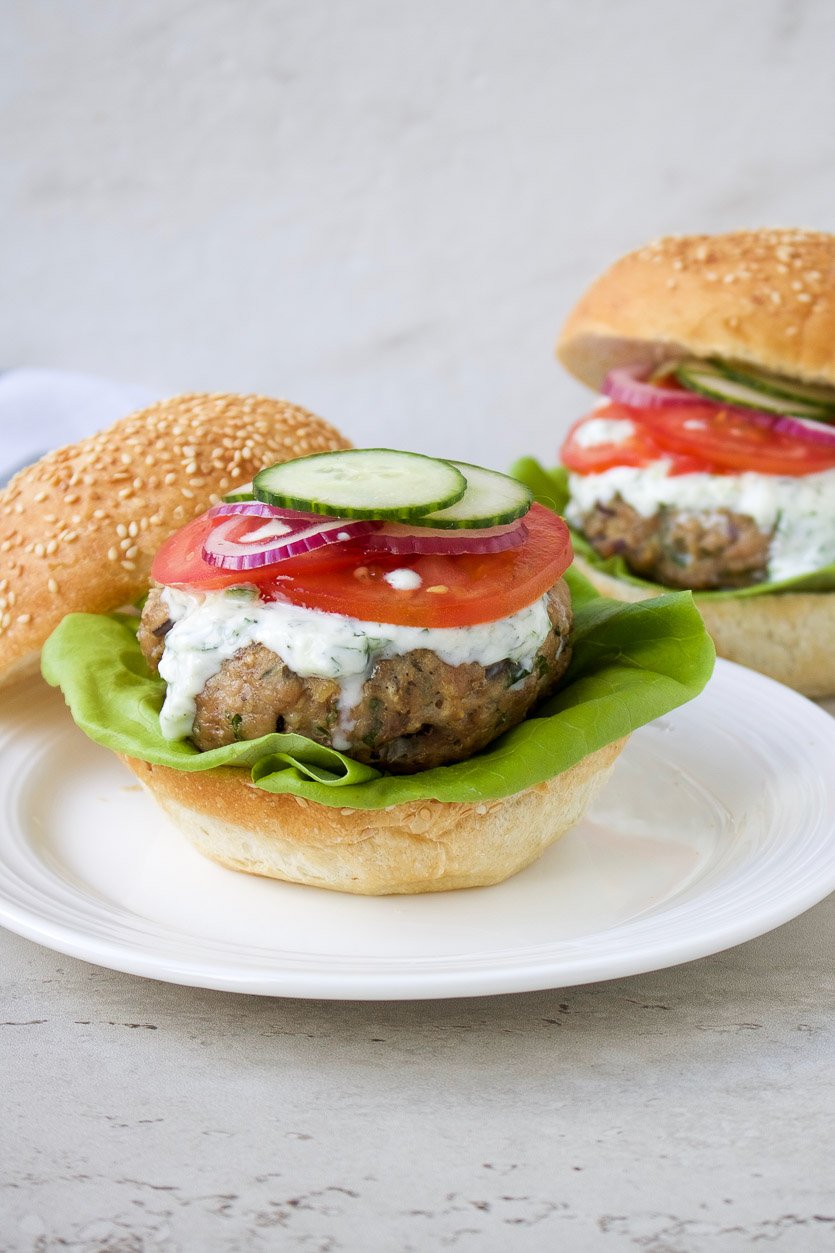 To complement these Greek chicken burgers, I prepared a homemade yogurt sauce inspired by tzatziki. However, for the sake of convenience, you have the option to use store-bought tzatziki sauce. Additionally, while these burgers are designed with ground chicken, ground turkey can be an equally satisfying substitute.
Greek Chicken Burgers
Crafted for the epicurean in a hurry, these healthful chicken burgers burst with the essence of Greece! Expertly grilled and crowned with a refreshing cucumber yogurt sauce, these Greek chicken burgers are a culinary treasure. You can savor them nestled in a bun, wrapped in crisp lettuce, or elegantly placed atop your preferred salad.
Advertisement:
Ingredients
Chicken Burgers:
1 lb. ground chicken
1/4 cup red onion
2 minced garlic cloves
1 teaspoon oregano
1/4 cup finely chopped parsley
1/4 cup crumbled feta cheese
1/4 cup breadcrumbs
1 egg
Yogurt Sauce (optional):
1/2 cup plain Greek yogurt
1/2 cup grated, cored cucumber
2 tablespoons minced fresh parsley
2 tablespoons minced fresh dill
Juice of 1/2 lemon
1 grated garlic clove
Salt
Pepper
To Serve:
4 burger buns
Lettuce leaves
Thinly sliced tomato
Thinly sliced cucumber
Thinly sliced red onion
Instructions
In a small bowl or jar, combine the sauce ingredients: Greek yogurt, cucumber, parsley, dill, lemon juice, and grated garlic. Season with salt and pepper to taste, then set aside.
In a large bowl, add the burger ingredients: ground chicken, red onion, oregano, parsley, garlic, feta, breadcrumbs, and egg. Use your hands to thoroughly mix the ingredients.
After mixing, divide the chicken mixture into four equal portions and shape them into patties with your hands.
Preheat a grill or grill pan to medium-high heat, then grill the patties for 5-6 minutes on each side until they reach an internal temperature of 165ºF.
Once the burgers are done, remove them from the grill and assemble them on buns with your choice of yogurt sauce or tzatziki, along with your preferred toppings.
Any leftover burger patties can be stored in an airtight container in the fridge for up to 5 days.
Nutrition
Serving Size: 1 burger patty
Calories: 238 calories
Sugar: 1 gram
Fat: 13 grams
Carbohydrates: 7 grams
Fiber: 1 gram
Protein: 24 grams
NEXT: Mexican Stuffed Chiles
Thanks for your SHARES!
Advertisement:
You May Also Like
Add a comment