Easy Chicken Bopis Recipe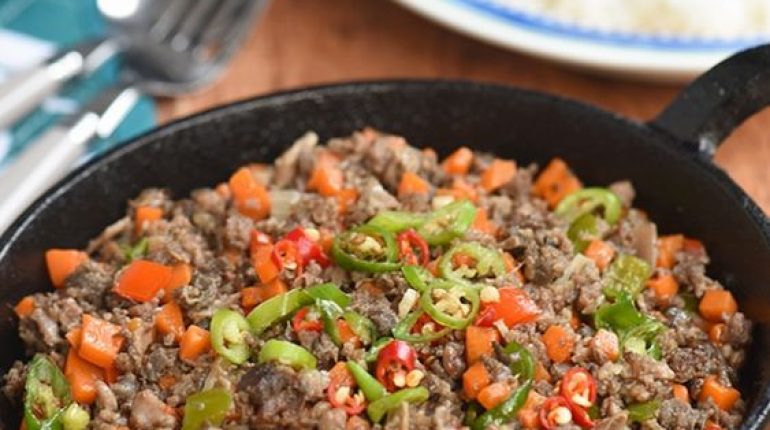 Posted November 15, 2022 by: Admin #Kitchen
Advertisement:
Do you ever want to eat chicken at our favorite Bopis? Now you can with this unique recipe:
INGREDIENTS:
500 g clean chicken gizzards
500 g clean chicken heart
2 pieces of medium carrots, chopped
1 large daikon radish, grated
3 pieces of medium red onion, chopped
1 piece of small red bell pepper, chopped
1 piece of medium ripe tomato, chopped
5 garlic cloves, minced
5 pieces of dried bay leaves
2 thumbs of minced ginger
¼ cup achiote seeds
5 pieces of Thai chili (or siling labuyo), chopped
½ cup white vinegar
3 tablespoons soy sauce
3 tablespoons of pate
1 to 1½ cups of water
3 tablespoons cooking oil
Additional water to boil
HOW TO COOK:
In a pressure cooker, heat 6 cups of water.
Add the chicken gizzard, then cover and pressure cook for 15 minutes (you can also boil in a regular pot for 45 minutes).
Remove from the pot and chop the gizzard into small pieces and set aside.
In a pot, bring 6 cups of water to a boil.
Add the chicken heart then boil for 15 minutes.
Remove from the pot and chop the heart into small pieces and set aside.
Make achiote oil by heating cooking oil in a saucepan
Add the achiote seeds then simmer until the oil turns red.
Heat a pot and pour in the achiote oil (filter the seeds).
Once it's hot enough, sauté the onion, garlic, ginger, and tomato.
Add the minced chicken gizzard then cook for 1 to 2 minutes.
Add the chicken heart then cook for 2 minutes.
Add chili and bay leaves.
Pour the soy sauce into the pot, then stir.
Pour in the water and bring to a boil, then cover and cook for 15 minutes.
Add the vinegar and bring the mixture back to a boil.
Stir and continue cooking for 5 minutes.
Add the carrots, daikon radish, and red bell pepper, then stir and cook for 3 minutes.
Season with fish sauce and ground black pepper.
Transfer to a serving bowl and serve. Enjoy!

Advertisement:
NEXT: Easy Tostada Recipe
Thanks for your SHARES!
Advertisement:
You May Also Like
Add a comment