Coconut Chicken Curry: An Exquisite Recipe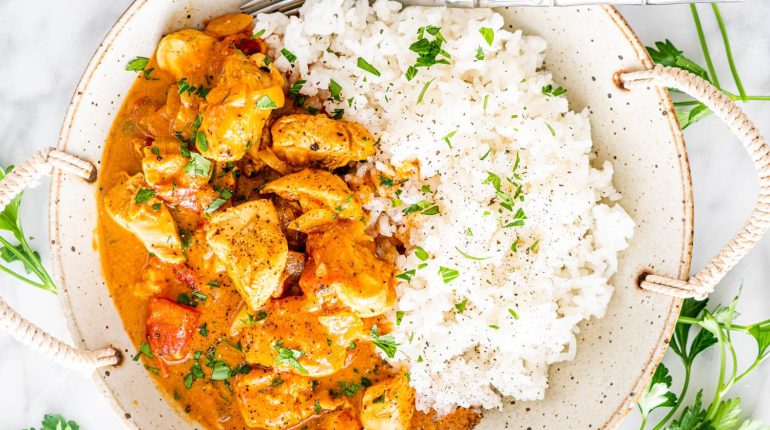 Posted August 23, 2023 by: Admin #Kitchen
This Creamy Coconut Chicken Curry is delicious, healthy, made in one pot, and best of all, it's ready in just 30 minutes! Forget takeout, this is about to become your new family favorite.
Advertisement:
Do you have some ingredients that take up space in your pantry and you just want to use them? I had it the other day with diced tomatoes and some coconut milk. I knew I could get a delicious curry when the time came, and the time came quickly. So here we are, a nice little creamy coconut milk based curry, dotted with tender chicken and perfectly intense seasoning.
I love curry because it's quick, full of flavor, and tastes just as good the next day. They're also very beginner-friendly, especially this recipe – it's as easy as a curry can get!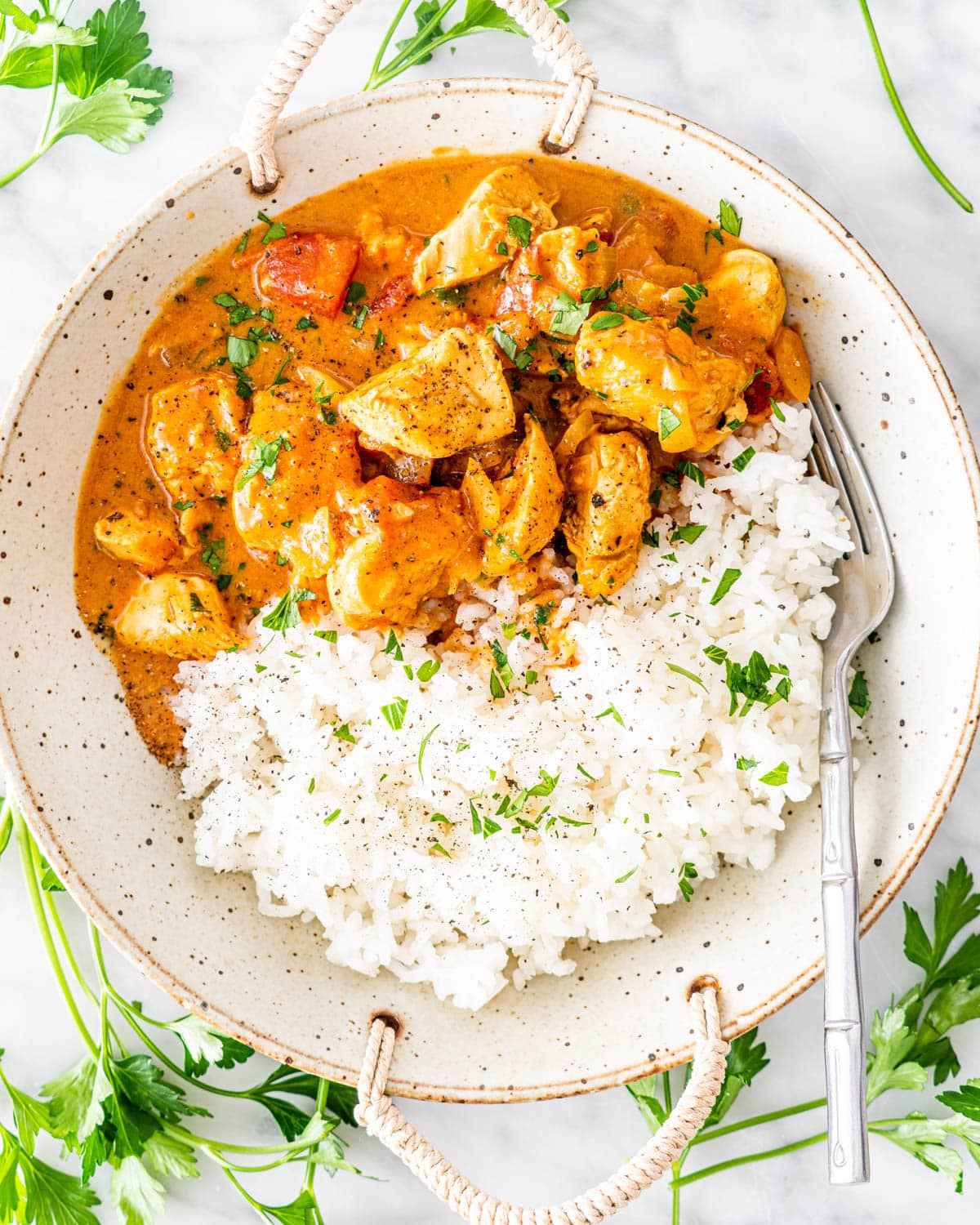 Have you ever cooked curry?
Well, fear not: it can be simple, fast, and utterly delicious! Originating in India, curry describes a variety of dishes, typically sauces, containing a variety of interesting and complex spices. My favorite curries by far are coconut milk based because they are so creamy and delicious.
Advertisement:
Ingredients you will need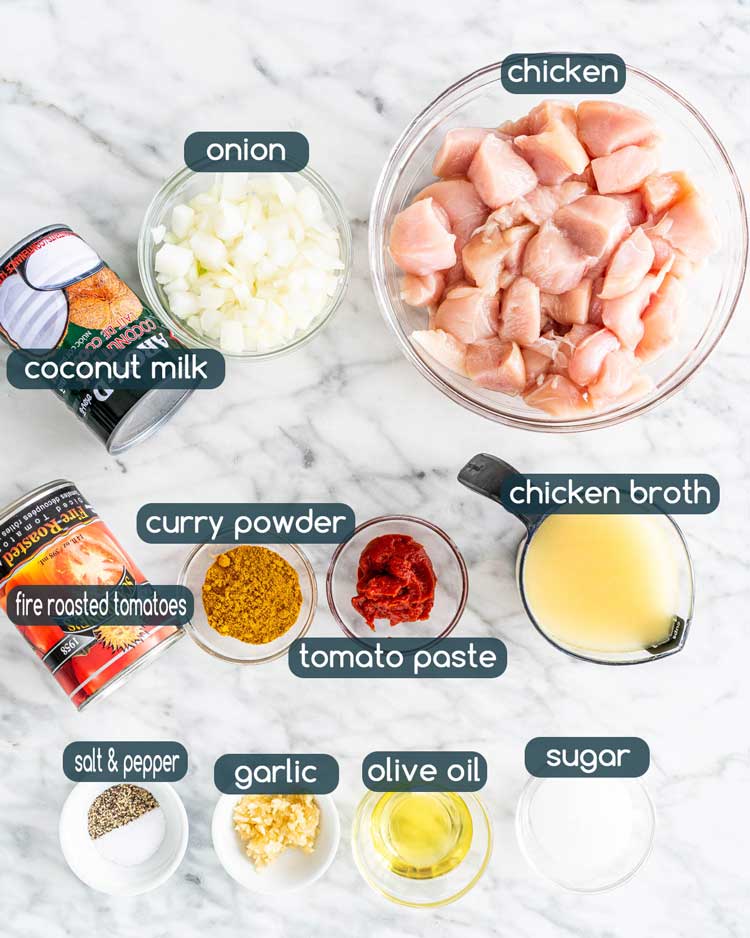 Chicken: skinless, boneless and cut into small cubes.
Olive Oil – We want an oil to use for our stir-fries, I love the taste of olive oil in a recipe like this, but you can always use something light like canola.
Spices – Just a little curry powder today, that's all you need for this delicious dish!
Garlic – Use as much or little as you like.
Onion – Chopped and ready to sauté until perfectly translucent.
Tomatoes – We want a can of diced tomatoes and some tomato paste for that perfect tart flavor. I used fire roasted tomatoes because I love them so if you have them use them.
Coconut Milk – Just 1 can is all we need for a perfectly creamy coconut curry.
Sugar: We need a touch of sweetness to combat all the sour and salty taste we have. I just used a little white granulated sugar.
Chicken Stock – Low sodium to control the sodium content of our curries!
Seasoning – Salt and pepper to taste.
How to make Coconut Chicken Curry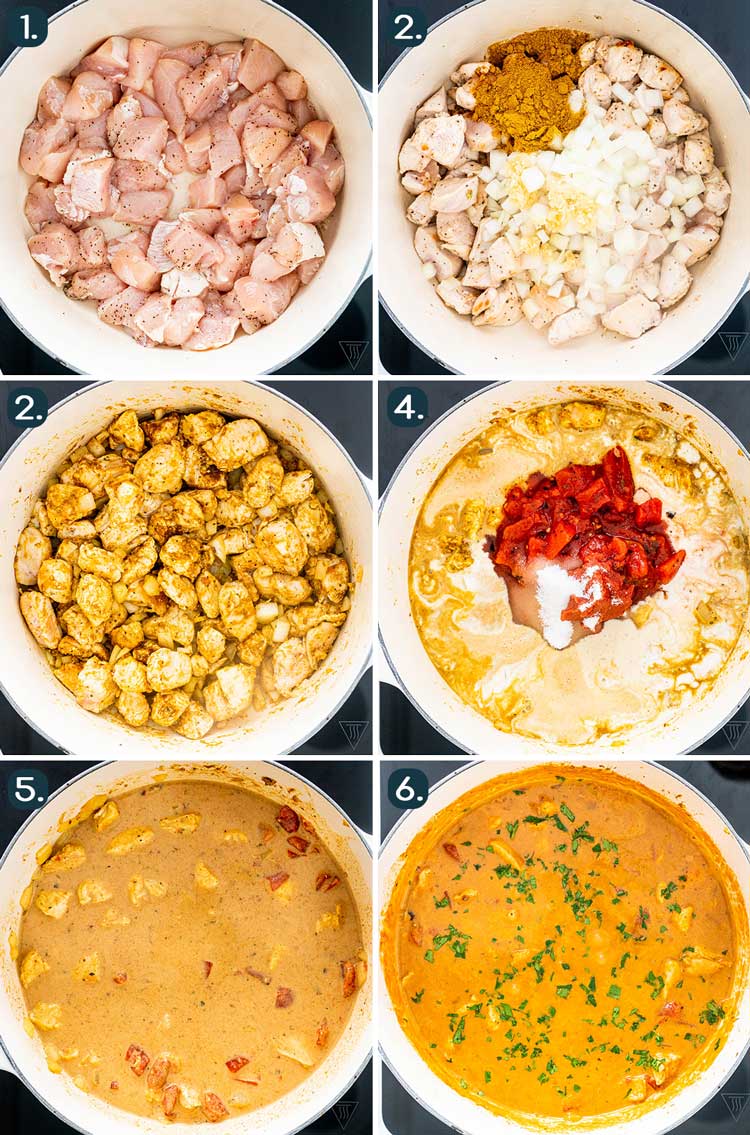 Cook the chicken: Heat olive oil in a large skillet or stockpot. Add the chicken to the pot and season with salt and pepper. Cook for about 5 minutes or until chicken is no longer pink.
Finish the dish: add the onion, garlic, curry powder and stir. Cook for an additional 2 minutes, then add the chicken broth, coconut milk, tomatoes, tomato paste, and sugar. Stir everything, bring to a boil and cover with a lid. Lower the heat and simmer for another 15 to 20 minutes.
Garnish and Serve: Garnish with parsley and serve over rice.
What else can I add to my curry?
Curry is a perfect blank canvas! You can incorporate so many amazing flavors, textures, and ingredients to achieve whatever you want to make for yourself or your loved ones. So, let's use something that is taking up valuable space in your pantry.
Advertisement:
Vegetables
Peas
Bell pepper
Pumpkin
Zucchini
Eggplant
Chickpeas
Dad
Meat
Shrimp
White fish
Lamb
Beef
Instant Pot
Instead of using the stovetop and saucepan method, this curry can be made in an Instant Pot in a matter of minutes. Turn Instant Pot to sauté position and add olive oil, onion, and garlic. Once the garlic is fragrant you can add the other ingredients. Turn the manual setting on high and set the timer for 2 minutes.
Always wait another 10 minutes for the pressure to release naturally before opening. For more information on how to make an instant curry, check out this recipe.
Leftovers
The curry should be securely sealed in an airtight container and refrigerated for 3 days. If you want this curry to last, my advice is to freeze it. Make sure it's completely cold before sealing, and use a shallow container to ensure even freezing. Stir well while reheating.
Advertisement:
How to serve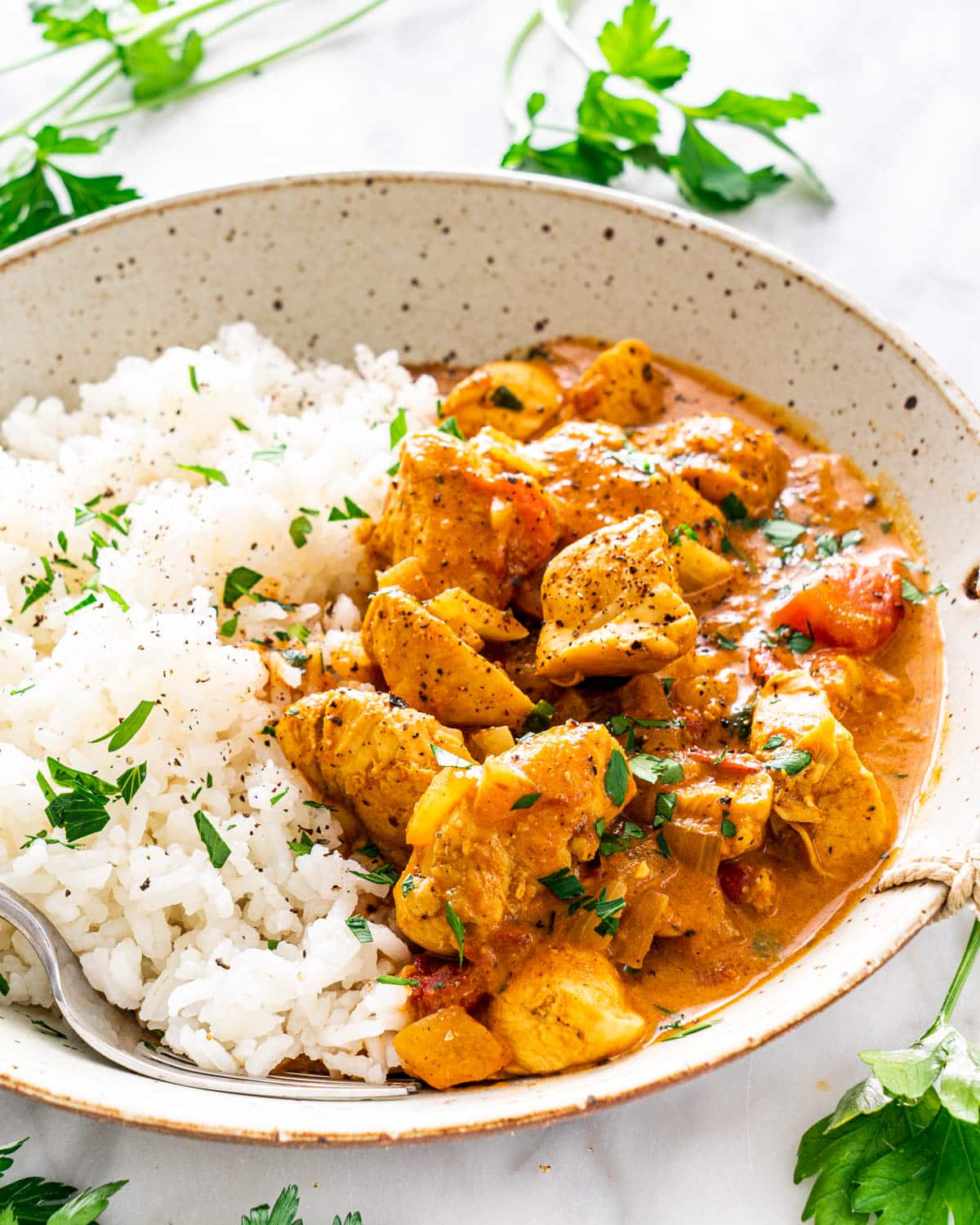 Advertisement:
NEXT: Healthy Carrot Cake Breakfast Cookies Recipe
Thanks for your SHARES!
Advertisement:
You May Also Like
Add a comment