Almond Butter Rice Crispy Bars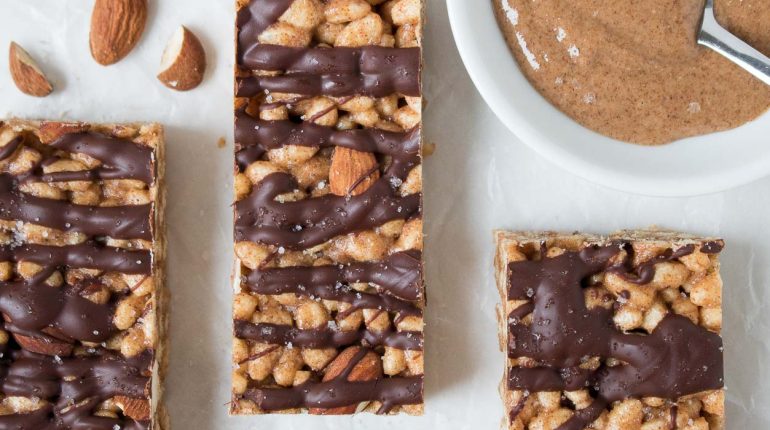 Posted October 5, 2023 by: Admin #Kitchen
Whether you're in the mood for a delectable snack or a simple dessert, these almond butter rice crispy bars are a delightful treat. These bars are a delightful combination of crispy puffed rice, creamy almond butter, and sweet honey, all adorned with a drizzle of rich dark chocolate, striking a perfect balance between sweet and salty flavors.
Advertisement: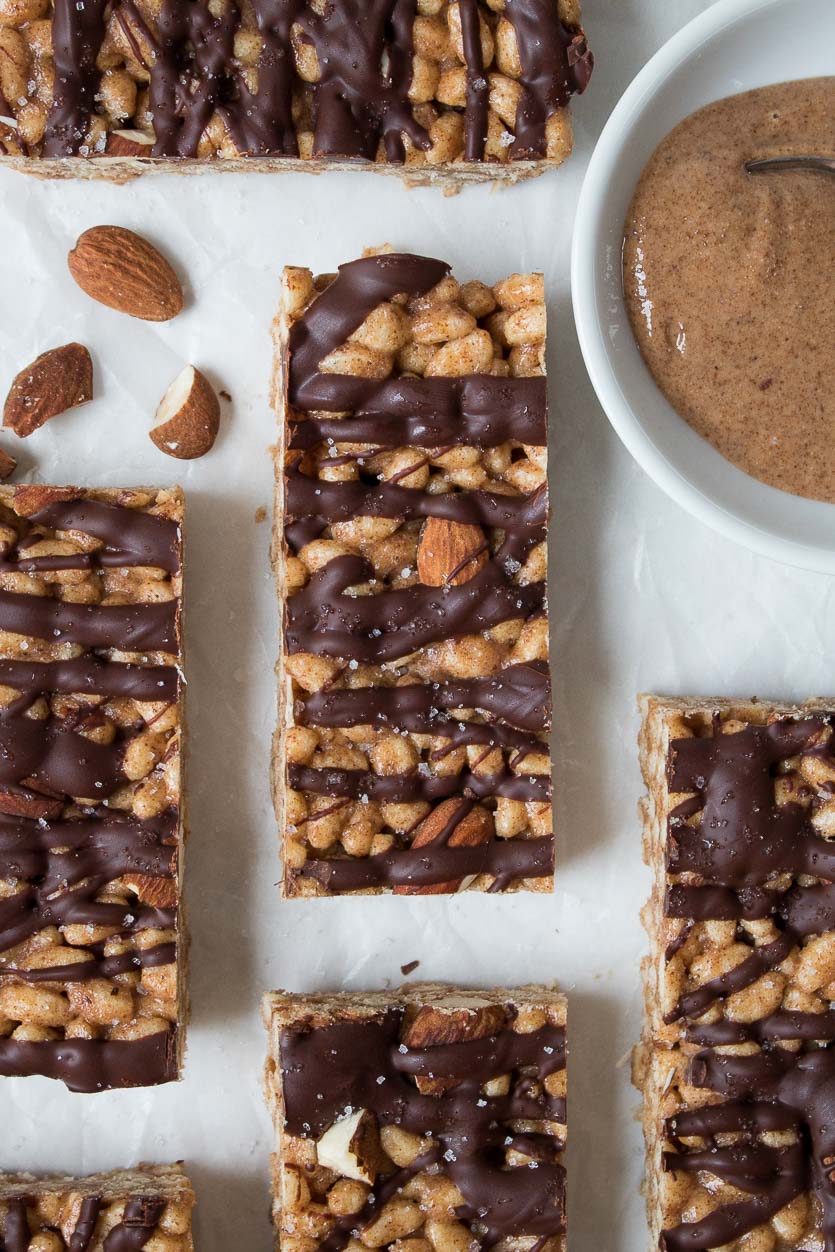 Almond Butter Rice Crispy Bars
These marshmallow-free almond butter rice crispy bars are a nutritious, no-bake, and gluten-free snack suitable for all. While this recipe features almond butter, feel free to substitute it with peanut butter, cashew butter, or sunflower seed butter if desired.
Ingredients
3 cups of puffed rice
3/4 cup of smooth almond butter
1/3 cup of honey
2 tablespoons of coconut oil
1/4 cup of roughly chopped almonds
1/4 cup of dark chocolate chips
Flaky sea salt, to taste
Instructions
Begin by lining an 8'x8′ or 9'x9′ baking pan with parchment paper.
Place the puffed rice into a large mixing bowl and set it aside.
In a small saucepan or skillet over low to medium heat, melt the coconut oil. Then, add the almond butter and honey, continuing to heat and gently whisk until thoroughly combined.
Pour the mixture of coconut oil, almond butter, and honey over the puffed rice. Use a spoon or silicone spatula to gently mix and fold until everything is well incorporated.
Once the puffed rice is evenly coated, transfer the mixture to the prepared baking pan. Spread it out uniformly and sprinkle the chopped almonds on top. Press it down firmly using the back of a spatula or your hand.
Melt the chocolate chips until smooth, either using a double boiler or the microwave. Drizzle the melted chocolate over the bars and add a pinch of sea salt for flavor.
Place the bars in the freezer for approximately 1 hour or until the chocolate sets completely.
After the chocolate has hardened, remove the pan from the freezer, take the bars out, and transfer them to a cutting board. Allow them to sit for a couple of minutes to make slicing easier.
Cut the bars in half, and then slice each half into 4 equal-sized bars, resulting in a total of 8 bars.
You can enjoy the bars immediately, store them in the refrigerator for up to 5 days, or keep them in the freezer for several months. It's not advisable to store these bars at room temperature, as they may become soft and lose their shape if exposed to high temperatures.
Advertisement:
NEXT: Soft Pretzel Easy Lunchbox Idea
Thanks for your SHARES!
Advertisement:
You May Also Like
Add a comment