Air Fryer Chicken Thighs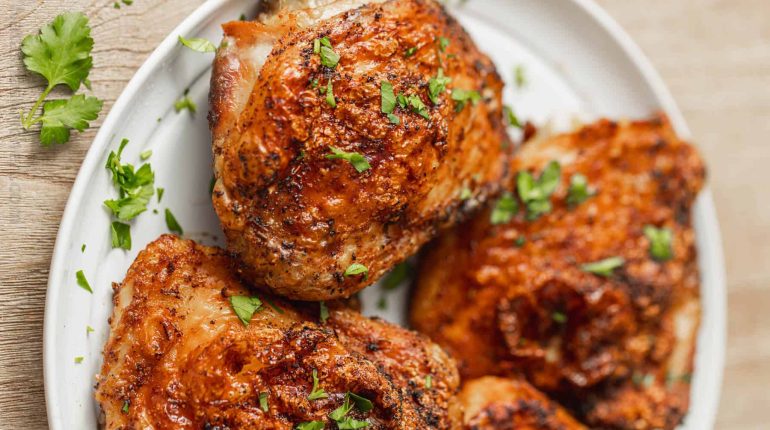 Posted November 2, 2023 by: Admin #Kitchen
Our Air Fryer Chicken Thighs are juicy on the inside and perfectly seasoned and crispy on the outside. This easy dinner idea is ready in a fraction of the time it takes to bake chicken thighs in the oven!
Advertisement:
Air frying is one of our favorite methods for cooking healthy weeknight meals. We love recreating our favorite recipes in the air fryer, from crispy Air Fryer Roasted Potatoes to Air Fryer Chicken Wings, and of course this recipe for air fryer chicken thighs. The air fryer is well-loved in our home.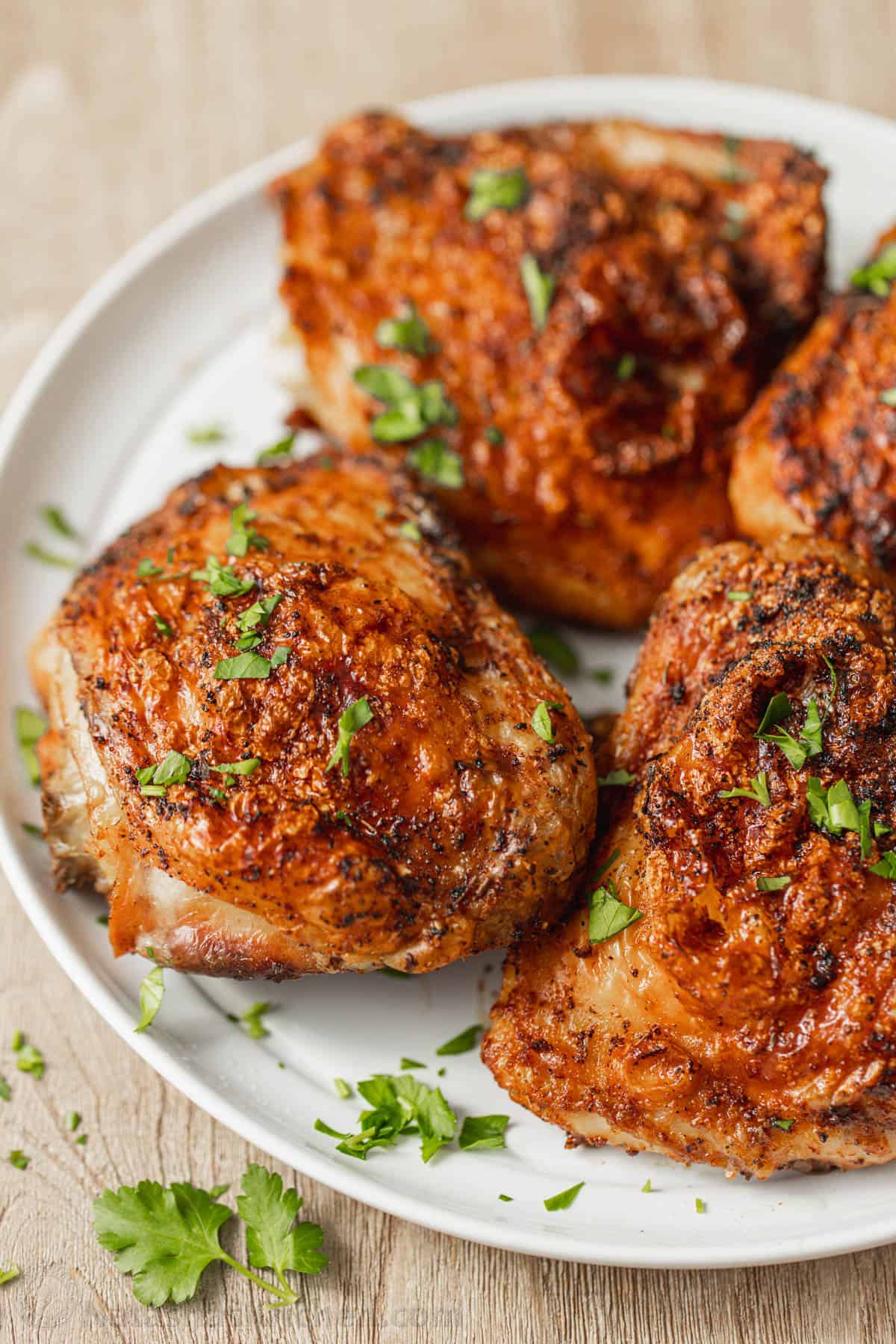 Crispy Air Fryer Chicken Thighs
This is our go-to, never-fail recipe for perfectly juicy air fryer chicken thighs. These thighs turn out delectably tender throughout with crisp, well-seasoned skins, ready in a fraction of the time it takes in the oven. We love Baked Honey Mustard Chicken Thighs (and Grilled Chicken Thighs), but sometimes there just aren't enough hours in an evening. That's when we turn to this air fryer recipe.
Advertisement:
Air-fried chicken thighs are easy, flavorful, and perfect to serve with just about any side, from rice to veggies. Plus, the leftover chicken keeps well, perfect for healthy meal prep ideas and lunches all week long. Serve your chicken thighs with Sour Cream Mashed Potatoes and a Garden Salad for a flavorful and memorable meal.
Ingredients
Below is a quick overview of the ingredients you'll need to make these perfectly seasoned air fryer chicken thighs. Remember to refer to the print-friendly recipe card below for the full amounts and details.
Chicken Thighs – We love using bone-in, skin-on chicken thighs for this recipe. Look for chicken that's air chilled, free-range and/or organic for the best flavor and freshness.
Olive Oil – Use good-quality olive oil or avocado oil for coating the chicken thighs. Oil helps the seasonings stick and also makes the skins crisp up nice and golden.
Seasoning – We season our chicken thighs with a blend of garlic powder, fresh or smoked paprika, Italian seasoning, salt, and freshly cracked pepper. Simple, yet so delicious.
Garnish – Add a sprinkle of chopped fresh parsley to the cooked chicken for a pop of green.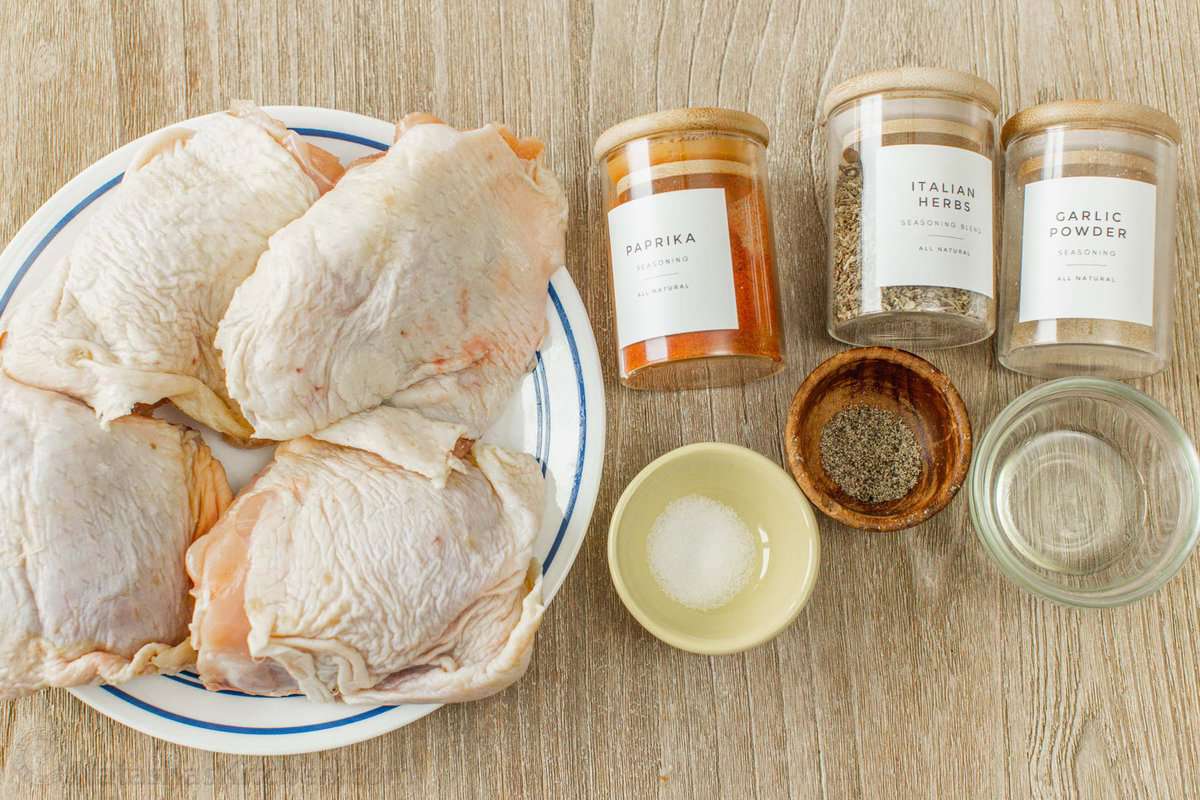 Advertisement:
Pro Tip: You can use boneless chicken thighs instead of bone-in thighs. However, you'll need to shorten the cooking time (see the Common Questions section).
How to Cook Chicken Thighs in the Air Fryer
Sometimes the simplest recipes truly are the best. Here's how easy it is to cook chicken thighs in the air fryer:
Mix the Seasoning Rub – First, stir together the seasonings with olive oil.
Prepare the Chicken – Brush the tops of the chicken with half of the seasoning blend, then flip and coat the underside. Place the chicken thighs into the basket of your air fryer, skin-side-down. Make sure to leave enough space between the thighs to allow the hot air to circulate.
Cook – Air-fry the chicken thighs at 375ºF for 18-22 minutes (see tip below). Flip your thighs halfway through the cooking time to ensure the thighs are evenly cooked throughout.
Rest – Lastly, transfer your cooked chicken thighs to a plate and let them rest for 5 minutes before garnishing and serving.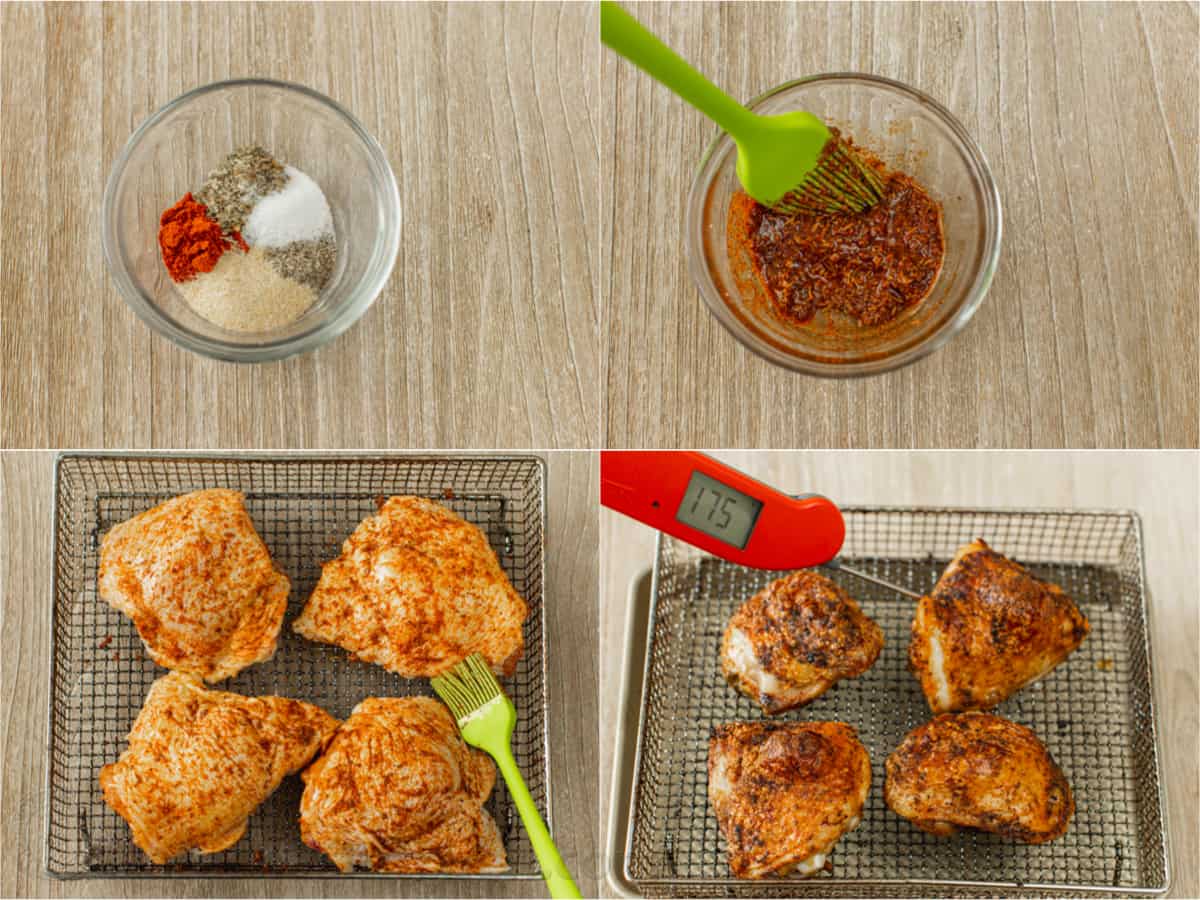 Advertisement:
Pro Tip: The cooking times for chicken thighs can vary depending on the size and style of your air fryer and the size of the thighs themselves. Toaster-oven-style air fryers take about 18-20 minutes, while a basket-style air fryer will take about 20-22 minutes. Check the chicken for doneness as it nears the earliest suggested cooking time, and go from there.
Common Questions
How to test chicken thighs for doneness?
Use an instant-read thermometer inserted into the deepest part of the chicken without touching the bone. The internal temperature should reach at least 165ºF (I prefer letting dark meat chicken go to 175˚F).
Can I use boneless skinless chicken thighs?
Yes, but you'll need to reduce the air frying time to 12-15 minutes for boneless chicken thighs. Remember to flip halfway through as usual, and check that the internal temperature reaches at least 165ºF.
Why let the chicken rest after cooking?
Just like steak, chicken needs to rest after it's cooked (at least 5 minutes) to let the juices redistribute throughout the thighs.
Advertisement:
Should I rinse my chicken thighs?
The USDA suggests not rinsing chicken as it can spread bacteria in your kitchen. Instead, pat the chicken thighs dry with a paper towel.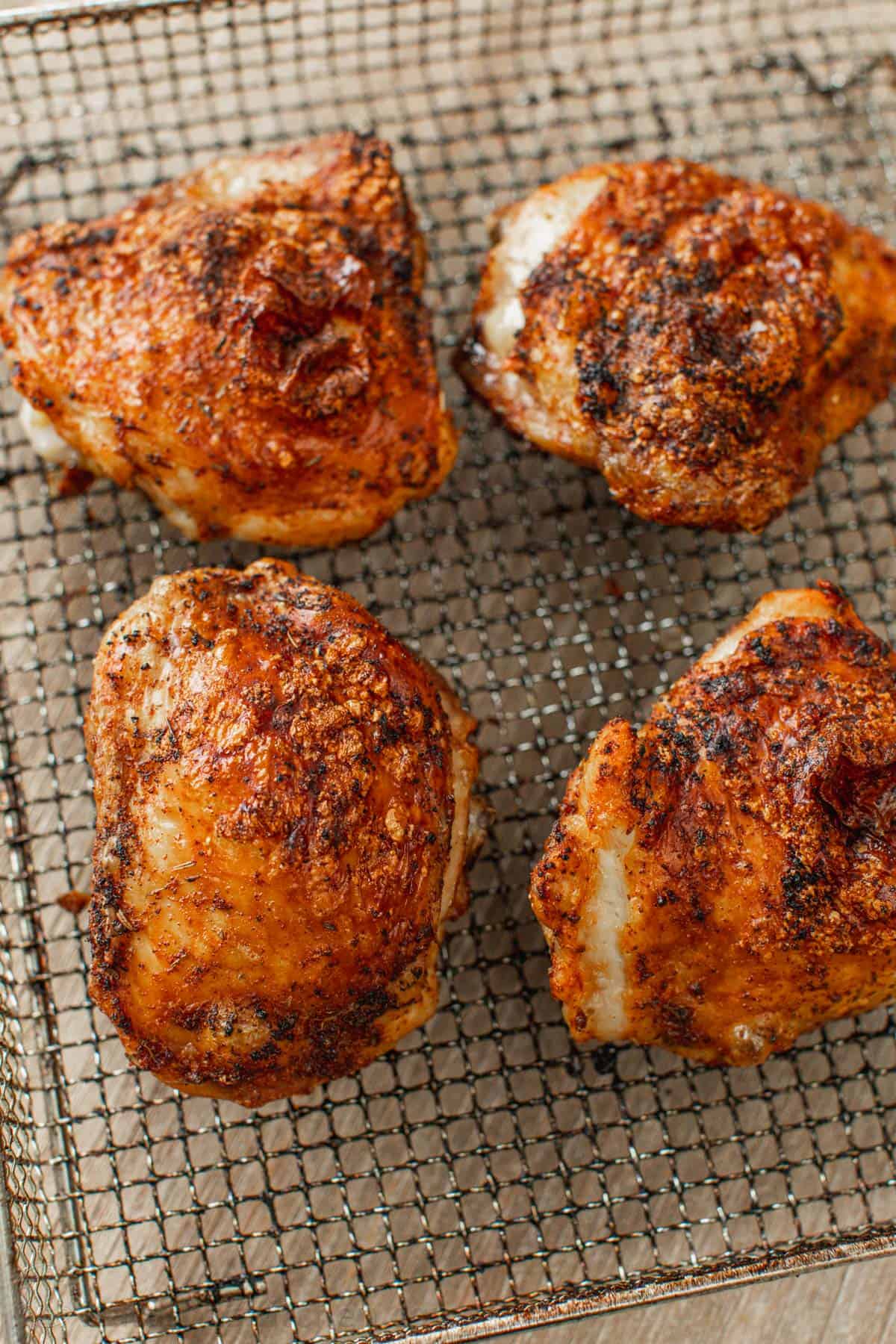 Variations
This straightforward chicken thighs recipe leaves lots of room for variations. Here are some ideas to try:
Advertisement:
Seasoning – Change up the seasoning blend with other spices like onion powder, cayenne, Cajun spice, and fajita seasoning from our Chicken Fajitas, or even Taco Seasoning. It's also delicious with the seasoning from our Lemon Pepper Wings.
Herbs – Instead of parsley, sprinkle over fresh rosemary, thyme, or chopped cilantro. You can also try dried herbs like dried parsley, basil, and oregano.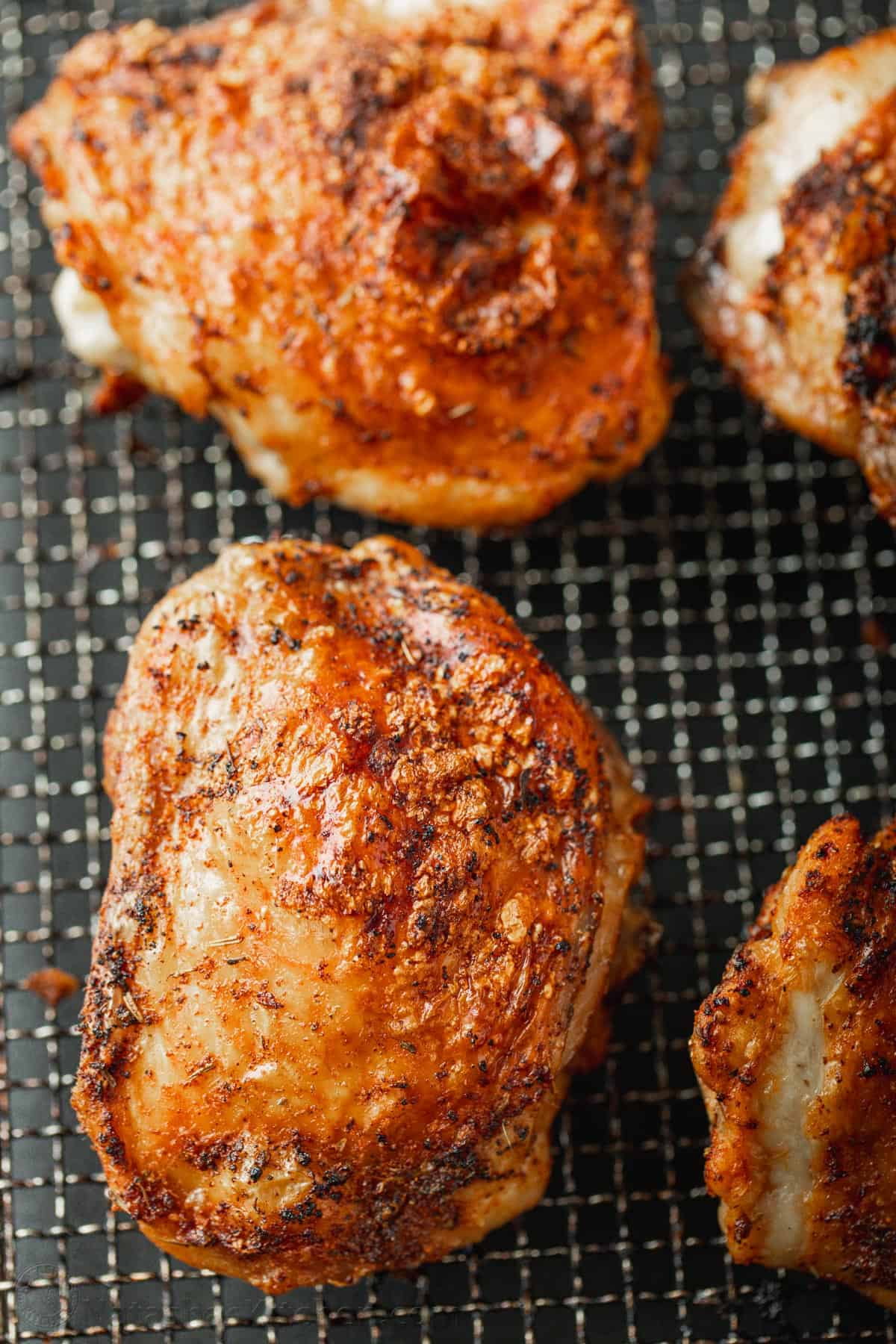 What to Serve with Chicken Thighs
Chicken dinners are on regular rotation in our house. There are so many ways to make juicy air fryer chicken into a healthy family meal:
Make-Ahead
Whether you are marinating ahead, or cooking ahead, these air fryer chicken thighs keep well. Here's how to store them:
Marinating Chicken in Advance: Add the thighs to a zip-top bag along with the seasoning. Give it a good shake to coat, then press out the excess air and place the sealed bag into the fridge overnight. When you're ready to cook it, cook in the air fryer as directed.
To Refrigerate: Store your cooked chicken thighs airtight and refrigerate them for up to 3-4 days. We like to remove the bones and add cold leftover chicken to rice bowls, salads, or sandwiches.
Reheating: Reheat chicken thighs either in the air fryer or covered in the oven at 350ºF until warmed throughout.
To Freeze: Store the cooked chicken thighs in an airtight, freezer-safe container or zip-top bag and freeze them for up to 2-4 months. Thaw the chicken completely in the fridge before reheating and serving.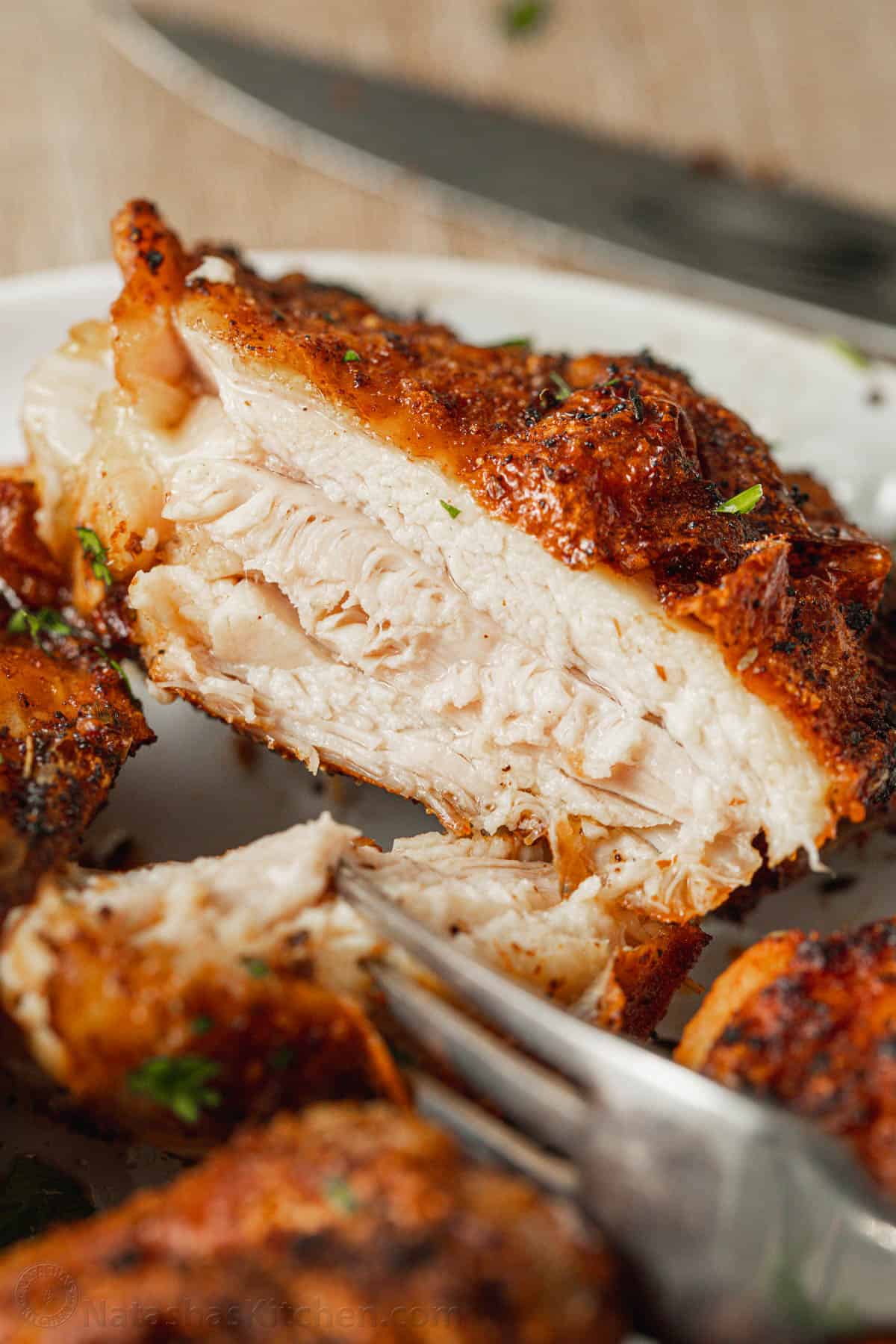 Advertisement:
We love using our air fryer all year round as a quick and convenient alternative to baked recipes. These air-fried chicken thighs come out so incredibly tender and full of flavor, you'll want to make them every week!
In a small bowl, add the olive oil, garlic powder, paprika, Italian seasoning, salt, and pepper. Stir together to make a paste.
Pat chicken dry with paper towels and set it in the basket of your air fryer or on a plate. Brush half of the seasoning mix onto the chicken then flip and brush the second side evenly. Alternatively, you can shake the chicken in a zip-top bag with the seasoning (which is great if marinating ahead). Set the chicken in the air fryer basket in a single layer, skin-side-down.
Air fry at 375ºF for 18-22 minutes (flipping halfway). Cook until the internal temperature of the chicken reaches 165ºF at the thickest point on an instant-read thermometer. Cook times may vary depending on your air fryer and the size of your chicken thighs (see note).
Once cooked through, transfer to a plate and rest for 5 minutes then garnish with chopped parsley if desired and serve.
Toaster-oven-style air fryers will cook the thighs in about 18-20 minutes. Basket-style air fryers take 20-22 minutes.
Advertisement:
NEXT: Garlic and Herb Lamb Chops Recipe
Thanks for your SHARES!
Advertisement:
You May Also Like
Add a comment