Achieve Crispy Perfection: Sliced Baked Potatoes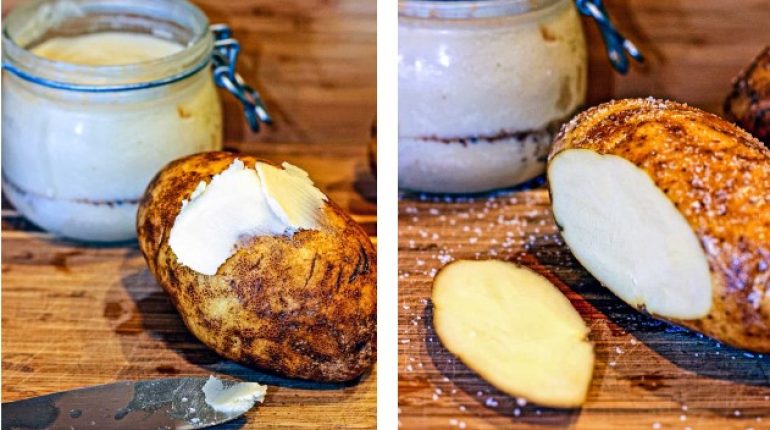 Posted September 19, 2023 by: Admin #Kitchen
Discover the secret to achieving crispy perfection with Hasselback potatoes! Originating from the renowned Stockholm restaurant, Hasselbacken, these thinly sliced and seasoned delights are crispy on the outside and tender on the inside, resembling thick potato chips but with a unique twist. Learn how to create this impressive and tasty side dish with our expert tips and kitchen hacks.
Advertisement: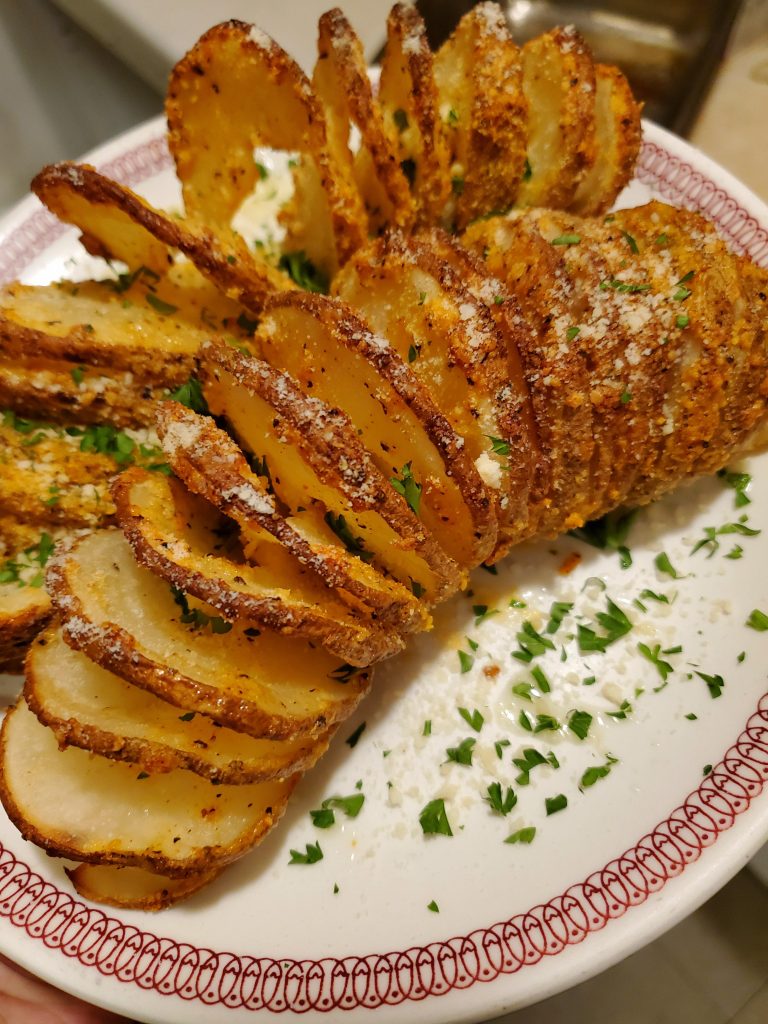 What Exactly Is a Hasselback Potato? The term "Hasselback potato" finds its roots in the Swedish word "Hasselbacken," which pays homage to the restaurant where this delectable side dish first made its appearance. These baked potato slices possess a crispy exterior and a soft, tender interior, similar to thick potato chips. The distinguishing feature is that the slices remain attached to the base, offering endless possibilities for seasonings and fillings. From simple salt and pepper to indulgent options like butter, bacon, cheese, and herbs – your culinary imagination is the only limit. Much like preparing a perfect baked potato, crafting a superb Hasselback potato side dish involves just a few essential steps.
How to Craft the Perfect Hasselback Potatoes:
Advertisement: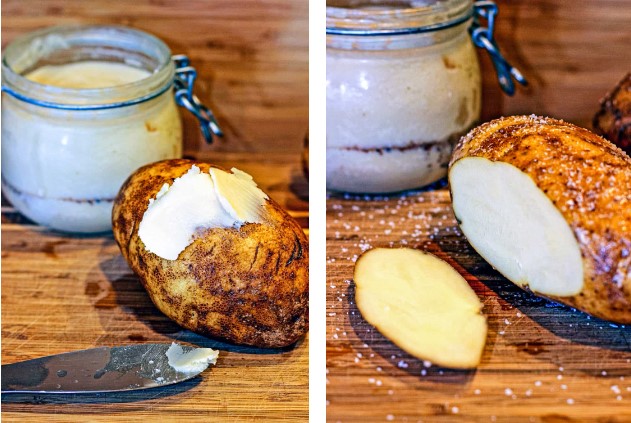 Prepare the Potatoes: Begin by thoroughly cleaning the potatoes. Use a vegetable scrub brush and tap water to remove any dirt. If there are sprouts (eyes) on the potato, eliminate them with a paring knife. Pat the potatoes dry with paper towels.
Grease the Skin: Coating the potato's exterior with fat before baking is the key to ensuring that the seasonings adhere and that your potatoes turn out crispy. You can use reserved bacon fat, vegetable oil, or any cooking oil of your choice. Rub the oil or fat all over the potato's surface and generously sprinkle it with kosher salt.
Create a Stable Base: On a cutting board, slice a small portion from one side of each potato to create a flat bottom. This flat base makes it safer and easier to cut the slices in the Hasselback potato.
Slice the Potatoes: To achieve perfect slices without cutting through the potato entirely, follow these tips. Make thin cuts along the potato, and to prevent cutting through, use two chopsticks or any slender piece of wood or utensil that stops the knife's progress on both sides of the potato. This technique ensures that the slices fan out beautifully and cook evenly.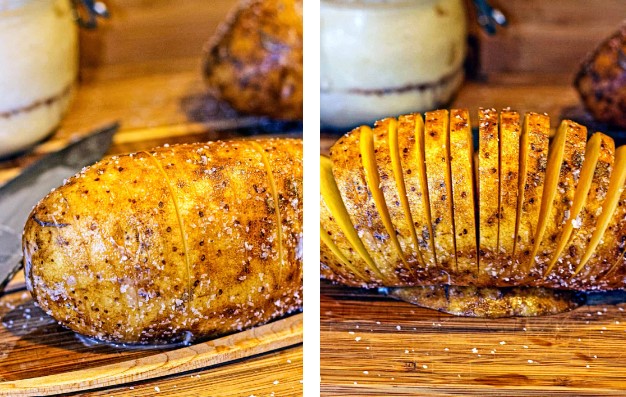 Safety First: Reduce the risk of injuries with these valuable tips. Consider using a vegetable holder/slicer, an inexpensive kitchen tool that stabilizes the potato and prevents it from slipping. Also, slice off a small portion from the base of the potato before you begin cutting.
Advertisement:
Tips for Preventing Browning: Some fruits and vegetables, like potatoes, tend to discolor when exposed to air, a process known as oxidation. To minimize browning, place the raw potato slices in a bowl of water with a splash of lemon juice or white vinegar after cutting them.
For Extra Crispy Potatoes: Soak the sliced potatoes in the vinegar water for a few hours. This step helps draw out starch, resulting in crispier potatoes when baked.
Embrace the Butter: Brushing melted butter over the potato slices adds richness and irresistible flavor. You can also incorporate Herb Butter or Bleu Cheese Butter for an extra burst of taste.
Advertisement: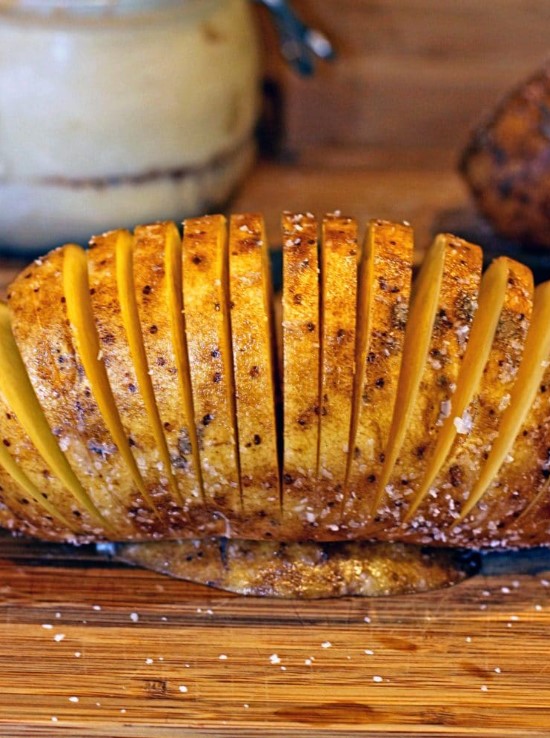 Uniformity Matters: Using potatoes of the same size ensures they cook uniformly, guaranteeing consistent color and crispness. Nobody wants an undercooked or overcooked potato!
Master the Slice: Employ the handy kitchen hack of using chopsticks placed on either side of the potato while slicing. This prevents the knife from cutting through the potato entirely, keeping the slices intact. The arch hack ensures that the thin slices fan out evenly and turn golden brown and crispy.
Serving Suggestions: Similar to mashed or twice-baked potatoes, Hasselback potatoes pair wonderfully with grilled ribeye steak and corn on the cob. Impress your guests with this delectable side dish.
Advertisement: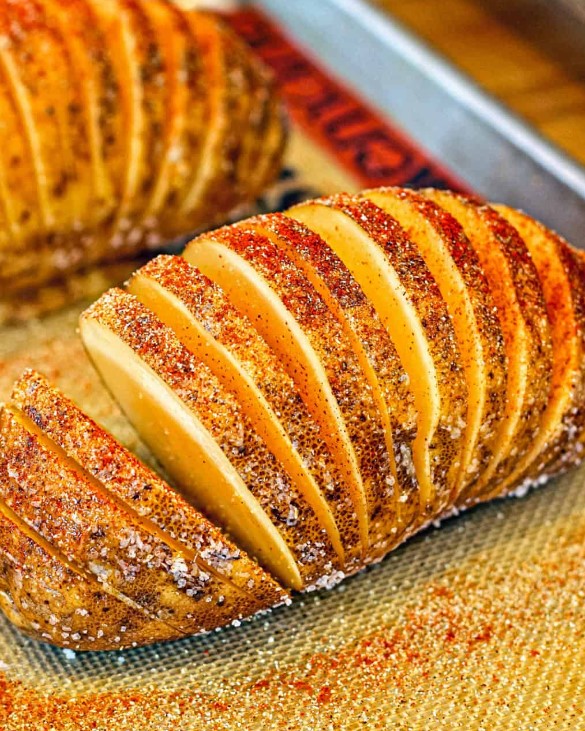 Ready to Cook? Preheat your oven to 425°F. Line a baking sheet with aluminum foil, parchment paper, or a silicone mat, or use a baking stone. Follow the steps below for a mouthwatering Hasselback potato experience:
Ingredients:
Advertisement:
2 medium russet potatoes (approximately 6″ in length)
1 tablespoon bacon fat or olive oil
1/2 teaspoon kosher salt
2 tablespoons herbs of your choice
2 tablespoons melted butter or olive oil for basting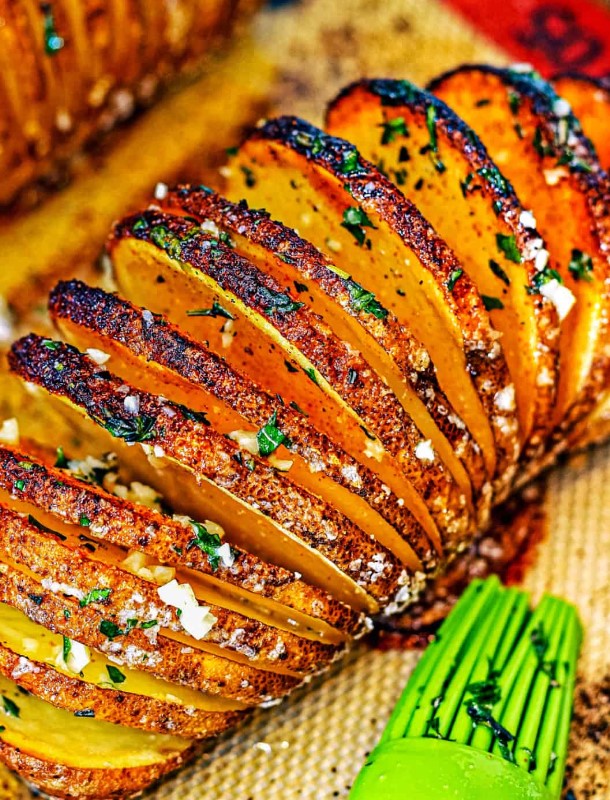 Instructions:
Preheat the oven to 425°F.
Line a baking sheet with aluminum foil, parchment paper, or a silicone mat, or use a baking stone.
Thoroughly coat the potatoes with bacon fat or olive oil and sprinkle with kosher salt.
Slice a thin portion from one side of each potato and set it aside.
Place the potato on its flat cut side and use chopsticks or wooden spoons on either side lengthwise to make 1/8" thick slices, stopping at the chopstick or spoon. This ensures you don't cut through the potato but achieve the desired fanned slices.
Place the flat side of the potato slice down on the lined baking tray and position the fanned sliced potato on top, cut side down, creating the signature Hasselback appearance.
Mince herbs like thyme and parsley and mix them with melted butter and your preferred seasonings. Gently brush the potato and the spaces between slices, ensuring even coverage. Season with kosher salt, freshly cracked pepper, or your choice of seasoning.
Bake for 30 minutes, basting with butter, and continue baking for an additional 20 minutes until the potatoes are crispy and golden brown. Finish by topping with any remaining butter and fresh herbs before serving.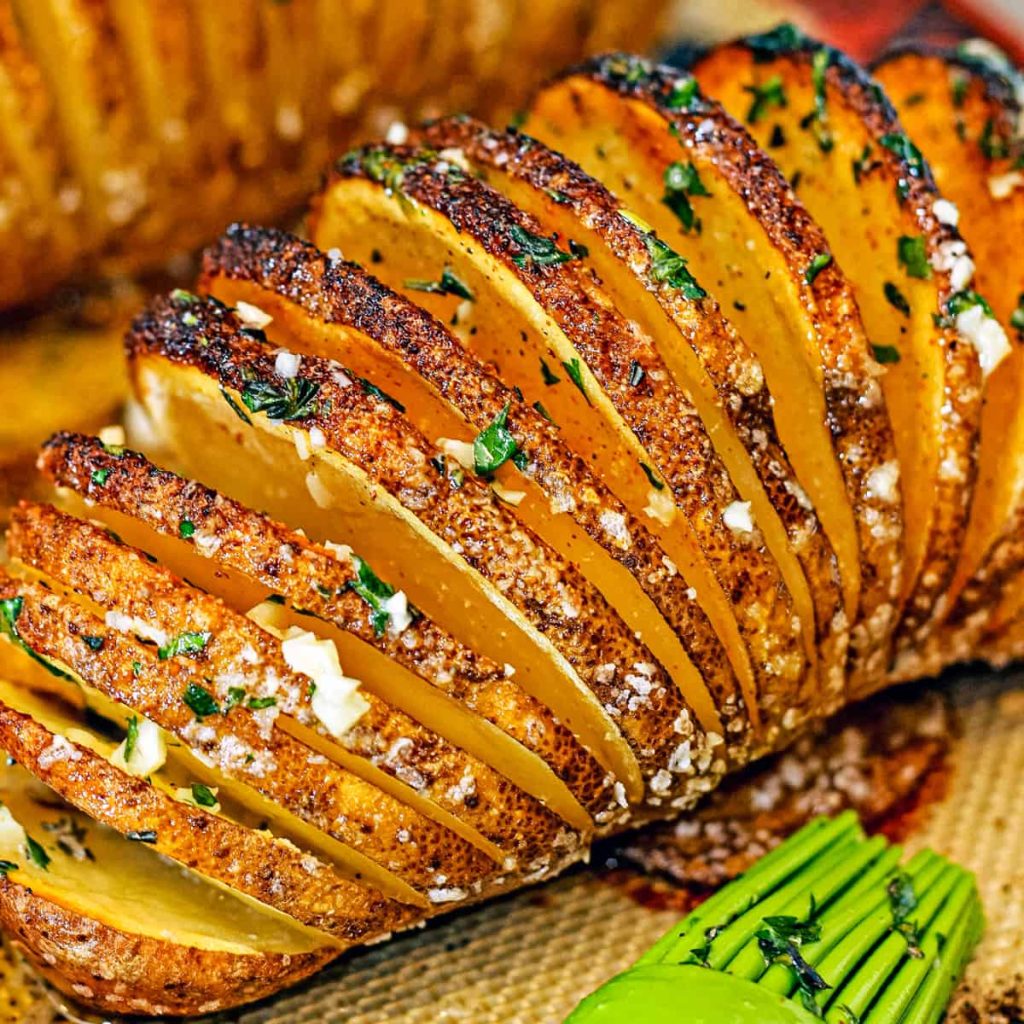 Nutritional Information (per serving):
Advertisement:
Calories: 370kcal
Carbohydrates: 44.3g
Protein: 5.2g
Fat: 20.1g
Saturated Fat: 4.4g
Polyunsaturated Fat: 2.2g
Monounsaturated Fat: 12.7g
Cholesterol: 6.1mg
Sodium: 22.2mg
Fiber: 3.2g
Sugar: 1.5g (Nutritional values are approximate and provided by an online nutrition calculator; consult a professional nutritionist for precise advice.)
Now, you're ready to create the perfect Hasselback potatoes that will delight your taste buds and impress your guests!
NEXT: Chicken with Italian Parmesan, tomato and spinach sauce
Thanks for your SHARES!
Advertisement:
You May Also Like
Add a comment