Wok of stir-fried Chinese noodles with prawns and vegetables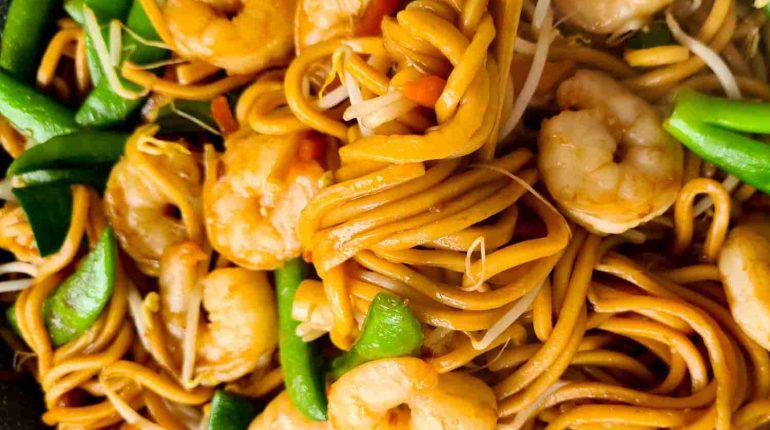 Posted July 20, 2023 by: Admin #Kitchen
Today, we present an exquisite Asian dish: Chinese shrimp noodles cooked to perfection in a sizzling wok. Shrimps have a delicate flavor that we really appreciate in our cooking, and we often indulge ourselves because of their nutritional benefits and irresistible taste. Let's dive into the world of flavors and prepare this mouth-watering delicacy together!
Advertisement:
Chinese noodles with fried shrimp recipe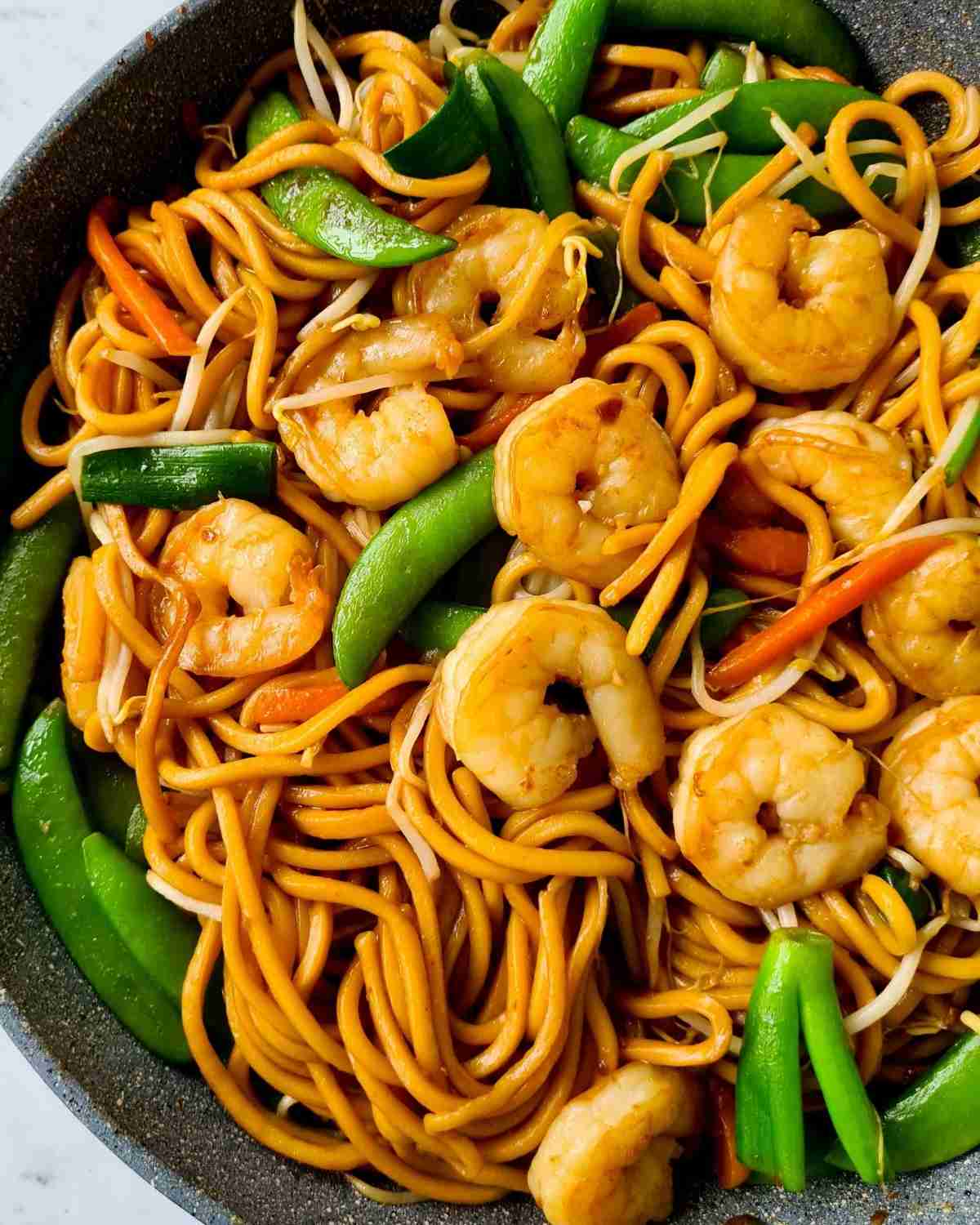 A delicious and easy-to-prepare dish to celebrate Chinese New Year: stir-fried noodles promise an authentic journey through the flavors of Asia. This family dish from Chinese cuisine requires just a handful of ingredients, making it the ideal choice for a quick and tasty meal.
Egg noodles, known for their quick cooking time and firm texture even after storage, make a delicious base for this recipe. You can easily adapt the sauce to suit your taste; while soy sauce works wonders, fans of oyster sauce will find it fits the recipe perfectly. For added convenience, you can also use fresh noodles, following the instructions on the packaging, for a quick, hassle-free dinner.
Advertisement:
Now get ready to savor the taste of Asia by preparing this delicious stir-fried noodle dish, just in time to welcome the happy Chinese New Year!
How to cook Chinese noodles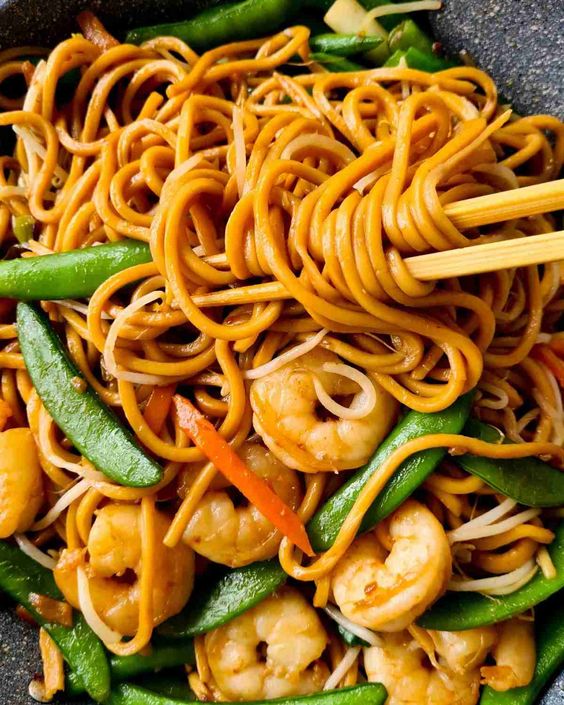 By contrast with Asia's ubiquitous instant noodles, exemplified by brands such as yum-yum, Chinese egg noodles offer a more authentic culinary experience, akin to traditional Italian pasta. To prepare these noodles, simply follow the instructions on the packaging.
Advertisement:
Chinese noodles can be enhanced by adding julienne vegetables such as zucchini, carrots, Chinese cabbage or broccoli. For added flavor and texture, add bean sprouts, strips of black mushroom or tender pieces of chicken or beef. Together, these ingredients add delicious flavors that go beyond seafood. The versatility of this dish allows you to experiment with a range of fresh or frozen vegetables and different proteins.
Of the many delicious combinations, a popular choice in my house is stir-fried Chinese noodles with chicken. The succulent flavors of the chicken marry beautifully with the noodles, creating a dish that satisfies the taste buds and leaves a lasting impression.
Chinese noodle sauce for 2 :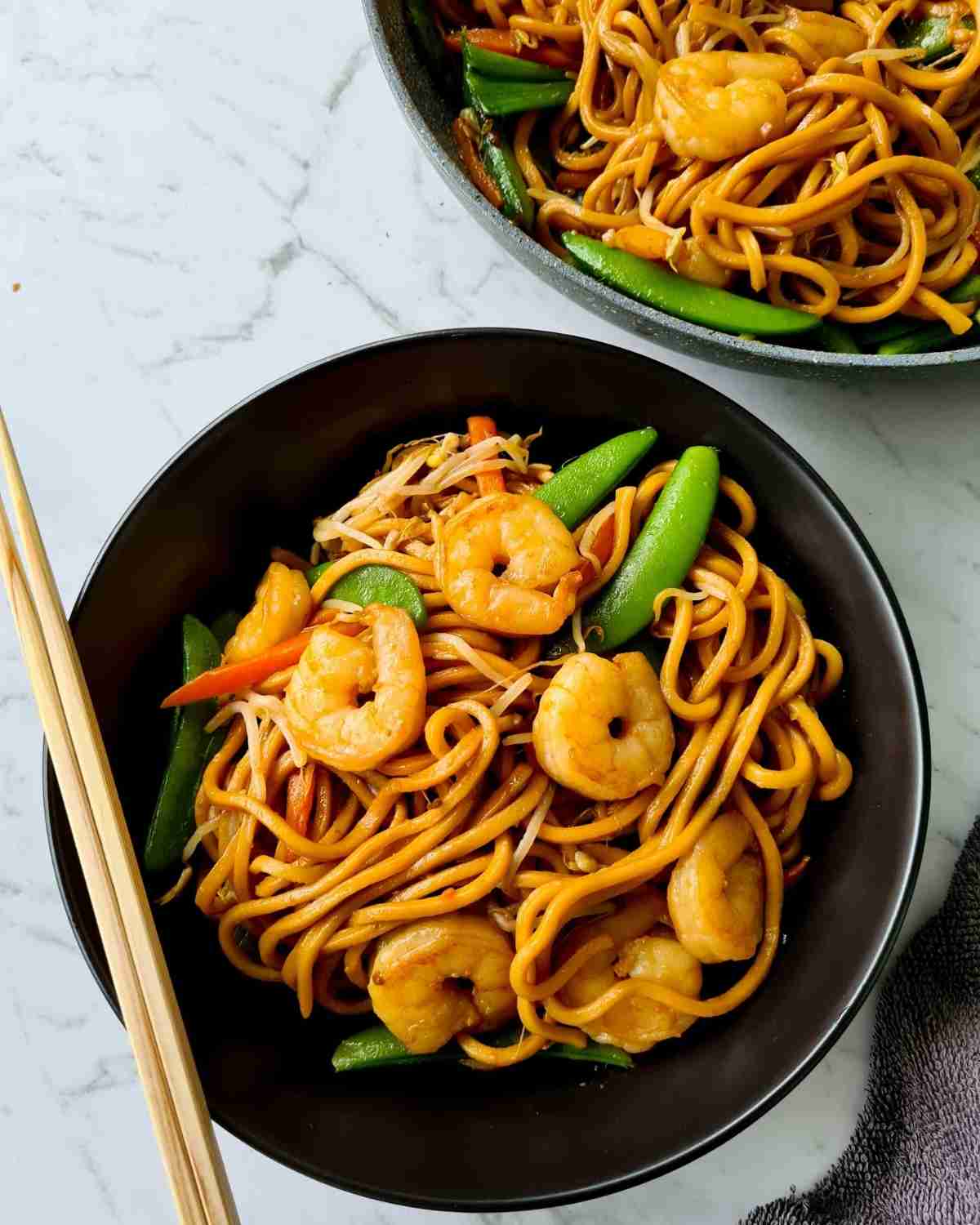 Advertisement:
Ingredients:
400g raw peeled shrimp (frozen)
1 packet Chinese egg noodles
4 stalks chives (or 1 large onion)
1 leek (white part only)
1 small piece fresh ginger, grated (approx. 1.5 cm)
2 cloves garlic
1 red bell pepper, thinly sliced
1 carrot, julienned
1/2 teaspoon red curry paste
30 cl water
2 tbsp. soy sauce
1 tablespoon oyster sauce
olive oil
Pepper
Salt (for seasoning only)
1 bird's eye chili pepper (adjust according to your spice preferences)
Fresh coriander
1 tablespoon sesame oil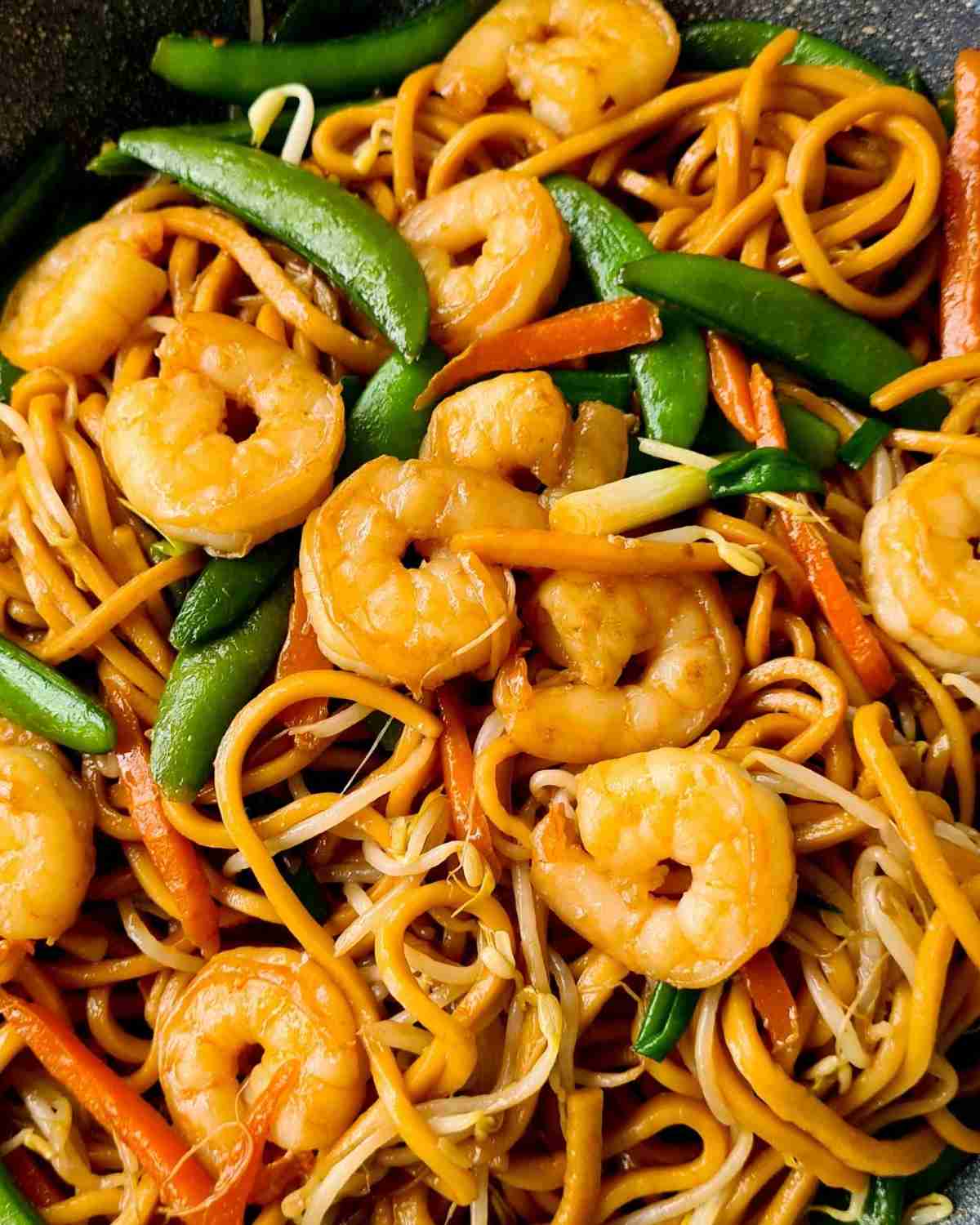 Recipe preparation :
Start by finely chopping all the vegetables.
In a wok or large frying pan, heat a drizzle of olive oil over medium heat and sauté the minced fresh onions until translucent.
Repeat with the seeded and thinly sliced red bell pepper, leek and carrot.
Add the grated ginger and crushed garlic to the vegetables.
When the peppers have softened sufficiently, remove from the wok.
Add the carrot strips, red curry paste, soy sauce, oyster sauce, finely chopped bird's eye chili and water.
Cook the mixture, stirring occasionally. Adjust seasoning with salt and pepper.
Add the peeled and cleaned shrimps to the wok and continue cooking.
Meanwhile, cook the noodles in a pot of boiling salted water according to package instructions.
Once cooked, separate the noodles with a fork and drain.
Transfer the drained noodles to the wok.
Return the cooked peppers to the wok.
Stir well to coat ingredients with broth, then add sesame oil.
Pick and finely chop the fresh coriander and sprinkle the dish with a few decorative leaves (or use lemongrass).
Serve immediately in bowls.
Enjoy your meal!
Advertisement:
NEXT: Red White and Blueberry Salad deliciously patriotic!!
Thanks for your SHARES!
Advertisement:
You May Also Like
Add a comment