Nutrient-Packed Beef Liver Cooked with Onions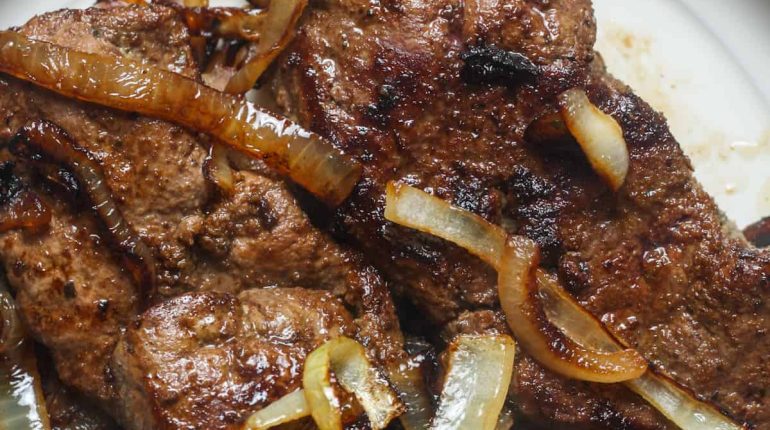 Posted September 17, 2023 by: Admin #Kitchen
This beef liver and onions recipe is packed with nutrients and flavor!
The beef is tenderized and cooked to savory perfection. The onions add even more flavor. This quick and easy recipe for how to cook beef liver is super healthy and incredibly delicious!
Advertisement: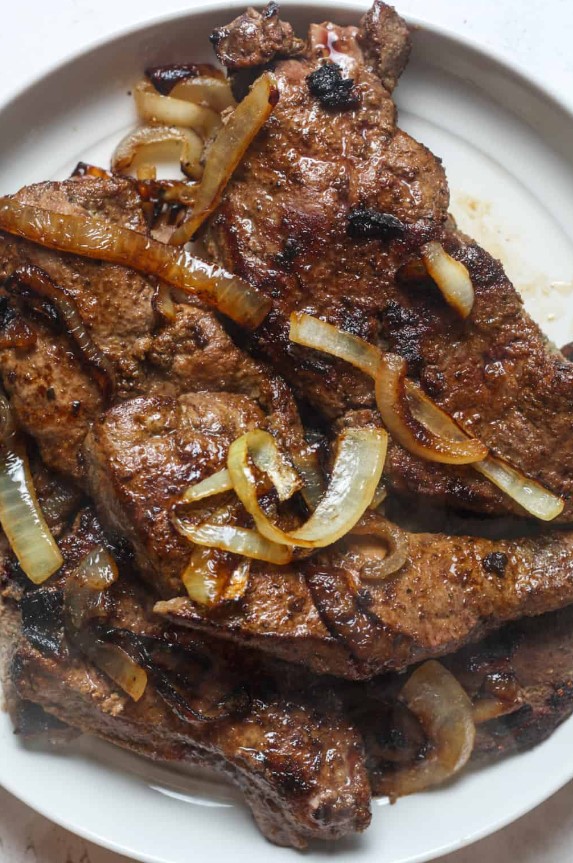 Why You'll Love This Recipe:
Beef liver and onions are filled with nutrients and protein. Liver is one of the healthiest foods. This quick and easy recipe takes 10 minutes after the meat soaks. Soaking the beef liver takes out the strong flavor and tenderizes the meat. This recipe is gluten-free, nut-free, sugar-free, high in protein, low in carbs, and high in vitamins. For Paleo and Whole30, use unsweetened dairy-free milk. Check out this Top Sirloin Steak or these Beef Tips and Rice for another delicious dinner idea.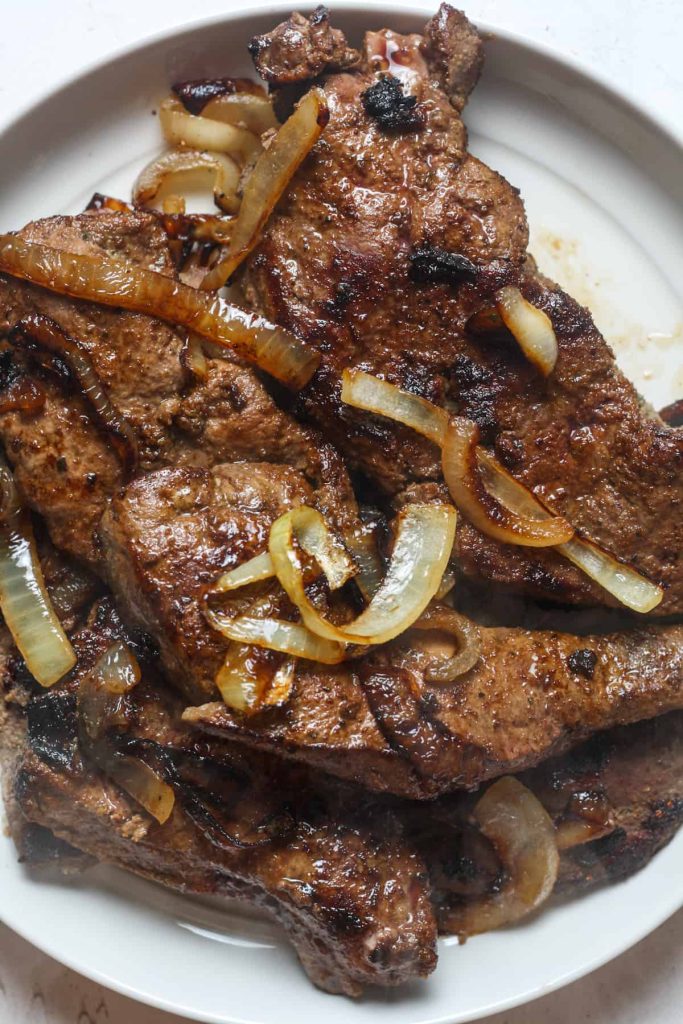 Advertisement:
Ingredients & Substitutions:
These are the main ingredients and substitutions for beef liver and onions recipe. Scroll down to the recipe card for full ingredients list and instructions. If using frozen beef liver, thaw completely beforehand. Young calves have a more tender liver than mature calves. Thinly slice liver or buy pre-sliced. Buttermilk helps the meat become tender. Feel free to replace with regular milk or heavy cream. For dairy-free, use dairy-free milk. This also helps cut back on the intense liver flavor. Onions and liver pair well together. Use a medium-sized yellow onion. Slice thinly. Olive oil helps provide a beautiful sear on the meat. In addition, the onions become tender. Season meat with garlic powder, pepper, and sea salt. Feel free to add more seasonings if desired.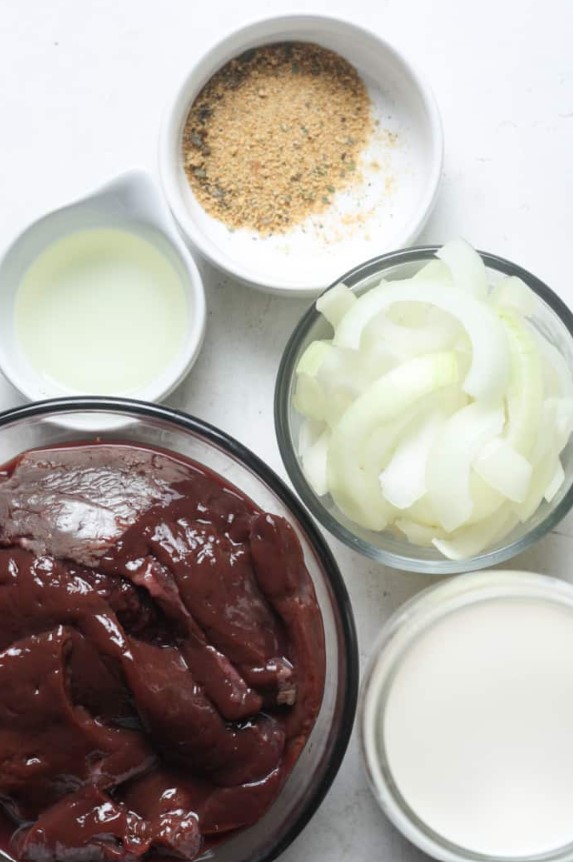 What is Beef Liver?
Beef liver is an organ meat. It comes from cows. This cut of meat is considered a nutritional superfood. It is high in protein, high in vitamins, and low in carbs. This meat is not popular with everyone. It is known to have a strong meat flavor and can be tough. To combat this, soak the meat in buttermilk or milk. This neutralizes some of the meaty flavor and makes it more tender.
Advertisement:
Beef Liver Health Benefits:
Beef liver is loaded with health benefits! It is very healthy and very high in many nutrients. Liver is high in Vitamin A, riboflavin, Vitamin B12, and copper. Additionally, liver is high in protein and low in carbs. Compared to other superfoods, beef liver contains more nutrients. Even kale, spinach and blueberries pale in comparison to liver. A serving of 100 grams contains only 4 carbs and more than 20 grams of protein. In addition, it contains over 3 grams of healthy fats. It has been known to promote healthy skin, healthy brain power and healthy brain function. In conclusion, beef liver is extremely healthy and contains numerous health benefits.
Taste & Texture:
This beef liver recipe is hearty and savory. The onions add a great flavor. The longer the meat soaks, the more tender it becomes. Do not overcook liver, as it can become dry and gritty.
How to Make: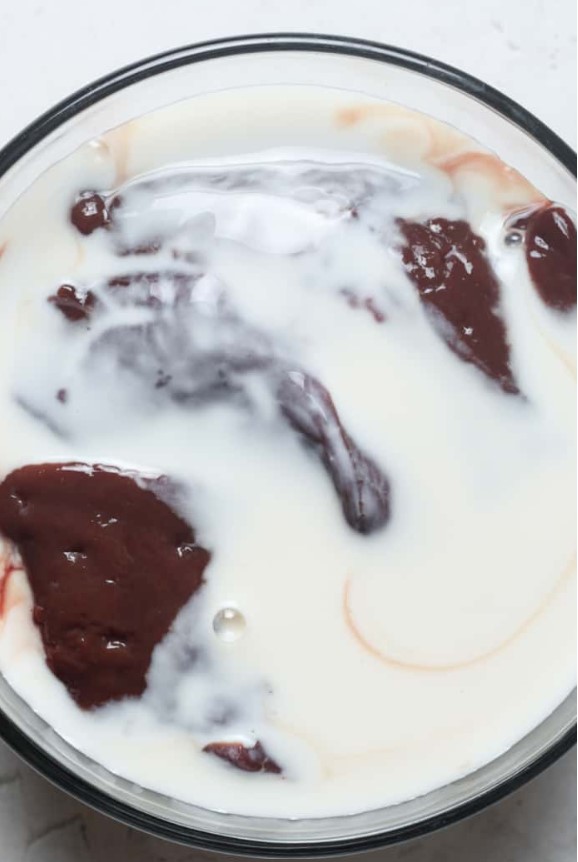 Advertisement:
Step 1: First, add sliced beef liver to a bowl. Pour the buttermilk on top. Soak in the refrigerator for at least 1 hour up to overnight.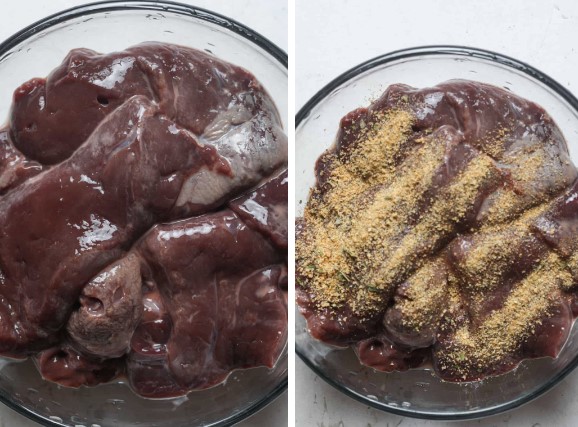 Step 2: Once beef has soaked, remove from buttermilk. Pat dry with paper towels. Season on both sides with garlic powder, pepper and sea salt. Discard the buttermilk.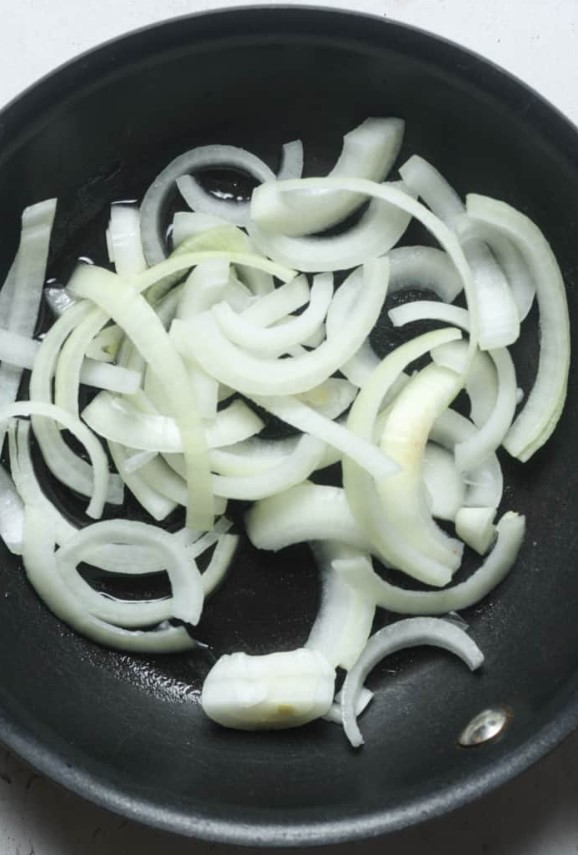 Advertisement:
Step 3: In a large skillet, add 1 tablespoon olive oil over medium heat. Add in the sliced onions.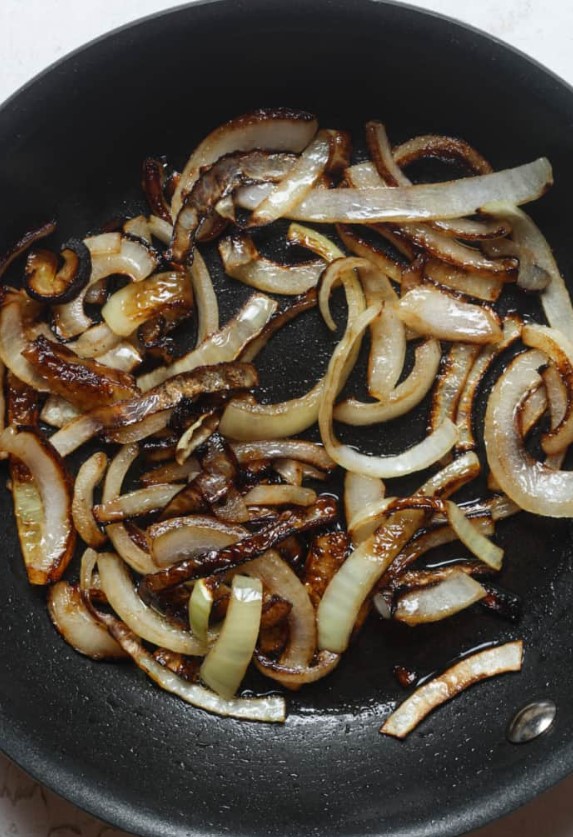 Step 4: Cook onions until tender. Stir occasionally to prevent burning. Remove onions from skillet.
Advertisement: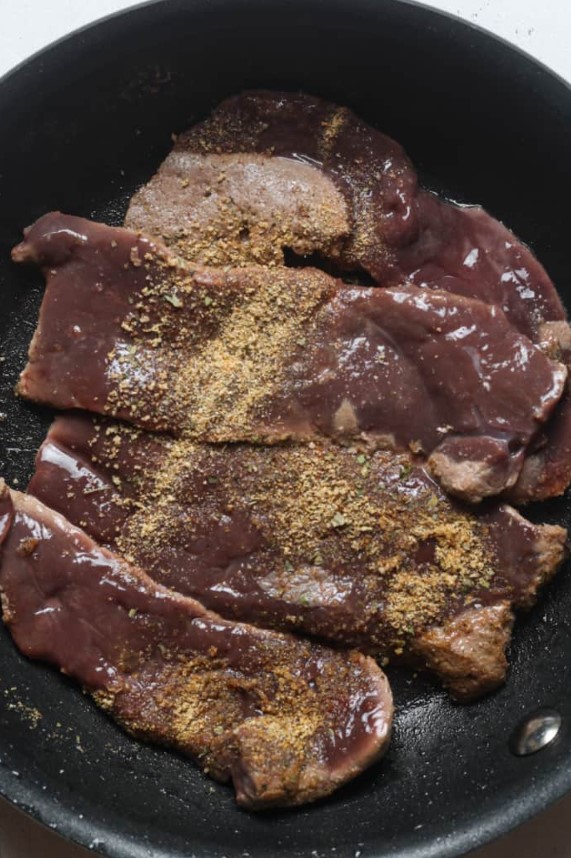 Step 5: Add remaining 1 tablespoon olive oil to skillet. Add seasoned beef liver to the pan.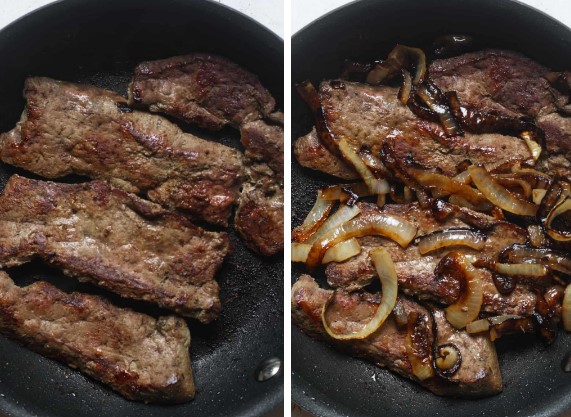 Step 6: Sear on both sides for about 2 to 3 minutes, until internal temperature reaches 160 degrees Fahrenheit. Add onions back to pan for 1 minute to heat up.
Advertisement:
Step 7: Finally, serve beef liver and onions.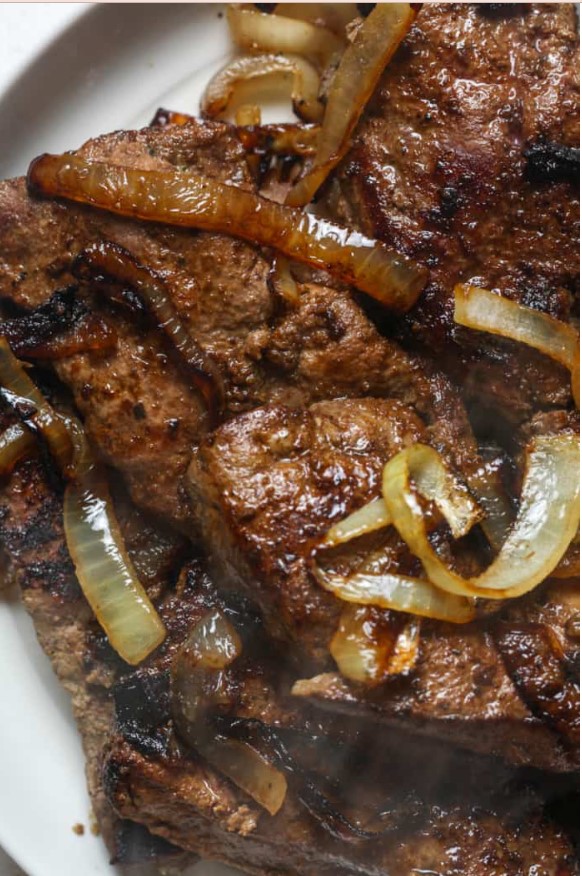 Expert Tips & Tricks:
Thinly slice liver into strips. If using frozen, thaw completely beforehand.
Soak meat in buttermilk or milk for at least 1 hour. The longer it soaks, the more neutralized the flavor and tenderized it will become.
Cook in one even layer. Do not overcrowd the skillet.
Do not overcook. Use a meat thermometer to measure internal temperature. Organ meat is considered safe to eat at 160 degrees Fahrenheit.
How to Serve & Store:
Serve beef liver and onions hot and fresh. Serve alongside some green beans and potatoes, roasted veggies, or mashed potatoes. Store leftovers in the fridge for up to 3 days. I do not recommend freezing liver.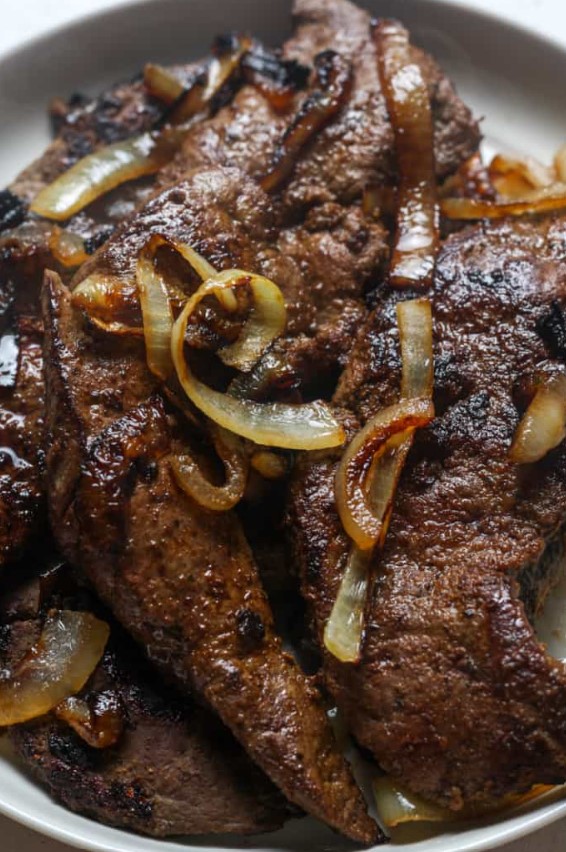 Advertisement:
Calories and Nutritional Information:
Calories: 190kcal, Carbohydrates: 6g, Protein: 18g, Fat: 10g, Saturated Fat: 2g, Polyunsaturated Fat: 1g, Monounsaturated Fat: 6g, Trans Fat: 0.1g, Cholesterol: 234mg, Sodium: 351mg, Potassium: 314mg, Fiber: 1g, Sugar: 1g, Vitamin A: 14373IU, Vitamin C: 3mg, Calcium: 12mg, Iron: 4mg.
NEXT: Discover the mouthwatering delicacy of Mexican Stuffed Shells!
Thanks for your SHARES!
Advertisement:
You May Also Like
Add a comment