Textured Lob Haircuts Are Trending, Here Are The 40 Coolest Examples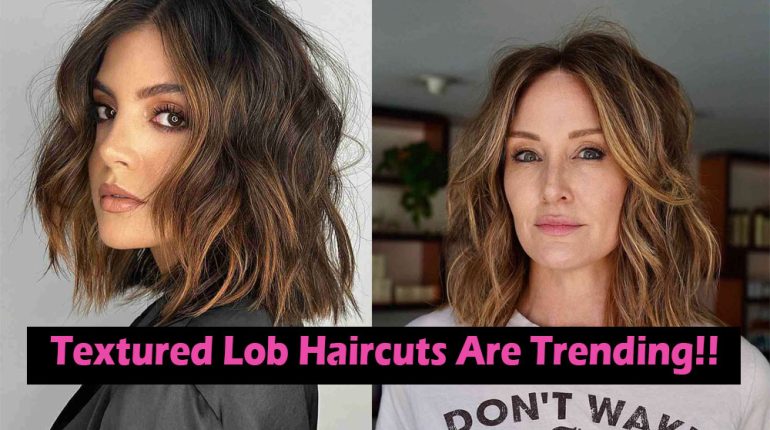 Posted November 10, 2022 by: Admin #Hairstyles
#1:

Messy Lob with Caramel Balayage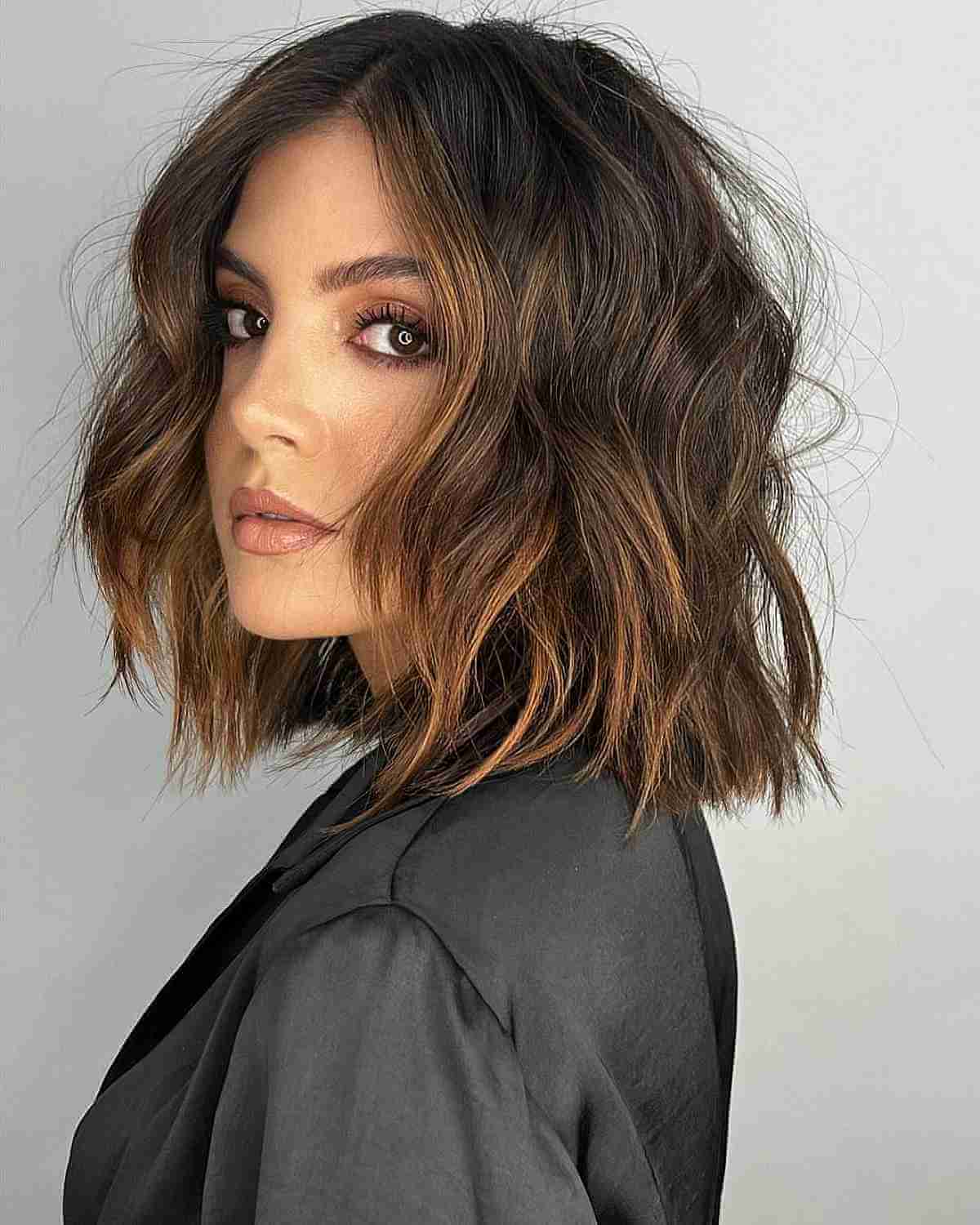 Advertisement:
Give a caramel balayage to a messy lob for a modern, refined look. In a professional opinion, a lob is one of the easiest cuts to maintain. Not only is it versatile, but it works with a wide variety of hair types and textures. The messy texture of this style makes it look particularly edgy.
#2:

Sexy Lived-In Long Bob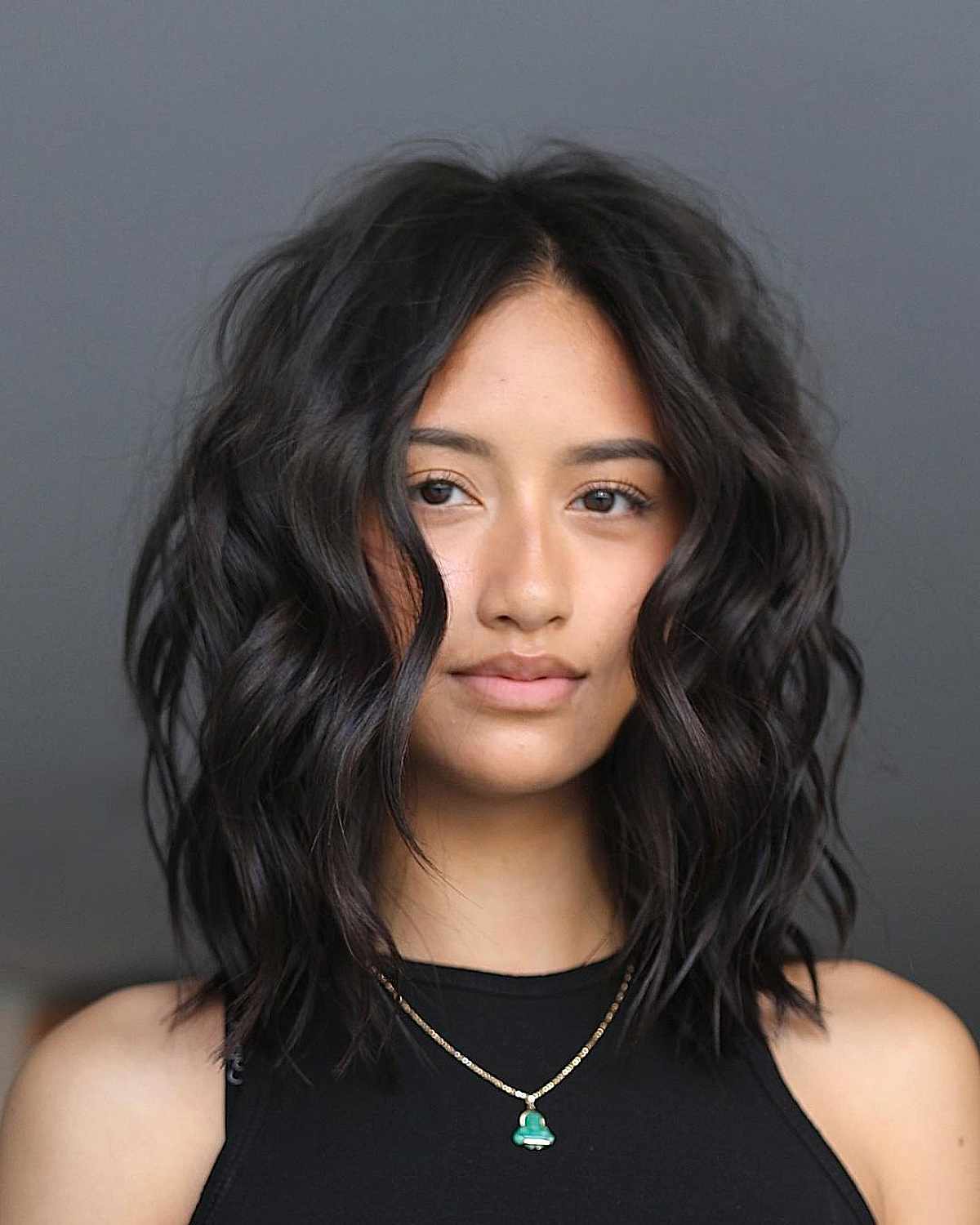 People often ask me which cut is the most versatile. This is a cut that suits almost everyone. It looks flattering on all face shapes and works just as well on wavy or straight hair. It is important to have a sit down consultation with your stylist to make certain that they know where you want your cut to be.
Advertisement:
#3:

Tousled Shoulder-Length Bob with Ombre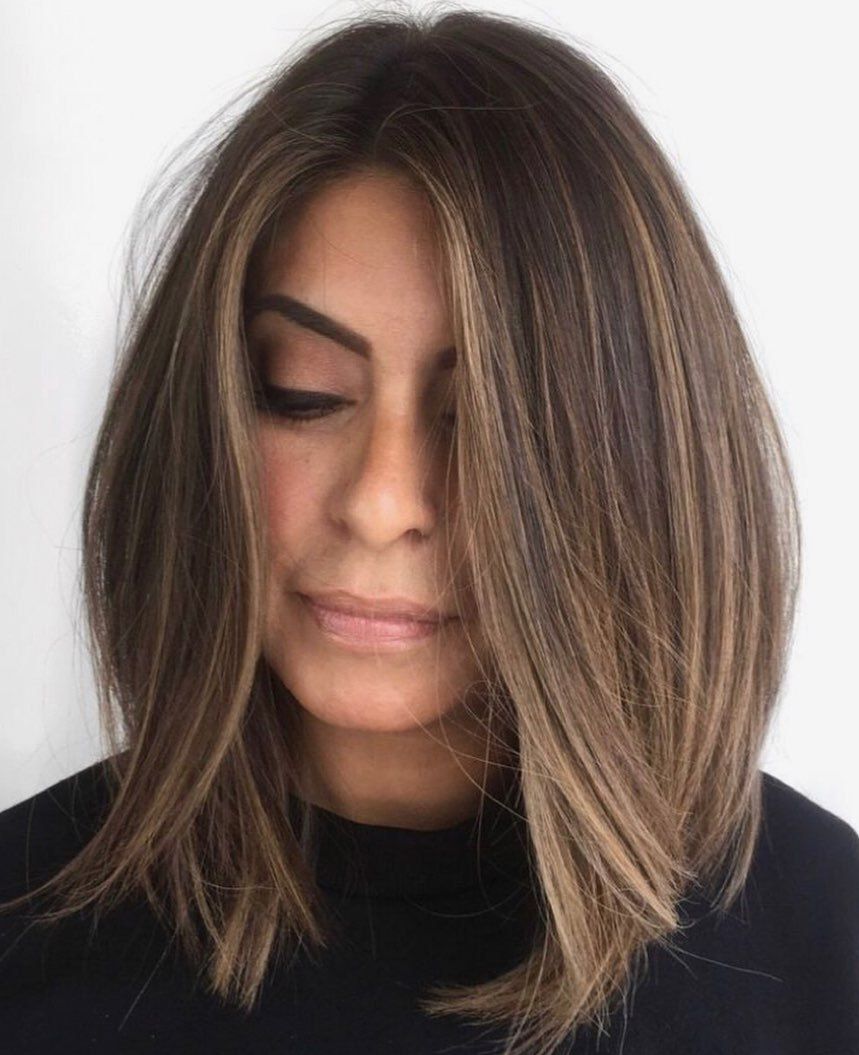 #4:

Wispy Long Textured Bob with Curtain Fringe

Get the cool-girl vibe with a wispy long textured bob with curtain fringe. Invisible weightless layers give body and movement to lifeless hair. The lob length is the perfect in-between length of short and long. Lobs are extremely low-maintenance and are universally flattering on all different hair types and face shapes. Textured waves give a perfectly imperfect style.
#5:

Sassy Undone Long Bob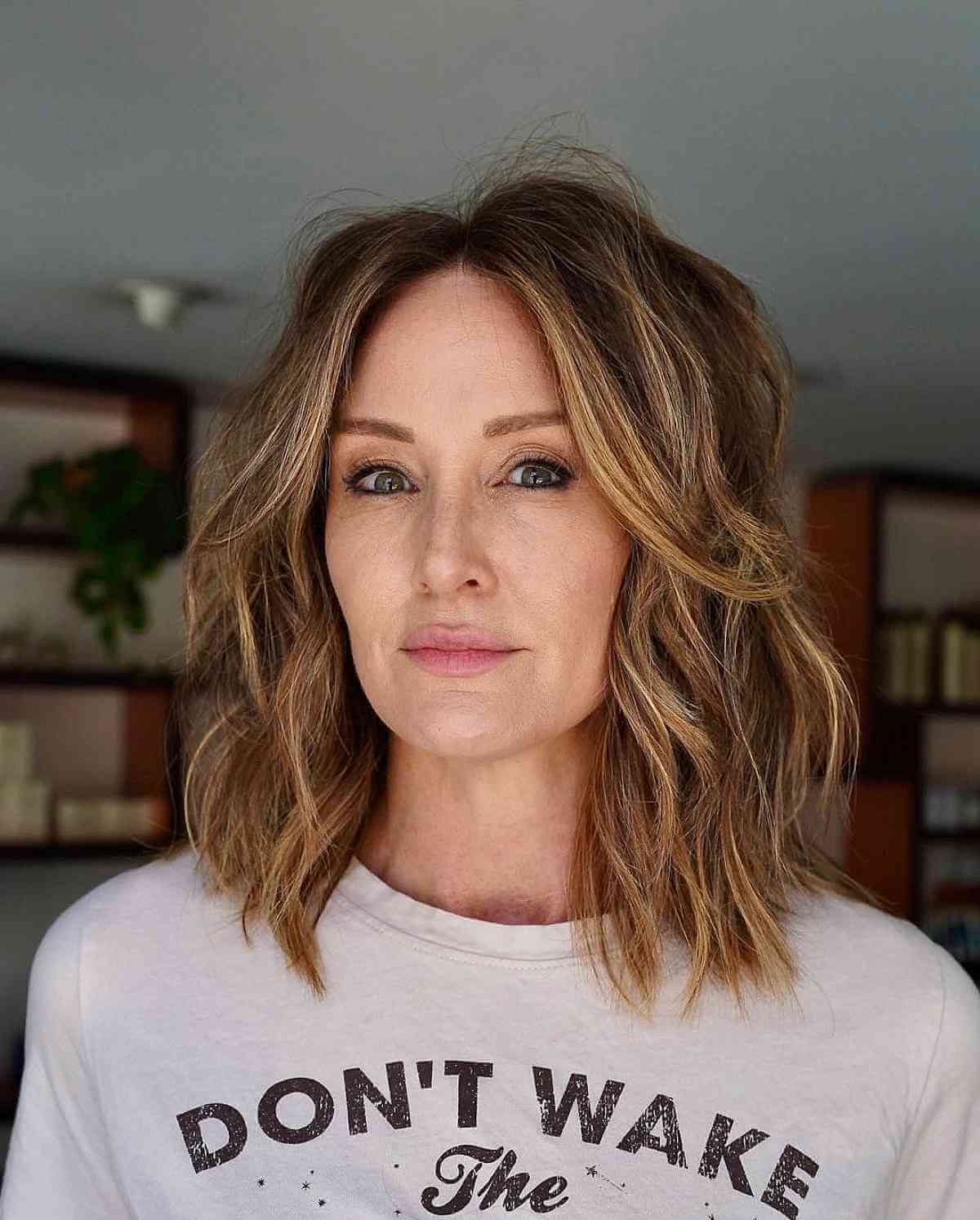 Advertisement:
Every hair type can look amazing with this sassy, undone long bob. On a lob perimeter, cut medium-length layers before adding texture with either a razor or point cutting. The more texture you have, the longer your curls will hold. To get that "undone" finish, apply a texture spray and use your fingers to tousle your tresses. This effortless style will make you look so put-together.
#6:

Gorgeous Long Bob with Lived-In Texture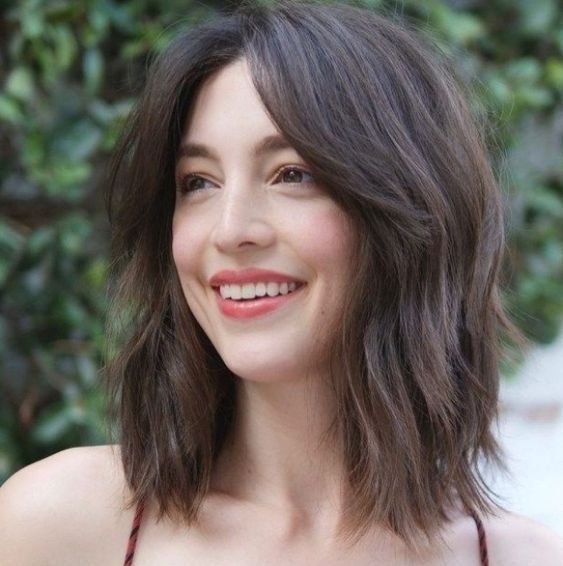 Consider a gorgeous long bob with a lived-in texture if you want a low-maintenance style. I personally recommend styling with waves as it would last a few days. A low-maintenance lived-in look is the way to go!
Advertisement:
#7:

Fresh Chestnut Brown Long Bob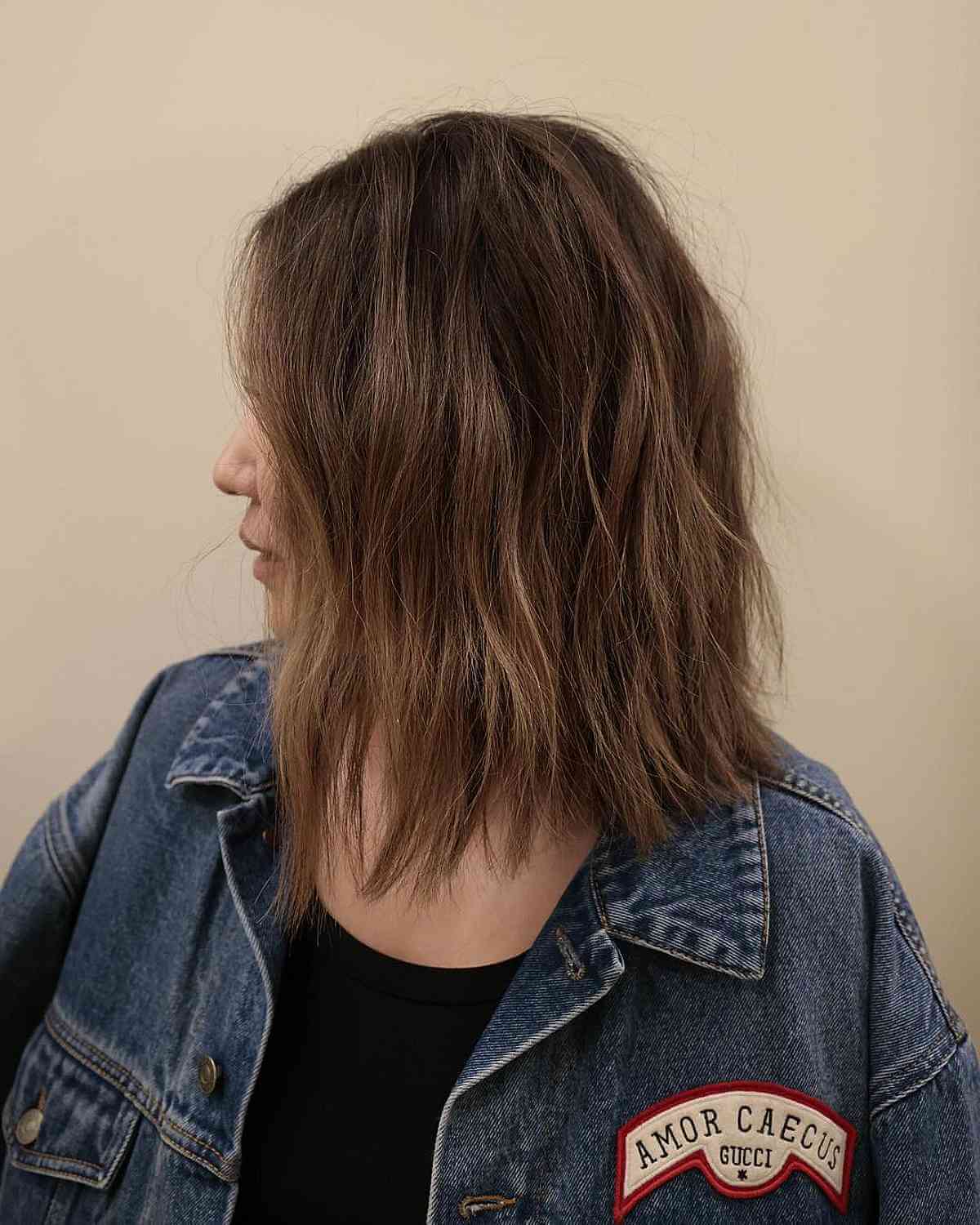 If you have chestnut brown hair, consider a fresh take with a long bob. An important thing to remember is that the thicker the hair, the more texturizing the style will need. After layering, use a razor to etch out weight by taking 2-inch-wide sections of hair and running the razor through the midshaft to the ends. One of the easiest ways to style this cut is to use a 3-barrel waver, such as Ion's hair waver, to create a loose, natural-looking bend.
#8:

Side-Parted Blonde Lob with Dark Roots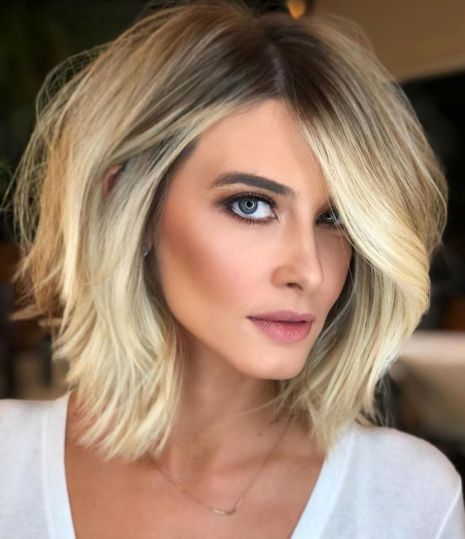 If you want to go back to a side-parted style, I advise you do it now because rumor has it, it's coming back around! Blonde lobs with dark roots have been the IT look for a while now and the two make a dynamic duo.
Advertisement:
#9:

Golden Blonde Lived-In Lob Cut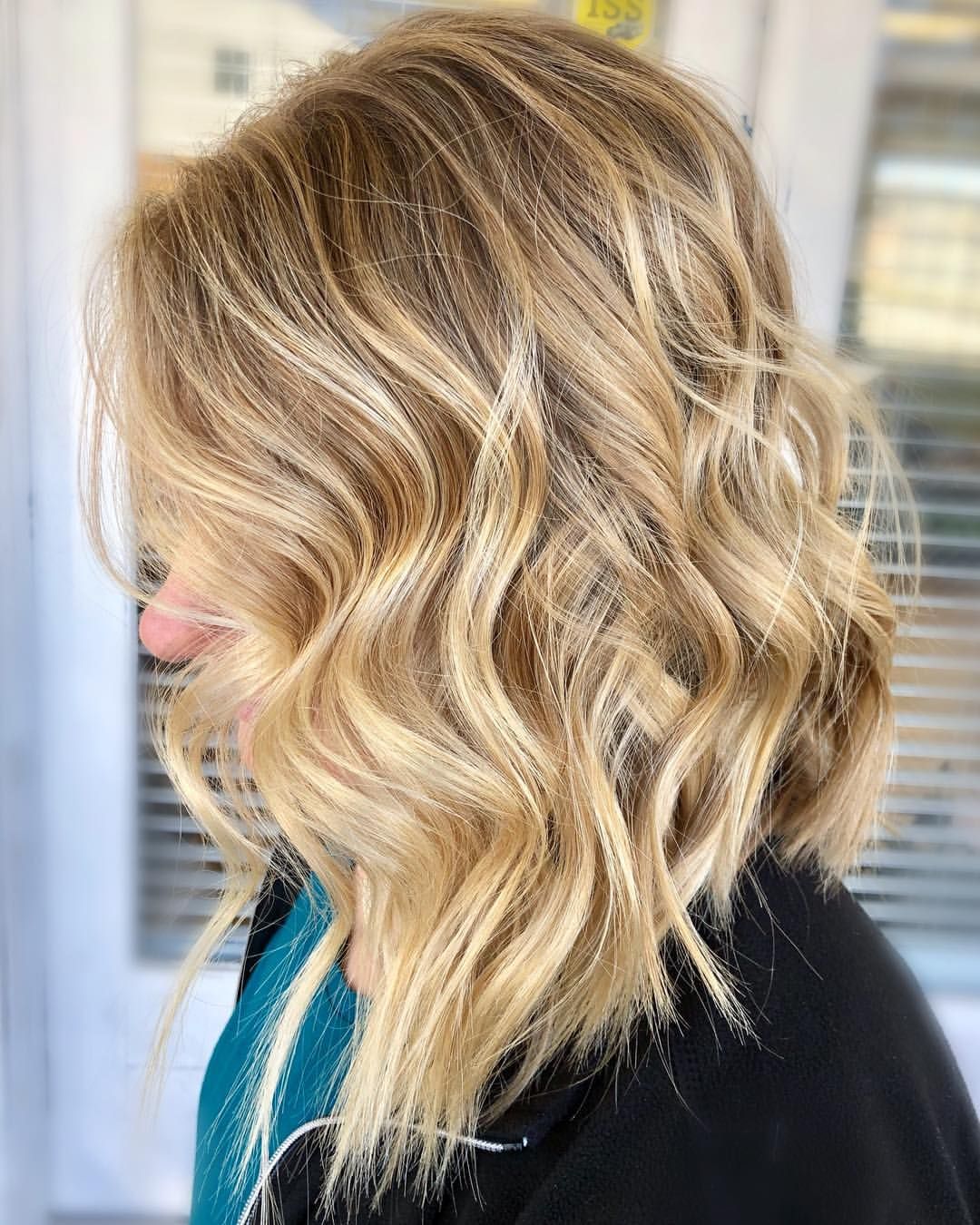 7 levels of lift and golden blonde have been on everyone's list, at least once. However, it's the modern lived-in feel that makes it not your mama's hair color. If you think you can go through a blonding service or if you consider a new shade, go for the warm/neutral palette.
#10:

Tousled Lob with a Bright Money Piece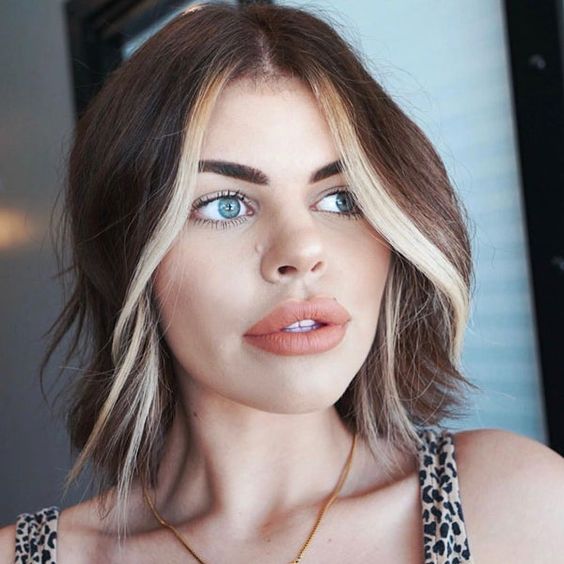 Advertisement:
A tousled long bob with a money piece is a trending cut and color that many women are obsessed with! The bright blonde in the front will really make your features pop. Style with some messy waves for a beautiful lived-in look.
#11:

Balayage Lived-In Long Bob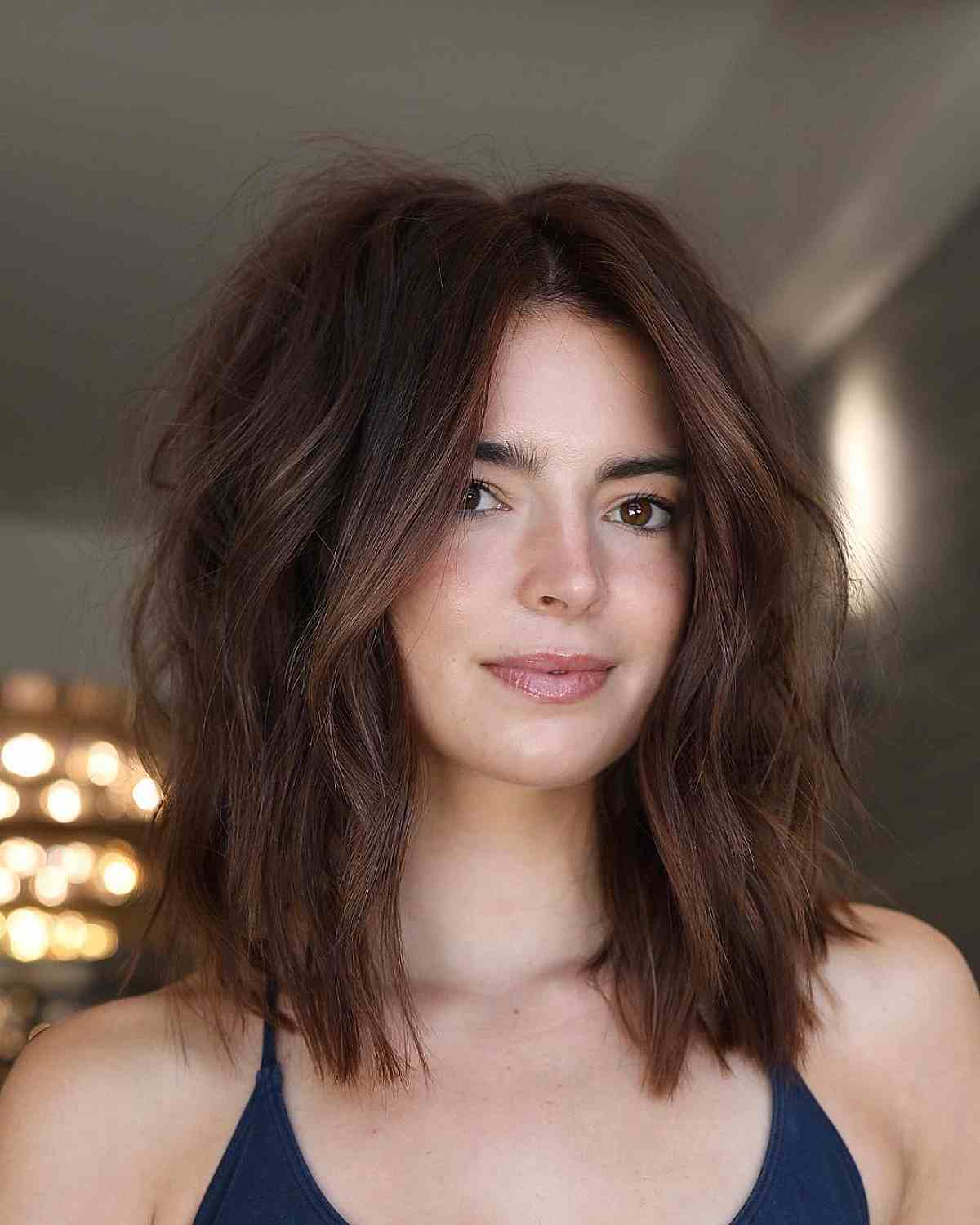 Your hair will absolutely adore the textured depth and dimension of this lived-in, balayage long bob. Since a balayage can be executed in a number of ways, tell your stylist where you'd like to see more depth in your hair versus where you'd like to develop dimension. It's important to understand the disadvantage of going darker at the roots than your natural hair color. Doing so will create a line of demarcation as your hair grows out, and you'll need to make more trips to the hair salon for a quick root touch-up.
#12:

Modern Chic Textured Long Bob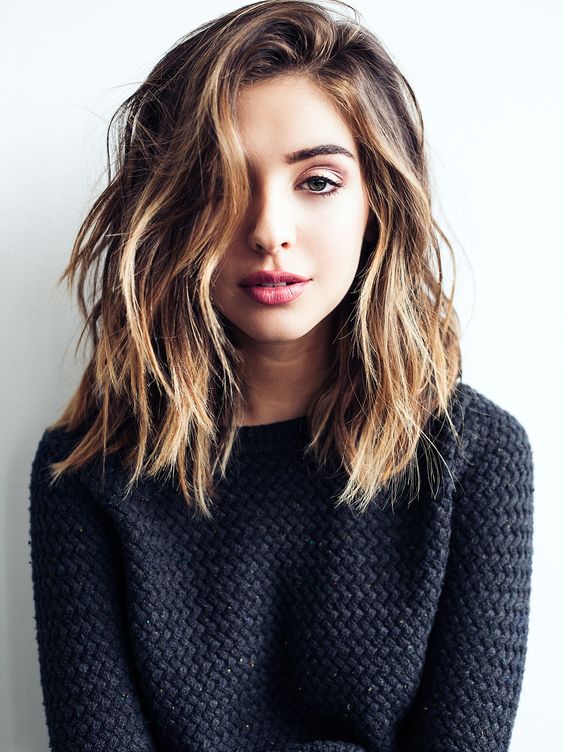 Advertisement:
The modern chic textured long bob is one of our very favorites! The cut looks great on all face shapes and can be detailed with the texture to suit your features. Whether you want to wear your hair straight or wavy, this lob cut will embrace your natural hair texture. Towel dry hair well before adding volumizing mousse, using a large round brush lift your hair straight up for maximum volume. You may choose to add more waves with a curling wand, but be sure to leave the ends straight and finish with a texture spray.
#13:

Slight A-Line Bob with Waves
#14:

Long Blonde Balayage Bob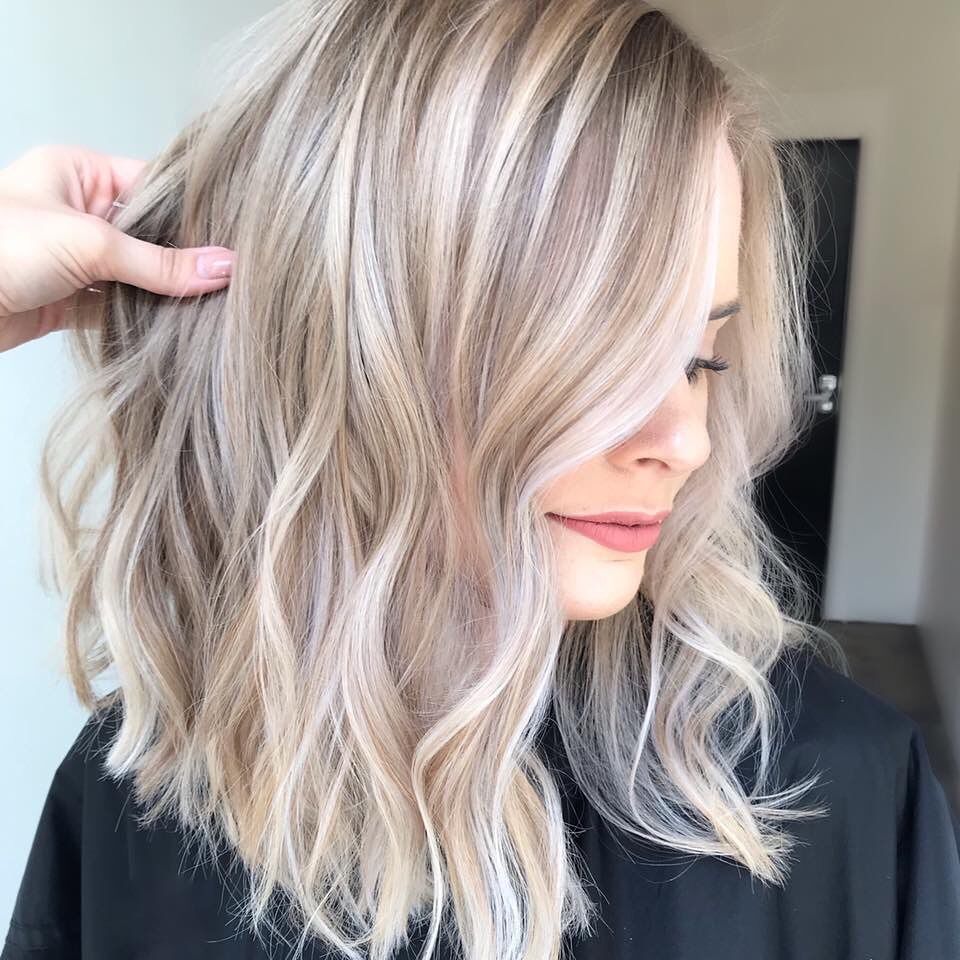 A long and textured blonde balayage bob may be the holy grail of low-maintenance styles. The mid-length cut creates the sensation of longer hair, but without all the hassle. It's simple to achieve the messy finish, especially if you have a bit of a natural wave – just add some beach spray before air drying. Balayage highlights are one of the easiest color applications to maintain because it still looks beautiful as it grows out.
#15:

Lived-In Lob Cut

Consider a lived-in long bob cut if you like the messy tousled look. The lob cut is universally flattering on all hair types. Fine hair can have seamless layers for volume and bulk will be removed in thicker hair to sit correctly. Wave with a curling iron and mess up with some light hair spray for that undone style.
Advertisement:
#16:

Layered Lob Cut for Fine Hair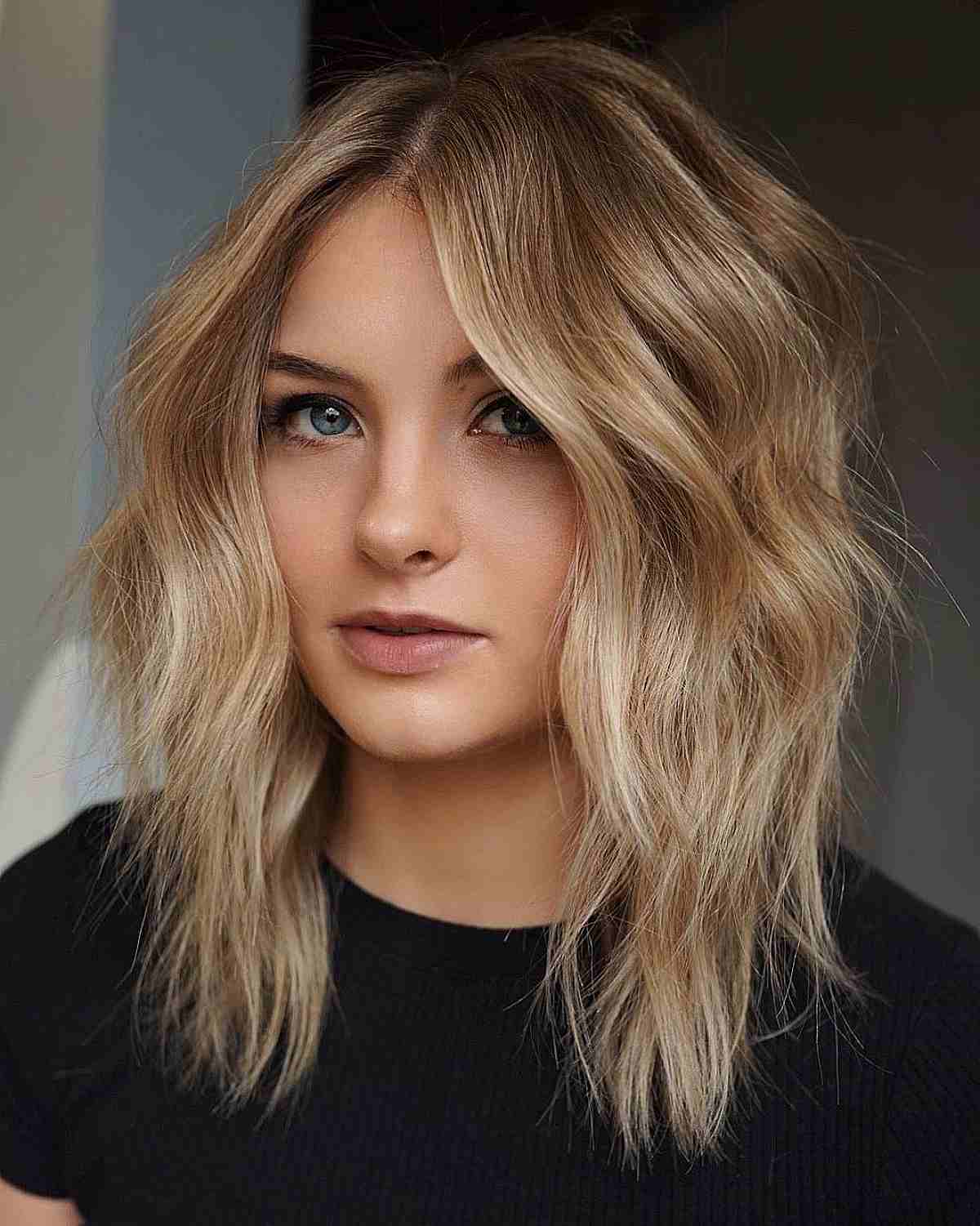 Women with thinner strands should try a layered lob cut for fine hair. In general, a textured lob for fine hair is best on skinny strands because shorter lengths will actually make the hair look and feel fuller. As finer hair gets longer, it tends to weigh itself down, which is why a lob with texture is so flattering.
#17:

Undone Shaggy Lob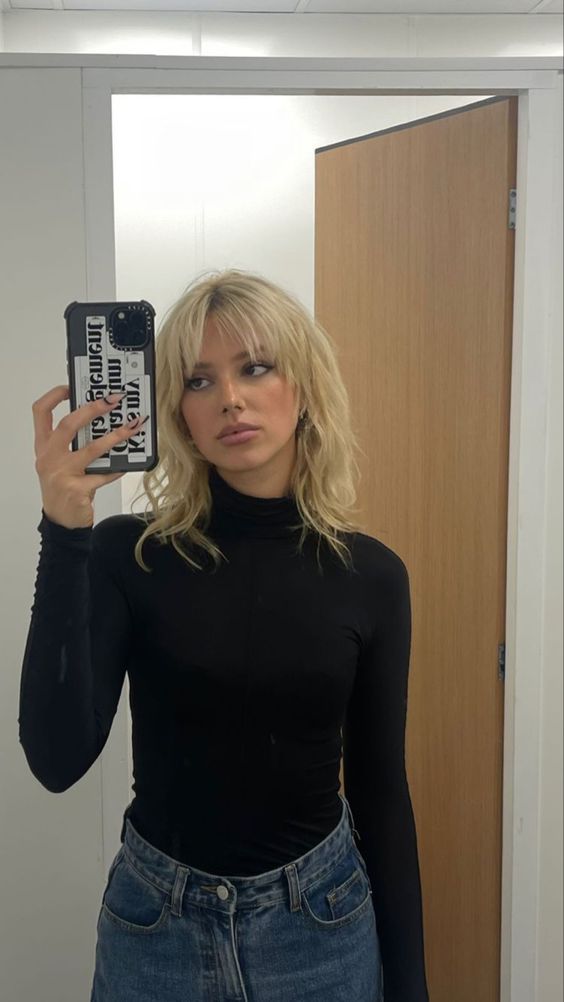 The undone shaggy lob is the shaggy bob that everyone is talking about! While the textured lob with curtain bangs has been very popular, this version takes the fringe a bit shorter, creating a more modern, edgy effect around the face.
#18:

Medium-Length Cut with Waves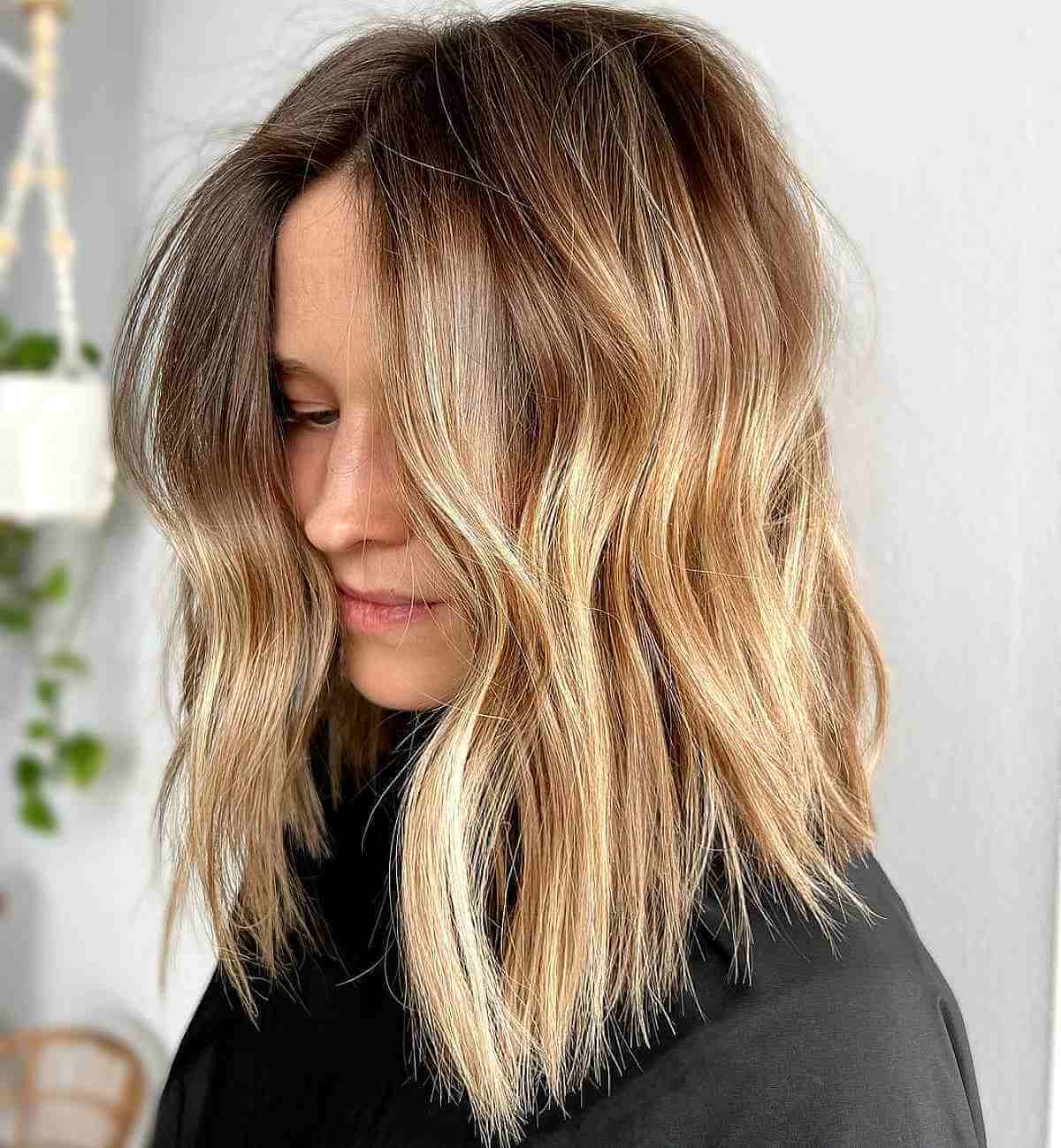 Women with smokey, silvery hues should try a medium-length cut with waves. This heavily textured style looks great with creative hair colors because the shorter length helps remove processed, dry ends and makes your locks look shinier and healthier.
#19:

Wavy Long Blunt Bob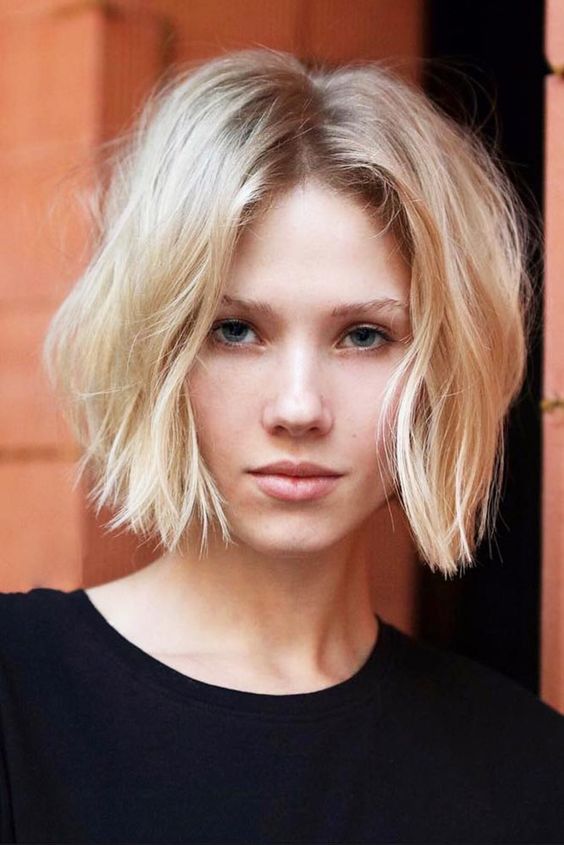 The wavy long blunt bob is the "it girl" haircut you've been waiting for! If you're looking for a fashion-forward, on-trend hairstyle, opt for a blunt textured lob.
#20:

Textured Lob for Thin Hair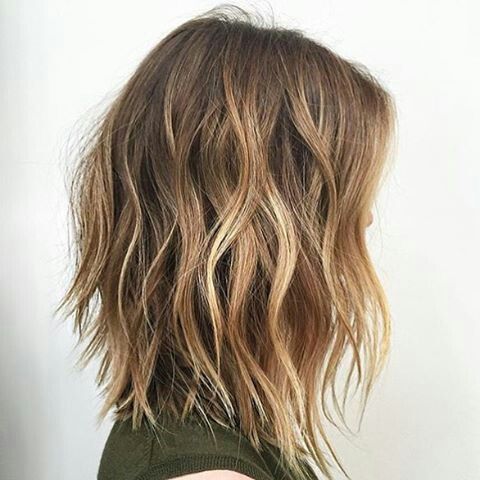 A textured lob is the best haircut for thin hair. Long bobs combined with a textured haircut is a transformative style that will resurrect lifeless lengths.
#21:

Wavy Lob with a Side Part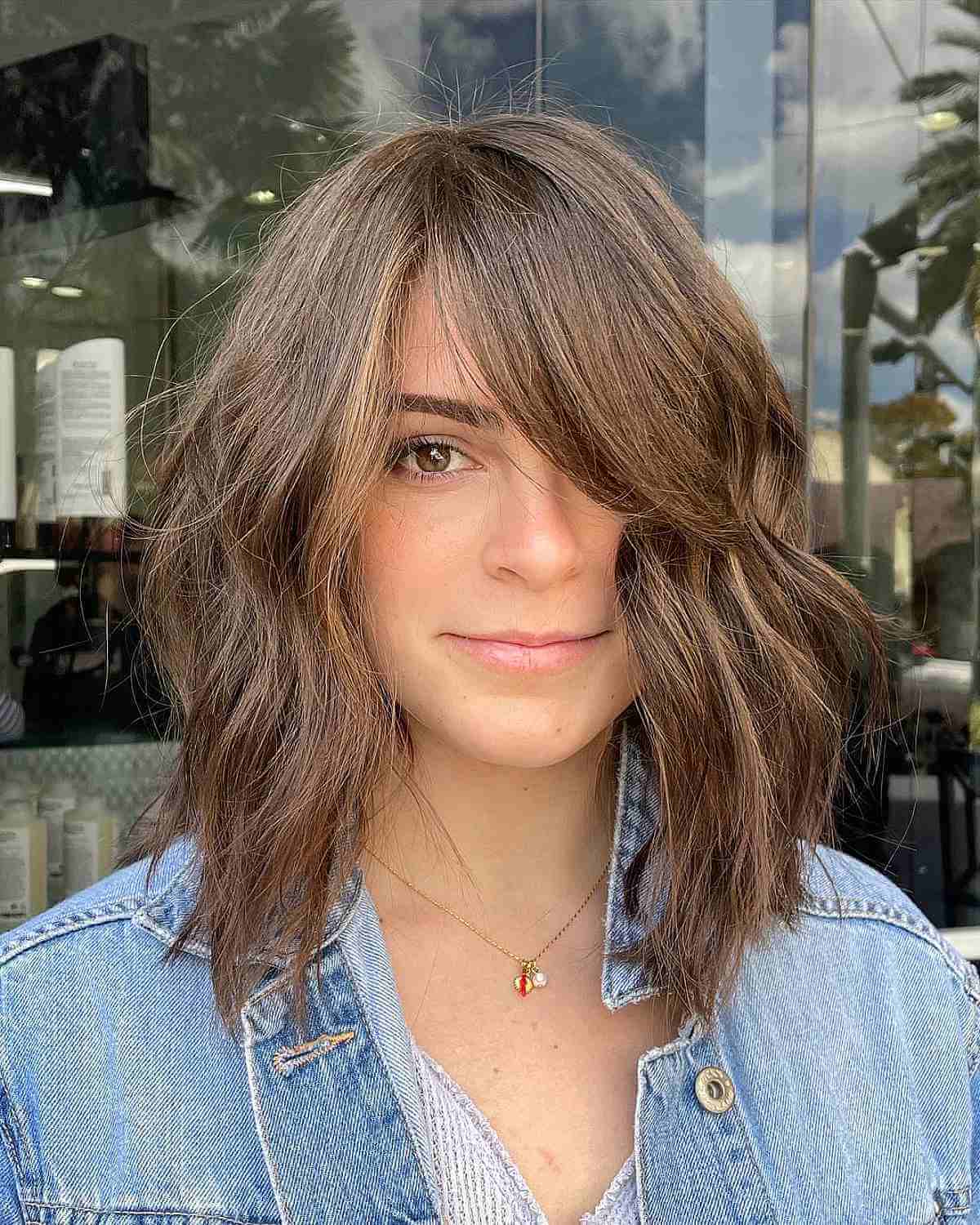 Give your wavy lob with a side part some extra "oomph" by adding in a money piece! This textured haircut truly shines with a bit of bright blonde around the face. The added highlighting not only shows off the expertly cut layers but will also draw attention to your beautiful eyes.
#22:

Textured Lob with Side Bangs for Thick Hair
A textured lob with side bangs is the perfect cut for thick hair. Now, side-swept bangs are always recommended for thicker textures, but a textured lob for thick hair? Yes! This medium-length crop will actually remove extra weight from inside your style, making your hair much more manageable on a day-to-day basis.
#23:

Choppy Lob Haircut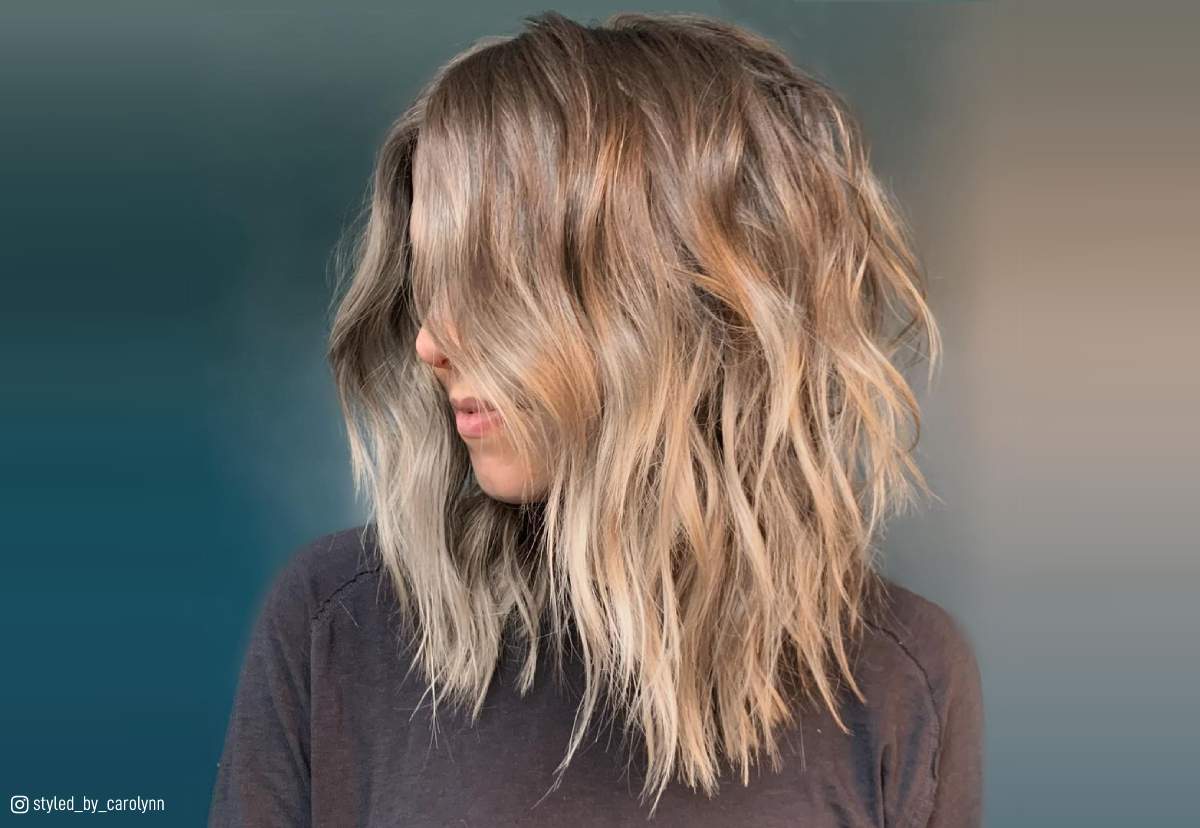 Women who crave extra volume will love a choppy lob haircut. The choppy textured lob brings a boost of body to your lengths as well as volume at the roots due to the heavy use of texturizing and the shorter lengths. Pro Tip: For an extra "oomph," style your lob with a bodifying mousse, like Amika's "Plus Size Volume & Body Mousse."
#24:

Shoulder-Length Bob with Curtain Bangs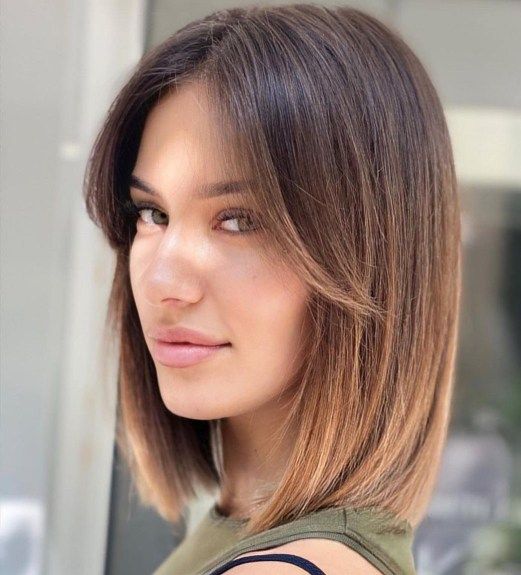 A shoulder-length bob with curtain bangs is the perfect combination of fresh and classic, and a great way to change up your look. Bob wearers looking to update their typical crop should ask for a textured lob with a fringe.
#25:

Textured Long Bob for Square Faces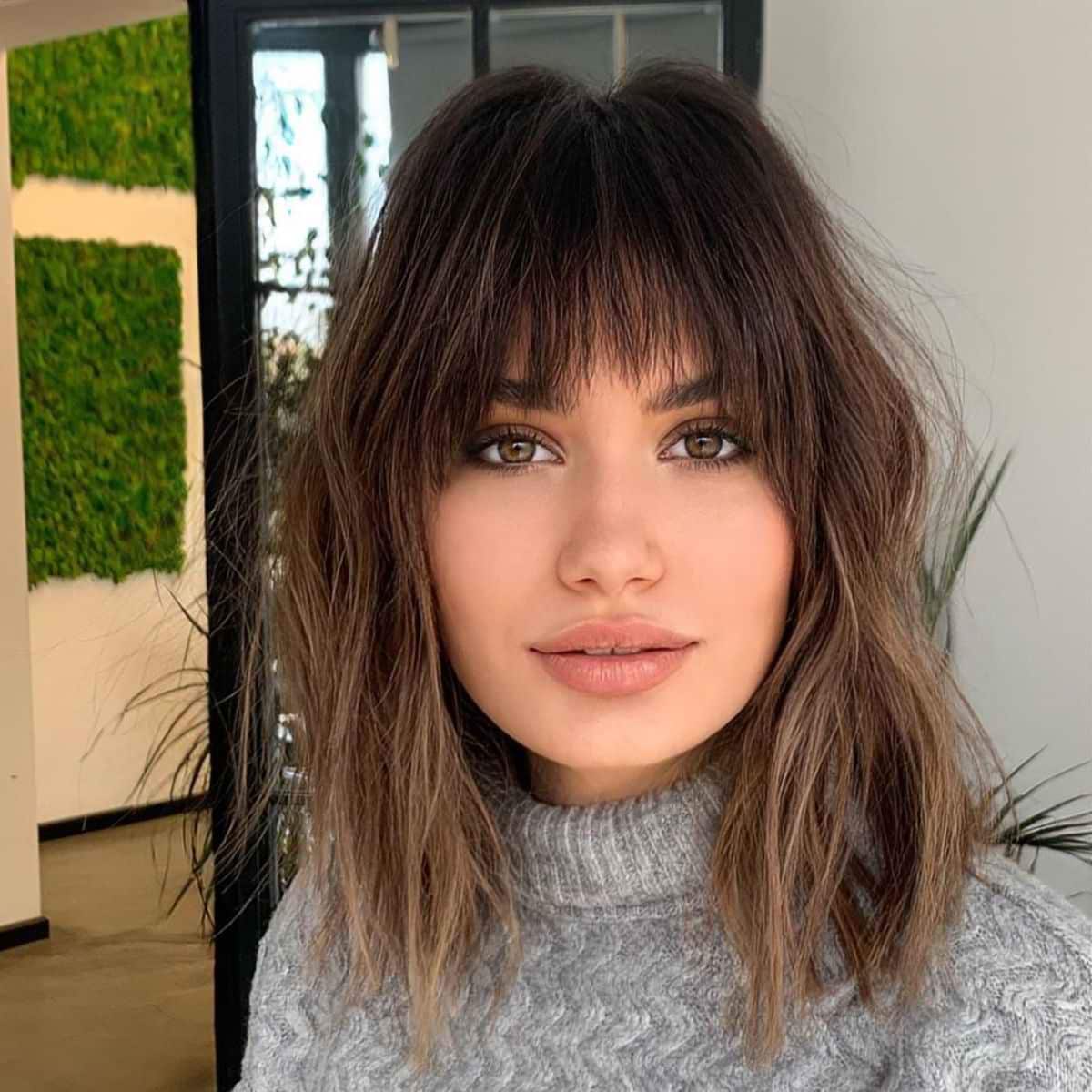 Try a textured long bob if you have a square face! Women with a square face shape will love the effects of a medium-length textured bob. The soft inversion of this cut leaves extra length around the face, which softens the jawline and cheekbone areas.
#26:

Messy Shoulder-Length Bob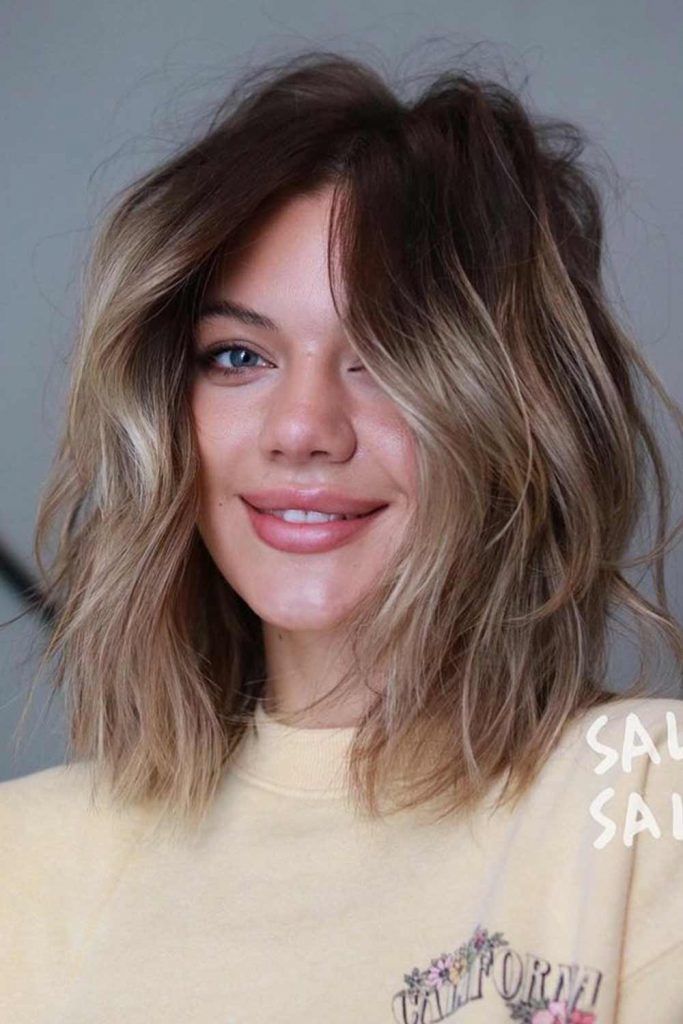 Women looking for a textured lob for straight hair will love the messy shoulder-length bob. This voluminous cut will give straighter strands some room to breathe as they bounce back to life. Pro Tip: To recreate that messy, perfectly undone texture at home, invest in a good dry shampoo. Second (and third) day hair always "messes" best!
#27:

Low-Maintenance Blunt Lob for Round Faces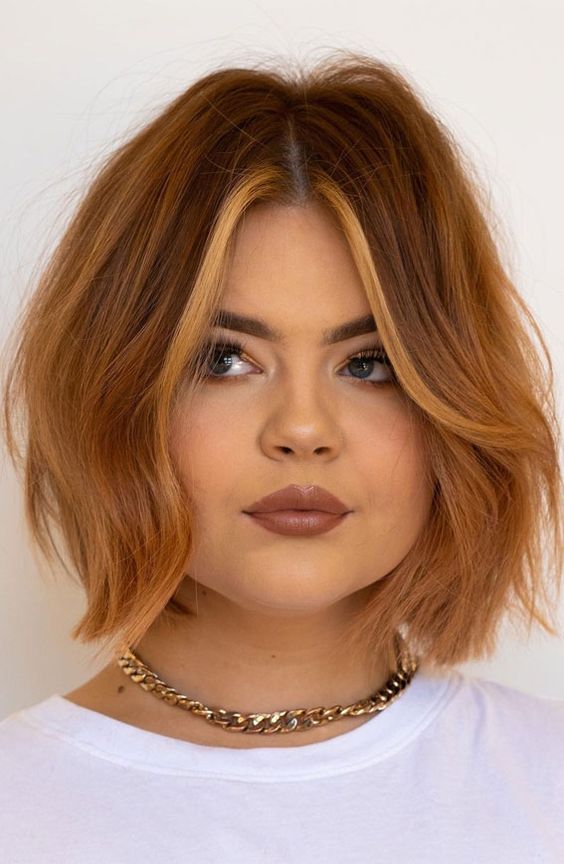 A low-maintenance blunt lob is perfect for round faces. Blunt cuts pair well with round faces due to the contrast of sharp texture to a soft jawline. Regardless of your hair texture, if you have a round face then a blunt crop should be your go-to style.
#28:

Side-Parted Lob for Women Over 50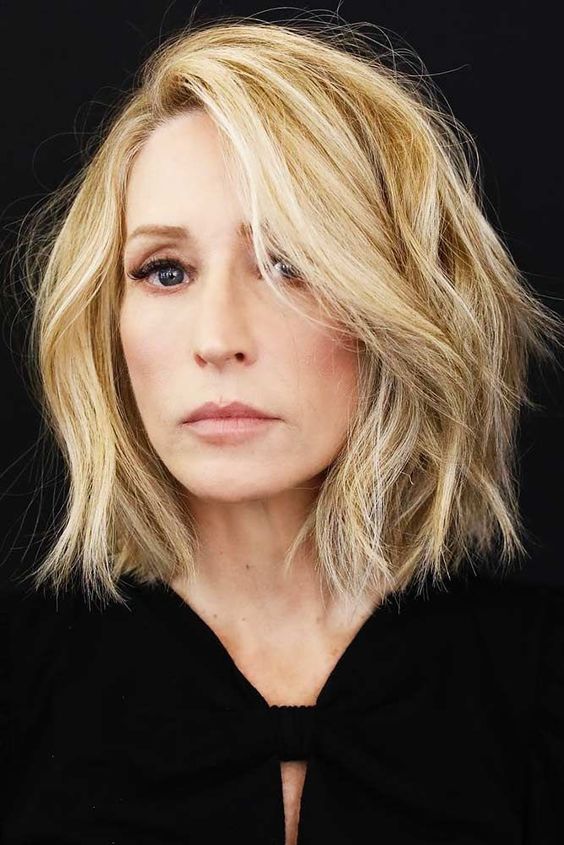 A shoulder-length bob or side-parted lob is perfect for women over 50. As women age, our hair tends to get a bit finer and thinner, so opting for a shorter crop will bring body and life back into your locks.
#29:

Wavy Long Bob with a Middle Part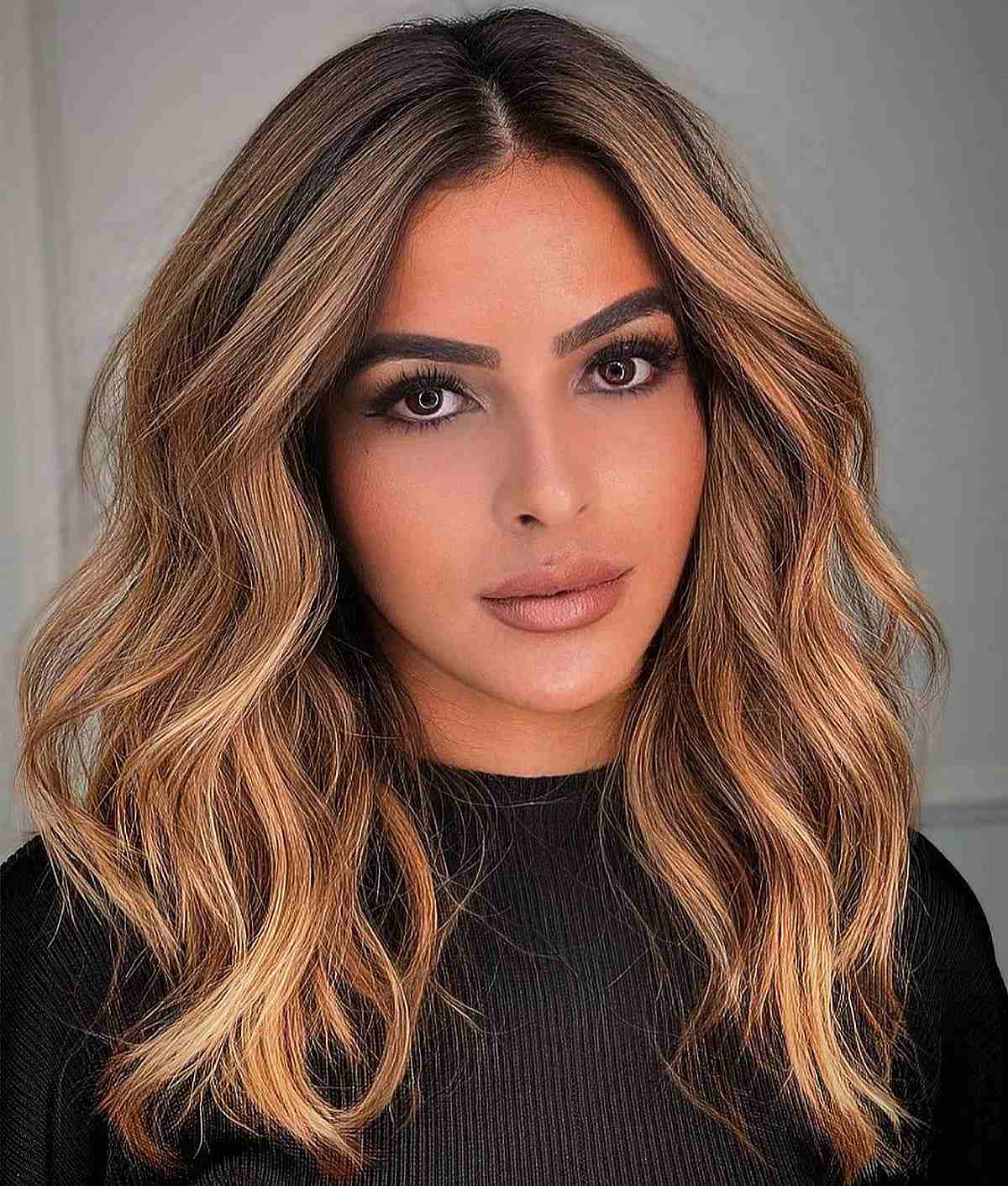 Put body back into your locks with a wavy long bob with a middle part! The long bob hairstyle is the best haircut for women who want more movement. Without going too short, this mid-length style will take the weight off your shoulders and make your texture spring back to life.
#30:

Middle Part Lob with Textured Ends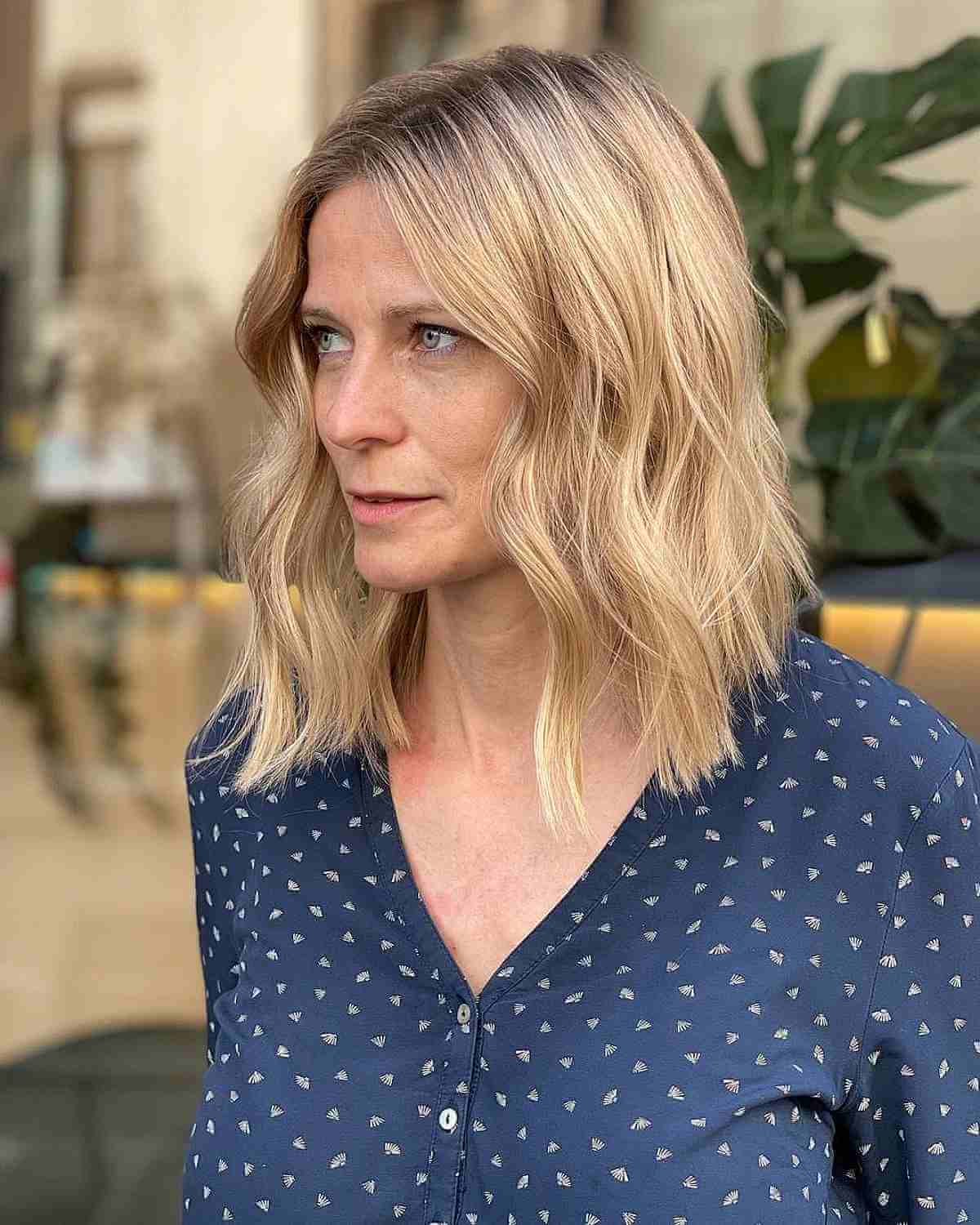 Try a modern, textured layered lob like the middle-part lob with textured ends! This mid-length cut is great for women who are stuck in a style rut or need a hair revamp. Enough change to get you noticed, but enough length to still pull back, this crop is a must-try!
#31:

Long Textured Bob for Women Over 40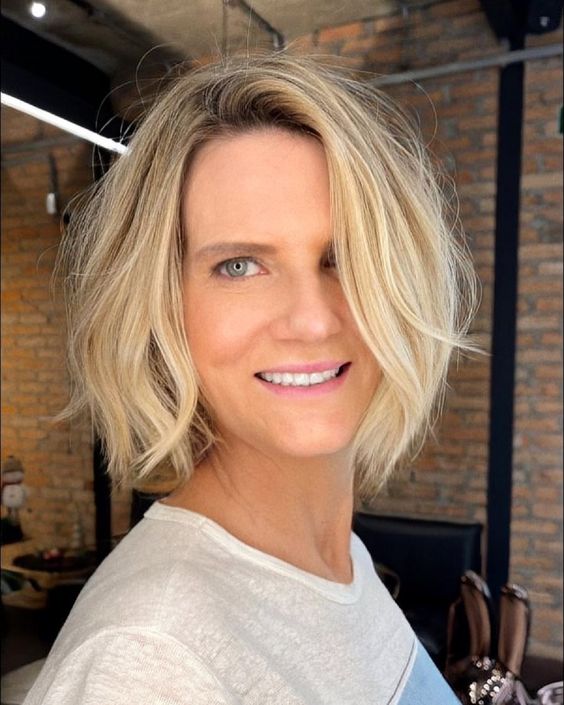 Women over 40 will love a long textured bob. Lobs in general have an uber flattering effect on any woman, but particularly on aging hair. Shorter crops like the lob not only put life back into your lengths, but also cut down on styling time as there is less hair to wrestle with.
#32:

Long Angled Bob Cut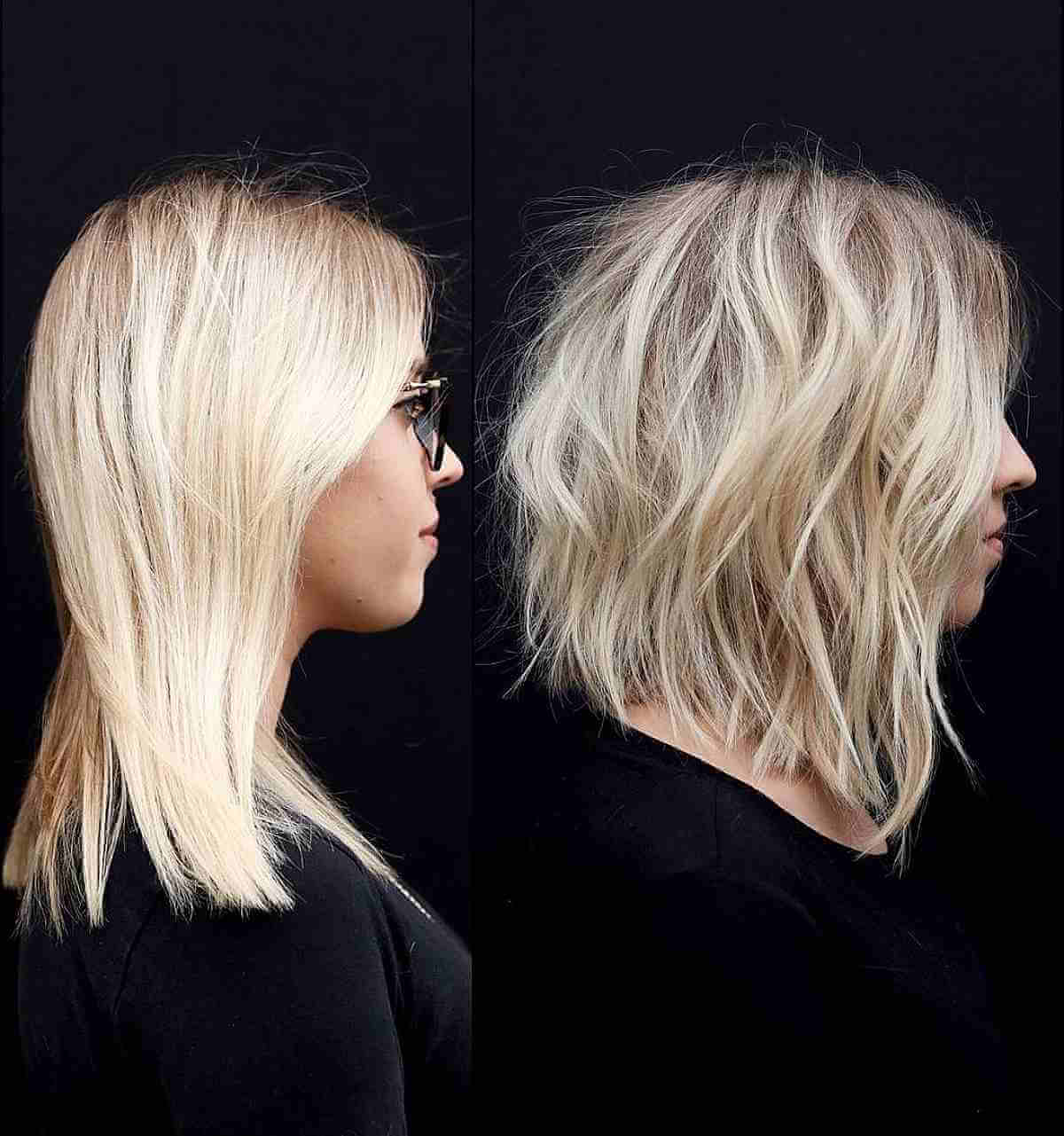 Women with thick hair rejoice! The long angled bob cut is your new best friend! This lob style makes thick, coarse hair more manageable and easier to maintain. An added bonus is that the length isn't so short that you will experience the dreaded "bell" or "triangle hair." You can let this crop grow out with ease between appointments.
#33:

Textured Long A-Line Bob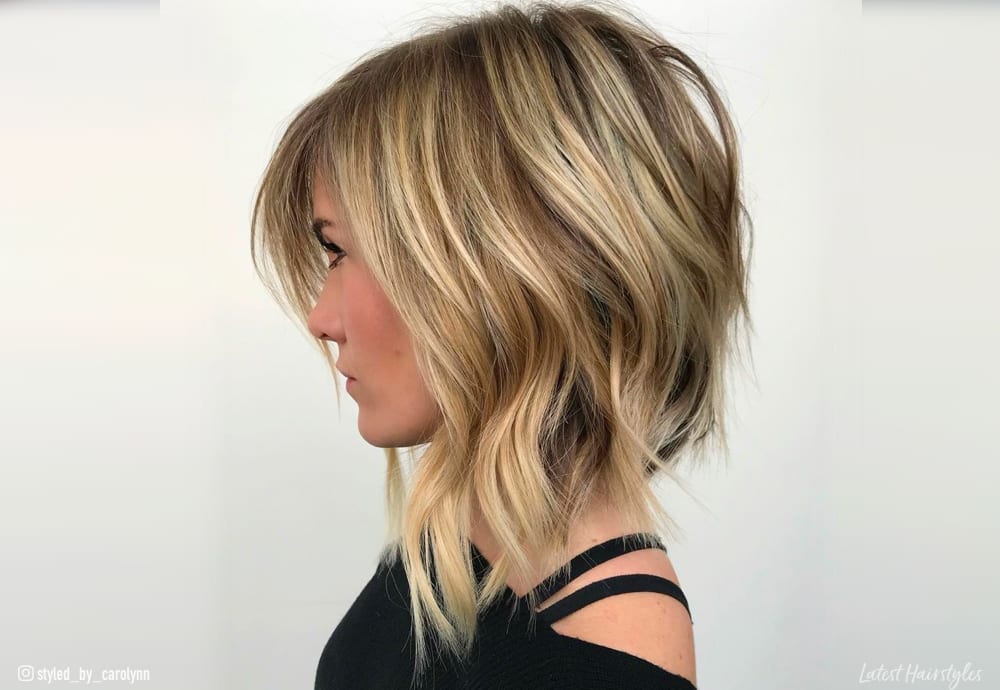 Revamp your fine hair with a textured long a-line bob. An inverted, long bob haircut creates enough volume and movement to take the finest strands from flat to fabulous!
#34:

Curly Graduated Lob Haircut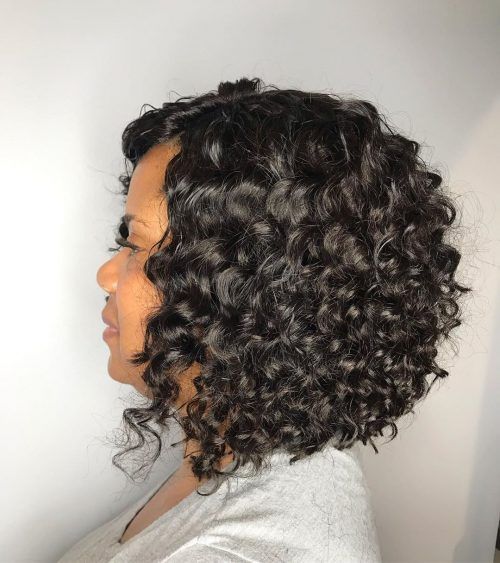 Women with kinks and coils should try a curly graduated lob haircut. This classic stacked bob takes on a whole new look when cut on super curly locks. Think the 70s, voluminous, bouncy curls at an easy to manage length and an easy to style crop.
#35:

Long Blonde Bob with Soft Waves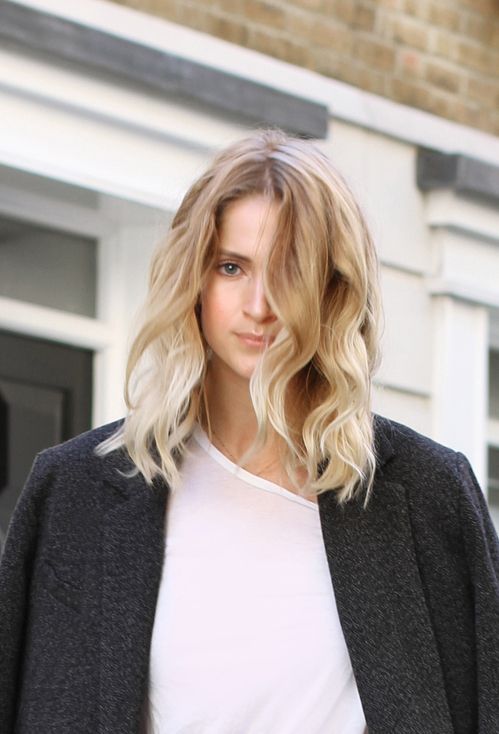 Women looking for a textured hairstyle should try a long blonde bob with soft waves. Pairing a bright blonde hue with softer curls creates an angelic texture that any woman would love!
#36:

Lob with Thin Bangs for Women Over 70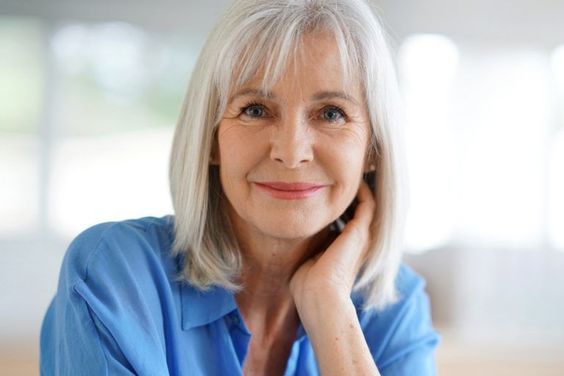 A textured lob haircut with bangs, like a lob with thin bangs, is most flattering for women over 70. If you find your hair a bit more lifeless than usual, opt for a shorter lob crop. Taking a bit of length off and adding a thin, textured fringe can completely transform the way your hair falls.
#37:

Long Bob with an Undercut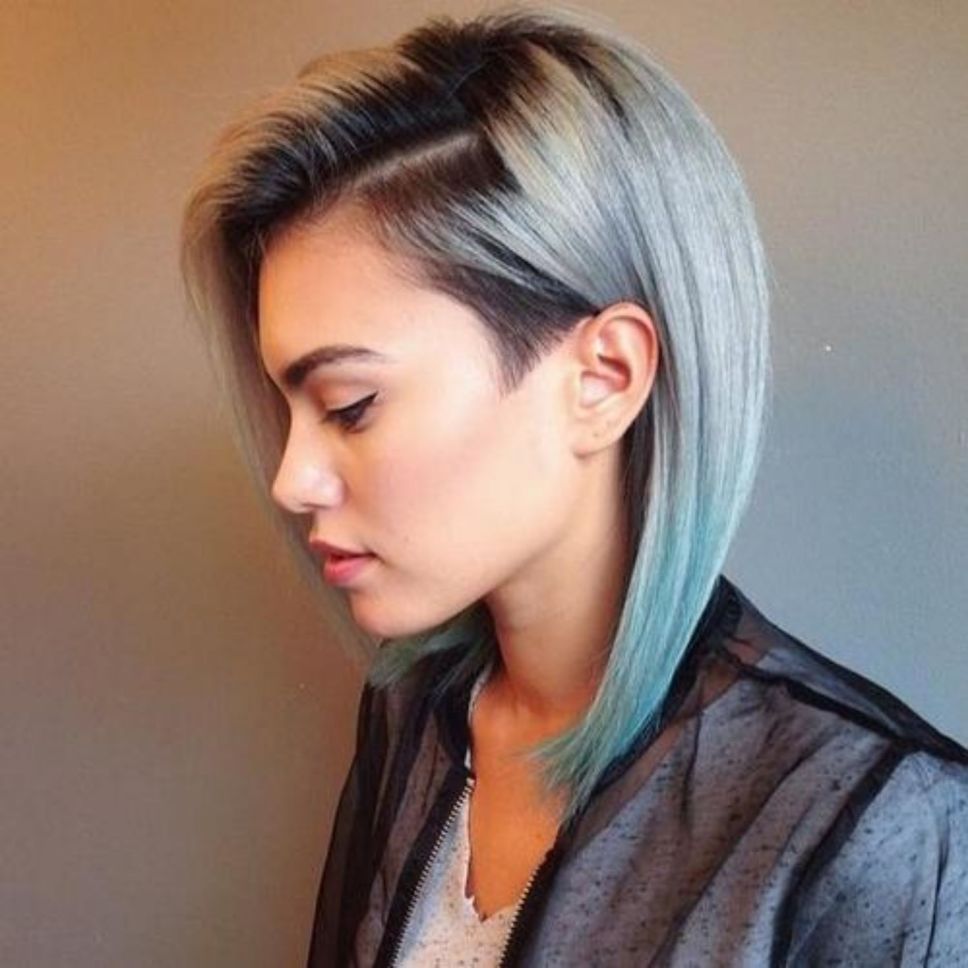 Women with thick hair should try a long bob with an undercut. A wavy textured lob haircut can often "bell out" on women with thicker strands, but adding an undercut to your 'do will allow your crop to lay smoother for longer. Bonus points for having two styles in one! Flip your part when you're feeling "edgy," or cover up the undercut for a day at work or a special event. You get the best of both worlds!
#38:

Tousled Mid-Length Bob with a Fringe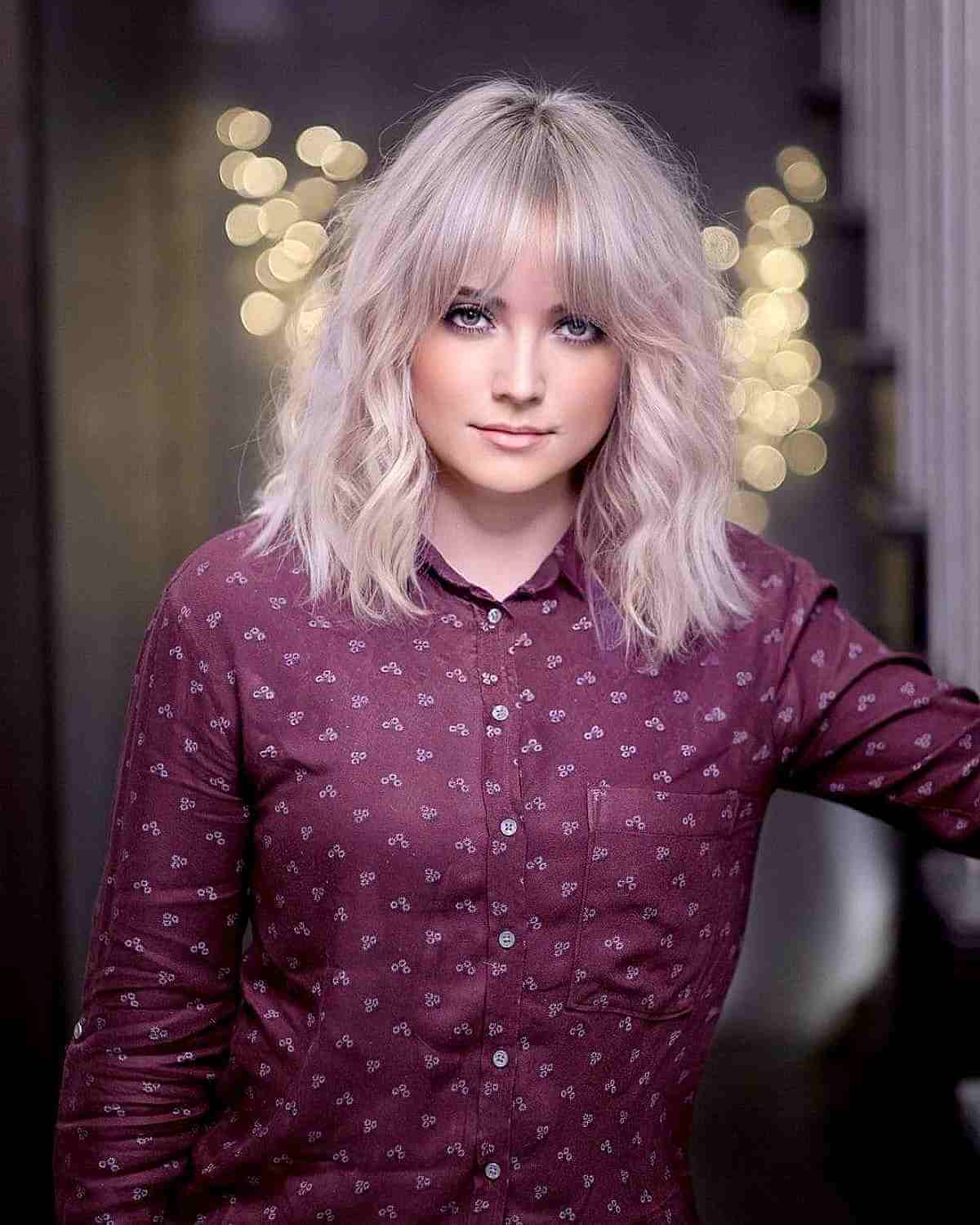 Boost your blonde with a tousled mid-length bob with a fringe. This tousled lob hairstyle looks extra stunning with bright blonde and platinum hues. The expertly trimmed fringe and soft waves allow light to bounce off your color, showing off just how dimensional you are!
#39:

Lob Cut with Curls for Women Over 60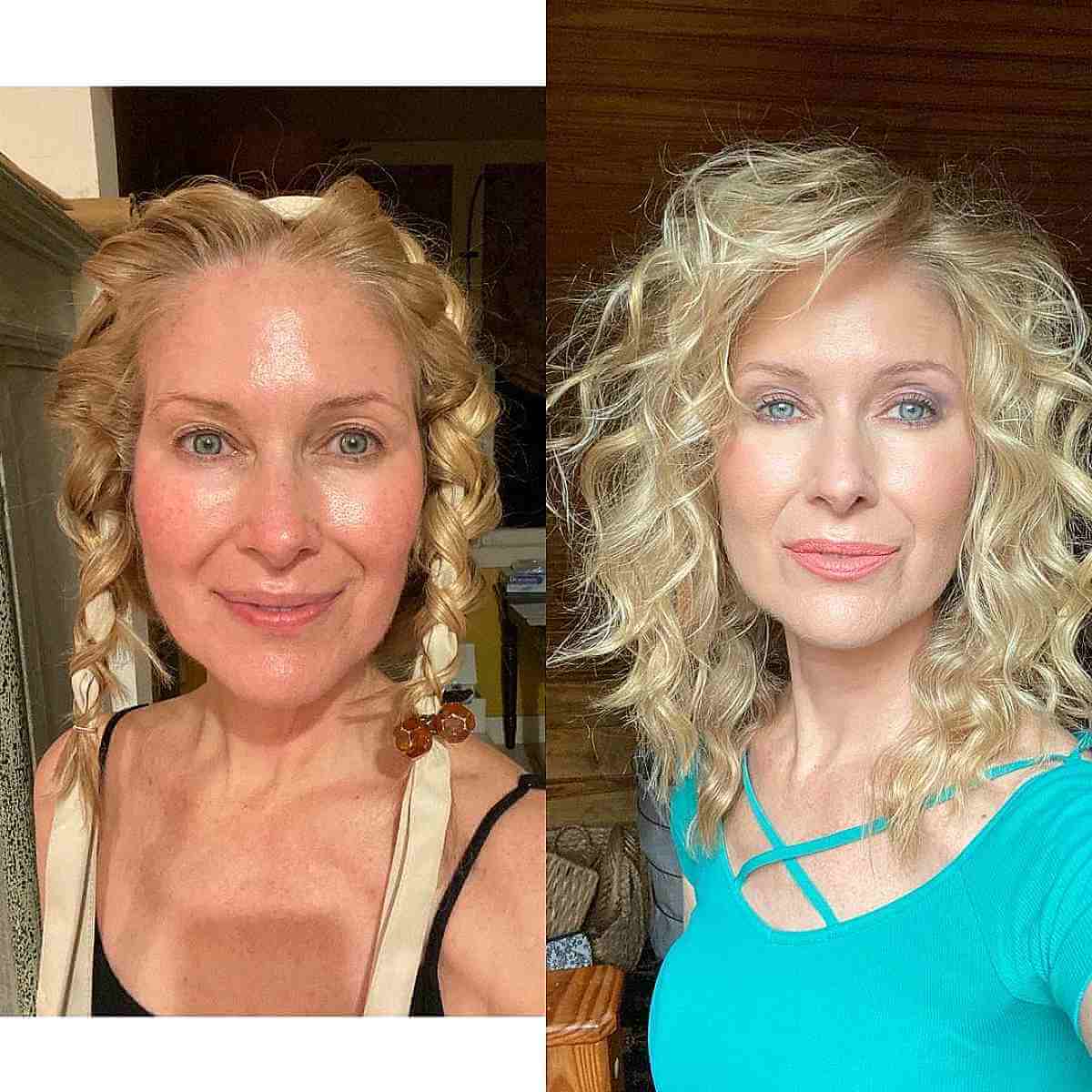 Women over 60 look stunning in a lob cut with curls. This shoulder-length textured lob cut utilizes many layers to create a bouncy, lively style full of texture and volume.
#40:

Long Swing Bob with Choppy Ends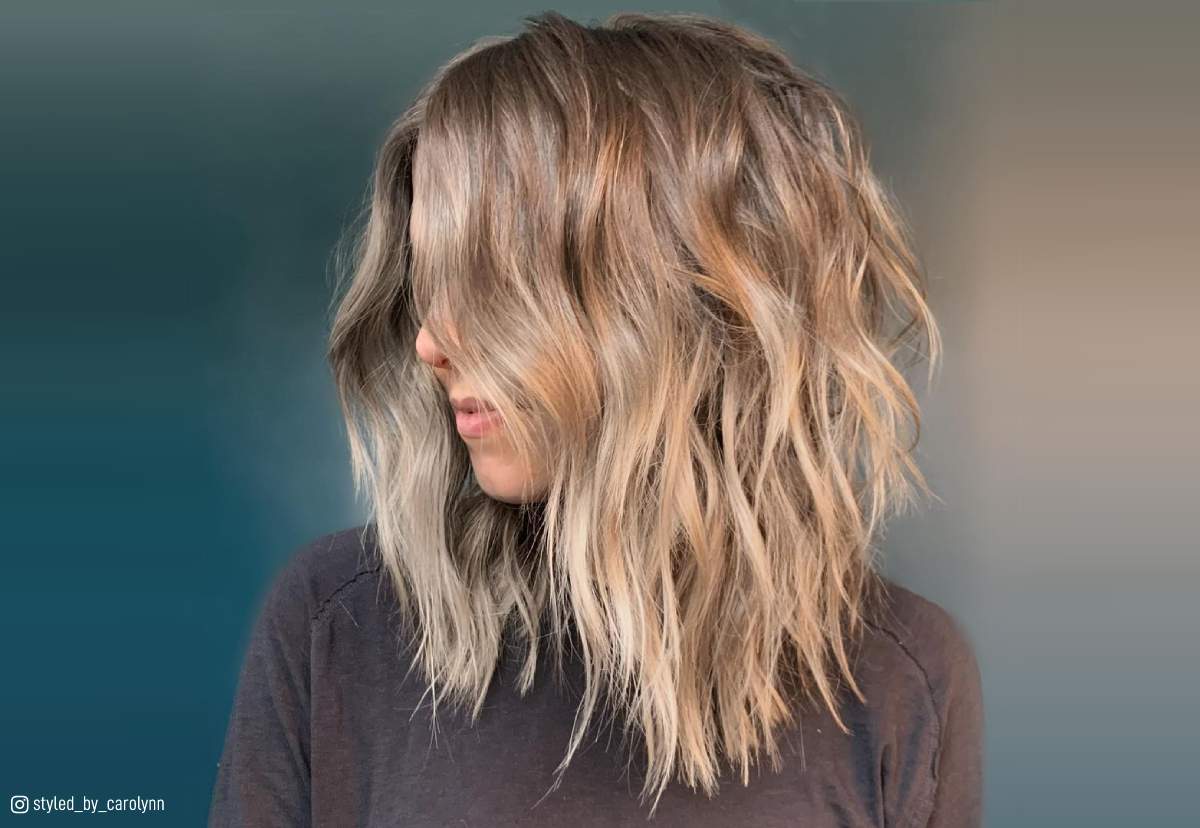 The 90s are calling! The long swing bob with choppy ends is back! This much-loved textured cut is gaining popularity amongst women who love a long choppy bob. Get ahead of the trend and bring this photo to your stylist for some throwback inspiration!
Next: 17 Flattering and Stylish Short Bob Haircuts for Women Over 40
READ IT!
Advertisement:
Thanks for your SHARES!
You May Also Like
Add a comment