20 Greatest Ways to Get a Stacked Bob with Fine Hair for Max Volume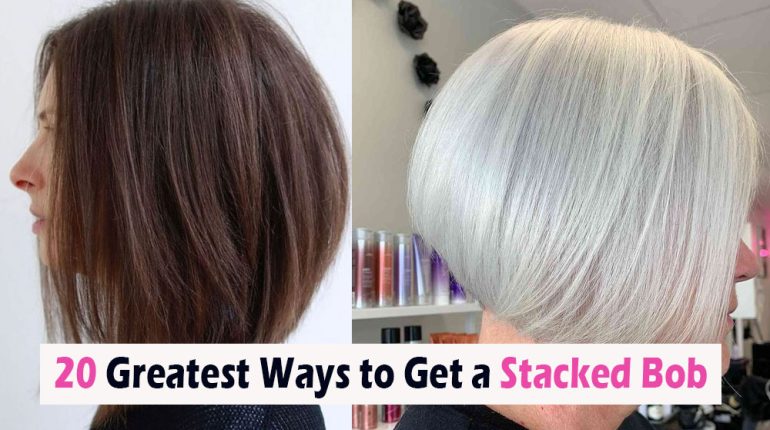 Posted November 9, 2022 by: Admin #Hairstyles
A layered haircut for fine hair is a short cut with graduated layers at the back. The main advantage is the added volume to create the illusion of thicker hair!
Advertisement:
Samantha Malczewski, a stylist in Winnipeg, recommends considering your face shape before opting for this cut. Be sure to consult your trusted hairstylist about this.
" You can have the most beautiful and well-executed bob haircut for thin hair. But if it doesn't suit your face shape, it's not the greatest style choice," Malczewski points out.
Perhaps the disadvantage of short hair is maintenance.
Advertisement:
Malczewski says: "With this cut, the hairline at the nape of the neck is a major factor. And to keep a clean, neat finish at the neckline, regular appointments are necessary."
Some ladies struggle with heavy growth at the nape of the neck. Instead, solve the problem by shaving that area. Let the stacked bob fall on top.
#1:

Voluminous Copper Stacked Bob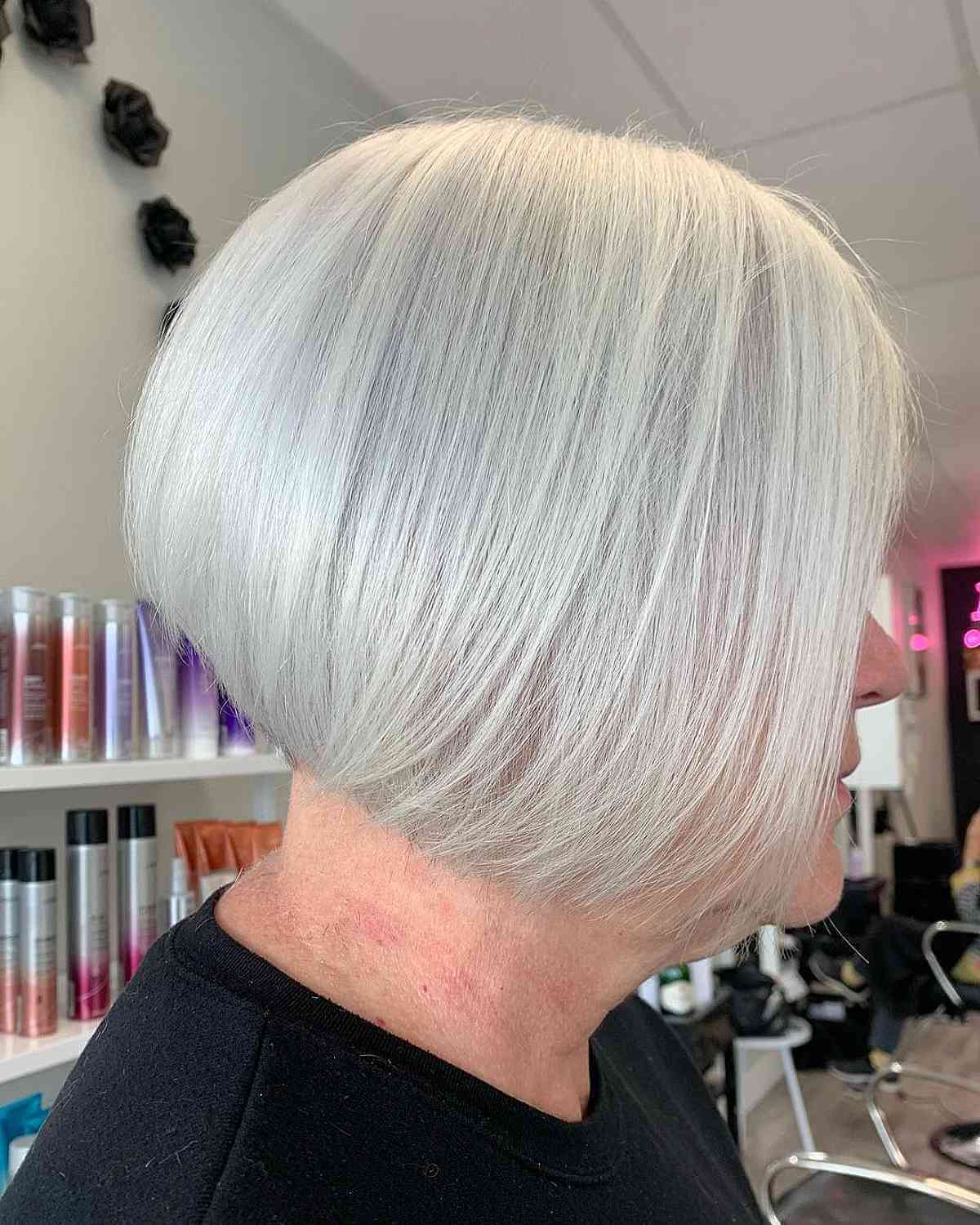 Advertisement:
Your fine hair will look amazing with a voluminous copper-stacked bob. A stacked bob is one of the best haircuts for fine hair because all the layers will give your crown some much-needed body and volume. I always tell my clients that if they're not good at styling, this haircut may not be for them. You will definitely need to know how to blow dry with a round brush for your hair to sit properly.
#2:

Natural Looking Graduated Stacked Bob
#3:

long blonde bob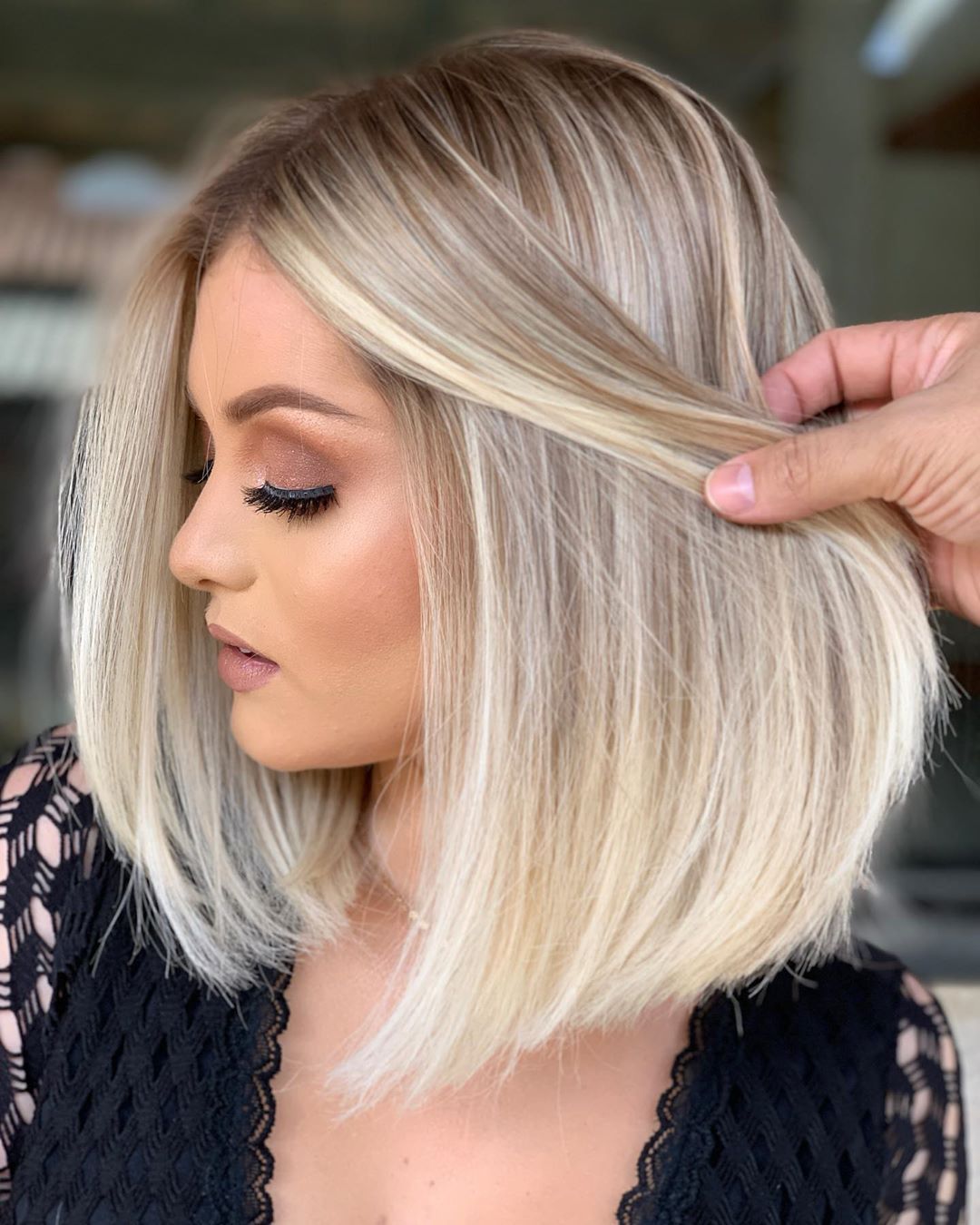 A long blonde bob is ideal for women who want to add body to their tresses while maintaining length in the front. By creating a strong A-line perimeter and complementing it with a slight graduation, you can create a very elegant and soft beveled effect with your style, making this an easy haircut to style on a daily basis. A long stacked bob is more forgiving than a short bob when it comes to everyday styling because it doesn't fall right at the nape or curl at the nape as easily.
Advertisement:
#4:

Soft Stacked Bob Cut for Straight Hair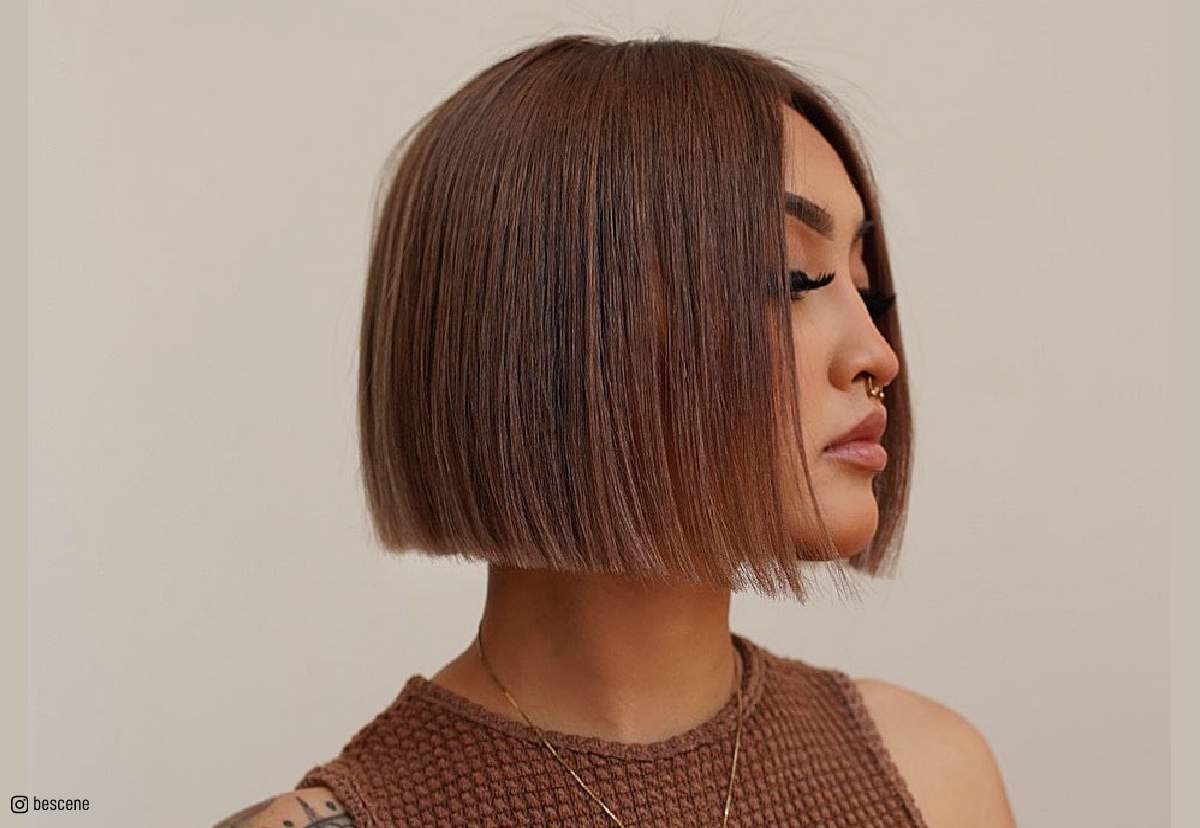 If you are looking for volume and defined lines, this is your style! My advice is to do a low graduation to create the layers so that it is a soft look and not too drastic. It's best if you cut this style for fine hair, as growth will be much less of an issue than for thick hair.
#5:

Side Parted Short Wedge Haircut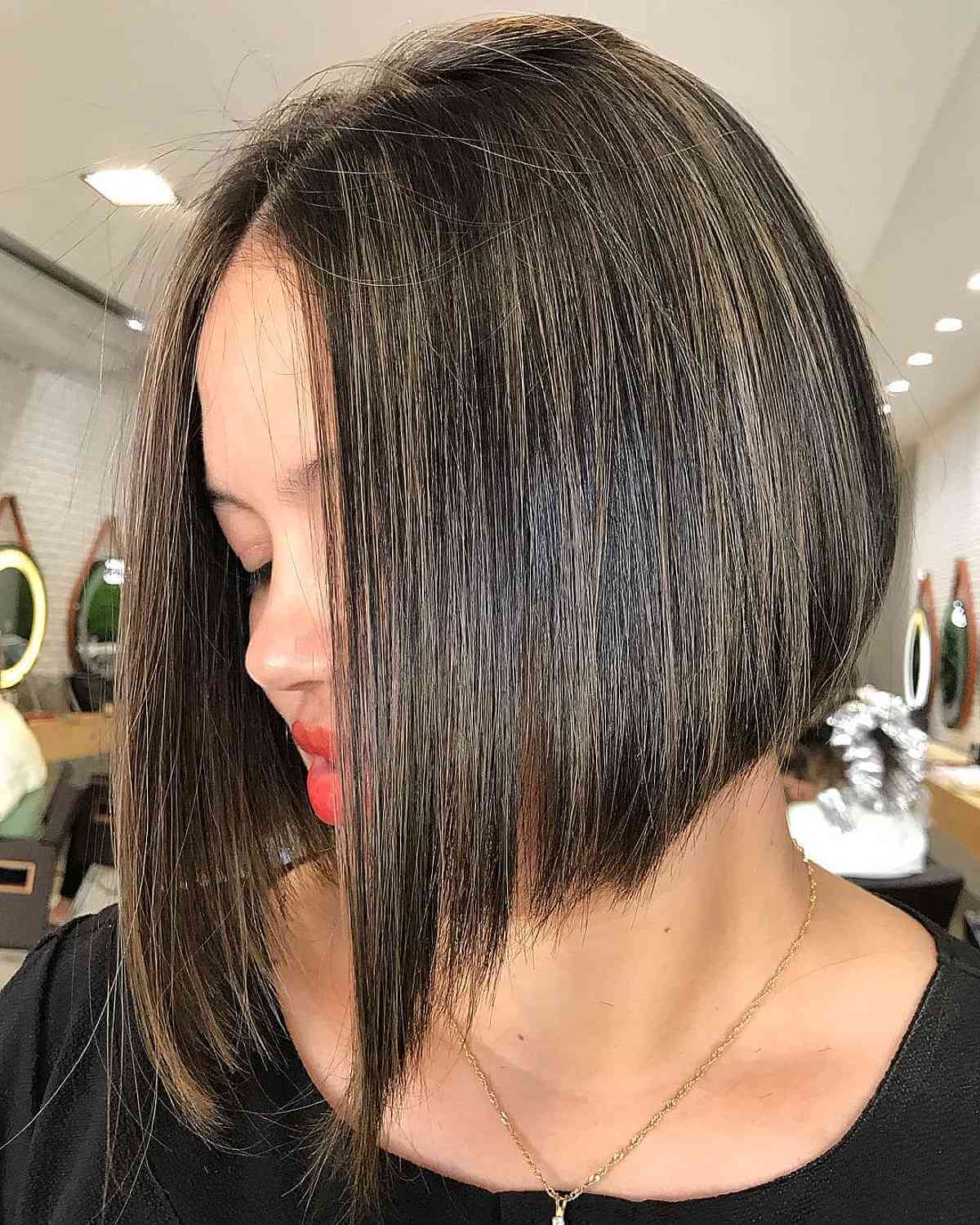 A side-parted short wedge haircut is a great way to develop texture and body to straight hair. By adding a deep side part, it's easy to create a tousled bob simply by adding some soft beachy waves and some texture spray or volume powder. A tousled style is ideal for both simple everyday hairstyles for finer hair and glamorous big waves for finer hair.
Advertisement:
#6:

Straight-Stacked Bob on Fine Hair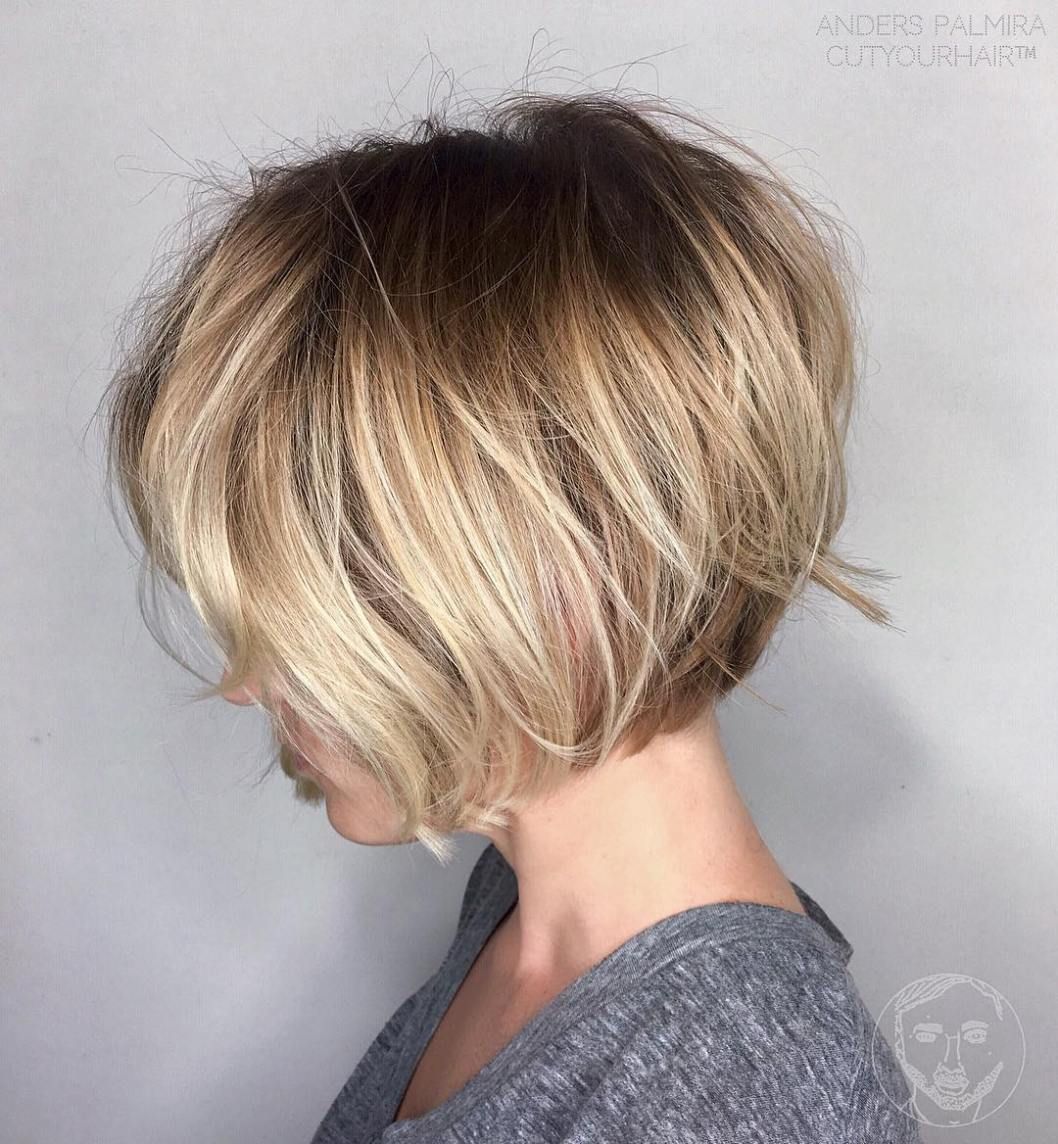 A stacked straight bob on fine hair is a great way to create the illusion of thick hair while keeping fragile fine hair healthy and feeling full. Short stacked bob haircuts for fine hair create volume by removing the weight of the strand, allowing each strand to bounce. To add even more volume to fine hair, try using a micro curling iron on the first 1-2 inches from the root. Using a micro crimper is less damaging and more durable than backcombing or putting on a lot of product.
#7:

Medium Length Wavy Bob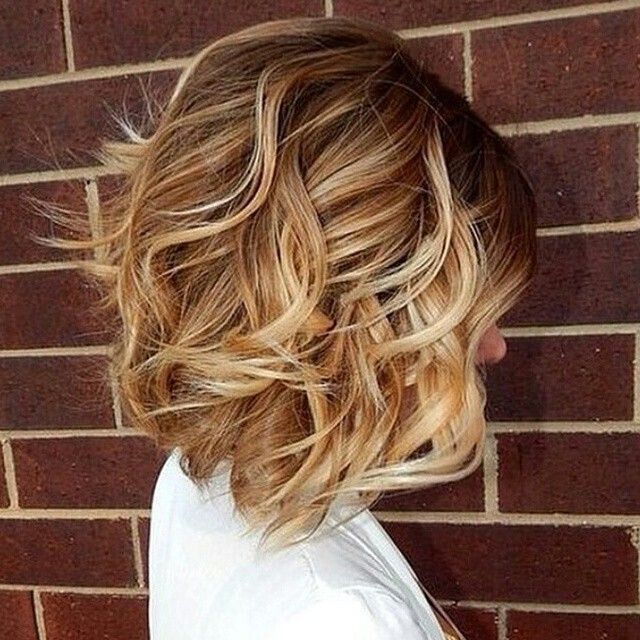 Advertisement:
A medium-length wavy bob is a staple haircut for those who want a natural, lived-in style that can be polished up for special events. A medium length bob adds volume while maintaining more length than a typical graduated bob. Medium length bobs also allow for a greater variety of styling options as there is more hair to work with.
#8:

Shoulder Length Bob with Center Parting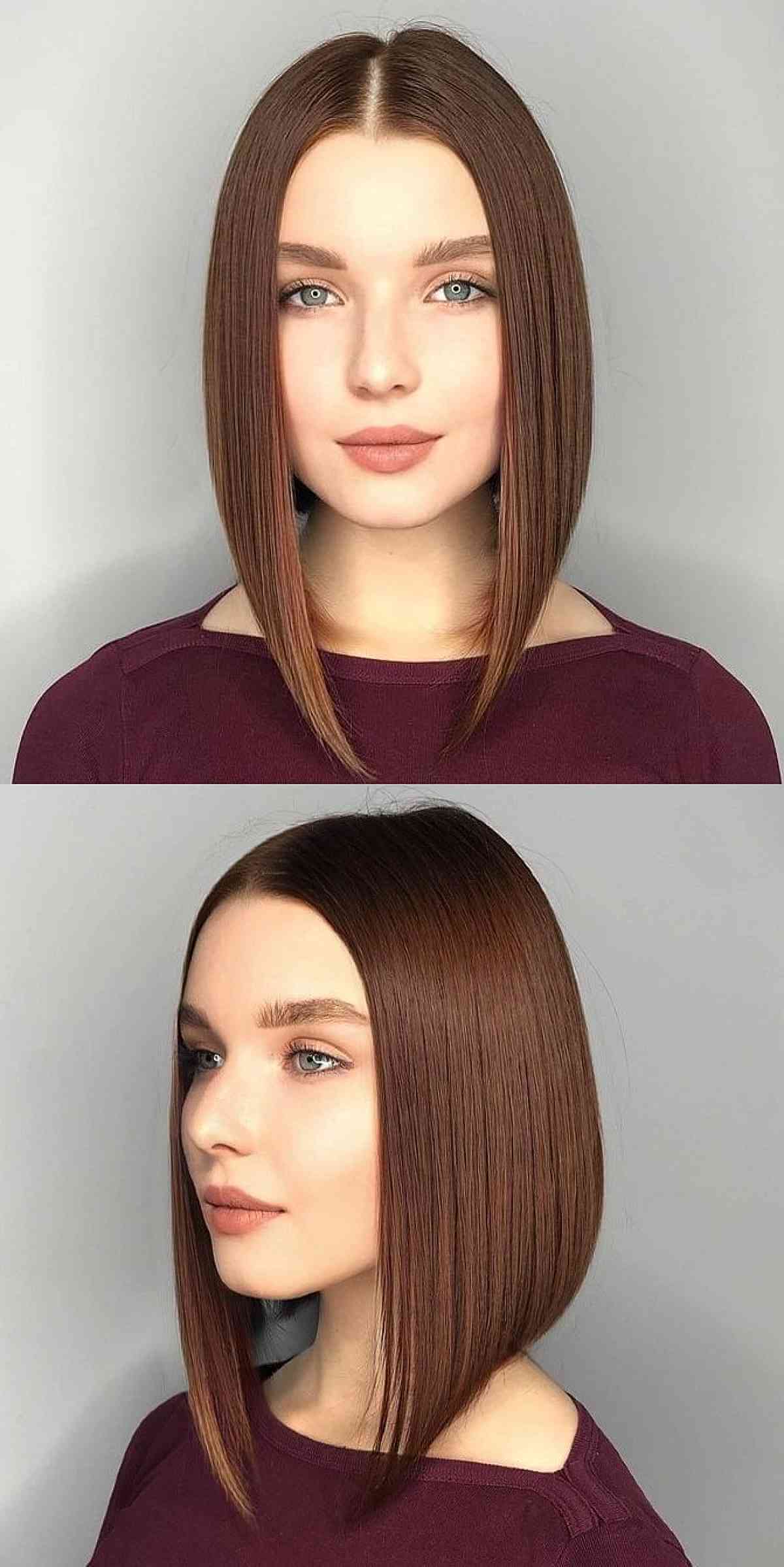 A shoulder-length bob with a center part is a great way for girls who want to create a more elongated face shape. Adding a middle part creates a vertical line down the center of the face giving the illusion of a longer, slimmer face. A shoulder-length bob can be customized for any face shape, however, a middle part is not suggested for face shapes that are already quite long, such as a rectangular face shape.
#9:

Layered Wavy Bob with Graduation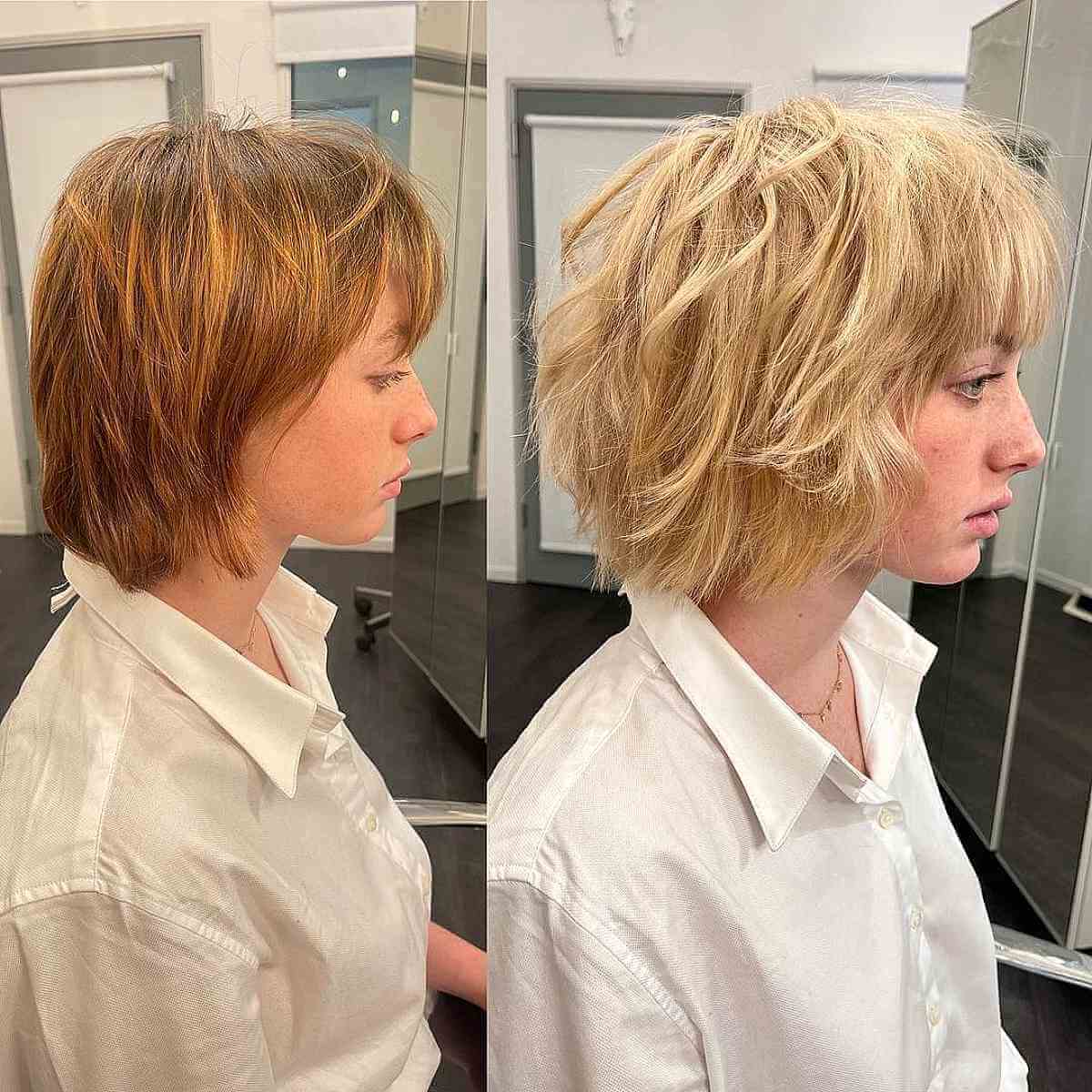 Advertisement:
Try a graduated layered wavy bob when you want to keep the nape short while still having lots of movement and texture near the face. A stacked layered bob for fine hair is a great option for women who want a short style that makes their hair look thicker and healthier than it really is. Graduation around the nape creates an elongated effect at the back of the neck, which can give the illusion of a longer, slimmer neck.
#10:

Shaggy Bob with shorter layers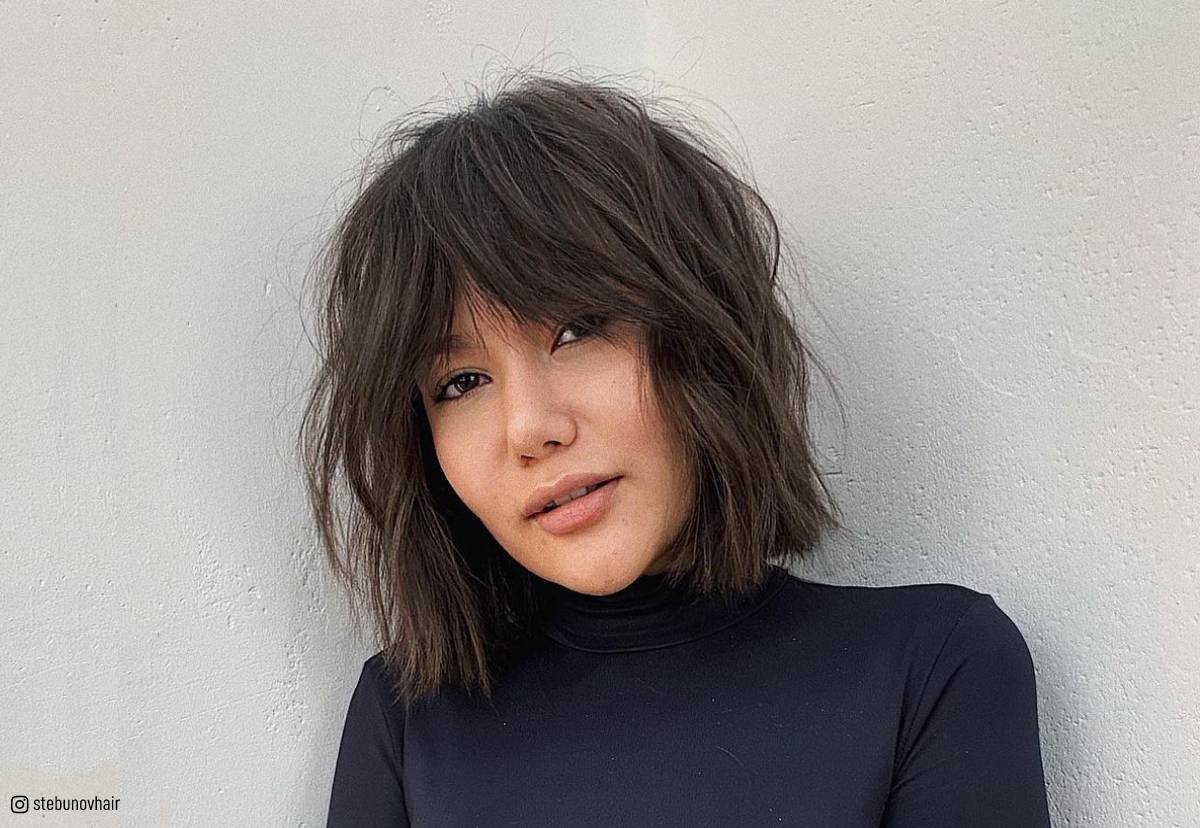 A shaggy bob with shorter layers is a great haircut for women who love a more messy or textured look. A neck-length bob hairstyle for fine hair can be easily styled and also requires very little maintenance. By adding shorter layers, it's easier to bulk up textured hair rather than just relying on the strand of hair to bounce and hold volume.
#11:

Inverted Short Bob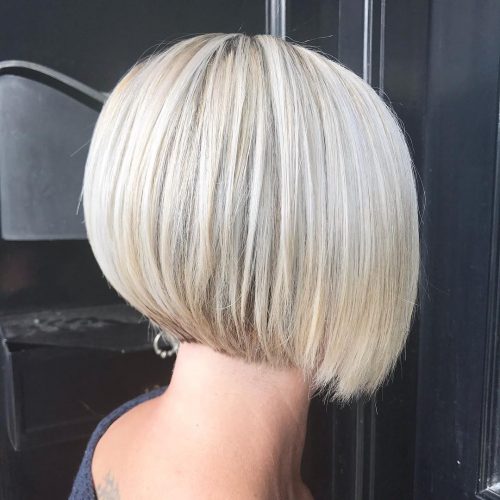 Advertisement:
A short stacked inverted bob is a classic style for all ages and face shapes. When you want to add the illusion of thicker hair, try an inverted stacked bob for fine hair. When a haircut is short or graduated at the nape, it creates fullness and thickness, however, it can become difficult to style when it grows too long, so be sure to keep up with trimming maintenance.
#12:

Stacked Haircut with Soft Waves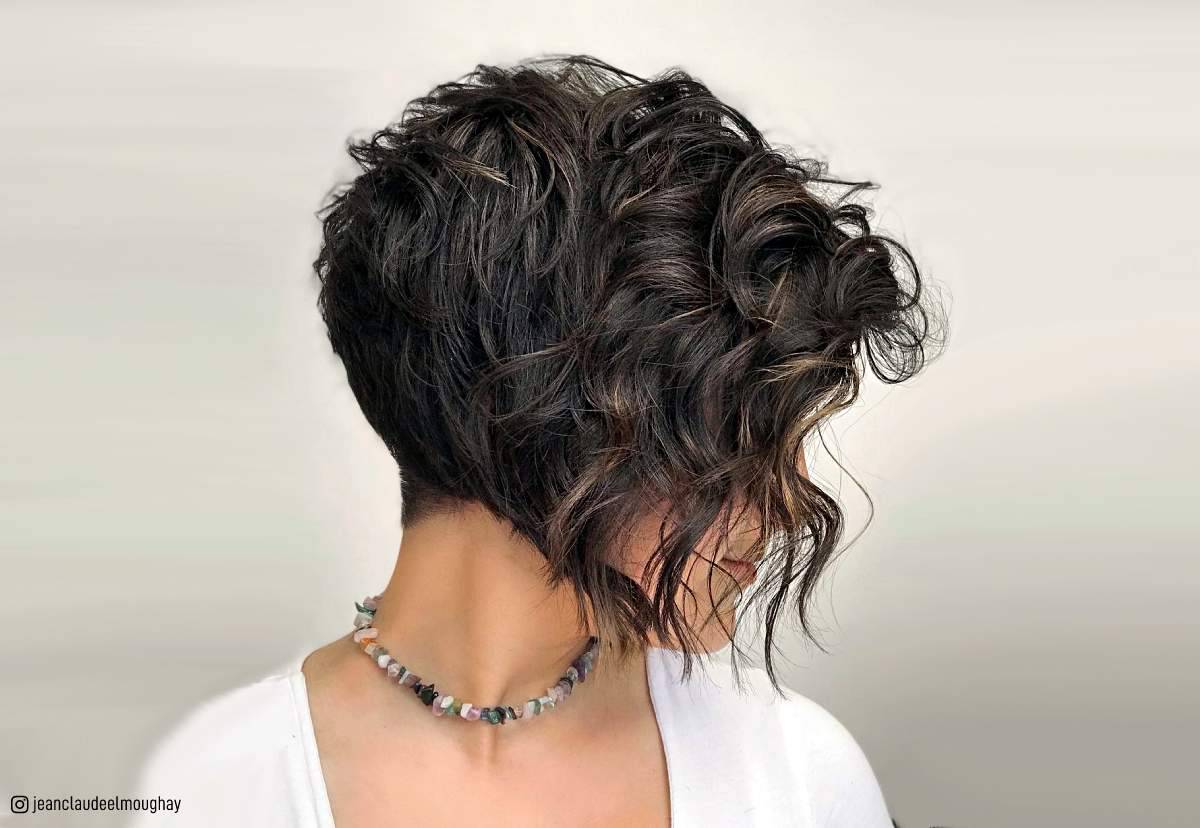 A stacked haircut with soft waves is the perfect beachy haircut to show off a natural hairstyle. Loose wave cut hair is easy and still looks stylish. Adding texture when styling a bob is a great way to maximize volume and really make the haircut stand out.
#13:

Jaw-Length Bob for Women Over 60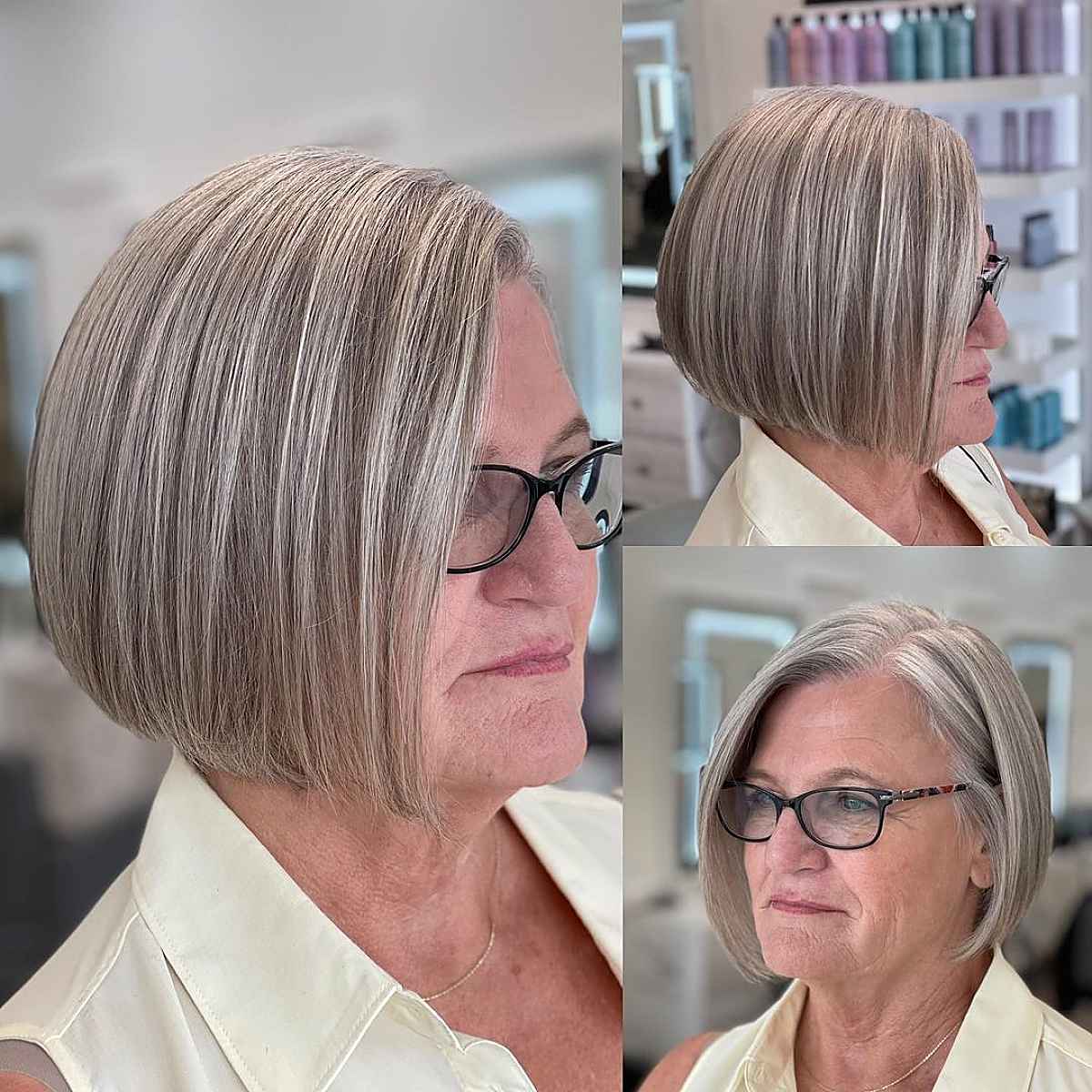 Try a jaw-length bob for women over 60 who want to keep a little length around the face but reduce the amount of care and maintenance needed to keep their hair neat. A short bob with bangs is a great way to complement facial features while drawing attention away from fine lines or wrinkles.
Related: Volume-boosting bob haircuts for women over 60 with fine hair.
#14:

Textured Bob on Fine Hair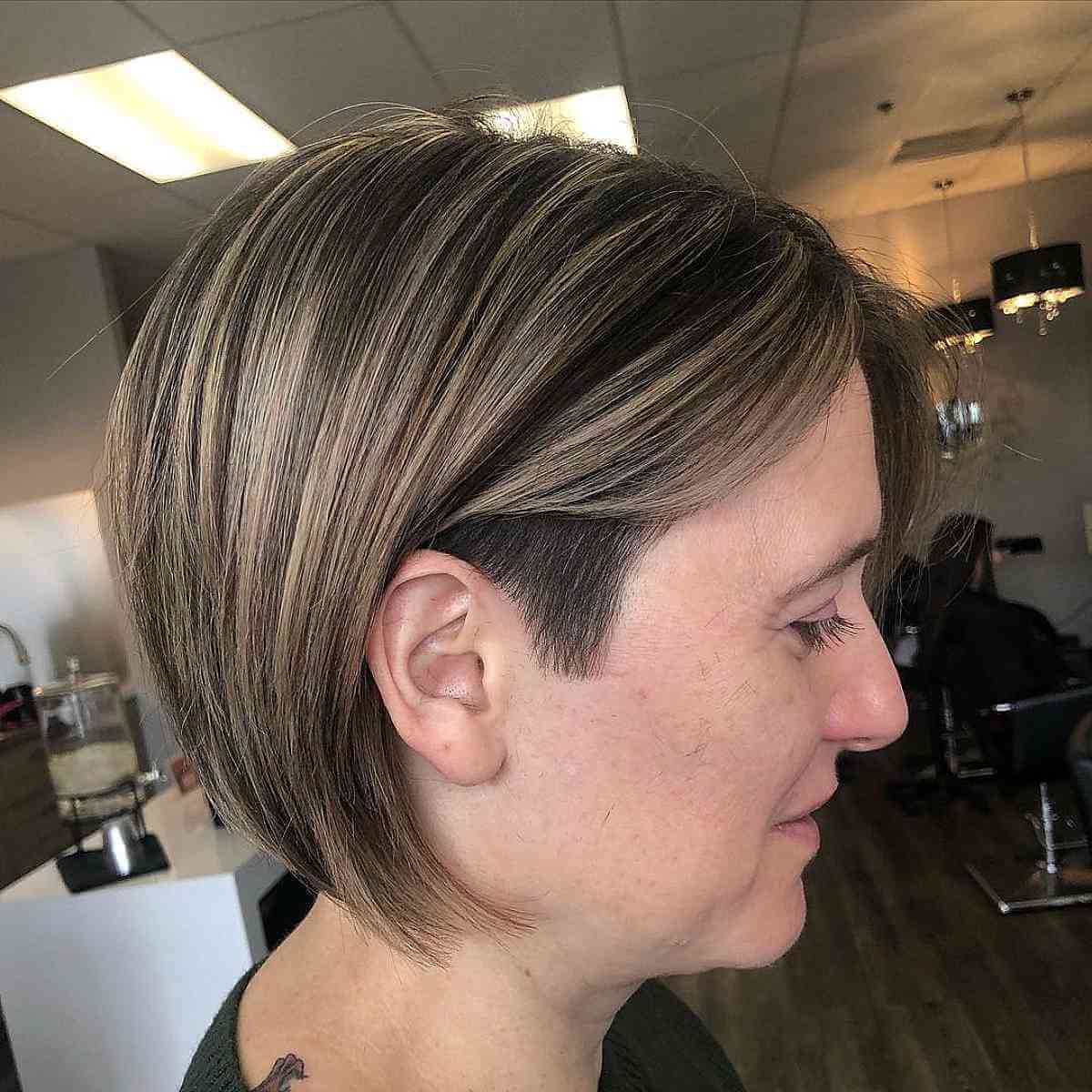 A textured bob on fine hair is all about getting volume and movement naturally. A straight hairstyle for fine hair is a great way to add density and keep hair thick and healthy. When considering a bob haircut, think about how much everyday styling you're willing to do, as this stacked cut takes a little more effort than simply putting it up in a ponytail or messy bun.
#fifteen:

Chin-Length Bob with an Undercut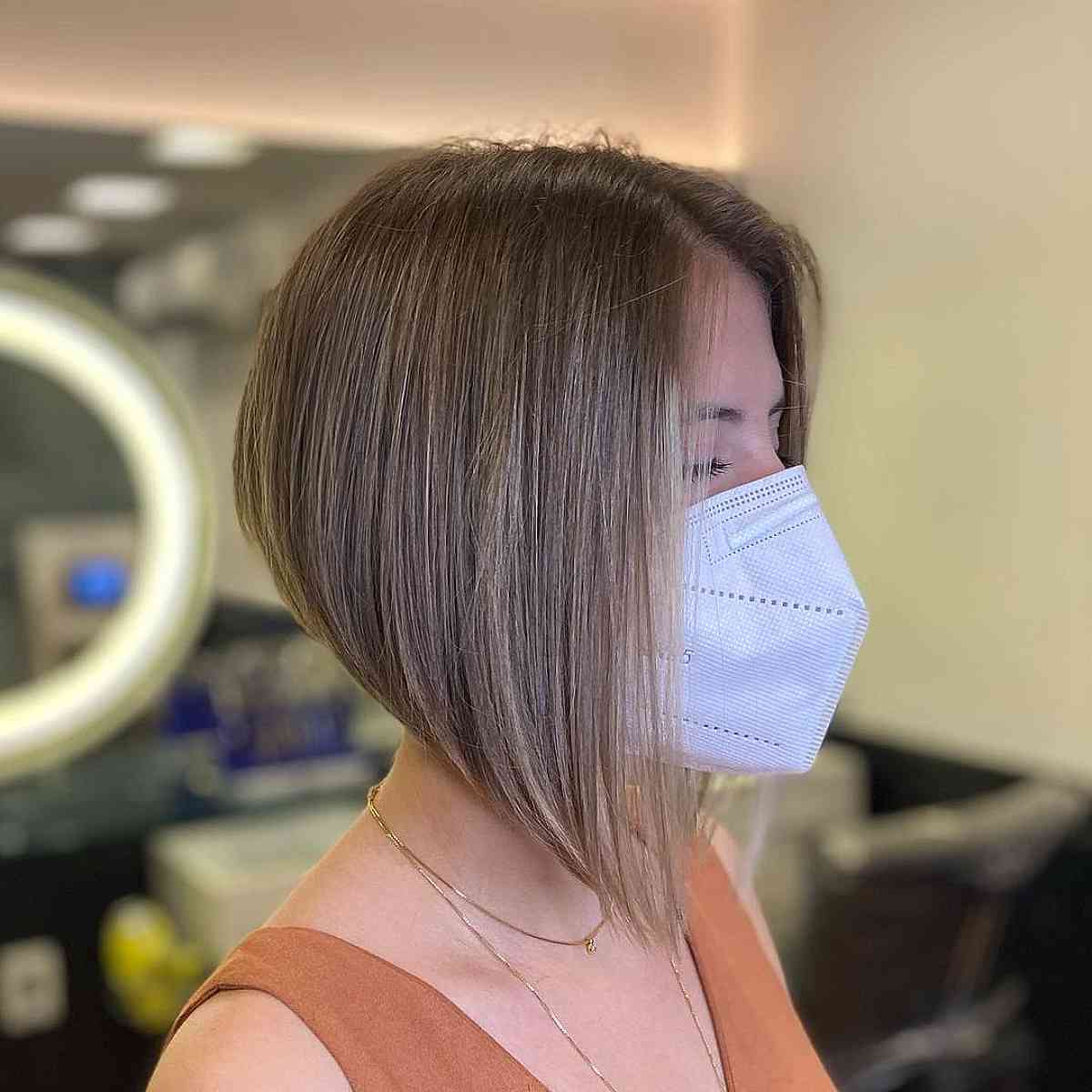 A chin-length bob with an undercut is a great way to make your hairstyle easier to style every day. By adding undercuts to stacked manes, you take the difficulty out of trying to style those pesky short hairs at the nape of your neck. Adding an undercut also makes this simple haircut a bit more edgy and dynamic.
Related: Perfect chin-length bobs for fine hair.
#16:

Elegant A-line bob cut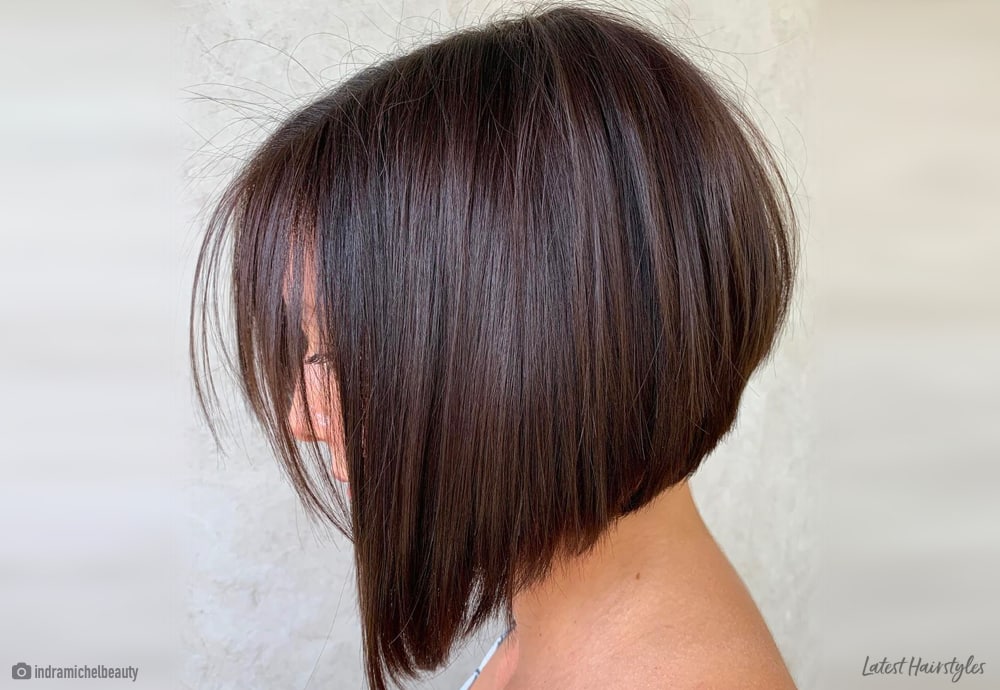 Try a sleek A-line bob for a classic and elegant short hairstyle. A stacked a-line bob for fine hair can be worn straight, sleek, natural, textured, and worn. A versatile cut like an A-line bob can suit almost any face shape and hair texture. Fine hair can be flattened during the day with wet or heavy products, so be sure to use styling products specific to your hair type.
#17:

Graduated Bob for Straight Hair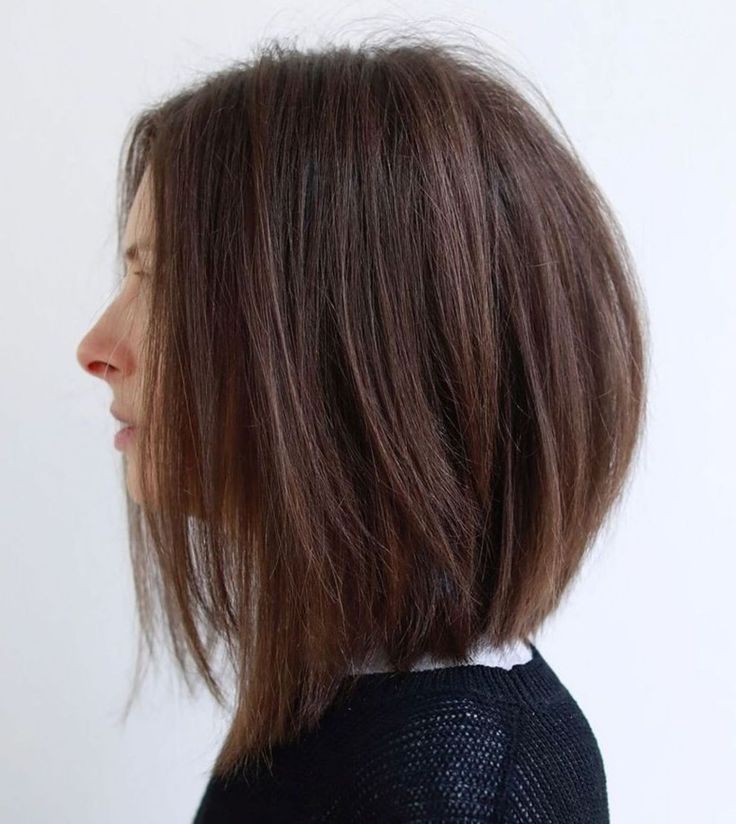 A graduated bob for straight hair is a perfect way to try a low-maintenance haircut that will add volume to the crown area, while still looking sleek and stylish. A short stacked bob for fine hair is a great option for making hair look and feel thicker and healthier. By graduating the layers slightly near the nape, a beautiful beveled effect is naturally created, helping this cut look naturally polished and sleek.
#18:

Pixie Bob with Stacked Layers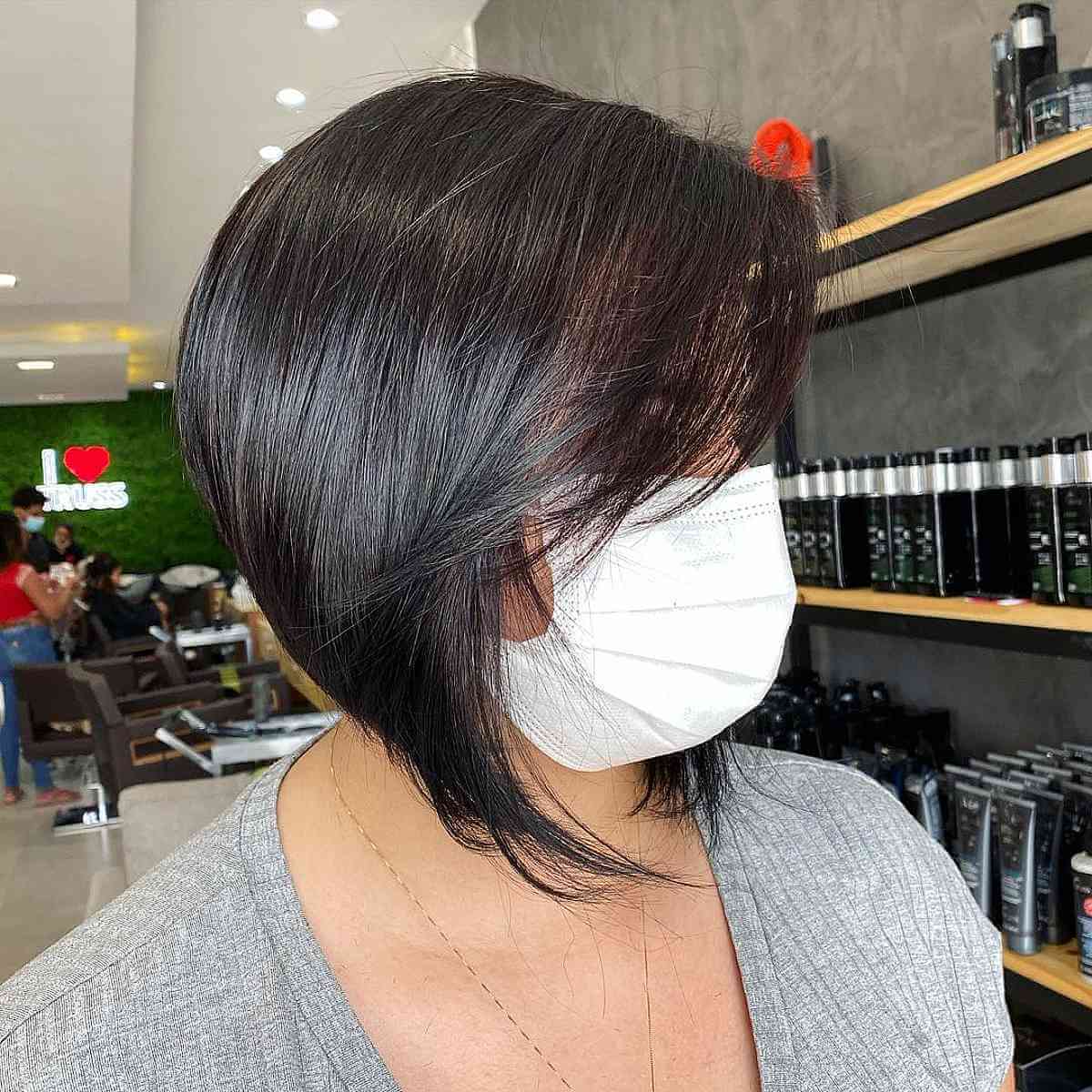 Try a pixie bob with stacked layers when you want to add more texture and volume to straight hair. Stacked hairstyles for fine hair use short lengths to help take the weight out of the hair, allowing it to naturally bounce and add more body. Avoid using heavy or wet hair styling products as they will weigh down fine hair and make the style limp.
#19:

Angled Bob with Side Bangs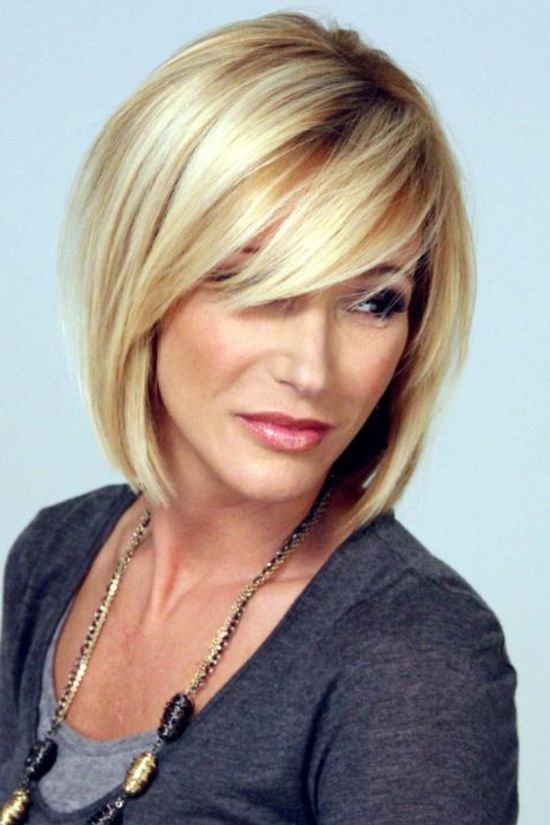 An angled bob with side bangs is perfect for adding volume to fine hair. A stacked bob with bangs for fine hair involves different layers than the same cut for thick hair. When cutting fine hair, it is important to add texture little by little so that the density of the hair is maintained. Too much texturing with fine hair can make the stacked hairstyle collapse and look stringy. For volume in everyday styling, consider a volumizing powder at the root in the crown area to add a little more fullness and help your style last all day.
#20:

Stacked Choppy Bob with Short Bangs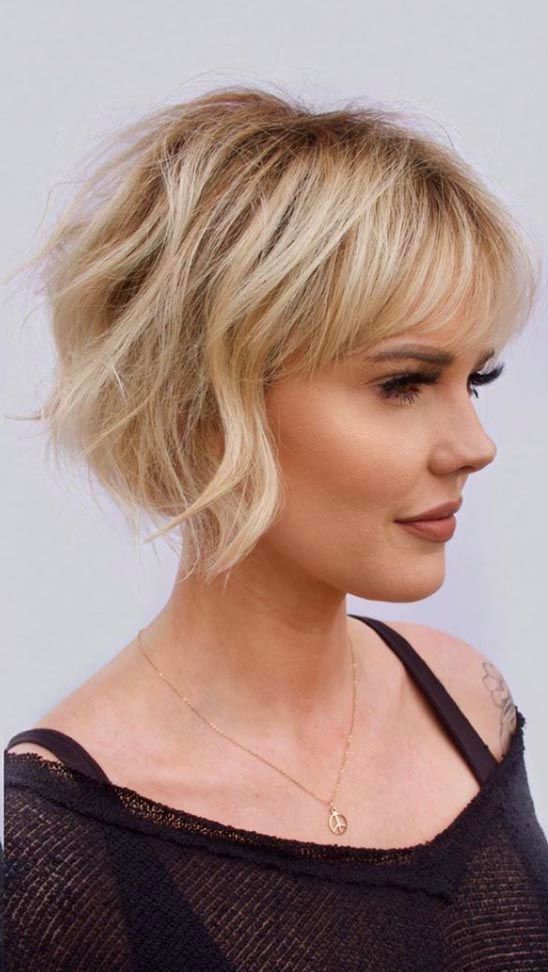 Try a choppy stacked bob with short bangs when you want to give a classic inverted bob an edgy twist. A choppy stacked bob for fine hair involves more texture and layering than other styles. Choppy layers are less about perfection and symmetry and more about movement and fluidity, which is why this is a great haircut for a shave technique. Be sure not to overtexture fine hair, as it can make the hairstyle collapse or look hollow.
Related: Inverted and stacked bob hairstyle ideas.
Next: Hair Loss in Women: Everything You Ever Wanted To Know
READ IT!
Advertisement:
Thanks for your SHARES!
You May Also Like
Add a comment