Kitchen combined with living room: design ideas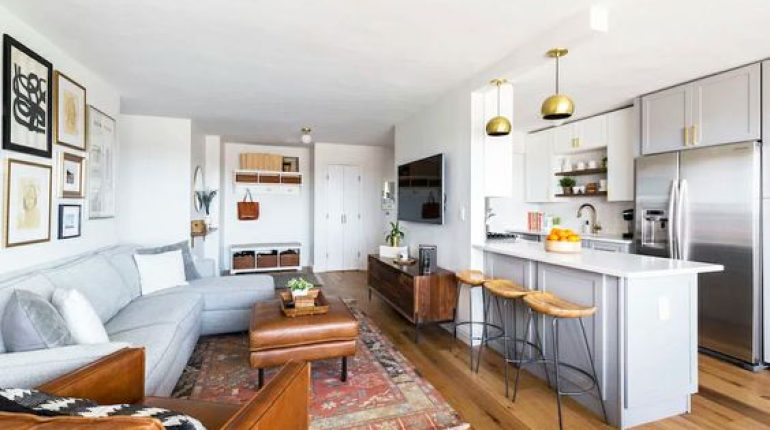 Posted November 11, 2022 by: Admin #Decoration
The design of an open kitchen has not long ago become trendy. Most of the time, this option is found in student environments. However, it can be combined with the living room in any flat or private house. Regardless of the size of these rooms, in any case, you can create an elegant and unusual interior that will make the house more practical and bright.
Advertisement:
Advantages and disadvantages of combining a kitchen and a living room in a flat or a private house
All associations can have positive and negative sides. the advantage of combining the kitchen and living room include the following:
Combining the two rooms, a spacious and bright room is obtained, combining several areas with different functionalities.
For owners of small apartments, the living room will become a real salvation. Here you can properly organize the working and dining areas, create an organic image of the room, and simplify the decoration of the table.
Reduction of traffic in the house.
During cooking, the hostess can communicate with household members in the living room or watch the children play.
There are some disadvantages but there are still:
The sounds of kitchen appliances and the smell of the upcoming dinner permeate the living room.
Solving this problem can help household appliances with a reduced noise level and install a powerful hood above the stove.
The combined room needs to be cleaned more often.
But all negative aspects can be minimized, it is only necessary to plan the right place for living rooms and kitchens.
Advertisement:
NEXT: Farewell to wasp nests on the balcony or terrace, here is the depopulating solution
Thanks for your SHARES!
Advertisement:
You May Also Like
Add a comment