23 Low-Maintenance Bixie Haircut Ideas for Women of All Ages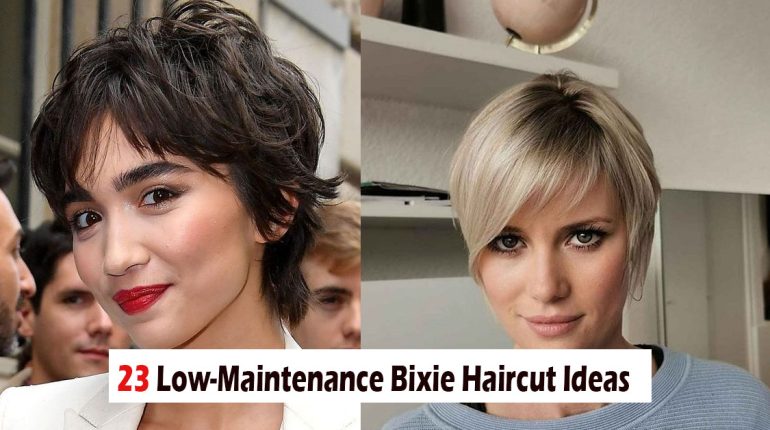 Posted November 8, 2022 by: Admin #Hairstyles
#1: Bixie Cut Brunette
The brunette's bixie cut is both cute and classic and suitable for formal or casual wear. Some of the best ways to go from a bob to a pixie is to try something in between using the bixie. The bixie will provide the volume and texture you are seeking that your bob may be lacking. Make sure you bring lots of photos of cuts you like for your hair stylist. You can decide where you want the bangs to fall and if you want them around your face or not. Rather, style your hair with a volumizing lotion and blow dry it. You could use a texture cream or pomade to add dimension to the layers.
Advertisement:
#2: Layered Side Swept Pixie Bob
Cut your hair into a layered side swept pixie bob cut and you will transform your whole attitude. A layered pixie bob can be worn straight or curled with a flat iron. If you're having trouble drying, try using a metal barrel medium round brush. The metal barrel gets hot when it dries and will definitely give you a better finish. Pair it with bangs that are pulled away from your face and you have a striking style that will make you feel new and different.
#3: Wispy Bixie Cut
Try a wispy bixie cut if you're tired of a bob but afraid to go as short as a pixie. Have your stylist graduate the nape and add lots of layers to the sides, and the result will be a cut with beautiful movement. Brush it back or forth or tuck it behind your ear, the possibilities are endless. Plan trims every 5 weeks to keep your shape fresh.
Page: 1 sur 7
SEE MORE..
Advertisement:
Thanks for your SHARES!
You May Also Like
Add a comment