26 Stylish Graduated Bobs for Older Women That Are Easy to Style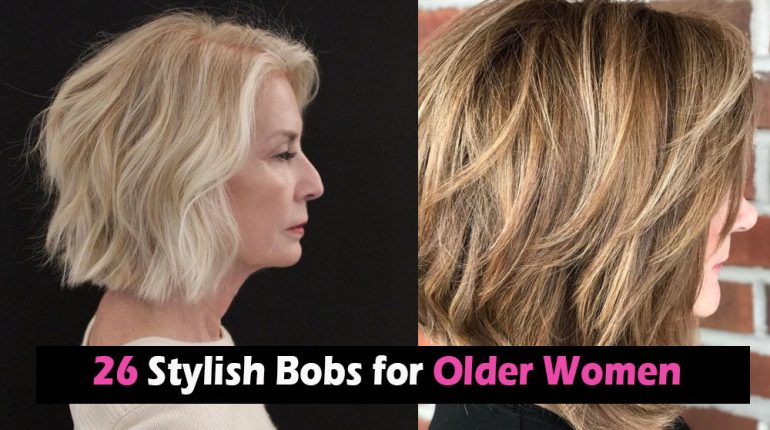 Posted November 10, 2022 by: Admin #Hairstyles
#1: Pixie Bob with waves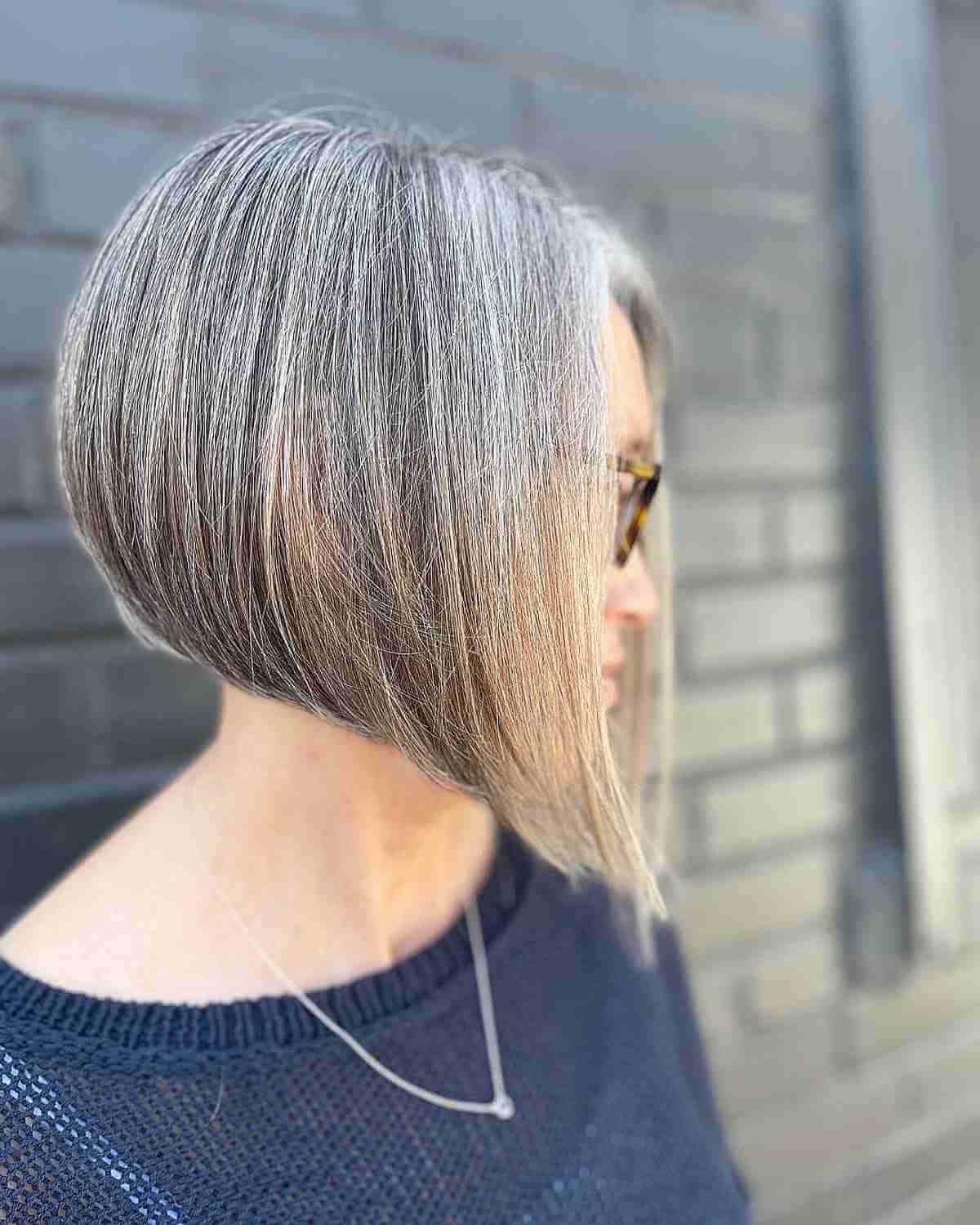 Advertisement:
If you' re looking for a youthful haircut with lots of volume, then try a pixie bob with waves. The addition of waves to a short style helps to give the illusion of fuller hair, ideal for fine, thinning hair. A sleek pixie bob is an easy to manage hairstyle, so you won't have to spend a lot of time styling your hair. This haircut can be maintained with regular trims every 6-8 weeks.
#2: Graduated with an A-line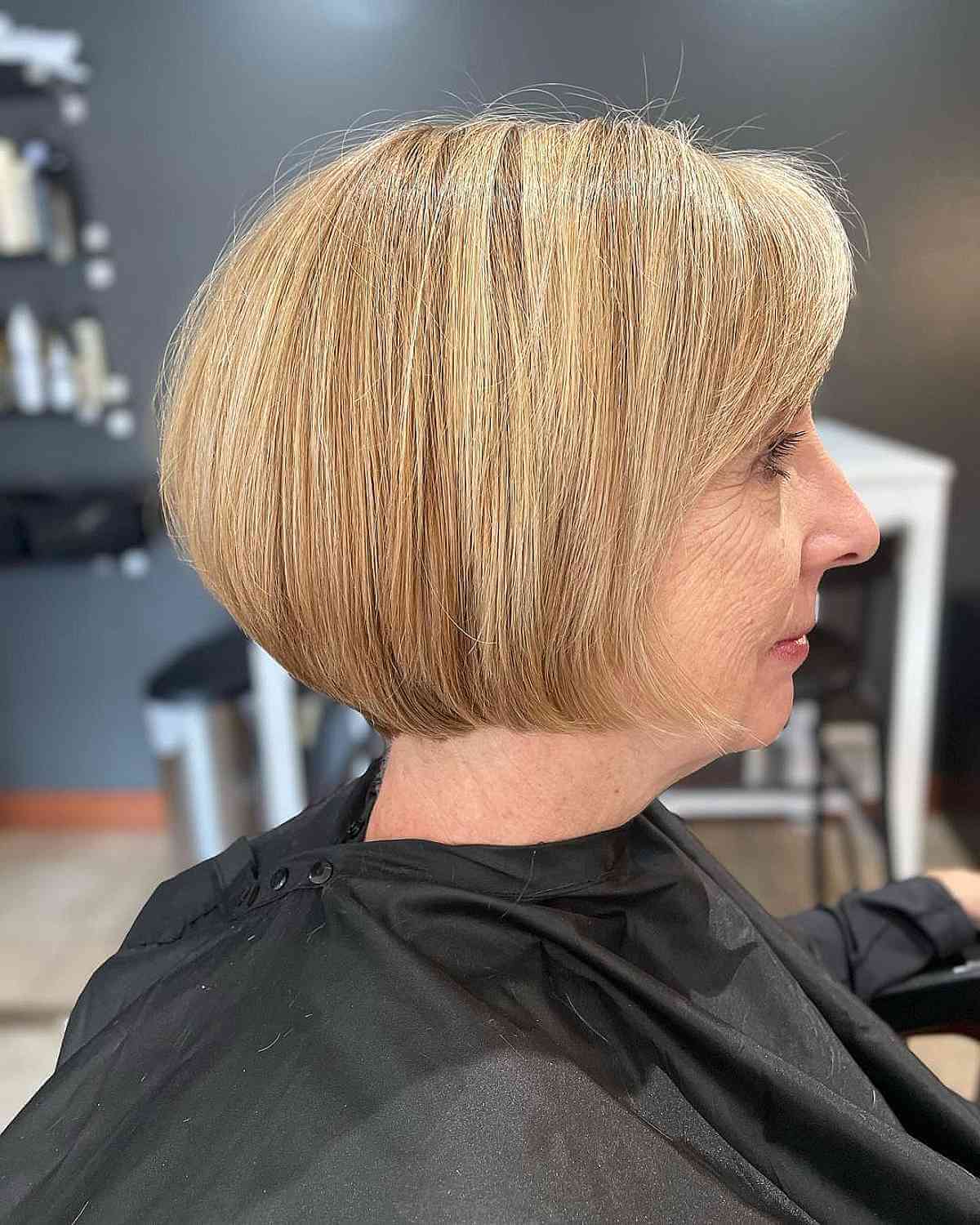 Try a graduated A-line bob when you're looking for hairstyles for older women. It is an easy, low-maintenance haircut. The length kept close to the front of the face helps to frame the face while also helping to hide fine lines and wrinkles around the face. A bob line is the perfect hairstyle for women who wear glasses because it won't go behind the lenses and is easy to sweep off the face.
Advertisement:
#3: Graduated with Balayage Blonde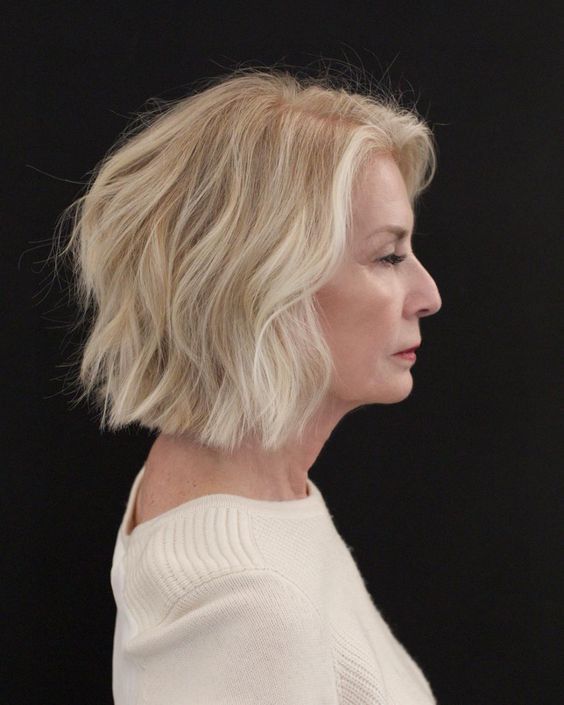 #4: For women over 70 with straight hair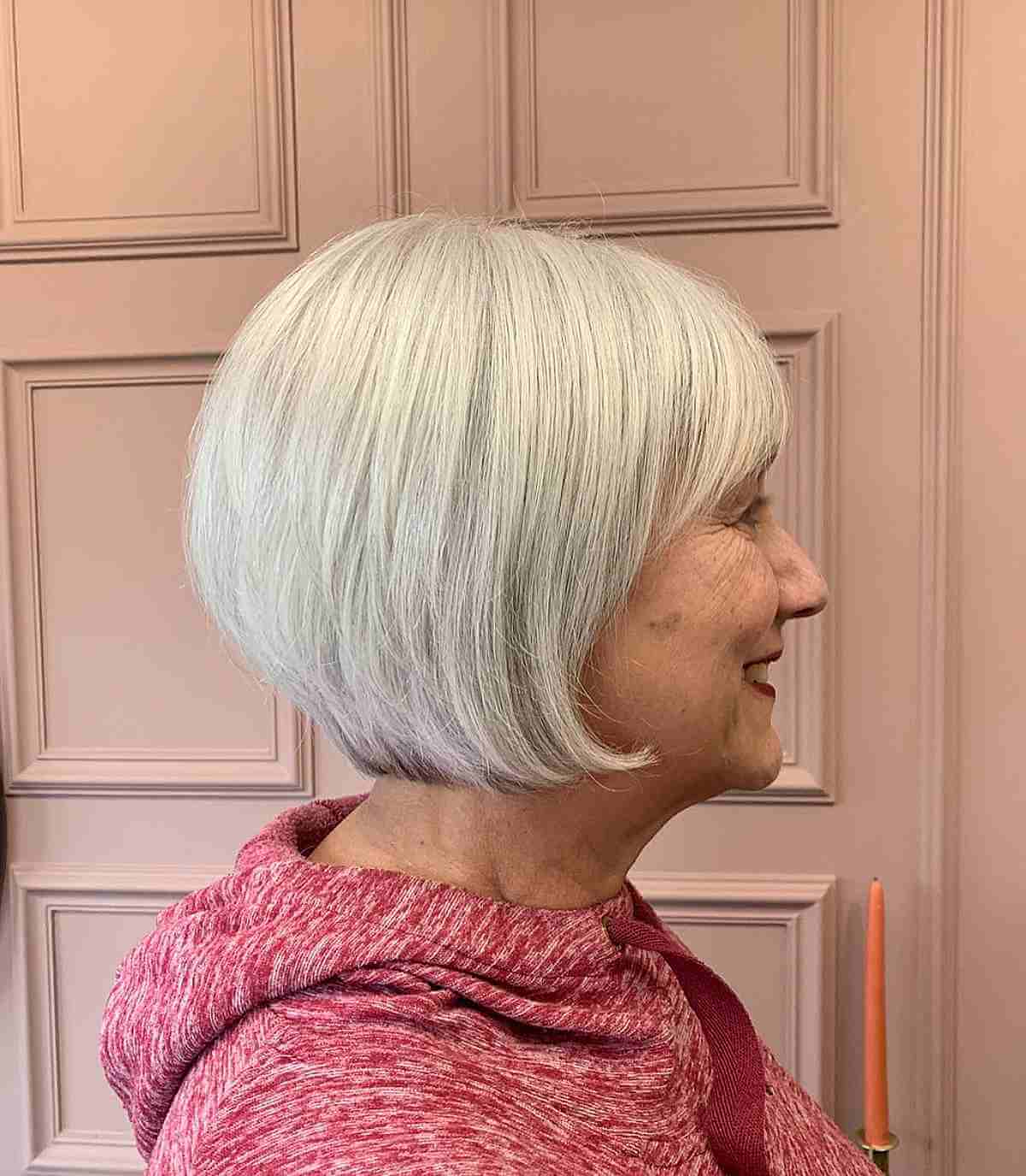 Women over 70 who struggle with straight, straight hair should contemplate changing their hairstyle to a graduated bob. Embrace your natural hair colour, as it's in fashion now more than ever, so finding a cut that enhances your natural color is an ideal option. Graduated layers will help create a fuller look to your straight hair without looking like you've lost hair. Being over 70 is a very stylish age and a graduated bob will help enhance all of your most beautiful features.
Advertisement:
#5: Beautiful chin-length bob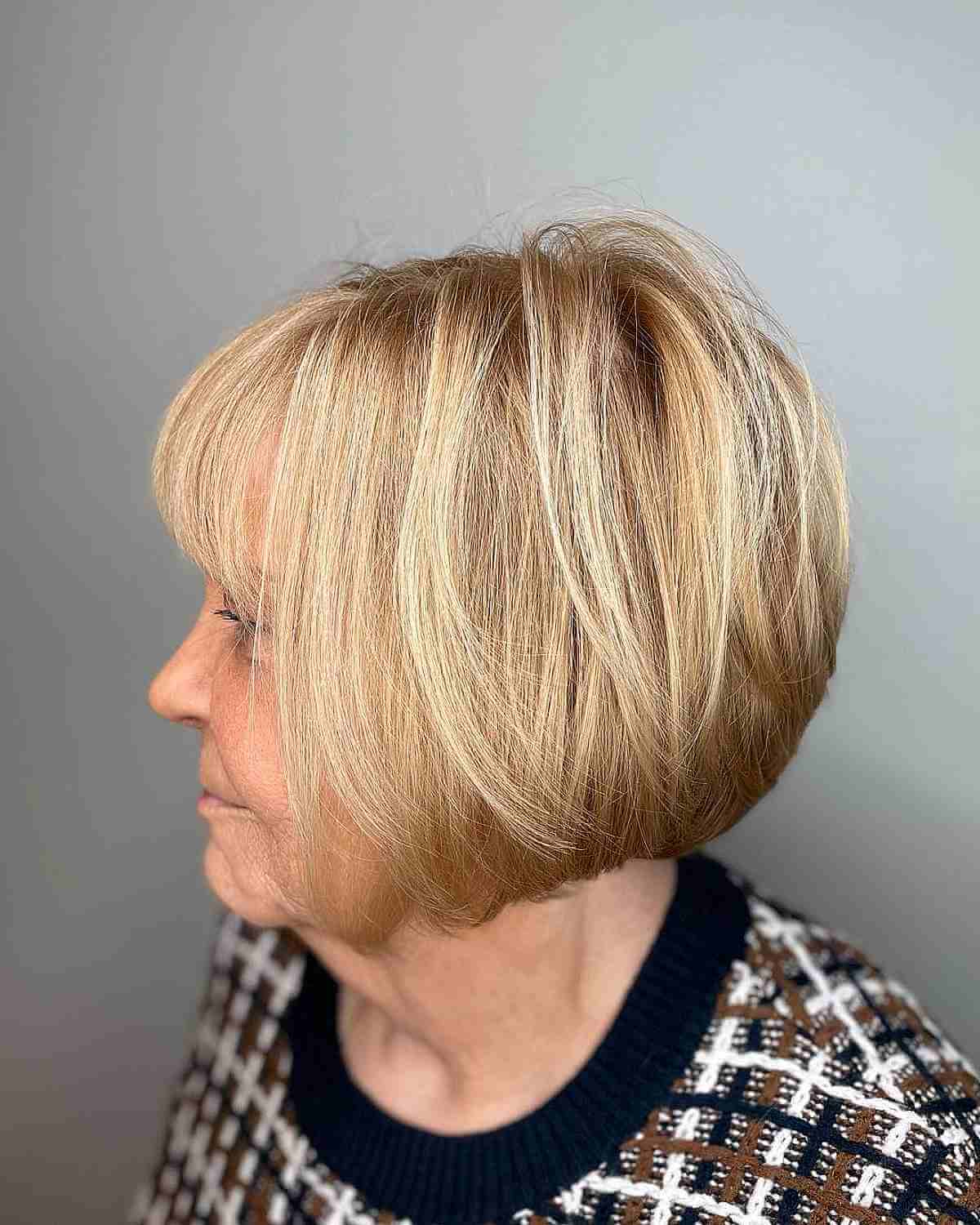 A gorgeous option to enhance your face shape is to choose a chin-length bob for your next haircut. A chin-length bob helps to highlight the cheeks and jawline to create a sleek, flattering shape around the face. Try adding graduated layers to add volume at the back or add wispy layers that frame the face to hide wrinkles and fine lines around the face.
#6: Layered and graduated bob with fringes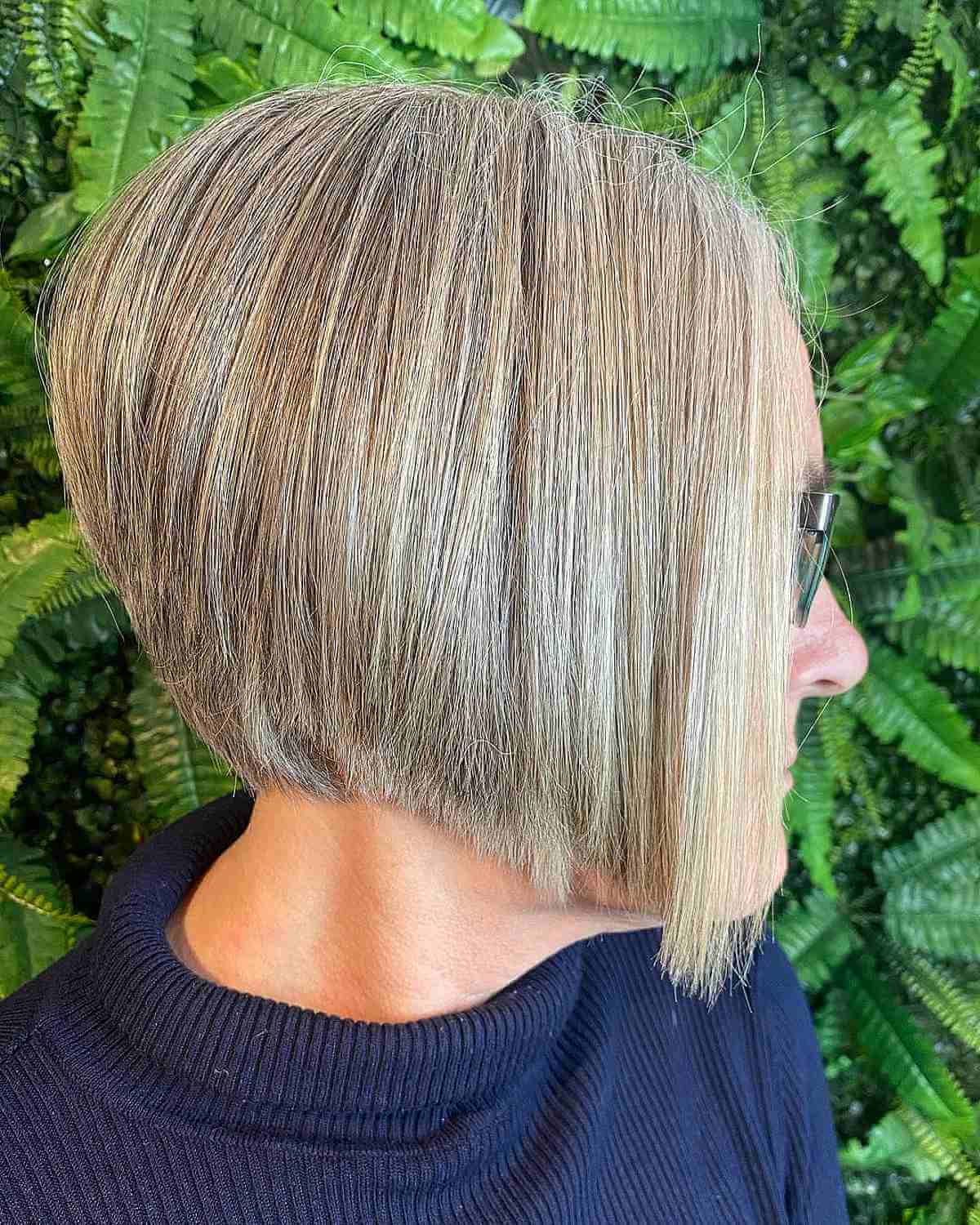 Advertisement:
Create a layered, graduated bob with fringes if you have fine or thinning hair. The layers will help create a fuller silhouette, while the graduation towards the face creates a nice facial frame to enhance your face shape. The addition of fringes really helps to disguise problem areas where fine lines and crow's feet reside. Try using a product like Color wow Lift the roots to help keep the volume in your hair throughout the day.
#7: Flattering for fine hair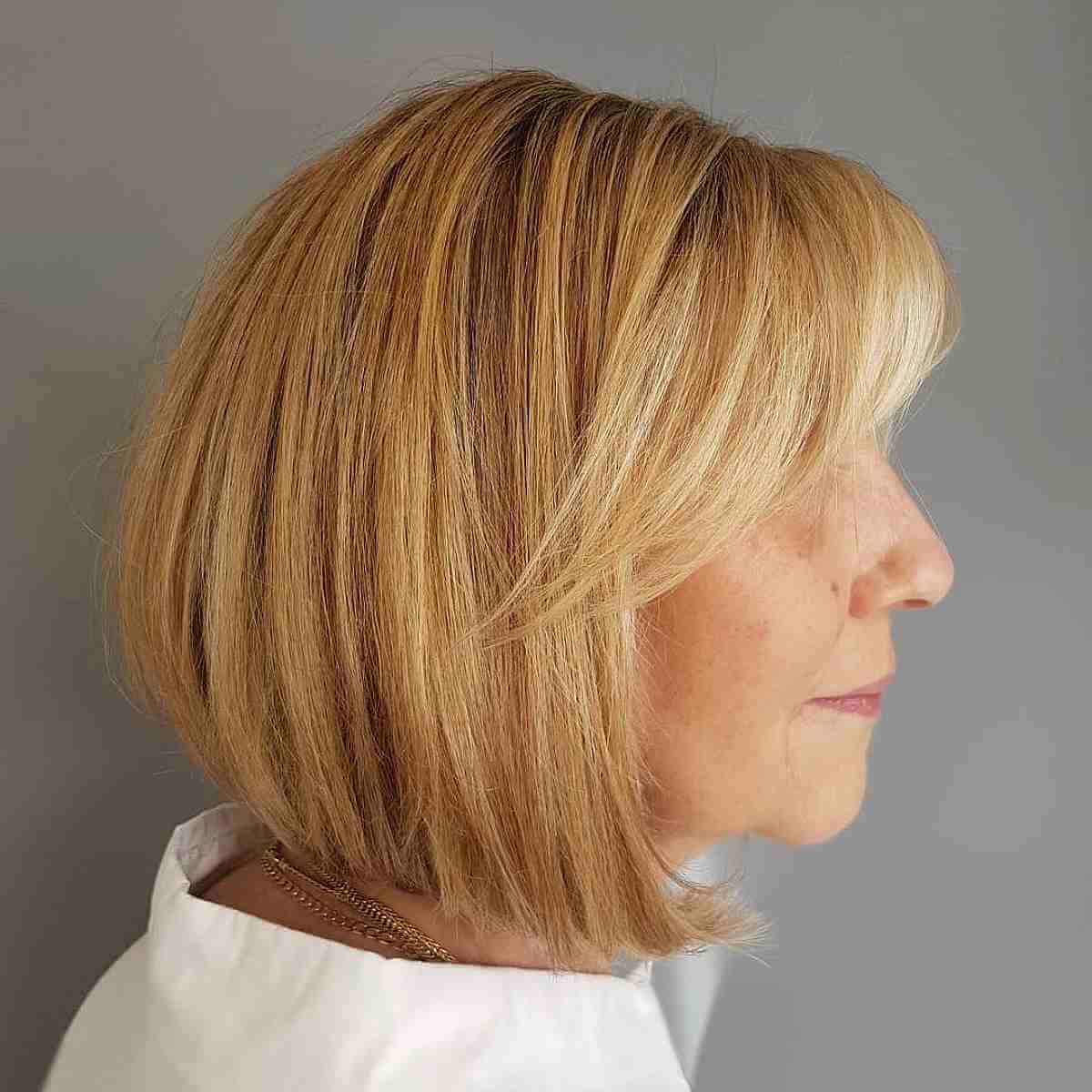 Graded bobs flatter all hair types, but can work magic on older women with fine hair. The stacked layers help build a weighty hairline that makes the hair appear thicker, while helping to create more volume in the crown area. Silver-haired clients give an even more elegant and distinguished look to the overall style. The most important part of this style is that it needs maintenance every 6-8 weeks to keep the shape.
#8: Choppy, textured neck-length layers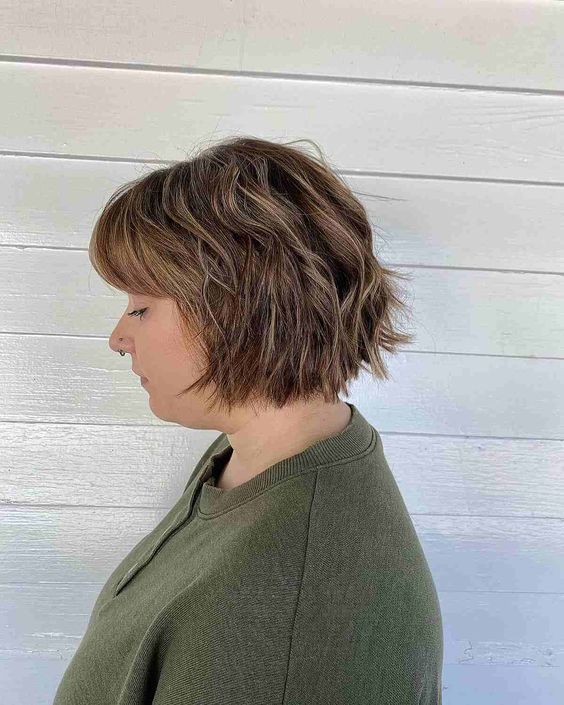 Advertisement:
Try adding choppy, textured layers to create a more fragmented and voluminous look to the hair if you enjoy a neck-length bob. A graduated bob is one of the most classic and universally flattering haircuts out there. Layering choppy layers and adding texture to a bob will make it an even more youthful haircut. Try adding a sweeping curtain fringe to hide fine lines while enhancing your cheekbones.
#9: Soft, textured bob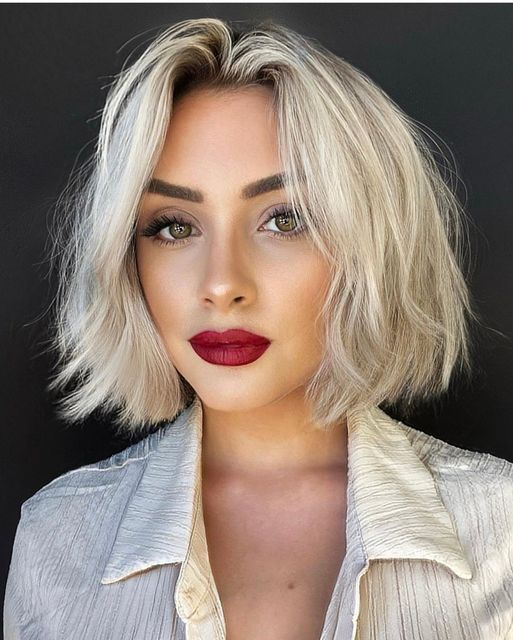 A smooth, textured bob is an ideal choice for someone looking for a lot of life and movement in their hair. While layers help to give movement, texturizing the hair creates almost invisible layers throughout the hair to give it more strength and volume. The soft layers allow for a more youthful hairstyle by softening the edges around the face. Opting for a soft, textured bob will give a timeless, soft, and flattering look for all hair types and face shapes.
Advertisement:
#10: Graduated bob with short layers for women over 60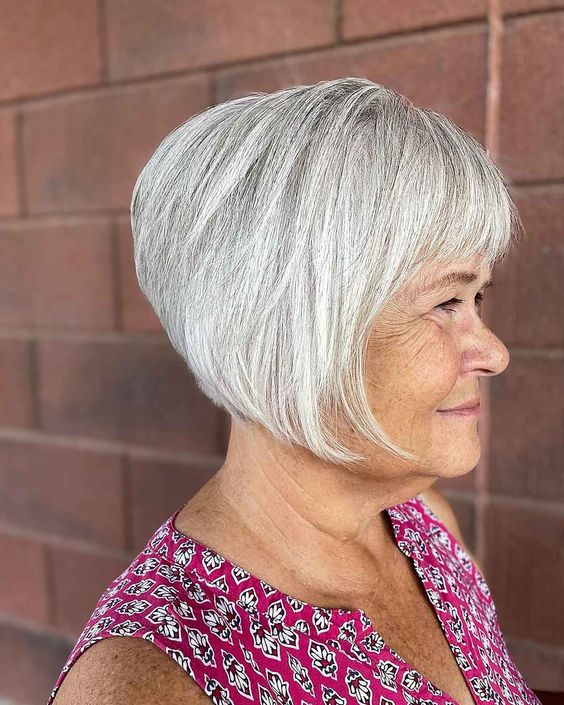 A short layered graduated bob is a soft and flattering haircut. The addition of layers throughout the cut helps to create movement, texture, and volume, which helps fine hair look fuller and thick hair look less dense. Short graduated bobs and short hairstyles are complementary for many face shapes and, by adding layers, can help camouflage any fine lines or wrinkles around the face.
#11: Flattering graduated stacked bob for ladies over 50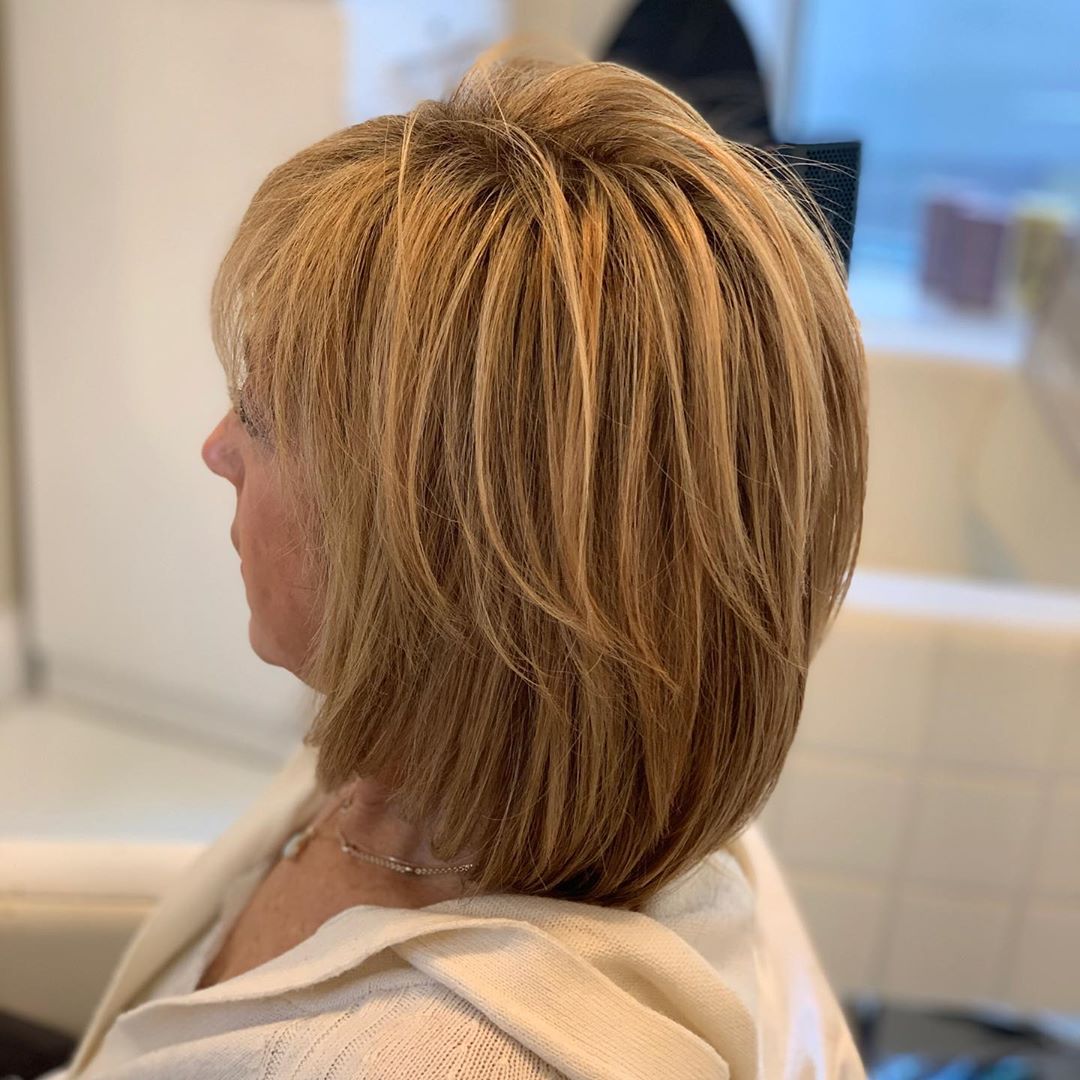 If you have fine or thick hair, a graduated stacked bob is an excellent choice for your next haircut. A stacked bob is layered at the back, which helps give a nice weighty line without weighing the hair down. The layers create volume in fine hair and create a softer look in thicker hair. A bob is longer in the front and shorter in the back, making it an ideal cut for older women because it is beautiful and requires little maintenance.
Advertisement:
#12: Subtle graduated long bob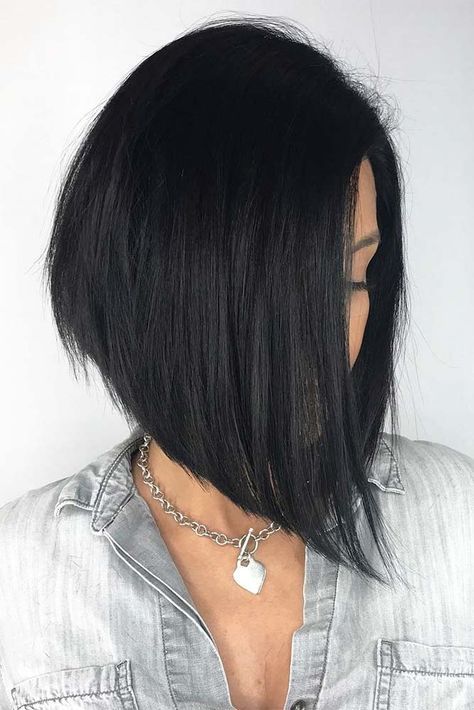 If you are looking for a shorter style that can still be tied back and away from your face, consider a subtly graduated long bob. A longer bob will give you a more youthful appearance by camouflaging some fine lines and wrinkles around the eyes and face. Having the ability to tie your hair back is a nice perk for days when you don't have time to style your hair. Graduating subtly is a much less dramatic way to keep a little more length towards the front of the face.
#13: Very short bob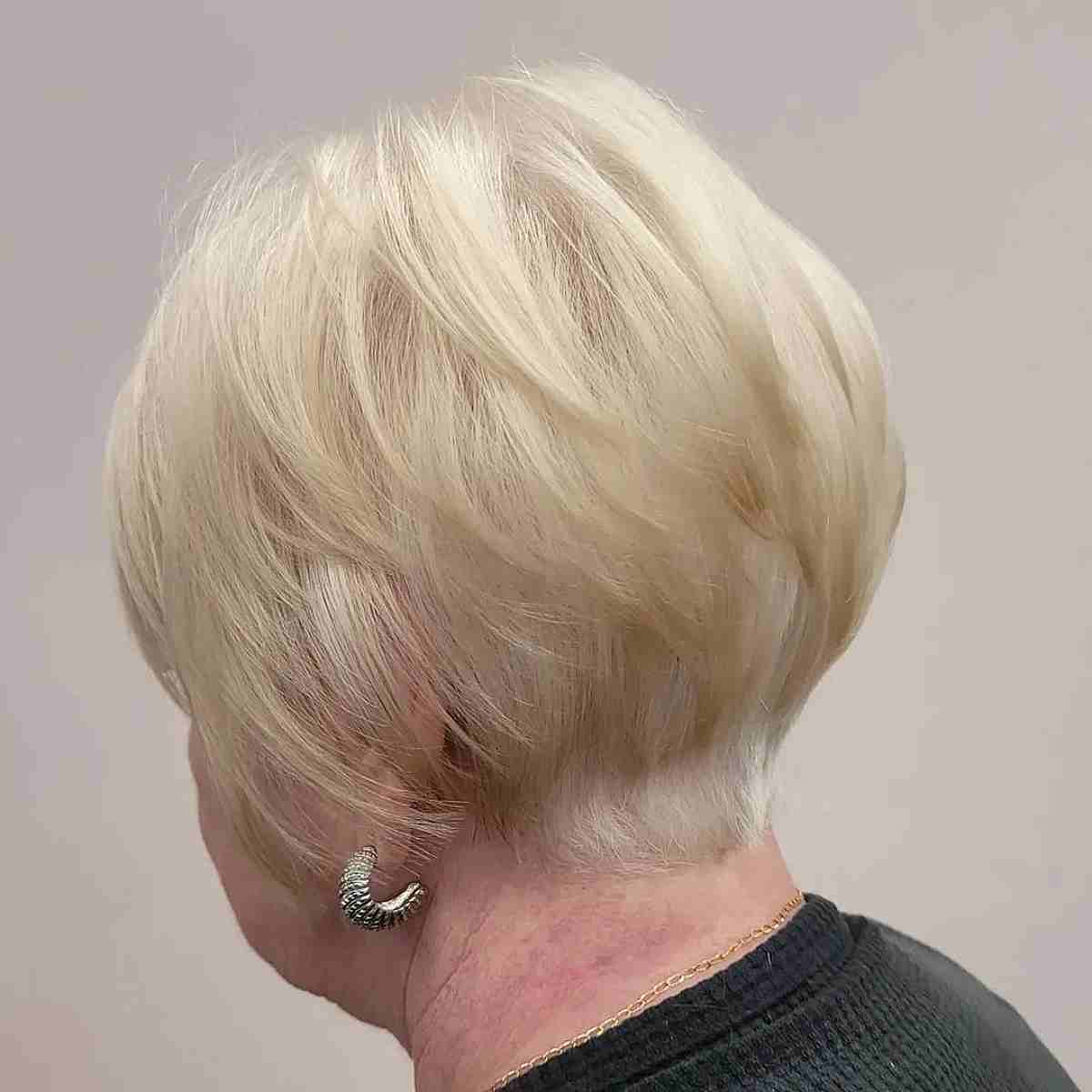 So if you like your hair short but prefer to keep your ears covered, a very short bob is a great option for you. Keeping the hair shorter in the back creates a light, low-maintenance haircut for older women. By adding slightly longer layers around the face, it helps to cover the ears and camouflages wrinkles around the face.
Advertisement:
#14: Steep graduation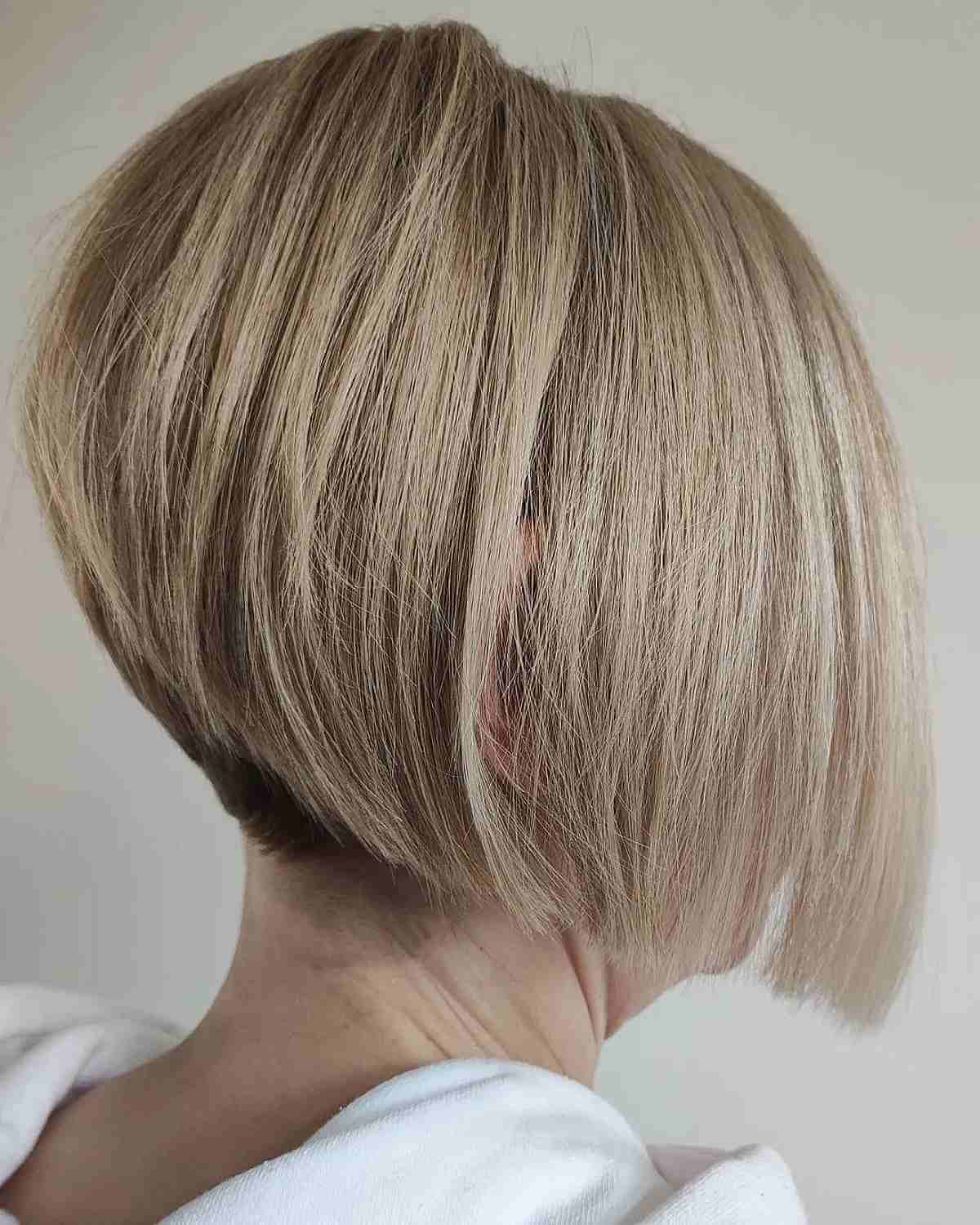 Give a steeply graduated bob a try for a sleek and flattering hairstyle. A graduated bob hairstyle can be a universally flattering cut on all hair types and textures, it's just a matter of finding the perfect one for you. Pronounced graduation creates a dramatic change from short in the back to long in the front, which is both modern and unique. The deep angle is perfect for mature women who want to keep their look very fashionable while keeping their hair easy to manage. Try adding some waves or curls to the bob to add volume and texture.
#15: Triangular Graduated Shake for Overweight Women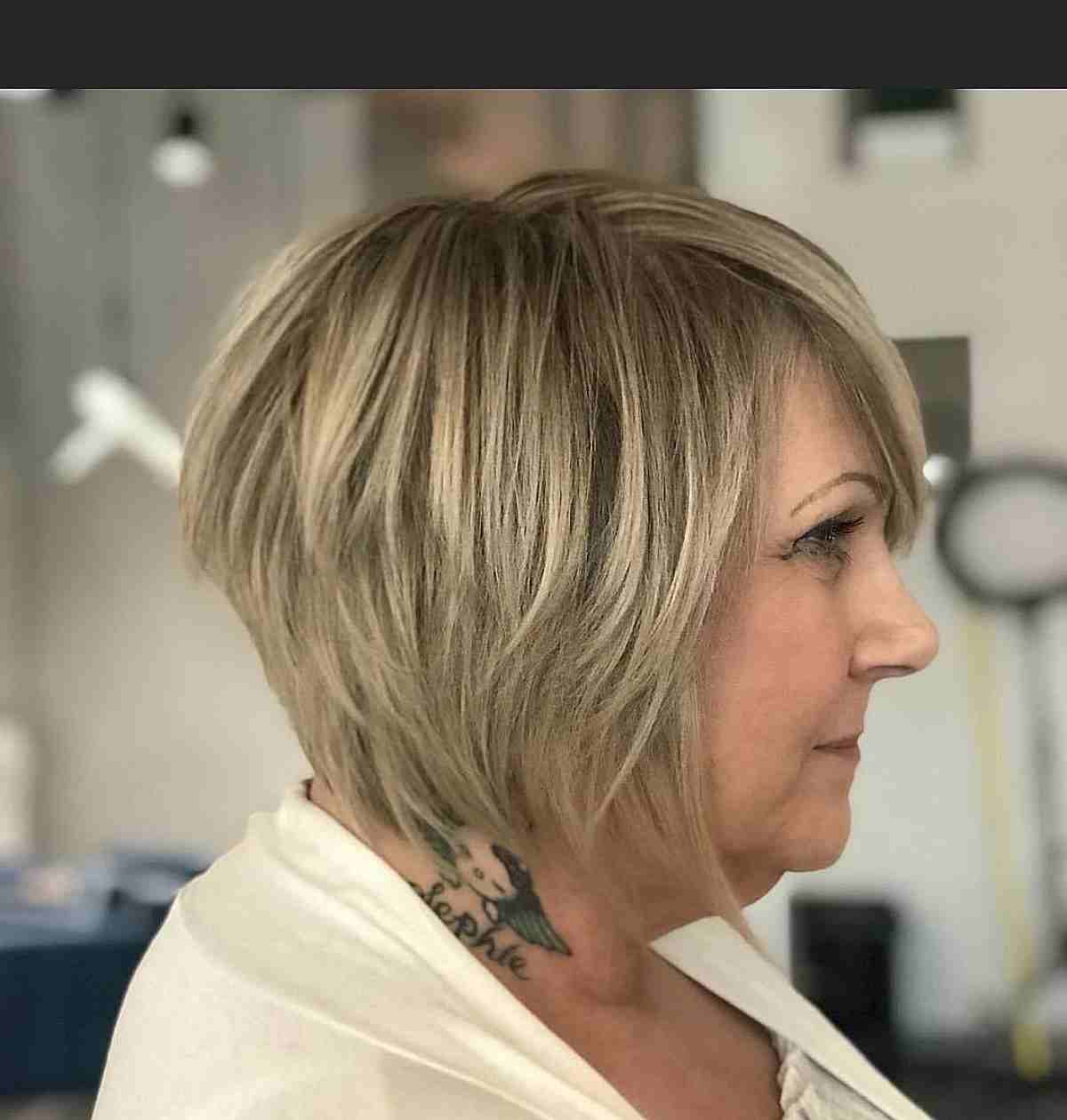 Always consider a triangular graduated bob if you have a round face shape because it will help give the illusion of an elongated face shape. A graduated bob cut for round faces helps to slim the face while helping to camouflage fine lines and wrinkles, making it a perfect style for older women. A triangle bob can add volume to the hair with all the placement it provides in the hair, making the hair appear fuller.
#16: Gradient bob for women with thick hair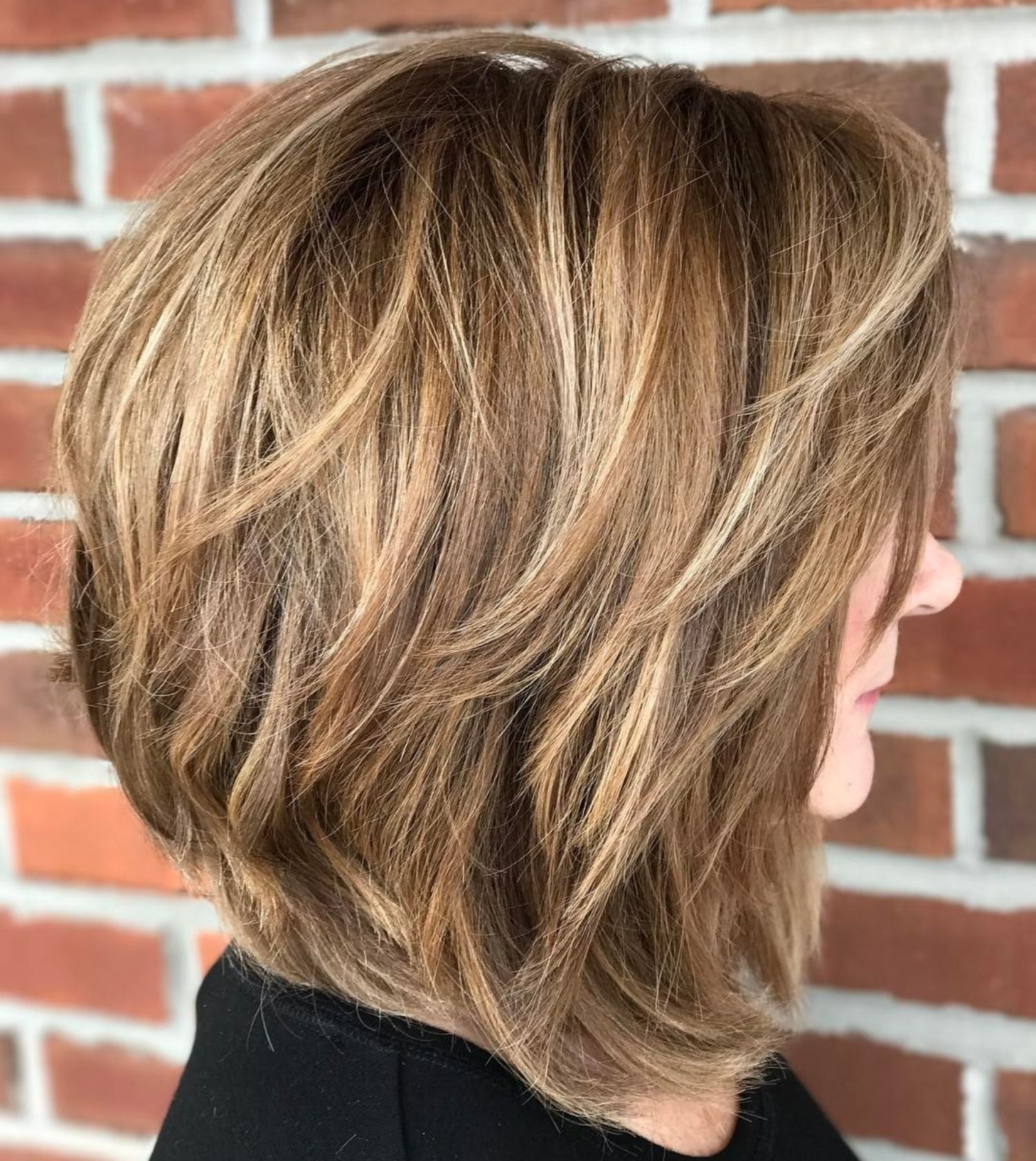 A gradient bob is one of the best haircuts for women with thick hair. The graduation and layering in this cut relieve the heaviness and weight of thick hair and helps to give a sleek and smooth silhouette. Also, a bob haircut is an ideal haircut for older women because it is easy to manage and requires very little maintenance. Hair maintenance requires an appointment every 6 to 8 weeks to trim and thin the hair, which helps to keep the hair soft and light.
#17: Extra short and cropped graduated bob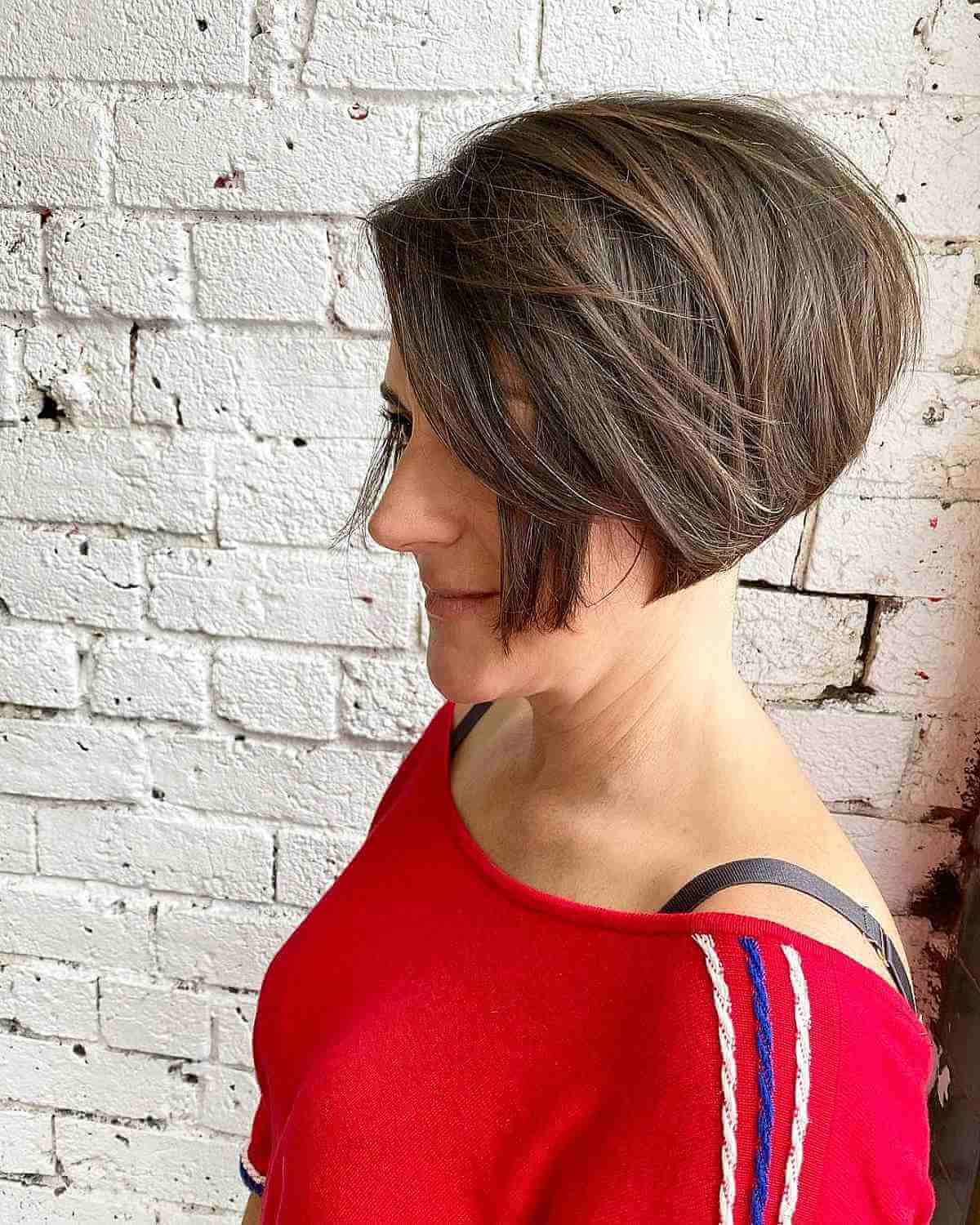 As you look for haircuts for older ladies, try a cropped graduated bob with an extra short nape to add some volume and width to your style without all the heaviness of hair on the neck. An extra short style is easy for clients who like low maintenance, easy to manage styles. Graduated hair that is longer in the front is perfect for framing the face and covering the ears. It is recommended to renew and trim the style every 6 weeks.
#18: Graduated jaw-length bob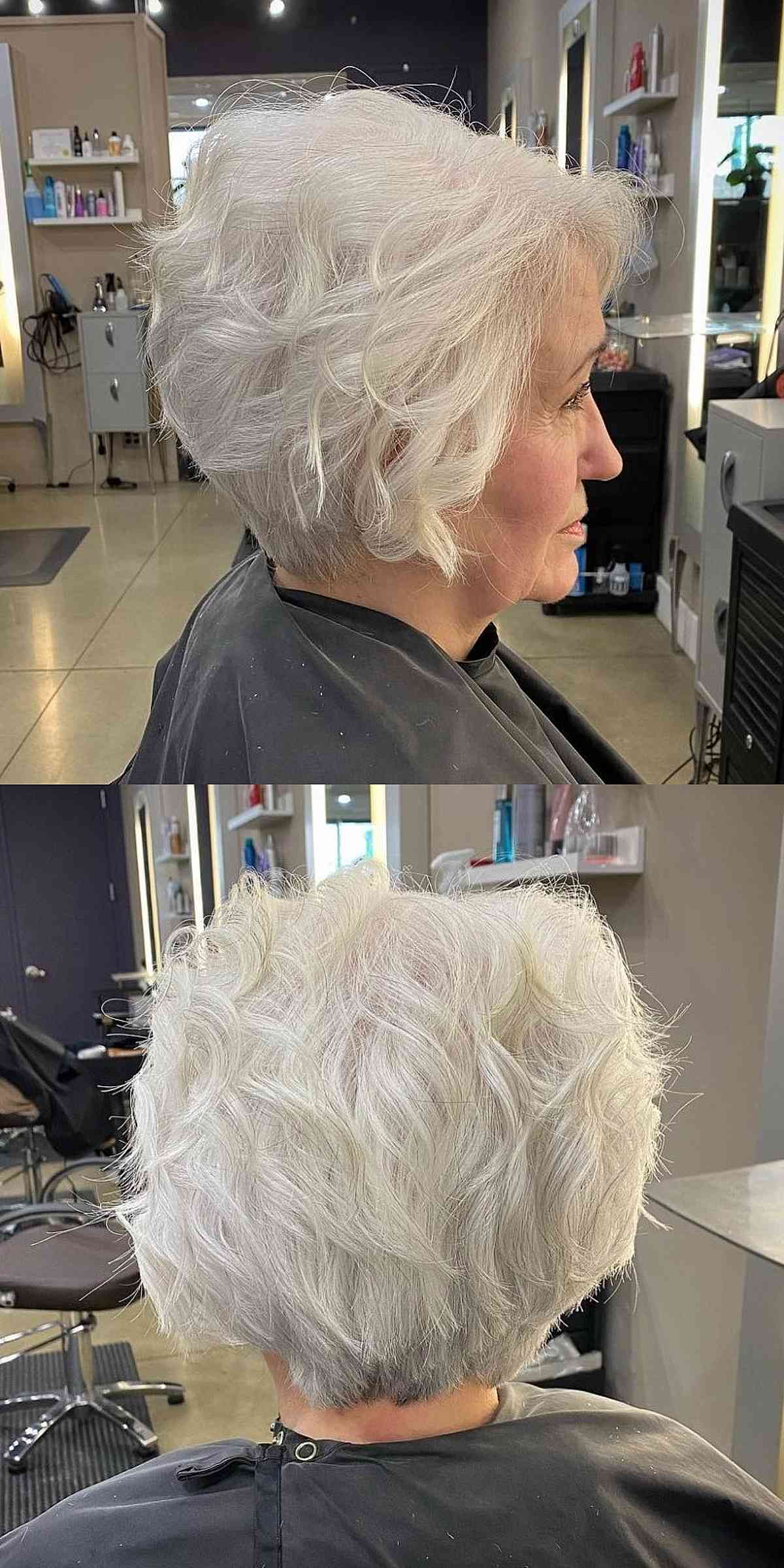 Looking to show off your beautiful face shape, try a jaw-length graduated bob. A chin-length bob is an ideal hairstyle for most face shapes, except for round faces, as it can enhance the round shape. Even a graduated bob is an excellent choice for mature women because it can enhance the jawline and cheekbones while helping to disguise fine lines. Maintaining a regular 6-8 week cutting schedule will help keep your cut looking its best at all times.
#19: Modern wavy bob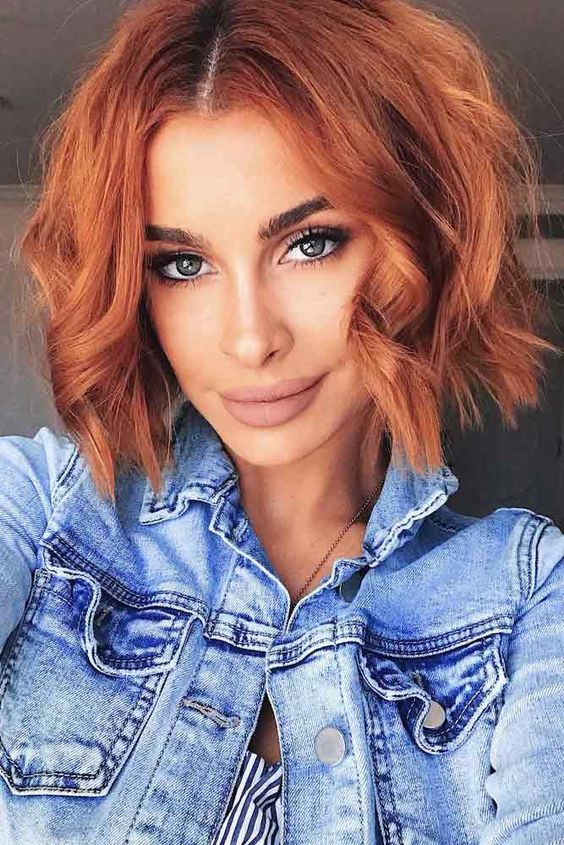 A modern wavy bob should be considered if you want to create volume in your hair while remaining fashionable at the same time. Bob haircuts are flattering and complementary for older women and are easy to style and maintain. Using curls or waves in hairstyles for older women helps to create volume and texture in the hair while giving the illusion of volume. Try a dry texturizing spray to lightly set the waves and increase the longevity of the hairstyle.
#20: Graduated bob for curly hair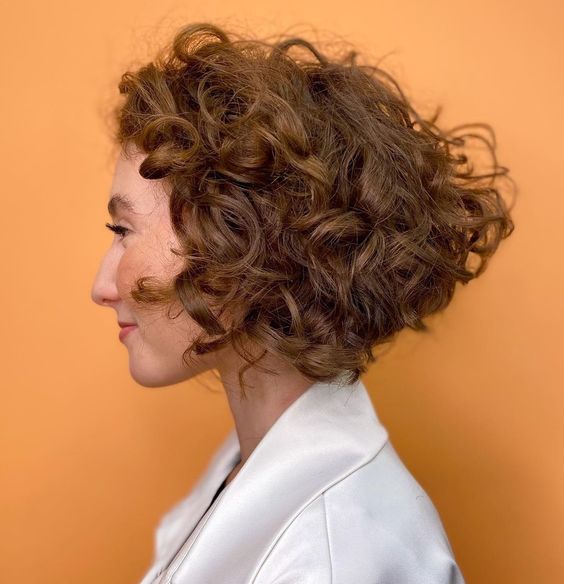 Curly hair is a great option for curly hair is a graduated bob haircut. The graduated layers will help create less weight in the curls and create a complementary shape to the hair. Wearing your curly or short hair in a graduated bob gives the illusion of fuller, more voluminous hair. Be sure to use a good curl product like Amika's curl enhancing gel to enhance and maintain your curls so they last longer.
#21: Blunt bob for older women with glasses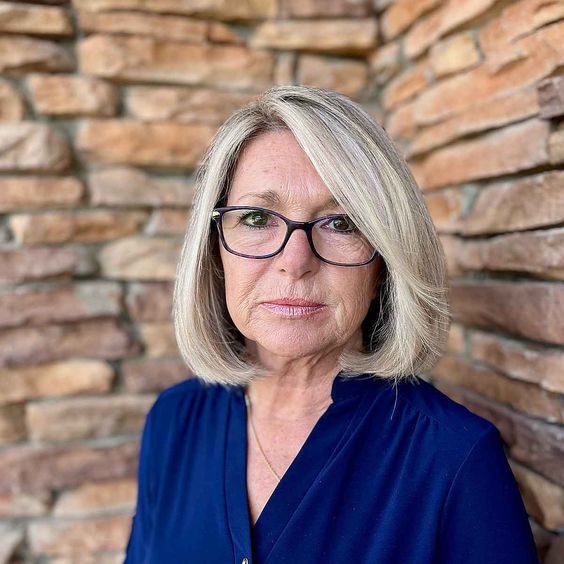 The blunt bob with graduation is a flattering haircut for older women who wear glasses. Graduation creates more length in the front of the face, which can be better placed around eyeglass frames. Also having a length in the front makes it very easy to keep hair out of the face, but easily tucked behind the ears. Avoid face-framing layers in a graduated bob, as it will create shorter pieces that will sit behind the glasses.
#22: Layered bob for older women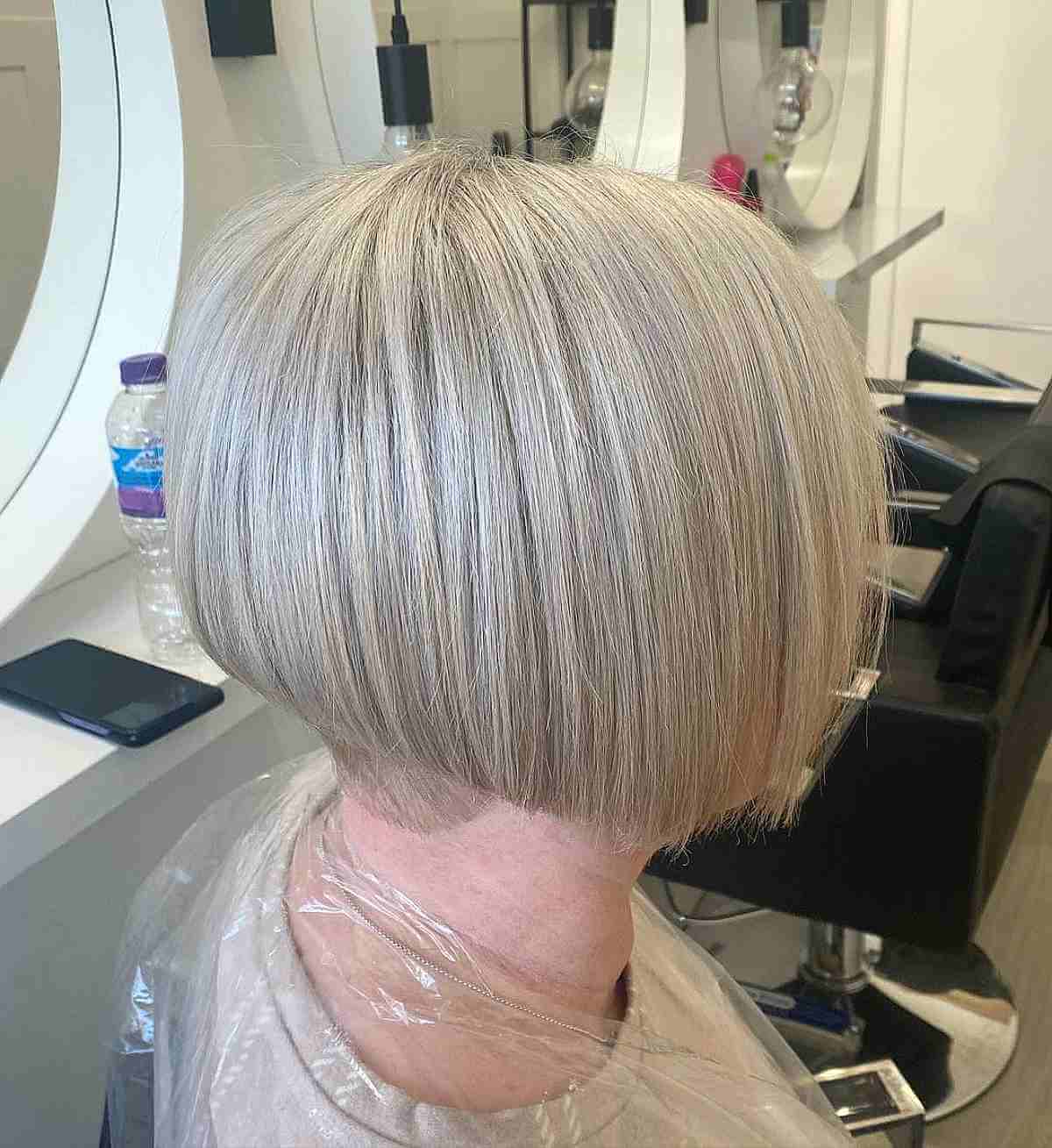 If you are an older woman looking for volume in your hair while maintaining length in the front, consider a graduated layered bob. Using shorter layers at the back of the short haircut will create more texture and movement to allow for more volume. Keeping the hair longer in the front will make it easier to tuck around the ears when you need to take it out of the face.
#23: Straight and thick-cropped hair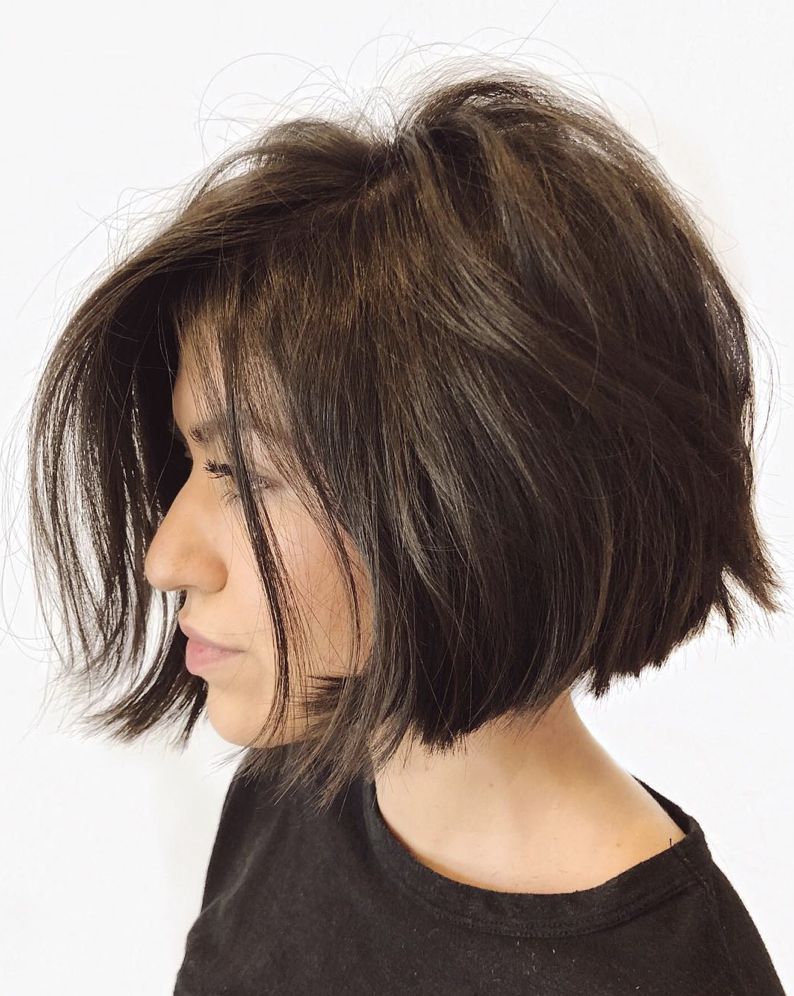 For thick, straight hair, consider trying a bob hairstyle with an undercut. Creating an undercut will help reduce volume, help the hair fit better and create a unique look to the shortcut. Creating a short undercut will also help prevent the hair from falling out as it gets longer, which creates more complementary growth.
#24: Graduated feathered bob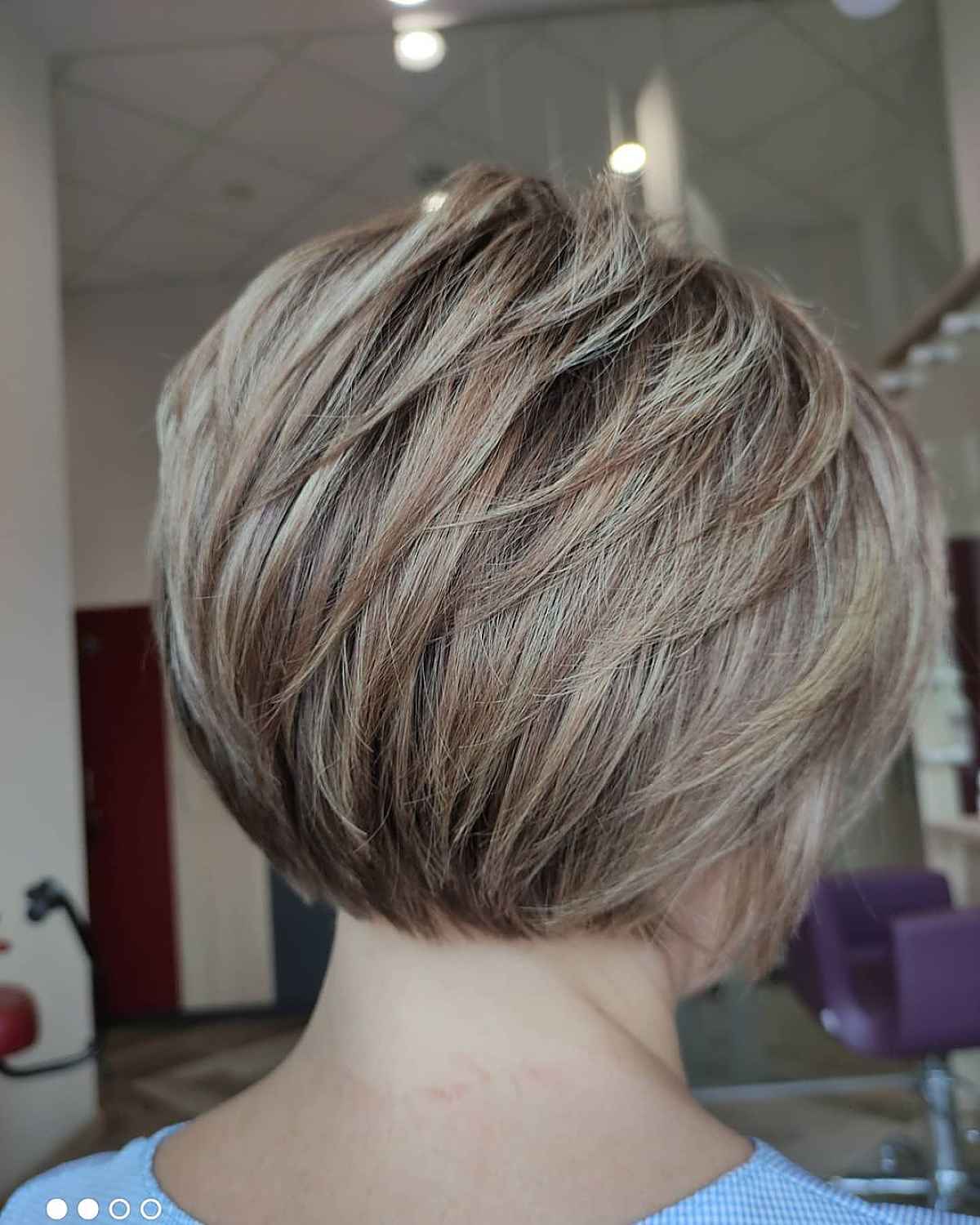 For older women who want a bob hairstyle that can be easily kept off their faces, a graduated feathered bob is a great option. A shorter cut allows for easy styling, while the fade helps to create soft layers that sweep easily back. Hair gets coarser as it loses pigment and matures, so salt and pepper hair can really benefit from a softer, more feathered look. If you choose to keep your hair slicked back, use medium-strength hairspray to keep it in place.
#25: Graduate for straight grey hair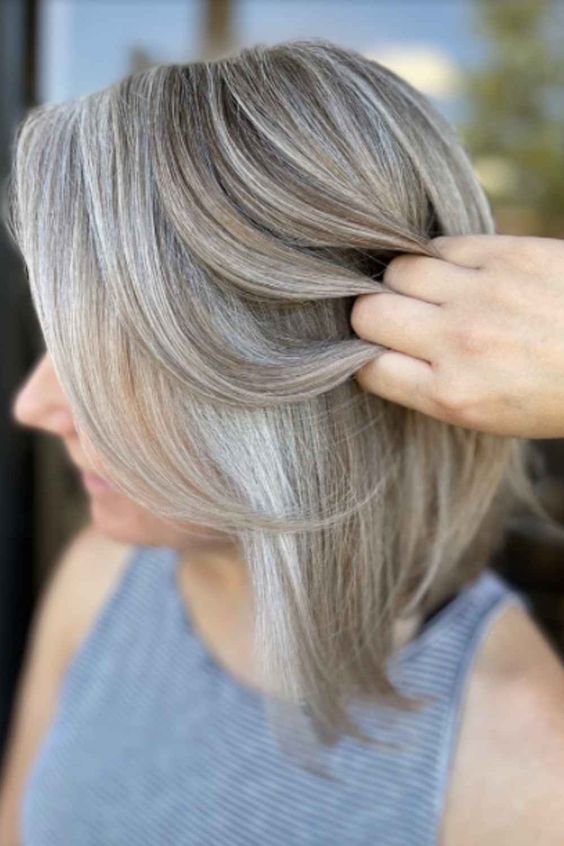 Try opting for a graduated bob for your next haircut if you have straight grey hair. A graduated bob will give length in the front but will stay shorter in the back, making it an easy hairstyle to wash and wear. The fact that this style requires so little maintenance makes it a perfect style for older women or women who have little time to style their hair.
#26: Face-framing fringes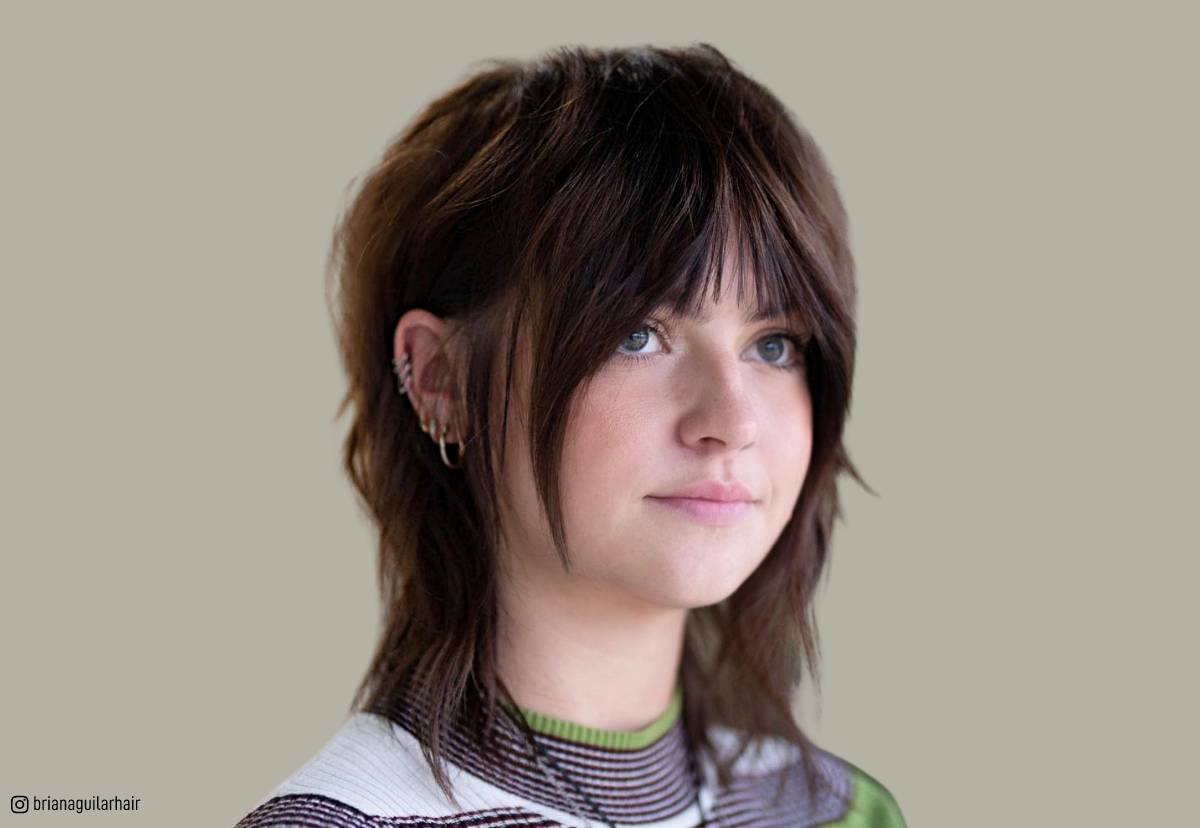 Edgy, face-framing fringes are a fun and beautiful way to show off your personality. Face-framing fringes are a great addition to any short haircut. The layering around the face gives a more youthful look by hiding fine lines and wrinkles around the forehead and eyes, making the face look 10 years younger. For a bolder look, style with a pea-sized amount of pomade to create separation and texture.
Next: Textured Lob Haircuts Are Trending, Here Are The 40 Coolest Examples
READ IT!
Advertisement:
Thanks for your SHARES!
You May Also Like
Add a comment