15 Wonderful DIY Bathroom Ideas You Can Craft In No Time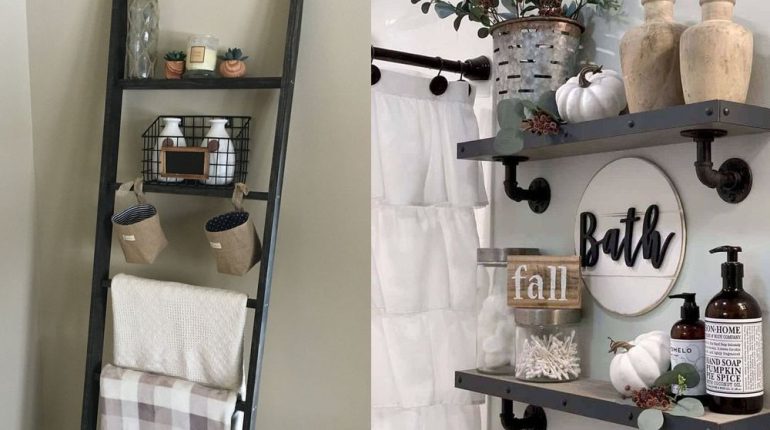 Posted November 11, 2022 by: Admin #Decoration
Decorating your bathroom is likely not something you do often, but you certainly should. For one thing, it doesn't have to be difficult or expensive. You just need to focus on DIY bathroom ideas that can be done with things you already own around your house or at least things you can find at your local dollar shop.
Advertisement:
So here's a new compilation of DIY projects in which we're going to show you 15 wonderful bathroom ideas that you could create in no time at all. There are so many wonderful things you can do for your bathroom, it will be a shame not to take advantage of them, especially when you can do it for such a low cost. Naturally, we've included the step-by-step instructions you'll need to complete these projects. Enjoy reading!
1. DIY Bathtub Shelf
2. Hand washing sign
3. Rustic wood border
4. Rustic Wood Storage Ladder
5. Diy pipe and reclamated wood shelves
6. Bathroom Art on a $10 Budget
7. Ikea vanity turned bathroom vanity
8. Painted Toilet Trick
9. Pretty diy shampoo bottles
10. DIY Industrial Farmhouse Bathroom Sign
11. Painted Wicker Basket
12. Bathroom Light Makeover With Paint
13. Diy rustic bathroom ideas for shelves
14. DIY Butcher Block Vanity
15. Recycle a farmhouse bathroom stool
NEXT: Ikea Kallax Hacks: 15 Creative Ways to Personalize Your Furniture
Thanks for your SHARES!
Advertisement:
You May Also Like
Add a comment