Quick and Easy Chicken and Vegetable Pasta Recipe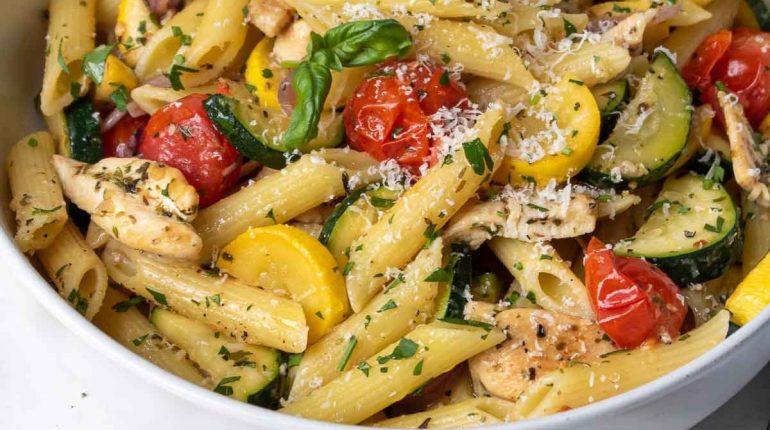 Posted October 3, 2023 by: Admin #Kitchen
Packed with chicken, zucchini, tomatoes, and herbs, this 30-minute chicken and vegetable pasta dish is a straightforward, speedy, and convenient meal that the entire family will savor. It even offers excellent leftovers!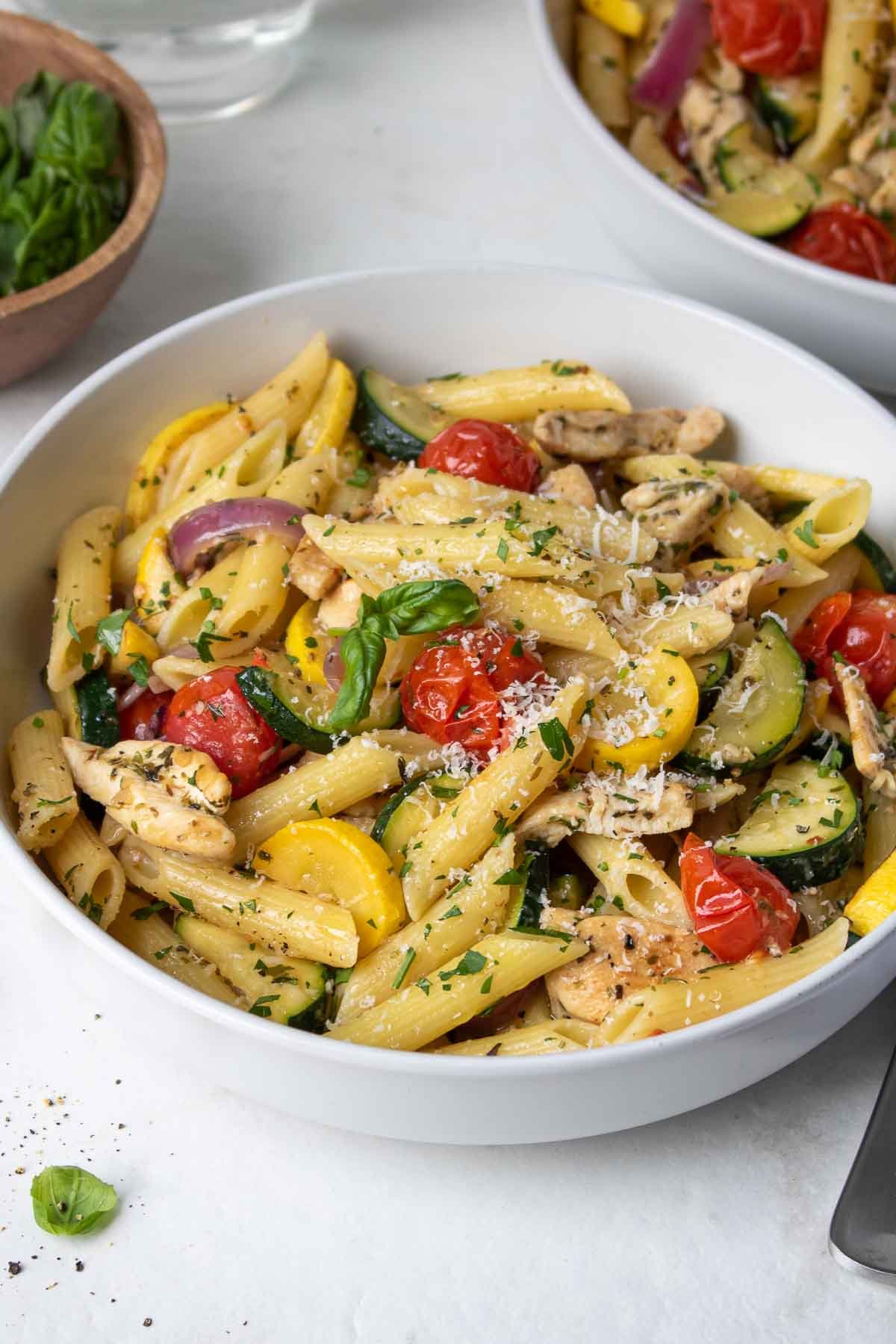 Advertisement:
If you're in search of an uncomplicated summer dinner suggestion, this pasta recipe is just the ticket. Essentially, it's a lighter rendition of pasta primavera, offering a simple meal rich in fiber and protein.
What's more, it's incredibly versatile. Once you've grasped the fundamentals, you can replace the pasta type and veggies with your preferences while effortlessly crafting a nutritious and delectable meal. This chicken and vegetable pasta recipe is one of those trusted choices that can be easily adjusted and customized to have dinner on the table in no time.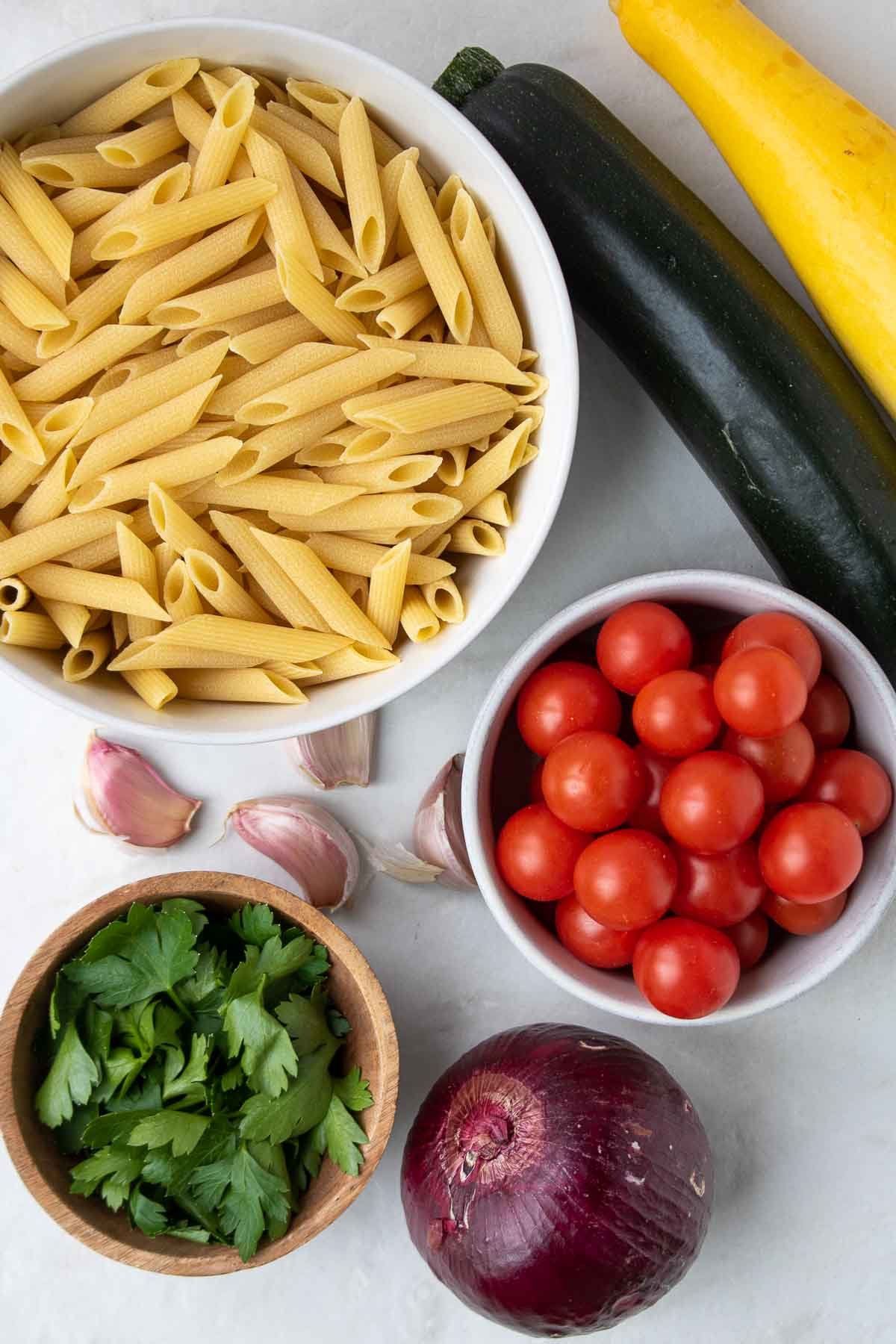 Ingredients for Chicken and Vegetable Pasta
You'll require the subsequent ingredients for crafting this chicken and veggie pasta:
Advertisement:
Pasta: The recipe specifies penne pasta, but any medium-cut pasta of your choice will suffice.
Chicken Breasts: Chicken thighs can also be used for added protein.
Zucchini: A blend of yellow and green zucchini, offering color and fiber. Alternatively, broccoli, asparagus, or green peas can be used if you're not keen on zucchini.
Cherry Tomatoes: Adding flavor and color, grape tomatoes are also a great choice.
Red Onion: For depth of flavor and additional color.
Garlic: For flavor and aroma. While fresh garlic is preferable, a teaspoon of garlic powder can be used if necessary.
Herbs: A mixture of dried parsley, basil, oregano, and red pepper flakes to season the dish and provide a hint of spice.
Parmesan Cheese: Adding healthy fats and flavor to the pasta. It's essential to use freshly grated parmesan cheese for the best flavor and texture.
Additionally, you'll need some olive oil, salt, and black pepper.
Dietary Adaptions
For Gluten-Free: Opt for gluten-free penne pasta.
For Dairy-Free: Omit the parmesan cheese.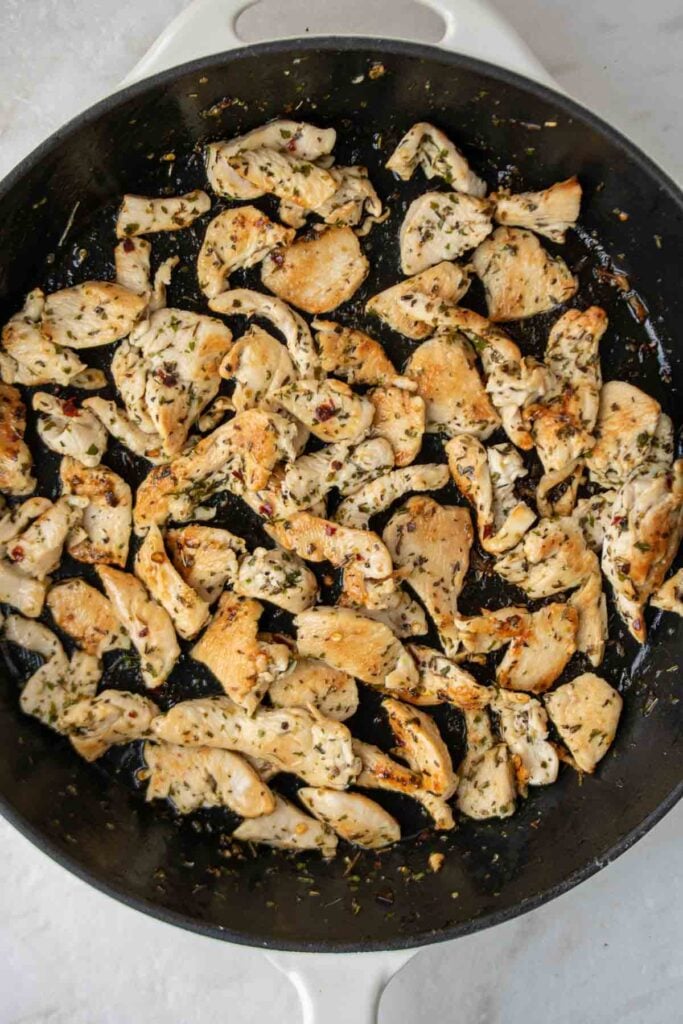 Advertisement: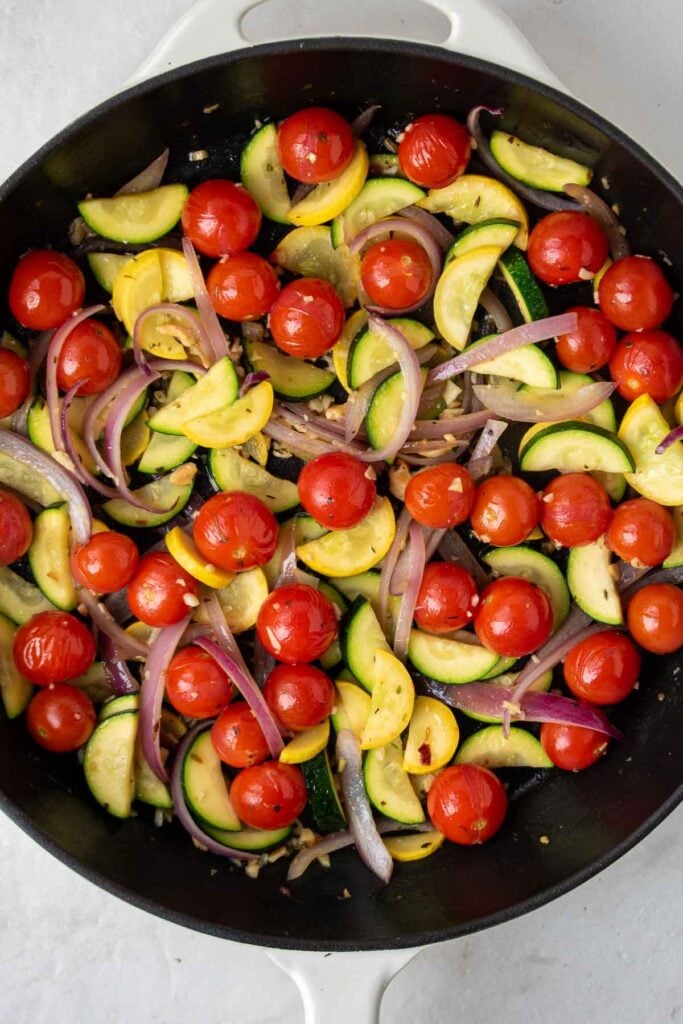 How to Prepare Chicken and Vegetable Pasta
Crafting this chicken and veggie pasta is incredibly easy and can be done in less than 30 minutes. Here's the step-by-step process:
Cook the pasta: Start by cooking the penne pasta in a pot of well-salted water.
Cook the chicken: Add the thinly sliced chicken to a large pan and cook until it lightly browns, seasoning it with herbs.
Cook the vegetables: Sauté the red onion, zucchini, and garlic until tender, then add the cherry tomatoes.
Combine the chicken, vegetables, and pasta: Once the pasta is cooked, combine the cooked chicken, pasta, and vegetables in a pan.
Add the cheese: Sprinkle the grated parmesan cheese over the pasta mixture and toss to coat.
Serve and enjoy!
For a detailed list of ingredients and instructions, refer to the recipe card below.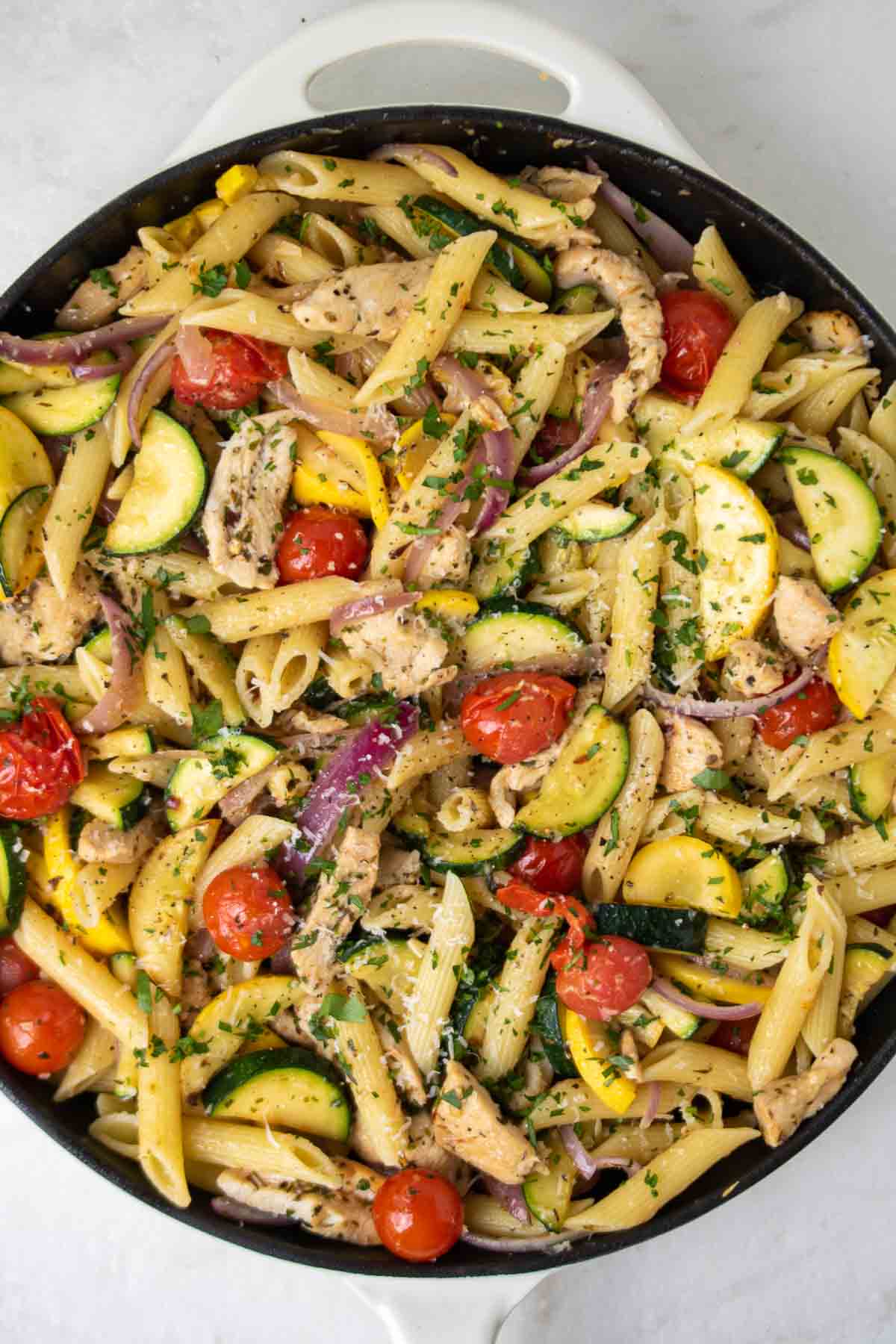 Advertisement:
Red's Nutrition Tip
While my recipes call for regular semolina pasta, you can certainly opt for whole wheat pasta if you prefer. Using whole wheat pasta is an easy way to incorporate more fiber into any pasta recipe.
FAQs
Can chicken and pasta be combined?
Although not a traditional Italian pairing, chicken and pasta complement each other well. Chicken provides protein, while pasta offers complex carbohydrates, resulting in a balanced and satisfying meal.
Should vegetables be cooked before adding to pasta?
When incorporating vegetables into a pasta dish, it's best to pre-cook them. Vegetables can be grilled, sautéed, steamed, braised, or blanched before adding them to pasta.
Is it possible to boil pasta and veggies together?
Yes, it's possible, but boiling vegetables alongside pasta may not yield ideal texture or flavor. Pasta typically takes longer to cook than most vegetables, resulting in overcooked or mushy veggies. For best results, cook vegetables separately from pasta or add them to the pasta in the final minutes of cooking for a quick blanch.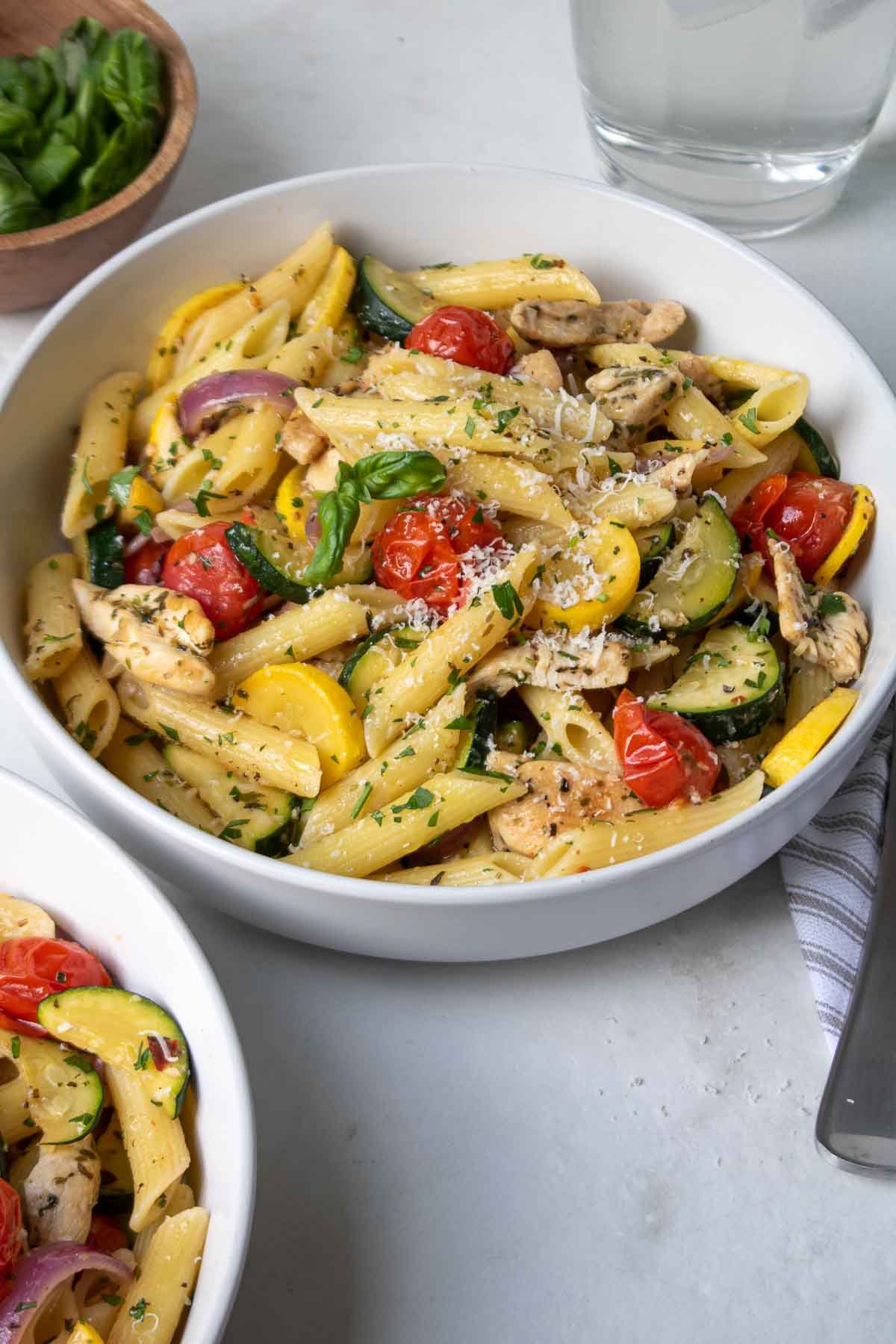 Advertisement:
Storage + Reheating
For Storage: Allow the pasta to cool completely, then transfer it to an airtight container and store it in the fridge for up to 5 days.
For Freezing: Once cooled, transfer the pasta to an airtight container and store it in the freezer for up to 3 months.
For Reheating: Thaw the pasta completely before reheating. To reheat on the stovetop, place the pasta in a pan over medium heat with 1-2 tablespoons of water, stirring gently until the water is absorbed and the pasta is heated through. Alternatively, in the microwave, place the pasta in a microwave-safe container with 1-2 tablespoons of water and reheat for 2-3 minutes, stirring every minute until heated through and the water is absorbed.
Advertisement:
Chicken and Vegetable Pasta
This chicken and vegetable pasta is a quick and convenient dinner option, perfect for busy weeknights. It also stores well in the fridge, making it ideal for leftovers.
Ingredients
10 ounces penne pasta
2 chicken breasts, thinly sliced into strips
2 tablespoons olive oil
4 cloves garlic, minced
1 red onion, thinly sliced into strips
1 green zucchini, trimmed, cut lengthwise, and sliced into half moons
1 yellow zucchini, trimmed, cut lengthwise, and sliced into half moons
2 cups cherry tomatoes
2 teaspoons dried parsley
1/2 teaspoon dried oregano
1/2 teaspoon dried basil
1/4 teaspoon red pepper flakes (optional)
4 ounces parmesan cheese, freshly grated, about 1 cup
Salt
Black pepper
Instructions
In a small bowl, combine the dried parsley, oregano, basil, and red pepper flakes; set aside.
Bring a large pot of well-salted water to a boil, add penne pasta, and cook until al dente or as per package directions. While the pasta is cooking, scoop out 1/2 cup of pasta water and set it aside. Once the pasta is cooked, drain it and set aside.
Place the chicken on a cutting board, slice it into thin strips, and generously season with salt and pepper.
In a large skillet or pan over medium-high heat, warm the olive oil, then add the chicken. As the chicken cooks, sprinkle half of the herb mixture over it, stirring to coat the chicken with the seasoning, and continue cooking until lightly browned on both sides, about 4-5 minutes. Once cooked, remove the chicken from the pan and set it aside on a plate.
In the same pan, add the garlic, red onion, and zucchini, and sauté for 2-3 minutes until the veggies are slightly tender.
Add the cherry tomatoes and the remaining herb mixture to the pan, stirring to coat the vegetables in the herbs. Let the vegetables cook for another 1-2 minutes until the tomatoes begin to soften.
Once the vegetables are cooked, turn off the heat, return the chicken to the pan, add the cooked pasta, and combine everything well. (If your pan is too small, transfer the chicken and vegetable mixture and pasta into the pot used to cook the pasta and finish the dish there.)
Add the freshly grated parmesan cheese and stir to combine with the chicken, vegetables, and pasta. Use small splashes of warm pasta water (only as needed, you don't need to use all of it) to help melt the cheese, create a smooth texture, and prevent sticking or clumping.
Taste the pasta and adjust the seasoning with salt and pepper as necessary, and serve immediately with additional freshly grated parmesan cheese.
Any leftovers can be stored in an airtight container in the fridge for up to 5 days or in the freezer for up to 3 months.
Nutrition
Serving Size: 1 serving
Calories: 580 calories
Sugar: 6 grams
Fat: 18 grams
Carbohydrates: 62 grams
Fiber: 4 grams
Protein: 41 grams
NEXT: Delicious Recipe: Garlic Butter Steak and Potatoes Skillet
Thanks for your SHARES!
Advertisement:
You May Also Like
Add a comment